Our Top Tips When Choosing Your Winter Wedding Shoes
Our Winter Wedding Shoe Guide
Winter is the most wonderful time of the year and it is the perfect backdrop for a fairytale wedding. There is no better time to incorporate rich colour schemes, to not shy away from all things sparkly and to make your Christmas wishes come true by marrying the love of your life! However, we understand that weather is not the most reliable season when it comes to weather. And while you may be wishing for snow, you may get slush instead! Therefore, it is best to be as prepared as possible and we are here to let you know that the colder weather does not mean that you have to compromise on style! That is why we are here to run you through all your options and offer you our top tips when choosing your wedding shoes.
Brazen Boots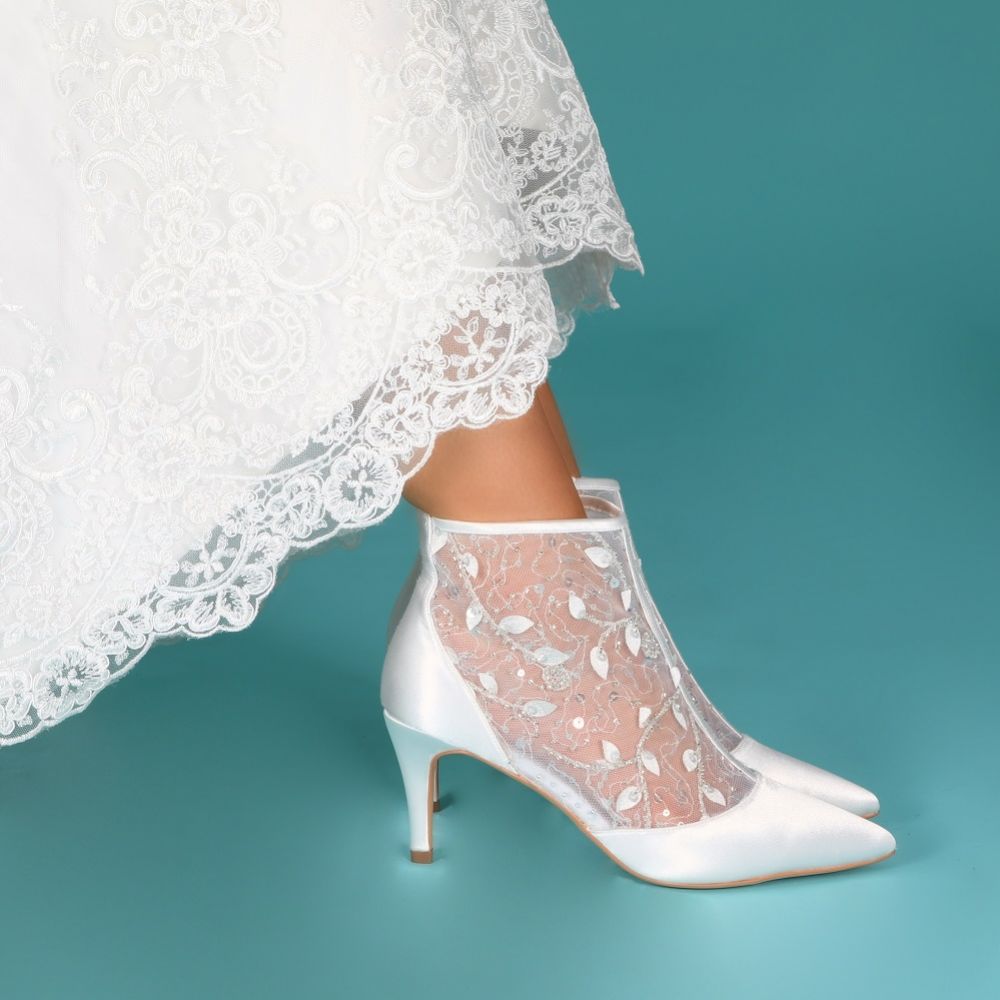 You cannot get any more statement shoes than a pair of wedding boots. But do not think that you sacrifice any femininity and elegance by choosing a pair of wedding boots to rock your day in. Wedding boots are designed to complement your wedding style perfectly by incorporating elements of lace and satin in a beautiful ivory tone. Therefore, keeping it classy but adding your own unique style and spending your wedding day in luxury comfort! And just because you are opting for optimum comfort, there is no sacrificing any style! Just look at these showstopper sparkly satin and sequin lace wedding boots! The perfect shoes to complement a lace wedding dress!
Hiking In Heels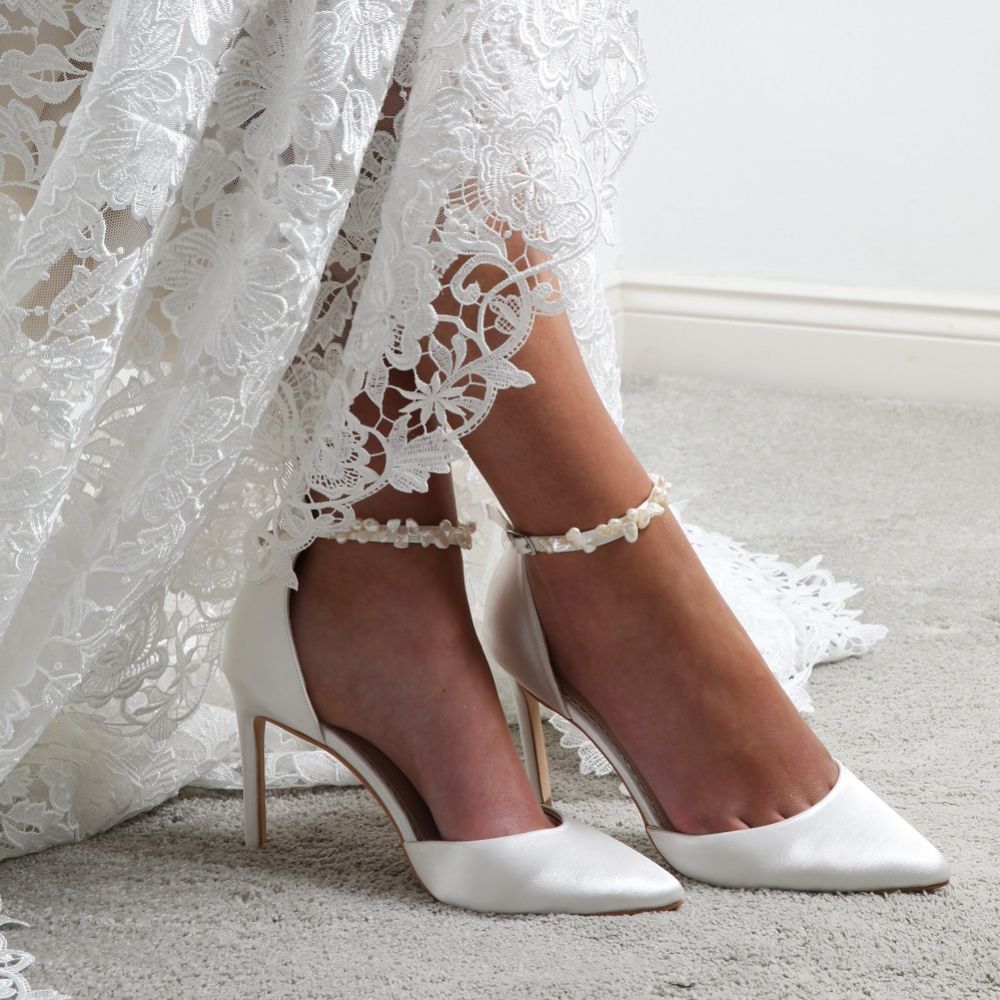 If you are the type of woman who simply cannot resist a gorgeous pair of heels even in a winter environment then who can blame you! It is after all your wedding day and the most important thing is choosing the shoes that make you the happiest. It is choices like these that create the memorable moments of your wedding day which are completely unique to your wedding! However, we certainly recommend equipping a pair of heel stoppers so that you stay above ground all day! There is also the option to choose a pair of shoes that change into once you make your way to the dancefloor. Or just opt for heels for the pictures! A classic pair of heels will never let you down, much like this beautiful pair of satin strap court heels. Adorned with a dazzling pearl ankle strap, for extra comfort and style. Plus, these shoes are dyeable to fit any colour theme!
Trustworthy Treads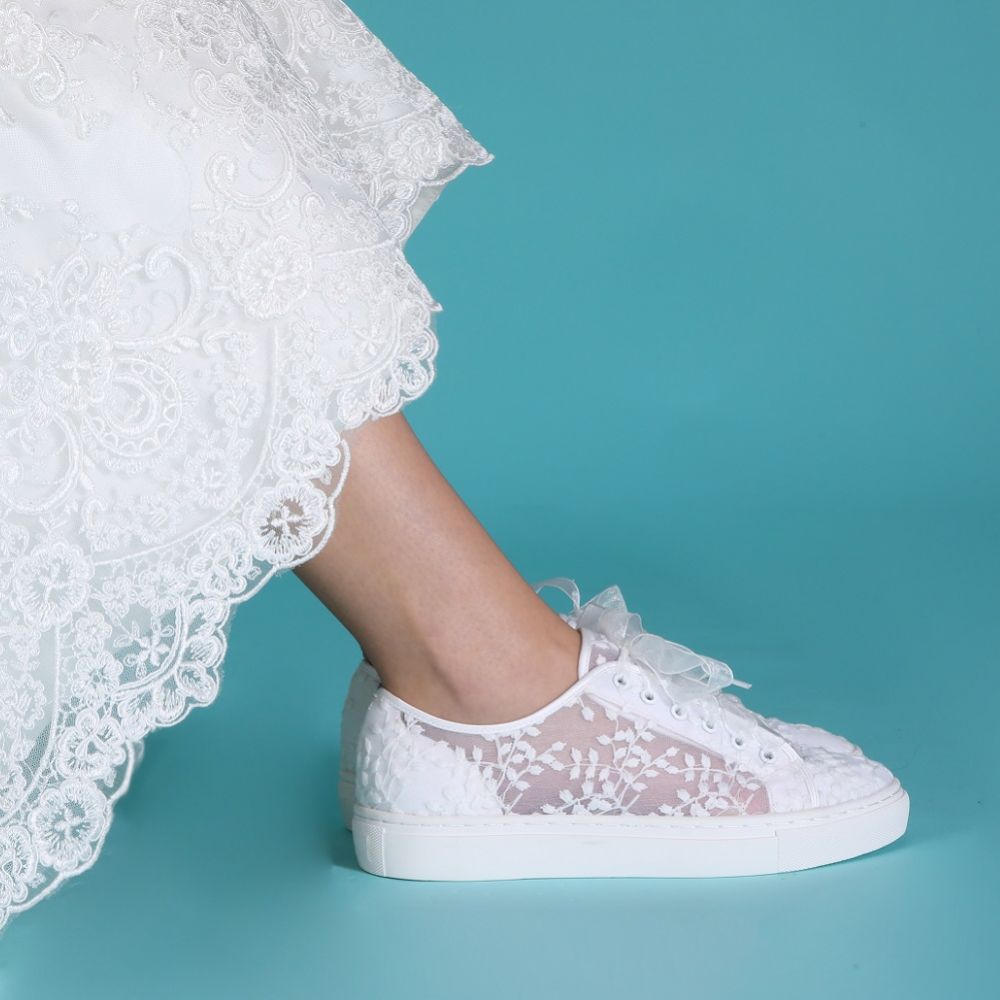 There are not many more reliable shoes than a pair of trainers which will get you through the entire day and night with no problems! And while you can keep these trainers a traditional white, if you are opting for an outdoor winter wedding then there is no certainty that they will be white at the end of the day! And when you have several hours of standing, posing and dancing ahead of you, comfort really does matter. If you are worried that by choosing trainers you are sacrificing some femininity and class then do not despair. We shall introduce you into wedding trainers which incorporate classic bridal elements, such as satin and lace into the trainer. Creating a seamlessly chic, feminine and seriously comfy shoe! Much like this pair of beautifully embroidered lace wedding trainers, with stunningly delicate organza laces. And they only get better, these bridal trainers are equipped with cushion padding lining and insoles. You will be walking on clouds!

Classic Mary Jane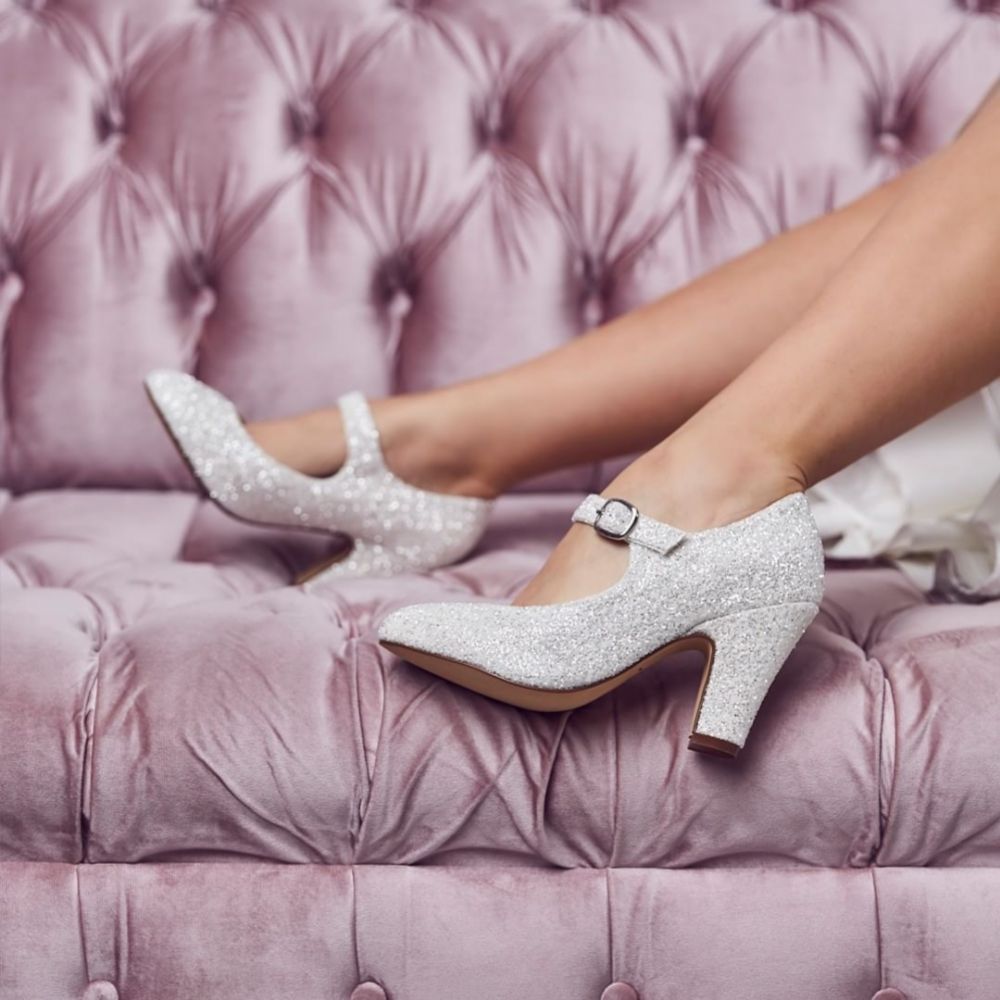 Everyone is familiar with the classic Mary Jane style shoe and the style simply never goes out of fashion! While maintaining all the grace and beauty of the Mary Jane, they also come with great comfort and an ankle strap for extra support. These are a pair of shoes you can trust to get through all the day and all the night! We love the snow glitter Mary Jane shoes which are perfect for the winter wedding season! These shoes will catch the light of the winter sun and dazzle on the dancefloor!

White Wedding Wedge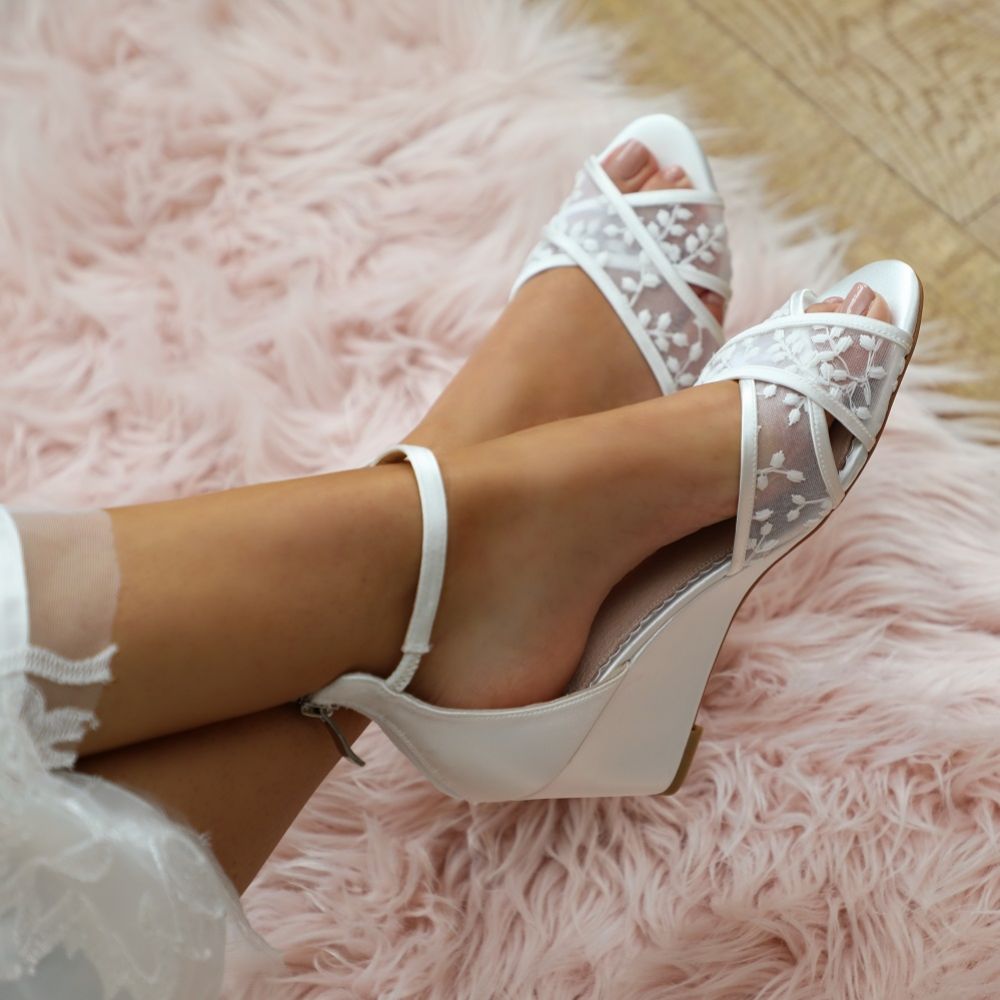 Stay far away from the mud in a lofty pair of wedges while keeping all the comfort if you have chosen an outdoor wedding venue this winter season. A trustworthy shoe that will never let never let you down. Wedges are classically stylish and come in a range of colours and style to suit any bridal look! Such as this stunning pair of satin and lace bridal wedges, with a beautiful floral embellished lace to bring the whole shoe together. These shoes will keep you above the snow in style, whilst also featuring an ankle strap for extra support!
Platform Prowess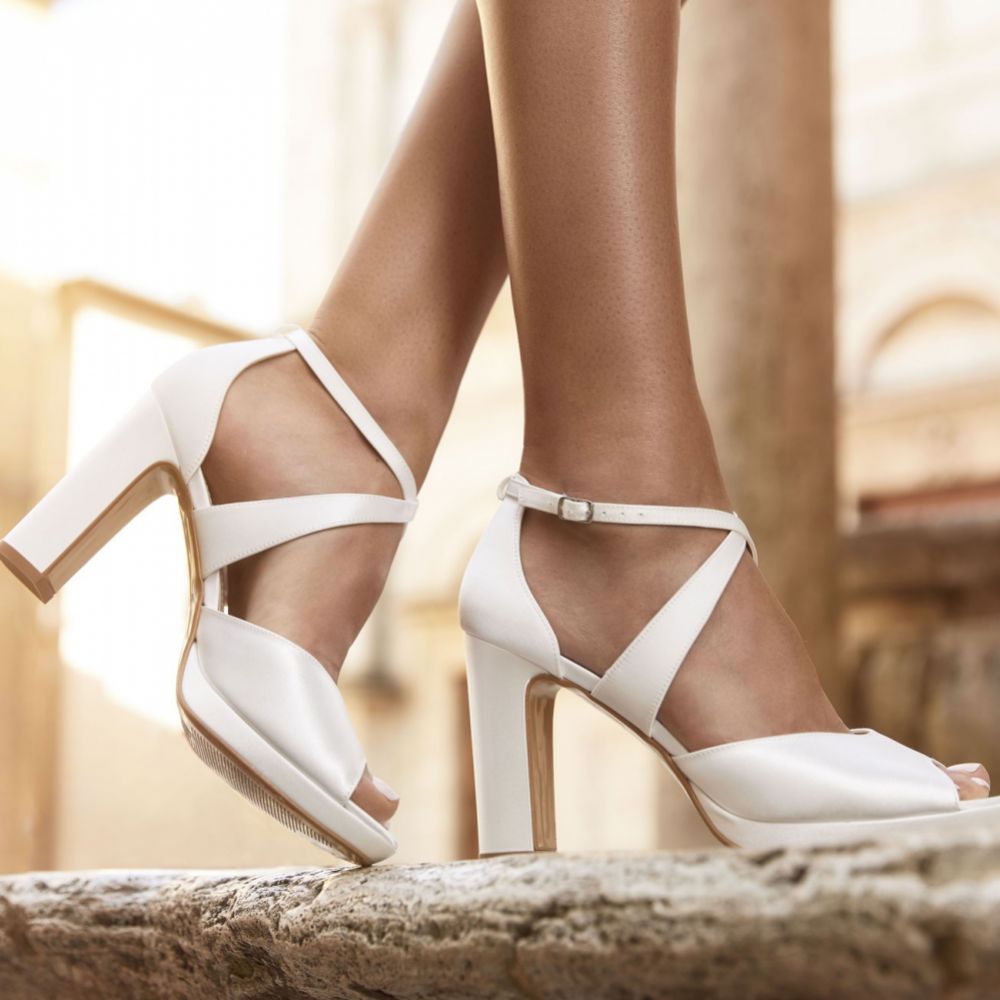 If you are after a bit of extra height then platforms are your best friend! These shoes hold an iconic status as they can take any look to another level, let alone a bridal look. A pair of perfect platforms will have you looking good and feeling good. What better way to do your winter day than oozing with confidence! And if height is what you are after then the four-inch heel Avalia Cindy cross strap platform sandals may be the shoes for you! And while you are standing tall, the block heel is there for extra stability so ensure no falling in the snow!
Very Vintage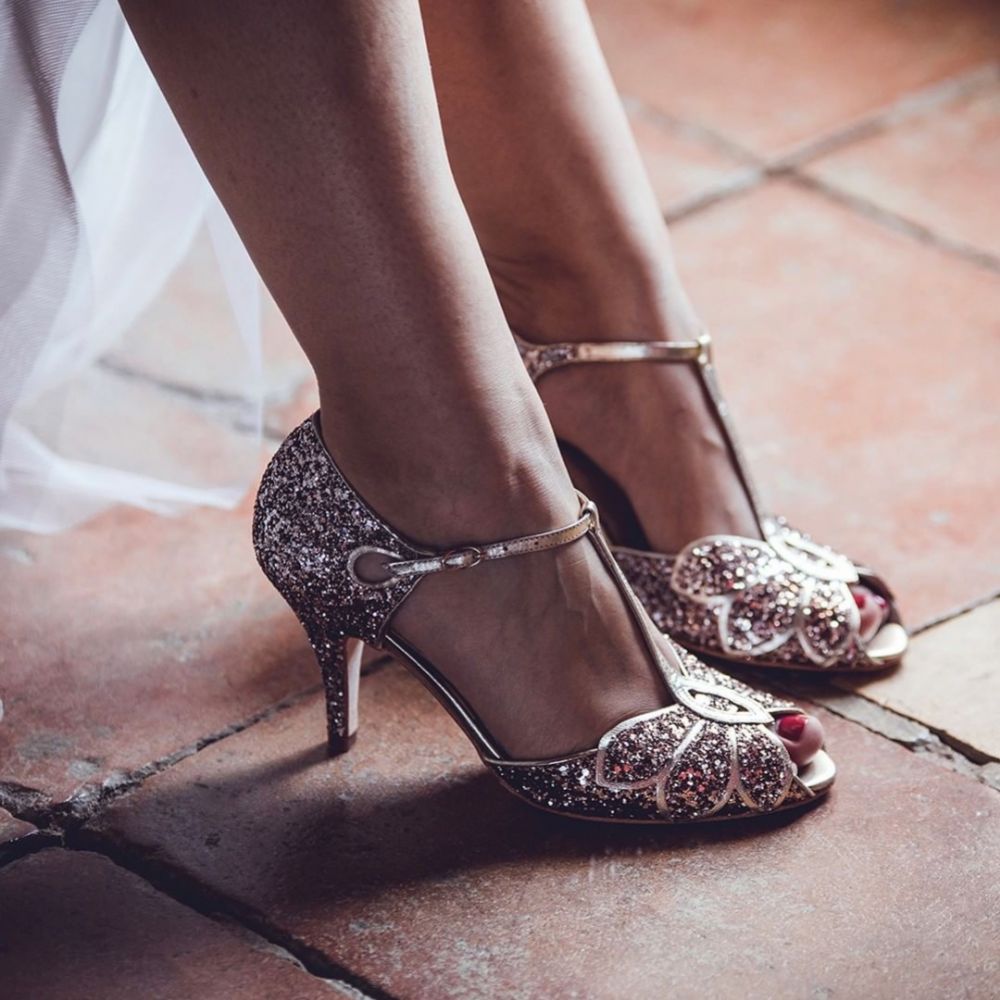 If you want to throw it back this winter wedding season, and we do not mean just on the dancefloor, then you may be considering a vintage style shoe. Possibly you are thinking of a vintage theme for the whole day or are just in love with vintage shoes. Vintage shoes are timeless classics that create an elegant look. We love this glorious pair of vintage T-Bar shoes, with a gorgeous quartz glitter finish. Your loved ones will not be able to miss these shoes shimmering in the winter sun!
Fashion Flats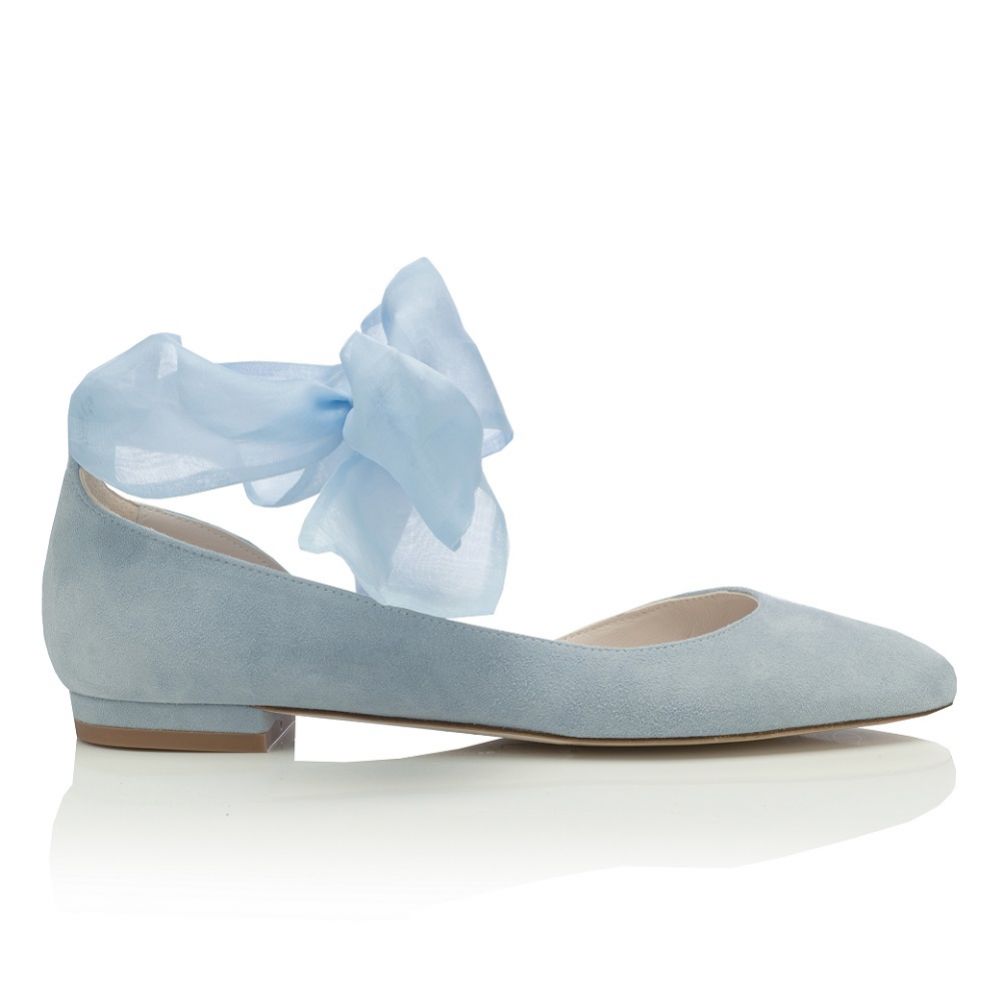 If you have not yet considered flats, then you are missing a trick. Often mislabelled as a boring shoe option. The flat provides a basic and timeless structure allowing for complete creativity when decorating the shoe! You can get coloured, sequined or crystal-embellished flats, depending on your unique style. And there will always be a pair of flats out there to complement your individual style! One of our favourites are the Harriet Wilde blue suede ballet pumps adorned with a stunning organza ankle tie. A gorgeous delicate blue which will be the star of the show in a pristine white background!

That Kitten Heel Feel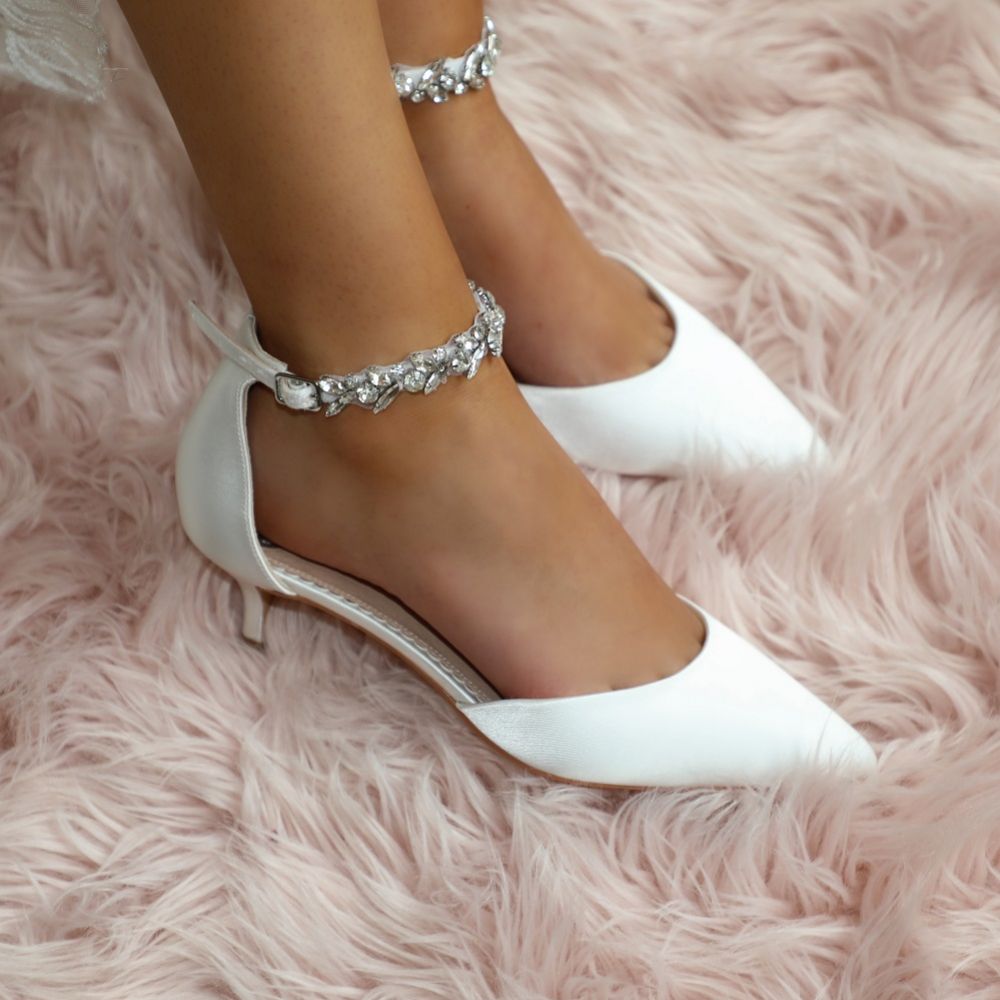 You may be after a classic and practical style for your winter wedding, and there are not many better shoe choices for this than a glamorous pair of kitten heels! The perfect shoe to rock to your day and the night! That is why we are in love with these satin embellished ankle strap kitten heels! These shoes are endlessly elegant with just the right amount of sparkle.

A Designer Day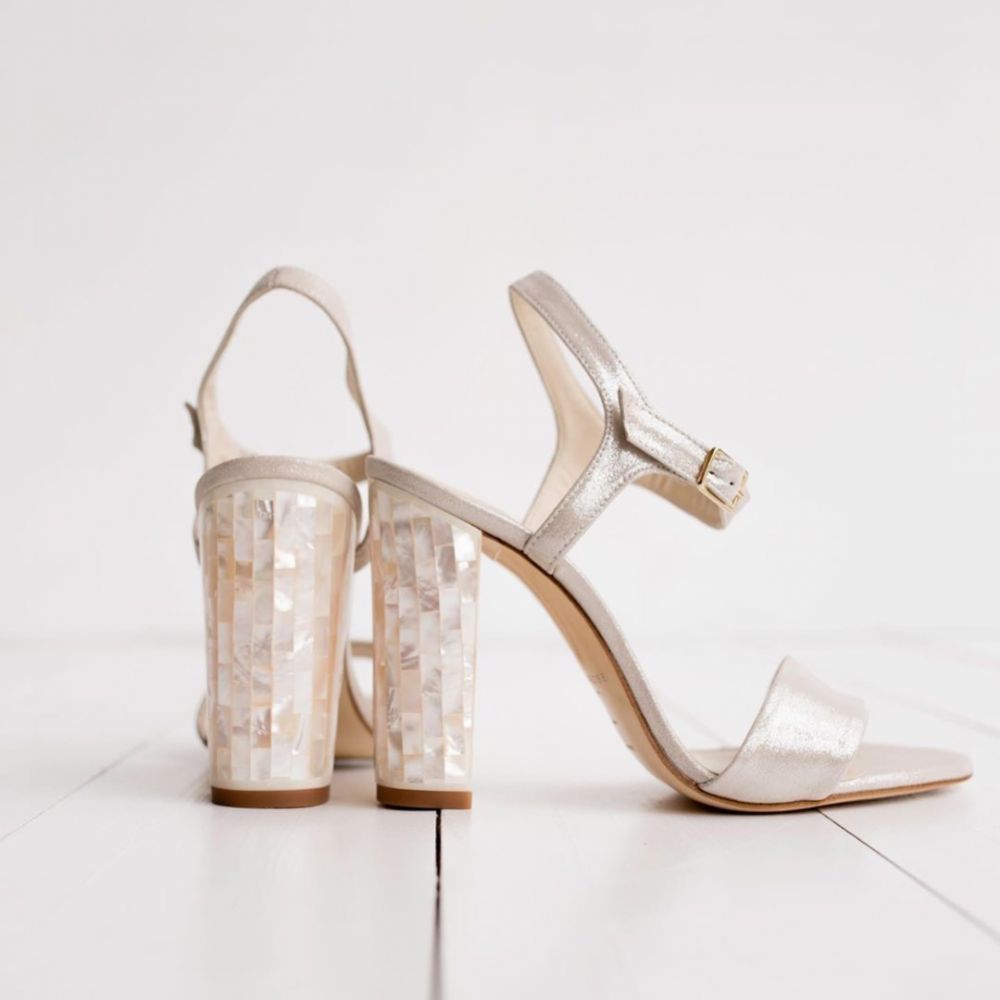 What better excuse is there to treat yourself to something extra special than your wedding day? That is right, there is not! So, if you have been dreaming of something designer for a while, what better time than now. These designer shoes will also be the most perfect keepsake and memento of your wedding day! Let us introduce you to the absolutely stunning Freya Rose Martina champagne suede block heels. The jaw-dropping mother of pearl heel captivates us! And makes these designer shoes the perfect designer option for a winter wedding, perfectly capturing the delicate shimmers of the snow. Oh, and it gets better, these shoes boast a memory foam lining for designer comfort!

Snowy Sandals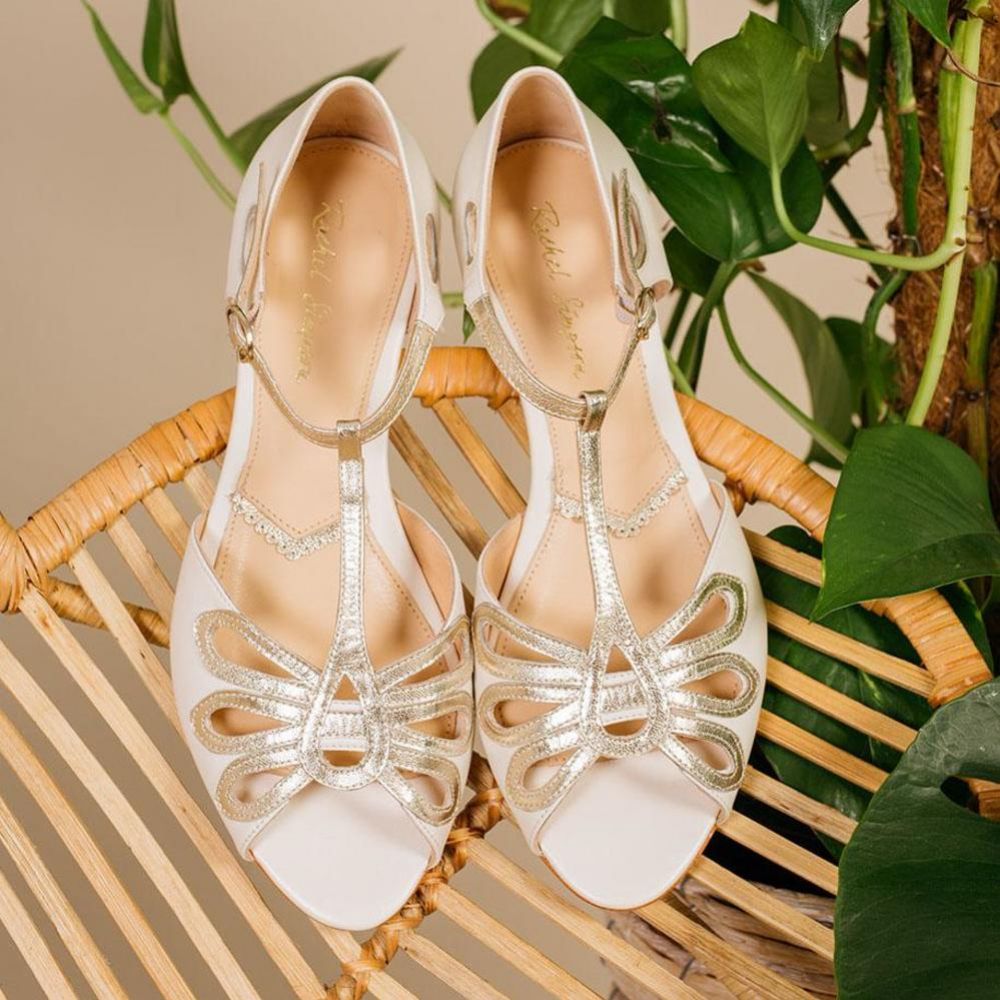 So, you may be one of the lucky ones and not fully embracing the cold of a British winter and instead jetting off to a sun-soaked wedding destination. We are not jealous, promise! But in this case, wedding trainers or bridal boots might not be quite what you are after. Instead, you can get fully in the holiday spirit by showing off some strappy sandals which would perfectly complement a boho-chic summer wedding dress! And just for this purpose, we love the Rachel Simpson Eden pearlised ivory leather flat sandals, featuring a gorgeous petal motif. The perfect shoe for a winter wedding getaway!

There's Snow Day Like Your Wedding Day
We hope we have enlightened you to all the winter wedding shoe options available. A winter wedding is one of outstanding beauty since it can perfectly encapsulate the true beauty of nature. By embracing winter colours and styles this can create the most gorgeous wedding photos! We hope that your winter wedding day is the best Christmas present you could have ever wished for. And make sure you wrap up warm!
Browse Your Winter Bridal Shoes Here At Lace & Favour
If you are still stuck or have fallen in love with a pair of shoes we have shown you, find our whole collection here at Lace & Favour. Whether you are after wedges, platforms or boots, we have a vast array of options for any wedding style or season!