Add a Little Sparkle With Our Stunning Swarovski Wedding Accessories
From bohemian brides to those planning a woodland wedding, everybody loves a little sparkle on their wedding day. Here at Lace & Favour, we do too and that's why we stock Swarovski wedding accessories. Adding hints of elegance to everything from shoes to veils, our Swarovski crystal accessories are sure to add the perfect finishing touches to your bridal look. Whether you're a girly girl looking for as much Swarovski sparkle as possible or you're a tomboy wanting to give into temptation for a day, our collection could have something for you.
Swarovski Wedding Accessories
Swarovski Crystal Wedding Veils
If you feel as though your bridal look is missing something, a Swarovski Crystal Wedding Veil may be the perfect fit. In order to match any wedding dress style, our Swarovski crystal wedding veils come in a variety of shapes and sizes. For the more modern bride, we have the beautifully elegant Bianco Ivory Single Tier Swarovski Crystal Chapel Veil with Cut Edge. With 52 sparkling Swarovski crystals scattered throughout the eight foot single tier wedding veil, you're sure to make a statement walking down the aisle in this.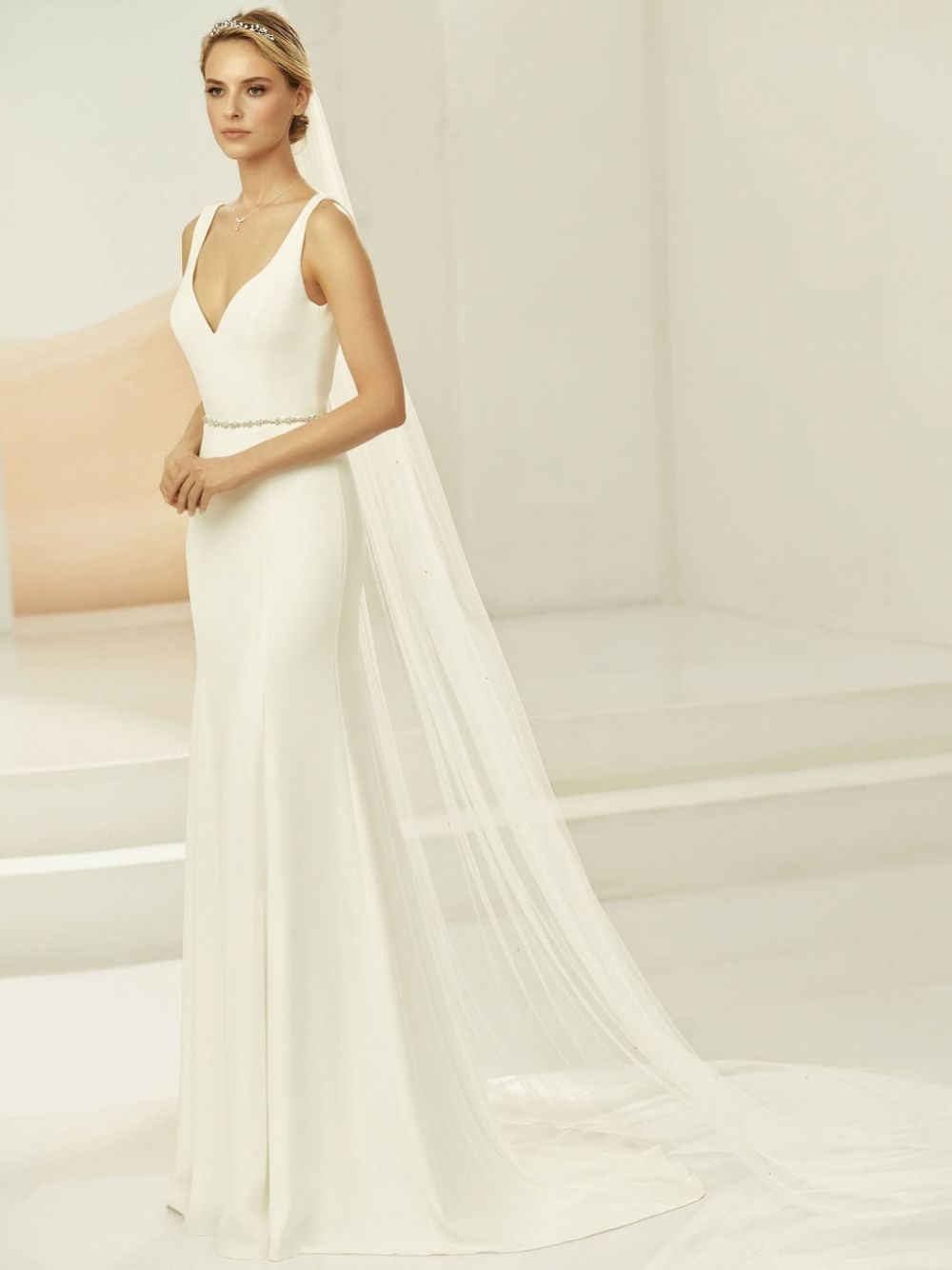 We can also offer sparkle to the more traditional bride too, as our Bianco Ivory Two Tier Swarovski Crystal Chapel Veil with Corded Edge will add a tantalising twinkle to your look. Scattered with 70 Swarovski crystals, and handmade using ivory coloured soft tulle, this two tier wedding veil will look stunning on any bride.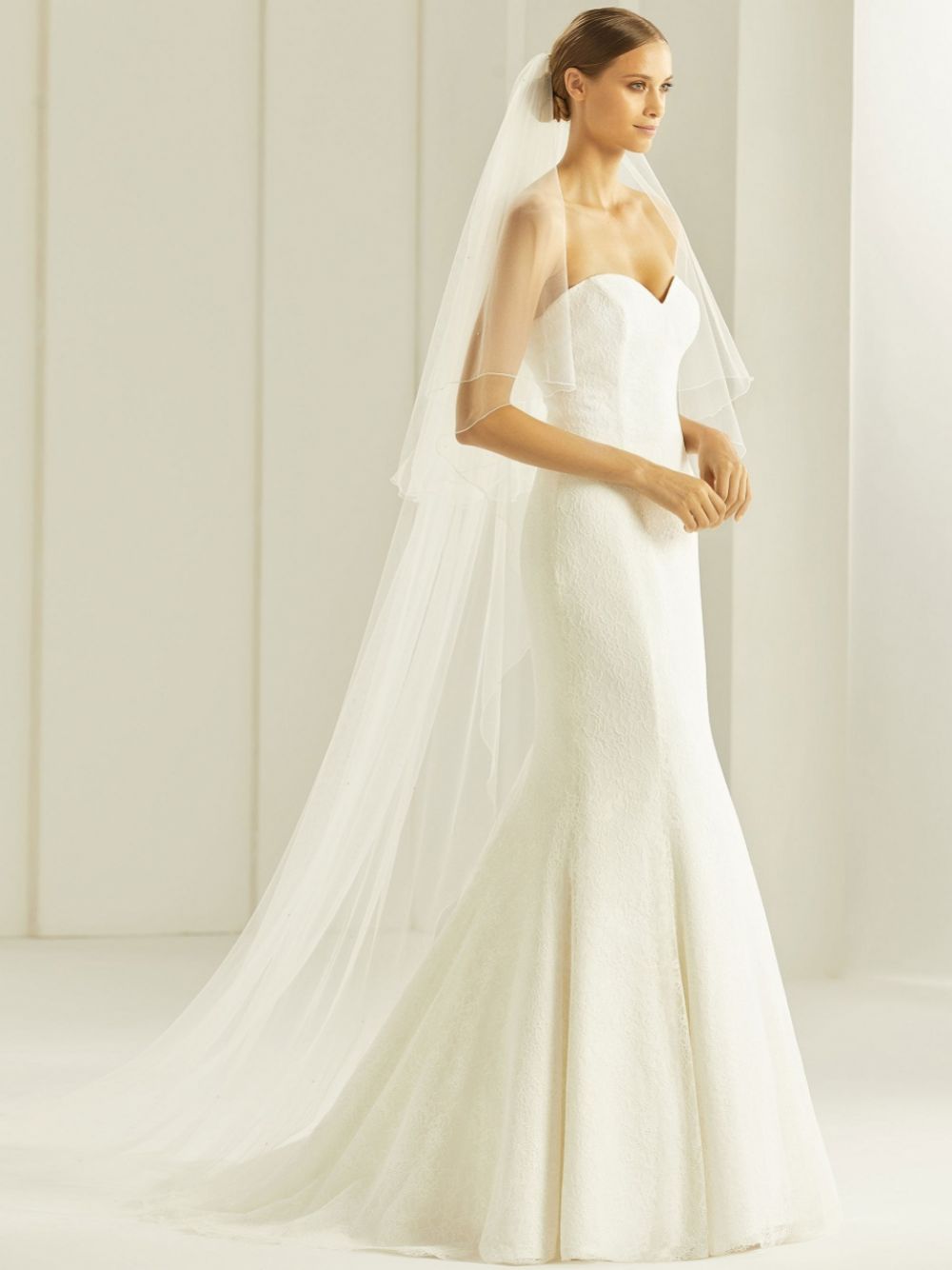 Add Elegance with Earrings
Finding the right pair of wedding earrings can be difficult. After all, they're probably the most important pair that you'll ever wear. The key is finding a pair that compliment your existing bridal style. Your earrings should work together with the rest of your wedding accessories to promote the look that you've planned. If you're looking to incorporate pearls or crystals into your style, our Hermione Harbutt Paris Swarovski Crystal Fan Drop Earrings are perfect. Thanks to the drop down extended trio crystal droplet, these earrings are the perfect addition to compliment an up-do or half-up half-down hairstyle.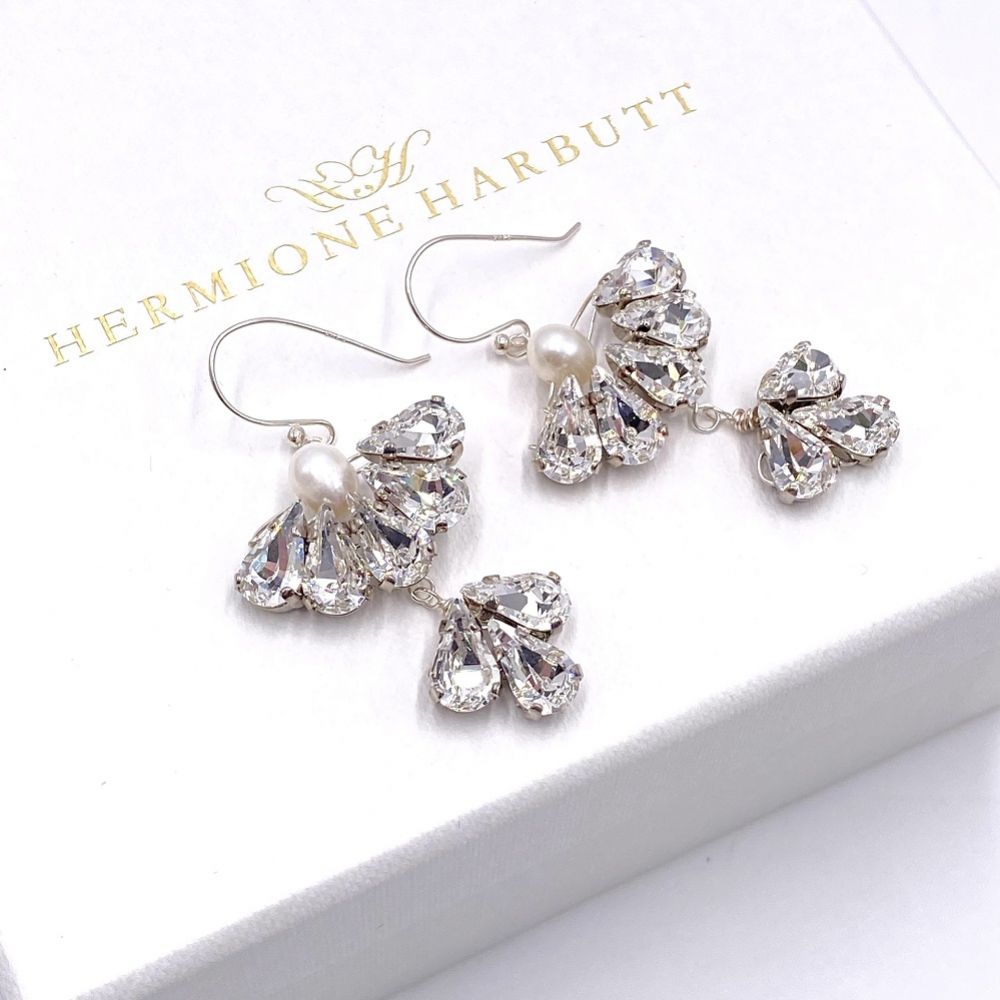 Hermione Harbutt Dewdrop Swarovski Crystal Hairdrops
Fantastic for winter wonderland or woodland weddings, these delicate tendrils of sparkling Swarovski crystals add an elegance fitting of a princess to any budding bride. Perfect for arranging on the side, above the veil or dotted on each side of your hair, these hairpins are sure to add the defining statement piece previously missing from your outfit.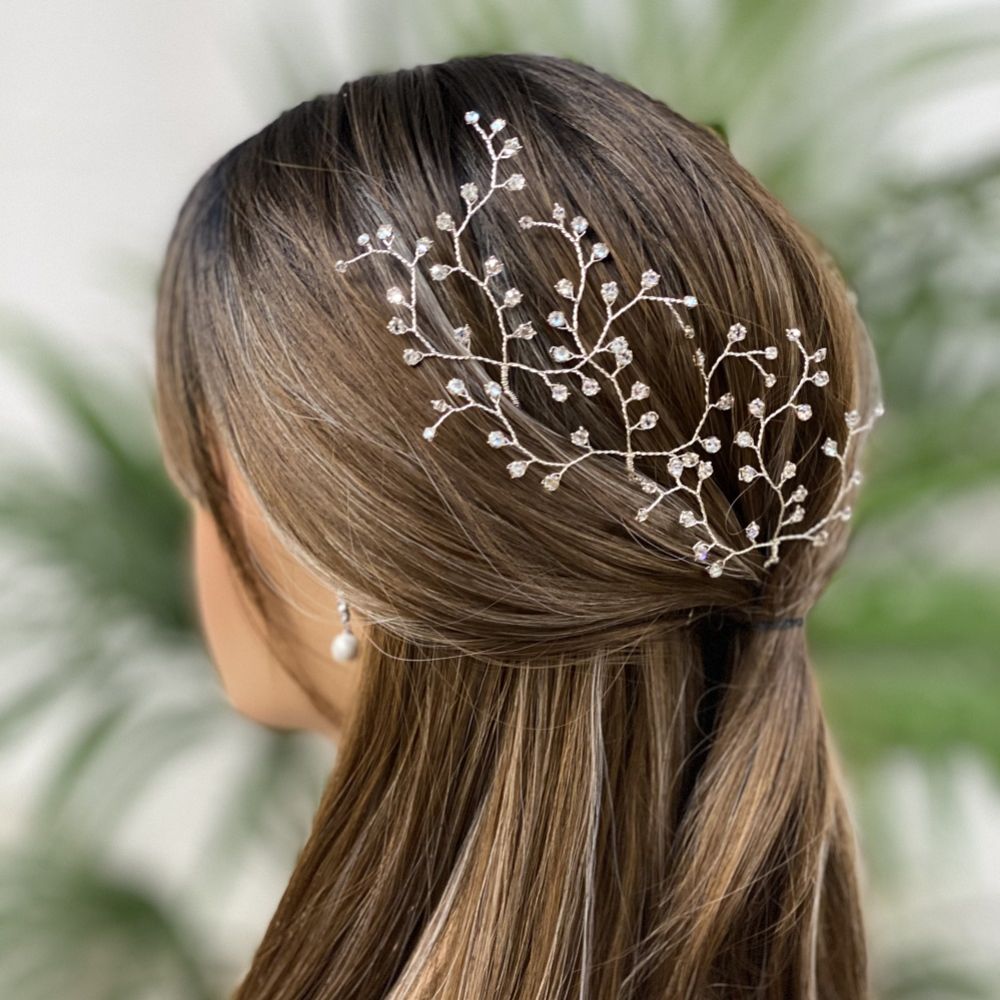 Wedding Shoes That Sparkle
So you've found the perfect wedding shoe style and fit. However, they don't offer the sparkle that you had always dreamed of. Take a moment, breathe, and explore our range of Swarovski Crystal Embellished Shoe Clips. With leaves encrusted in only the finest Swarovski crystals and finished with a crystal flower, this is perfect for the bohemian bride, or someone getting married in a rustic setting. Available in either gold or silver, you can also count on these shoes to match up with whatever you've already chosen. For a more discreet look, our Manhattan shoe clips can also add an ayre of glamour to your dream pair of shoes.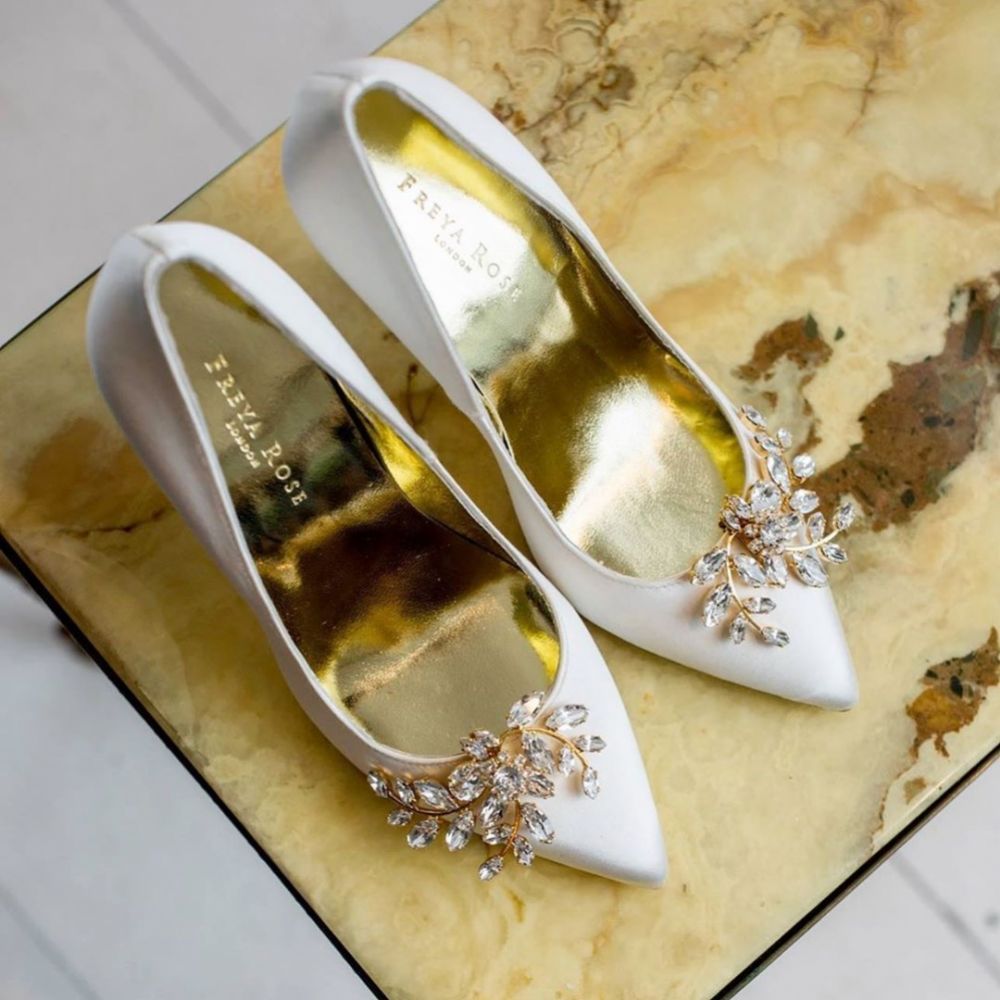 Shop Swarovski Wedding Accessories with Lace & Favour
Whether you're a bohemian bride looking to add a little sparkle, or a more traditional bride looking for your dream veil, we can help. Our range of Swarovski wedding accessories are sure to add elegance to any bridal outfit whether that be as a part of our wedding veils, wedding shoes, earrings or hair accessories. Whatever your theme or style, you're sure to find a look that you'll love here at Lace & Favour.