All you need to know about 'Something Blue'
Somethings You Should Know…
Every bride knows the saying 'Something old, something new, something borrowed and something blue. But what does it really mean, and what is the significance of that age old rhyme? Well here's a little insight of how that all began…
Something old represents tradition, family values and the importance of your family ties and keeping that bond after married life. Something new, signifies the start of a new chapter in your life, the start of married life and your new partner. Something borrowed is the inspiration you take from successful life-long partnerships you have witnessed around you, and the values that will inspire you on your life's journey together. And the something blue – well that's the ultimate symbol of fidelity…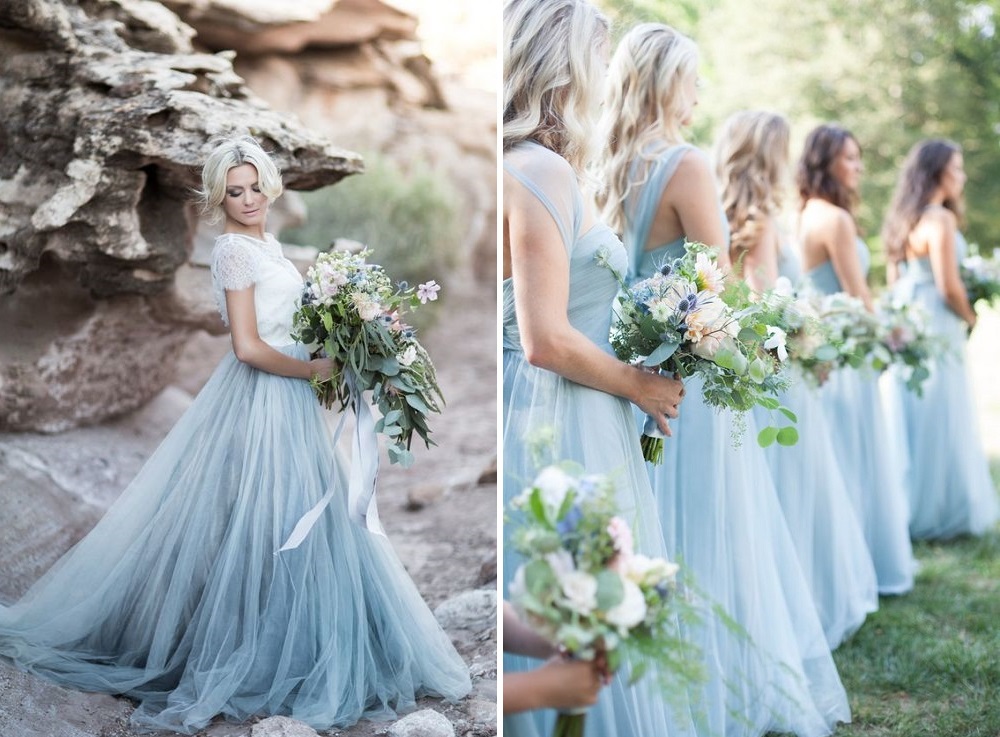 Forever and Ever…
Pre-dating the well known rhyme by centuries, it was said way back in time 'Marry in blue and always be true', hence the reason for that something blue. Therefore that token 'something blue' represents a life long commitment to your partner, and the promise of ever-lasting love and fidelity. So now you know!
The continuation of the rhyme 'and a lucky sixpence for her shoe' came much later and was intended to bring good fortune in wedded life, prosperity and ever-lasting happiness. As the sixpence has slowly disappeared over the years, so has the belief. Sadly this good wish symbol will soon be confined to history, and the lucky horseshoe lives on.
Something Blue For You
So let us help and inspire you with some ideas for your own something blue on your special day… some old ideas, some new ideas, some are borrowed but all very blue!
Probably the easiest and most popular is the bridal garter, with a blue bow or ribbon. Not so original, but nevertheless a traditional choice. Lace & Favour garters almost all include some blue embellishment. Or why not wear some pretty blue lingerie, a blue petticoat or underskirt, or simply a bra with a discreet 'something blue' bow.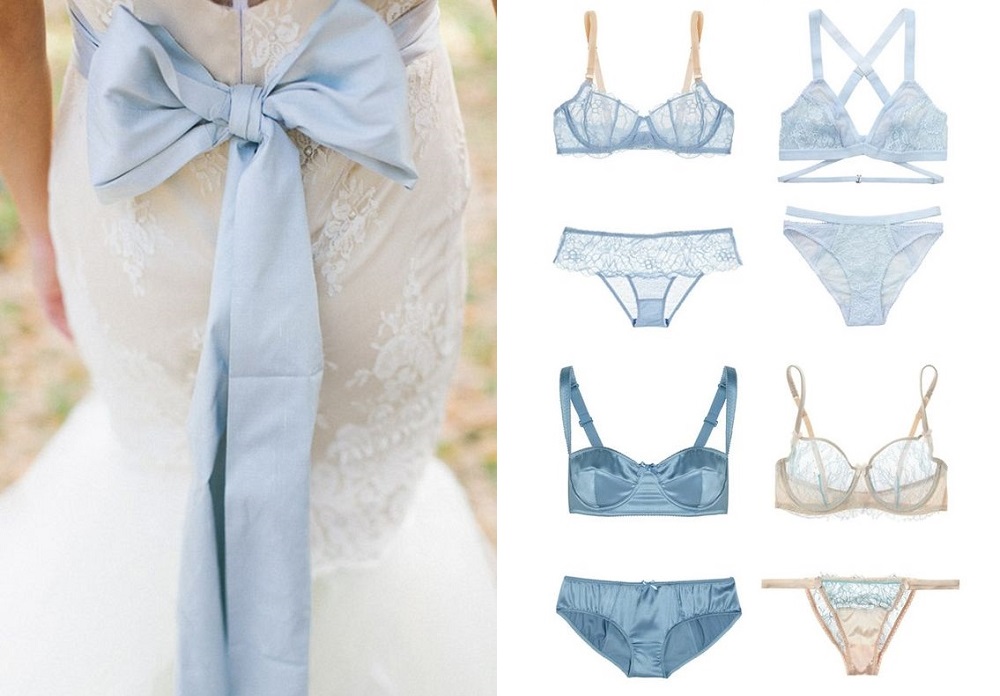 Stepping Out Of The Blue
Many shoe designers have now introduced a blue shoe, which seems to be increasingly popular with today's modern bride. Here are our favourite blue wedding shoes available from Lace & Favour, all very different styles, so there's certain to be something blue here for every bride.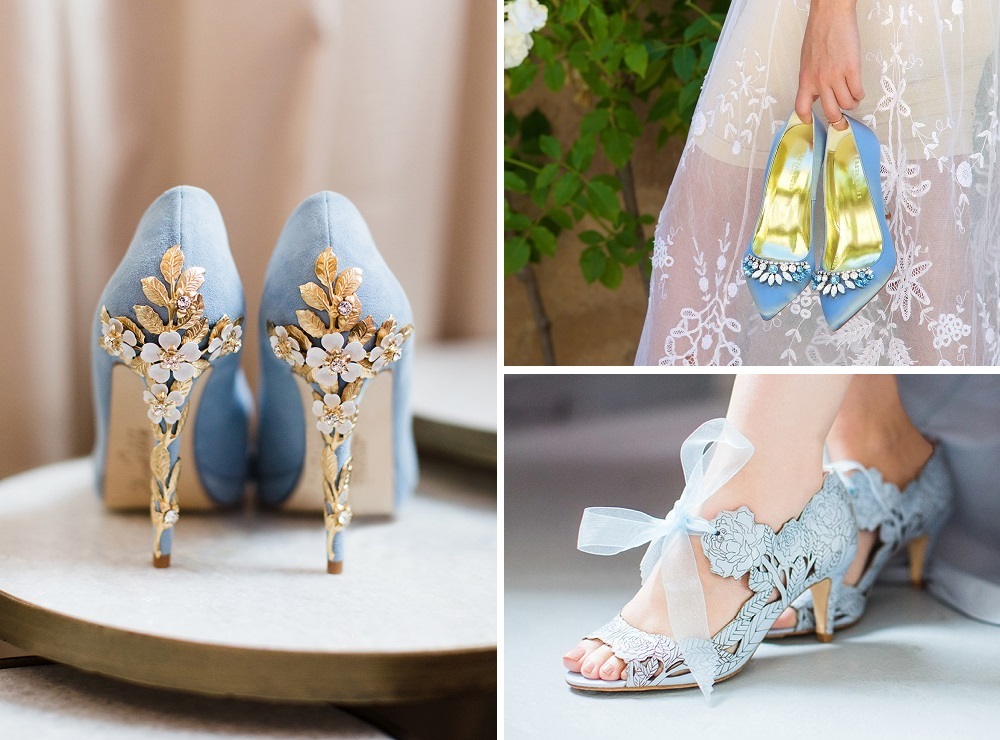 If blue shoes are not for you, you may be interested to know that each and every pair of Rainbow Club bridal shoes have a tiny sapphire blue Swarvorski crystal on the sole. A subtle and unique way for a bride to include a little something blue in their wedding attire, when you choose any shoe from this popular range.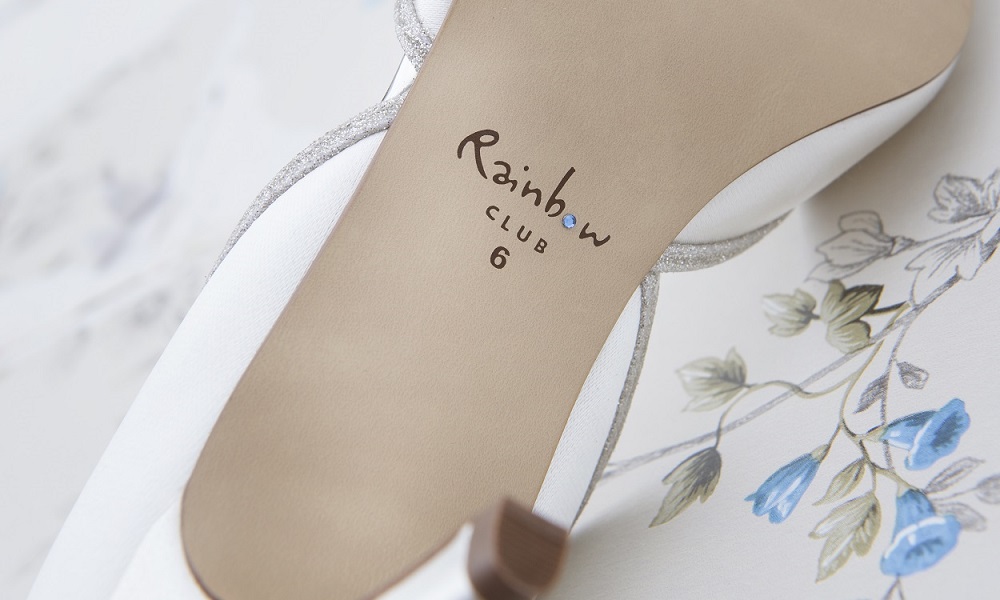 Something Blue In Your Hair
Blue accents are now featuring on bridal hair accessories, and here are some we would like to share with you today. From single blue flowers, blue rhinestones and bows, we are seeing more and more original ideas for hair to give you the 'something blue' you need.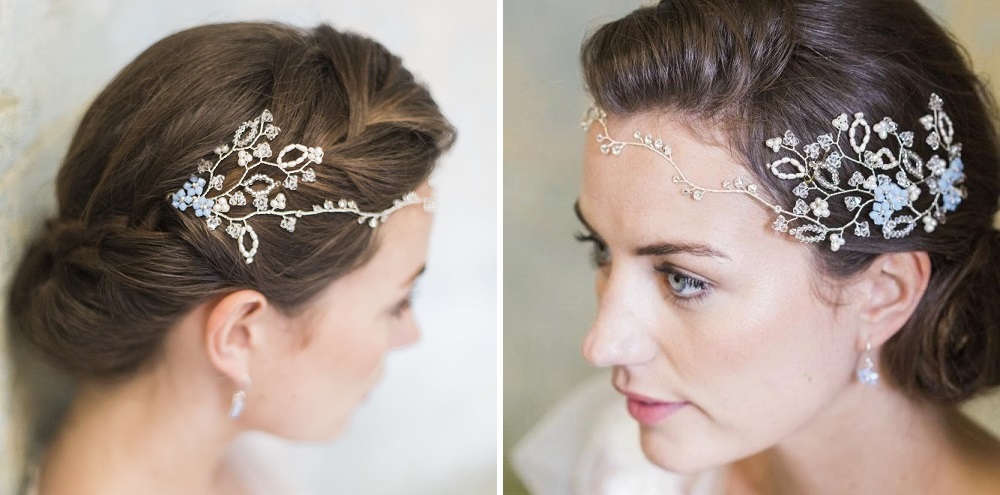 There are countless other ways to include something blue for your wedding day, your wedding cake, your bridal favours, flower arrangements or your own bouquet. With few natuarally occuring blue flowers, you will need to speak with a good florist if your heart is set on blues. Ivory flowers with just a scattering of blue blooms, or a posy tied with a blue ribbon are just some ideas, and easy to achieve.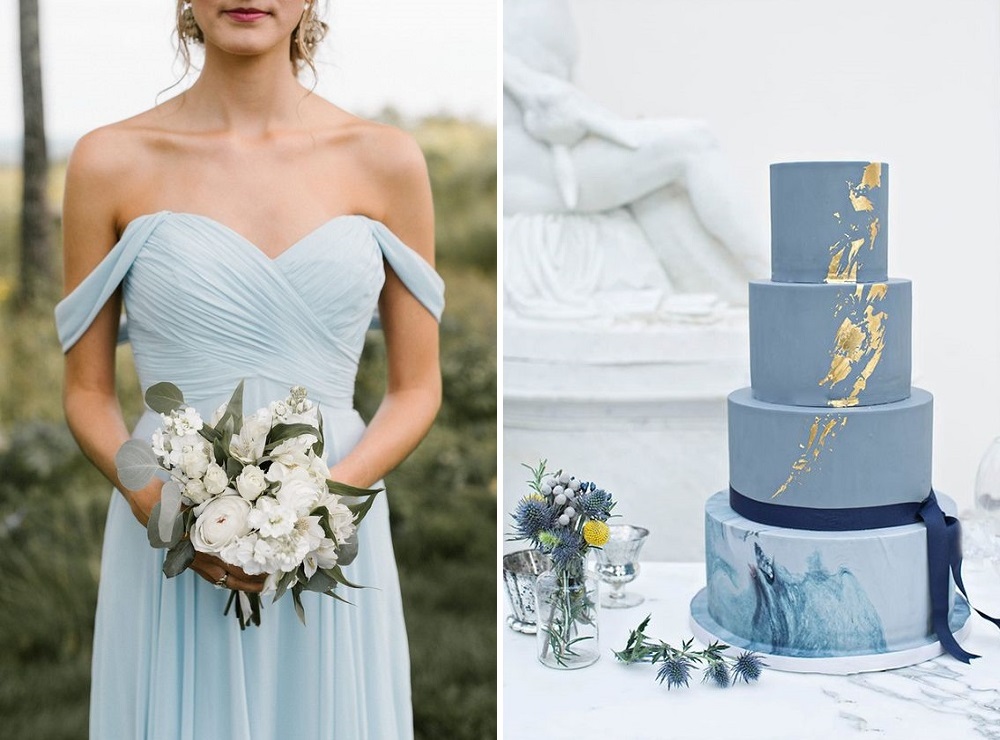 Powder blue bridesmaid dresses are certainly on trend this season, and come in many pretty styles. Flower girl baskets can be ribbon tied in blue, and a blue sash or bow can be added to their pretty dresses, or sewn into yours.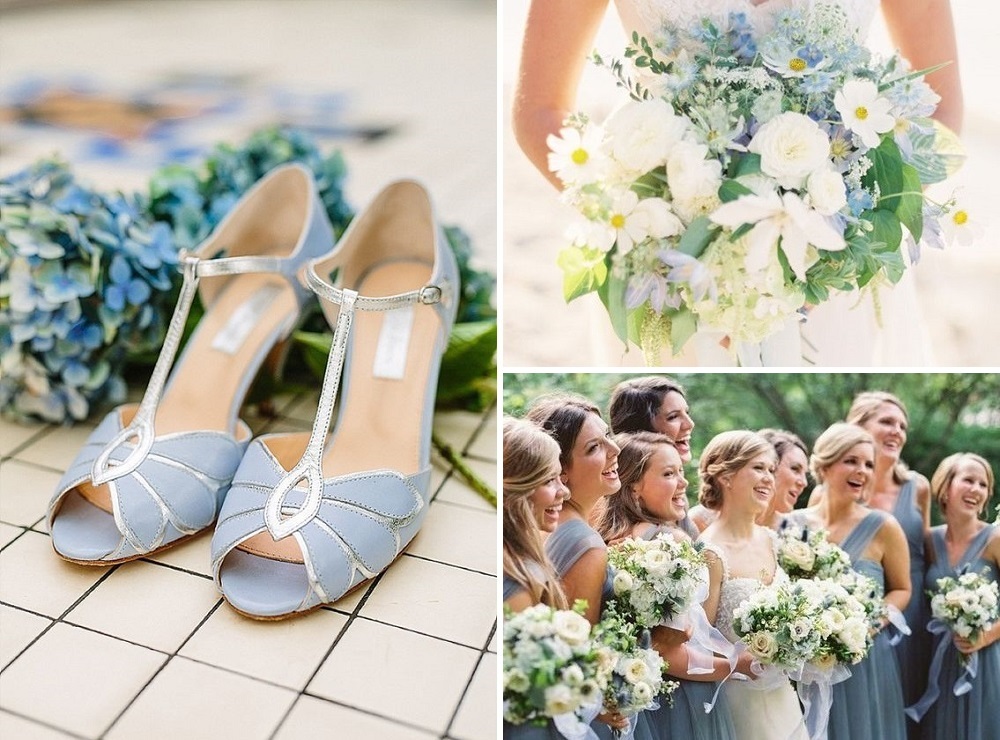 Blue For The Boys
Cravats for gents are an option too, or maybe just for the groom as a reciprocal symbol of his fidelity to you. Or why not exchange a gift with your partner on your wedding night, and include something blue as a joint commitment to your new life together.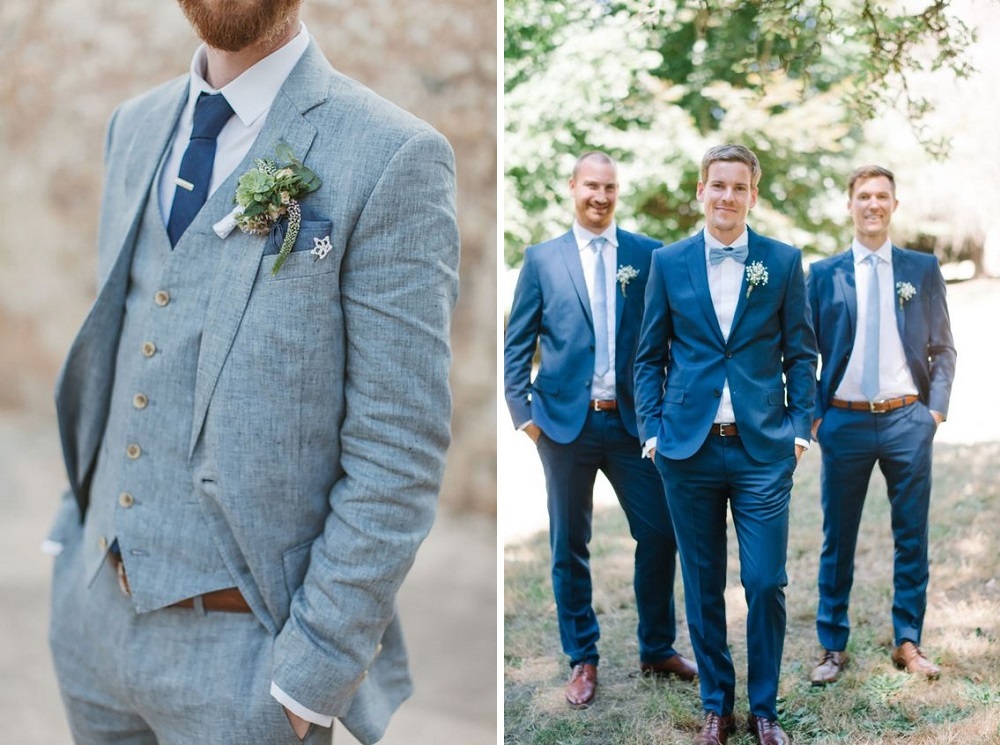 Think outside the box and you can come up with some super ideas of your for own something blue. And we are inviting you to share them with us at Lace & Favour. Now you know the reason, you will no doubt want to include that all-important blue something – how original will you be? We look forward to finding out!
Love & Luck to all our brides.
Andrea X