Autumnal Beauty - A Rustic Wedding Theme
Autumnal Wedding Inspiration
Autumn is such a beautiful season, and it's really no surprise that more and more weddings are now taking place in this oh-so pretty time of year. At Lace & Favour, we're swooning over teal and burnt orange colour pallets for autumn weddings, so before we are knee-deep in winter, we just had to share this feature with you. These rich contrasting colours look so unbelievably stunning when paired together.

Wedding Table Decorations
The burnt orange tones couldn't be more perfect for this time of year whilst the rich teal adds another layer of interest and a cooler, almost wintery feel to the pallet. From rustic to city chic, boho to traditional, you can make this theme absolutely anything you want it to be! There's just so much I love about this colour scheme and overall wedding look.

Bridesmaid Dresses for Autumn Weddings
Teal is such a striking colour choice for bridesmaids dresses, and makes the perfect wedding photos when teamed with a colourful bouquet. Teal also suits all types of complexions, whether fair or olive skinned, blonde, dark or even red haired.

Autumnal Bridal Accessories
To tie in with your theme, Lace & Favour will make sure you're spoilt for choice with coordinating golden bridal accessories. From rustic golden wreath halos to autumnal wedding sandals, look no further! Our edit includes the beautiful 'Anwen and 'Anthea' headpieces by Gadegaard Design and Harriet Wilde's fabulous 'Ivana' and 'Peony' sandals. We love the metallic leaf laser design in these shoes!

Festive Ideas
It's the little finishing touches that make a wedding so special, and for autumn, you can have great fun with decorations and details. How about providing big baskets with scarfs and blankets for your guests in case there's a chill in the air? And why not treat your guests with festive beverages? Hot apple cider and spiced rum cocktails are perfect for autumn weddings!

Autumnal Scenery
I'd like to finish this feature with some beautiful autumnal scenery. Just look at those colours!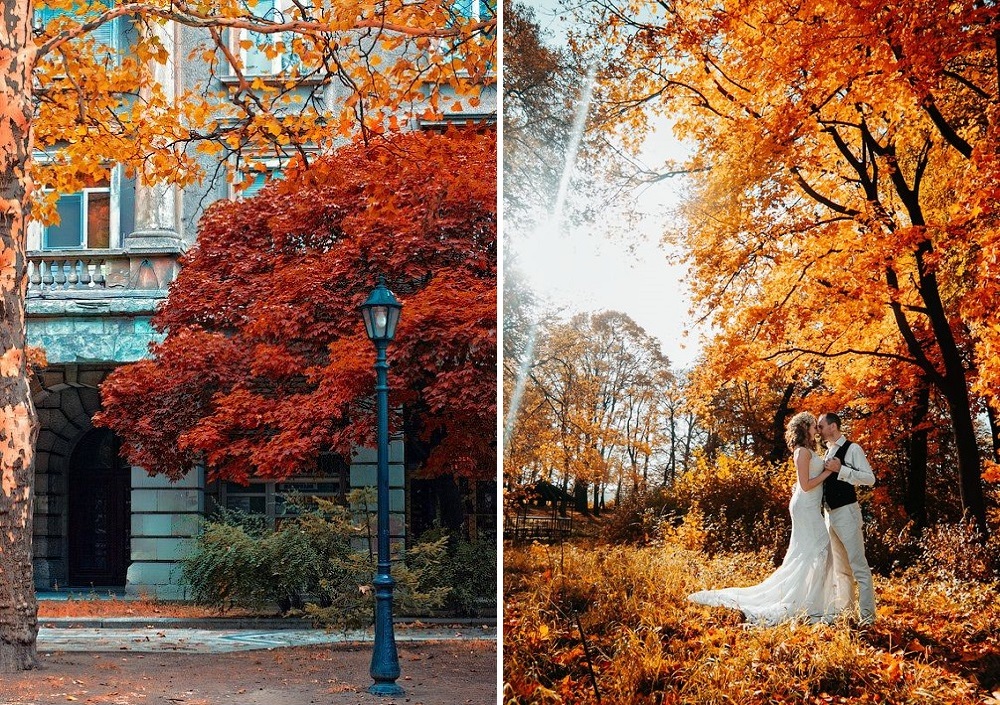 Love Amy x