Beautiful Block Heel Wedding Shoes
Looking for block heel wedding shoes for your big day? Look no further! At Lace & Favour, we have the most beautiful collection of block heels in both classic and modern designs. A block heel is not only a stylish choice for today's bride, but easier to walk in, more comfortable and suitable for cobbled surfaces and outdoor ceremonies! So lets take a look at some of our bridal favourites and some gorgeous new styles for 2020…
A Touch of Sparkle
We'll begin with the beautiful Bambi by Rainbow Club. A retro inspired court shoe with an elegant pointed toe and mid block heel in shimmering silver glitter for a subtle hint of sparkle. Understated but with a touch of glamour, minimalist brides will love Bambi! A gorgeous style for the city bride as the lower block heel makes these wedding shoes ideal for walking distance.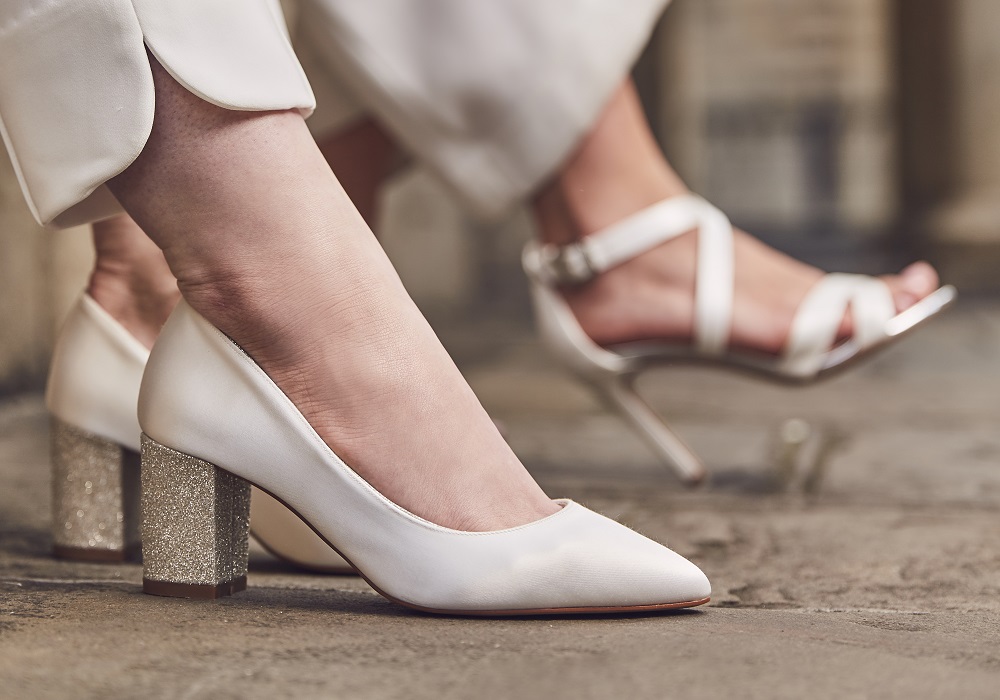 Deco-Inspired Prints
Due to the popularity of these stunning block heels, Bambi has been reinvented for next season with a brand new print. The new Bambi shoes feature a graphic, Deco-esque parquet block heel with subtle soft gold trim. Crafted in dyeable ivory satin making Bambi Parquet a stylish choice for bridesmaids, mother of the bride and wedding guests too! With the matching Elsie clutch bag, you can complete your look perfectly.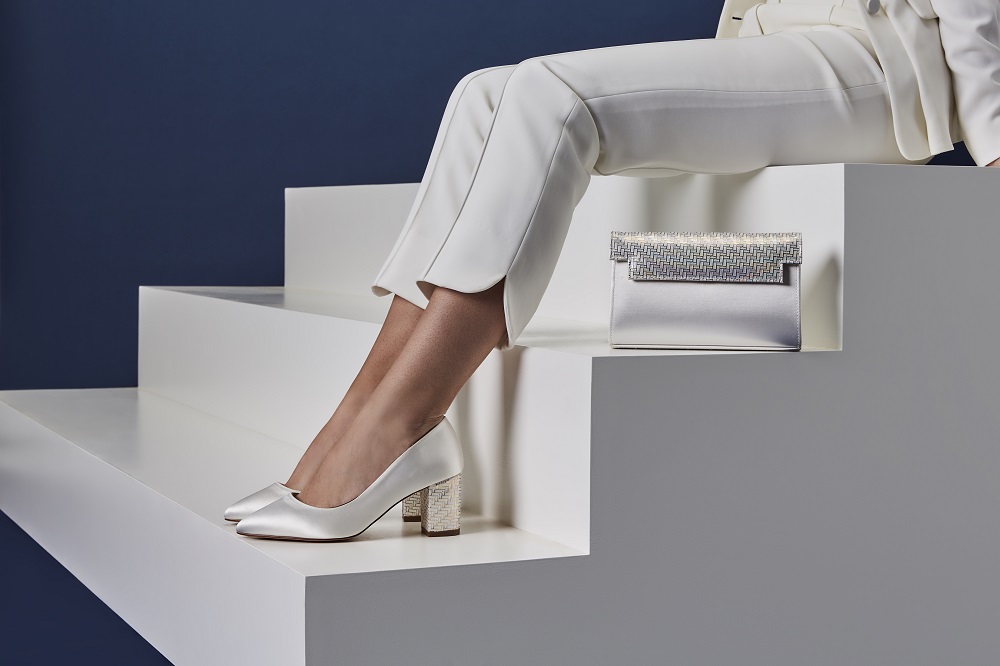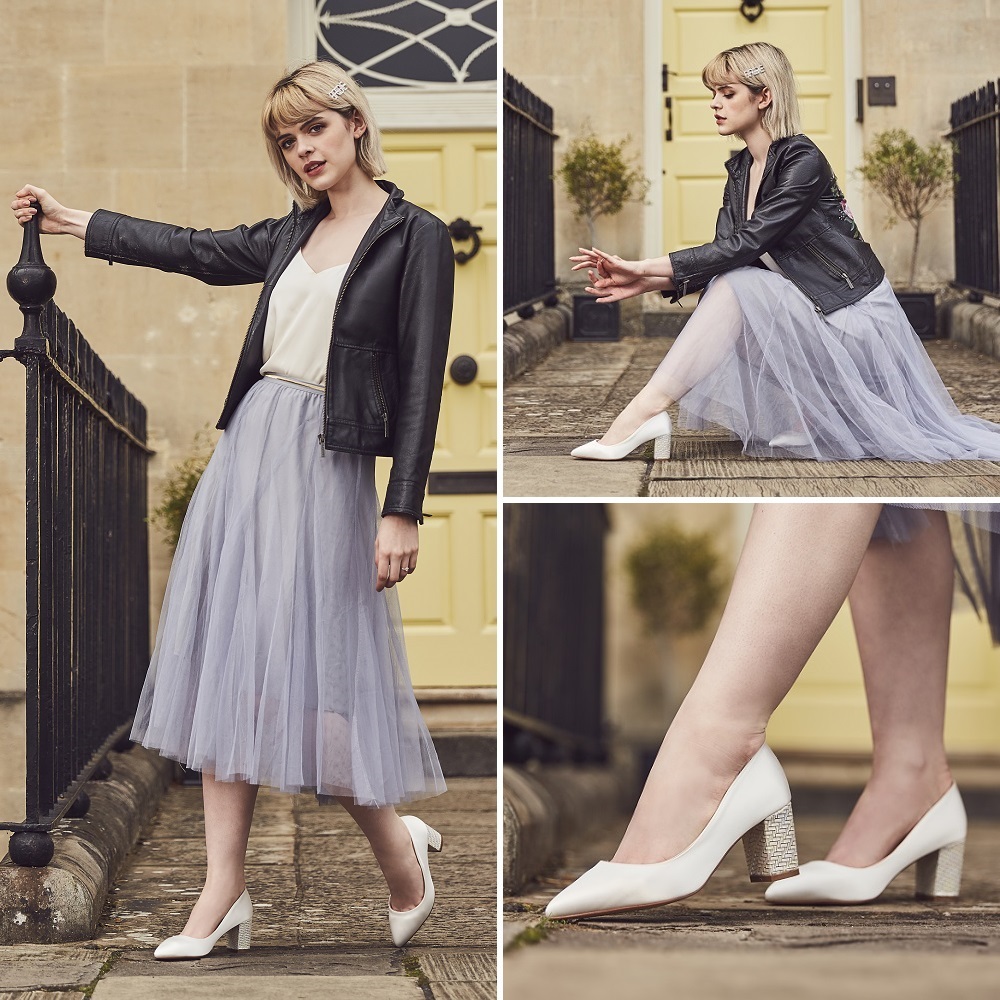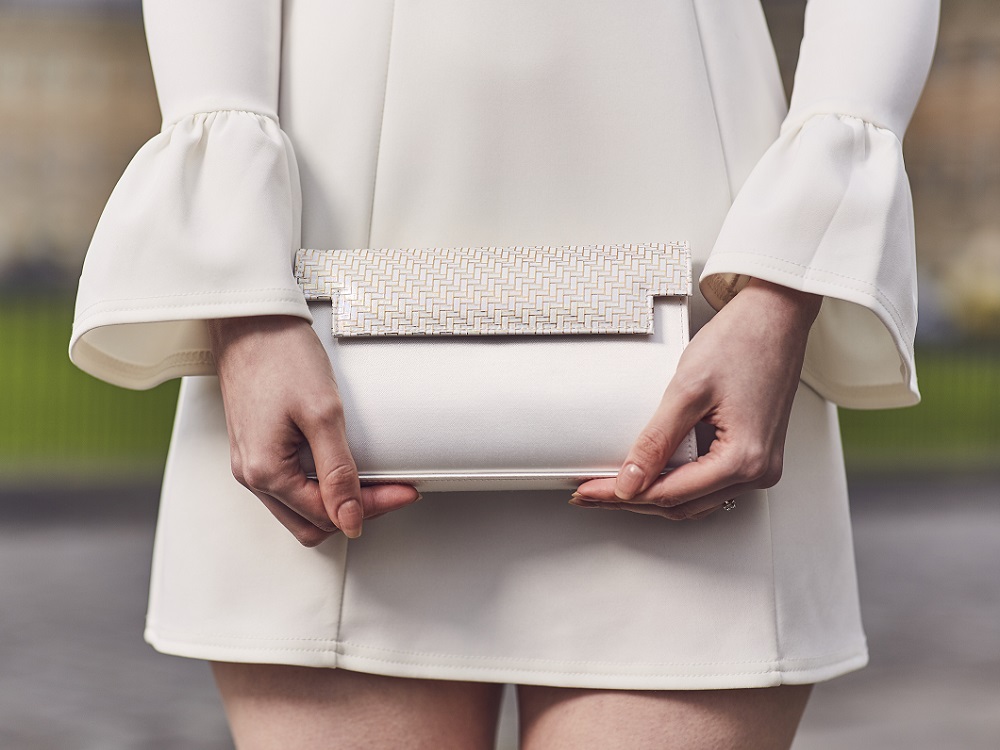 Summery Block Heel Sandals
One of my personal favourites is our show-stopping block heel sandal, Cindy. A new style by Avalia which has taken everyone by storm! A lovely choice for Spring and Summer brides these block heel sandals feature stylish crossover straps and a pretty peep toe. Complete with a cushioned insole, you won't believe just how comfortable these wedding shoes are until they're on! – (I know it's hard to believe considering the heel height). The classic ivory satin finish makes this style a gorgeous complement to almost any bridal gown.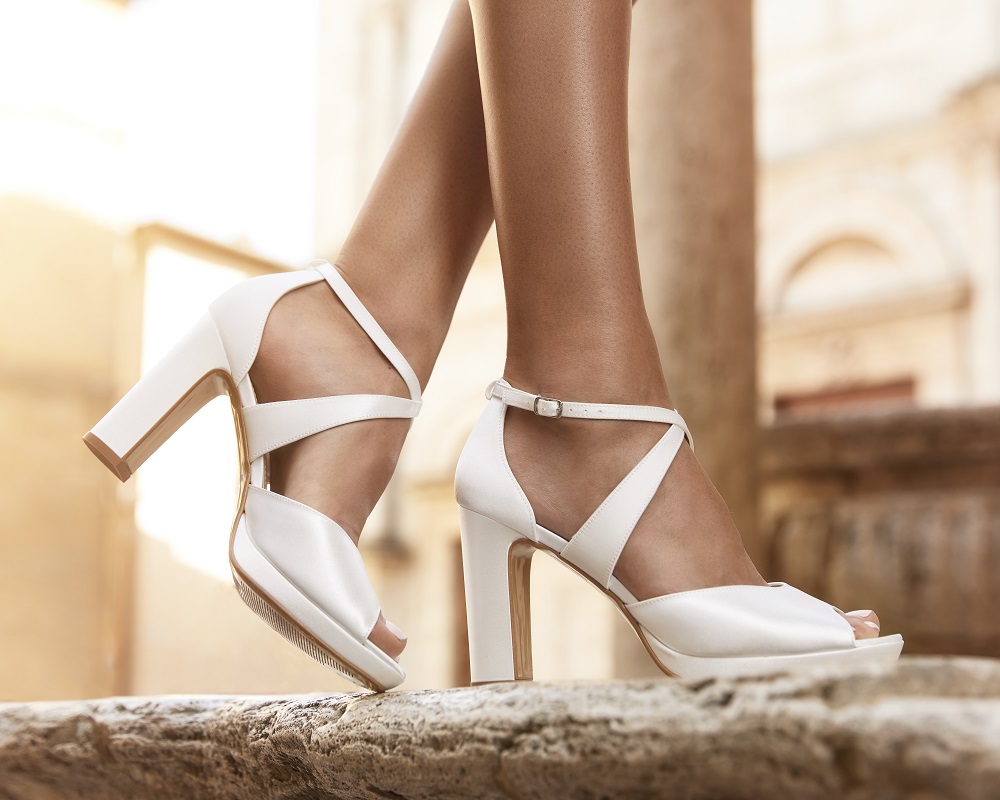 Modern T-Bars
Another block heel shoe which has captured the hearts of many is Coco. More suitable for Autumn or Winter weddings this style features a rounded closed toe, an elegant T-bar strap and a small platform for added comfort. These ivory block heels by Avalia are perfect for the modern bride!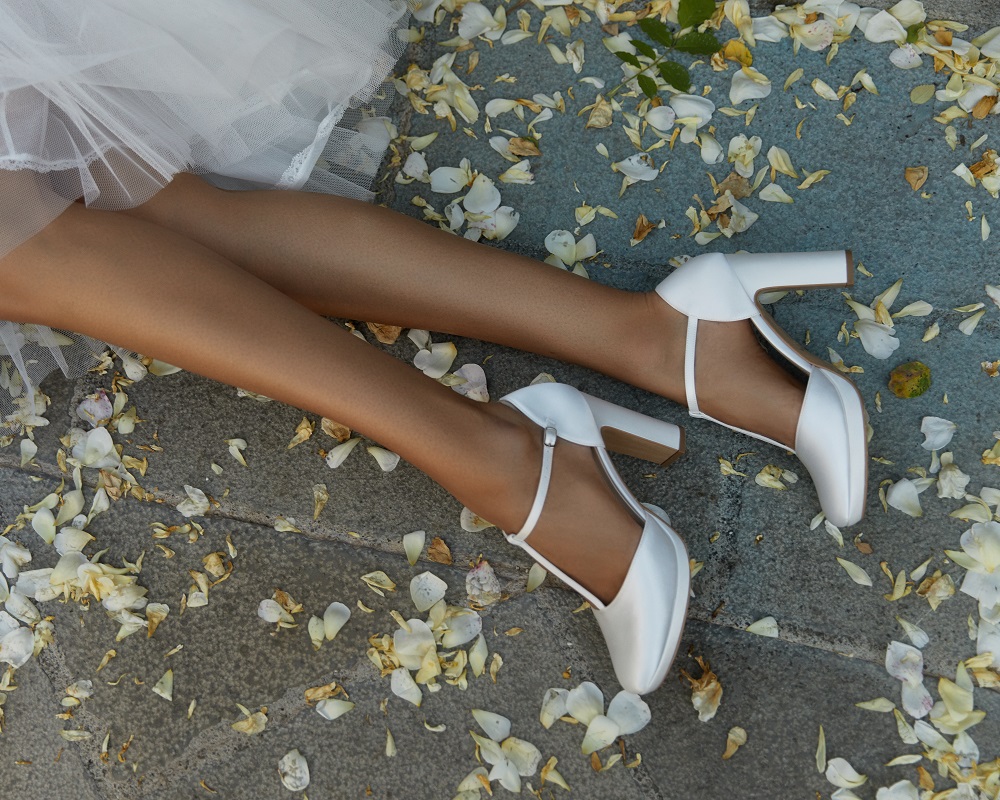 Statement Block Heels
Make a statement with the Astra high heel court shoes. A classic court with a modern twist, Astra features a softly pointed toe with a geometrically shaped block heel. Crafted with cushioned lining the beautiful wedding shoes will not only look super trendy, but will keep your feet comfortable all day long!
For The Vintage Bride
A stunning best seller in our collection of block heel wedding shoes is Madeline by Rainbow Club. Perfect for the vintage bride, this beautiful retro-inspired Mary Jane shoe comes in three gorgeous fabrics, classic satin, luxury lace, or our brand new ivory snow glitter. With a chunky block heel and wide ankle strap, these Mary Jane shoes are the perfect heels for dancing all night long! Team with a fifties style gown for a dreamy vintage-inspired bridal look.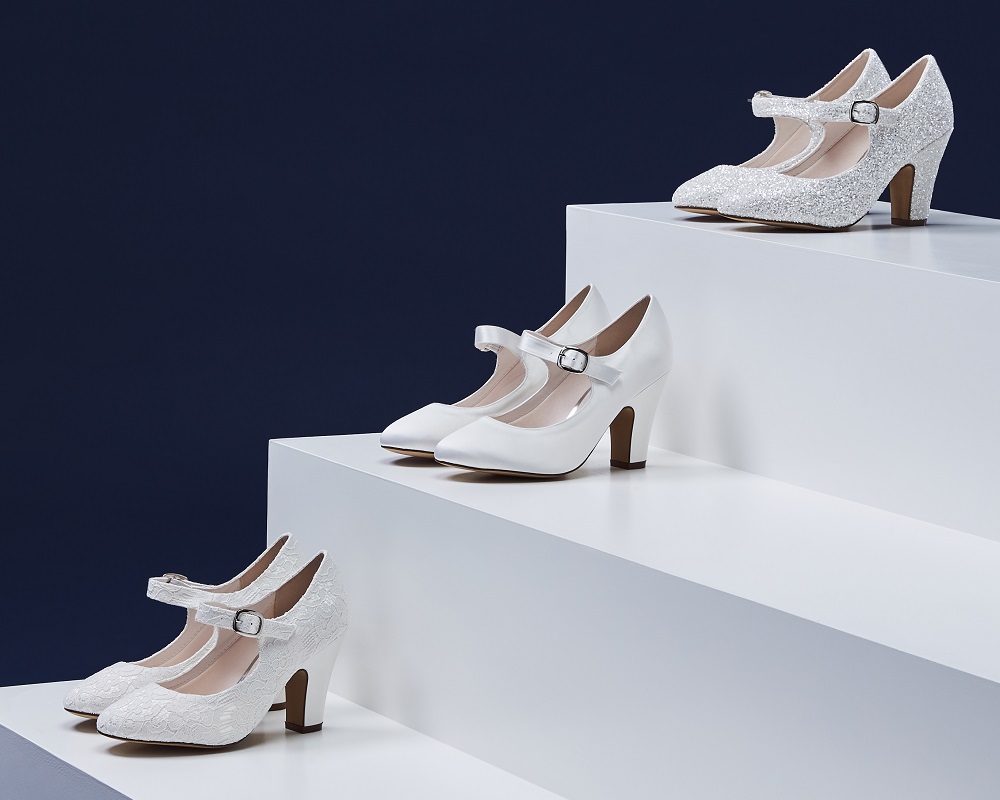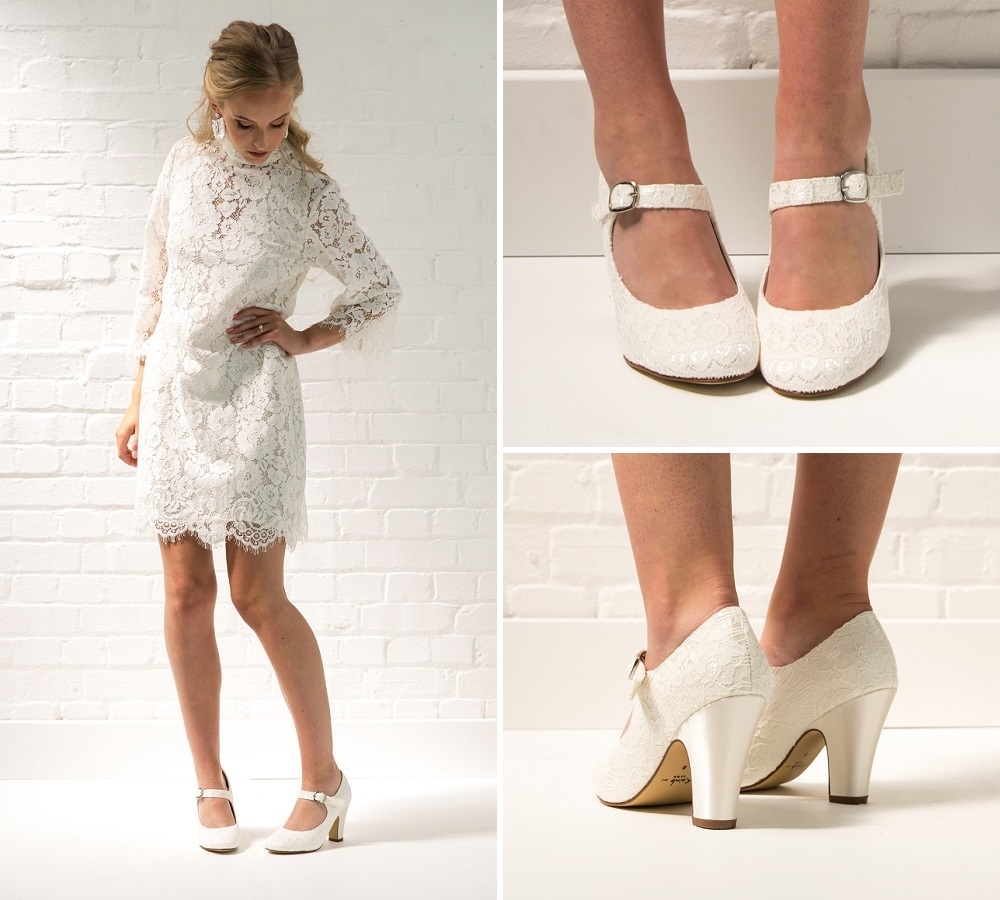 Opulent Mother of Pearl Heels
Now lets take a look at some of the most beautiful heels – literally! Meet Martina – an elegant block heel sandal that boasts the versatility of Freya Rose's acclaimed iconic styles. Handcrafted in shimmering champagne suede the block heels are jewelled with Freya's signature genuine Mother of Pearl in a stunning mosaic design. With it's sophisticated silhouette and memory foam insole and kid leather lining, Martina follows the natural curves of the foot ensuring they are the most comfortable wedding shoes. Perfect for the style conscious bride!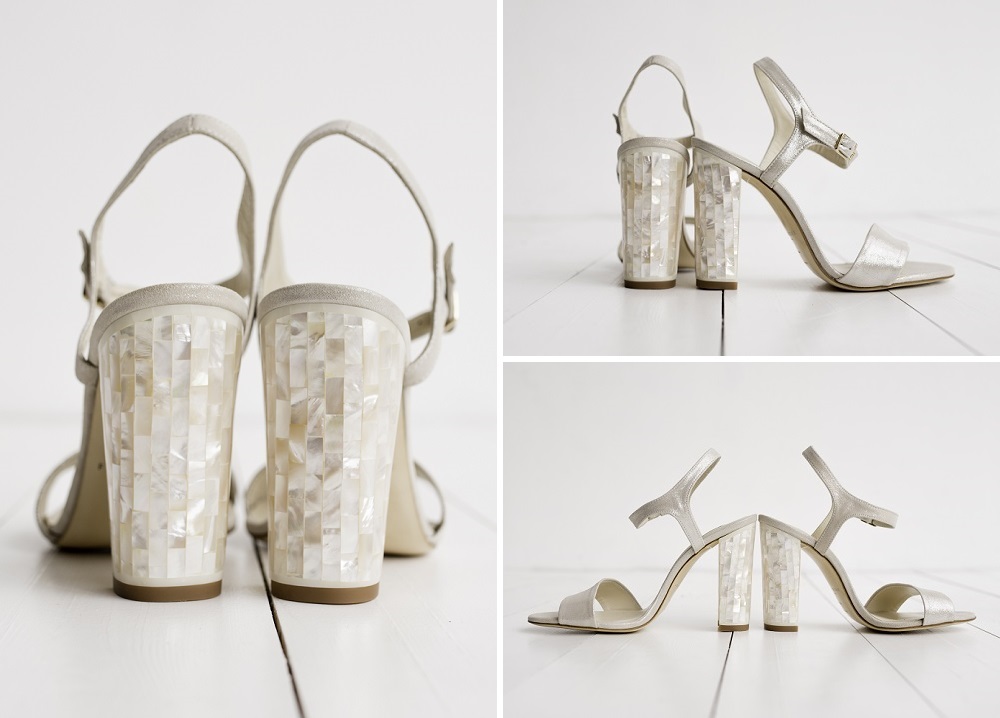 Love the style but prefer a prefer a lower heel? We've got you covered! Check out Martina Midi. Identical to Martina only with a low block heel.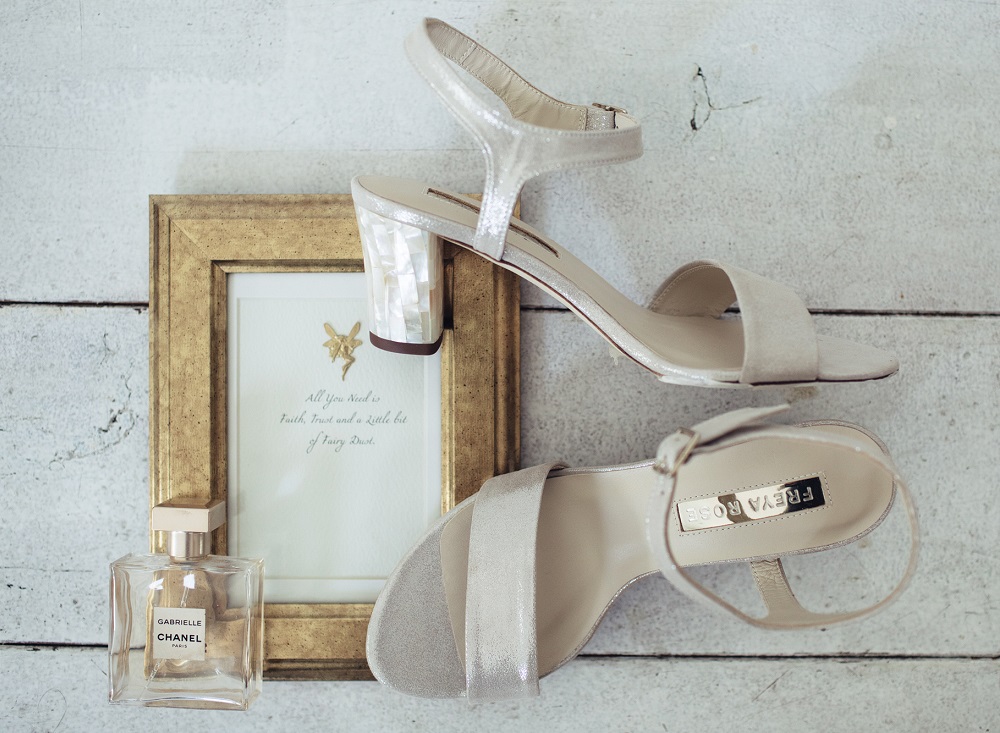 Or if you're channelling a rose gold wedding theme, then Martina Rosa is the ultimate style! Just how pretty is this shade?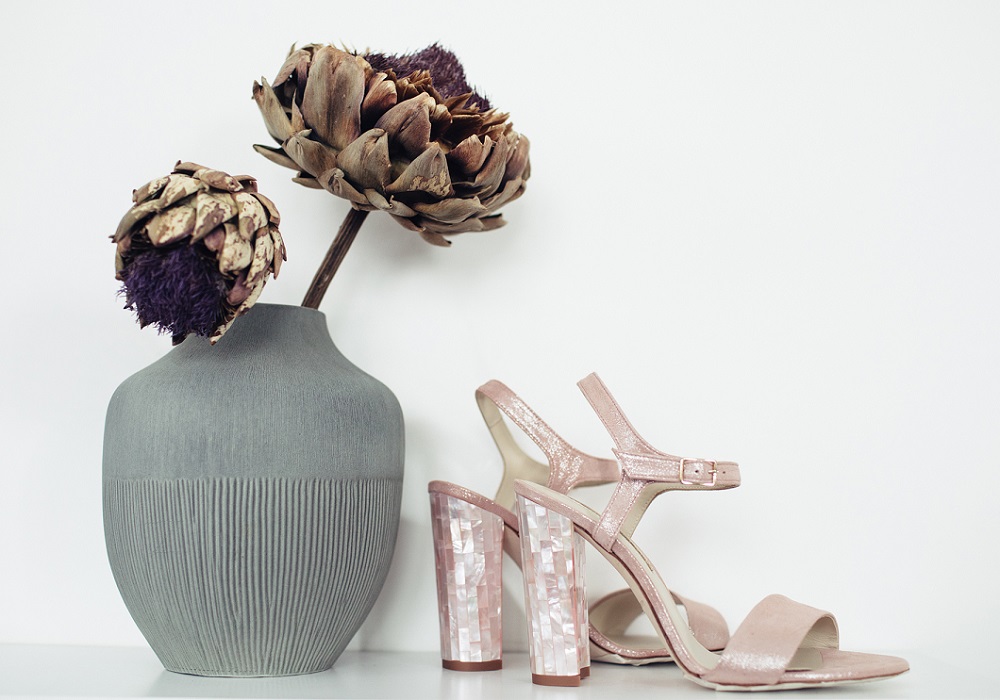 Staple Style
A staple style with timeless appeal is Blake by Rainbow Club. What we'd call a real contemporary classic, Blake is one of the newest block heel wedding shoes in our collection. Crafted from luxurious ivory satin, these lattice-front strappy sandals are finished with a high-shine silver leather trim, have a delicate ankle strap and sit on a comfortable block heel. Designed for brides who like to dance, they'll keep you on your feet from the day through to the night.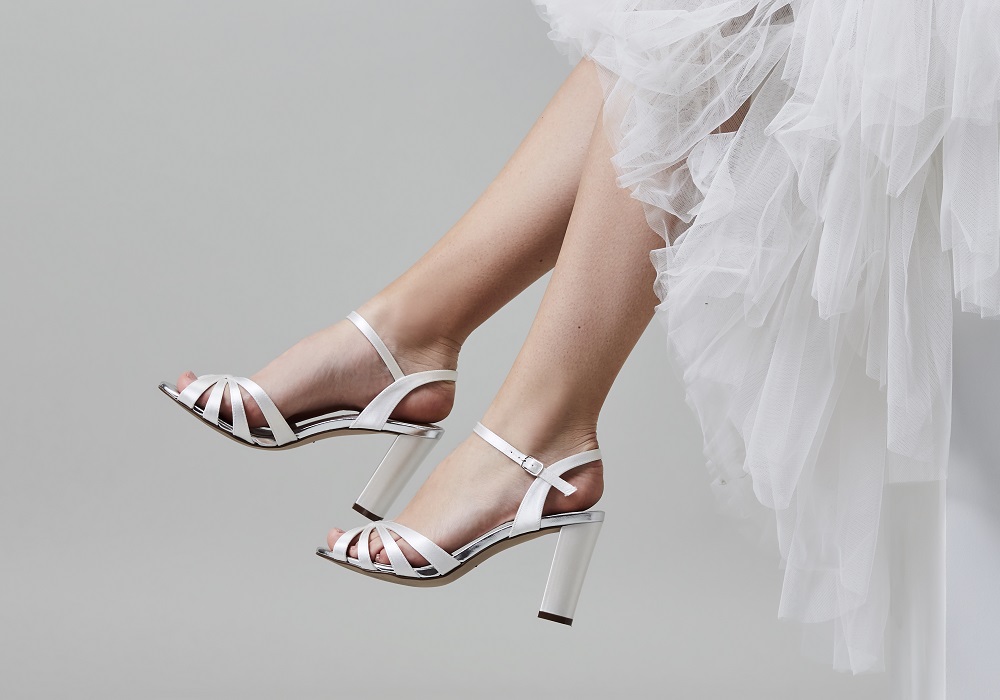 A popular choice for bridesmaids and wedding guests too as this style is 100% dyeable! Team with the gorgeous Dafnee clutch bag to complete your look.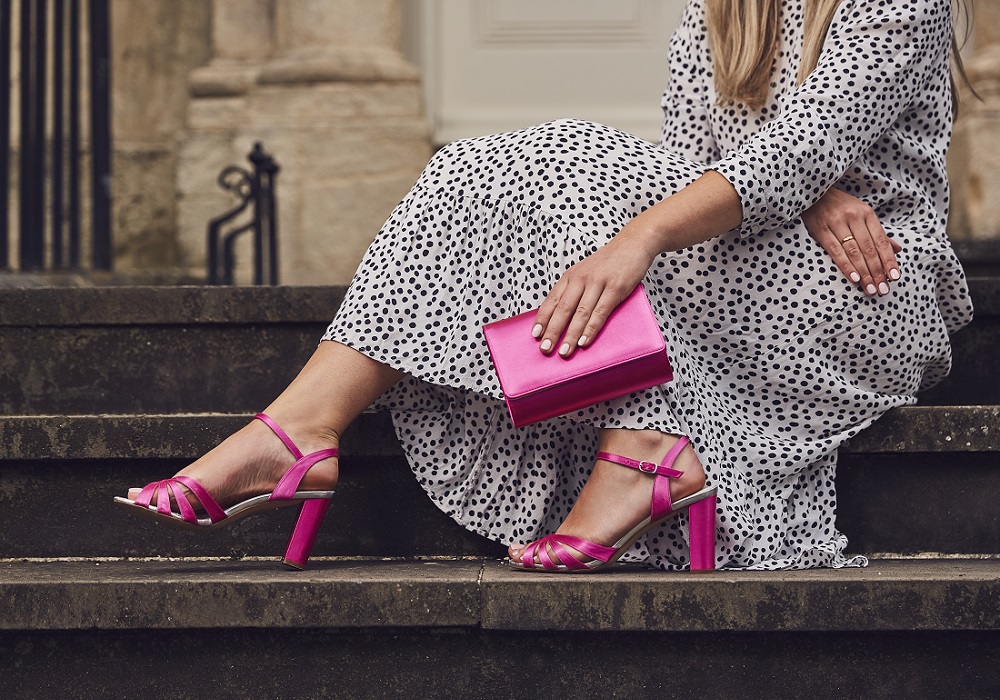 Lovely in Lace
For brides looking for block heels with a hint of gold, check out Quentin by Paradox London. This lace covered peep toe features a soft gold metallic T-bar strap and piping, finished with a mid 8cm block heel. Beautifully feminine and only £49, making these lace peep toe shoes an ideal choice for bridesmaids too.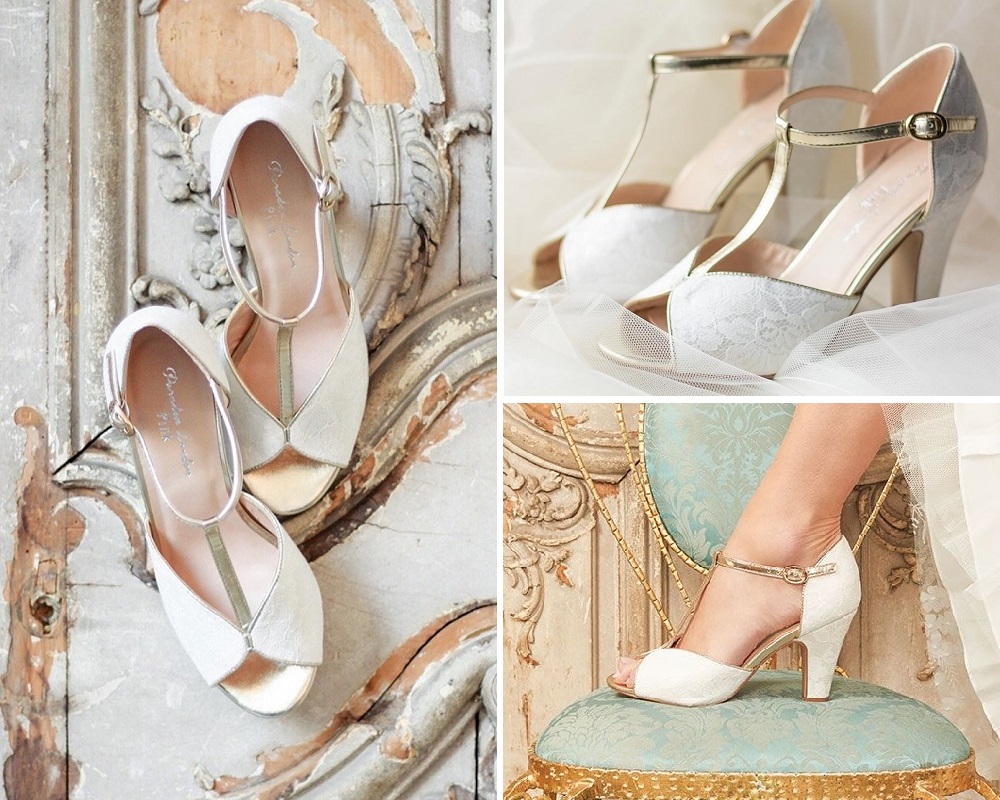 Quirky Block Heels
If you're a quirky bride looking for a wedding shoe with a bit of personality, then Candyfloss by Rachel Simpson is your go to style! This summer block heel sandal comes in a choice of ivory white or baby blue leather and features a candy coloured stripe print on the block heel. The striped block heel gives the shoe a unique twist, but being at the back of the shoe the pattern doesn't detract from the simplicity of the shoe when you're wearing it.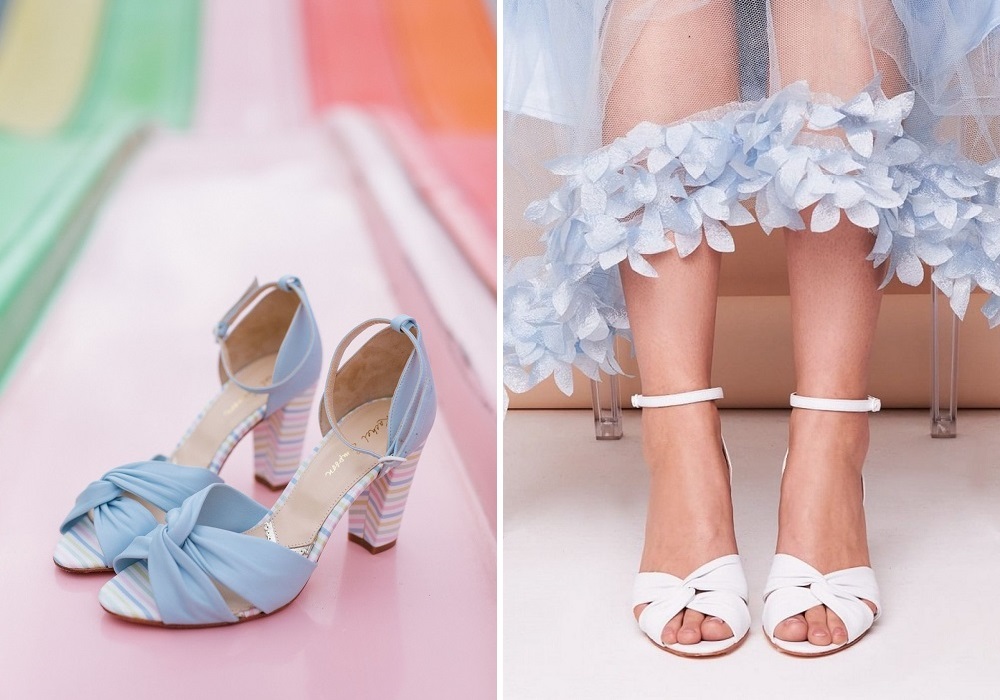 Feminine Bride
Finally, we have the luxury Arabella Block heels by Harriet Wilde. Available in dyeable ivory satin and misty blue suede these ultra modern block sandals feature a stylish undershot platform and elegant crossover straps. These feminine block heel wedding shoes are sure to add a touch of bridal glamour to your big day.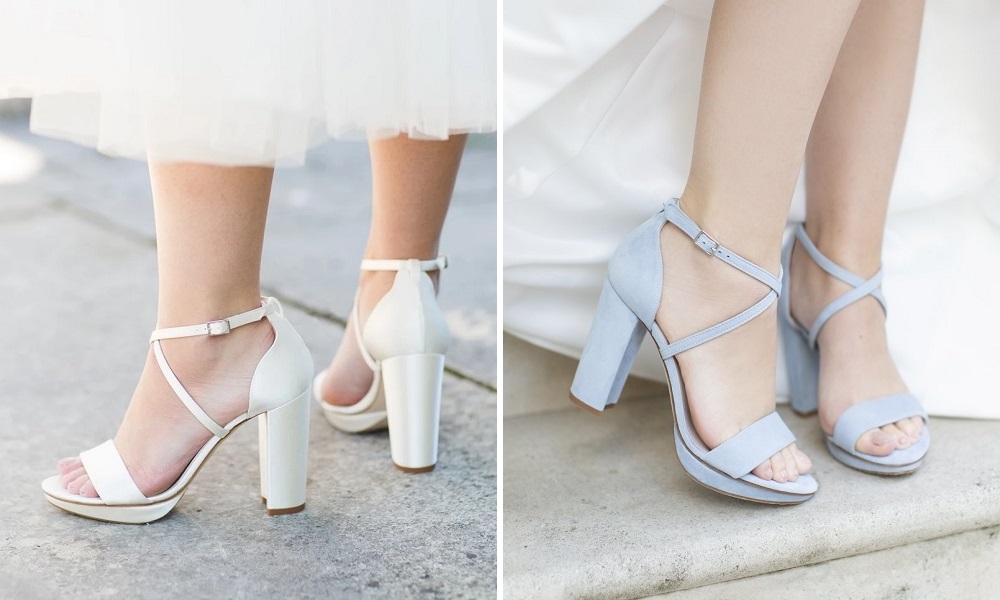 Also available on a low block heel too! For a modern twist, choose the blue suede or keep it classic and simple with the ivory satin.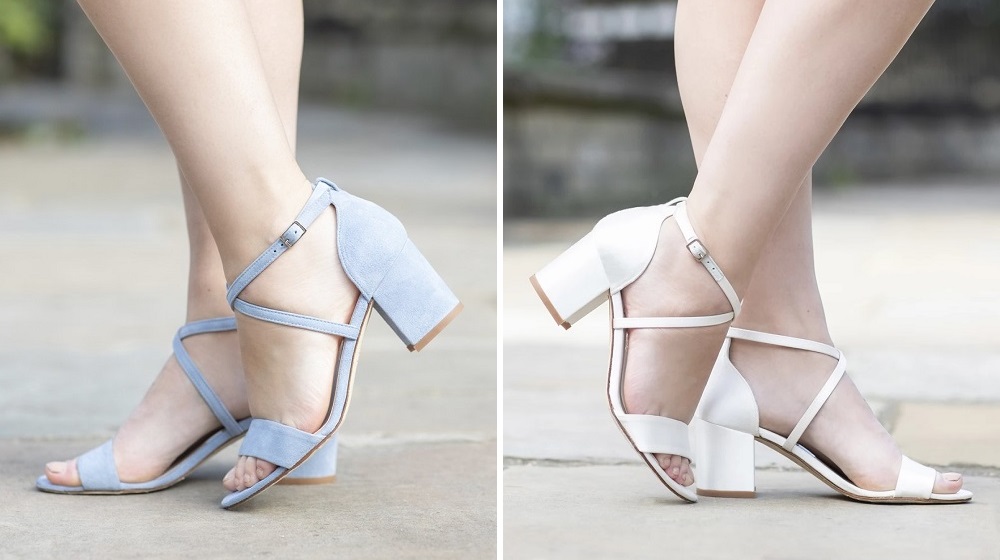 And that's not all, I could go on and on! Shop our full collection block heel wedding shoes.
Love Amy x