What Wedding Shoes Should You Wear According To Your Zodiac Sign?
So you've said YES to the dress and now it's onto the next most important part... Finding the perfect pair of wedding shoes to complement your dress and to keep your feet feeling comfortable all day long as you walk down the aisle and dance the night away! With so many gorgeous styles to choose from, choosing your bridal shoes can be tricky... If you're interested in horoscopes, however, we've put together a handy little guide to help you to find the perfect wedding shoes to match your personality. So why not place your wedding shoe destiny in the hands of fate and let your zodiac sign decide? Kick back, relax and let the stars decide your fate!
Aquarius (March 21 to April 19)
Starting off with the air sign Aquarius, you will now be floating through wedding planning with this zodiac guide. You are passionate and independent and you need shoes that will reflect that. Your sign's colour is red and that means you'll certainly stand out from the crowd and show off your passionate and independent qualities. Now, ivory satin crystal wedding sandals may not be red yet, but do not worry. The satin is a dyeable fabric so you can transform the pristine ivory into a stunning red. Now those would be some show-stopping shoes! And it gets better, the strap is embellished with sparkling crystals to add an extra shine to your wedding day. These shoes will ignite your look with true passion!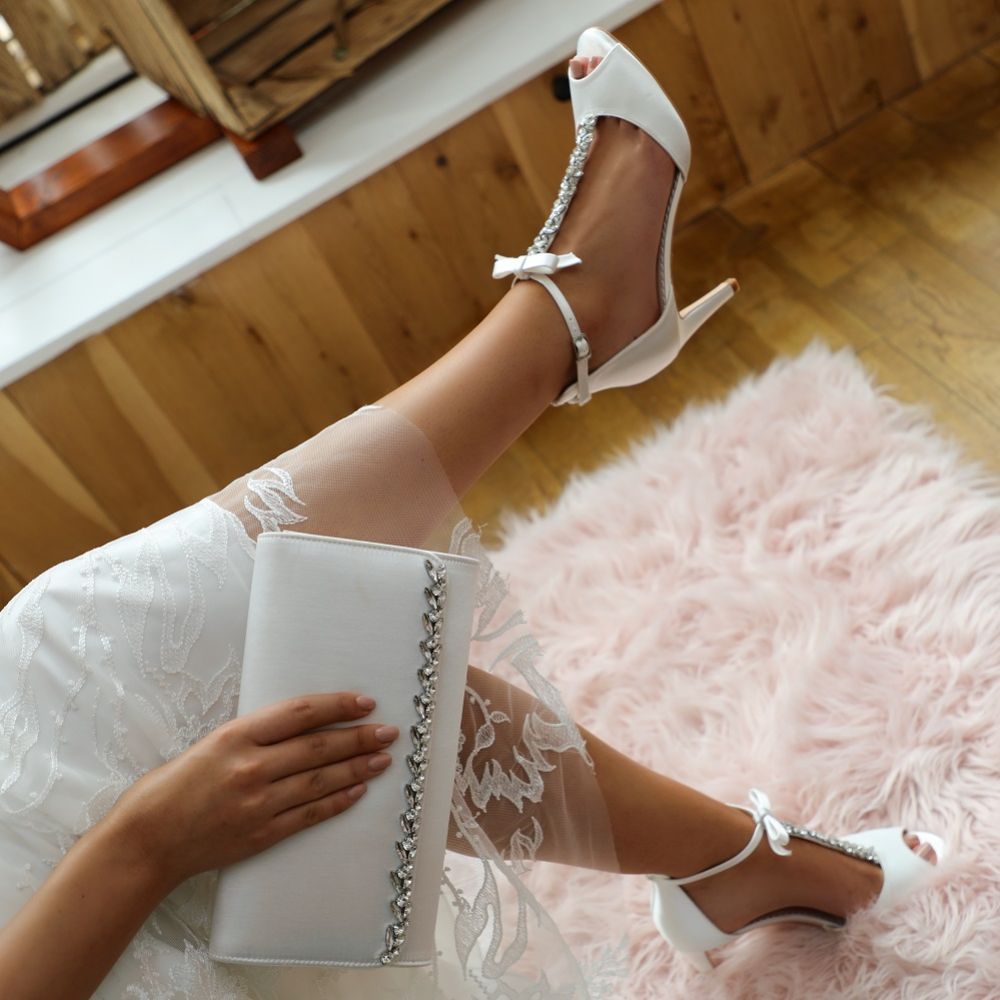 Pisces (February 19th - March 20th)
Pisces is the formidable water sign and we know that wedding planning can make you feel like you are drowning in your to-do list. But it is time for you to kick back and go with the flow, let us sort your shoes out. As a Pisces you are a creative spirit and are completely unique and it is important that you express your true self. Pisces are also known for their connection to the natural world and the instant calm nature can instil into you. So it makes sense that your zodiac colour is green, a colour that is truly at one with nature. So these forest green T-bar shoes are the perfect match for you as their rich forest green colour inspires nature. And they feature a large petal design on each shoe which would also match beautifully if you have opted for a floral theme!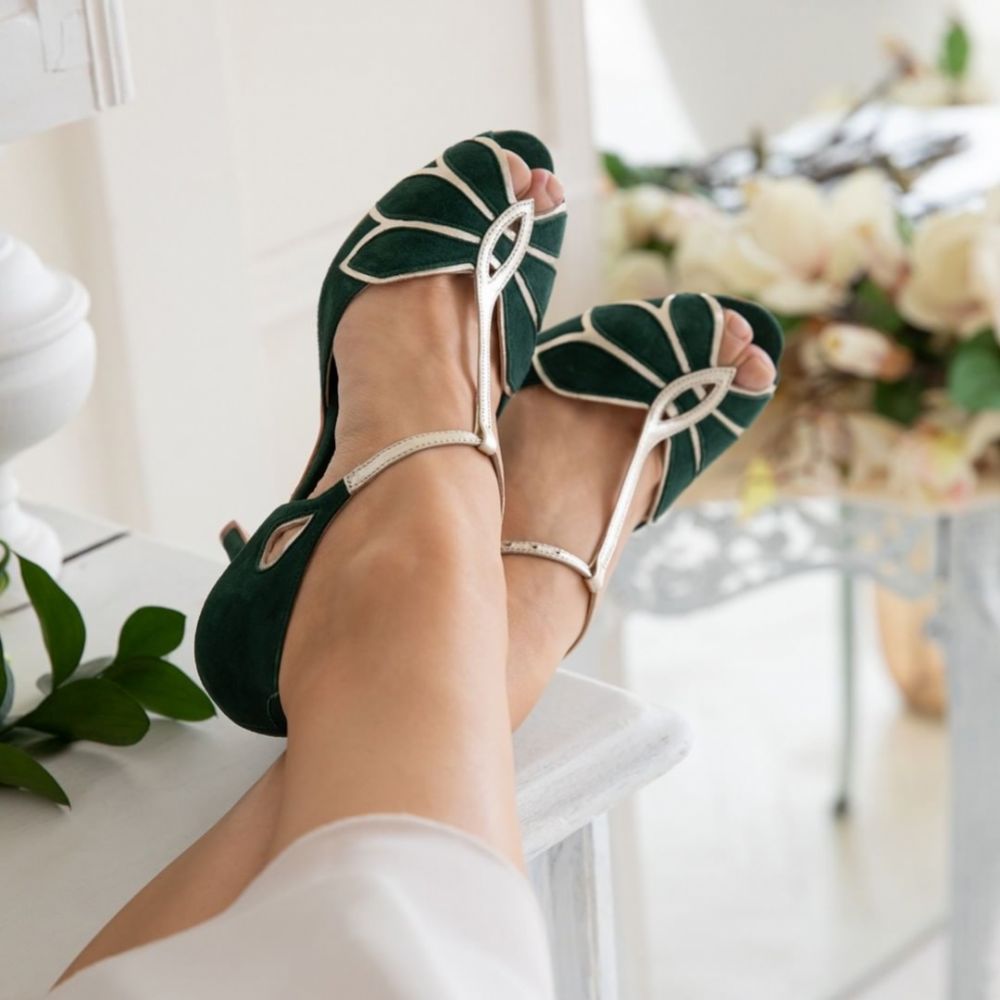 Aries (March 21st - April 19th)
As an Aries you are a very strong person and it is important that your shoes show everyone what you are really about. So tap into your strong sign with these blue suede ballet pumps with organza ankle tie and embrace the formidable strength and grace of ballet dancers! These gorgeous pumps are also the ideal shoes to have on the dancefloor and bust out your best moves with true grace! These shoes also reflect your sign's colour of sky blue. Plus this also ticks off your 'something blue', another thing you no longer have to worry about! These zodiac signs are almost make things too easy!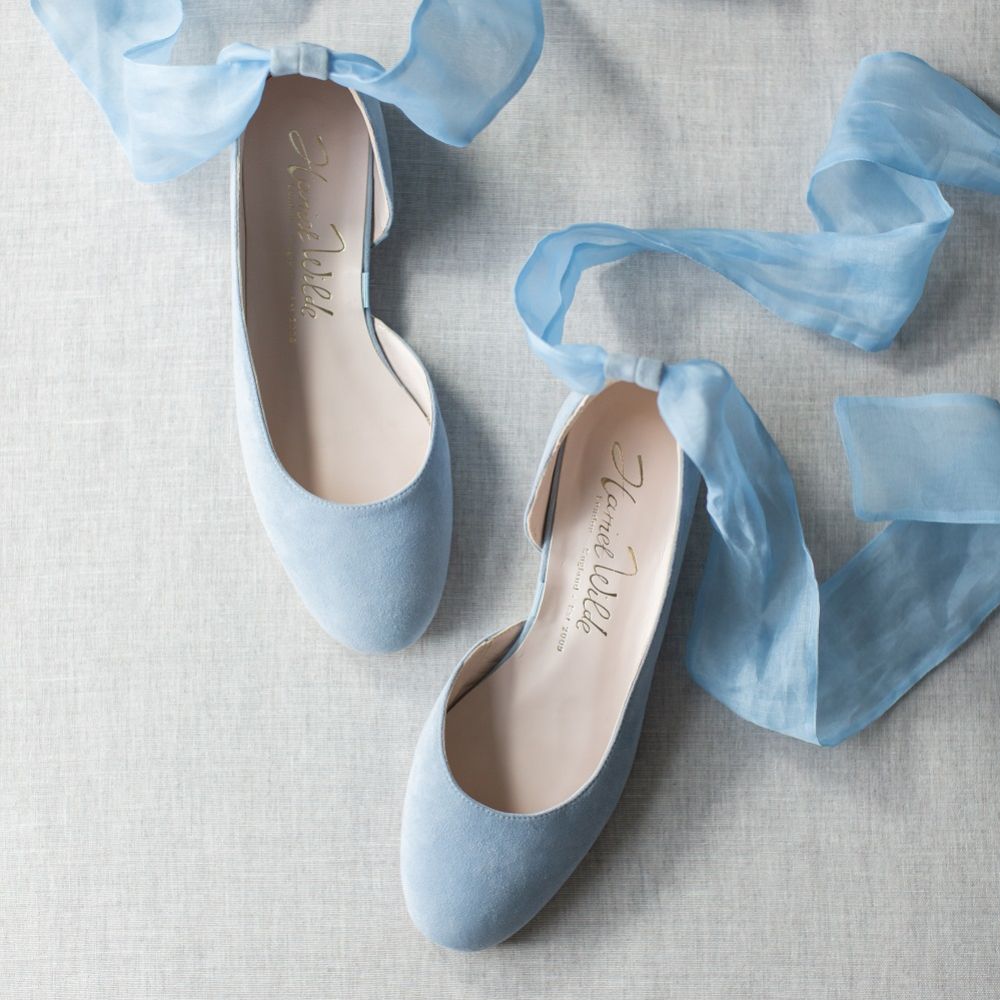 Taurus (April 20th - May 20th)
If your zodiac sign is Taurus then you are a very ambitious person and will not let anyone stand in your path. So do not stand in fate's path as by embracing your zodiac sign you can reach some great heights when dressing to impress on the big day. And what better colour to have if you are an ambitious individual, well, of course, it just has to be pink. These fabulous suede mother of pearl shoes will have you reaching dizzy heights which are balanced with all the beauty of the mother of pearl heel. The perfect glamorous shoe for an ambitious Taurus!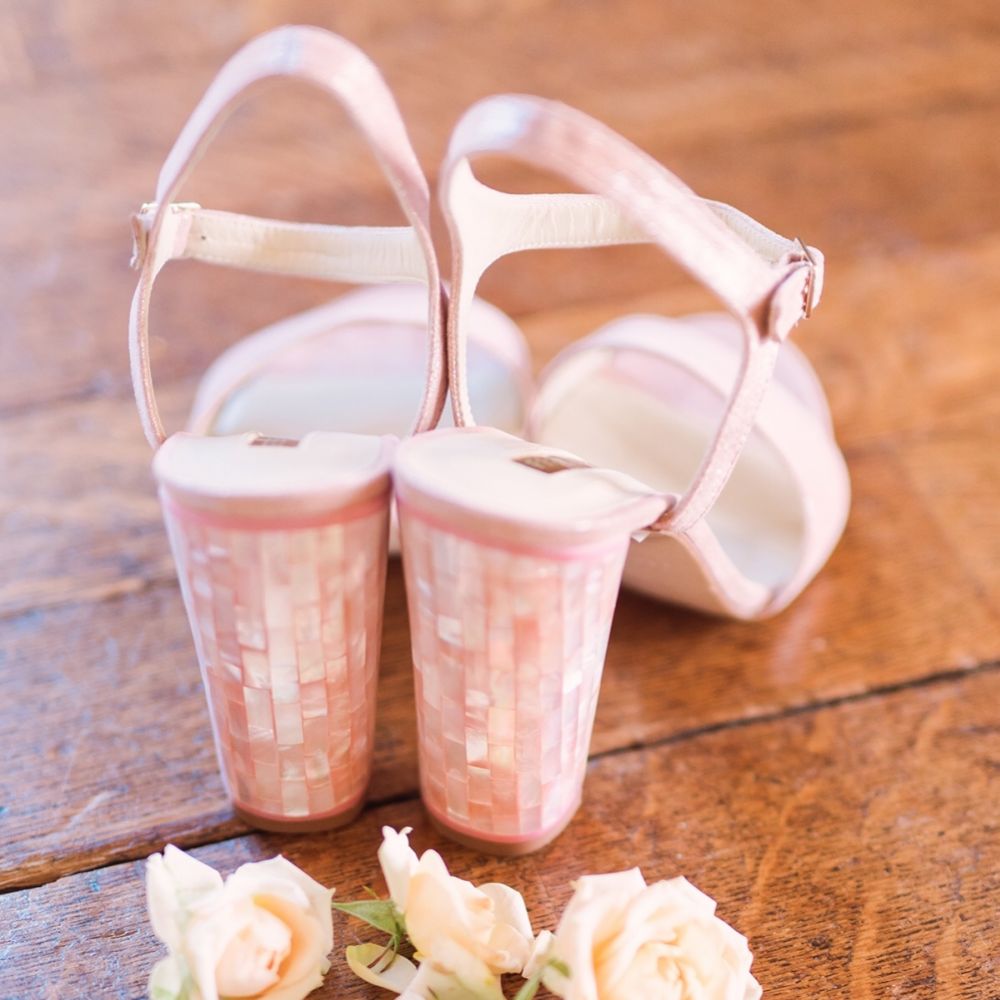 Gemini (May 21t - June 20th)
A Gemini is defined by their friendliness and by how easy going they are. So this wedding planning will have been a breeze for all you geminis - at least we hope so! Because you are the rays of sunshine in your loved ones life, your zodiac colour can only be yellow. And do not worry you can dye these beautiful satin strappy sandals a vibrant sunkissed yellow so that they can shine as bright as you! You will be the star of the show as these shoes also feature stunning simple straps all while being elevated by the timeless stiletto heel. These shoes have it all and will support you all day and all night!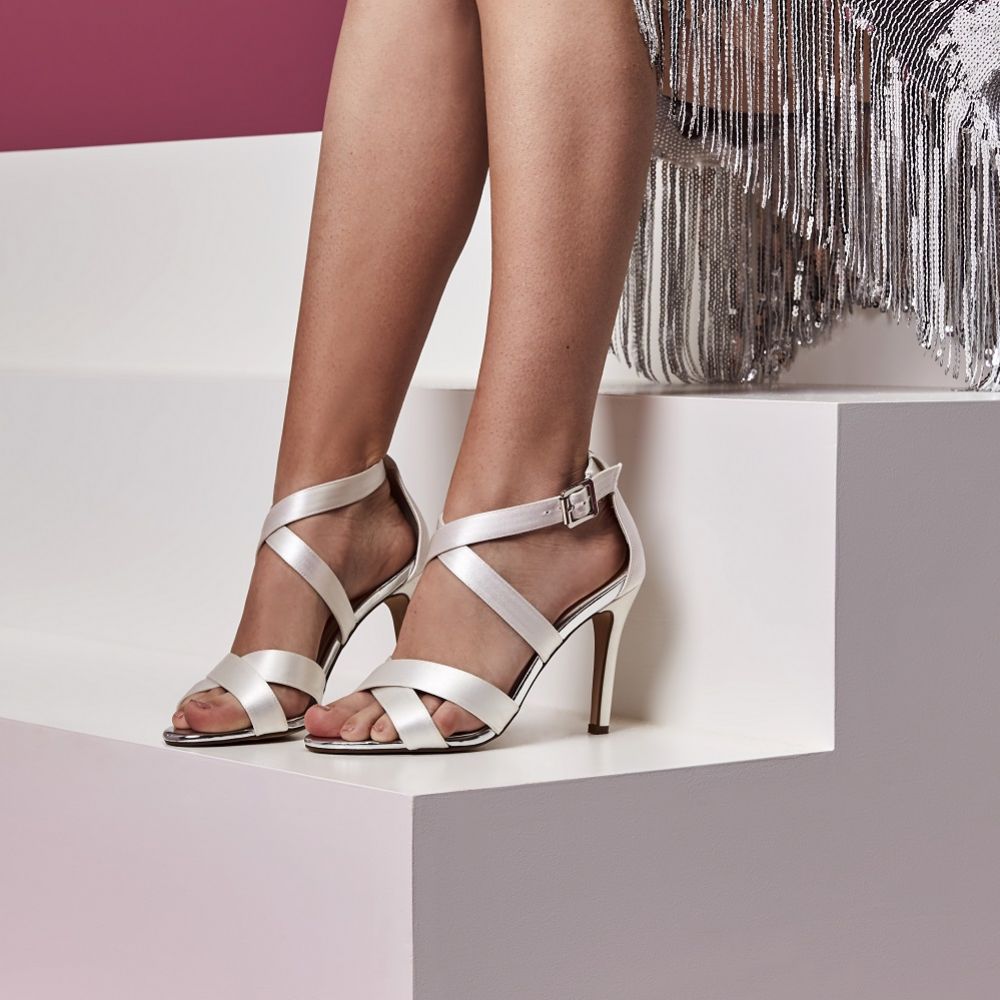 Cancer (June 21st - July 22nd)
Cancer's are often noted for their unpredictability so you never know what is coming next. And your wedding shoes should be no different, get ready to wow the crowds! One of Cancer's stones is the pearl which represents strength in relationships - very fitting! We think these pearl ankle strap court shoes are the ones for you. But do not be deceived by their simple nature, they are an elegant and stunning shoe which captures everyone with its beauty. Noone would be able to predict such gorgeous shoes! And with the pearls on your side, these shoes just could not get any better!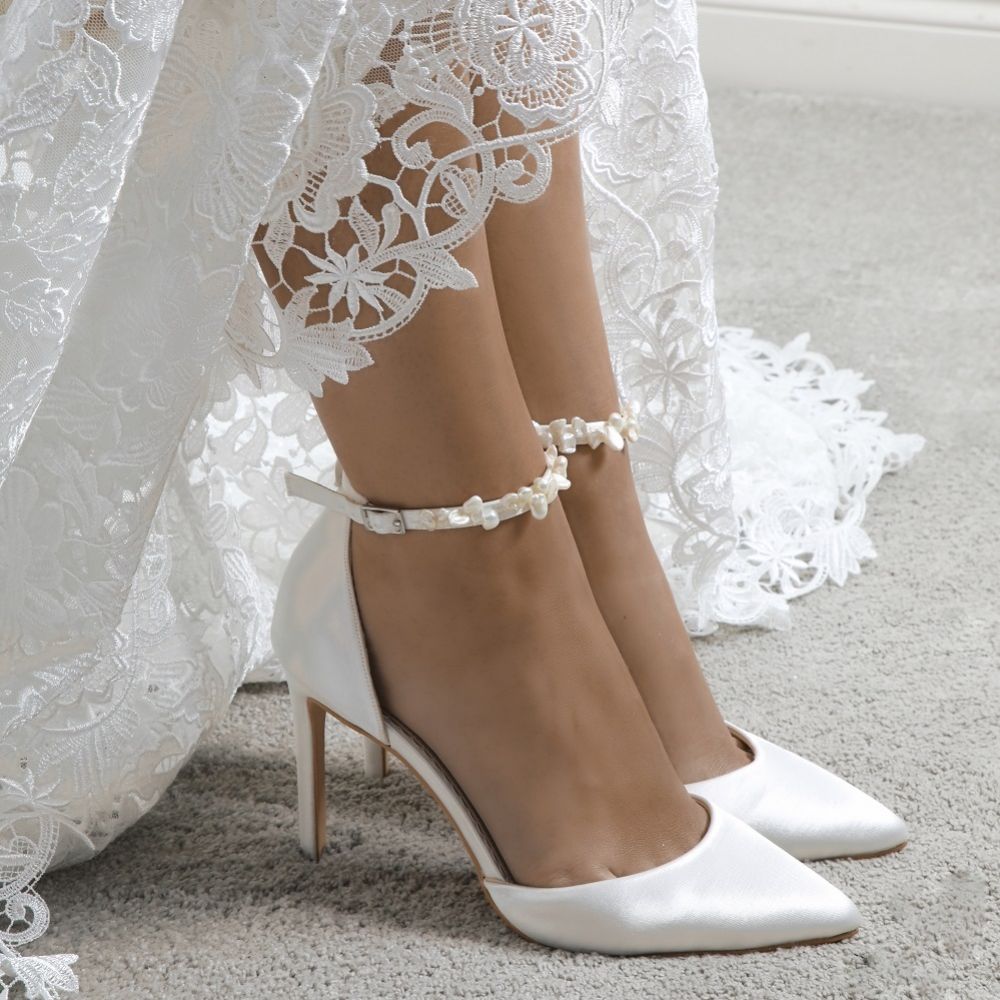 Leo (July 23rd - August 22nd)
Back with fire signs, Leo's are a fiery bunch who pack a punch, and these shoes should be no different! And with the lion as your symbol, it only makes sense that your zodiac colour is gold. A warm and luxurious colour will be at home in a winter wedding setting. We also love a gorgeous gold colour on an evening shoe so you can dance the night away in true style! So feel your inner roar in these champagne glitter block heel crystal shoes. You will stun the crowds in these fiery shoes or they would be the perfect shoes for your lioness bridesmaids!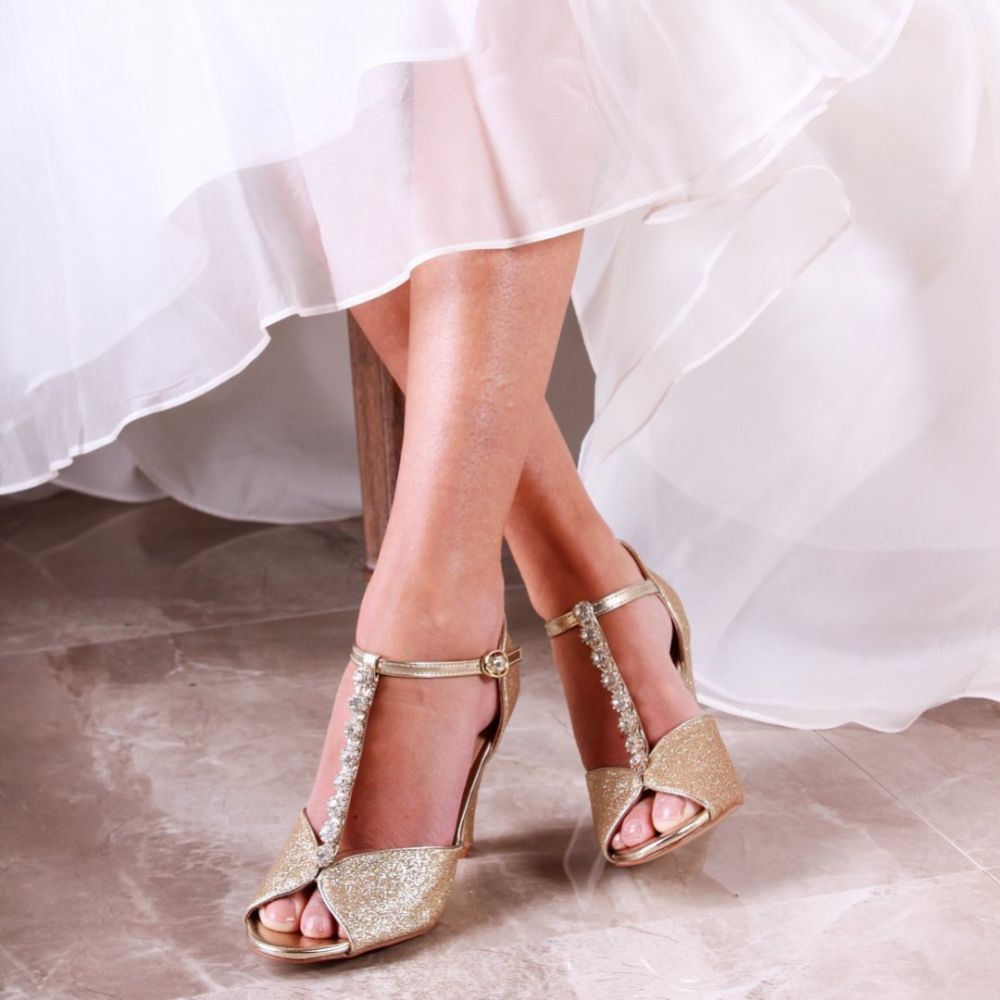 Virgo (August 23rd - September 22nd)
The most practical sign, we assume you are reading this guide several months in advance and your whole wedding is organised and in fact you probably already have a pair of shoes in mind! But come along for the ride anyway! Your colour is silver which is the perfect colour for a winter wedding, although that may not be very practical! But we will tell you what are practical, satin and silver wedding trainers! No worrying about heels being stuck in the mud or snapping, no worrying about your shoes not being comfortable. Wedding trainers are the Virgo's perfect wedding shoe!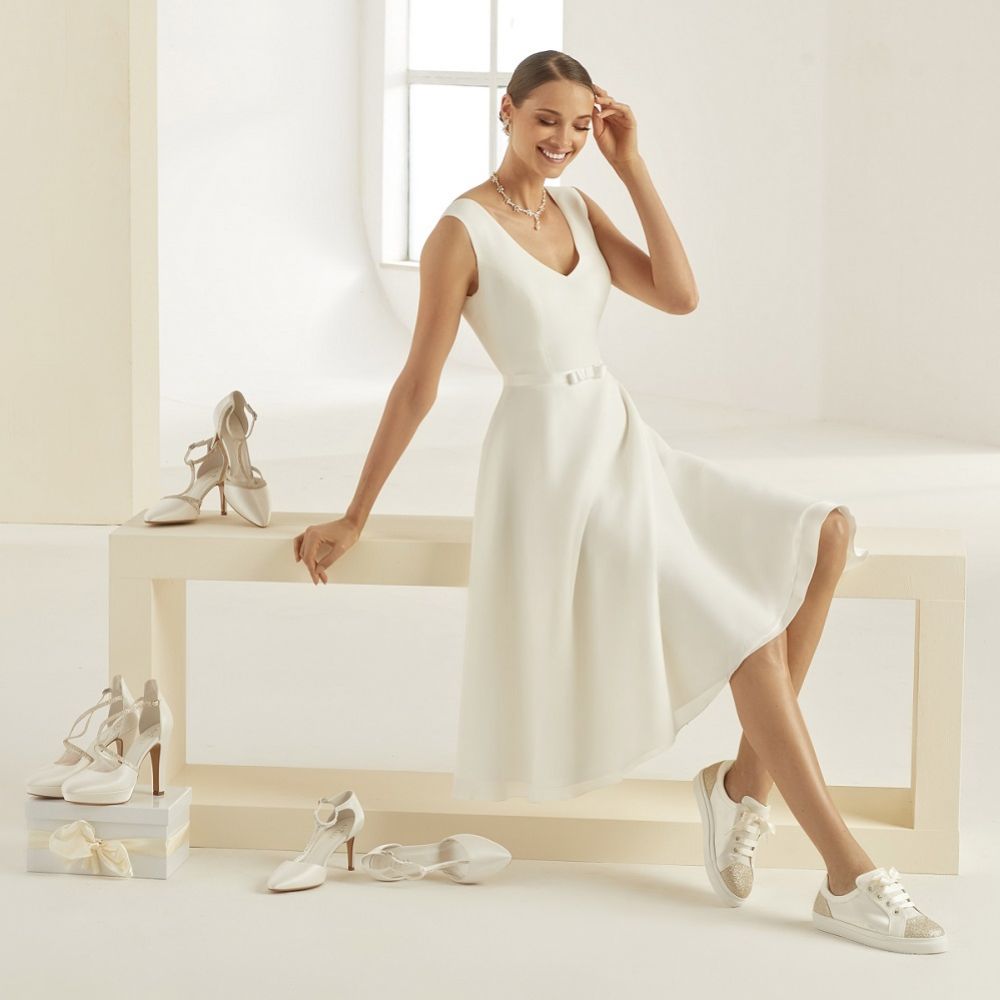 Libra (September 23rd - October 22nd)
A Libra is a very balanced individual who takes everything into account, however this can often lead to a Libra being quite indecisive. So we know exactly why you are here and we can help! Your sign's flower is a rose which is why these vintage T-bar wedding shoes are adorned with two leather roses. These shoes would only be more perfect if roses were your chosen wedding flower!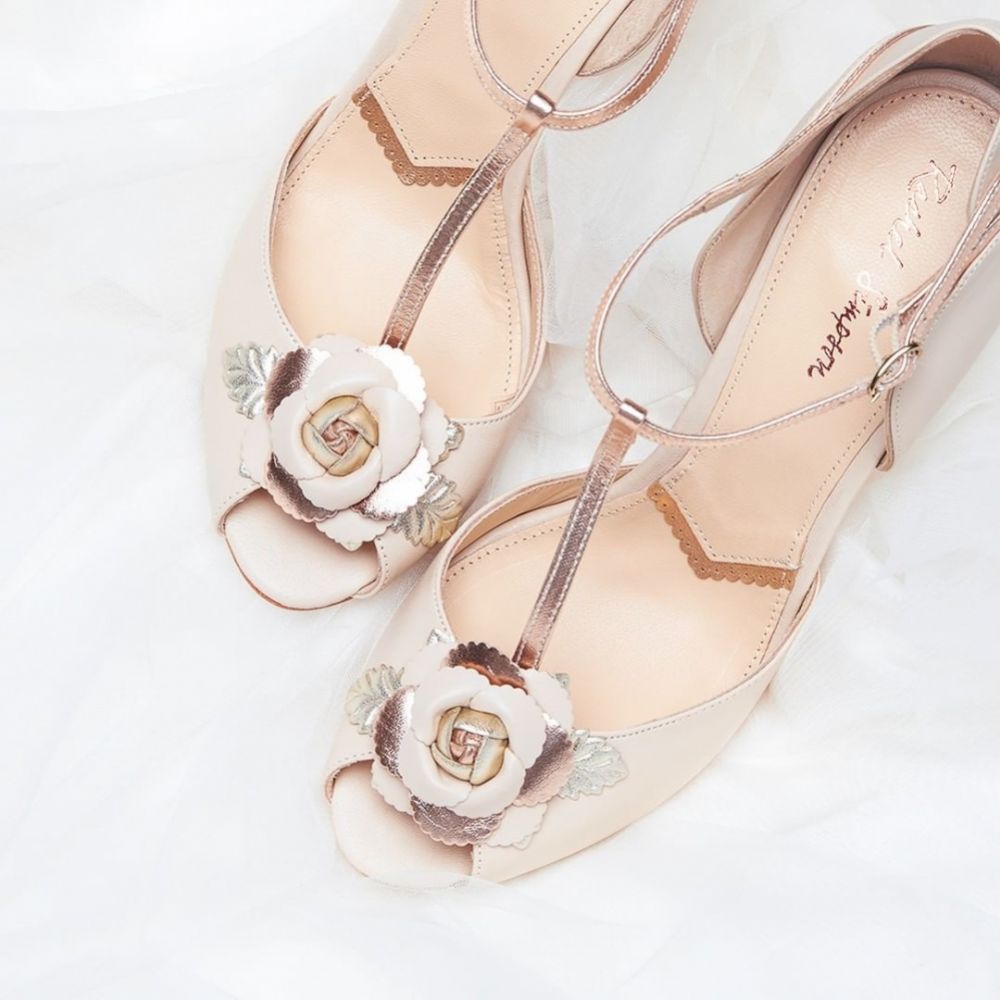 Scorpio (October 23rd - November 21st)
Scorpio's are known to be very hard workers by nature and we are sure that has been no different for your wedding planning. But let us do some of the hard work for you and find what shoes your zodiac sign has fated you. Since you are a water sign it is important to reflect this natural beauty and embody the flow of water. That is why these embroidered lace shoes with a tulle bow are a perfect choice. They are elegant as the water but the lace also represents the free-flowing nature of water. And the delicate organza bow embodies hard work making for the perfect Scorpio shoe!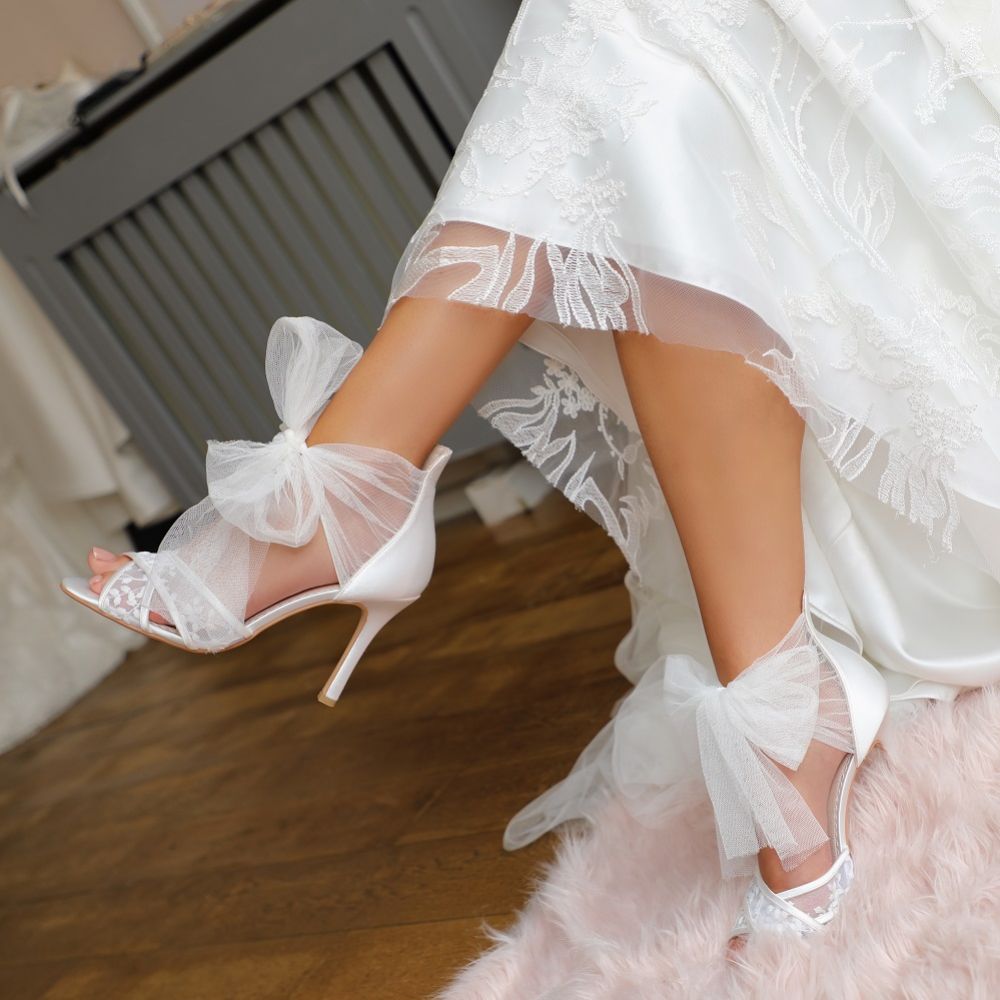 Sagittarius (November 21st - December 21st)
The Sagittarius's among us are the natural adventurous spirits and there is no better time to show off this spirit than on your wedding day! You should be a trailblazer down the aisle, it is what your sign expects from you! These blossom embellished heel platform courts are the best shoes to show everyone how it is done and pave the way! These shoes are a spectacle with the gold leaves scaling the heel of the pale blue shoes, which is also Sagittarius's colour! You have arrived at your perfect shoe!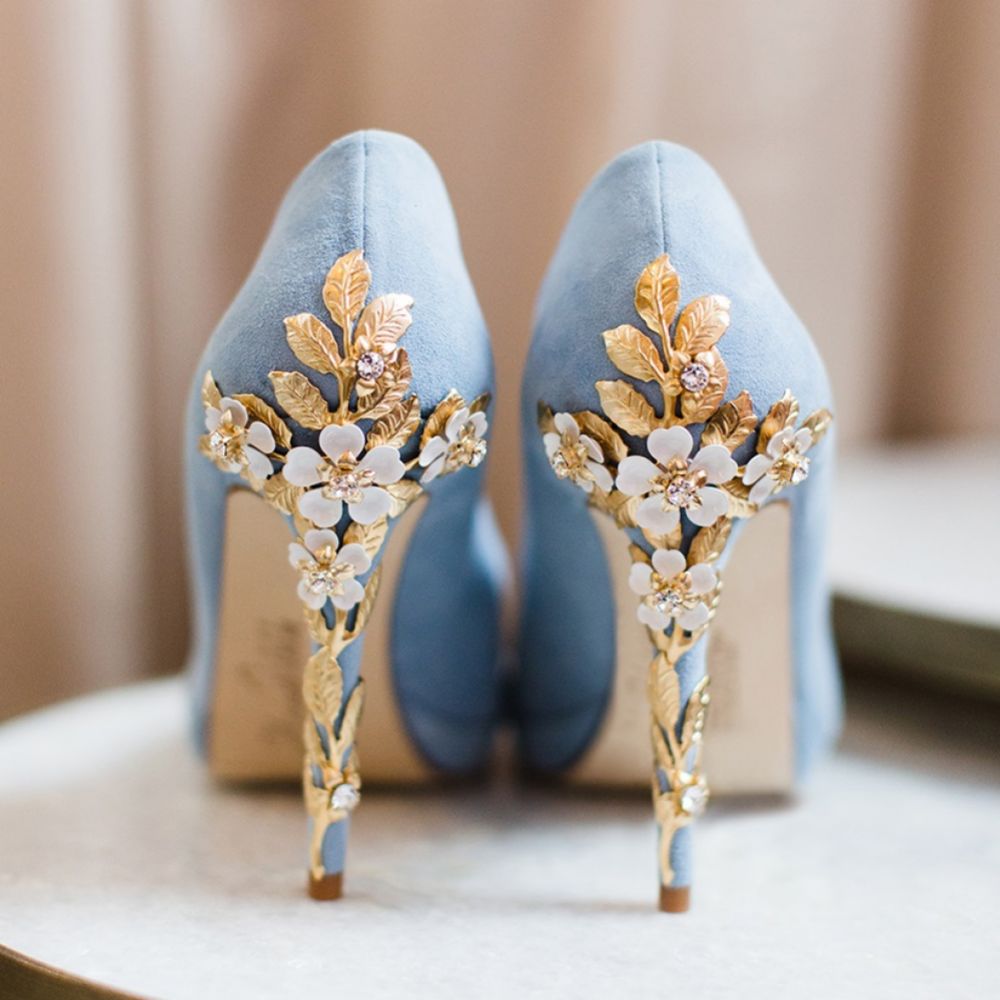 Capricorn (December 22nd - January 19th)
If you are a Capricorn you are a very serious individual who gets stuff done and likes stuff done your way. But what better way to let something get taken off your hands than to let fate decide. Your sign's colour is dark blue which sets the impressive scene of a dark navy sky, very serious! Your perfect shoe is the gorgeous midnight blue velvet finished high block heels by Harriet Wilde. Featuring a stylish undershot platform and elegant crossover straps that fasten with a delicate silver buckle, these shoes are ultra-modern. No over the top frills here, just all style so you can stay focused on the big day!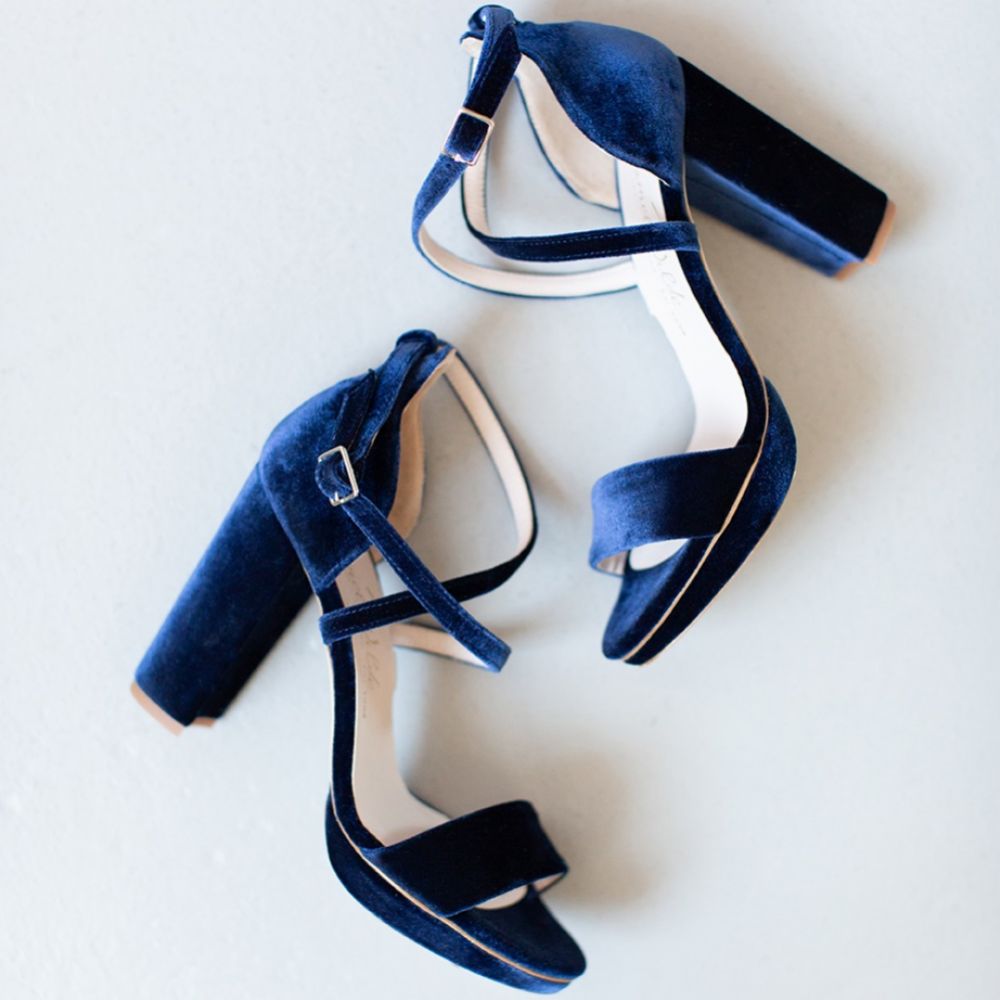 Your Fate Has Been Decided
The zodiac signs have spoken and do you dare to disobey? You now have your fated wedding shoes for your dream wedding day. And fate has saved you the job of having to decide! These zodiac inspired shoes will carry you throughout your day and astrology will be in your favour giving you the best of luck. So what can go wrong!
Shop Your Zodiac Look Here at Lace & Favour
Here at Lace & Favour you can shop your zodiac suggested shoes and many more! From vintage styled shoes and summery sandals, to stylish block heels there are almost as many shoes as there are stars! Or at least it must feel like it at this point! So we hope we have taken some weight off your shoulders and you can browse through all that we have on our site!