Blush Pink Wedding Ideas & Inspo
Are you planning a blush pink wedding theme? Then you've come to the right place! At Lace & Favour, we just adore all things pink and pretty – it's such a romantic colour scheme for any season. The colour pink has always been associated with romance of course, but with blush pink, it's one of those colours that looks so gorgeous not only on it's own, but mixed with other popular wedding themes such as navy, silver grey and soft pastel shades. Whether you're looking to add a hint of pink to your wedding tables, dress head to toe in pink, or add a splash of colour to your bridal look, you will be spoilt for choice. Discover the prettiest pink wedding shoes, feminine hair accessories, dusky pink bridesmaid dresses and gorgeous venue ideas and inspiration, right here.
The Must-Have Planner Book
Here's our must-have blush wedding planner to get you started! From checklists to mood boards, budget lists to seating plans, make this your trusty go-to companion before, during and after your wedding day.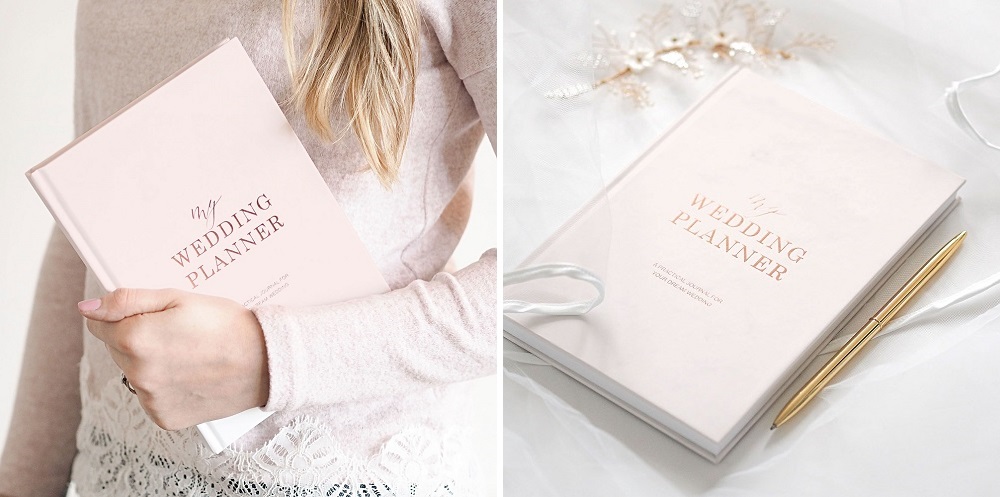 Blush Pink Bridesmaid Dresses
One of the first things that will determine what shade of pink you go for will be the colour of the bridesmaid dresses. Usually purchased after the bride has found her wedding dress, bridesmaid dresses are often next on the shopping list! The beauty about most pinks is that they're easy to match to flowers, decorations, gifts and accessories (as you'll see further on in this blog). Most bridesmaids will be thrilled when they hear the colour choice, and you're bound to find a shade that suits the girls complexion and hair colour. If not, then why not opt for the 'mismatched bridesmaids' look and put the girls in a shade that complements them perfectly?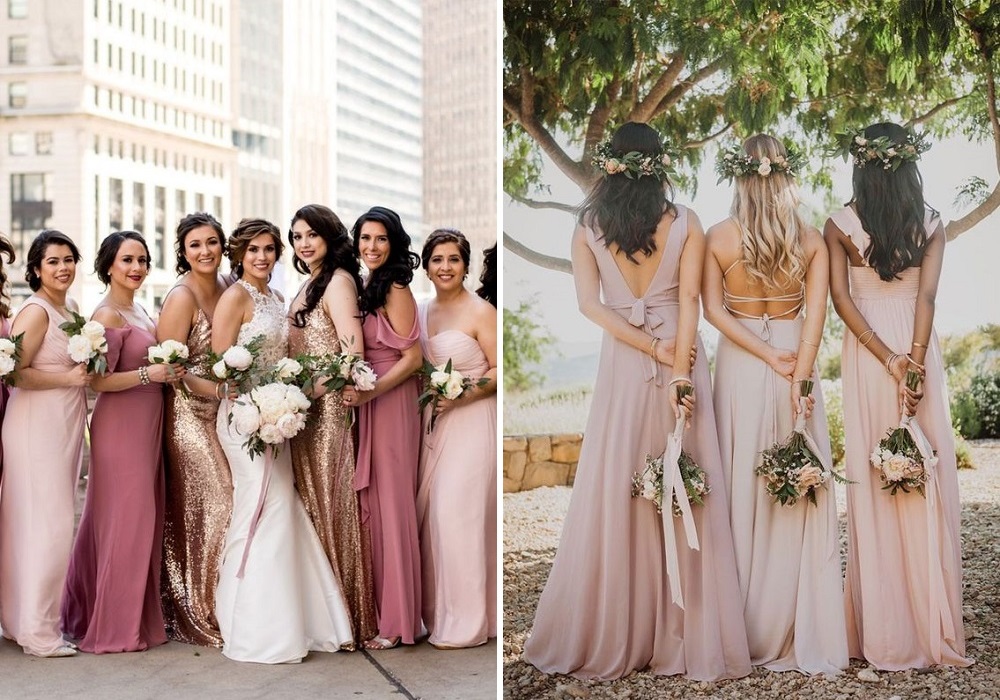 We're totally obsessed with our new pink multiway bridesmaid dresses – they're versatile, comfortable to wear and only £99, making them ideal for large bridal parties. Choose from our best selling dusky pink multiway dress, pretty chalk pink or soft peach, or mix the three!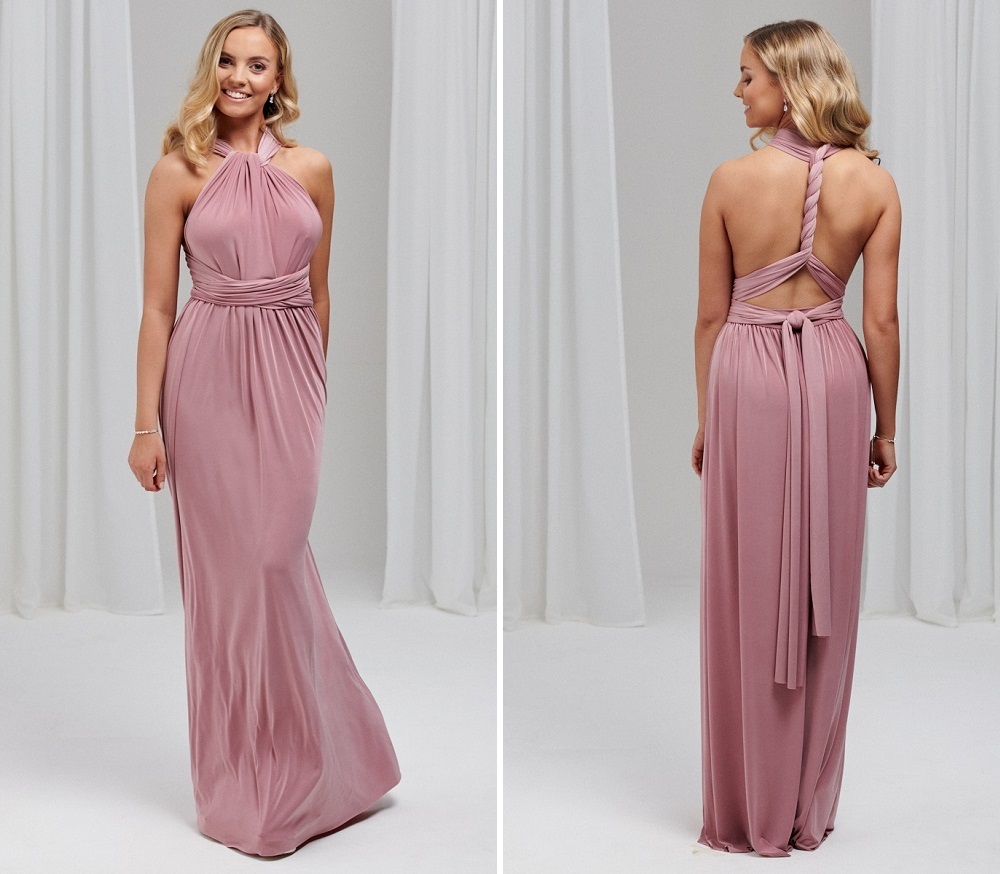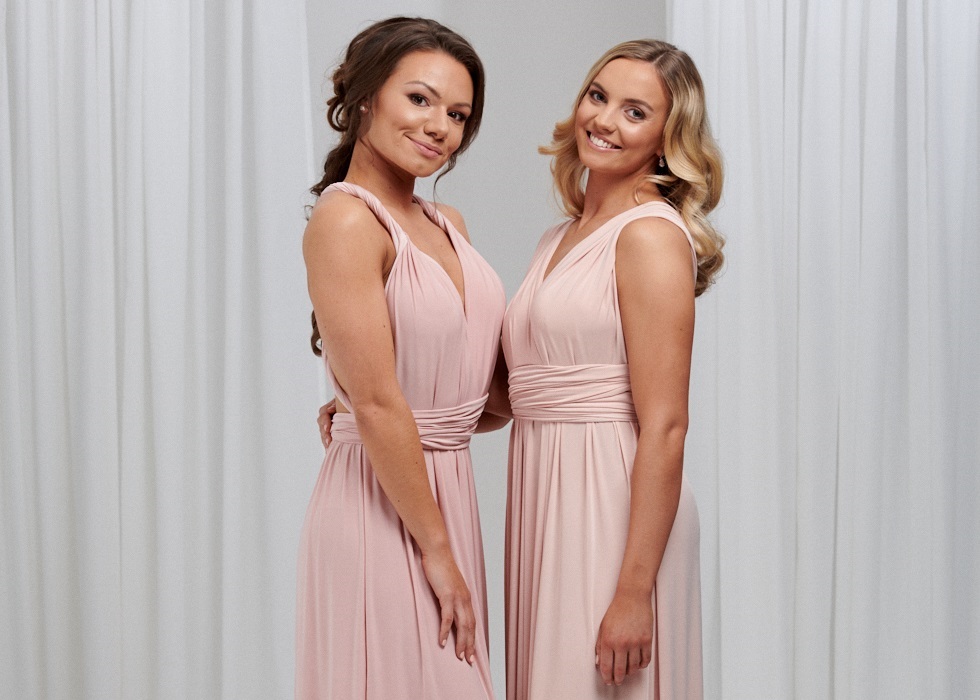 Flower Girl Cuteness!
Let's be honest, flower girls always steal the show! How can they not? Ensure your little ones look perfectly angelic in our sweet blush pink flower girl dresses by Linzi Jay. We offer the cutest styles that will transform any little girl into princess. Available from sizes as small as 3-6 months up to an age 16 for the more mature flower girl. Designed to complement our adult bridesmaid dresses for that picture perfect ensemble!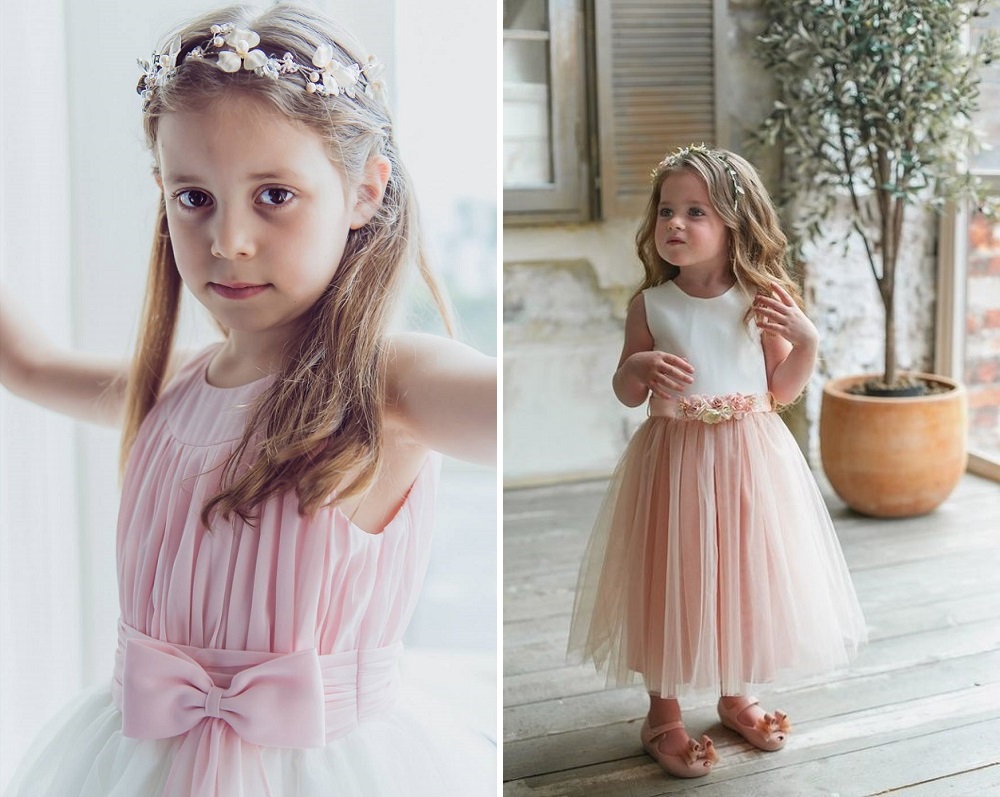 Matching Men's Ties!
To save you hunting around for men's ties to complement your bridesmaid dresses, we make them to match! Whether you're looking for a classic men's tie, a stylish skinny tie or a cute bow tie for the little ones, find the perfect design for your groomsmen right here at Lace & Favour.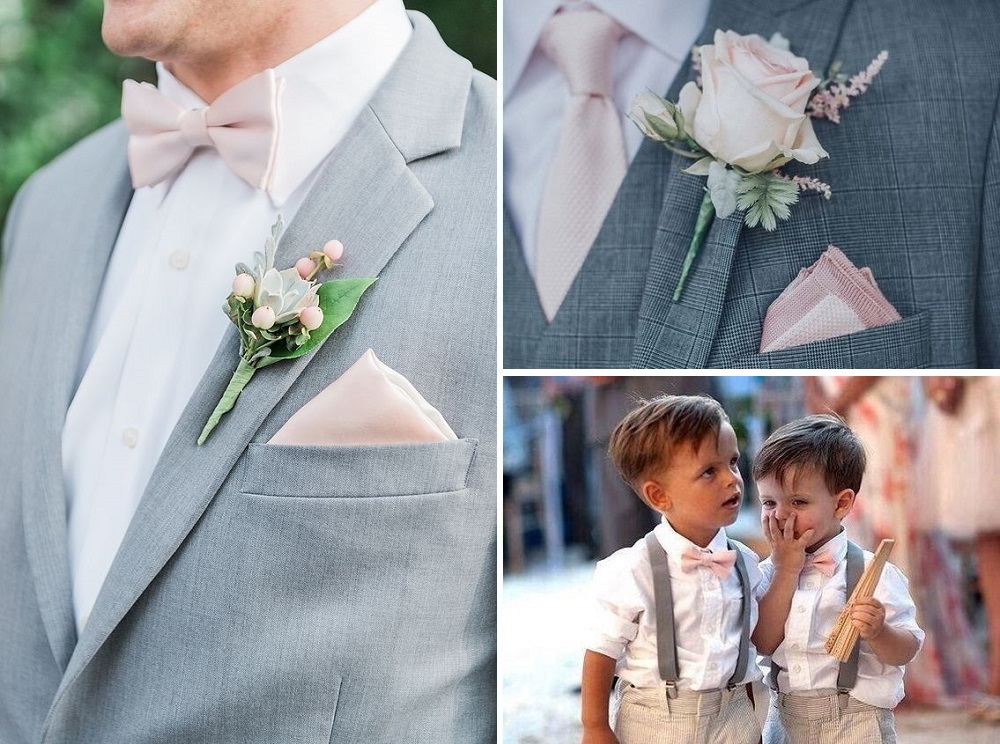 Blush Pink Wedding Shoes
Blush pink wedding shoes are dreamy. They look so subtle against ivory wedding dresses, and are perfect if you're channelling a gown with blush undertones. Not only that, but the beauty about opting for blush wedding shoes is that you can wear them again and again after the big day. Unlike ivory shoes, a pair of soft pink heels look perfectly bridal for the wedding day, AND make a stunning addition to your everyday wardrobe after! Neutral shades like nude, blush pink and metallics are fantastic staples which go with pretty much any colour. Our stunning collection of pink wedding shoes are perfect for both brides and bridesmaids. Choose from pink courts shoes in luxury satin, beautiful wedding sandals and pretty pumps.
Check out these utterly gorgeous styles that we and our brides simply adore!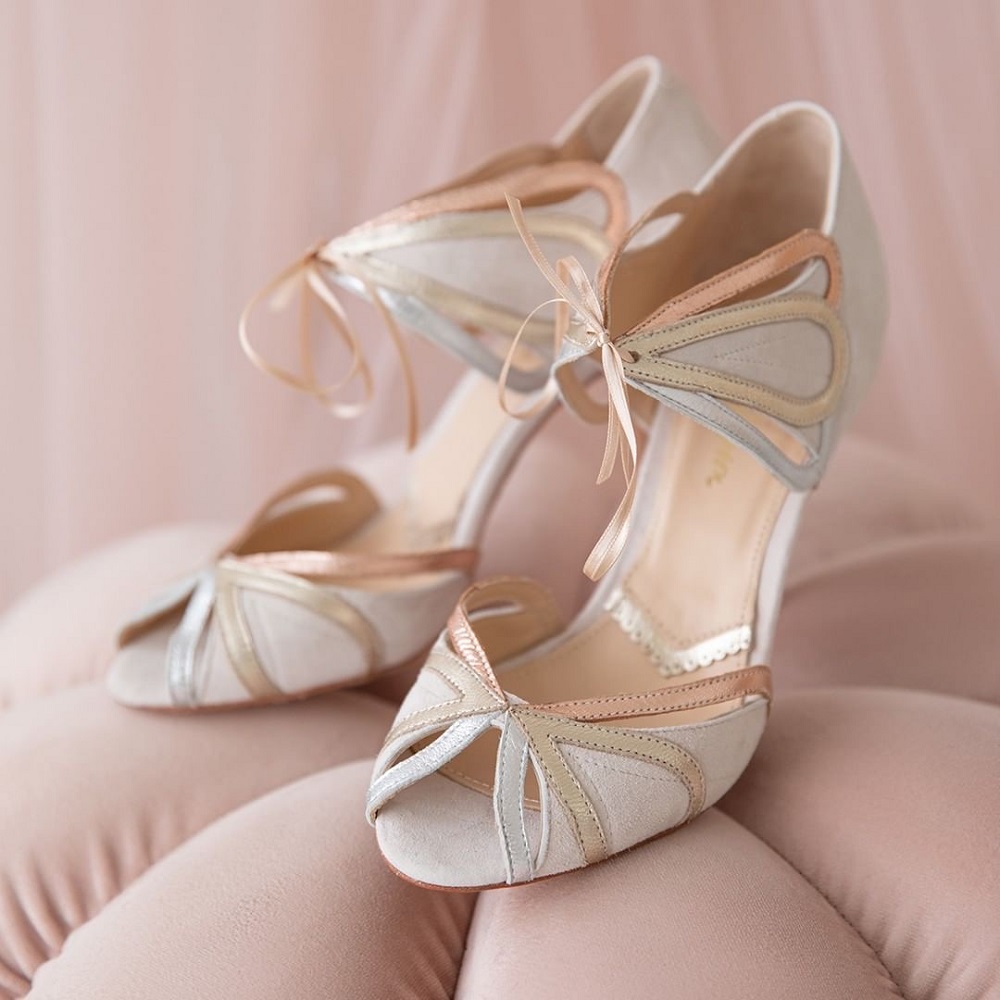 Left: Amalia Powder Pink Suede T-Bars, Right: Esme Blush Suede T-Bar Shoes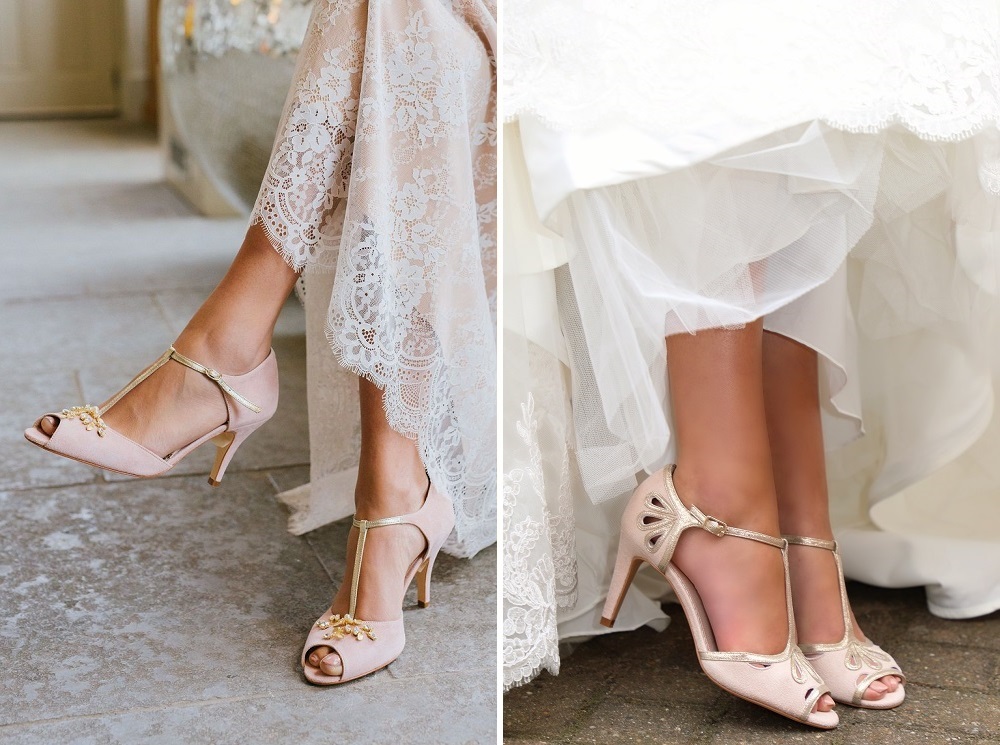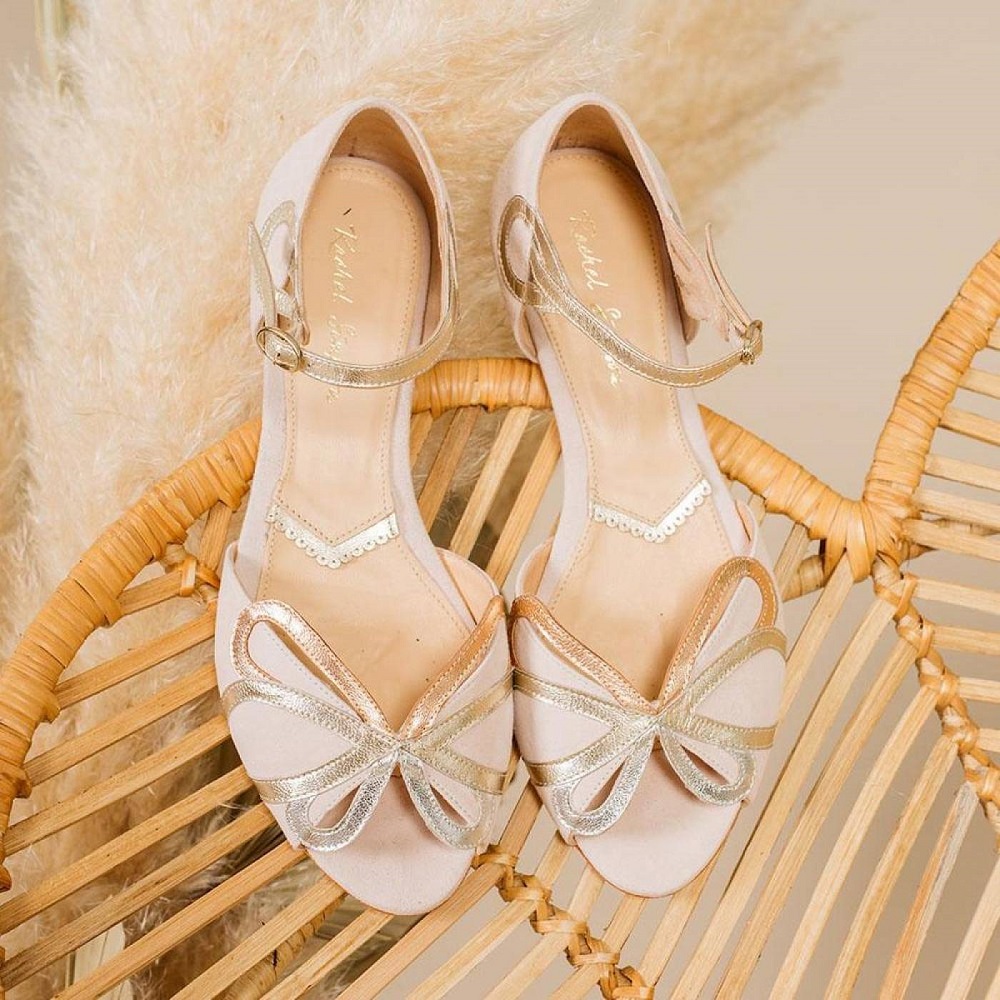 Top left: Martina Rosa Mother of Pearl Block Heels, Top right: Macpherson Blush Satin Strappy Sandals
Bottom left: Alandra Blush Satin Court Shoes, Bottom right: Hira Blush Satin Block Heel Sandals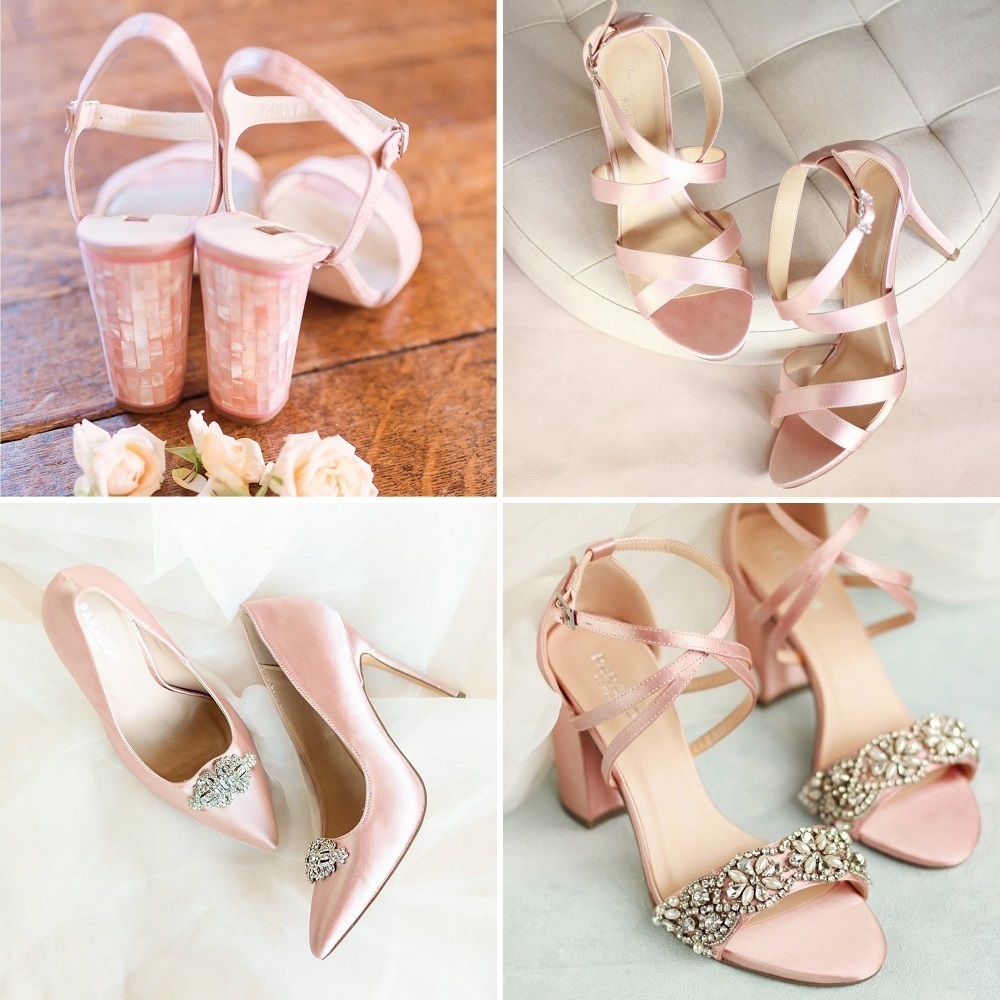 Blush Clutch Bags
No outfit is complete without the matching handbag. You're probably thinking, 'do brides need a handbag?' Not necessarily, no, but some brides like to switch up their look for the evening do, and in that case – we vote yes! Plus, if you don't use it on the wedding day, you'll want the matching bag after, right? Our gorgeous blush clutch bags and purses are a popular choice for wedding guests and mother of the bride, too!
Top left: Coco Pink Suede Box Clutch, Top right: Sabine Powder Pink Suede Handbag
Bottom left: Team Bride Pink Pouch, Bottom right: Opal Blush Suede Clutch Bag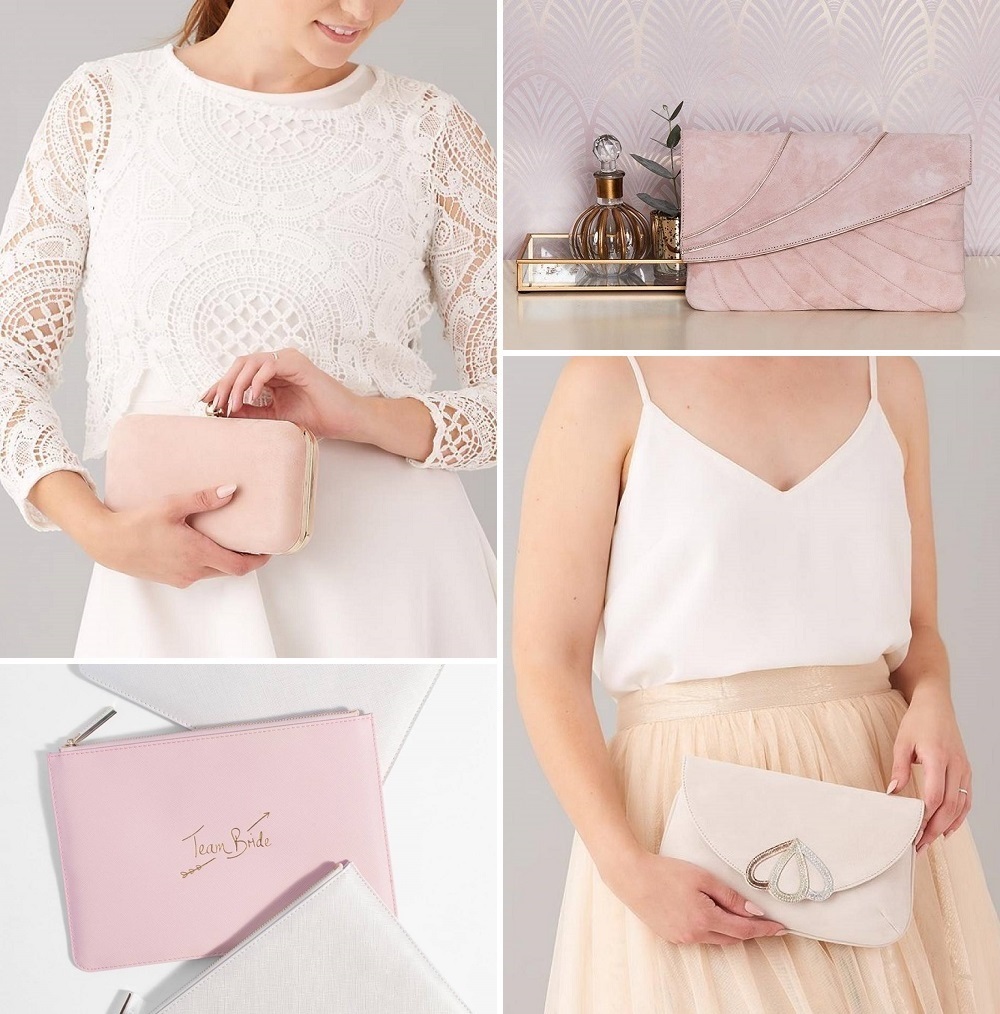 Pink Wedding Headpieces
Imagine a beautiful bridal up-do strewn with soft blush flowers? Sounds gorgeous, right? These exclusive floral hair vines and dainty wedding hair pins add a subtle pink accent to bridal and bridesmaid hair and come presented in our luxury Lace & Favour gift boxes, making the perfect wedding gift.
Left: Annelie Silk Flowers Hair Comb, Right: Adele Blush Flowers Hair Vine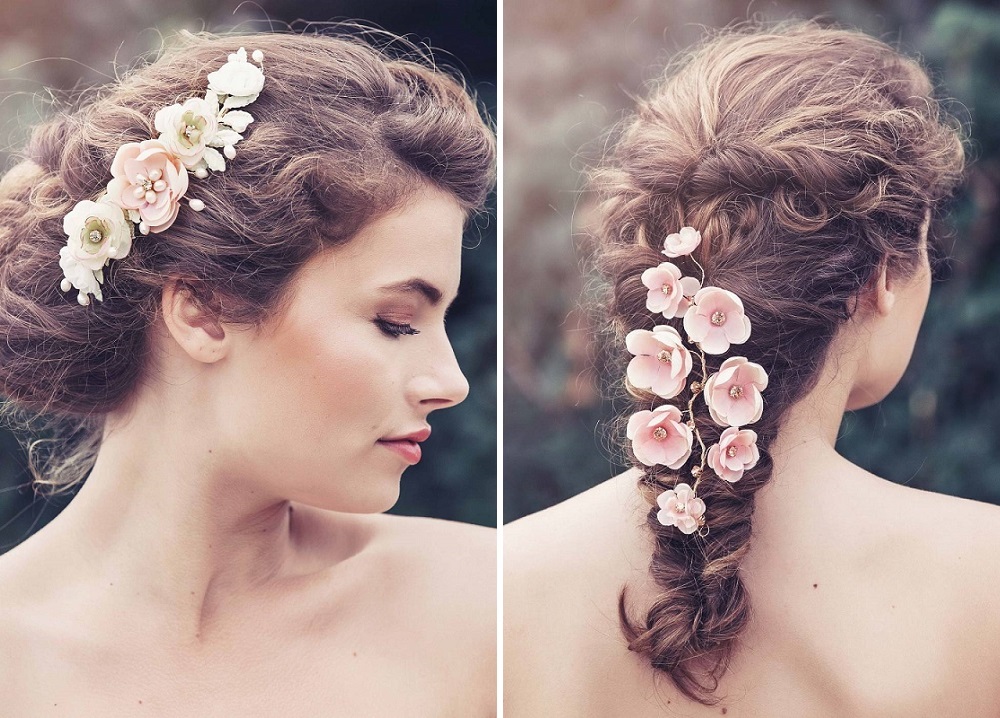 Top left: Tamsin Blush Flowers Hair Vine, Top right: Tabitha Blush Flowers Hair Comb
Bottom left: Daydream Floral Half Halo, Bottom right: Hibiscus Pale Pink Porcelain Flowers Hair Pin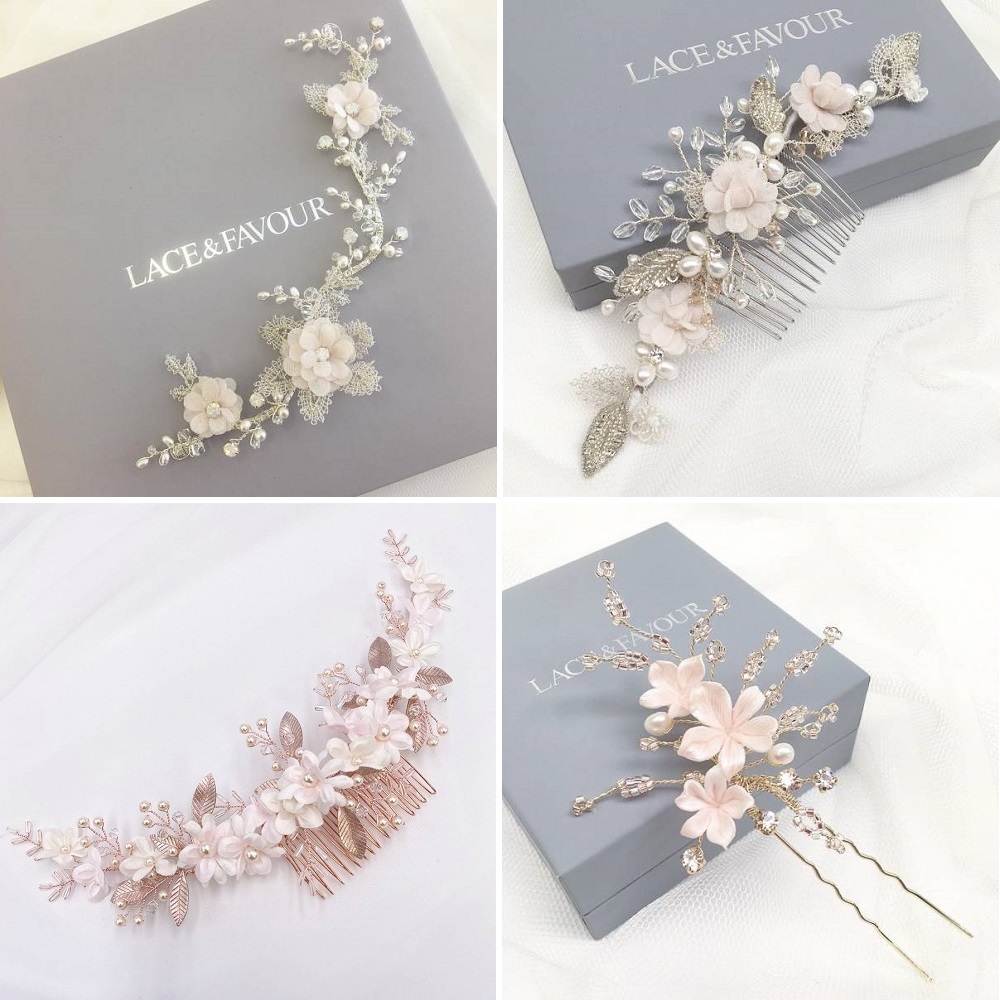 Blush Wedding Veils
Why not adorn your bridal look with a pretty blush wedding veil? A unique alternative to the traditional ivory or white veil, we think bridal veils look utterly romantic in this soft shade of pink. Perfect for the modern bride and for those wanting to add more than just a hint of blush pink to their look.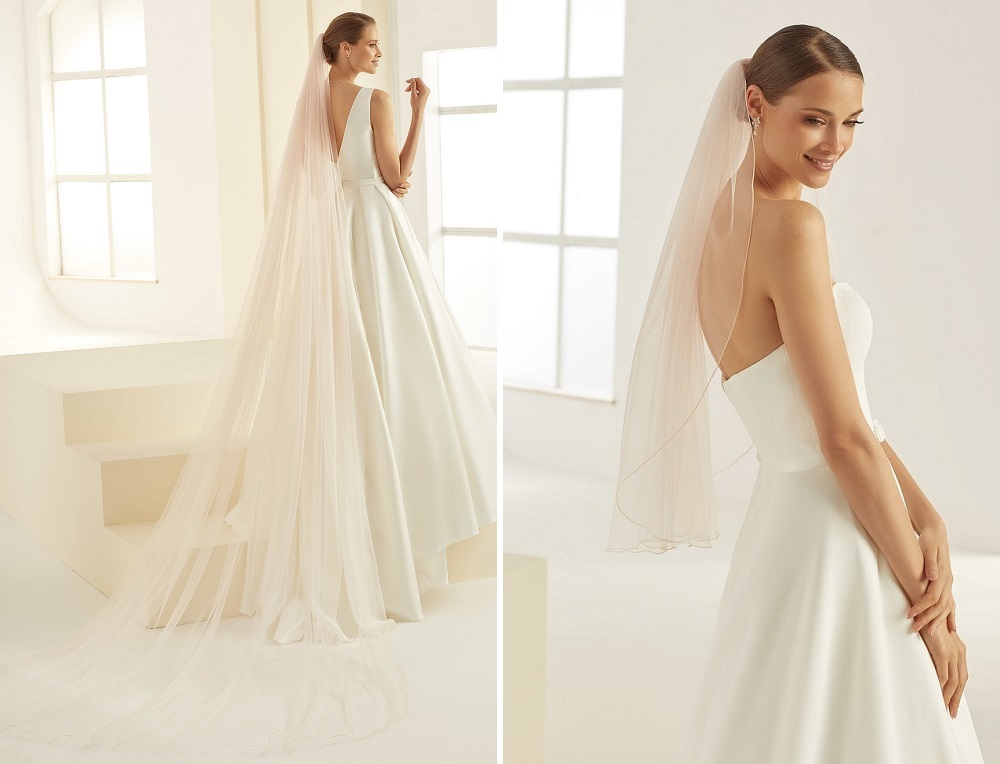 Blush Pink Cover Ups
If you're the bride, bridesmaid, wedding guest or the mother of the bride looking for a blush pink cover up to complete your outfit, look no further! We offer a stunning range from fluffy feather stoles and shrugs for a winter fiesta, to lightweight silky scarves and bohemian tassel kimonos for spring and summer.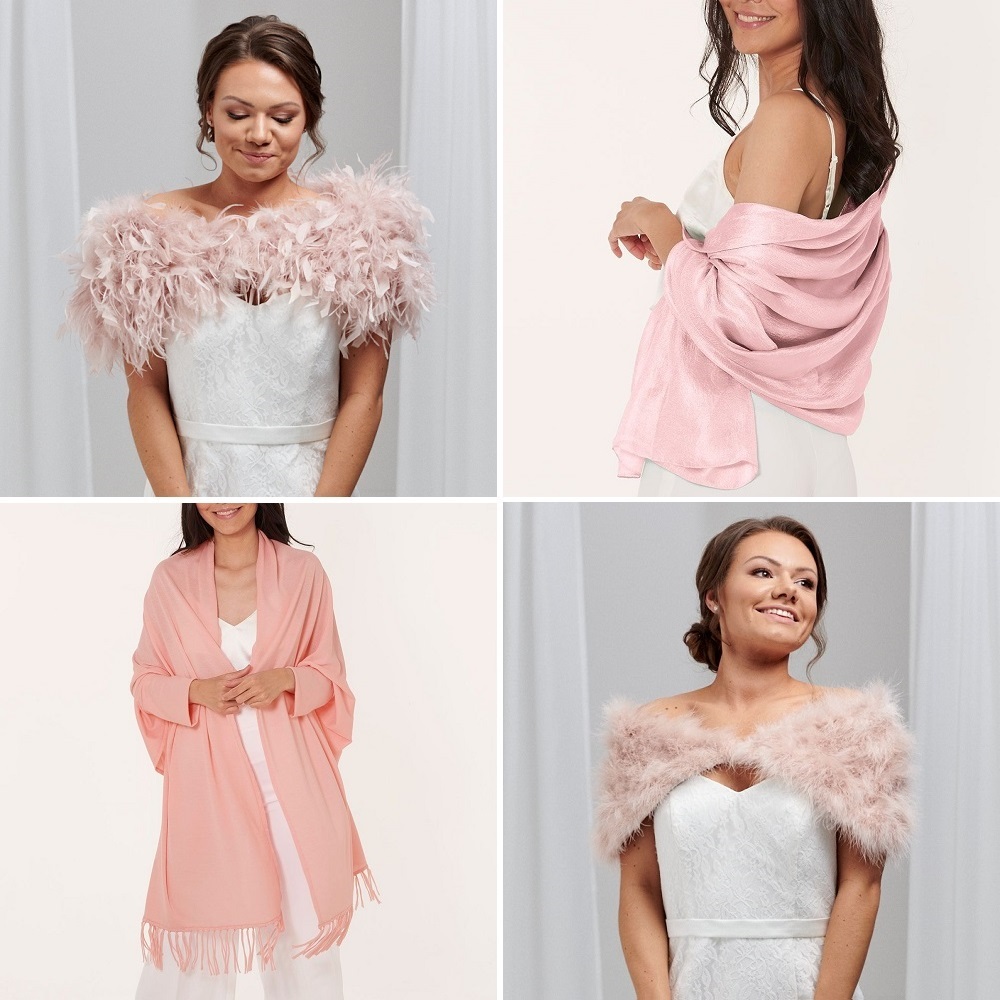 Blush Pink Wedding Gifts
Continue the blush pink colour scheme right through to your wedding gifts. Choose from a gorgeous blush satin 'Bridesmaid' eye mask and luxury Perfect Pouches embossed with the sentiment 'Team Bride' and 'Flower Girl' to treat your fave girls.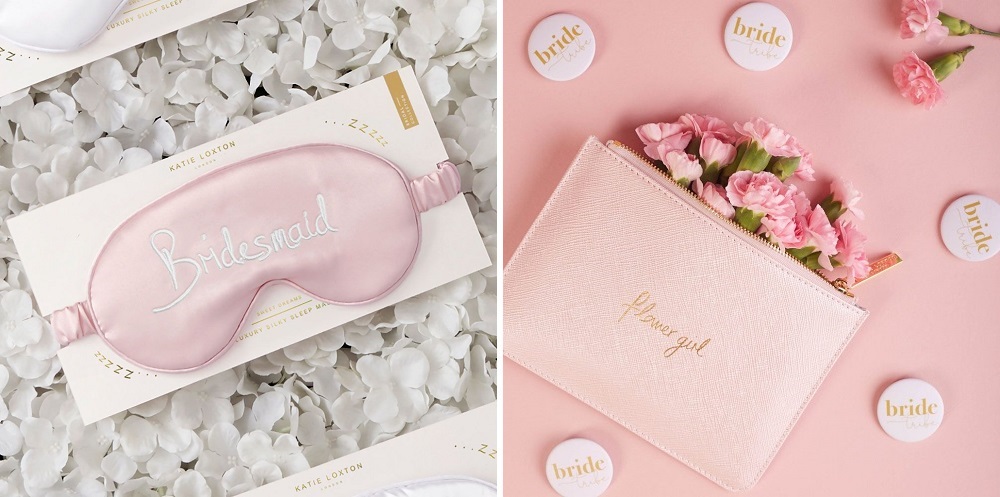 A Subtle Hint
For those wanting the subtlest hint of blush pink, a pretty bridal garter is the perfect option! Choose from classic lace garters to vintage-inspired designs adorned with pearls to complete your bridal attire. A wedding garter makes the most gorgeous bridal gift and a lovely keepsake to remember your special day.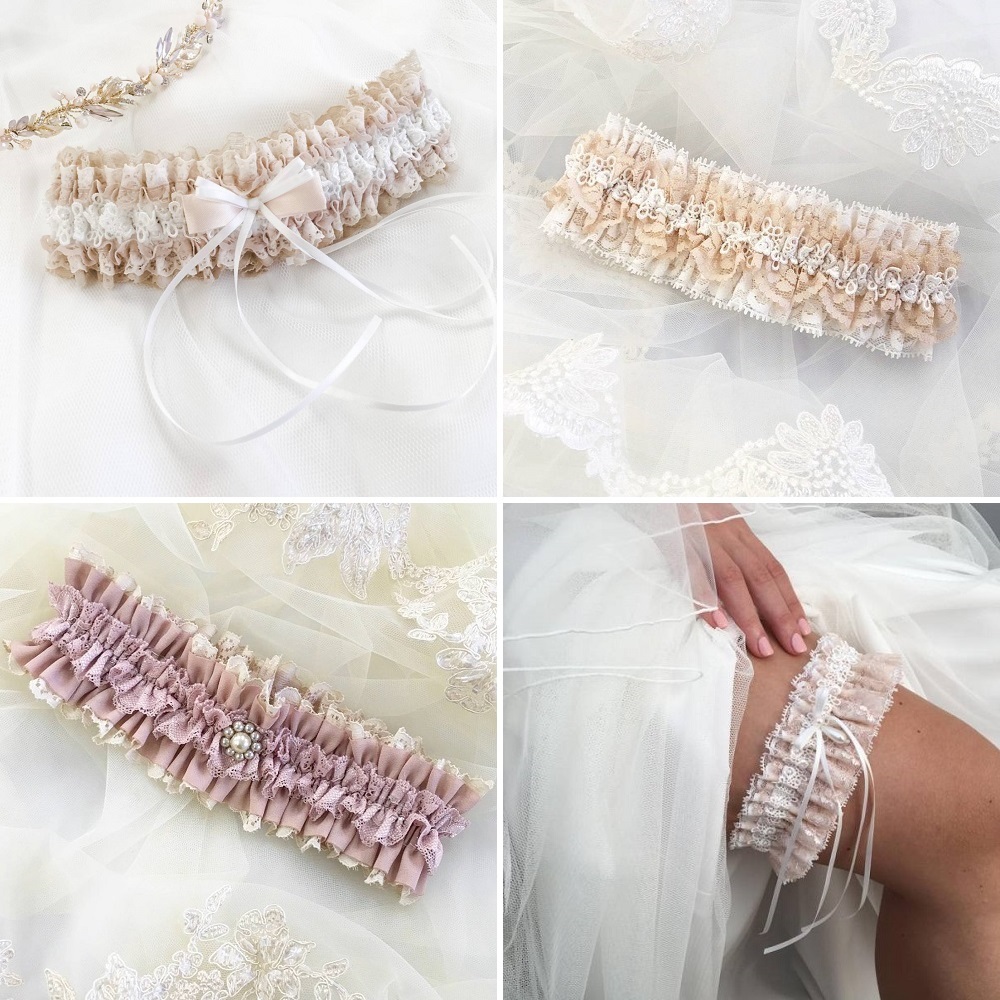 A Honeymoon Essential!
The honeymoon travels wouldn't be complete without our gorgeous pale pink weekend holdall duffle bag by Katie Loxton. This bag benefits from having two short handles and an adjustable shoulder strap so you can wear it however you find easiest! Finished with a sweet sentiment stamped luggage tag that says 'and so the adventure awaits', to ensure you always travel in style. A must-have for the airport!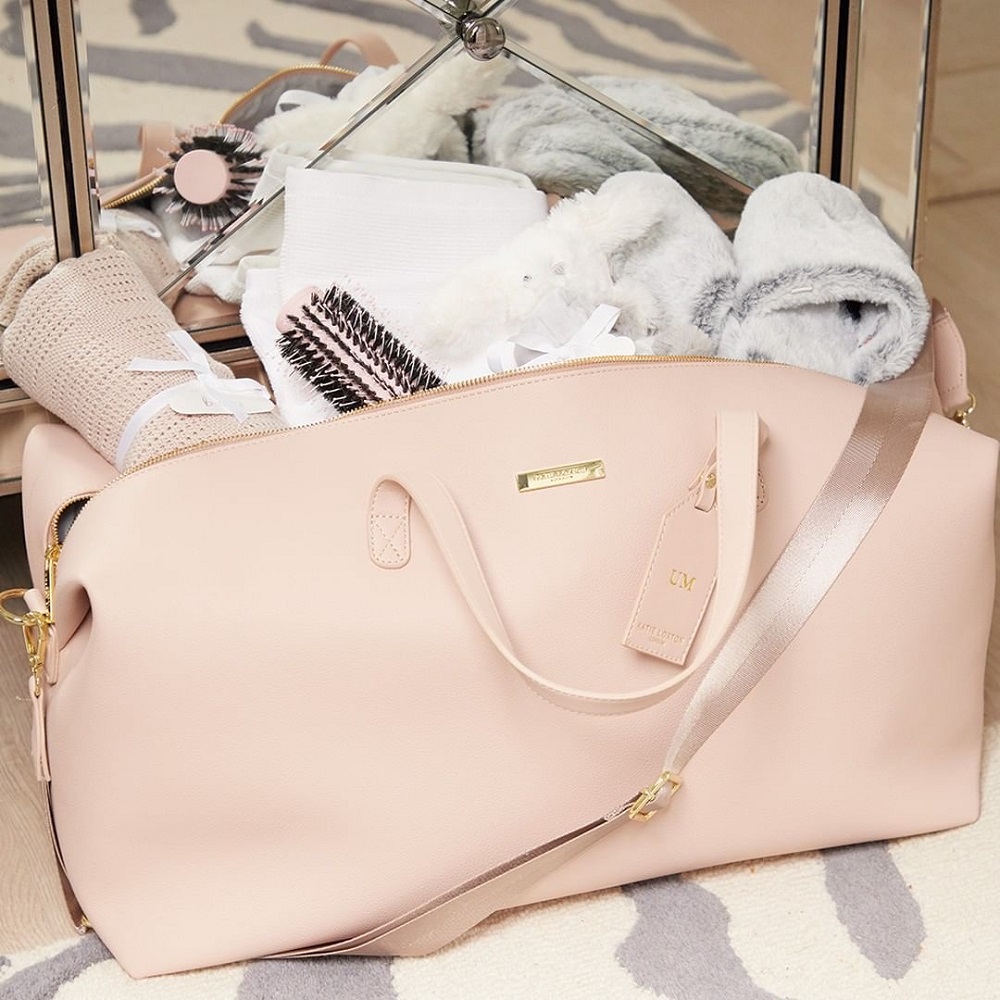 So that's it, we've covered pretty much everything – from the first stage of the planning right through to your honeymoon! Hopefully this has given you lots of ideas on how you can incorporate blush pink into your special day. Discover our blush pink wedding style page to shop all of these beautiful shoes, accessories and more, all in one place.
Love Amy x