Ethereal Bridal Headpieces by Gadegaard Design
First Look At New Gadegaard Design Bridal Headpieces
Today I've got the huge pleasure of telling you a little bit about Danish designer Susanne Gadegaard and her business Gadegaard Design. I can assure you her beautifully handmade fairytale bridal accessories are sure to make you smile.
Susanne's love and passion for bridal headwear instantly began following her own wedding in 2009. Sketched onto paper then transformed into life, Susanne embraces the true meaning of handmade and quality is a trademark. The 2017 Poetry collection from Gadegaard Design brings a number of elements together in the most fabulous designs. Each piece is intricately designed and handcrafted in a delightful little studio in the Danish countryside. Susanne takes inspiration from literature and there are also elements of classic Greek, Roman and Egyptian culture in her designs too.

Woodland Wedding
The stunning Poetry collection has designs to suit any bridal style. If you're planning a rustic woodland themed wedding, then these bohemian-inspired flower crowns are the icing on the cake! I love the use of soft fabric flowers and delicate twig-like branches, they really add naturalistic beauty to bridal attire.
From left to right – Anthea and Anwen

Blushing Brides
Bridal fashion is changing all the time and with blush-toned gowns on the up, Susanne has been working hard to cater for the modern day bride. A range of her new accessories feature pretty deep rose and soft blush coloured components. These work beautifully with oyster, champagne and blush wedding dresses.

Gilded in Gold
As i'm sure you're all aware, gold is back on the scene! Susanne has introduced a stunning range of golden hair accessories to her new collection for those lovers of gold, (myself being one of them!). Ethereal hair combs and delicate vines featuring trailing freshwater pearls, gold lace leaves and shimmering crystals – what's not to love?

Grecian Goddess
Embrace your inner goddess with the amazing Alexandria Roman style bridal headpiece. Featuring hand painted ivory leaves either side of a stunning large gold-toned daisy, finished with 3 rows of draping crystals. Beautifully intricate and totally unique, if you're a bride looking to make a bold statement on your wedding day, this will do the trick in an instant!

Inspired by the Danish Flora
Now this headpiece has to be my all time favourite… Inspired by the Danish Flora this swirling hair vine features the prettiest daisies, dew-drop leaves of opal crystals and pretty golden bell flowers. So unique and versatile, wear this piece at the hair line or cascading down a plaited up-do.

Beautiful Opal's
I'm totally in love with the extensive use of opal crystals throughout the 2017 Poetry collection. Opal crystals possess just the right amount of shimmer and sparkle without being overly blingy! Their gorgeous pearlised finish is so beautiful and work perfectly for bridal accessories.

Heirloom Treasures
Be sure that a bridal accessory by Gadegaard Design is an heirloom piece you'll treasure ever, whether it be a headpiece, veil or jewellery. Each product comes beautifully packaged in a pretty ribbon tied gift box for safe storage before and after your big day.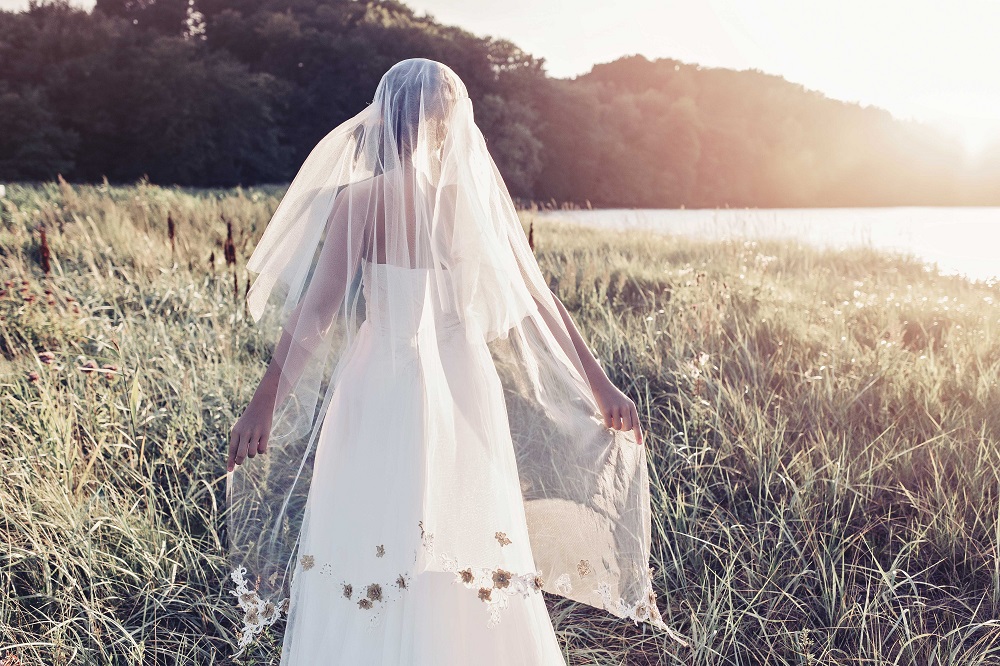 I hope this has given you all an insight to the wonderfully talented Susanne Gadegaard and her beautiful 'works of art'. :)
Love Amy x