Wedding Accessories Inspired By Bridgerton
Netflix's newest period drama, Bridgerton, has officially taken the world by storm. Set in 19th Century London, this iconic new show centres on the aristocratic Bridgerton family. A bit like Downton Abbey, but more fashionable!
And it's the fashion in Bridgerton we want to focus on in this blog. Because who could resist the jaw-dropping gowns, silk sashes, tiaras, necklaces, and hairstyles sported by the series' characters? If you're wondering how you can incorporate the style of Bridgerton's leading ladies into your bridal attire, then look no further. We've put together a list of our biggest and best wedding hair accessories and jewellery that will help you do just that!
Bridgerton Inspired Wedding Accessories
Daphne Bridgerton Wedding Accessories
It seems only fitting to start with Daphne, the eldest Bridgerton daughter who catches the eye of Queen Charlotte and becomes entangled with the Duke of Hastings. The first time we see Daphne in the show she is wearing a jaw-dropping white gown featuring a gold embroidered train and puffed clap sleeves - a dream wedding day look if you ask us.
If you want to steal Daphne's debutante look then take a peek below at wedding accessories inspired by it!
Ivory And Co Princess Aria Rose Gold Crystal Embellished Tiara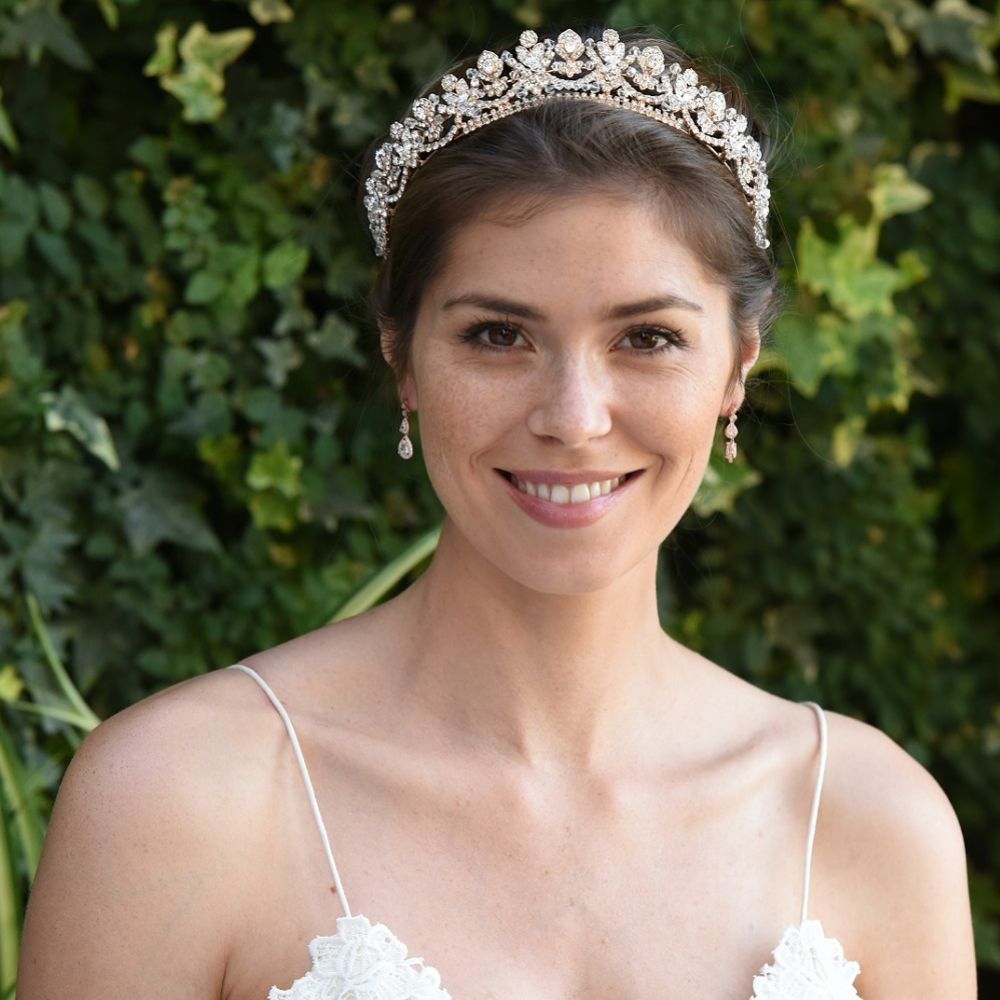 Daphne's gold tiara is the crowning glory to her debutante look! While you might not have a vintage gold tiara lying around (or have the budget to get your hands on one) the rose gold Ivory and Co Princess Aria tiara is certainly fit for a princess - or wealthy daughter of an aristocrat. This stunning tiara has a similar height as Daphne's and features shimmering solitaires, oval and marquise stones as well as brilliant crystal beads, all packed in an elaborate vintage-inspired design!
Ivory And Co Sorbonne Crystal Wedding Necklace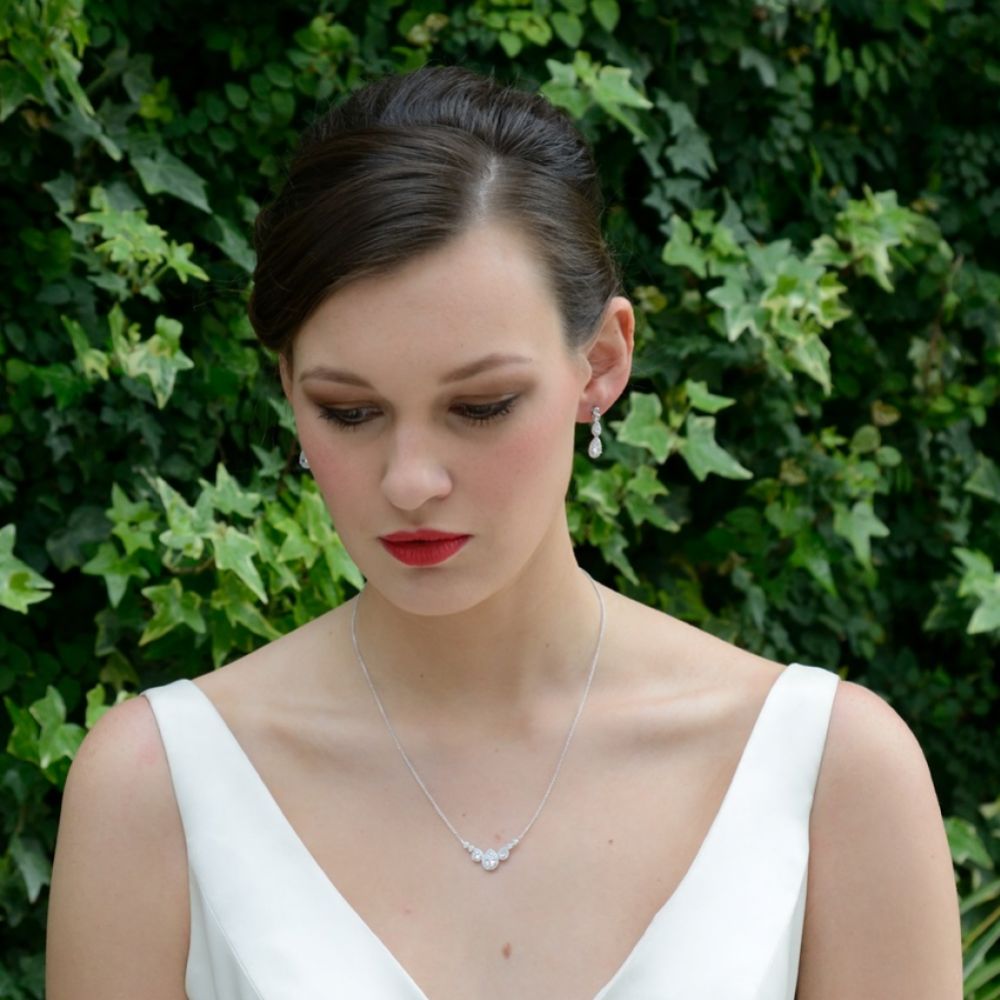 The square neckline of Daphne's dress is elegantly complemented by the addition of a silver necklace adorned with shining jewels. The silver Sorbonne crystal necklace is a delegate take on Daphne's style. Coming to the same point, it works well with v-necklines as well as square ones for a sophisticated finished touch.
Bejewelled Crystal Vintage Wedding Earrings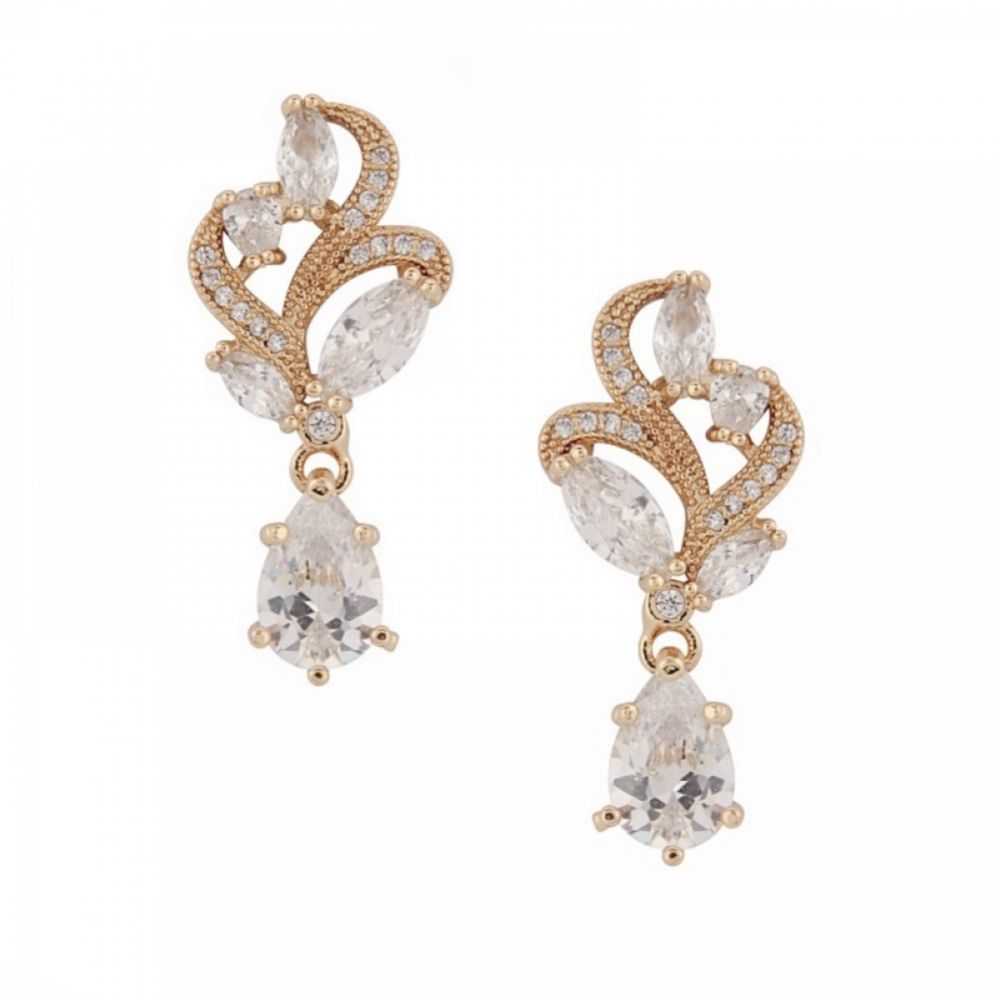 Daphne's delicate earrings work to round out her look and don't distract from her stunning tiara. Our bejewelled crystal vintage wedding earrings are crafted from marquise, pear-drop and solitaire cubic zirconia set into beautiful crystal encrusting scrolling motifs.
Eloise Bridgerton
One part of Eloise's debutante presentation look we love is the addition of gloves. They perfectly complement the dress she wears, with its pink silk sashes and bows.
Sasso Diamante Bow Satin Bridal Gloves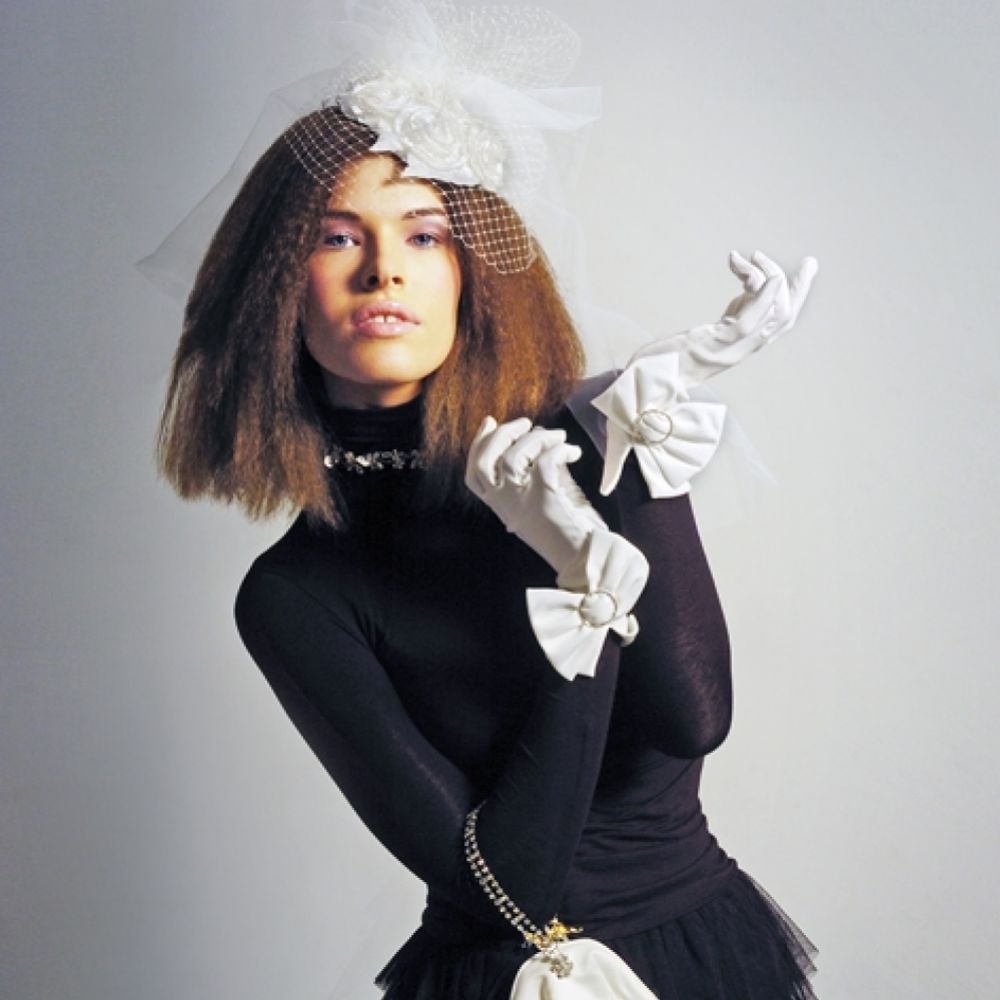 We love it when brides wear gloves on their big day. They're such an elegant and stylish statement which add to the grandeur and sophistication of the day. Not to mention how fantastic they look in wedding photographs! These satin bridal gloves by Sasso are a striking vintage touch with a contemporary twist we know you'll love. They're available in both wrist and elbow lengths and feature a statement bow joined to the glove with a circle of Swarovski crystals!
Lady Danbury
There's no doubt about it, Lady Danbury stole the show in her icy ball gown! Encrusted in diamonds from head to toe, she flaunted an unmissable tiara, dazzling necklace and ruffled neckpiece. We also couldn't get enough of Lady Danbury's dress belt in this look, which pulled in her waist and accentuated her bust to stunning effect. Of course, that was heavily embellished too! Would we expect anything less?
Hamilton Vintage Beaded And Crystal Embellished Bridal Belt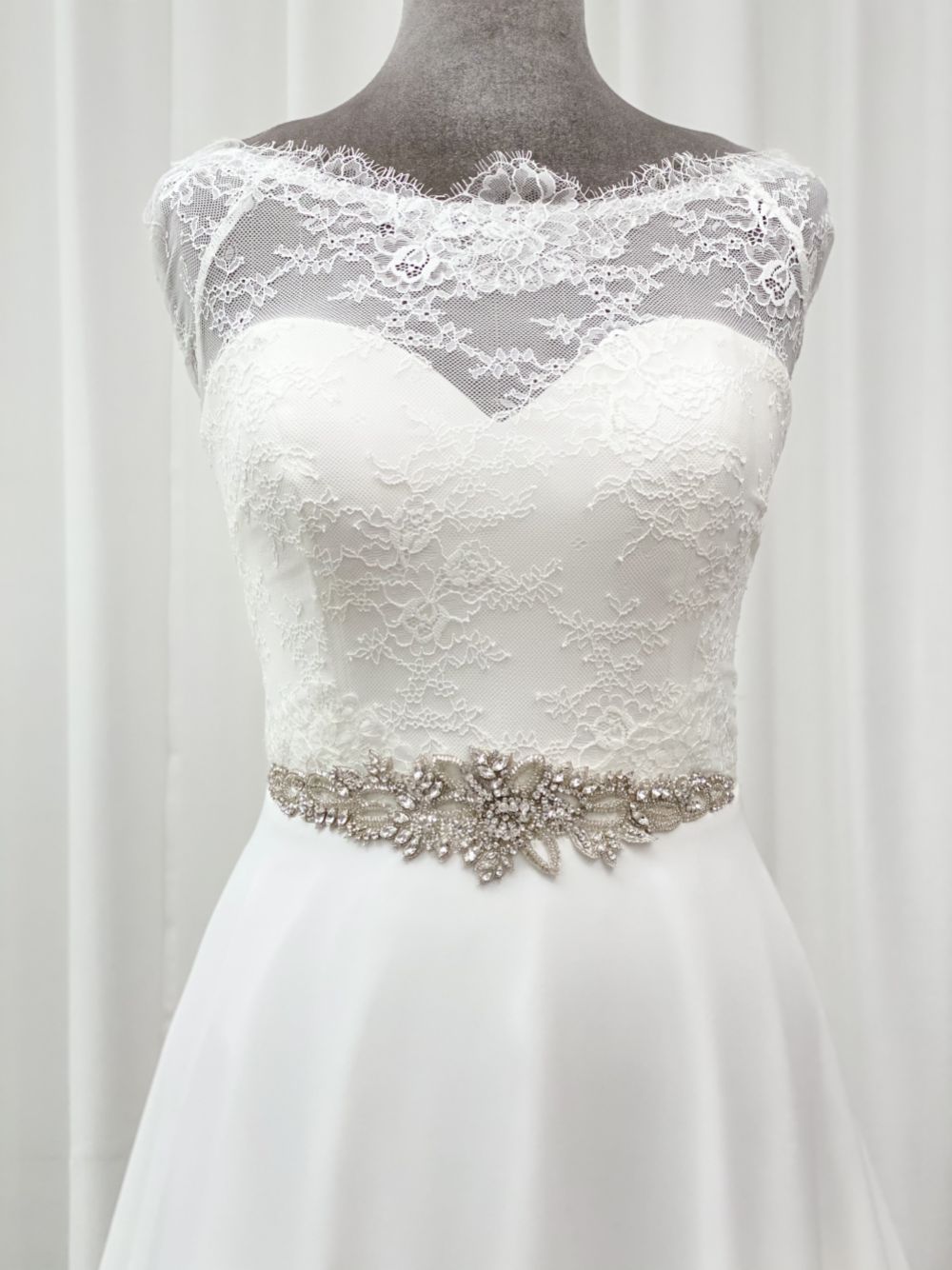 Lady Danbury proves you can never have enough embellishments when you're aiming to be Belle of the ball! Steal her style with the beautiful beaded and crystal embellished wedding dress belt. It's the perfect way to add detail, whether you're going for Lady Danbury's larger than life aesthetic or choosing to add a flourish of embellishment to a simple gown.
Bridgerton Inspired Wedding Day Looks From Lace & Favour
If you're looking to style out a Bridgerton inspired vintage look for your big day, then look no further than Lace & Favour! From wedding hair accessories to jewellery sets and more, we have everything you need to achieve your dream debutante look in time for your big day! Shop the Bridgerton look online with Lace & Favour today!