Choosing The Right Wedding Veil For Your Dress
The veil may not be for everyone, but it is arguably the oldest part of the wedding tradition, dating back to Roman times, and used to ward off demons by making the bride look like fire. If that theory is a little too out there for you, there is another reason that veils were worn, and that was to conceal the face of the bride from the groom, during arranged marriages. Whether you are a believer or not, a veil is a delicate and gorgeous addition to any wedding, but choosing the right one can be tricky, here are some of our tips to find the one for you.
Tips for Choosing The Right Veil For You
Find The Balance
You want a veil that is going to complement the rest of your outfit, namely the dress. If your dress is heavily embroidered or has a lot of detailing, a plainer veil is going to be the perfect match. On the flip side, plainer dresses can afford to be teamed with lace detailed veils and suchlike, to bring some interest and delicacy to the ensemble.
Framing The Face
A good veil should frame the face, and not overshadow it. Despite what tradition may say, you don't want a veil to cover your face completely, and for it to look too heavy when it is on. Try a few different styles and lengths, as there are almost as many veils as there are dresses, and take some time to decide what looks best for you.
Matching It Up
Think about the theme of your wedding, and the colour of your dress in particular, and match the colour of the veil to it. It is surprising how striking a different colour veil and dress can look together, and unless it is a bold contrast and a statement, it can make for an unusual look. Always try them together ahead of the big day and take a look in different lights, as well as seeking other opinions for good measure.
Choose A Hairstyle
You may already have a good idea of the hairstyle you want, and maybe you have already had your hair trial. Either way, the veil and the hairstyle need to go hand in hand and work as a team. If you're going hair up, the veil styles will be different to those going for a hair down approach. Try on a few styles with your hair roughly how you're going to wear it to make sure it is a good decision. It's also a good idea to consider your hair accessories when shopping for that dreamy veil too. If you have flat hair you don't want to risk weighing your hair down with a headpiece teamed with a veil. Alternatively, if you have thick luscious locks, you may be able to opt for an extravagant headpiece teamed with a veil. There's plenty of options to choose from and your stylist will definitely be able to offer some friendly advice!
Photo Ready
You want a veil that is going to stay in place and look good throughout the day, until the moment you choose to take it off. That means it has a lot to contend with, including the photos, and you want to make sure it is going to stay put and in good condition throughout those all-important photos!
Make It Work For You
If a veil doesn't sit right with you, then don't feel obliged to wear one, just because tradition deems it so. Choose a wedding that works for you and veil or no veil, we are sure you will have a magical day with your loved ones.
Now, there are plenty of veils to choose from so we will give you a note on the most popular styles we see chosen, here at Lace & Favour, to hopefully help you in your search.
Popular Wedding Veil Styles
Birdcage Veils
A super short veil that attaches via a comb to your hair, birdcage veils are designed to cage the face, in the most beautiful of ways. They may be understated but they can make quite the addition with the right dress and the right theme.
For glamour and style, this delicate birdcage veil with beaded lace motifs by Joyce Jackson is perfect for the vintage bride or those looking to add a sophisticated twist to their big day.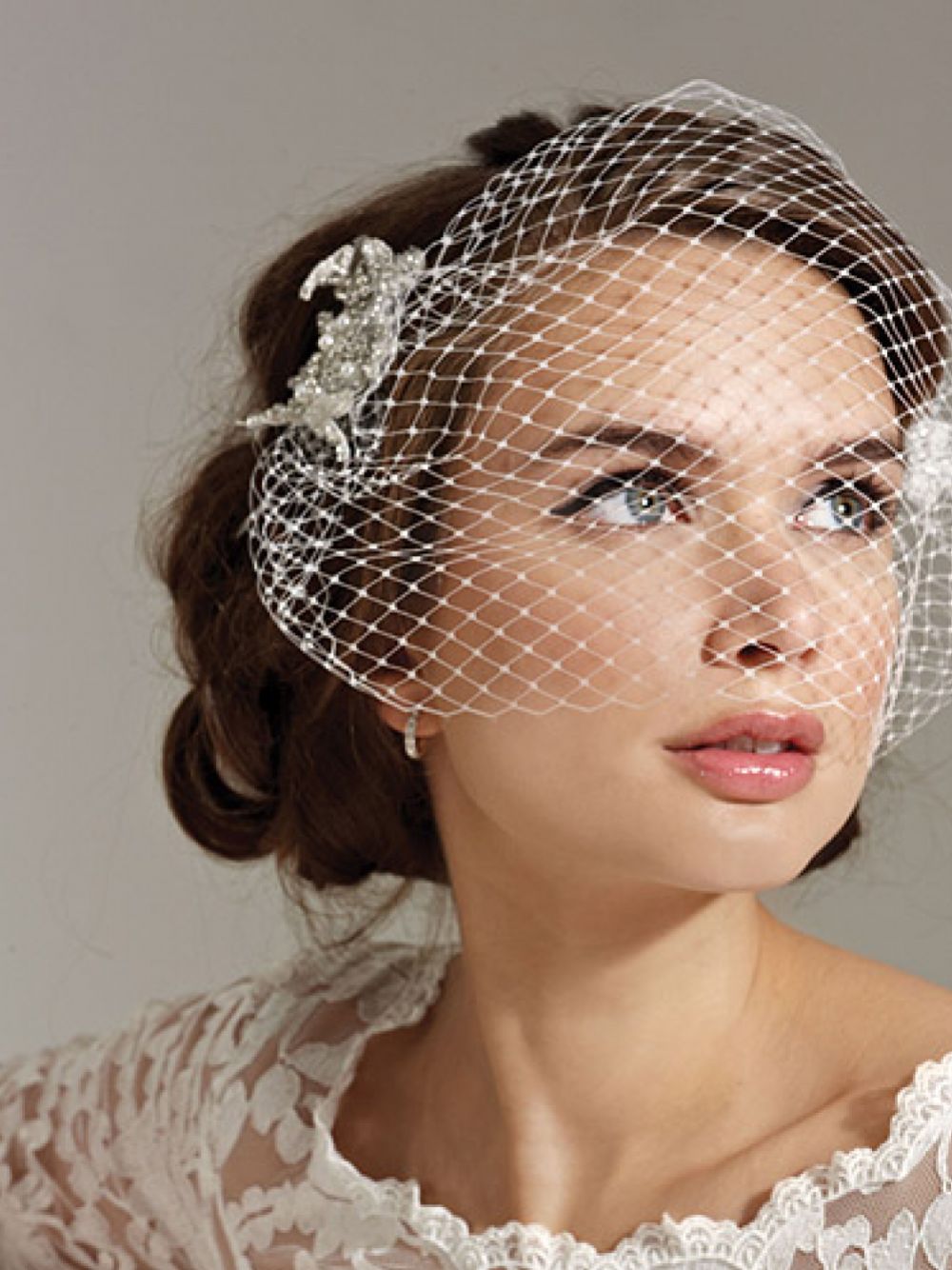 Single Tier Veils
One layer and no option to pull it down over the face, a single-tier veil is a popular choice for modern brides and those wanting a touch of tradition, without going the whole way.
Flowing and graceful with a narrow satin ribbon edge, this single-tier chapel veil by Bianco Evento is the perfect way to finish off your bridal look. Handmade from soft ivory tulle, this veil is perfect for those looking to add a delicate feminine finish to their look.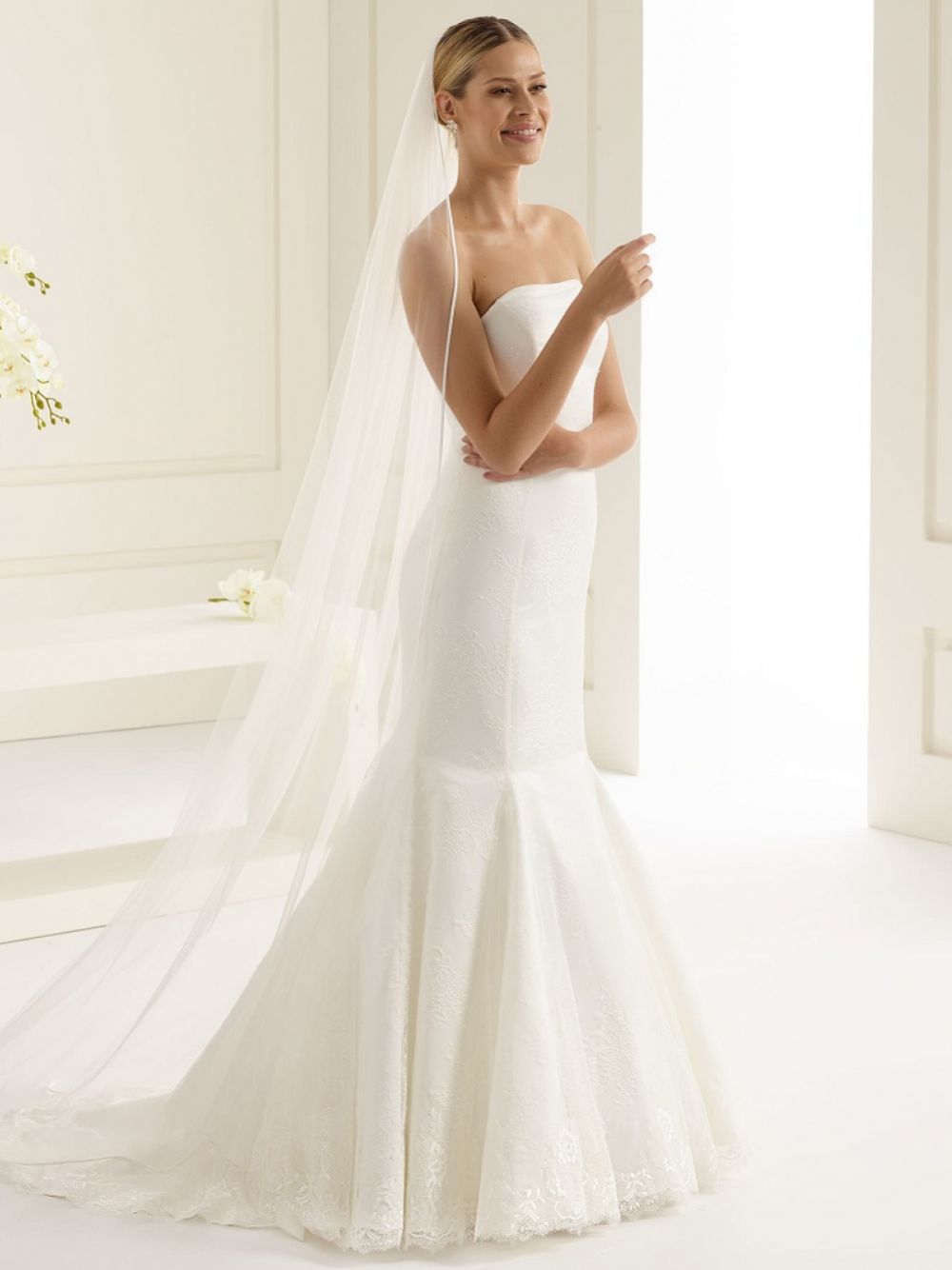 Cathedral Veil
Elegance and drama come together for the oh-so-stunning cathedral length veil. It's always a head-turner if the wedding wasn't enough to do that anyway, and it is a veil that cascades down to the ground and beyond the train of the dress, for the most gorgeous and delicate touch.
Dramatic to the eye and falling down to the ground, this cathedral veil is simply stunning. Handmade from soft ivory tulle this go-with-everything veil is a gorgeous choice for the classic or modern bride.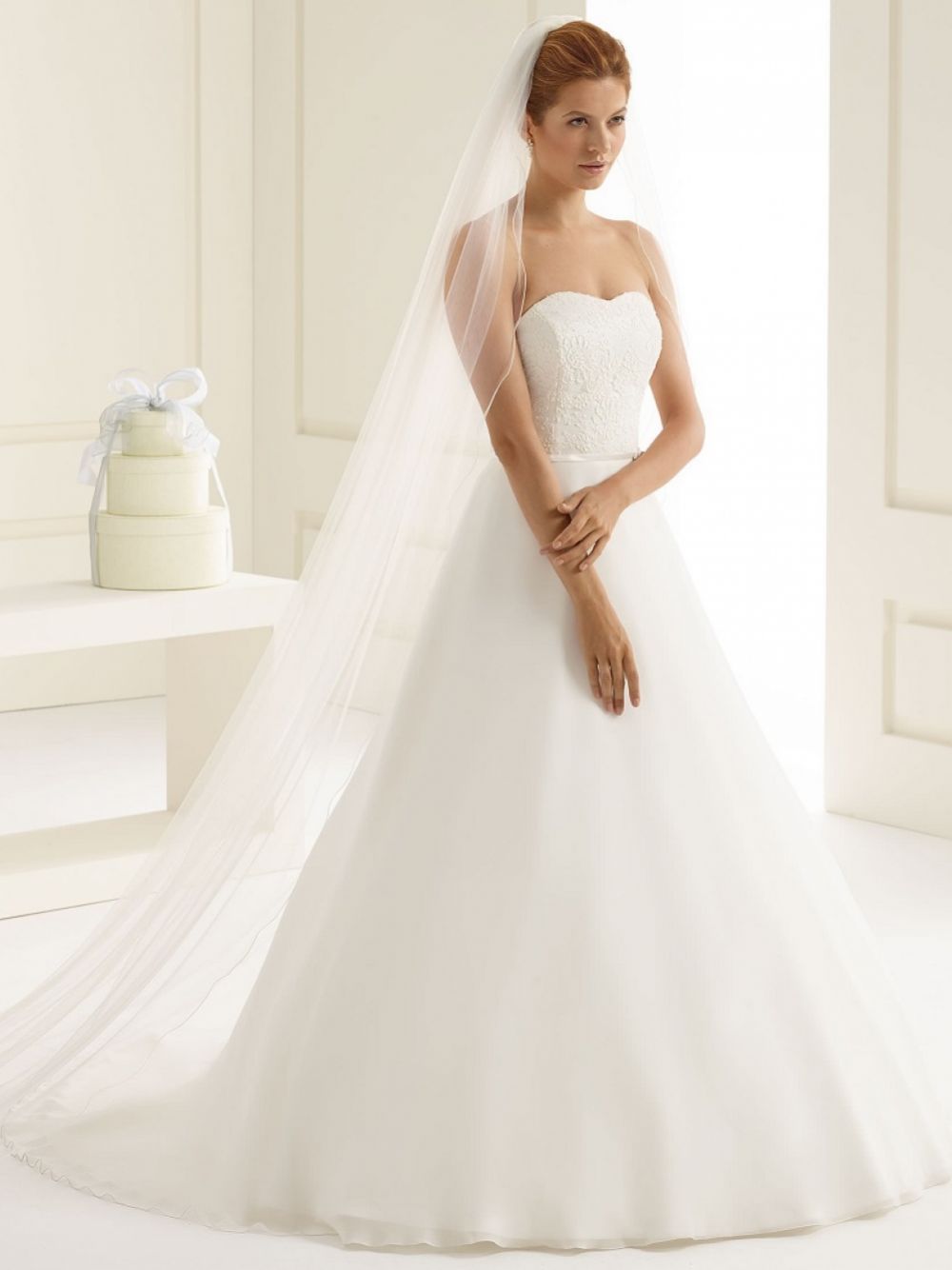 Fingertip Veil
One of the most common choices and for good reason too, this is a mid-length veil that is versatile and looks gorgeous with most dresses and outfits, in fact.
Practical and classic, this fingertip veil has a lace and beading trim, adding a touch of interest for a modern bridal look.
Shop Online For Veils Of All Styles and Lengths
Veils are a personal choice, as with every other element of the wedding, but whether you are a fan of the old, or wanting to bring in the new, a veil can add a touch of elegance and really set the outfit off. If you would like to browse veils or perhaps get some advice on which type to go for, come and visit us at Lace & Favour, or view our range of veils online, ahead of your big day as the blushing bride.
In addition to offering a beautiful selection of lengths, online you'll also find a wide variety of styles, from graceful lace veils and delicate pearls to exquisite crystal veils and even sparkly glitter veils! Whatever your style and personality, you'll be sure to find the perfect veil to complete your bridal look with Lace & Favour!