Choosing The Perfect Wedding Veil
Our Top Tips For Choosing The Perfect Wedding Veil
Nothing makes for a more dramatic entrance than a bride wearing a veil. Wedding veils are the most iconic bridal accessory, and as your big day is the only occasion you're ever going to wear one, make your choice of wedding veil the crowning glory to your ensemble. Here's how we help brides to choose the perfect wedding veil.

The Perfect Veil Choice
When choosing the perfect wedding veil, there are a number of top tips brides should take note on. Start by considering the length…
Shorter veils like bandeaus, birdcages and waist length veils, tend to lend a bit more personality as well as an informal, retro edge to your bridal look. Or lean more in the way of tradition with a flowing chapel length or dramatic cathedral veil for a show-stopping entrance. If you're going long, make sure the veil is longer than your dress. Finding a style that complements the overall silhouette is critical.

Strike The Right Balance
As a general rule, if your dress is heavily embellished your wedding veil should be simple with clean lines, as you don't want to take away from the detail on the dress. A more simple gown allows you to be a bit more adventurous, but make sure the embellishments complement the style and colour of your dress – for instance a glamorous sequined veil would feel out of place next to a romantic lace gown embroidered with tiny pearls.
And what shade? If possible, you should aim for the exact shade of your dress or go up a shade lighter.

Two Tier or Single Tier?
A two tier veil is what's known as the most traditional choice for brides, wearing a blusher over your face as you walk down the aisle, however single tier veils are becoming increasingly popular. If the back of your gown has lots of beautiful detail, don't hide it under layers of tulle. Opt for a sheer single tier veil that's long enough not to break up the flow of your look, like an elegant fingertip veil or longer still. If all the detail is at the front of your gown, then choose a two tier veil with stunning trim to add interest.

How To Wear Your Wedding Veil
Wedding veils can be worn in a number of different ways and there is simply no right or wrong. Wear you place it depends on the effect you want to achieve and your hairstyle. For the most flattering overall silhouette, place the veil at the slope of your head so that the veil sits neatly down your back and doesn't take over the face. It's important to remember, that the higher you wear it, the more volume you'll see. If you want a more subtle effect, wear the veil lower. For a total bridal statement, wear a halo headpiece and wedding veil together.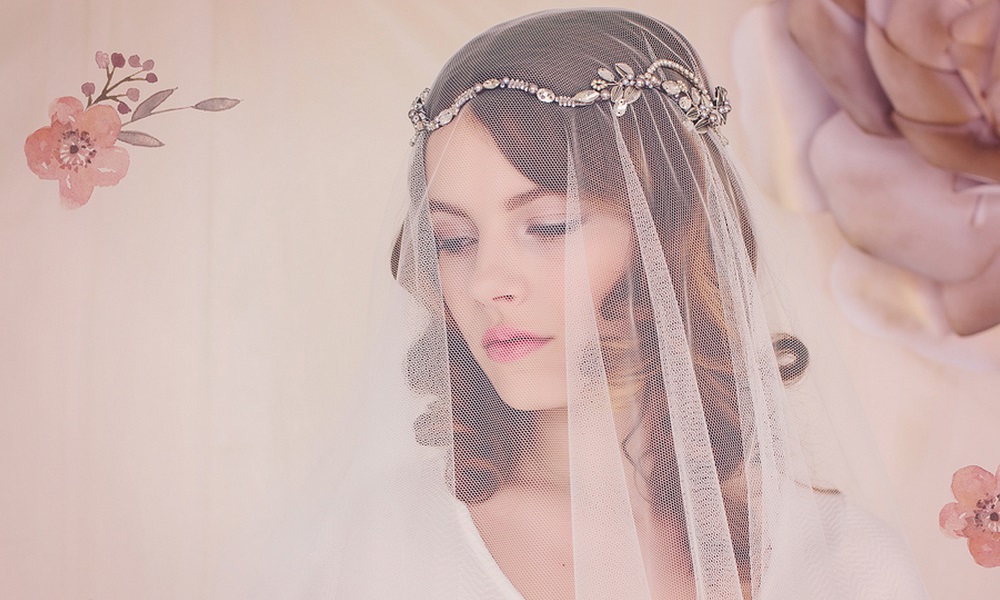 Hopefully this feature has given you tips and advice on choosing the perfect wedding veil for your big day. Still undecided? Contact our experienced sales team and they will be able to guide you!
Love Amy x
Shop All Wedding Veils