Flat Wedding Shoes vs Wedding Heels - Which Should I Choose?
Here at Lace & Favour, we very much believe that your wedding shoes are just as important as your wedding dress. However, there's often one question that our budding brides have when they come to choosing the perfect pair. Flats or heels? With beach, woodland and rustic weddings becoming more and more popular, it's not uncommon for a bride to switch between the two during the day. However, if you're considering sticking to just one, we can help you to decide by looking into the benefits of both.
Why Should I Choose Flat Wedding Shoes?
Recently, we've seen a rise in the popularity of flat wedding shoes, especially for the modern bride. After all, heels aren't for everyone and you may feel more confident in a pair of flats. For example, if you've never worn heels before in your life, you shouldn't feel pressured into wearing them for the first time at your wedding. You may feel much more comfortable in a pair of wedding trainers!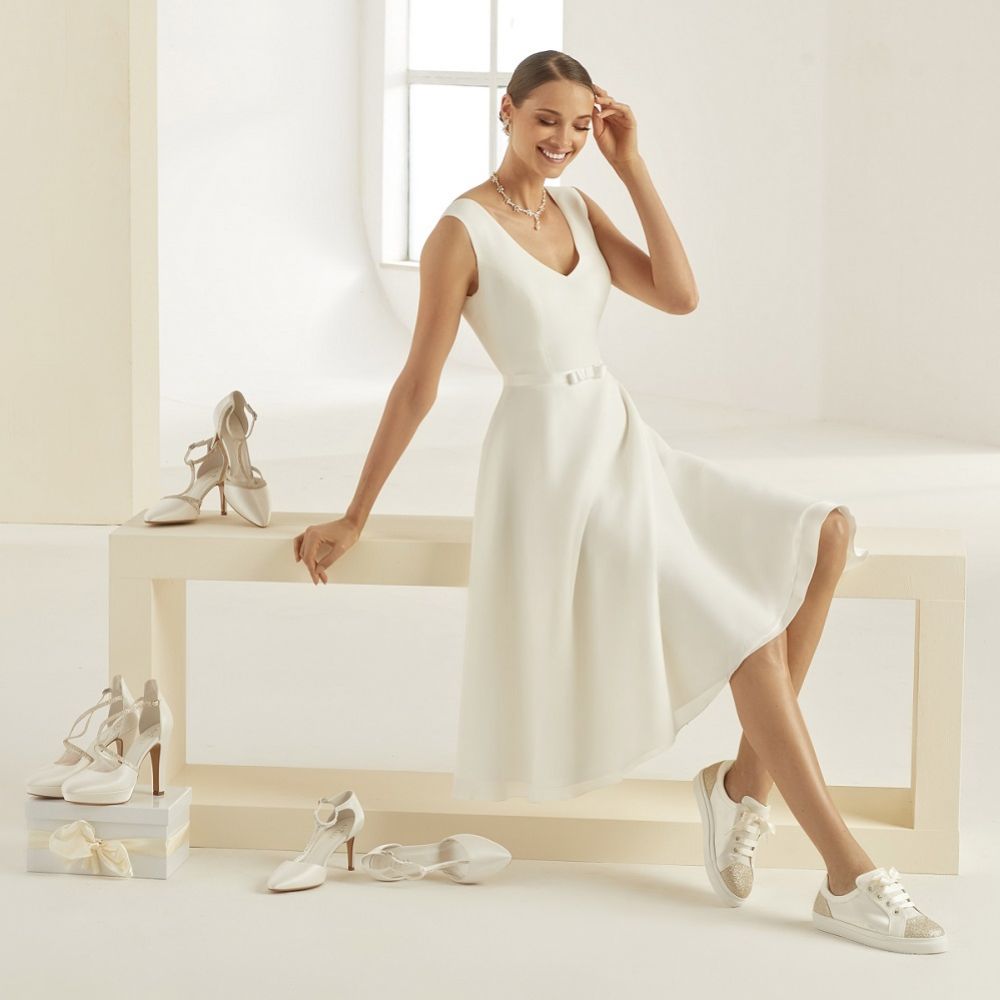 Location, Location!
Your personality is arguably one of the most important factors in choosing your dream wedding shoes. However, you should also take the wedding location into consideration. If you're having a destination wedding, tying the knot on the beach or opting for a woodland theme, heels may not give you the stability needed to relax and enjoy the occasion. Therefore, you may wish to turn your attention to our beautiful bridal pumps by Harriet Wilde. Brand new for 2021, the gorgeous Hetty flats are handcrafted in misty blue kid suede and feature the prettiest blue organza ribbon ankle tie for that extra special finishing touch. If you're not a silky bow kind of bride, you can even choose an alternative plain ankle strap, too.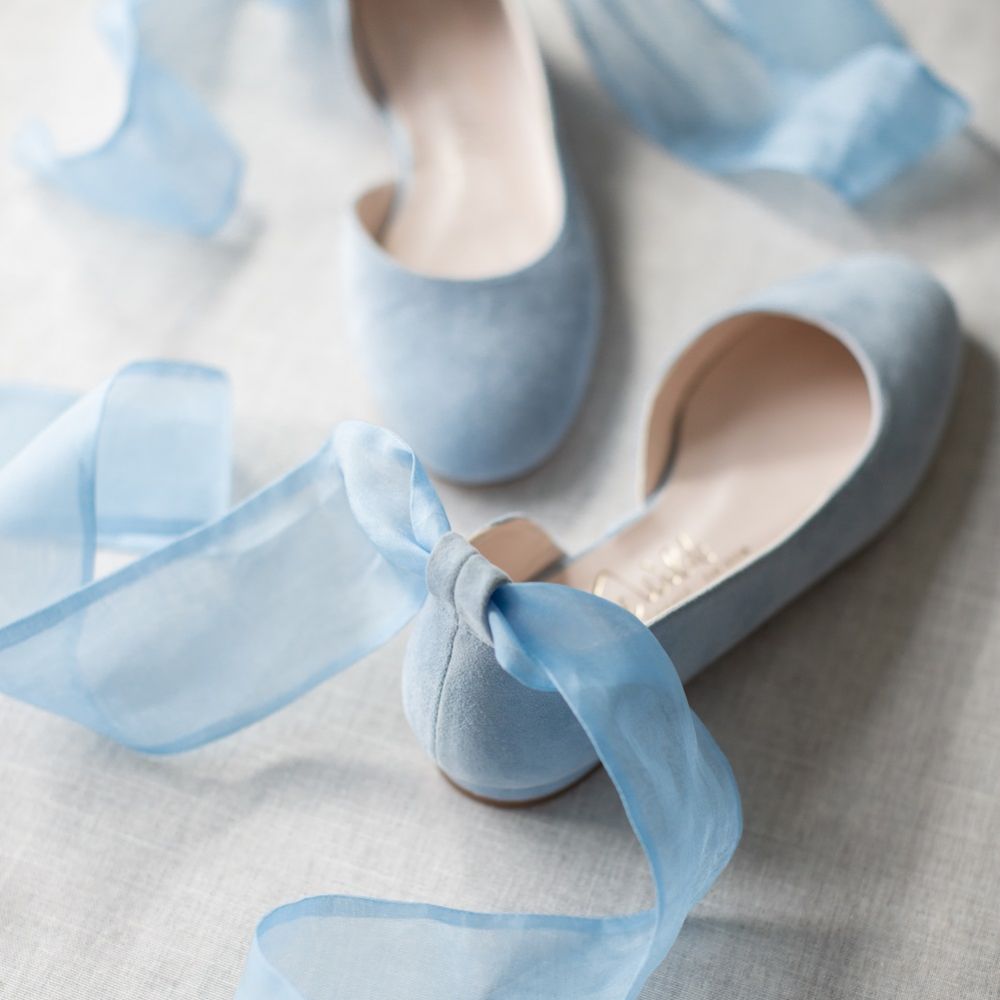 If you're looking for something with a little more glitz which is also comfortable all day long, Eden is a firm favourite. A stylish t-bar sandal from Rachel Simpson, the front of the sandals is decorated with the iconic Rachel Simpson petal motif. Each petal is made from a metallic gold leather strap that loops into the middle of the shoe, where an elegant t-bar brings them all together.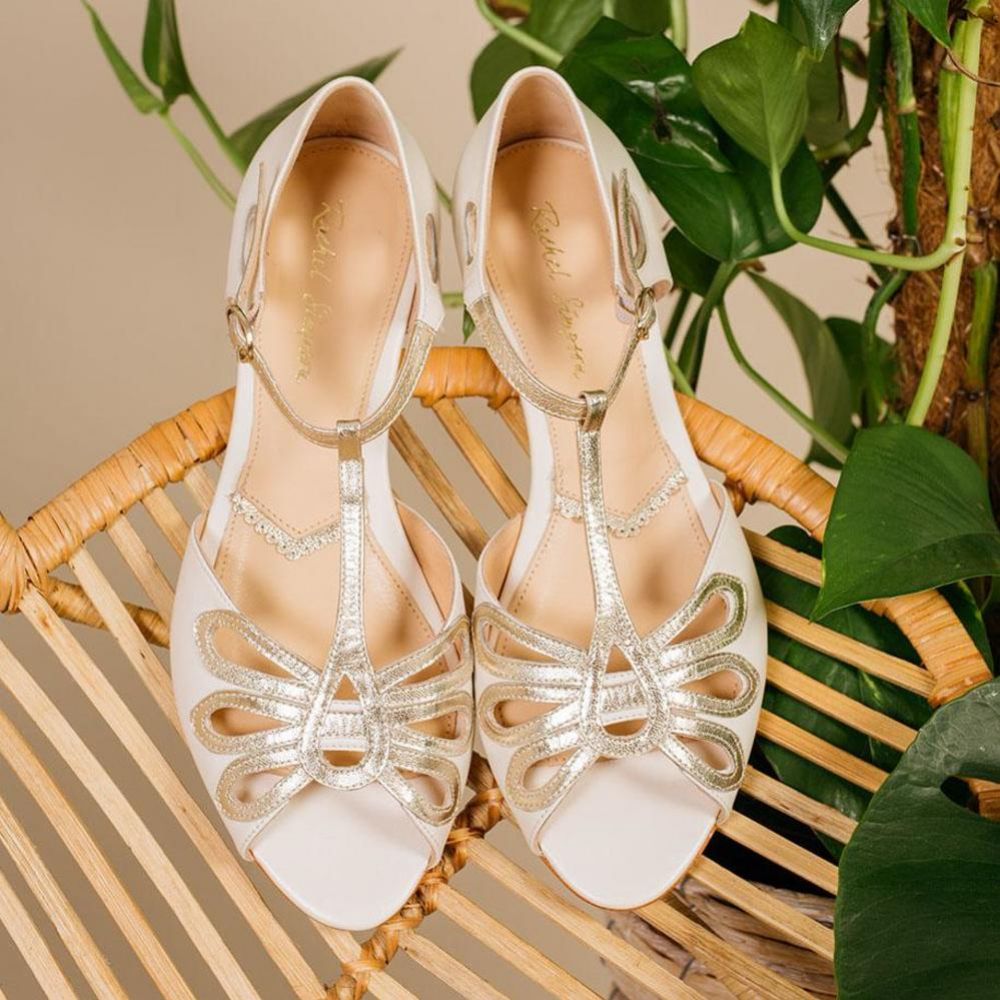 Calling All Dancing Queens!
Flat wedding shoes are also a faithful companion to the dancing queens out there. Therefore, whether you'll be losing your mind to Come on Eileen or doing your best Queen Bee impression to Crazy in Love, you can feel comfortable and confident at the wedding party.
Is Height a Consideration?
The final point that you may wish to consider is whether there is a significant height difference between you and your partner. If they aren't much taller than you, you may wish to wear a pair of flat wedding shoes to maintain that. However, as you'll see in the benefits of heels, this can work both ways. Another thing to consider might be the height of your partner. The one message that we try and get across here at Lace and Favour is that by going for flats, you're not compromising on style or elegance. In fact, a well-selected pair of flat wedding shoes can truly make your outfit.
Why Should I Choose a Pair of Wedding Heels?
Heels have stood the test of time as a popular option for a number of reasons. Thanks to their sophisticated styling and sparkle, they can truly blow away your groom and guests. You also have the benefit of much more variety in design. From ankle strap and T-Bar wedding heels to traditional court shoes and vintage wedding shoes, we have options for every bride.
Just as we discussed in the benefits of flat wedding shoes, your partner's height may come into your decision. However, in this case, heels can help you if your partner is much taller than you and you wish to close the gap. If you've already bought your dress, you should take that into consideration too, as they should work together to make you feel the most beautiful, confident and comfortable that you've ever felt. If your dress hides your feet anyway, you may as well go for comfort over anything else. However, if you opt for a slightly shorter dress, you may wish to make your shoes the main event. Heels can also change how your dress will look, as they alter your posture and tone your calves.
Can I Get Both?
Of course you can! In fact, this is becoming increasingly popular with our budding brides who want the benefits of a heel at the ceremony, but the comfort of a flat wedding shoe for the evening. The last thing that you want to be worried about on your wedding night is having blisters and bruises on your feet. If your favourite song comes on at the party, you want to be able to race your bridesmaids to the dancefloor and let loose, not shuffle your way over slowly. Pairing a pair of heels for the ceremony with some flat wedding shoes in the evening gives you options throughout your special day.
Shop Wedding Shoes with Lace & Favour
Ultimately, choosing your wedding shoes comes down to three things. Comfort, confidence and individual style. You have to feel comfortable throughout your day as you want to be fully present in the moment. You also have to feel confident in whatever you're wearing as this is your special day, with all eyes on you. Finally, the most important voice in the whole wedding planning process is yours. Your shoes should represent your personality and there are no wrong answers. Whether you would rather rock up in a pair of our wedding trainers or strut down the aisle in a pair of our Swarovski covered heels, you're sure to find what you need here at Lace & Favour.