Gorgeous Bridal Headpieces for Half Up Half Down Wedding Hairstyles
You've chosen your wedding hairstyle, now it's time to make it come to life with a beautiful bridal headpiece. A half up half down wedding hairstyle is a fashionable choice for brides – it's the perfect balance, allowing you to experience a bridal up-do by a professional wedding hair stylist whilst having gorgeous locks to experiment with!
Bridal Headpieces for Half Up Half Down Wedding Hairstyles
Let's take a look at some of our lovely wedding hair accessories to complete your look today.
Wedding Hair Drapes
A bridal hair drape is the perfect adornment to frame any half up half down wedding hairdo. Made up of a trio of hair combs linked by drapes of pearl or crystal, simply secure the middle comb in the centre of the plait or twisted detail, and place the other two combs either side. Wedding hair drapes are both stylish and unique, whilst being comfortable to wear and easy to secure into the hair.
Here are some of our all time favourites by Arianna Tiaras – a UK bridal accessories designer who makes everything by hand using luxury components.
Lyra Vintage Pearl and Crystal Bridal Hair Drape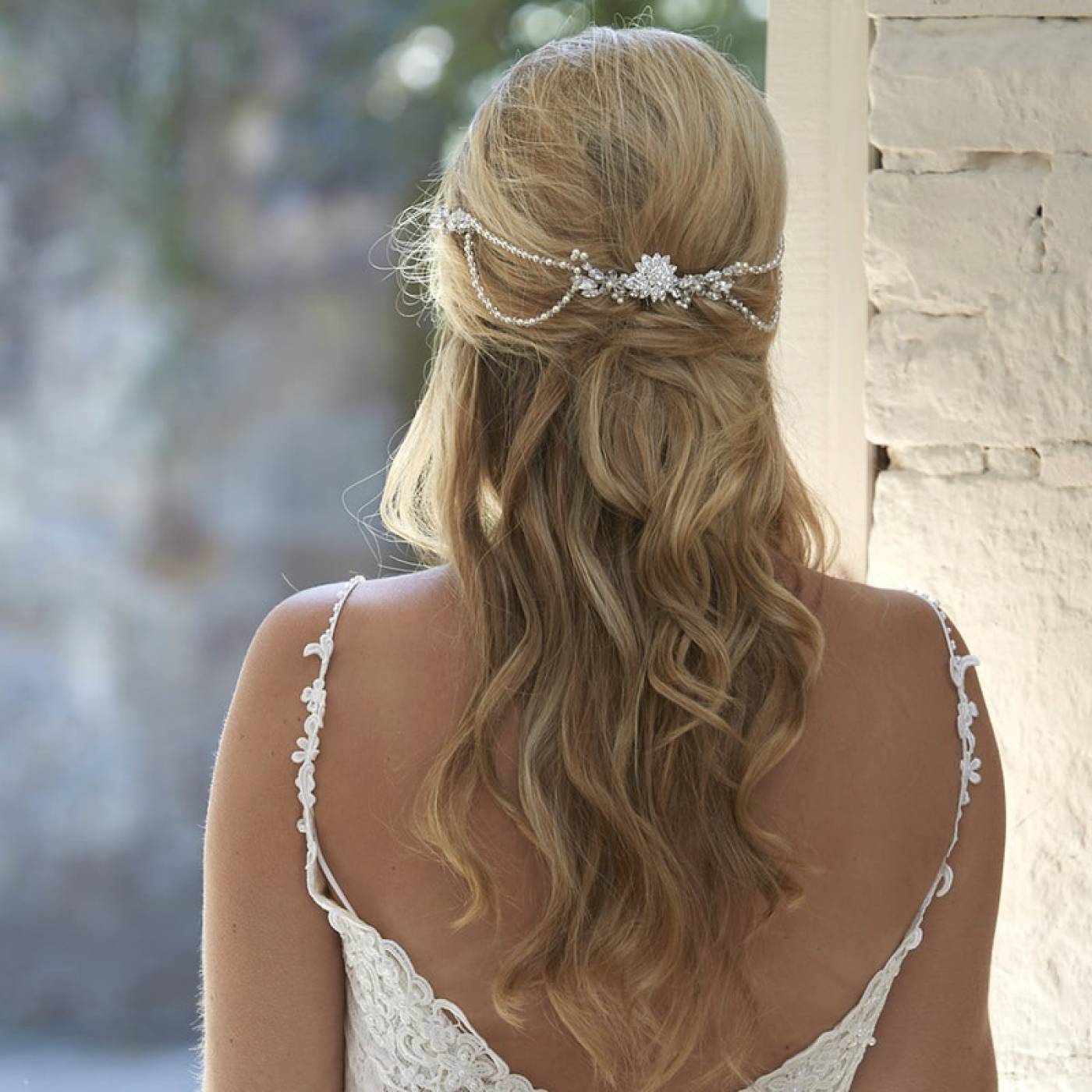 Serafina Elegant Pearl and Crystal Bridal Hair Drape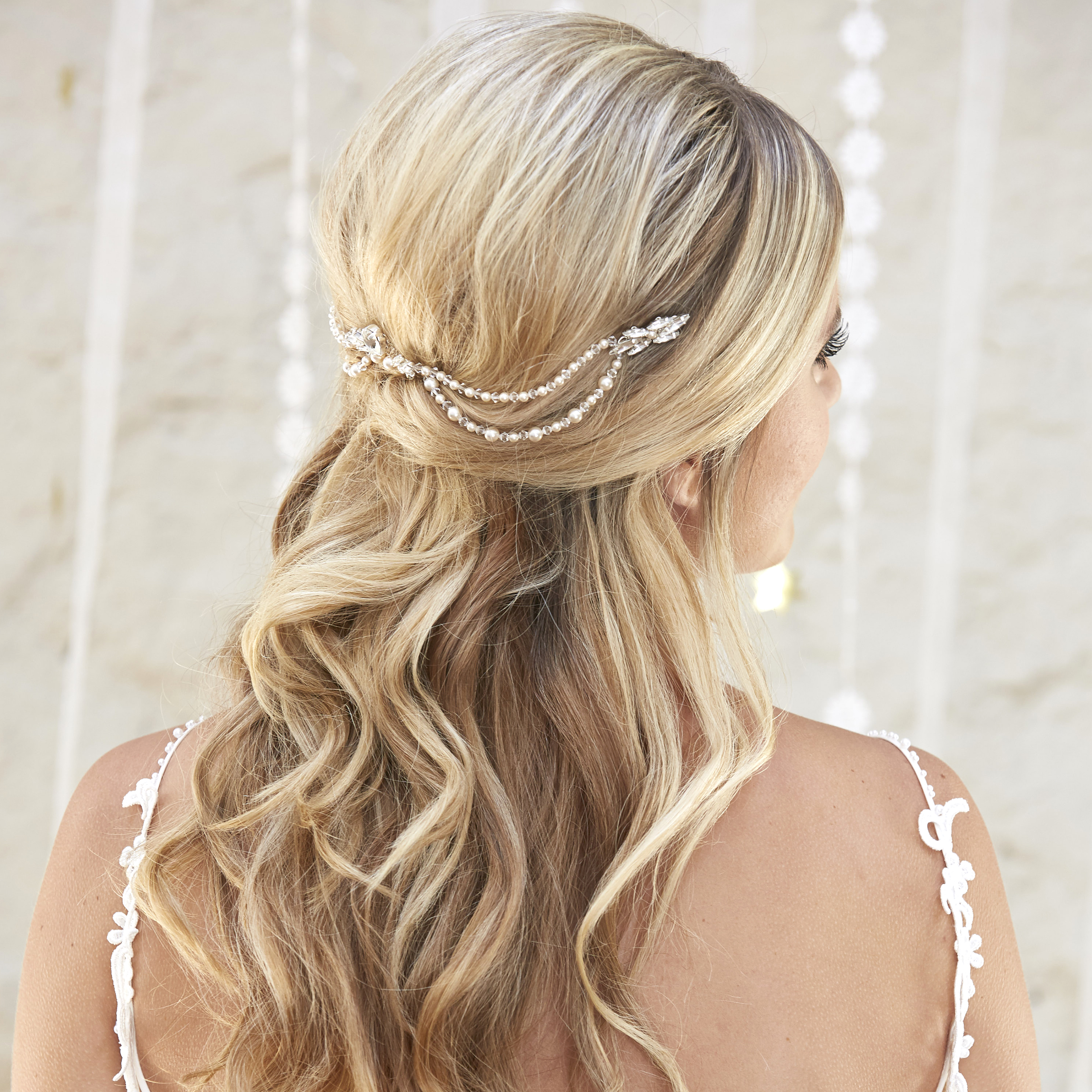 Weddings Hair Vines & Halos
Another stunning addition to a half up half down hairstyle is a wedding hair vine. An incredibly versatile choice, bridal hair vines can be worn in both the back and front of the hair, or if long enough, worn as a beautiful halo headpiece. Bridal halos are perfect if your wanting detail to be shown from every angle. Team with a drop veil for a beautiful, ethereal bridal look. Shown below is the incredibly pretty Lily freshwater pearl garland headpiece by Hermione Harbutt.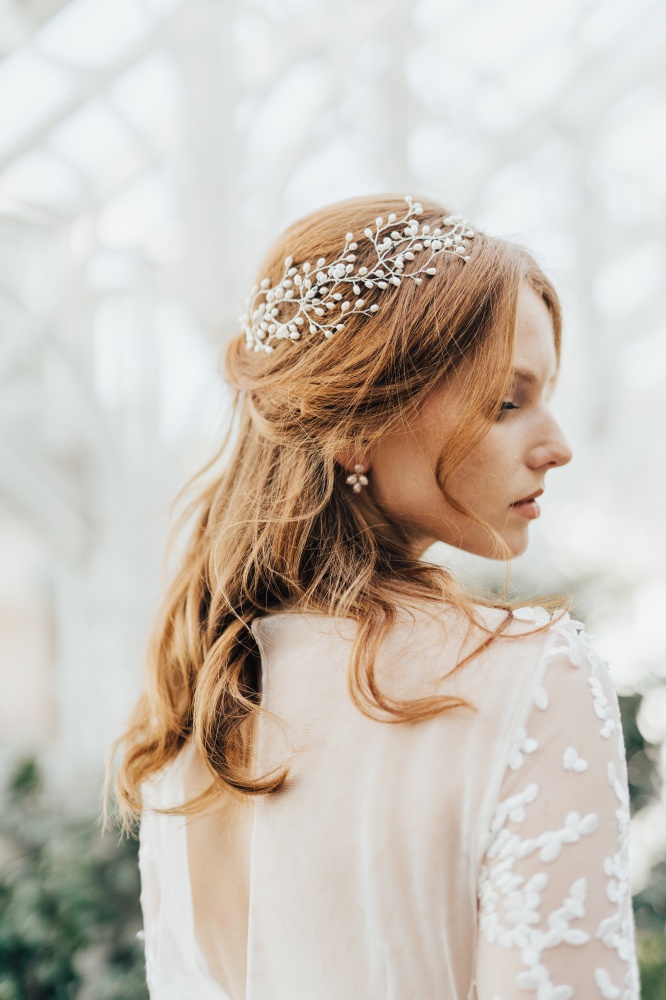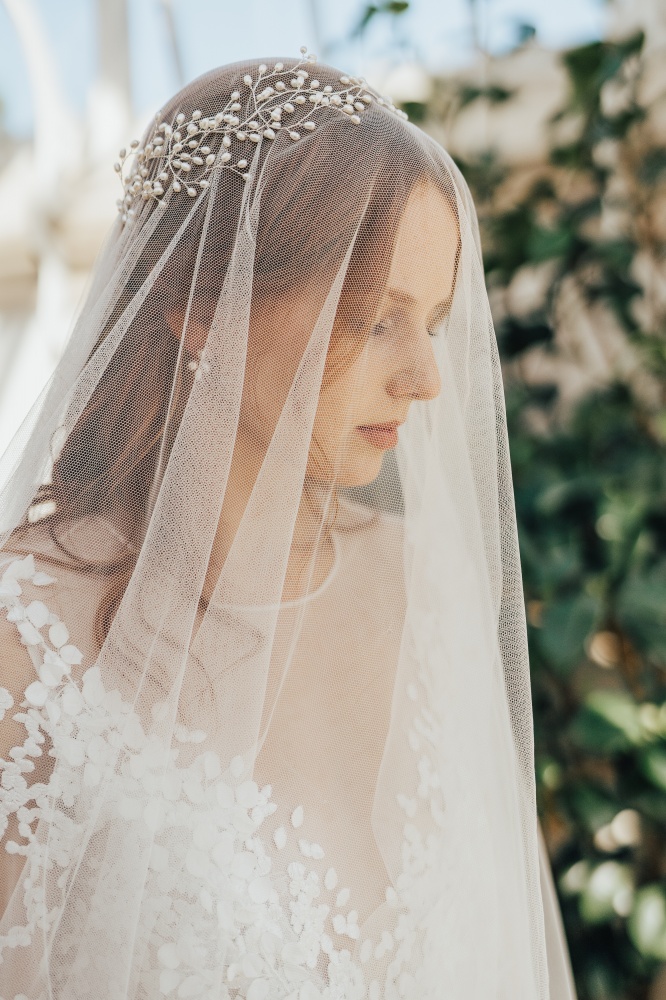 Our best selling vine is our pretty Callista mini vine. Meaning "She that is most beautiful" the Calista hair vine, although small, really is stunning! Featuring a symmetrical design of pretty Swarovksi pearl blossoms, glistening diamantes and shimmering crystals. A delicate addition to a half up half down wedding hairstyle, Callista is best worn at the back of the hair, although can be styled at the front too.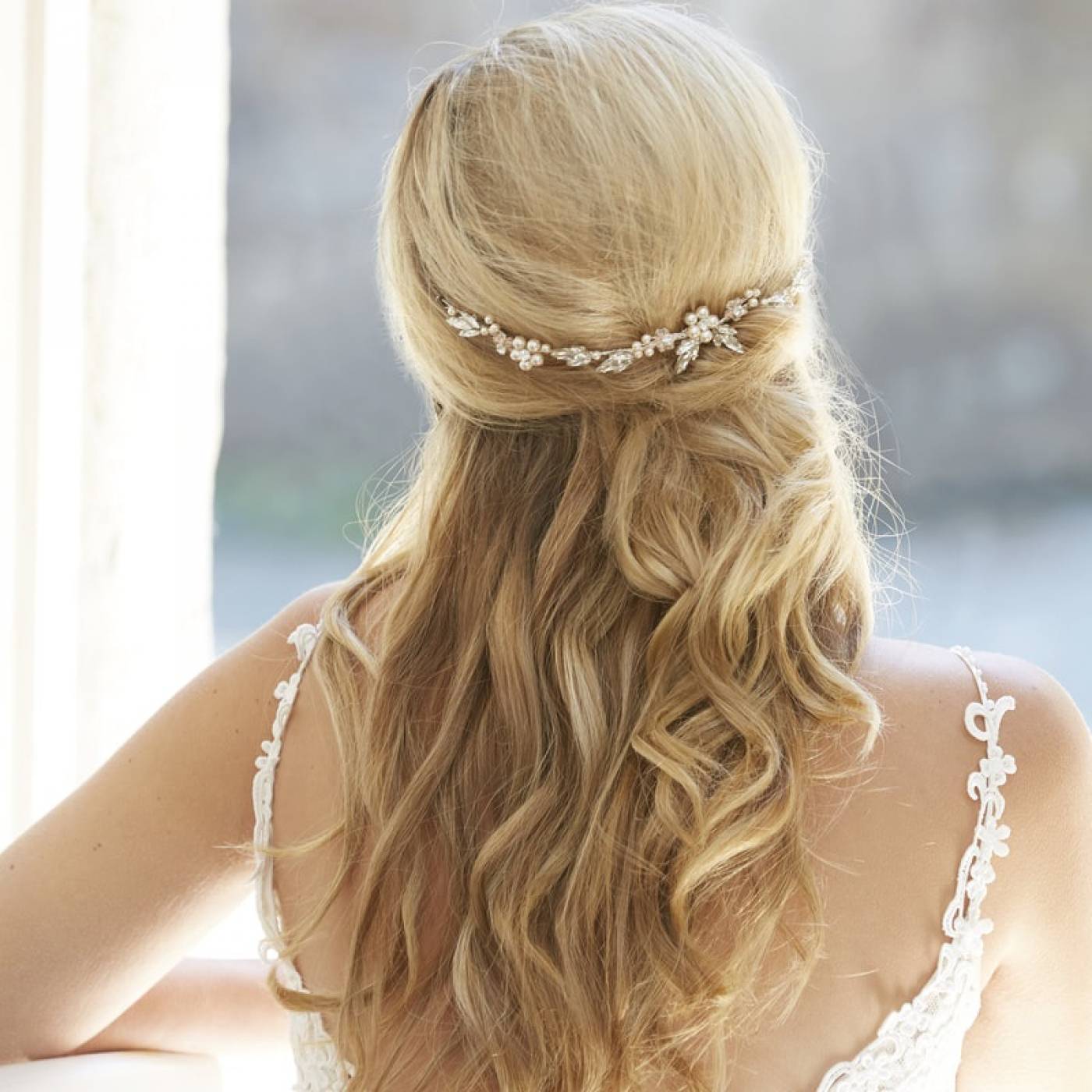 Neoma Filigree Flowers Hair Vine – A feminine addition this floral bridal hair vine looks stunning teamed with a delicate lace wedding dress. Just the right amount of sparkle and the dainty ivory filigree flowers look so pretty in the hair!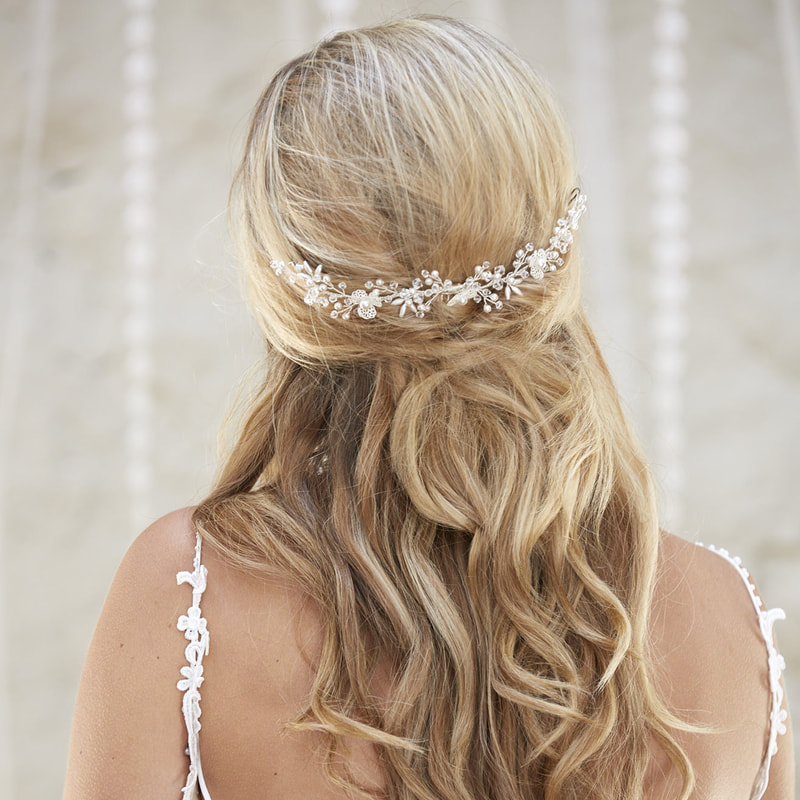 Kalania Floral Inspired Half Halo – This beauty is one of our favourites! A multi use style this headpiece looks great worn both at the back of the hair or across the front of the head as either a brow band or wedding headband, depending on your bridal style. We love the use of enamelled leaves and floral accents. Perfect for a dreamy destination wedding.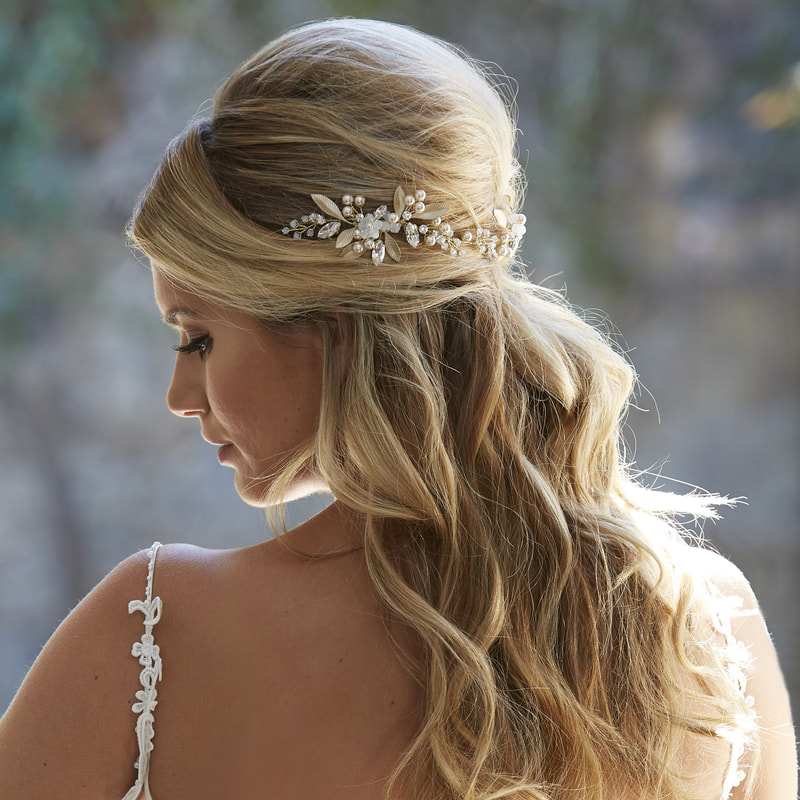 Nova Vintage Inspired Half Halo – For the vintage bride, adorn bridal tresses with unique half halo headpiece by Arianna. The perfect addition to a half up half down hairstyle this wedding hair piece features elegant diamante star detailing and branches of shimmering Swarovski pearls.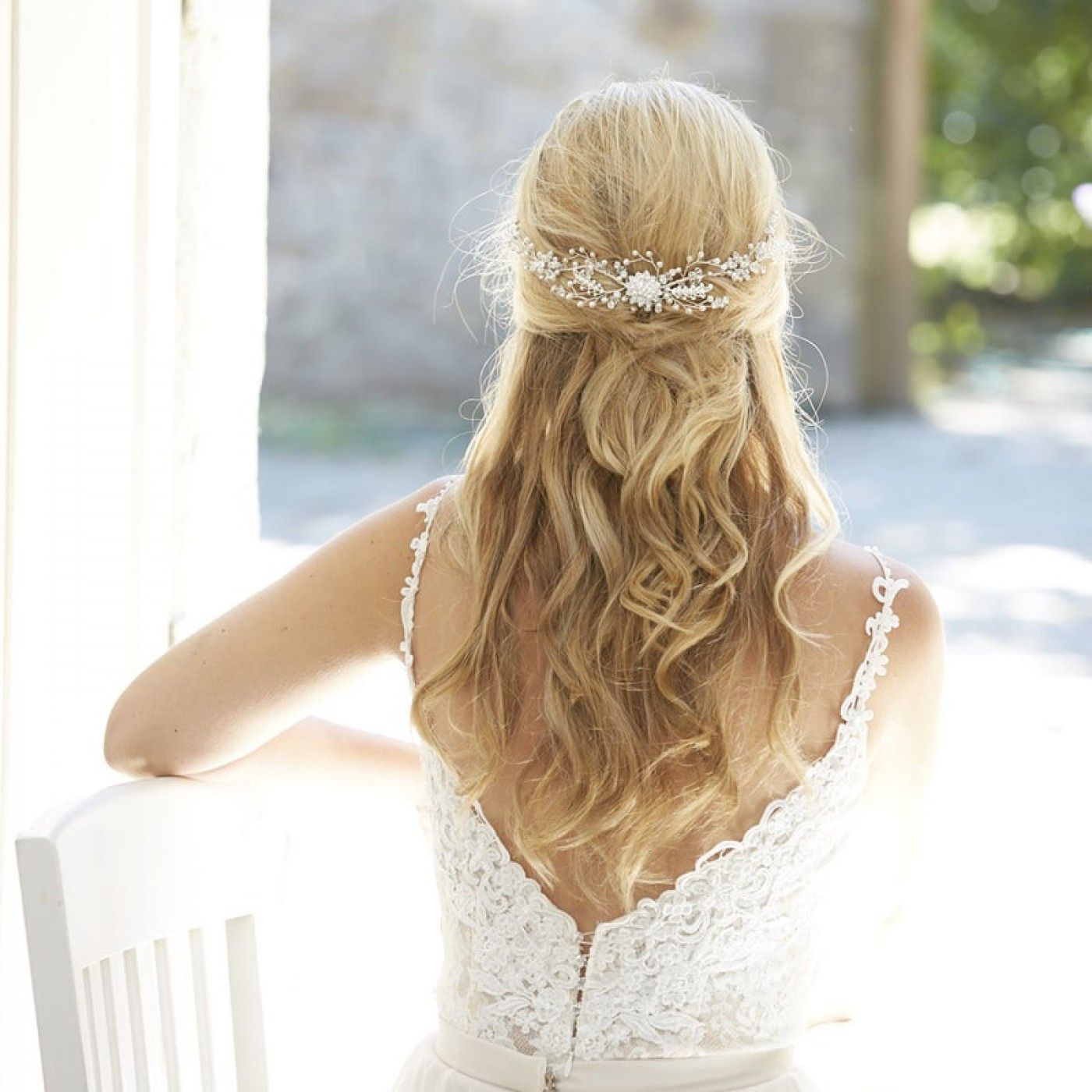 Statement Headpieces
For those looking for a statement bridal headpiece, check out these beauties!
Our Radiance crystal embellished headpiece by Hermione Harbutt is perfect for brides who love their sparkle. Clusters of Swarovski crystals in the shape of leaves are the showcase of this sparkling crystal vine. We absolutely adore the shape of this piece and how it effortlessly cascades down the hair. Wear together with one of our cathedral veils to make real style statement!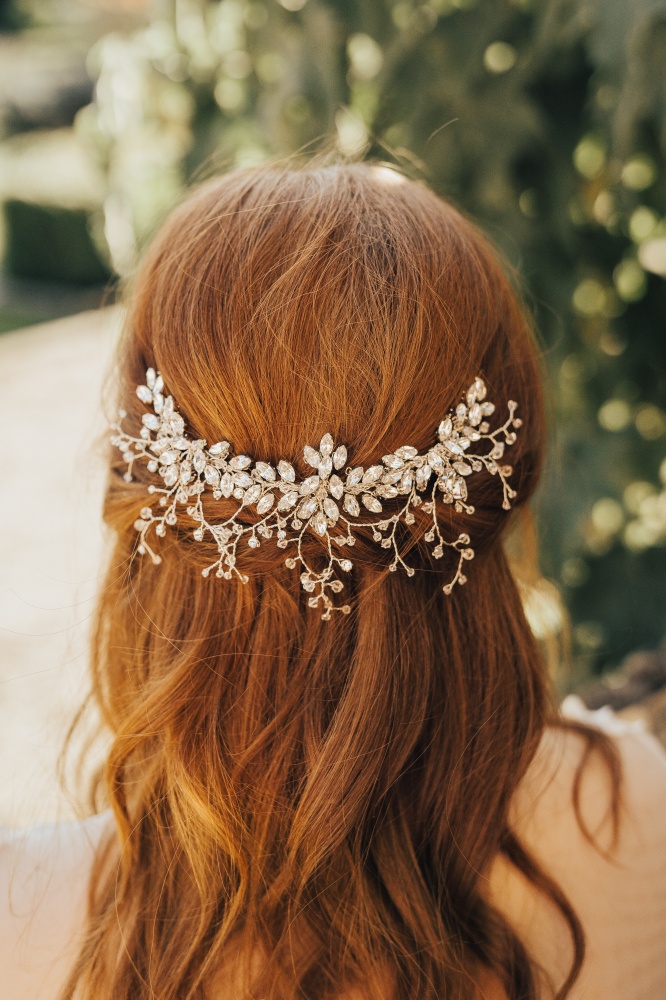 If you're looking for something asymmetric, our saffron gold statment pearl and crystal headpiece fits the bill perfectly!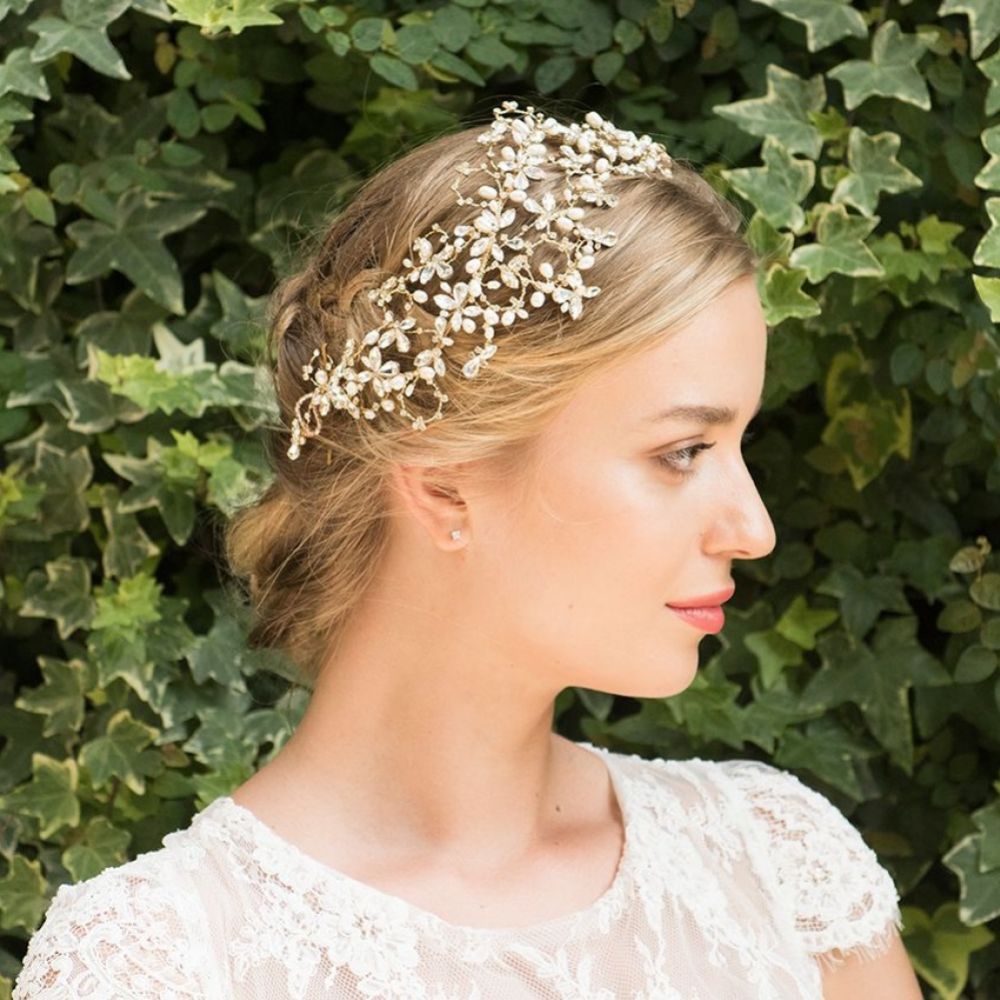 Or why not cluster these exquisite mother of pearl flower hair pins on one side to really accentuate your wedding hairstyle?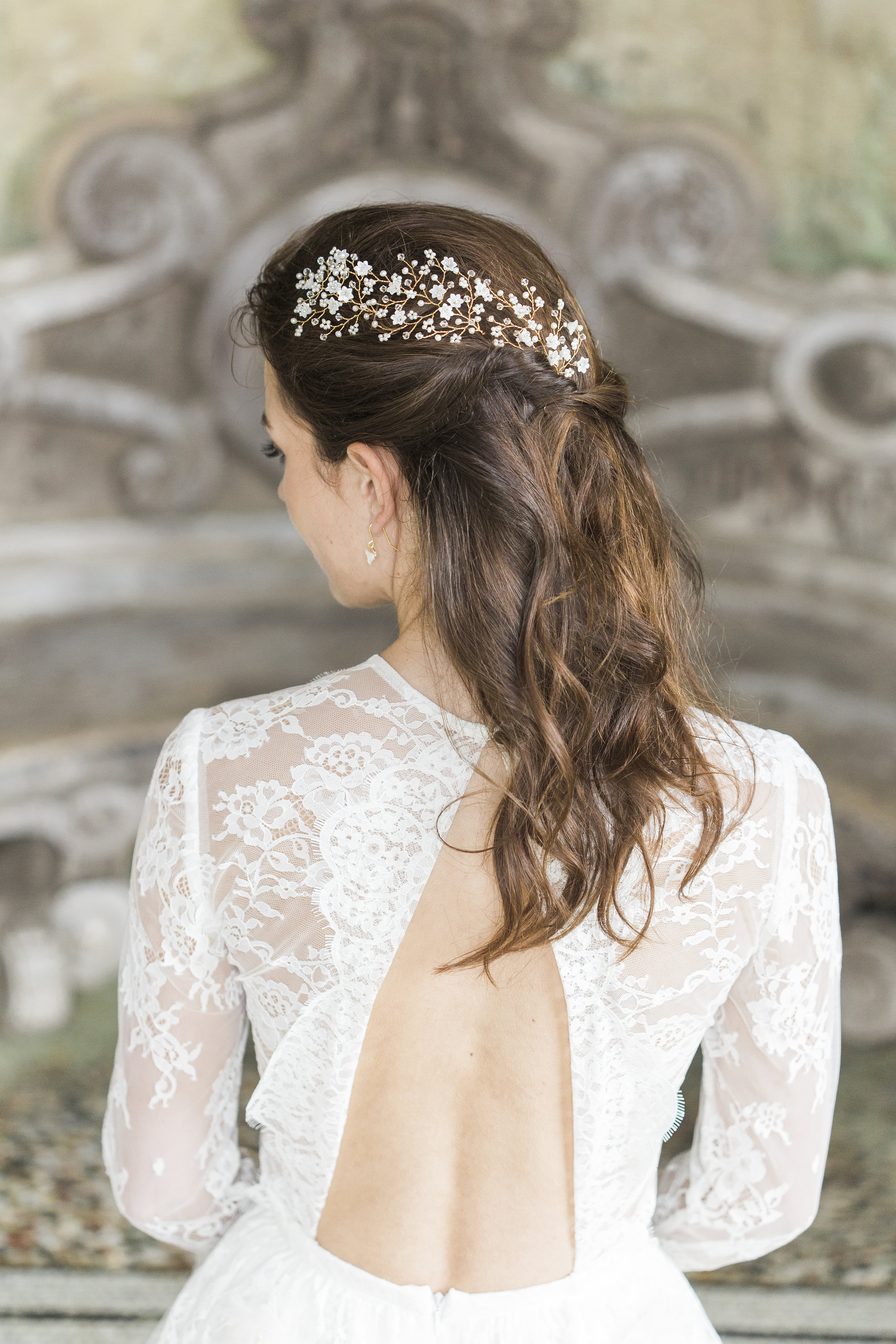 Something smaller?
If your a 'less-is-more' kind of bride, then something more subtle may be more appealing. These dainty wedding hair combs not only look stunning above a veil, but also look gorgeous alone in a half up half down hairstyle, too!
Luna Small Silver Crystal Embellished Hair Comb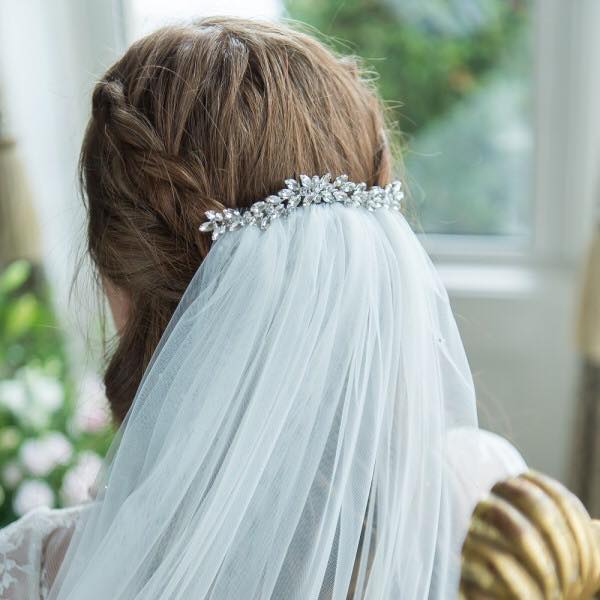 Pearl Blossom Bridal Veil Comb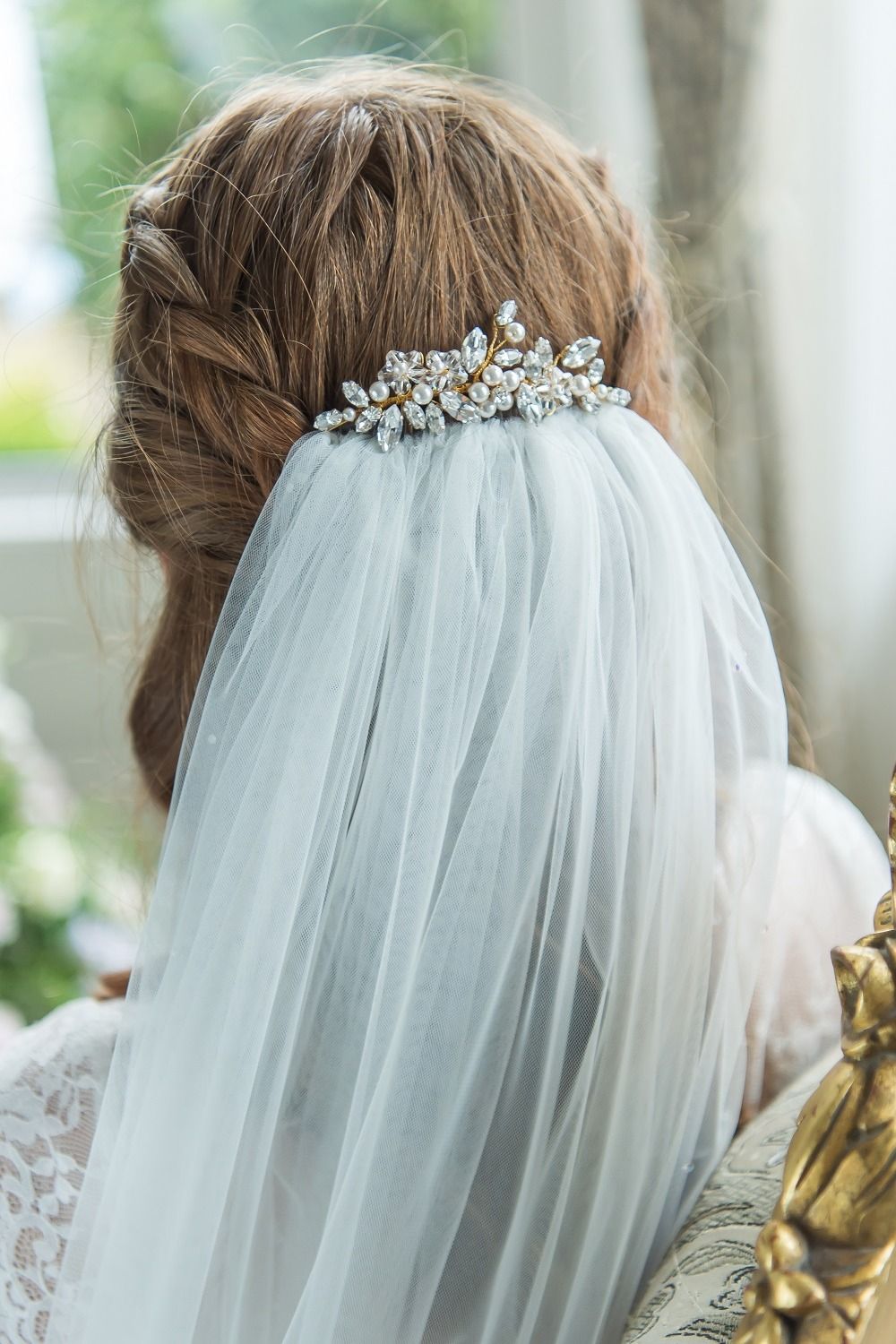 Hopefully this has given all you lovely brides-to-be lots of ideas and inspiration on what to wear in a half up half down wedding hairstyle. Should you need any more help or advice, please get in contact with us, and we will be more than happy to help! :)
Lots of love,
Amy x