Our Guide To Finding The Perfect Prom Dress
Your final exams are almost over which means one thing, prom season is almost here! For most girls, shopping for the perfect dress is one of the most memorable parts of the event - especially when you finally say "yes" to the dress!
With so much choice and a flurry of different styles to choose from, we know that finding the perfect dress can be tricky. For this reason, we've put together our guide to finding that perfect prom dress which is full of top tips from the team here at Lace & Favour HQ!
How to Find Your Dream Prom Dress
The earlier you start looking for your dress, the better. This is simply due to the fact that many shops often sell out of popular styles and sizes quickly with most proms taking place around the same time. This will also give you plenty of time to shop around for finshing touches for your look such as shoes, clutch bags, hair accessories and more!
Before You Get Searching
Before you head out on the search of a lifetime, make sure you do your research and have a little think about what you might like. We know it can be tricky to see yourself in a type of dress you have never stepped into before, but thinking about a few different ideas and scenarios will make the shopping experience so much easier, quicker and a whole lot more fun, too!
Pinterest is a great source of inspiration, but things like Instagram can be too! Take a look at dresses and themes you like the look of and save them, so you can revisit them all and see if there are any links between them, starting to notice the things you do and do not like.
Prom Dress Styles
First up on the list of things to consider is the style of the dress. This alone is a bit of a minefield as dresses don't all come equal and you also need to take into consideration your body shape too. Below we've put together a summary of the different dress styles to choose from.
A-line Dresses
A line dresses are fitted to your waist, and then flare out gradually to the hem. Flattering for almost every body type, A-lines are designed to emphasise a narrow waist, wider hips, and the bust line. If you're a diva on the dance floor, you may find that an A-line prom dress is the best option as it also gives your legs pletny of room for momement in addition to creating a stunning silhouette as you dance the night away! For a touch of glamour and elegance, this A line chiffon prom dress from Angel Forever is a must have. Featuring a plunge beaded lace bodice, slit skirt and finished with diamante embellished straps and detail around the waistline for added glamour!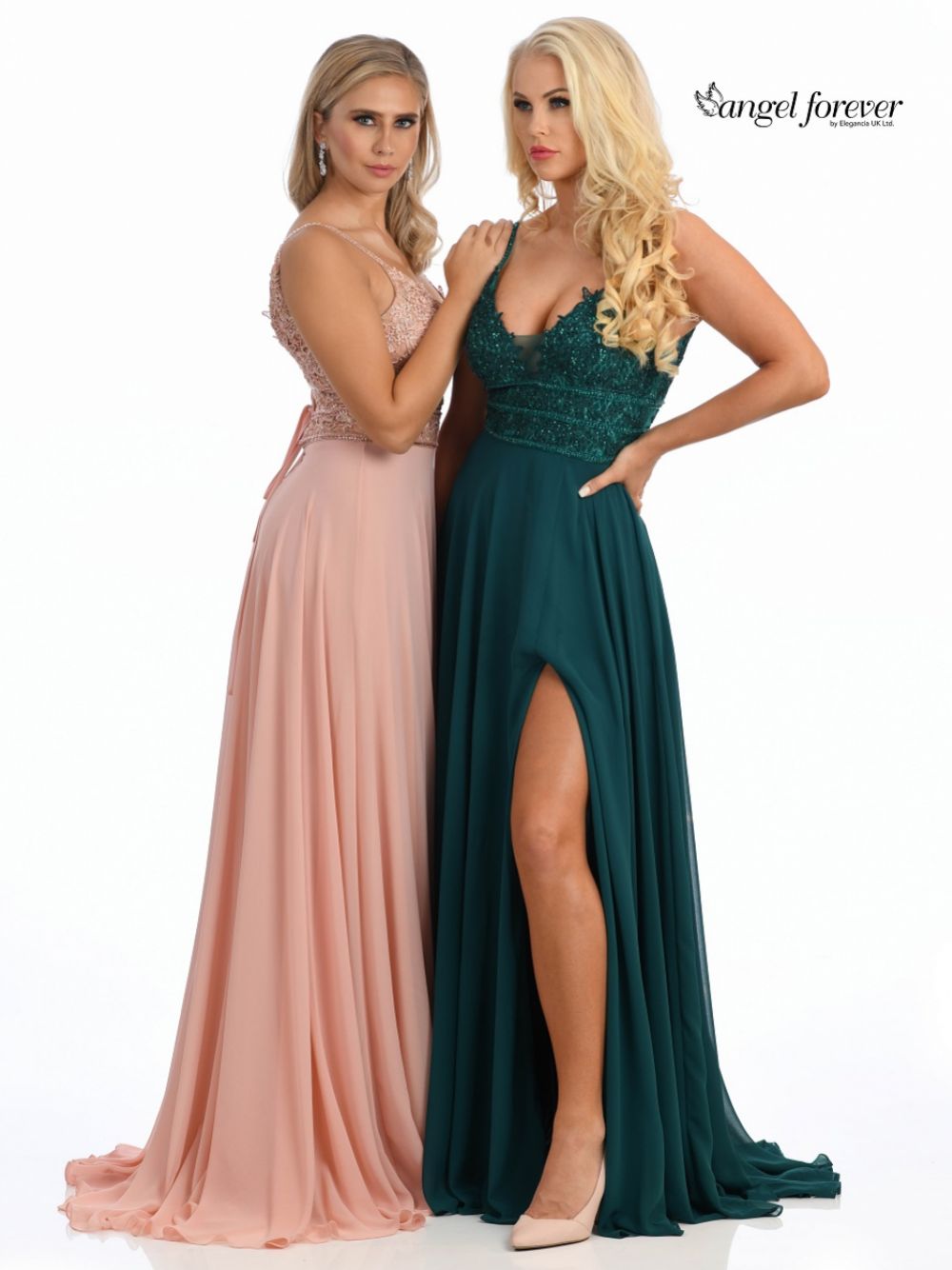 Ball Gowns
Oftern referring to as "Princess dresses", ball gowns really can make all your childhood dreams come true. With a fitted bodice and a full skirt, ball gowns are perfect for most body types but they can be a little large for very petite ladies. This show-stopping A-Line gown dress by Angel Forever is both classy and glamorous. Made from sparkly tulle embellished with beautiful beaded detail this beautiful prom dress features an elegant V neckline and a flattering A-line silhouette. Available in 3 stunning shades Blush, Ice Blue and Dusty Blue.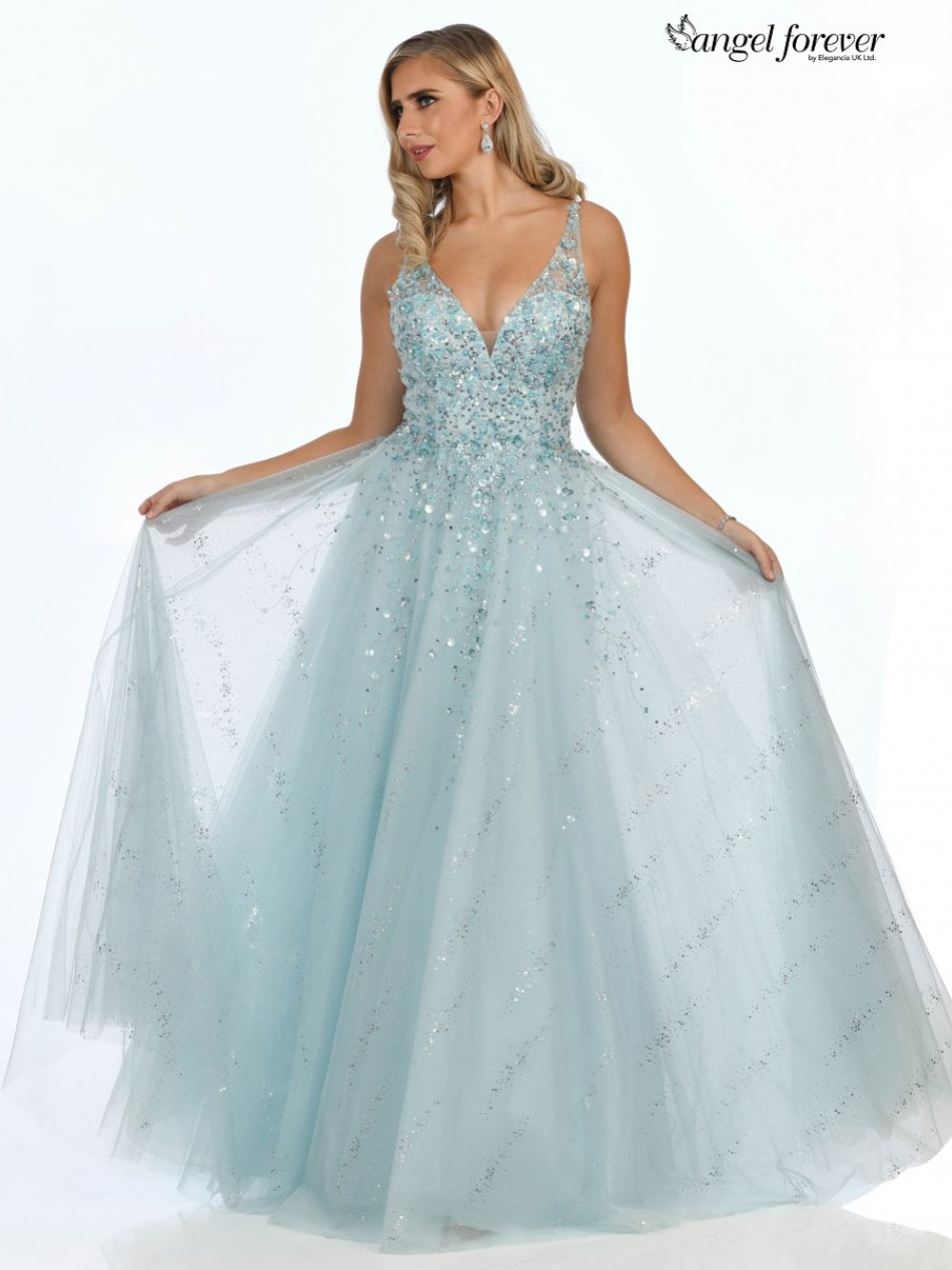 Fishtail & Mermaid Dresses
Elegant and stylish, fishtail or mermaid dresses are fitted down the body and flare out at or below the knee. This creates a sophisticated "mermaid" tail shape which is fantastic for emphasising those curves. Mermaid styles are especially for petite ladies as they accentuate curves - all whilst adding a touch of red carpet drama to your look! A delicate and flattering dress with a mermaid tail design, this embellished dress from Angel Forever comes in a range of colours and a zip-back fastening for ease and comfort.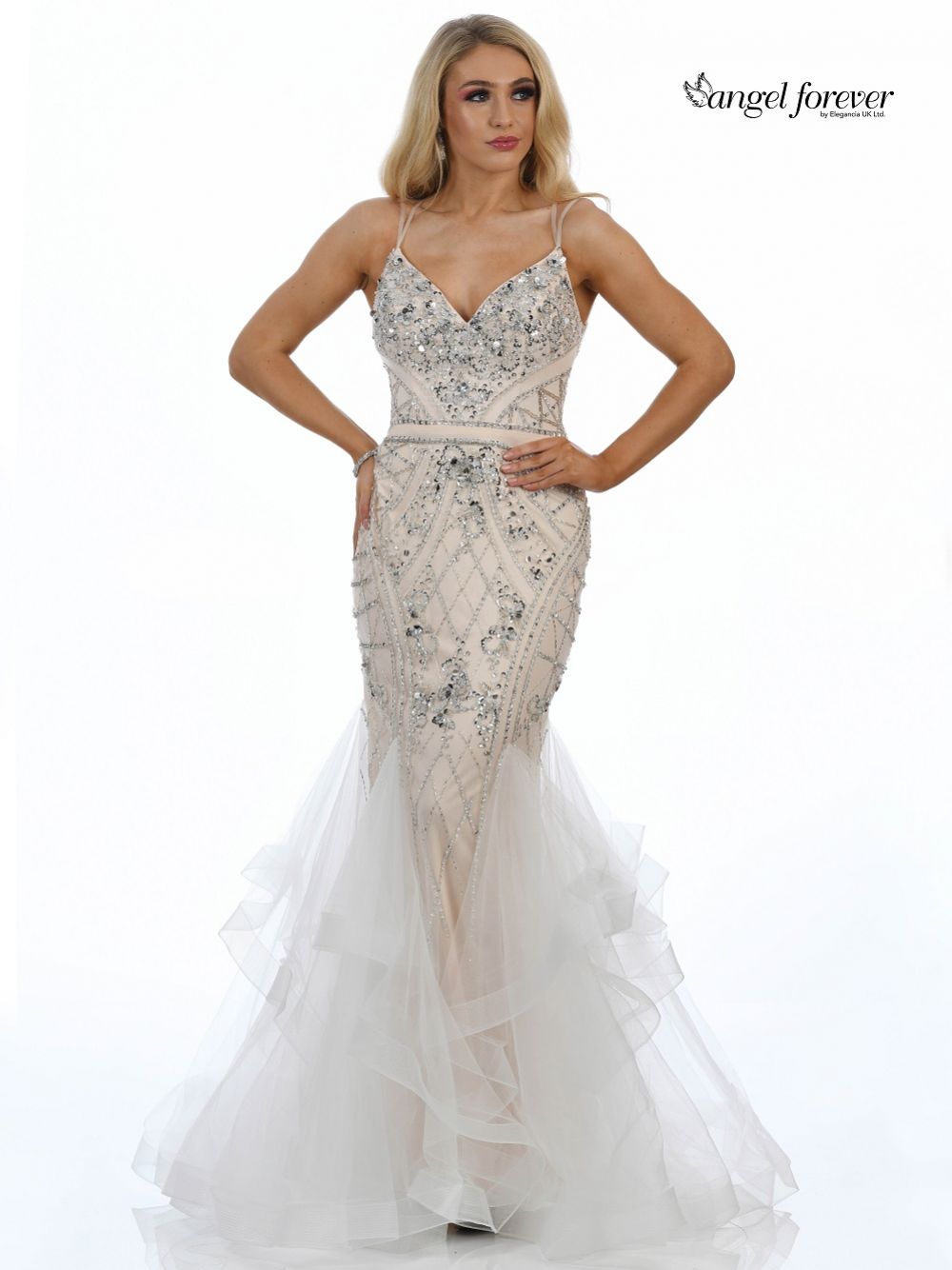 Length
We have just briefly touched on this but there is a whole lot more to dive into. Mini, midi or maxi, three choices but a tough one nonetheless. Think about the overall look you would like to achieve and that should help you narrow down your searches. It's also important to consider your prom shoes too. If you plan on wearing heels, the added height may save you from needing alterations on a long dress. Some prom dresses such as the also feature slits to create a sense of extra height and drama.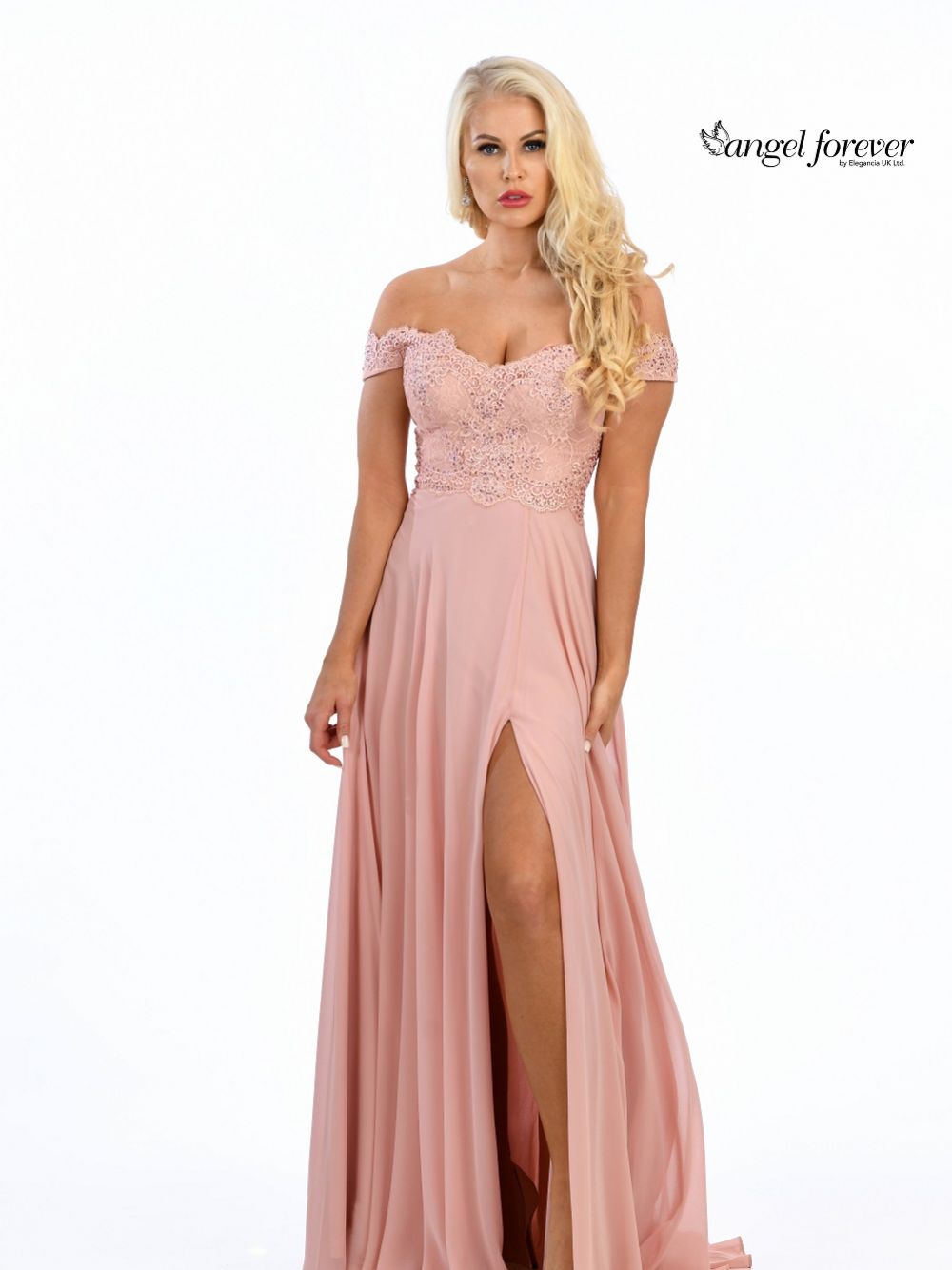 The most important thing is to make sure that you feel comfortable, confident and above all, happy for your big night!
Colour
One of the biggest decisions to make! The colour. You may want to opt for something neutral, or perhaps a bold colour is the one for you. Different people suit different colours, and they feel comfortable in different ones too! Think about the colour of the clothes you wear the most, could this be a sign of what you feel the most comfortable in? You might want to try a few different colours on to get a feel for what suits you and what you feel most like you in!
Whether you opt for naturals and blacks, or a bold royal blue like this elegant piece from Tiffany's Illusion, choosing the colour of your prom dress is a huge part of the process.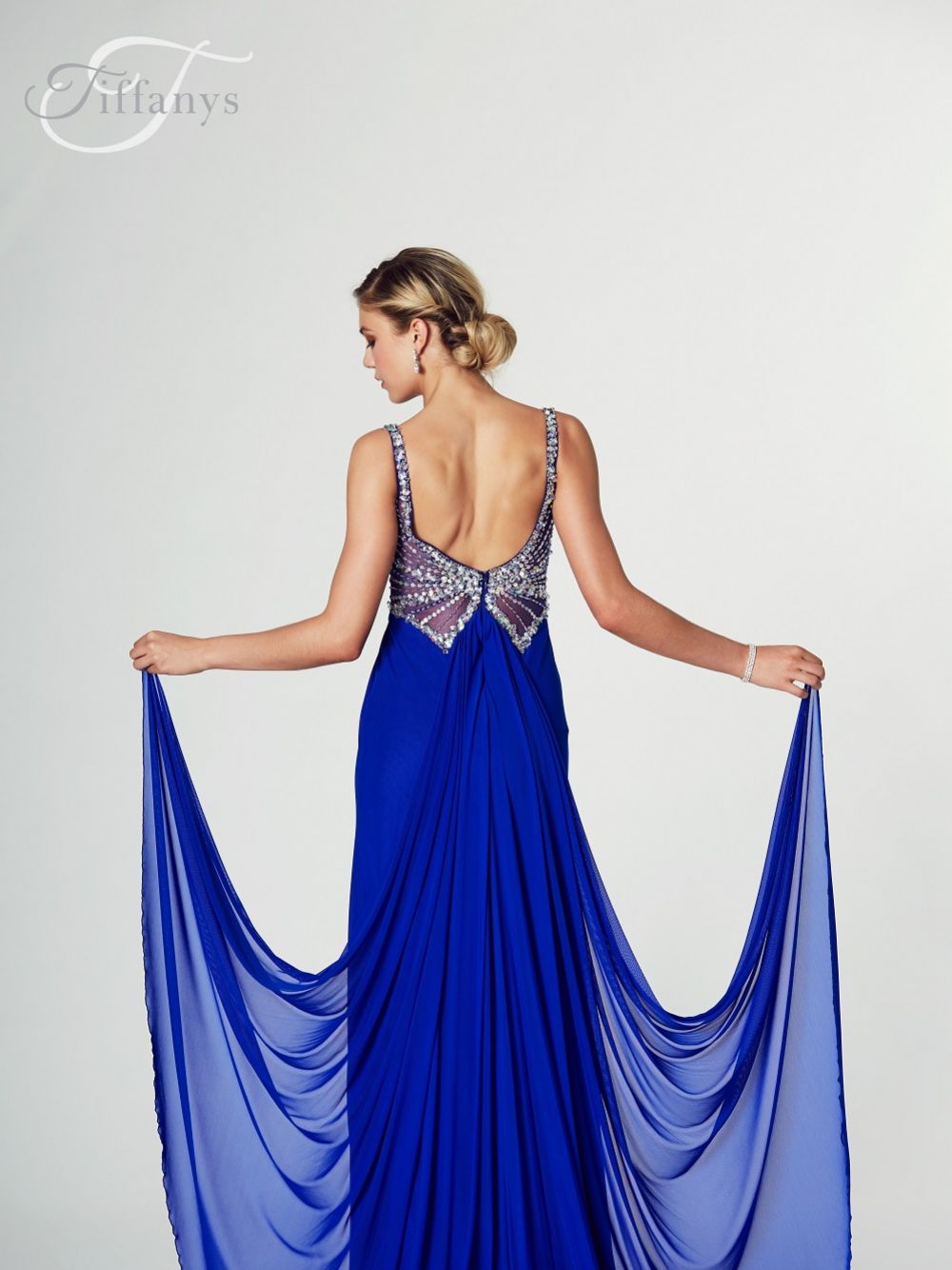 Theme
Is there a theme for the evening, or have your friends picked out a theme for you all to take part in? If you have agreed to one, keep that in mind and see if the dresses you are looking at fit in with that particular theme. It could be anything from Pride and Prejudice to a black and white themed evening, there are thousands to choose from and even if you haven't got one to stick to as a group, you can create your own!
You might say to yourself that your personal theme is a certain colour, or era, for example, and from there, you can put the entire outfit together. Sometimes this is easier than going in blind and working it all out as you go.
Accessories
Consider the accessories you would like to bring into the mix. Some people start off with these and essentially work backwards from their plans to achieve the look they have in their minds. It may be a handbag, a pair of shoes or something even smaller, that starts off the chain reaction in creating that particular look.
There might even be something you have had for a while, maybe even passed down through the family, so take these things into consideration carefully, so you can plan around them rather than adding them to the mix at the eleventh hour.

Finally, Be yourself
The most important thing to note and consider in all of this is to be yourself. Don't dress up and pretend to be someone else on your prom night, be completely you and choose a dress that makes you feel good about yourself and comfortable in your own skin.

At Lace & Favour, we know that choosing a prom dress can be tricky, especially when it is all so new and so different. You can shop our range of prom dresses here, and they are available to view online so you can see what might be right for you before visiting our boutique in person.