Wedding Hair Accessories for The Vintage Bride
You've said yes to the dress and you've chosen your hairstyle. Now you're probably thinking about what hair accessory to choose to complete your vintage look. Whether you're going for Gatsby inspired glitz, old Hollywood glamour, or you're aspiring for a demure, elegant look to say "I do", we've got all the inspiration you need to complete your dream vintage-inspired bridal look!
Gorgeous Hair Accessories for the Vintage Bride
From exquisitely embellished headpieces which take you back in time to the 1920s, '30s and '40s, to sparkling hair pins, crystal embelished brow bands and tiaras which are fit for a queen, our Vintage Elegance collection showcases the best in heirloom treasures and accessories inspired by bygone eras.
From the bold to the minimal, we have a whole range of vintage hair accessories for you to choose from. Here are our favourite styles at the moment...
Wedding Tiaras
Fit for a princess and a queen alike, a tiara is a stunning finishing touch for any bride to be. With delicate designs and intricate placements, we adore tiaras and this vintage-inspired piece by Ivory and Co is no exception. Regal with an authentic vintage feel, this tiara is full of crystals and stones, complete with an anti-tarnish finish for a touch of practicality.

For those looking for to add a touch of gold to their bridal look, the Albion Crown by Gadegaard Design ticks all the boxes. Made up of delicate golden leaves encrusted with dozens of glistening opal crystals and finished with a large druzy natural raw crystal as it's centrepiece, this tirara is sure to steal the show!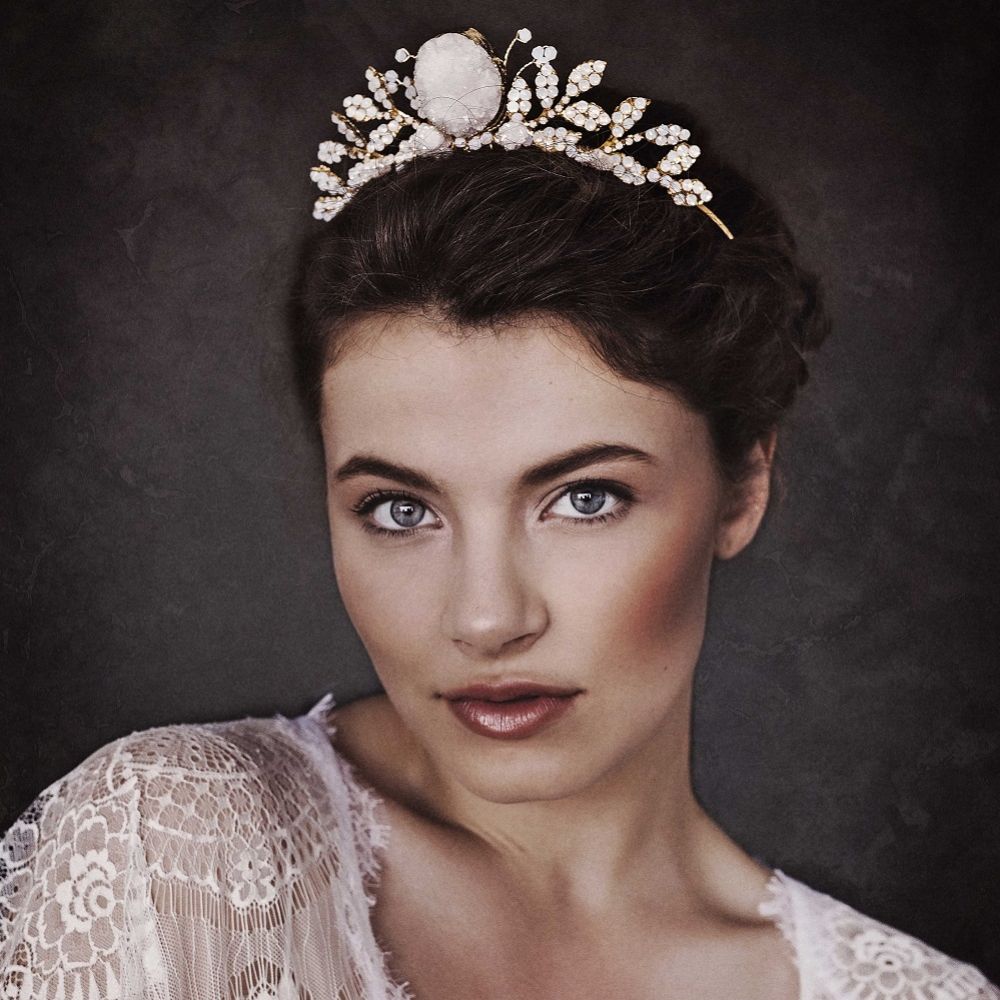 Wedding Hair Combs
The humble comb is a versatile piece, with the ability to be worn in a variety of ways; just ask your hairstylist! Wedding hair combs are particularly popular for vintage bridal looks as they look amazing whether they're worn with a veil, nestled in an up-do, or with loose flowing curls. If your theme is inspired by vintage glamour, our embellished Art Deco wedding hair combs could be the perfect finishing touch for your elegant and sophisticated hairstyle!
Handmade with glistening opal marquise crystals and dainty opal solitaire stones set in an intricate vintage-inspired filigree design, the Avignon wedding hair comb is the perfect addition for adding a sparkle to any loose up-do. Wear it to the front for a 1920's look, or to show off a fabulous chignon!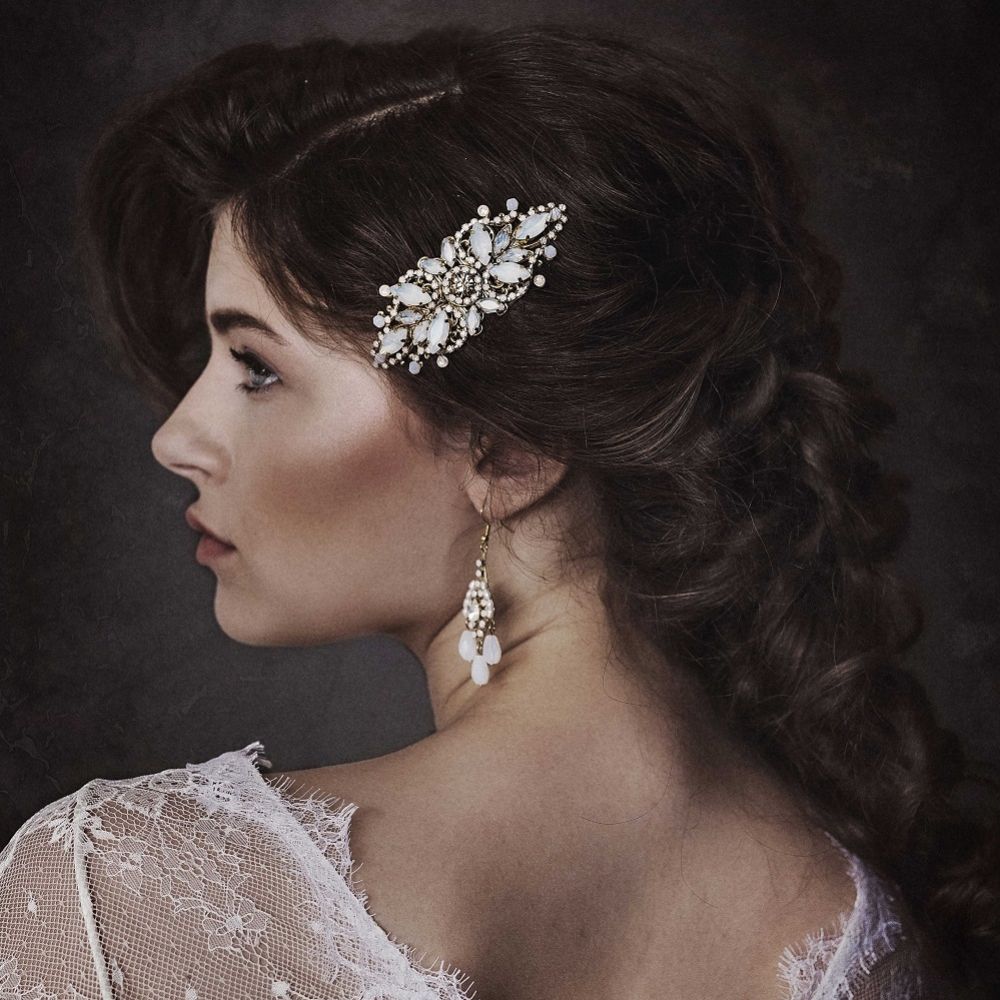 Vintage Headpieces
Taking inspiration from the 1920s-1950s, our collection showcases the most beautifully elegant vintage headpieces that will transform your look in an instant. Vintage hair pieces are heirloom treasures in the making, bringing joy long after your big day. Whatever decade appeals to you, we have designs that bring 1920's flapper-girl fun, stylish Art Deco elegance and vintage Hollywood glamour.
Whether you're stealing the style of Audrey Hepburn as Holly Golightly in Breakfast At Tiffany's or channeling Ava Gardner's sultry and seductive Kitty Collins in The Killers, a well placed vintage headpiece dripping with crystal embellishments, delicately rendered flowers or opalescent freshwater pearls will complete the look with ease.
For the ultimate vintage look, the exquisite flapper inspired Norma headpiece is a must! With sparkling crystals and genuine, carefully hand-weaved freshwater pearls, Norma is the perfect headpiece to complement a vintage bridal look.

Vintage Hair Pins
A set of pins offer a range of styles and options to the bride, whether it is a tight up-do or something looser, the pins draw the eye to the style and can conceal any clips or hairpieces you are adding to the mix. These pins come as a set of six, crystal stars with pearl details that shimmer as you walk. You can also share these with your bridesmaids for a matching touch on the day!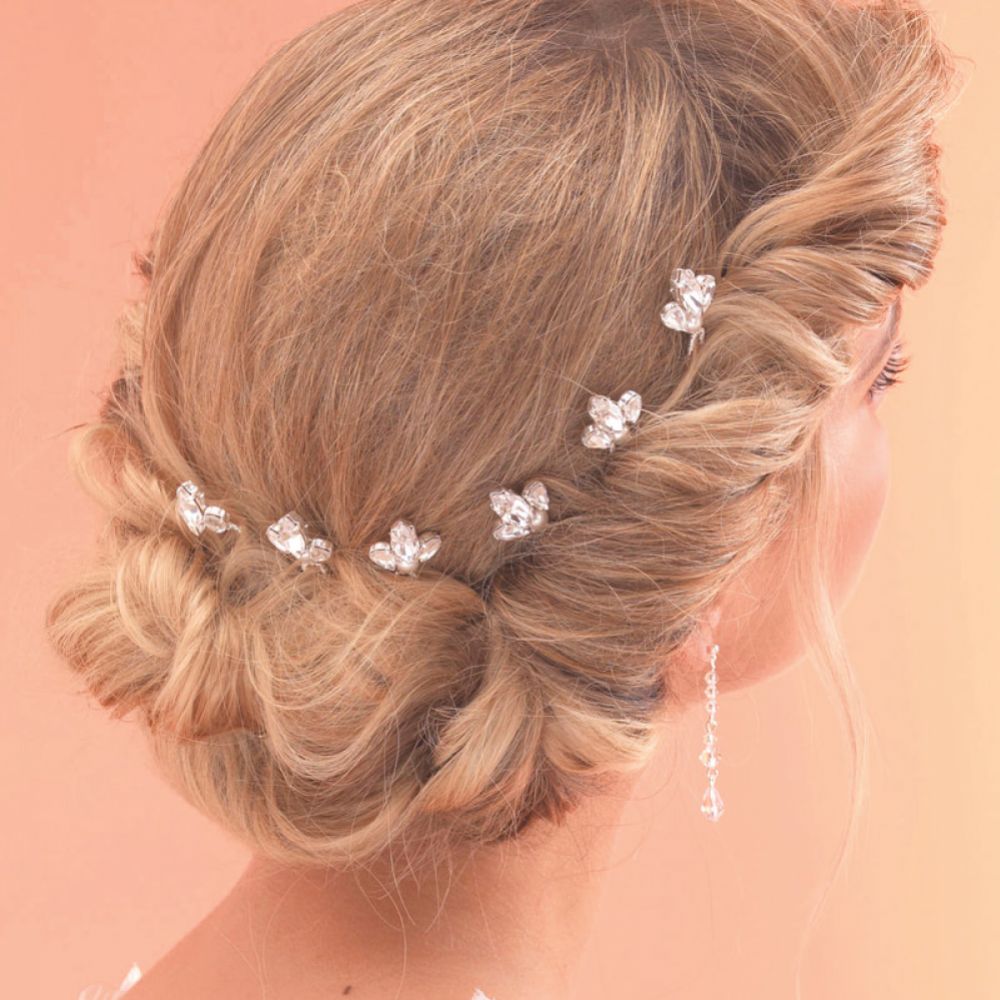 Embellished Hair Accessories
The most striking of the selection. An embellished hair accessory is designed to turn the heads of your guests and to set off your outfit with a bang. This exquisite vintage-inspired bridal headpiece by Eliza Jane Howell is perfect for just that. This headpiece is exquisite, and we hope you would agree.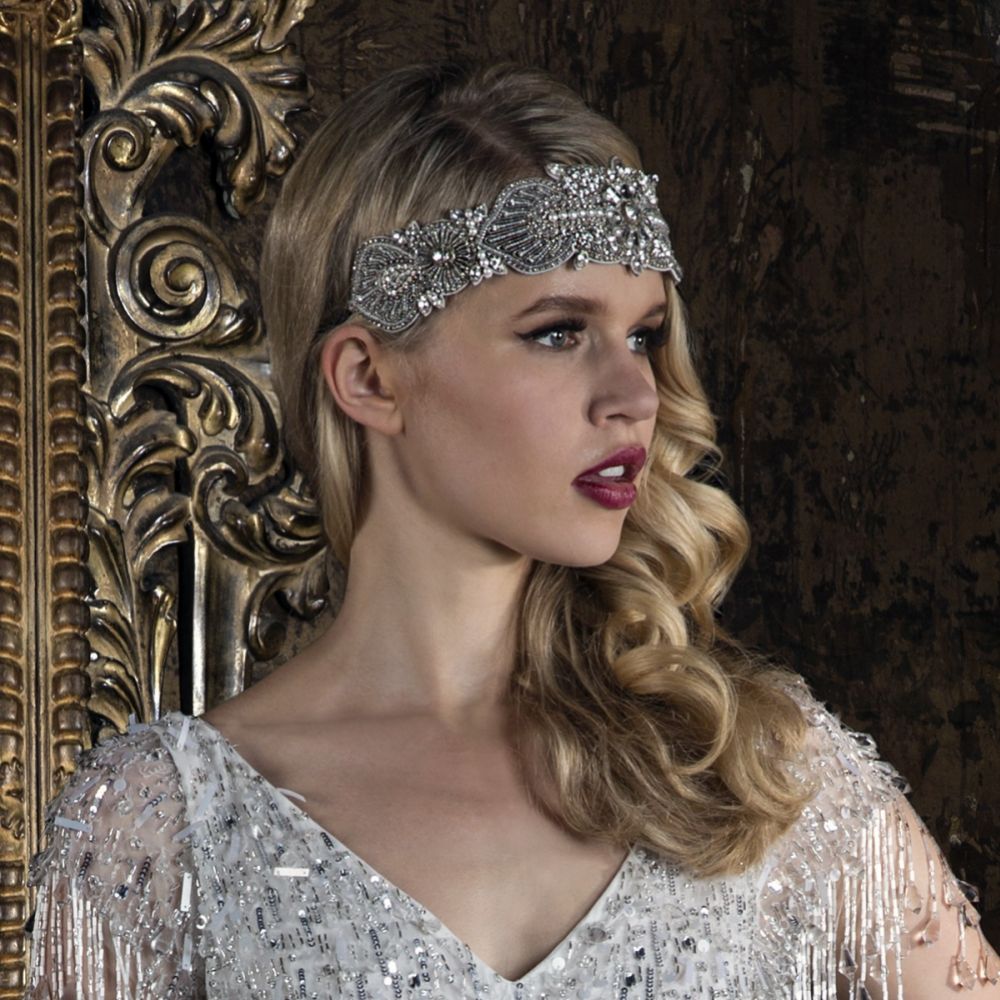 Tips for Choosing Vintage Inspired Hair Accessories
When looking for vintage hair accessories there are a couple of things to consider before you commit.
1. Consider Your Hairstyle
Firstly think about the hairstyle you would like on the day and, if you have a hairstylist booked, consult them on the kind of accessory they feel would work best. With plenty of experience up their sleeves and in their combs, they will be able to direct you to the right type of hair accessories! For example, it's really important to consider the thickness of your hair. Whilst an experienced stylist can ususally work wonders, brides with thinner hair are probably best avoiding heavy hair pieces to avoid weighing your hair down on the big day!
2. Consider Your Dress and Jewellery
Your bridal look will be largely determined by your wedding dress. If you've opted for a minimal dress with very little detail, you can afford to really go to town with an exquisitely detailed hair piece. On the flip side, if your dress is heavily embellished, perhaps a minimal accessory will strike the right balance.
It's also important to think about your wedding jewellery too. Are you opting for romantic rose gold shades or are you more of a shimmering silver kind of bride? To complement our vintage collection, we offer an exquisite collection of vintage wedding jewellery which takes inspiration from the beauty of bygone decades including the 1920s, right through to the 1940s. Within this collection you'll find a beautiful seclection of ivory, silver, gold and rose gold pieces to complete your bridal look.
3. Think About The Era You're Channeling
Other things to consider are the specific vintage themes you have chosen. If you have a certain era in mind then stick with it throughout the theme, as mixing them can get a little messy! Of course, it is your day and time travelling is absolutely permitted, but mixing the 20s with the 70s could be an interesting concoction, to say the least.
With vintage weddings, planning is key and a Pinterest board might be the hub of your activity. Plan each element out and make sure it pulls tougher nicely ahead of the day, including your hair accessories, to make sure you're not in for any surprises or confusion on your wedding day!
Vintage themes are gorgeous, we have seen many and hope to see many more, and they don't seem to be going anywhere any time soon! Classic and timeless, a vintage themed wedding makes for a beautiful bride and a wonderful day.
Shop Online for Vintage Hair Accessories and More
At Lace & Favour, we adore all things vintage and have crafted quite the collection of vintage-inspired items to inspire and impress on your big day. Whether you have an era in mind or just a style to start with, we are sure we will be able to kit you out with everything you need for your wedding.
If you are looking for vintage hair accessories, you can shop our full range here, and we have plenty of other vintage-inspired pieces, including wedding shoes and jewellery, for you to explore too.