How To Choose Your Wedding Shoes
Hello lovely brides, and welcome to today's blog feature which is all about how to choose your wedding shoes.
Wedding shoes have changed immensely over the past few years and with so much choice on the market, choosing the perfect pair for your big day can be hard! Whether you're looking for flat ballet pumps, a mid heel or stilettos, closed toes or peep toes, classic or contemporary, the options are endless.
Tips For Choosing Your Wedding Shoes
At Lace & Favour, you'll be glad to know, we are big on shoes! With over 250 styles available both online and in-store, we're confident we have the best range you'll find. We stock the most beautiful shoes in both traditional and unique vintage-inspired designs, from award-winning Rainbow Club shoes, designer bridal shoes by Harriet Wilde, Rachel Simpson and Freya Rose and fashion-forward styles by Benjamin Adams and Pink Paradox London.

Bliss Comfort
The first thing to consider when buying your wedding shoes is comfort. I know you've probably heard this time and time again, but I can assure you, you'll thank me for it! A pair of comfortable shoes is SO important, because you'll be on your feet most of the day and the absolute last thing you want to worry about is achy feet! You'd want to get to the evening and be able to dance the night away, right? If sky-high heels are not what you're used to wearing, then i'd recommend a mid-heel that will still look elegant but keep your feet happy!
Another tip… Always buy shoes that are comfortable from the start and that fit you correctly. Please don't try and convince yourself that they'll stretch or give a little before the wedding, this could be risky! If you're between sizes and the shoes you've fallen for don't come in half sizes, i'd recommend buying the bigger size as your feet will swell slightly throughout the day.
Renowned for their comfortable and stylish shoes are Rainbow Club, with all styles available in half sizes to ensure you get the perfect fit. Rainbow Club's unique bliss cushion comfort padded lining, and super soft underfoot comfort, ensure tired feet won't be an issue!

Something Blue
Each pair of Rainbow Club shoes feature a sparkling blue crystal stone on the sole for a tiny token of good luck. Brides love this unique touch for their 'something blue' and also makes for a fabulous shoe photo!

Beautifully Handcrafted
Harriet Wilde shoes are also known for their exquisite quality and wear-all-day comfort. These luxury wedding shoes are expertly handcrafted in Europe from butter soft pale pink leather linings, padded under socks, and natural leather soles complete with a personal message from Harriet. Harriet Wilde's undershot platforms are both modern and super stylish, and their pretty pumps are incredibly comfortable. A gorgeous pair of flats are simply perfect for taller brides not wanting to be tower over their partner!
From left to right – Lolita Lace, Dakota Lace, Lolita Champagne.

When should I buy my wedding shoes?
You're probably wondering how soon in advance you should buy your wedding shoes. Make sure you have them in time for your dress fittings to ensure your dress is altered accordingly. It's also a brilliant opportunity to see your whole ensemble together before the big day, which is super exciting! It is essential that your wedding dress is altered to the correct length – the last thing you want is to be tripping over the hem of your skirt!

Choosing The Perfect Style
Make sure your choice of shoe complements your wedding look, for example, retro Mary Jane shoes are the perfect complement to a short fifties gown. Vintage-inspired T-bars are a popular and versatile choice for any modern bride. For those spring and summer weddings, a strappy open-toe sandal is utterly feminine and elegant. And finally the court shoe, a beautiful choice for the classic bride.

Colour Match
The majority of wedding shoes on the market are ivory or white, being the most traditional choice for brides. However more and more gowns are being made in vintage shades of nude, oyster and champagne. You're probably thinking, 'none of these beautiful shoes will match my dress' – Wrong! If your wedding dress is any of these colours, you'll be please to know that most bridal shoes are dyeable! Meaning you can match your shoes to the colour of your dress perfectly.
Or if you're feeling adventurous, why not have your shoes dyed a completely different colour? Maybe to match your bridesmaids, or, just you're all-time favourite colour. Sumptuous suedes and leathers in muted shades make for the perfect wedding shoes and will last for many years.

Capture Them!
Finally, if you've bought a pair of drop dead gorgeous wedding shoes, make sure your photographer captures them! Beautiful professional images will show off your shoes in all their glory, whether it's as a still life shot or on your feet during the wedding. And don't forget to send us some photos! We love seeing real brides in our shoes.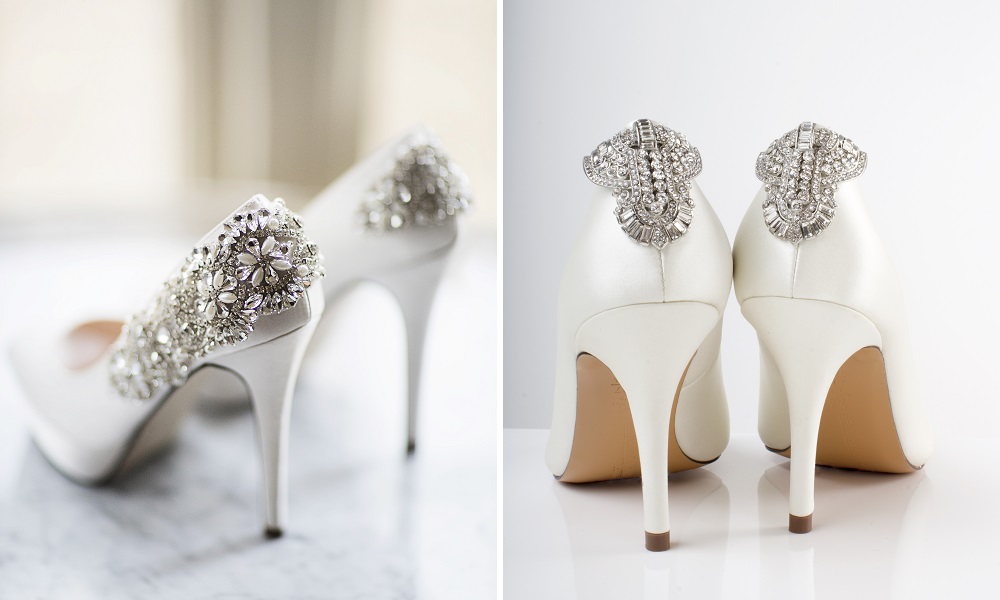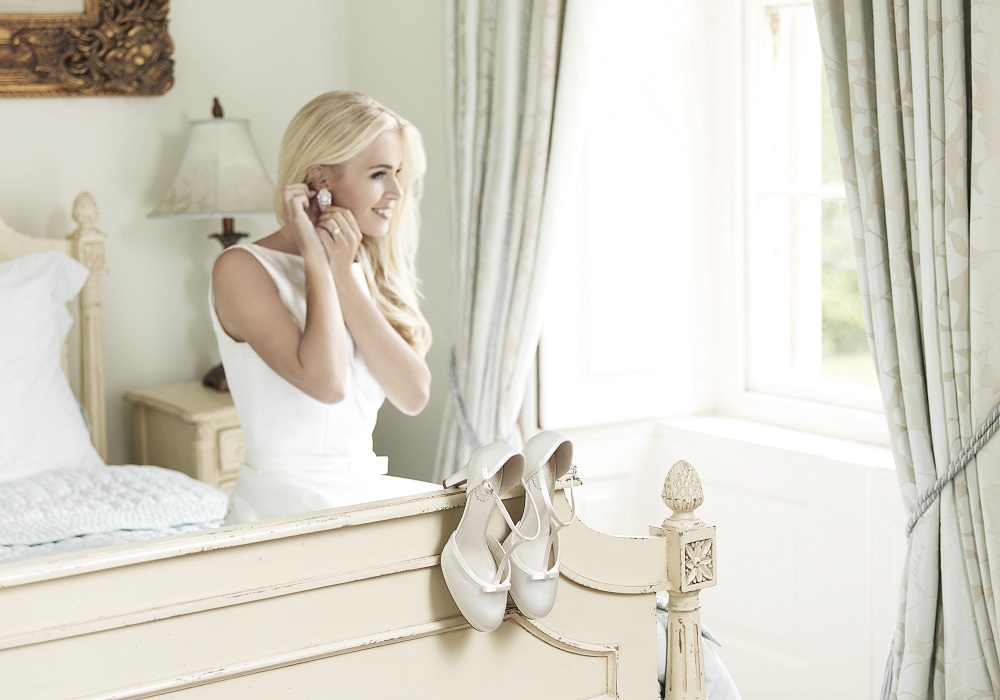 Hopefully I've given you some ideas and helpful advice to make sure you select the right wedding shoes for you. Should you have any more questions about choosing the right shoes, do get in touch via email or phone and I'd be more than happy to help! And finally, if you're struggling to decide on a pair of shoes online, come and visit our boutique and try on as many different styles your heart desires. :)
Love Amy x