How To Pull Off A Festive Wedding
Christmas is one of the most enchanting times of the year, so it's no surprise that more and more winter brides are bringing the magic of the holiday season into their wedding celebrations.
For couples planning a winter wedding, there are endless ways to add a festive touch to the proceedings. From subtly decorating the aisle with deep reds and greens, to going all out with traditional touches; like Christmas trees, decorations and classic food choices. Whatever you decide, the magic of Christmas can make even the largest of wedding receptions feel like a cosy and intimate family gathering. Here are some of our top tips to pull off a festive wedding.
Before your festive wedding
Save the date cards are especially important when it comes to December weddings. People tend to have family obligations and more events booked in their calendars, so be sure to give your guests plenty of time to plan their holiday season by sending save the date cards ahead of your invitations.
Additionally, as soon as you know the details of your venue, let your guests know. This is particularly important if it will require travel and accommodation costs around Christmas time.
Whilst all your guests will want to attend your wedding, the Christmas period can sometimes make commitments a little more difficult for people, so you should expect some unaccepted invitations – just don't take it to heart and try to give plenty of notice to ensure as many attendees as possible.

Embrace the chill
If you're planning a winter wedding, you can guarantee there will be a chill in the air. But you, and your wedding party, should still be prepared to head outside if your photographer suggests it – after all, the nippy weather also brings with it some amazing lighting opportunities. Stay warm without sacrificing style by wrapping up in one of our stunning bridal capes and wraps or dreamy feather stoles and shrugs, then snuggle into your groom and enjoy a moment of fresh air as newlyweds.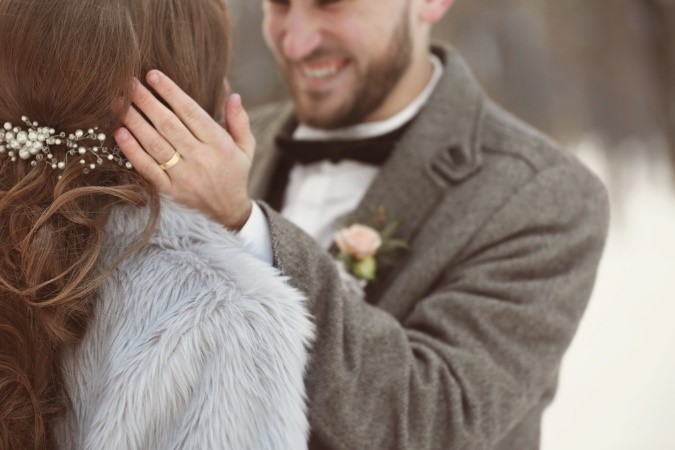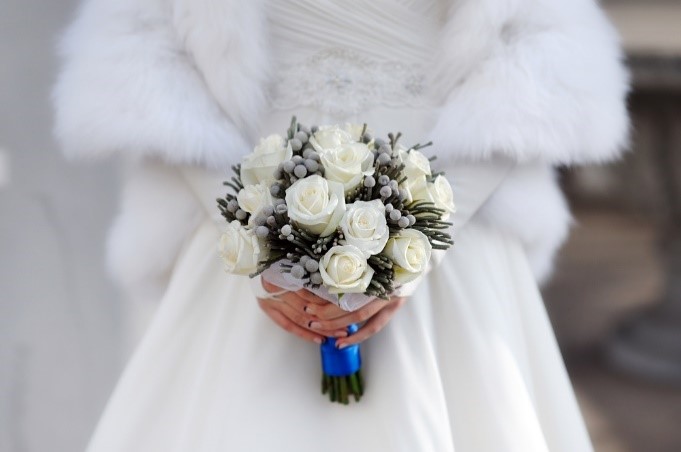 Choose your venue carefully
It may sound obvious, but it's important to suit your venue to the season. It's no use visiting a venue during the summer and falling in love with the beautiful floral grounds, because they may look much different when the winter chill hits! When you choose your venue, be sure to take the cold weather conditions into consideration; for example, are there indoor places for photographs if the weather restricts your time outside and is it possible to erect a gazebo to accommodate a drinks reception and family photos if it's raining. Talk to the wedding organiser at the venue and ask what can be done for photographs in bad weather.
Also, if you're getting married at Christmas be aware that your venue is likely to have its own festive decorations up. It's a good idea to speak to the manager about how this will fit in with your theme, and plan your wedding table decorations accordingly.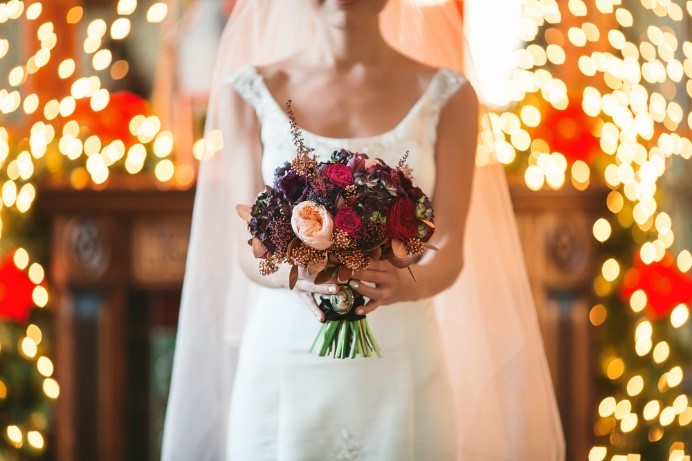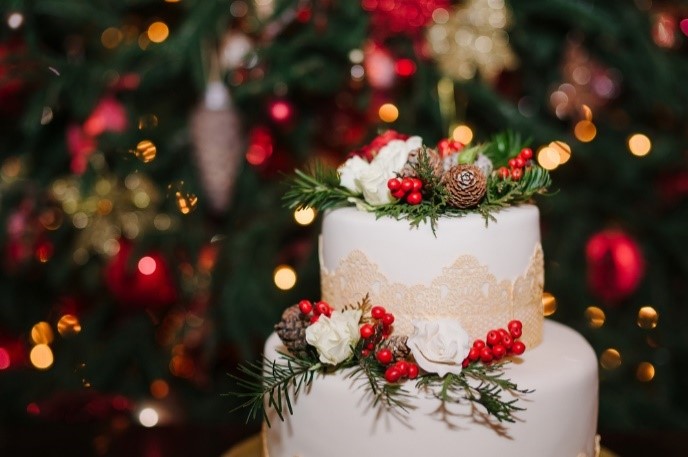 Think about your lighting
Finally, don't forget that the sun goes down at around 4pm in December and January, and you don't want to be caught unprepared with your lighting. To ensure that it doesn't affect your photographs, speak to your photographer about how to maximise the daylight throughout your special day, and discuss ways in which you can keep your lighting true to your festive theme. Strings of warm, twinkling Christmas lights, for example, will add a warm glow to the evening, whilst a roaring fire, (if available) will give light to the room and added warmth to the occasion as.
For more festive wedding inspiration, take a look at the beautiful stoles, delicate hairpieces and elegant wedding jewellery in our winter wonderland bridal collection.