How To Wear A Wedding Hair Vine
How To Wear Hair Vines For Your Wedding
Today I'm going to be giving you a guide on all the different ways you could possibly wear a wedding hair vine. So why do we love hair vines so much? Well, hair vines are not only beautifully feminine, they're also amazingly versatile and you'll be able to find a design that perfectly suits your style among our collection. These fabulous bridal accessories can be worn in countless ways, whether entwined in an up-do, worn as an ethereal halo headpiece or cascading through an elegant undone look. All hair vines are made to be flexible so they can be manipulated to suit your chosen hairstyle and placed perfectly on the big day.

Metre Long Hair Vine
Brides are totally in love with the extra long hair vines that are available today. This stunning metre long pearl and crystal vine by Arianna is the ideal companion to a loose up-do. Simply weave into the hair to achieve a beautifully relaxed bridal look. Available in a choice of silver, gold or rose gold wire and selection of Swarovski pearl and crystal colours, this delicate hair vine is the perfect complement to any gown.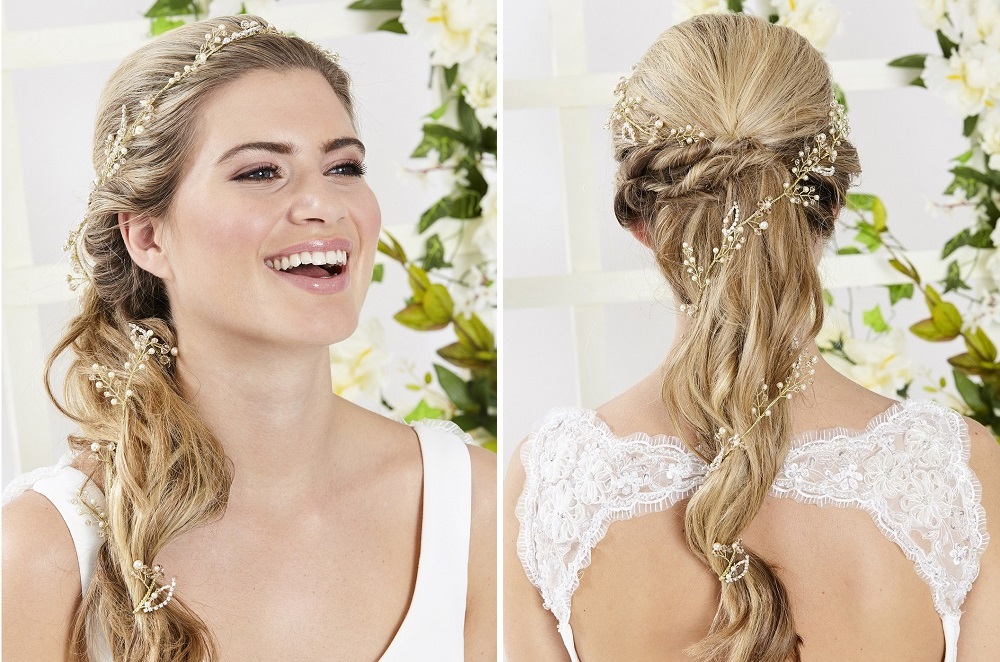 Another bonus to these fabulous hair accessories is that the majority of designs are pretty lightweight, making them incredibly comfortable to wear all day and all night. You definitely won't have the worry of your hairstyle being squashed, or better still, getting a headache!
Pretty Ribbon Ties
A selection of our hair vines are made with ribbon ties for added security and style. The ribbons can be tied at the nape of the neck or above a low up-do for an ethereal, super pretty look. This is a great option for brides with fine or short hair or for brides who want to wear their hair down.
Below are hair vines by award-winning bridal label, Ivory and Co.

Grace A Beautiful Chignon
Most hair vines have small loops at each end and these secure the vine into place with pins. These designs are usually the most flexible and versatile so can give you endless options for your bridal look. Some of our vines have combs either at the ends of the piece or in the centre. These are generally worn at the back of the head and look amazing against a beautiful chignon. You could also wear them across the forehead for a chic, boho vibe, or wrapped around a sleek bun for a clean and classic bridal look.
Here is the oh so gorgeous Cymbeline hair vine by Gadegaard Design. This beautifully detailed hair adornment adds romantic charm to any bridal look.

Team With A Veil
Hair vines also look delightful with wedding veils. You could choose to wear a drop or halo veil with the vine on the top for a bohemian style or wear your veil on the back of your head, secured with your choice of hair vine, for a subtle, classic style. Hair vines are a gorgeous addition to a half-up, half-down hairstyle.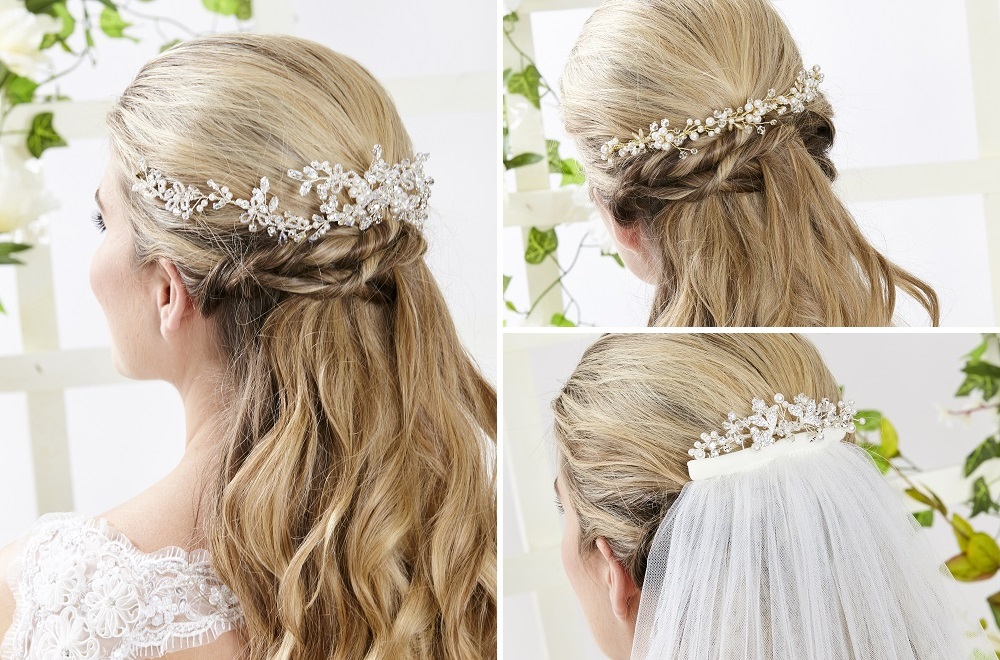 I hope this has given all you lovely brides-to-be a guide on these brilliant bridal accessories. Remember that any of our handmade designs can be customised to your specific requirements, (e.g. longer or shorter length, the addition or removal of ribbon ties, colour or component alterations). Just know that we're here to help whenever you need some advice!
Love Amy x