How to wear the latest Wedding Hair Flowers
At Lace & Favour we have been advising brides for over twenty years, and that's a lot of brides. Hair fashions move with the times, so let us help you ensure your wedding hair accessories are not only on-trend, but the right choice for your special day. Follow our stylist's top tips on how to wear the very best in today's wedding hair flowers and ensure there's not hair out of place all day long.
Spoilt for choice.
At Lace & Favour you will discover the largest selection of wedding hair accessories with flowers. Choose from over 400 of the best in bridal fashion. From delicate hair vines, single wedding hair flowers, beautiful hair combs and perfect floral pins, you will be spoilt for choice. Here are some of our brides' firm favourites together with exciting new looks and latest designs.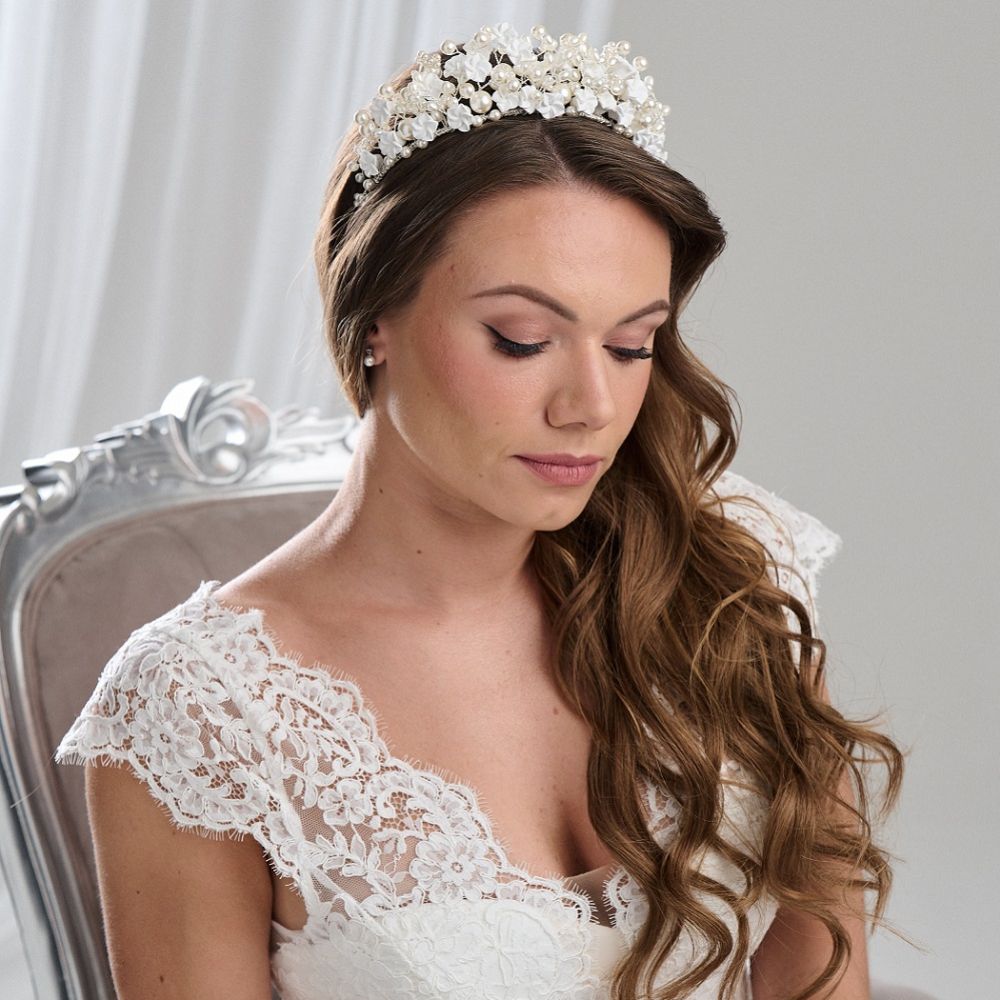 Winning ways with Wedding Hair.
Brides love our beautiful porcelain flower hair accessories, which are as popular as ever this wedding season. Each and every hair piece at Lace & Favour is hand-picked just for you, to ensure that wedding hair wow factor as you walk the isle. We will show you how the same hair accessories and flowers can be worn in many different ways, with all of the latest in wedding hair styles and trends.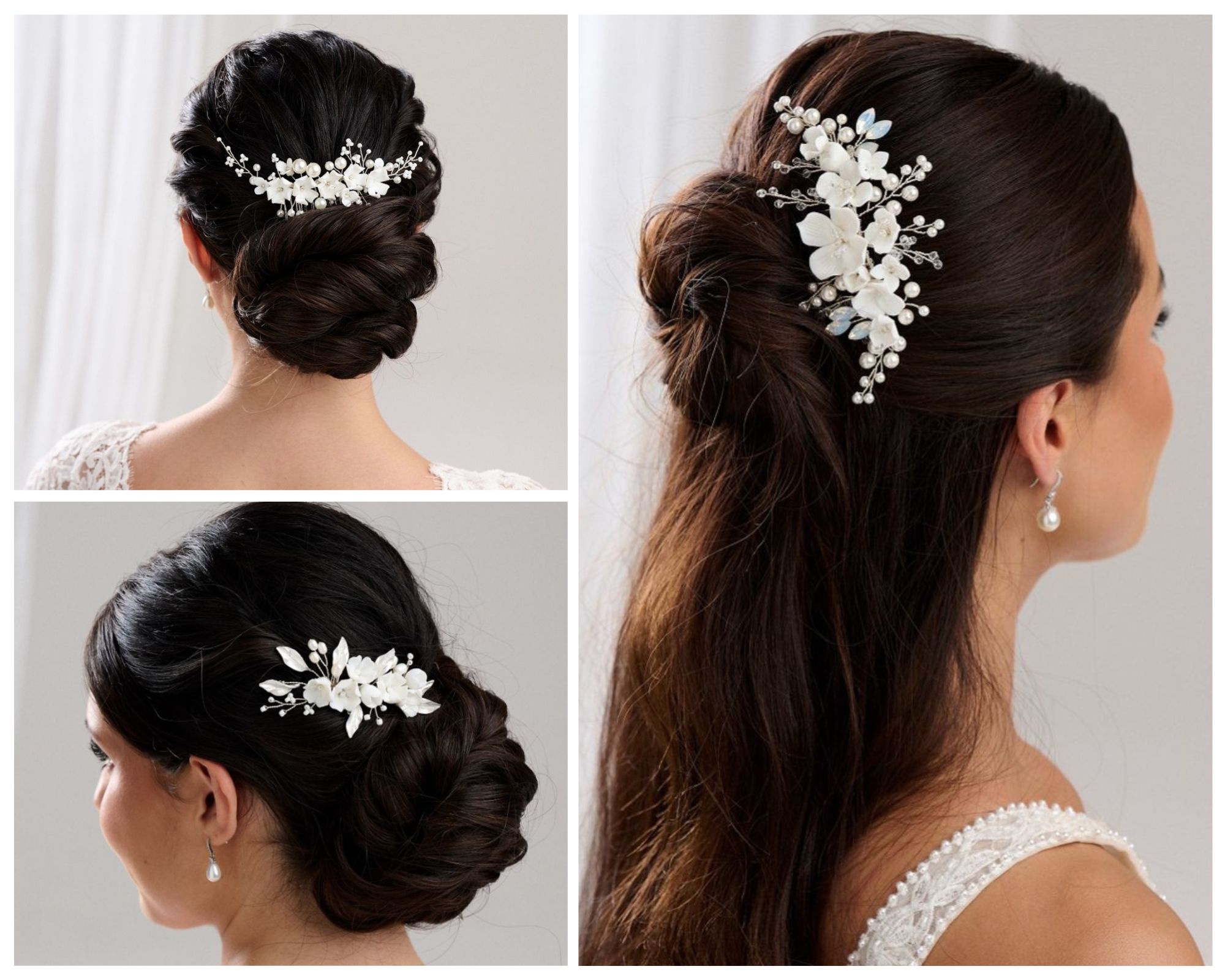 Your crowning glory.
Choose a statement flower tiara as the ultimate show stopping wedding crown. These pieces are guaranteed to impress your guests and will live on in your precious wedding photos forever. From our Arianna Bespoke Collection, these floral wedding tiaras are among this season's most wanted hair accessories and work equally for hair styled up or worn down. Customise these glorious pieces by choosing pearl, crystal and wire colours to create a hair piece that's as unique as you are.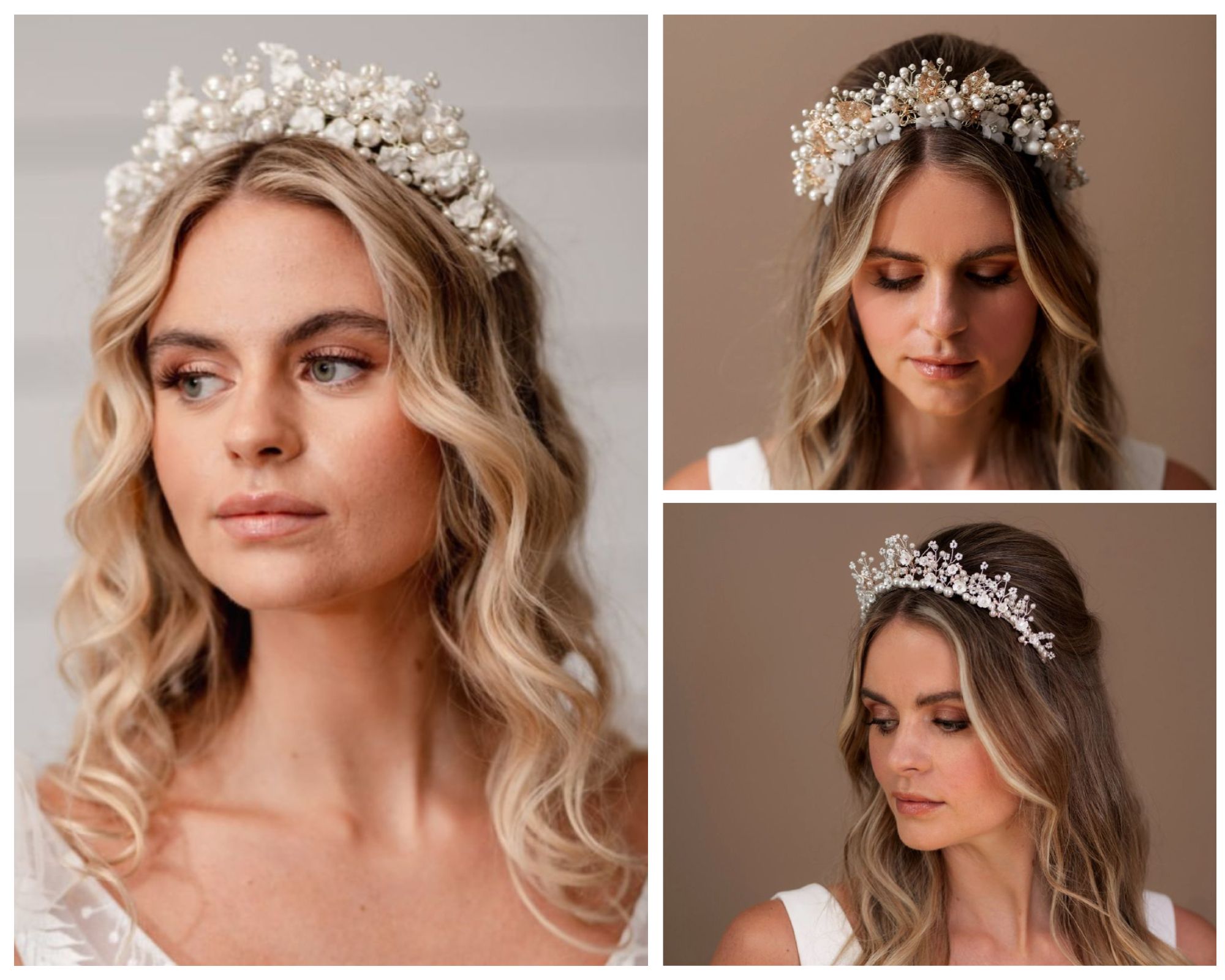 Loose and lovely.
More and more brides are wearing their hair half up and half down, so here's how to wear all the best in wedding hair flowers, a firm favourite for summertime too. Hair combs are still the number one choice for brides and bridesmaids alike and many of our best-selling designs feature flowers. With so many hair accessories in our range, here are our stylist's picks to help you select the best wedding hair piece for those loose and lovely styles.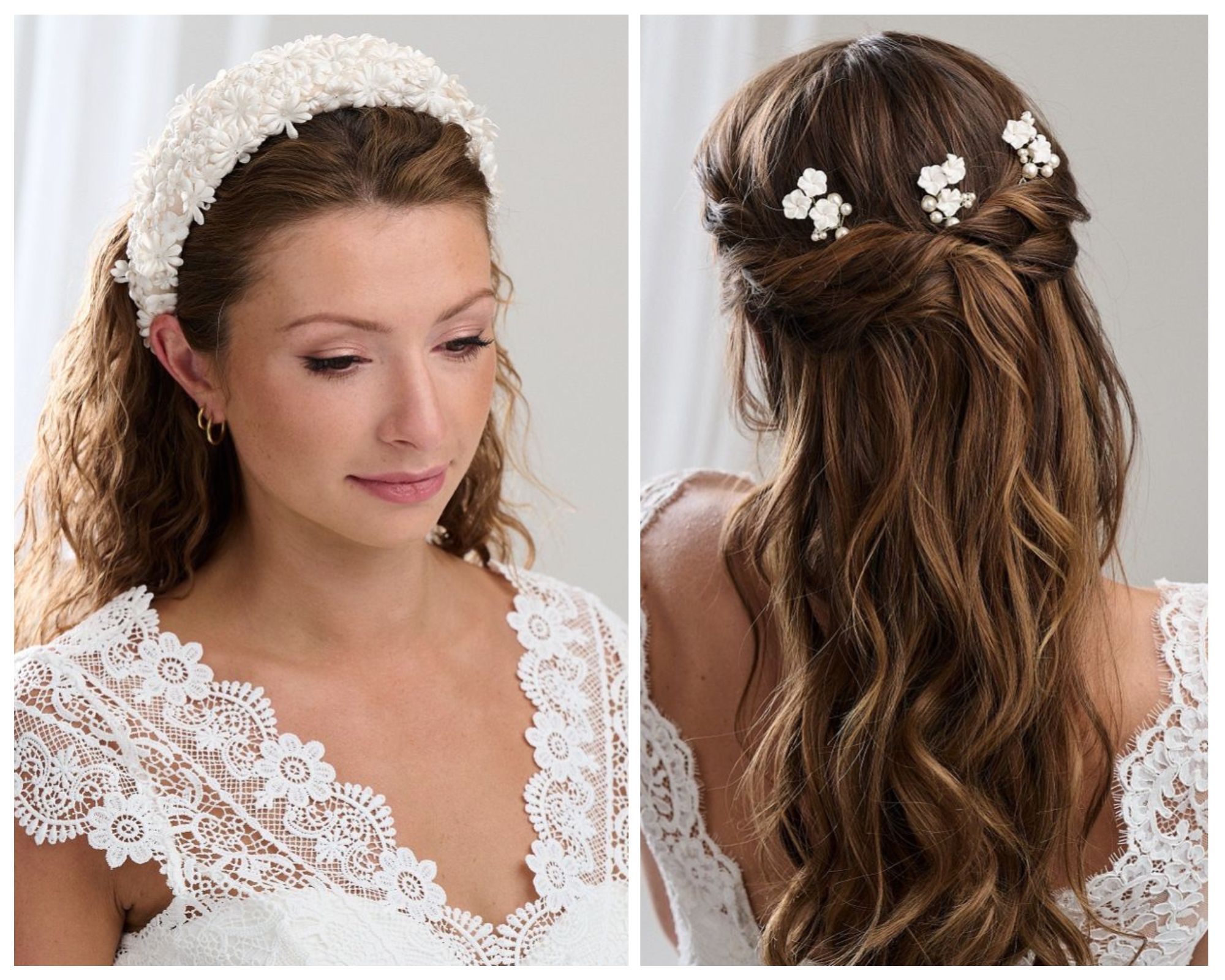 One comb, two looks
Wedding hair combs are easy to wear and require minimal styling. They can be worn on the side, and at the back of the hair depending on your chosen hair style. Most of our porcelain flower hair combs sit perfectly over a veil too, adding extra detail to your ceremony styling. The comb can remain in your hair for the evening too, giving you a whole new look to dance the night away.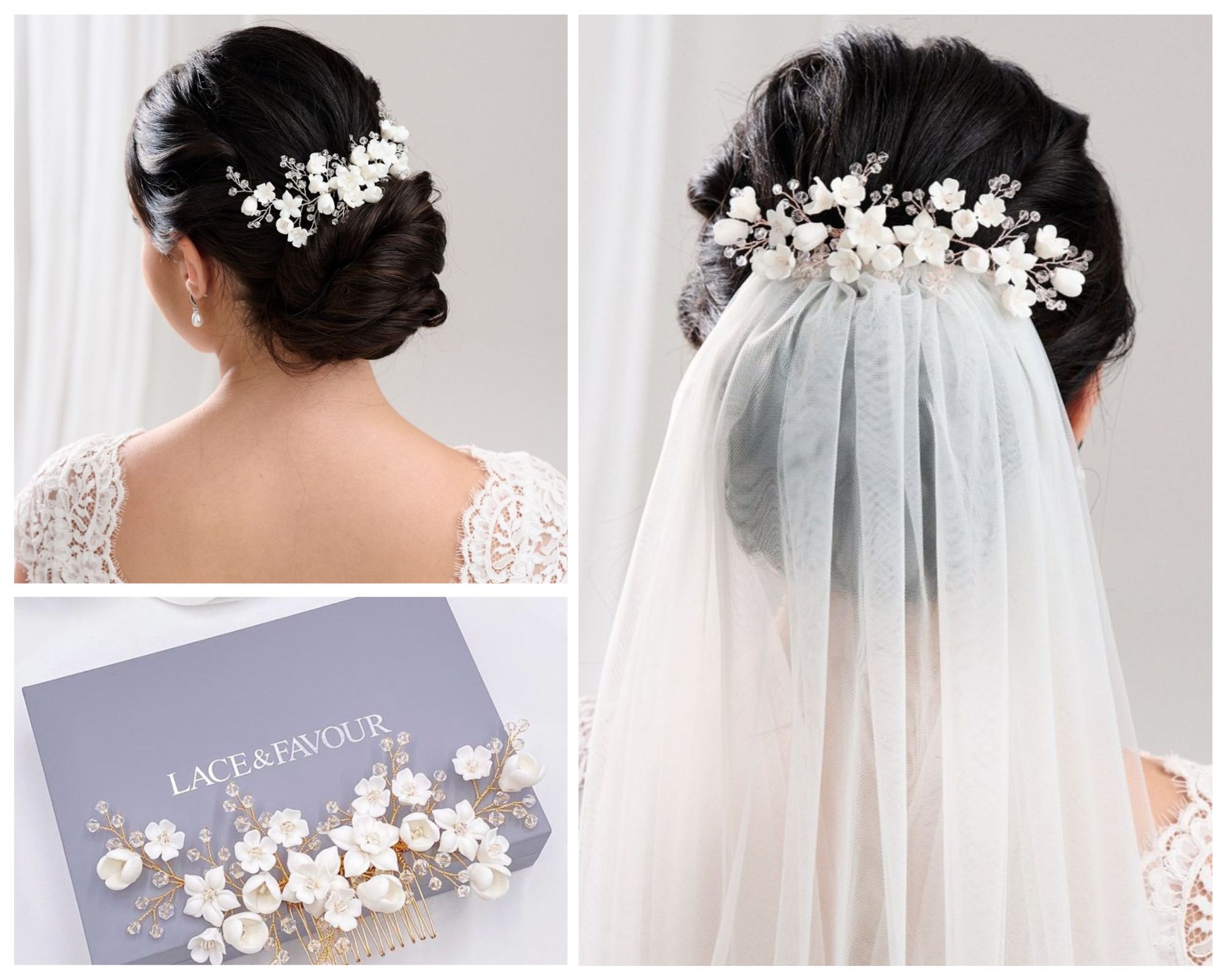 Pins and things.
Delicate and feminine, our collection of wedding hair flower pins are incredibly versatile. An ideal choice for your bridesmaids too, hair pins can be worn as singles and multiples as you wish. Hair pins are quick to position and are ideal for all the latest wedding hair styles. Wear in any number of ways to create the perfect addition to your half up half down hair style, or for all the latest textured up dos, twists and braids.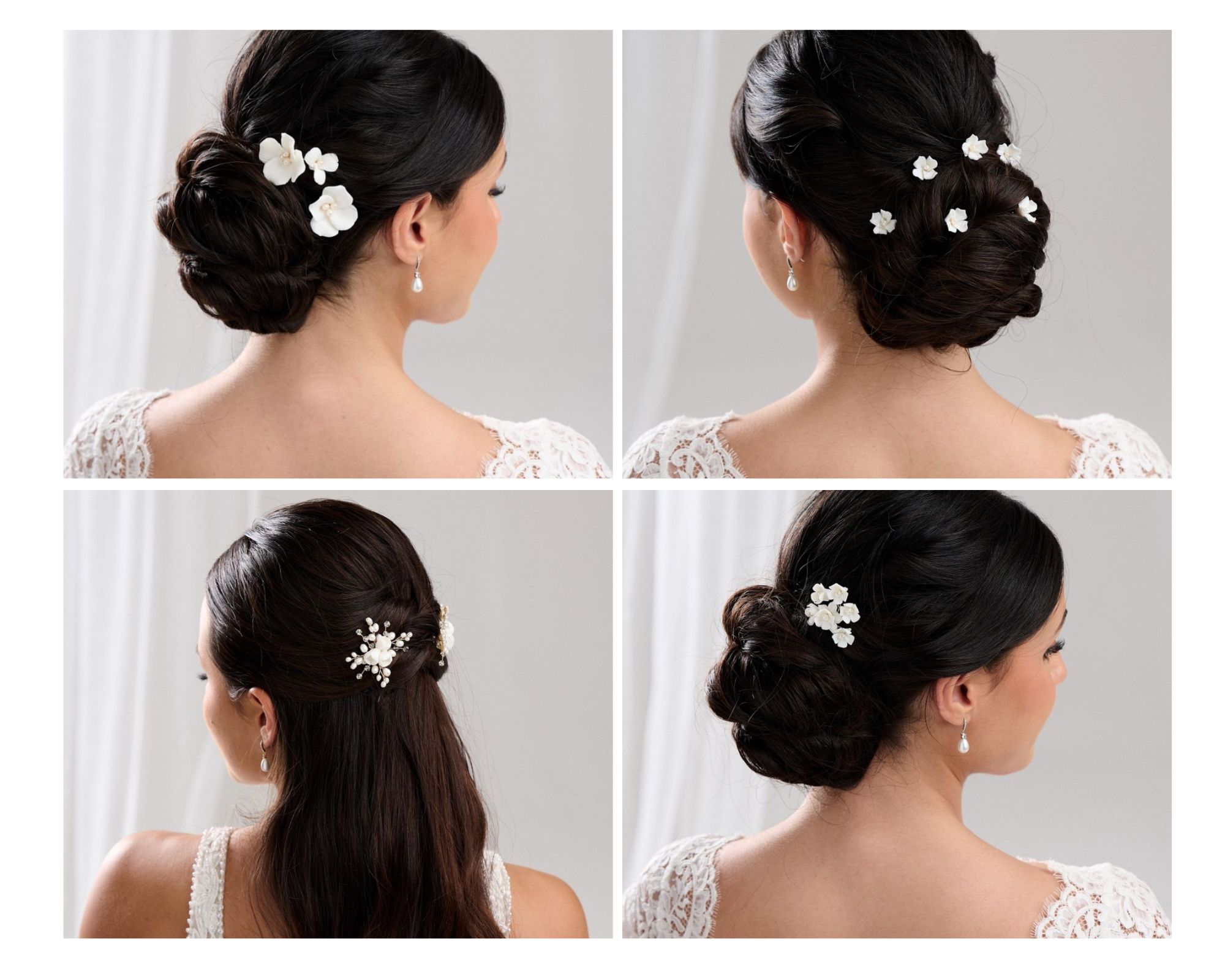 Simply stunning.
Wedding hair vines come in many shapes and sizes, with crystals, pearls and of course - flowers. Offering a subtle alternative to other hair accessories, these pretty designs are all enchanting whichever way they are worn. Why not experiment with your wedding hair stylist to see what works best for you? Here are some ideas and inspiration on how to wear the daintiest Letisha hair vine which comes in three colours, and the Skye hair vine which comes on a comb.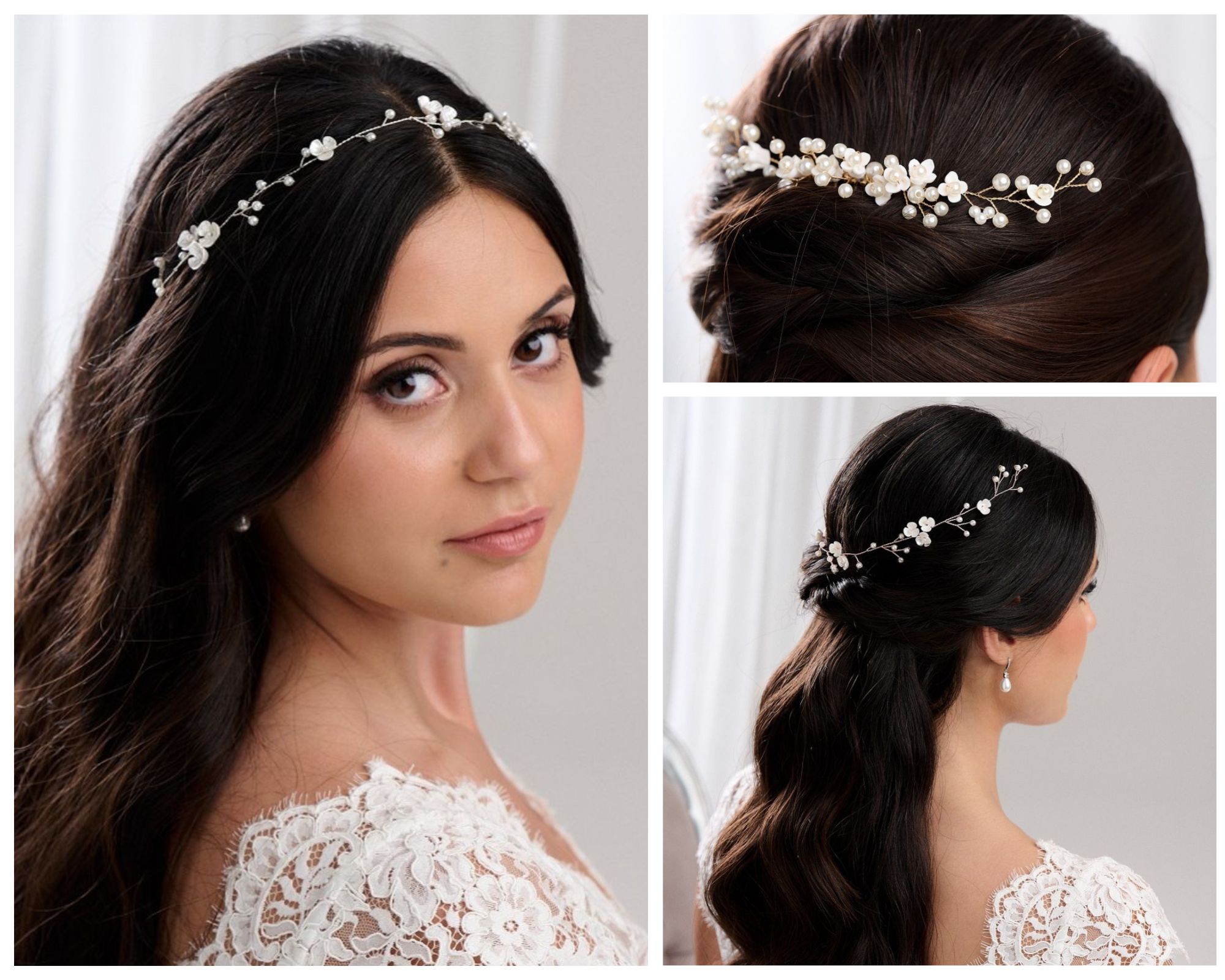 Whichever way you decide to wear your wedding hair, you will find everything on your wish list here. We hope you have been inspired with this snapshot our bride's favourite wedding hair accessories. All those featured and many more, in stock and available for immediate delivery today. With love for a happy hair do, from the Lace & Favour team xx