Bridesmaid Hair Accessory Ideas
It's just as important that your bridesmaids look their very best on your big day. At Lace & Favour, we've put together a collection of stunning bridesmaid hair accessories to ensure your favourite girls look and feel as special as they deserve. Choose from the daintiest wedding hair pins and clips made with sparkling crystals, or beautiful statement bridesmaid headbands encrusted with luminous pearls, for a stand-out look. Let's take a look at some of your bridesmaid favourites…
Bridesmaid Hair Accessory Ideas
Relaxed Bridesmaid Hair
These dainty bridesmaid hair pins by Arianna add pretty detail to any wedding up-do. Sold as a set of 3 these gorgeous hair pins can be scattered in a loose hairstyle for the relaxed boho bridesmaid or carefully placed in a structured format for a more formal ceremony. For a subtle look, distribute a set of 3 pins between 3 of your bridesmaids so that each girl has just a single pin in their hair – a great idea if your on a budget too! Choose from flower hair pins or shimmering teardrop pearl hair pins.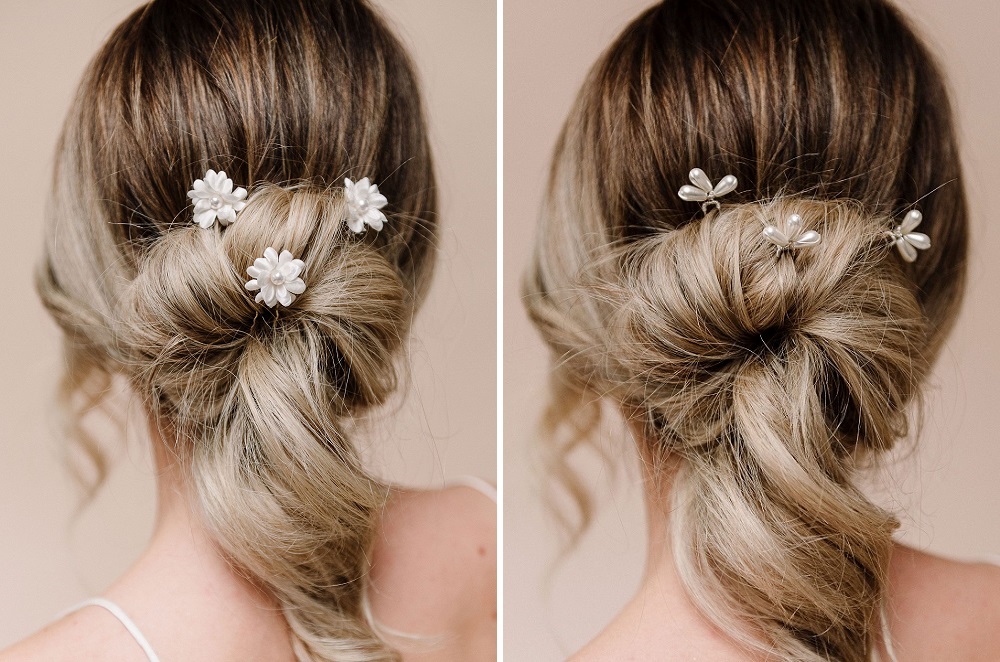 These Wild Flower hair pins are the perfect way to add delicate sparkle to your bridesmaid hair. Clusters of tiny crystal flowers and hand wired branches of Swarovski pearls make up this beautiful set of 3 hair pins. Available in a stunning choice of colours to suit your bridesmaids attire.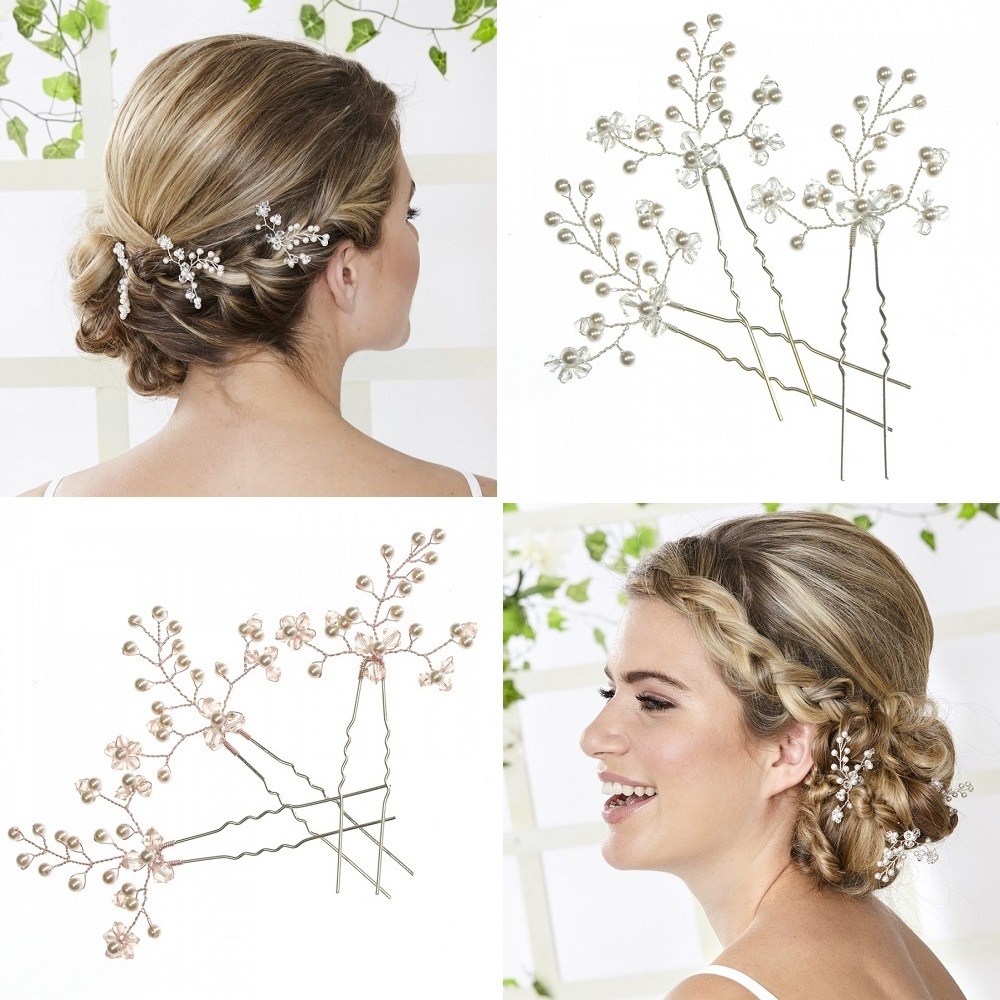 A Romantic Choice
A forever popular choice, our Romance pearl and crystal hair pins add a gorgeous touch to bridesmaid hair. Adorned with pretty ivory pearls, twinkling crystals and hand painted leaves, this floral hair pin is the perfect accessory for any wedding theme. Nestle a single pin in the side of an up-do or cluster 2 or 3 together to add more detail. Available in a choice of classic silver and soft gold.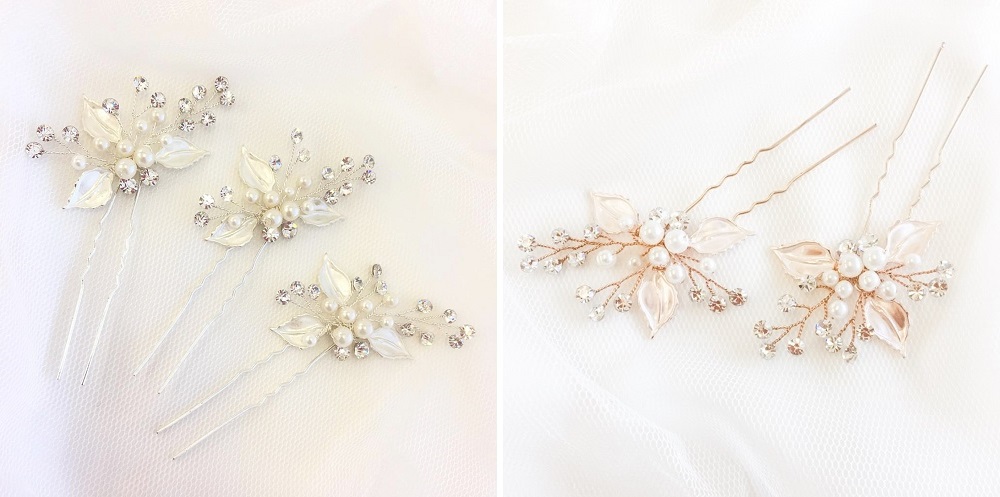 Bridesmaid Hair Combs
Put the finishing touches to your bridesmaids hair with these beautifully rustic wedding hair combs. Brand new for this season these handmade adornments by Arianna come in a wide variety of colours and look gorgeous in any hairstyle. Choose from our popular Forget Me Not or Meadowsweet mini hair combs to complete their look. Presented in luxury presentation boxes making these hair accessories ideal bridesmaid gifts!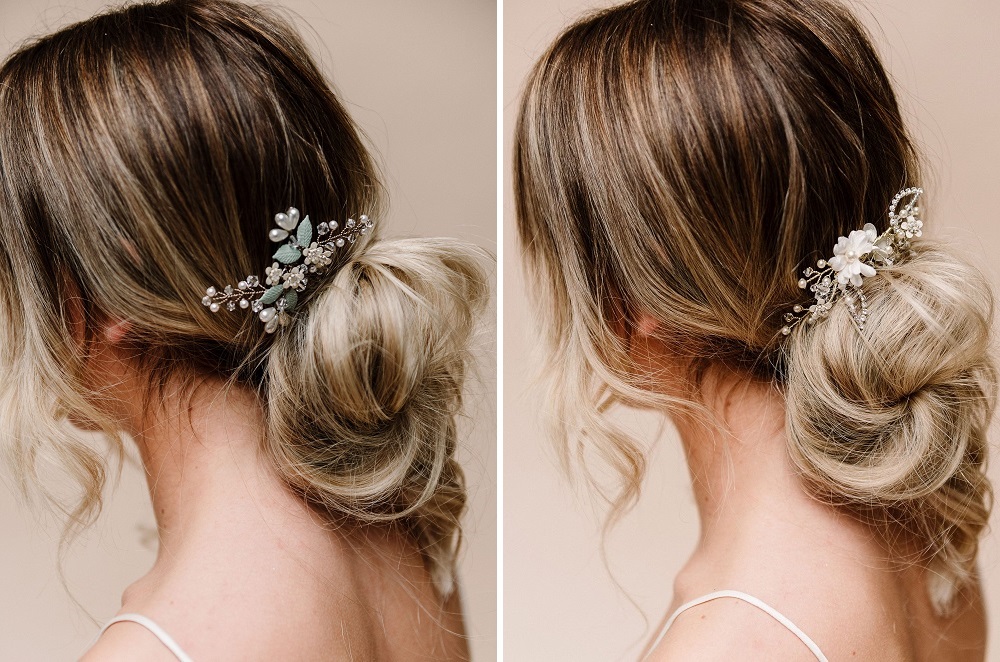 Our best selling Briar hair comb looks stunning worn in the side of both an up-do and loose curls! A versatile choice for any bridesmaid style.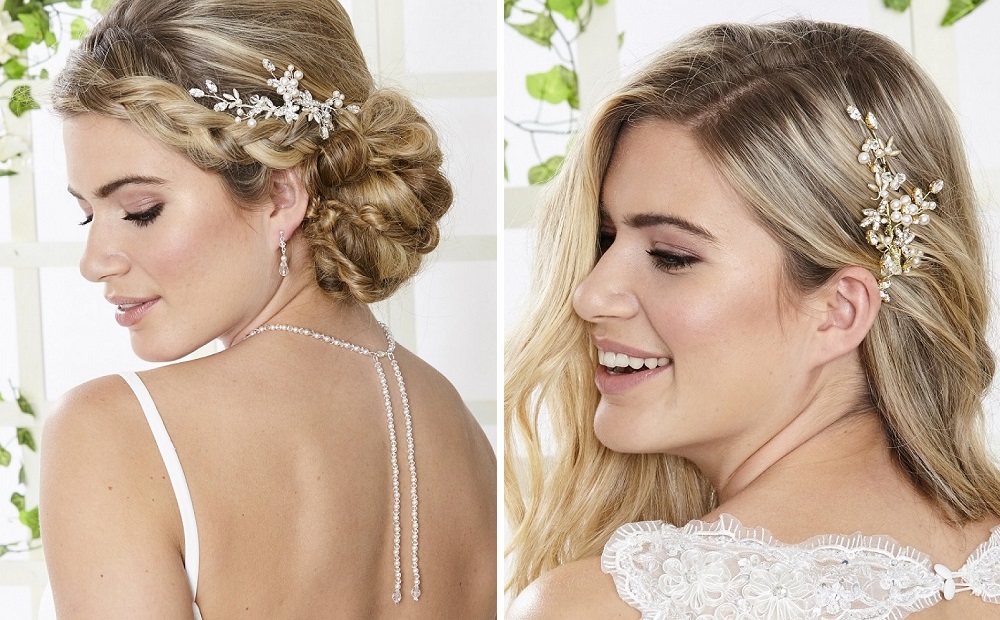 Flower Crowns
If you're channelling a garden ceremony, adorn your bridesmaids hair with these beautiful flower crowns by Linzi Jay. Incredibly lightweight, these ethereal headpieces make a stunning choice for little flowers girls too!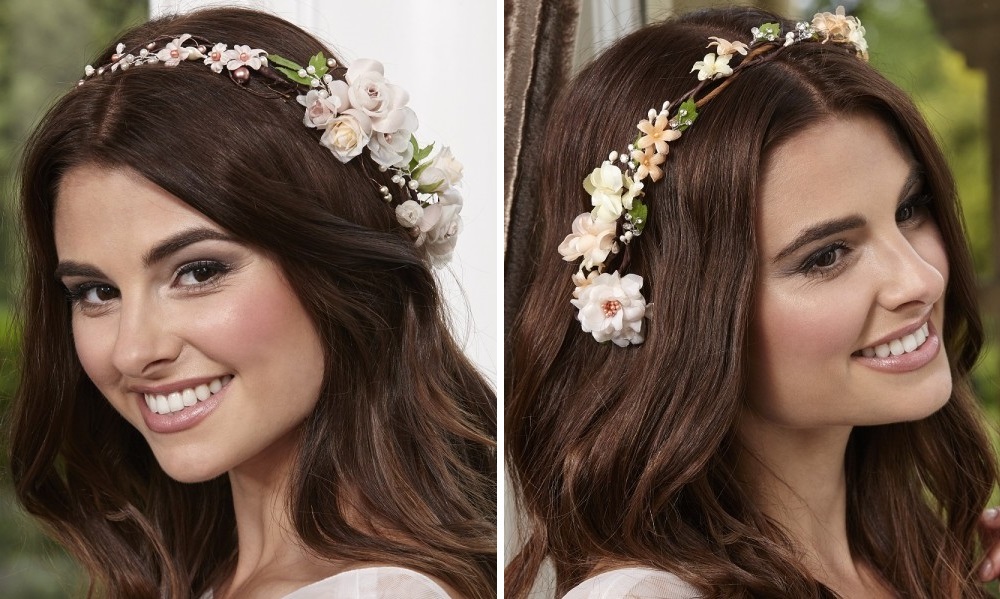 Crystal Embellished Combs
Whether you're looking for silver, gold or rose gold hair accessories for your bridesmaids, this popular hair comb by Ivory and Co has got you covered! Featuring a curving vine of twinkling crystal embellished flowers this beautiful hair comb looks stunning in any hairstyle! Shop, Petunia (rose gold), Peony (silver) and Buttercup (gold).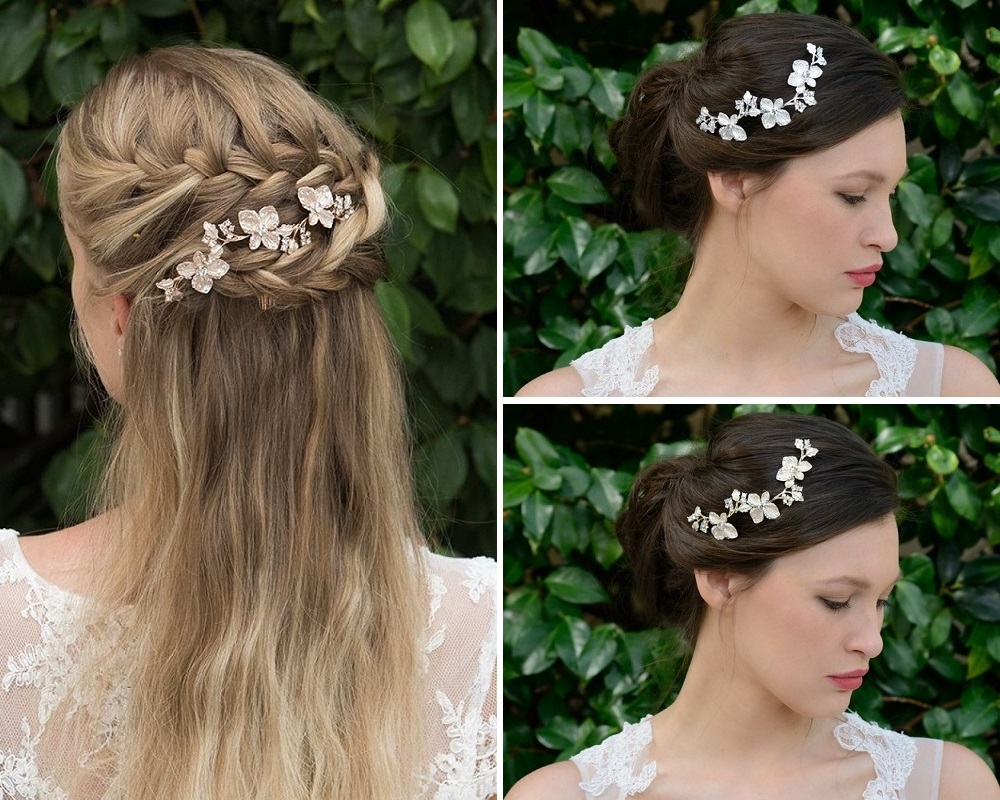 Bridesmaid Headbands
Bridesmaid headbands are another gorgeous hair accessory choice. We've picked out some simple yet pretty designs that add gorgeous detail to your bridesmaid hair and aren't too pricey! For pearl lovers, our Purity headband by Arianna is a stylish, modern choice and only £35! Or choose from a selection of crystal headbands by Ivory and Co to add a touch of sparkle. Featured below is the sweet Evie narrow rose gold crystal headband and the Pearl Mist enamelled leaves headpiece.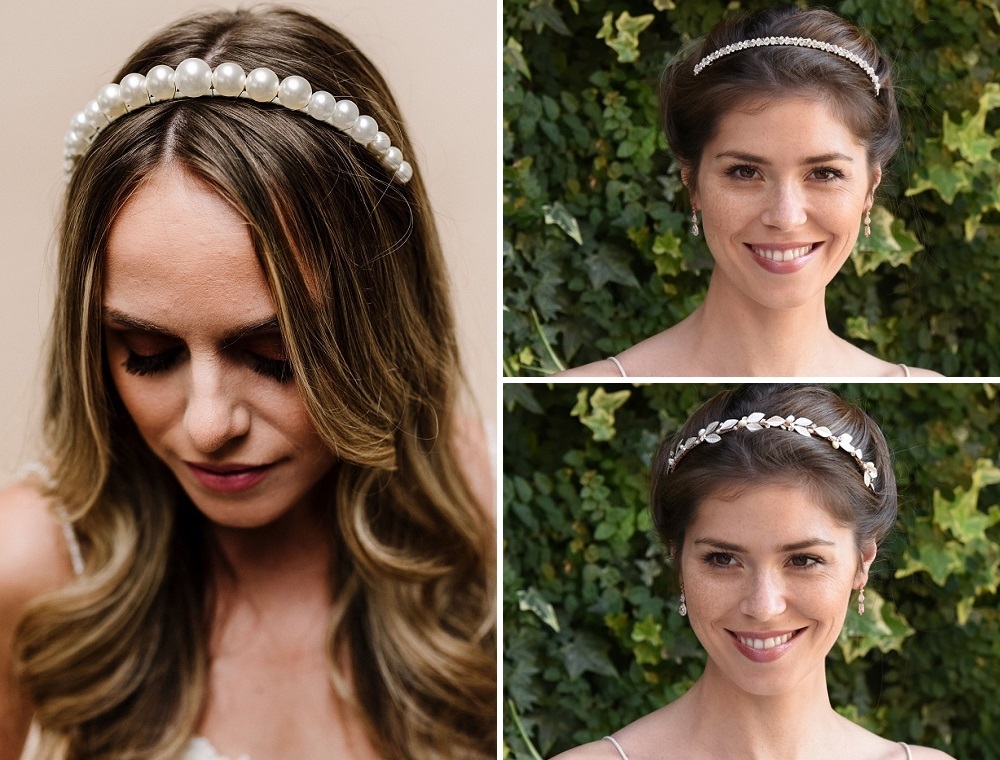 Classic Bridesmaid Style
For a classic, understated bridesmaid style our Heidi hair pins are the perfect hair accessory option. This delicate bridesmaid hair pin is available in 3 crystal colours, clear, opal, and blush pink. A simple and elegant choice for brides too!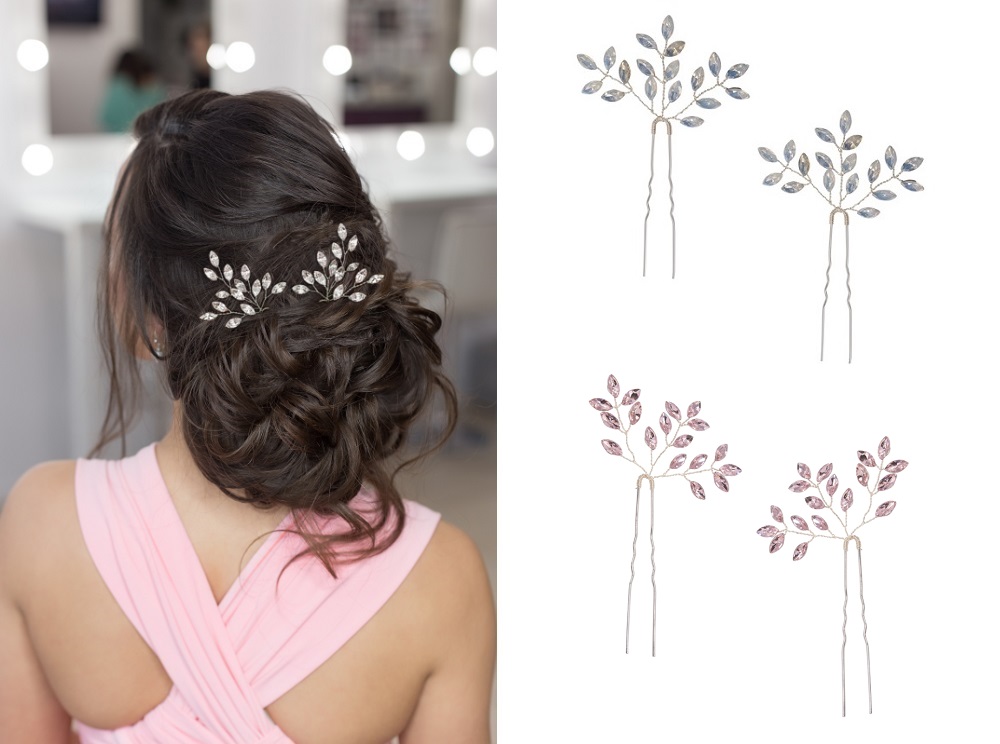 Complementing Colours
Looking for a bridesmaid hair piece to complement their gown? Check out these new floral hair pins in popular bridesmaid colour palettes, pale pink and powder blue. Nestle a single pin in an up-do to add a pretty splash of colour. Shop our Delphinium pale blue flowers and sprigs hair pin and Hibiscus pale pink porcelain flowers hair pin.