Jewellery Fit For A Bride
All the big decisions are behind you, the dress, the shoes but what comes next? Accessories are an incredible way to bring your look together and to really make your bridal look everything you dreamed of. It is also a chance to really dazzle all your guests and make it a day to remember. And what better way to dazzle than with some jaw-dropping jewellery! With the addition of earrings, necklaces, headpieces or even foot jewellery, a bit of shine is the perfect way to complement your wedding look. It is also a great way to tie your look together by matching common themes, such as continuing your colour theme or if you are a classic pearl type of bride, opting for coordinated pearl jewellery. But, if you are not sure what type of jewellery you are looking for to complement your look then we are here to help by going through our favourite bridal jewellery!
Back To Basics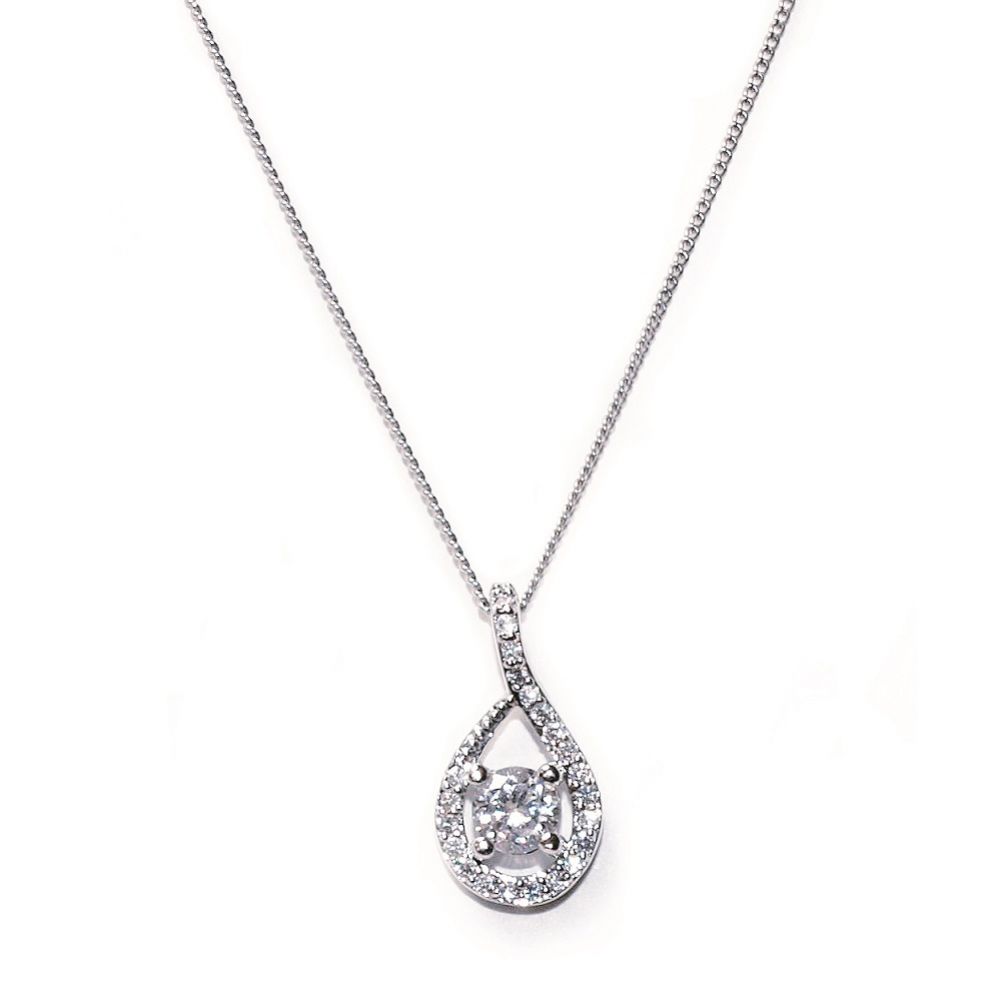 Style does not need to be complicated and some of the best looks are best kept simple. Just look at the little black dress, nothing overcomplicated about it. If you are after this classic style then we recommend opting for simple but statement pieces that will bring your whole look together and you will be the epitome of style! Just like our crystal pendant necklace, which oozes with style but keeps it simple. With a delicate curl highlighted by the beautiful cubic zirconia stone, simple with all of the style!
Perfect Pearls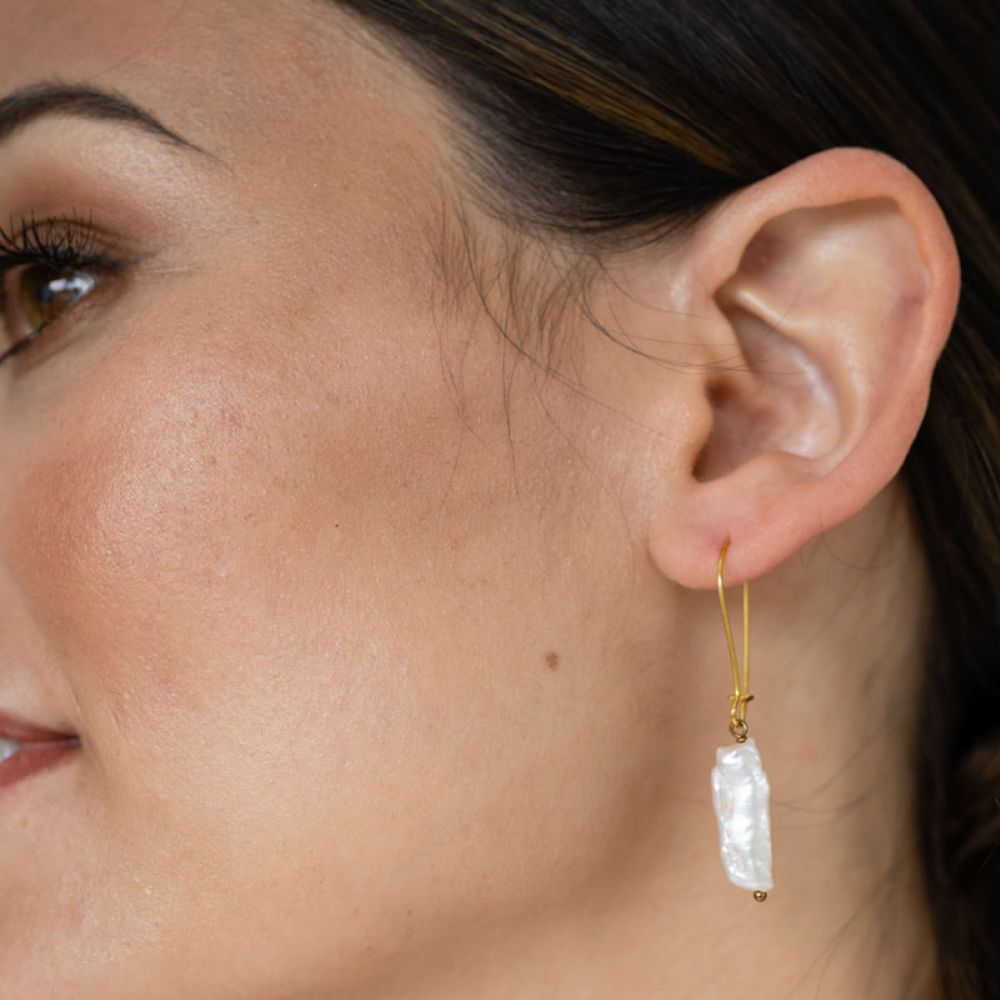 Continuing on with classic style, pearls will never let you down. They are the perfect accessory for a pristine look that go with almost any outfit. Pearls are perfect at catching the light for a little bit of dazzle but not too much, perfect if a bit of bling is not your thing! And just because you are opting for pearls does not mean it has to be classic, we love these unique Biwa pearl drop earrings. Plus the Biwa pearl is handmade using natural materials, perfect if you are connecting with nature on your big day!
Silver Lining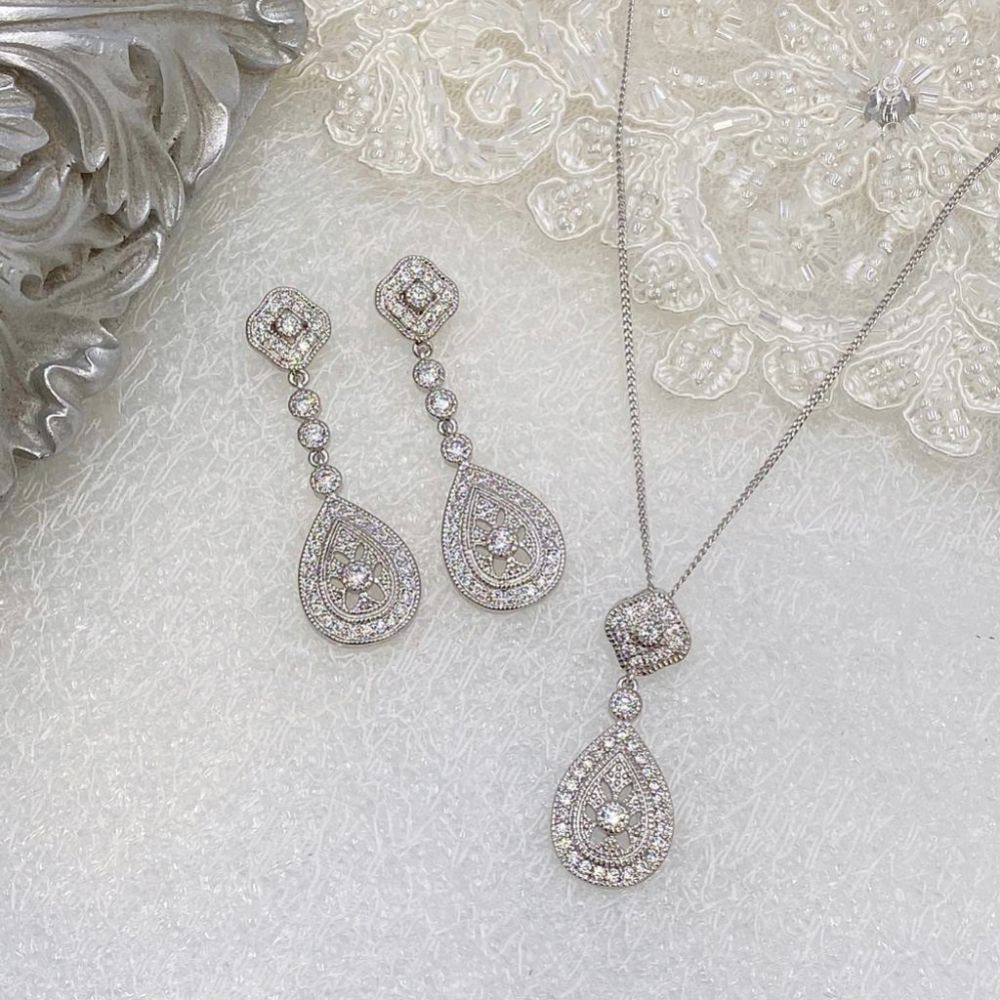 If you are someone who is dedicated to silver then why change now. Silver is a great option for wedding day jewellery as it goes with everything. Silver is also great for rewearing after the big day! Silver will never let you down and neither will this silver crystal bridal jewellery set. Classy and understated, the crystal drop design accentuated by small crystals will dazzle the crowds when catching the light.
Going For Gold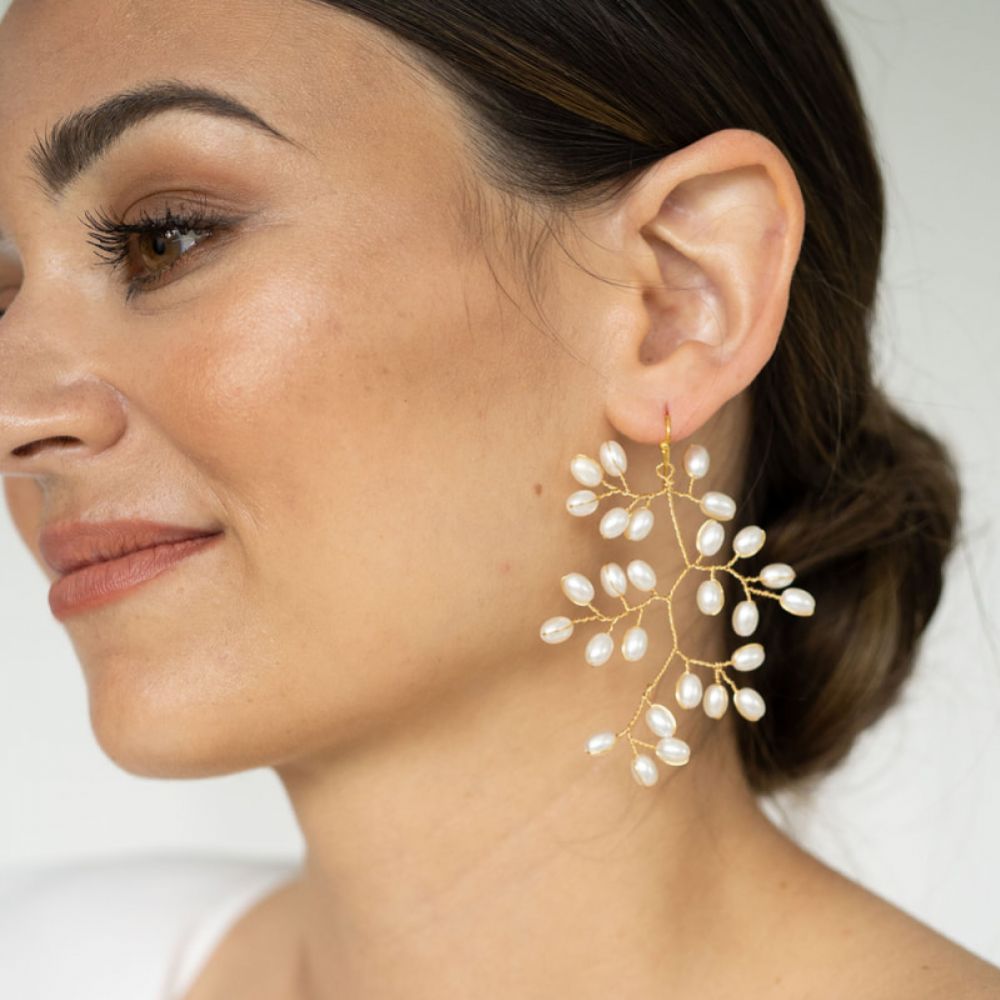 Or maybe you are a gold type of person, we understand that gold jewellery is a lifestyle and it is essential in keeping your day to the gold standard! Gold offers a luxurious look and love gold jewellery paired with stunning gold shoes and blow everyone away! And talking about blowing everyone away, do not stop at gold. We love these pearl spray earrings with luxurious gold wire branches!
Rose Gold Never Gets Old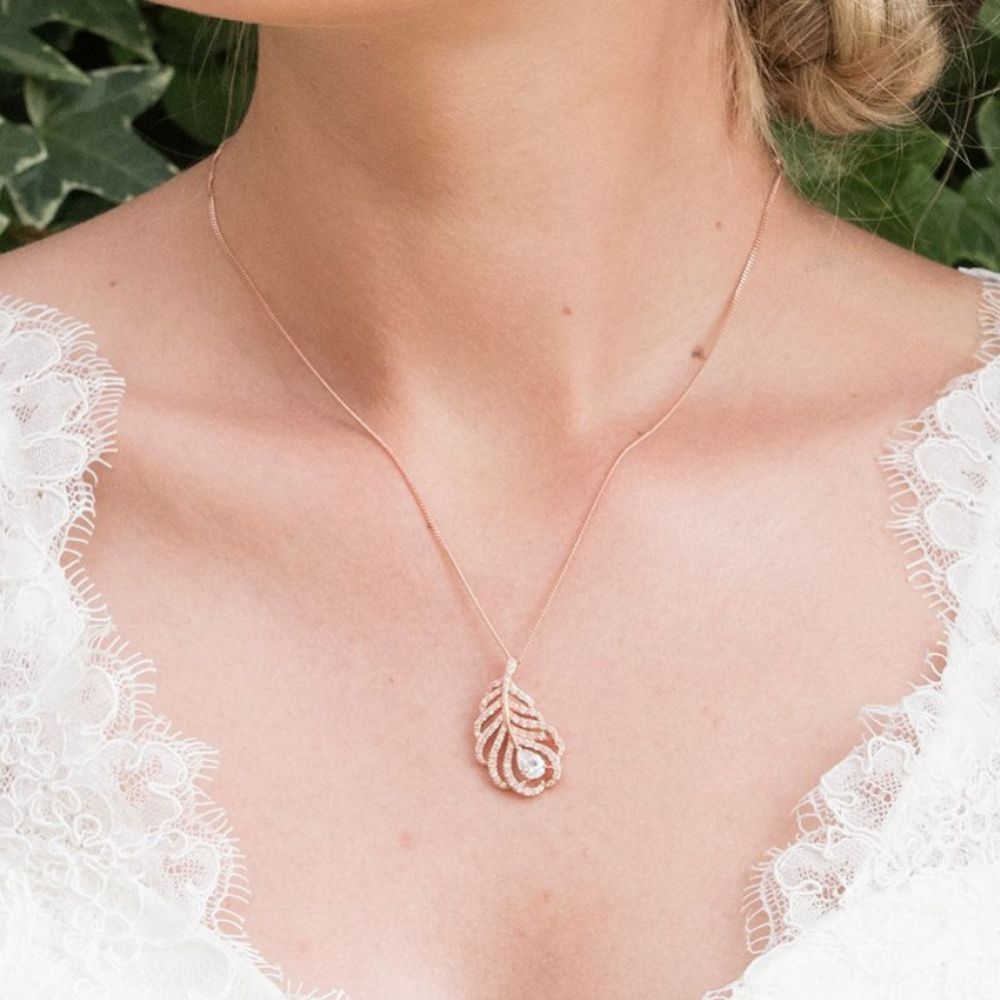 If you thought rose gold was just a trend, we do not want to hear it! We love rose gold jewellery as it creates such a stunning modern look. It is already a classic look in our eyes! This is why we love this rose gold crystal feather pendant necklace. This necklace is inspired by a peacock feather and boasts dozens of crystals to make sure you are centre stage!
Floral Infusion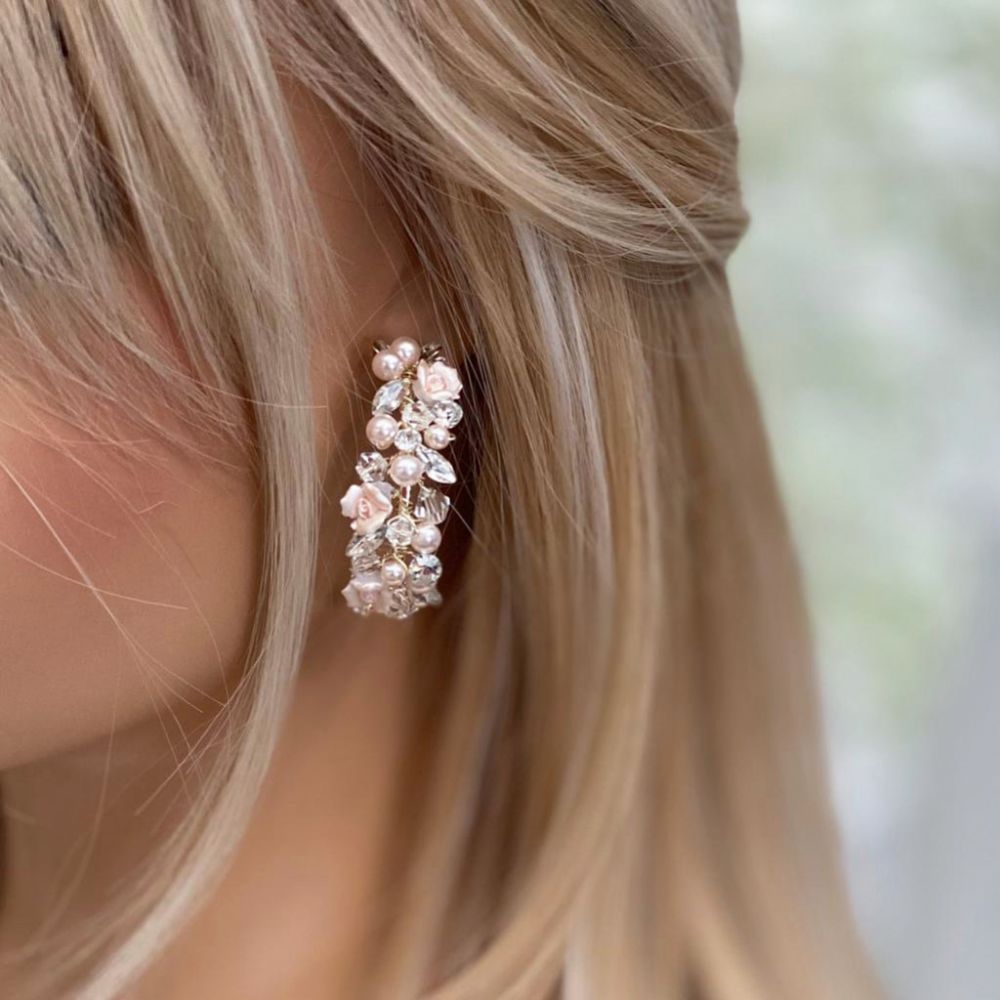 Not fussed about choosing between silver and gold but rather just include some of your favourite flowers in your jewellery then there are lots of options for you! We love matching floral jewellery with the wedding flowers. Or as a nod to your mum's or grandmother's wedding flowers! These porcelain flower gold hoop earrings may be just what you are looking for. This delicate piece is brought to life by the shimmering crystal beads creating the perfect floral look!
Dreamy Droplets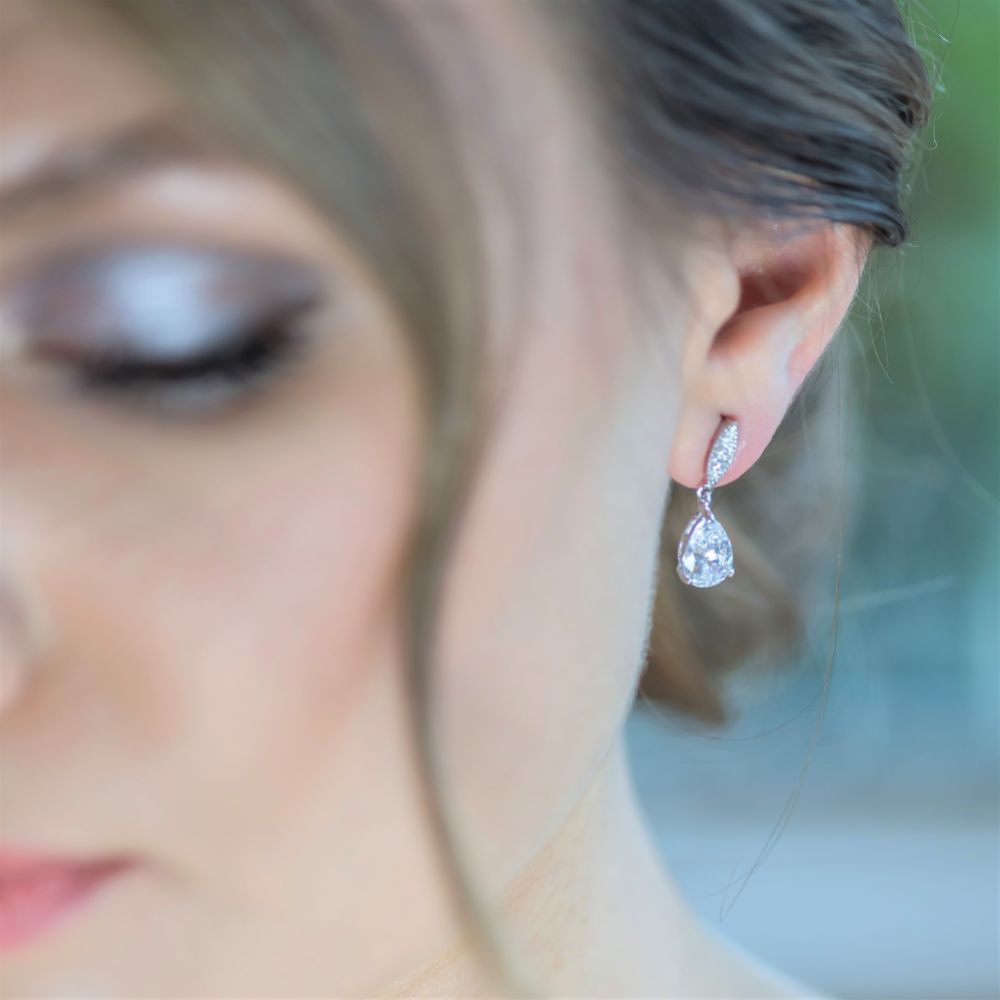 If you are more concerned about the style of earrings then we love teardrop style jewellery for an elegant and extravagant twist on bridal jewellery. Even better, the jewellery represents that there will not be a dry eye in the house! We love the silver teardrop crystal earrings which are perfect for brides and bridesmaids alike!
Chic Chandelier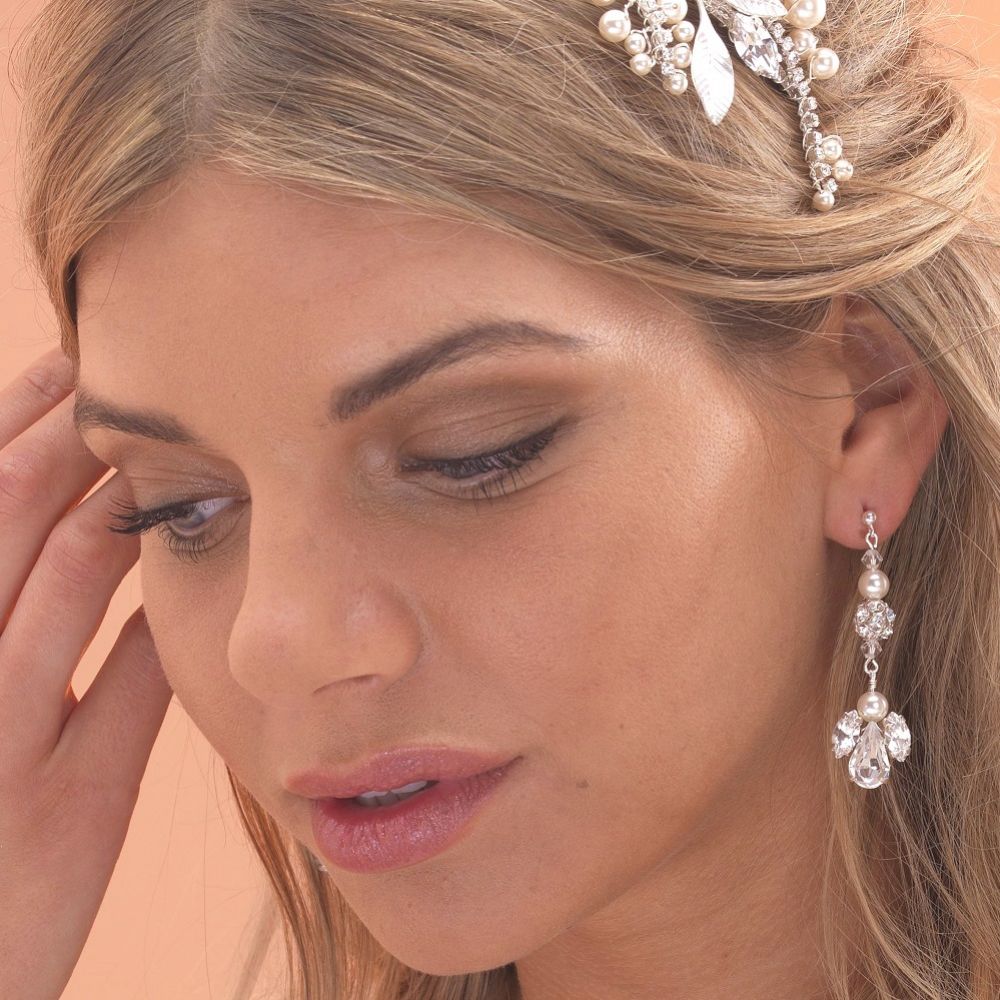 Another style we love is chandelier earrings, perfect for any dangly earrings lover! Chandelier earrings boast a tiered system of jewels, which will take your jewellery game into a class of its own! Such as the diamante and pearl chandelier wedding earrings which will steal the show! And if you do not have your ears pierced or just do not fancy it, these earrings are also available with clip fittings!
Crystal Clear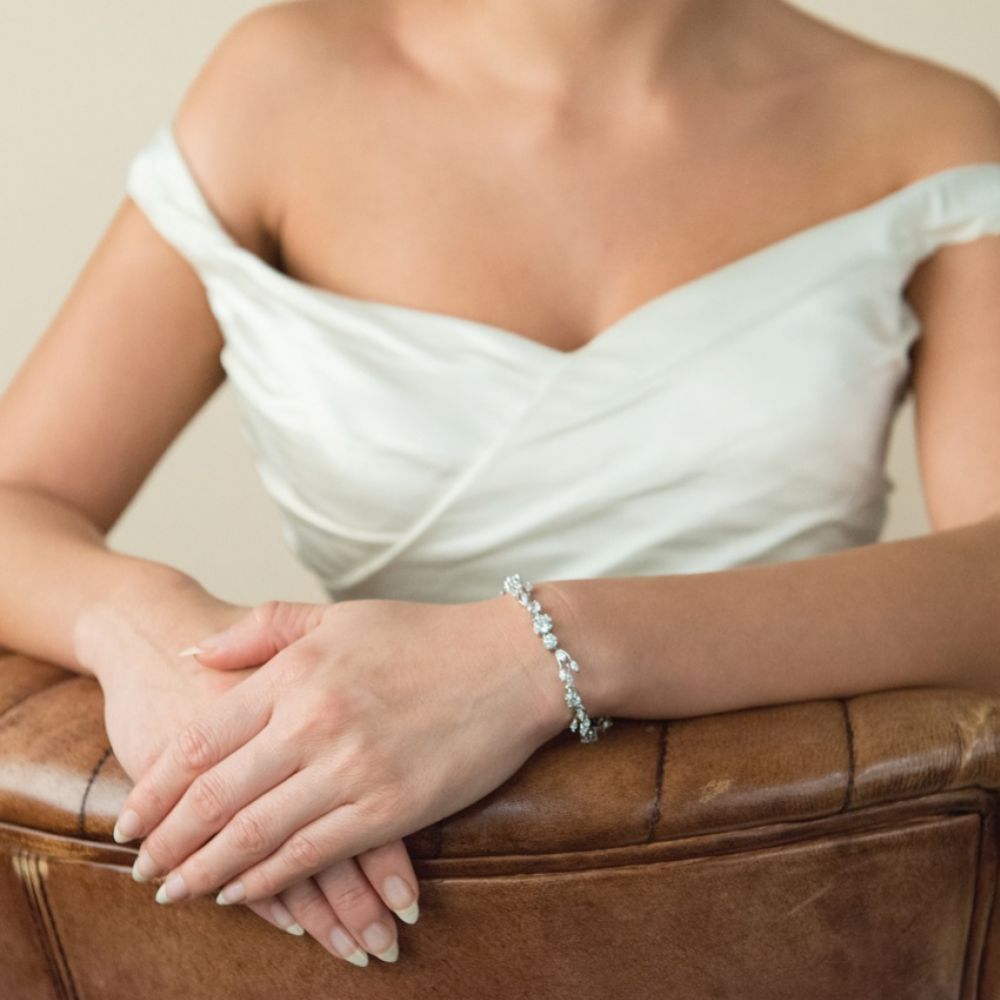 Achieve timeless style by opting for classic crystal jewellery, this will add the perfect amount of shine and class to your wedding look. Crystal jewellery can also be perfectly paired with bridal shoes featuring crystals to complete an entirely classic look. Keep it classy with this vintage-inspired crystal wedding bracelet which sums up the style of an era!
Very Vintage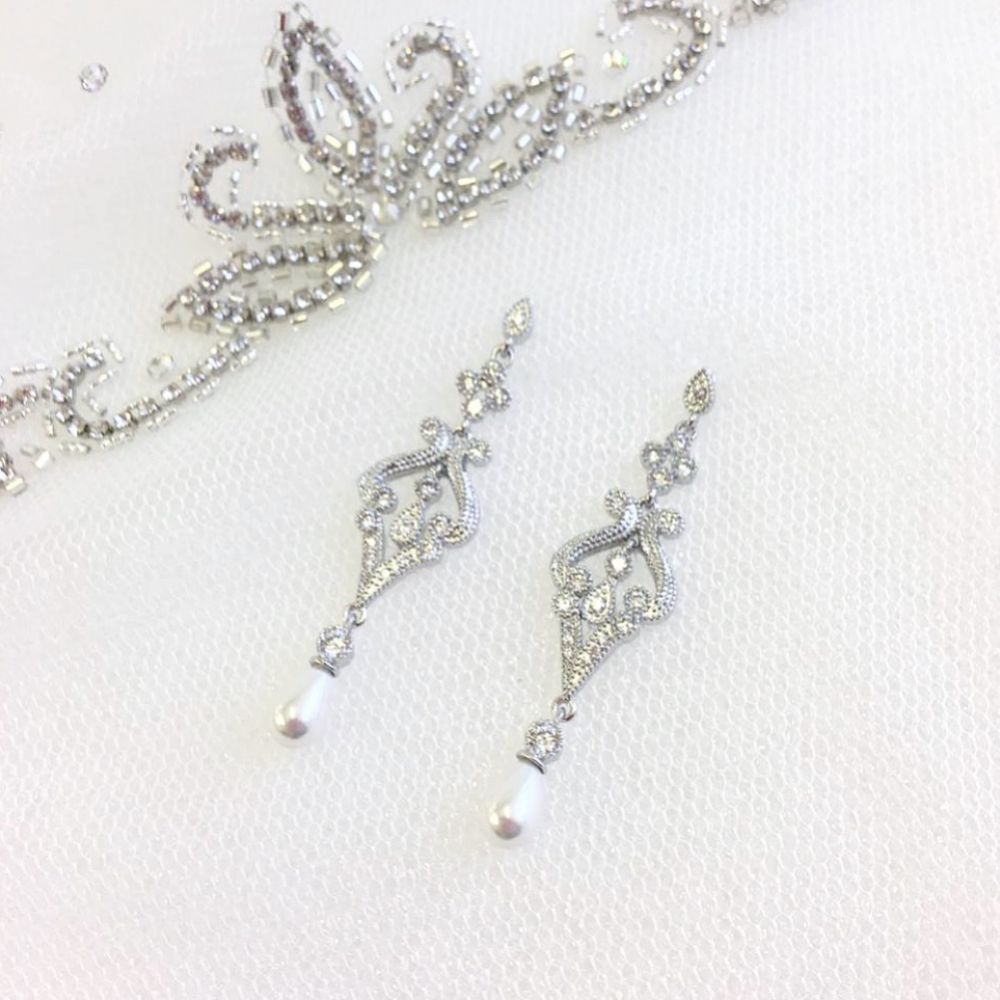 You can never go wrong with throwing it back to when they did it best. If you have always enjoyed vintage fashion and are opting for a vintage themed wedding, then why stop at the Mary Jane shoes! Vintage jewellery are beautiful classic pieces, adding some extra style to your day. That is why we love these vintage-inspired chandelier wedding earrings which add an extra level of style and class to your look!
Fancy Feet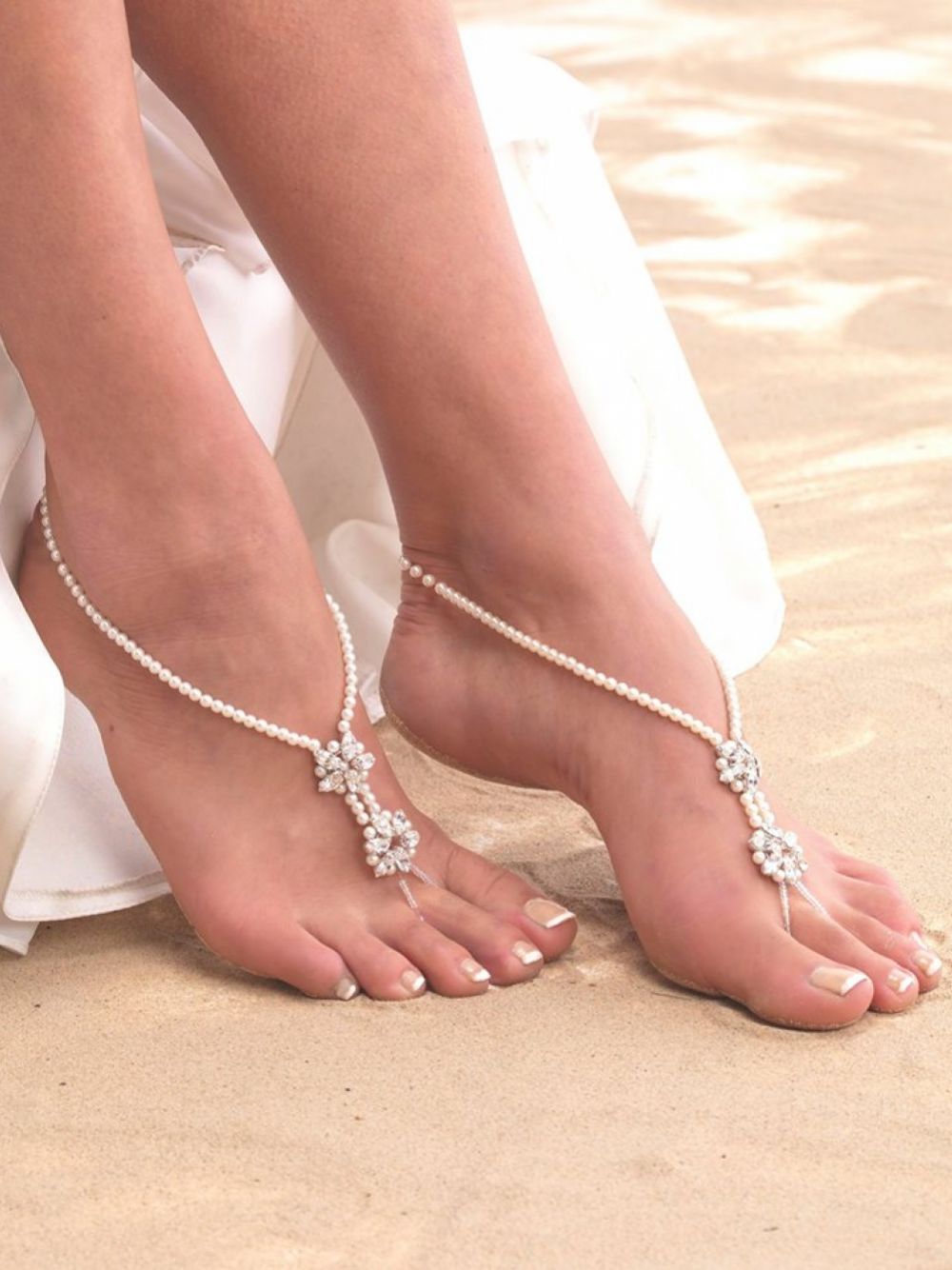 If you are planning a beach wedding or just chosen to go barefoot then take it to the next level and accessorise with some foot jewellery. This look would also be the perfect complement to a nature style wedding, you cannot get more down to your roots than going barefoot! And do not think you have to sacrifice any bridal beauty, opt for a showstopping piece of foot jewellery like our pearl and diamante barefoot piece. Styled with this beautiful jewellery and you will become a true nature queen!
We Have Got Your Back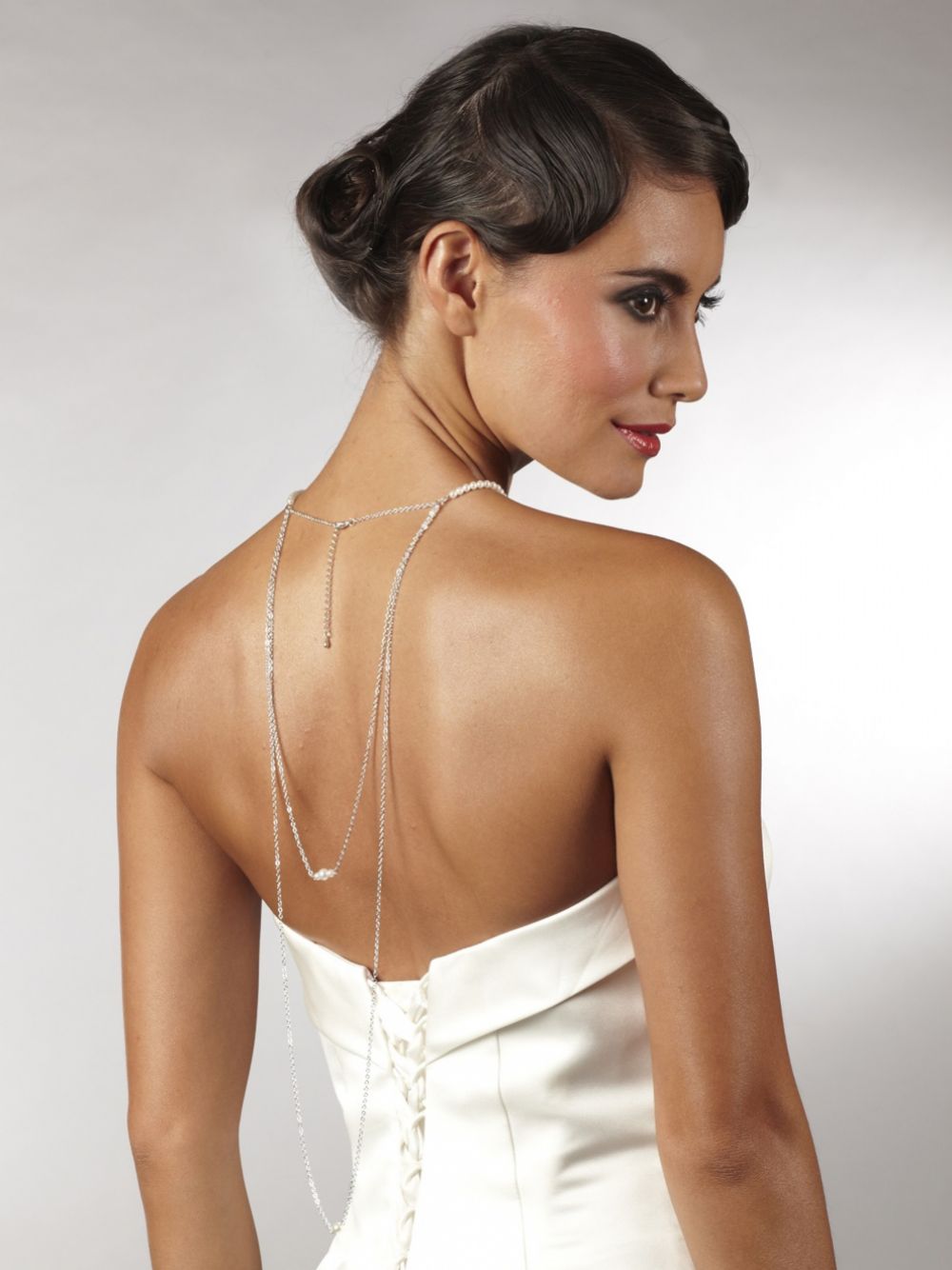 Looking for a unique showstopper piece? Look no further. If you have chosen a low back dress then back jewellery is the way to get jaws dropping! Draping back jewellery is a great way to add an extra touch of elegance and grace to your bridal look, while adding a unique twist! So make your bridal look your own and be daring. A great option is our long pearl backdrop wedding necklace. You can style this necklace however you want, even switching it up during the day!
One For The Girls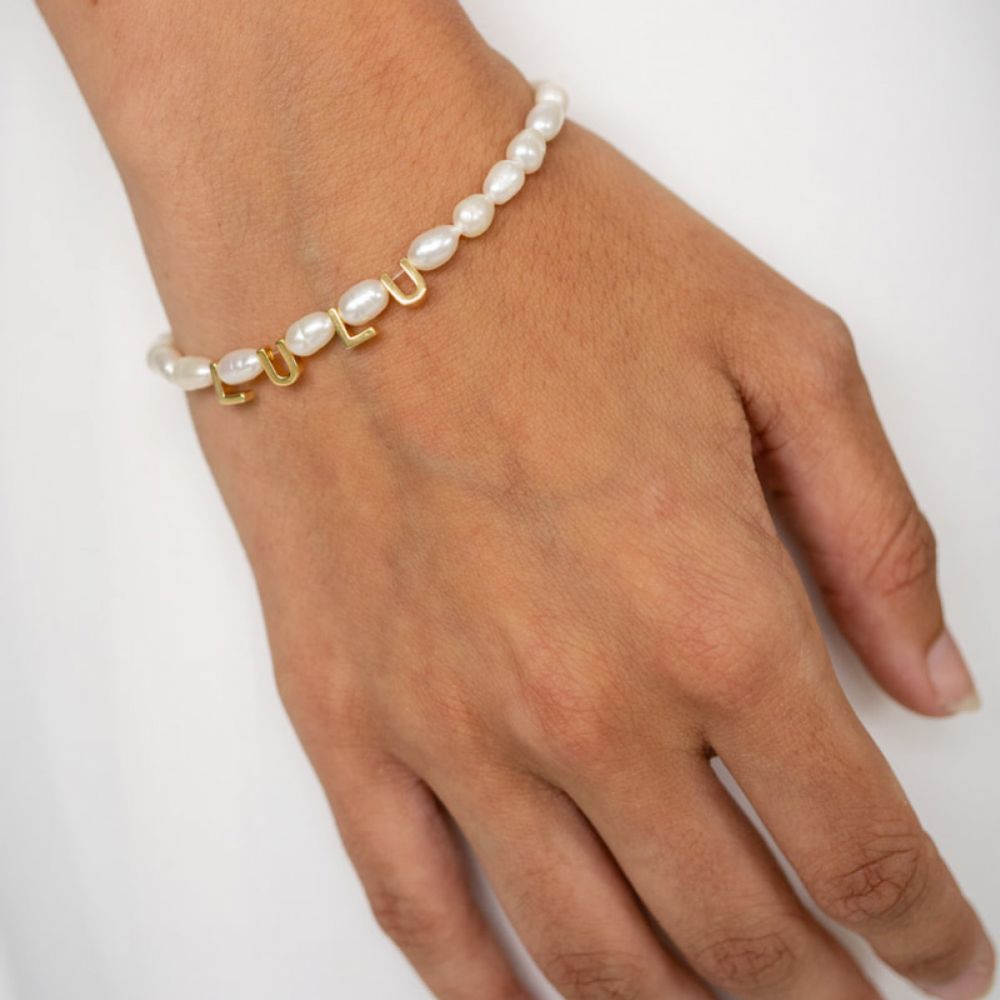 We would all be lost without our bridesmaids by our sides and this is the perfect time to thank them. Gift your bridesmaids some beautiful jewellery to finish their look and even go for some matching jewellery to your own! This gold pearl bracelet is the perfect choice as it can be personalised with the name of your maid of honour or all your bridesmaids!
One For The Boys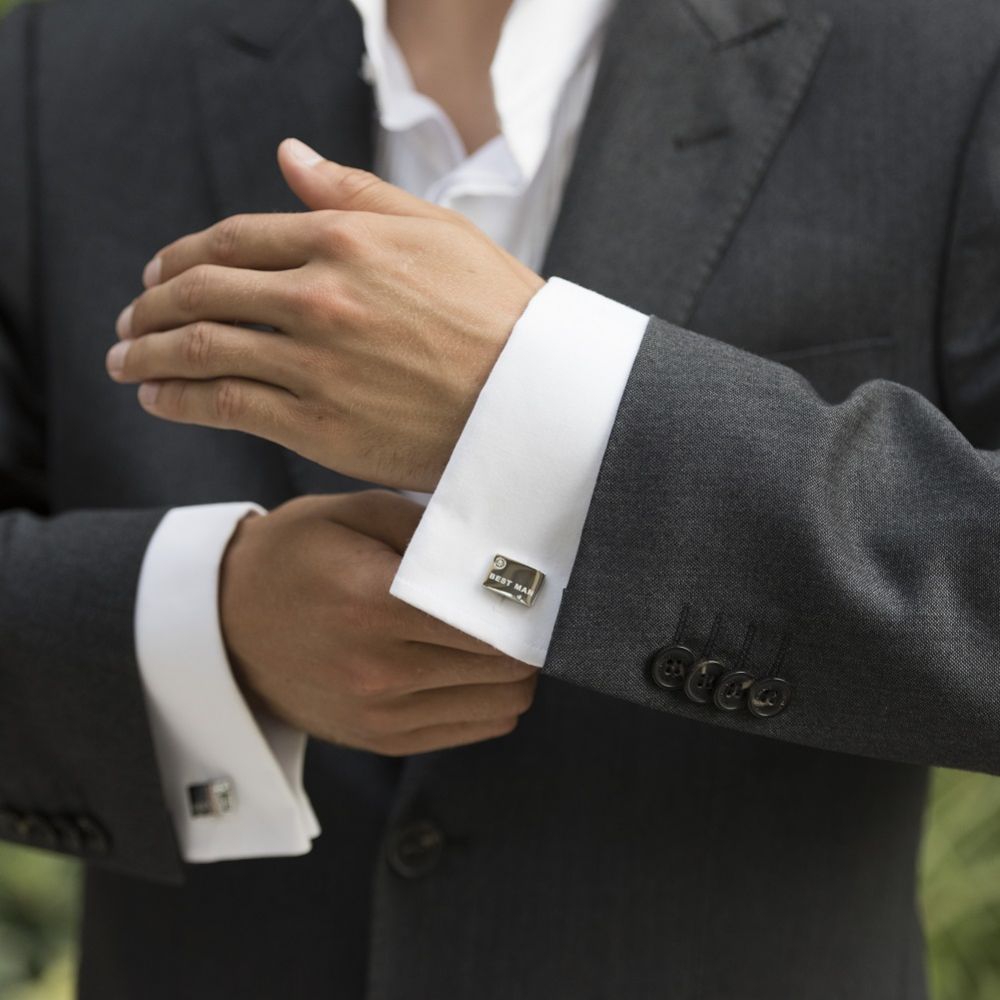 We cannot forget about the boys and give them a bit of bling too to top off their wedding looks. So give them a bit of extra swagger and gift the best man a pair of stylish cufflinks! This is a great way to thank the best man and gift him a memento of the big day!
You Have Been A Gem
We hope our guide to bridal jewellery has helped you in your search for the perfect jewellery to complement your bridal look. We believe jewellery cannot be understated in terms of completing your look and the confidence it can bring. We live by, if you look good then you feel good and we are sure you will look amazing on your big day whatever jewellery you choose!
Browse Your Wedding Jewellery Here At Lace & Favour
Take a look at bridal jewellery here at Lace & Favour to help you decide upon your unique bridal look. Whether you're opting for fabulous foot jewellery for your beach wedding or the perfect crystal jewellery to match your crystal-embellished shoes. Bridal jewellery is a great way to bring your whole look together and really blow your loved ones away!