Joyce Jackson Veils - Lovingly Created For You
Lovingly Handmade Joyce Jackson Veils
Did you know that each and every Joyce Jackson veil is hand created to order right here in the UK? Made from a choice of classic or dreamy Italian tulle, this collection of bridal veils is second to none. Every detail you see on a Joyce Jackson veil is hand embellished, ensuring beautiful quality throughout each piece. Brides are pleased to know that Joyce Jackson is still a hands on, family run business.
Can I Customise My Joyce Jackson Veil?
We are often asked if these stunning Joyce Jackson veils can be customised, and the answer is most certainly 'Yes!' If there is something you wish to alter in order to create your own individual design, then please give one of our experienced sales advisers a call to discuss your ideas and learn about our Bespoke Services. We have helped many brides to achieve their perfect veil, combining embellishments and different edgings to coordinate with their dress. Whether you opt for a traditional two tier veil or a more contemporary single tier veil, there is no doubt that wearing a veil evokes a sense of pure romance and an air of tradition to any wedding ceremony. A Joyce Jackson veil assures a timeless bridal statement for your special day.
New Designs For 2016
We are so in love with the new Joyce Jackson veils for 2016! Our favourite addition to the collection is the 'Beverley Hills' embellished chapel veil which is simply breathtaking. Featuring a single swathe of airy Italian tulle, embellished with a beautiful beaded lace edging. This exquisite veil has an added focal point with a diamond shaped motif in the centre of the train. Chapel length and cathedral veils are ever popular with brides choosing a church ceremony, as they will enhance both your entrance, journey down the aisle and those all-important photographs!
Beverley Hills Veil featured below.
New Shades Of Tulle
Recently, Joyce Jackson have introduced new shades of tulle such as nude, rum, shell, pearl grey and champagne. This is fantastic for brides looking for a veil to coordinate with their gown, which isn't your traditional 'ivory' or 'white'. With so many styles available, together with the many bespoke possibilities, we feel these veils represent exceptional value for money. In addition, all Joyce Jackson veils are presented in a luxury lidded box for safe storage before and after the big day, which is personalised with the brides' name.

Choosing A Hair Piece To Wear With Your Veil
In need of a hair piece to wear with your Joyce Jackson veil? Then our collection of Arianna accessories is your go-to-destination! Arianna veil combs are an ideal choice to team with a cascading tulle veil – They hide the comb, add beautiful detail and perfectly frame the veil. All designs are available in over 30 Swarovski pearl and crystal colours to match your chosen shade of tulle. Our favourite combination is Arianna's creamrose pearls, with Joyce Jackson's rum Italian tulle, which we recently supplied for a customer with an oyster wedding gown.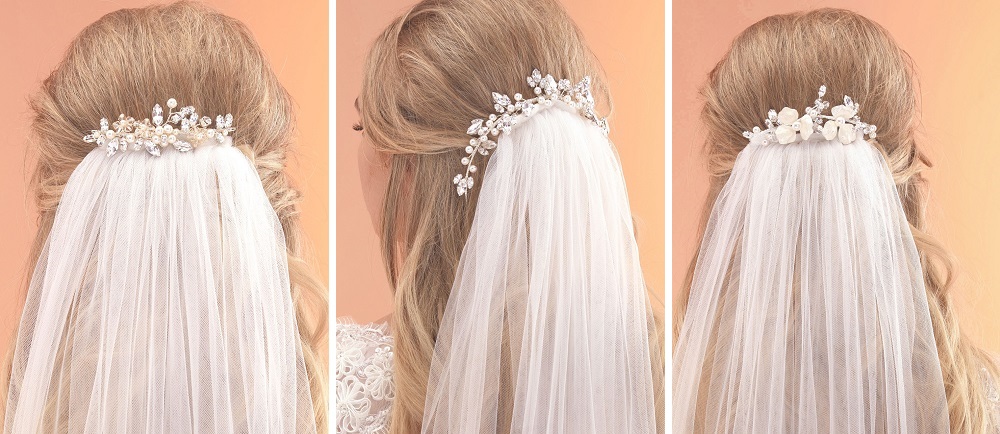 Still need advise on the choosing the right tulle, embellishments or veil length? Please give us a call and we will be more than happy to help!
Love Andrea x
Shop Joyce Jackson Veils