LEANING TO GREEN? OUR GUIDE TO A GREEN THEME WEDDING
When you picture a wedding, you often think of a pristine white dress and shoes, a white shirt and tie. But let's throw that all out the window and create something uniquely you, and green! As August is a transitional season it is a wonderful reminder of the true beauty of nature, and an even greater opportunity to incorporate a natural palette of colours into your wedding day. By adopting nature and all things green into your wedding, you will create quite the spectacle. This is also a great opportunity to endeavour for an eco-conscious wedding day, with biodegradable wedding favours and a lot of glass recycling bins! This would also be a great choice if you and your partner have green thumbs and wish to incorporate your love of plants and flowers into your wedding. And no greater opportunity than choosing to host your wedding in a forest/woodland or barn-style venue. Now, you may be thinking that you would quite like an ivory dress, well you still can! By adopting a pop of colour into your theme it will only make your wedding dress stand out more! A great option is opting for green shoes and accessories or styling your bridesmaids in glorious green dresses. Maybe even with the addition of a flower crown! So, we hope you are sitting comfortably and are ready to take a tour of all things green!
FLORAL BONANZA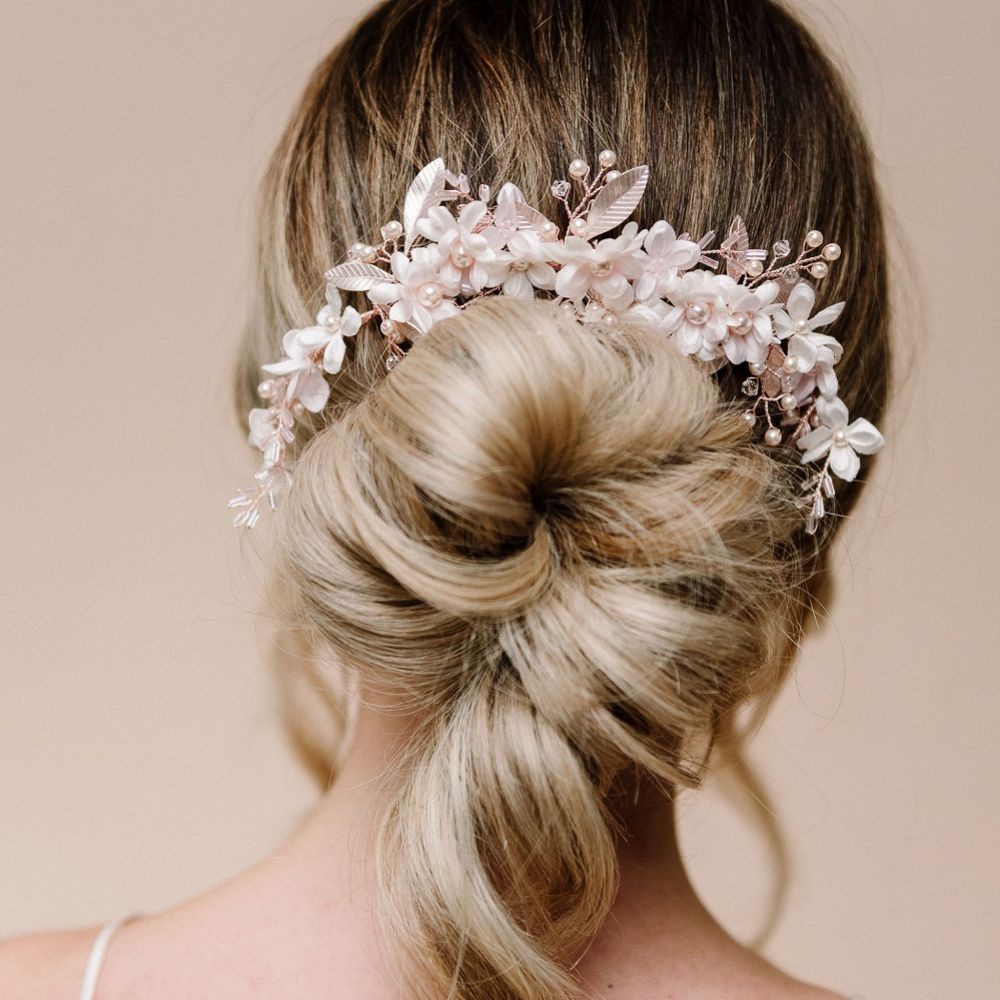 If you are organising a nature-inspired wedding day then step one is to start thinking about how to incorporate all your flowers. You have endless options and each venue will have its own quirks which can inspire something entirely unique. If your venue is outdoors in a forest setting then you can tie bouquets to the trees. Or, if you have opted for a traditional church wedding, you can tie flowers to each pew or go all out and gift a flower to each of your guests! Flowers are a great way to bring life into your wedding day and who does not love flowers! And that is only where the fun begins, there are also endless opportunities to go floral with your bridal style. Whether you are dreaming of your perfect pair of floral shoes or considering a flower crown, we love all things floral! One of our favourite floral pieces is the floral half halo headpiece which brings with it beauty and freshness to any bridal look!
GORGEOUSLY GREEN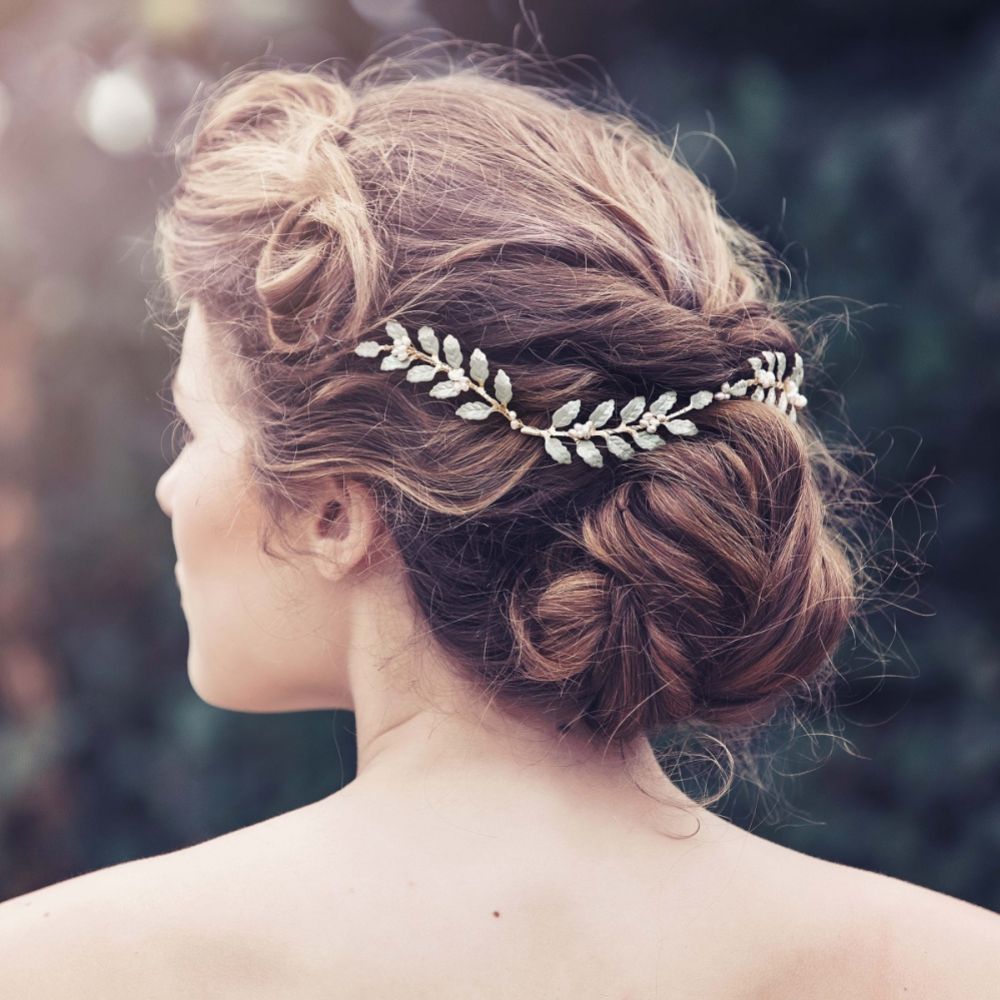 Green is an opulent and fresh colour to inject into your wedding day. There is something very special about a wedding day that incorporates nature and all things earthy. Which is also a great theme to run with if you are planning a boho style wedding! And as already covered, a go-to if you have chosen an outdoor, forest or even a rustic style venue. And what better way to go au naturel than with a leaves bridal hair vine which really does make you feel like you are in a fairytale wedding! The hair vine is also embellished with pristine ivory pearls to really bring out your inner princess!
KEEPING IT LOW KEY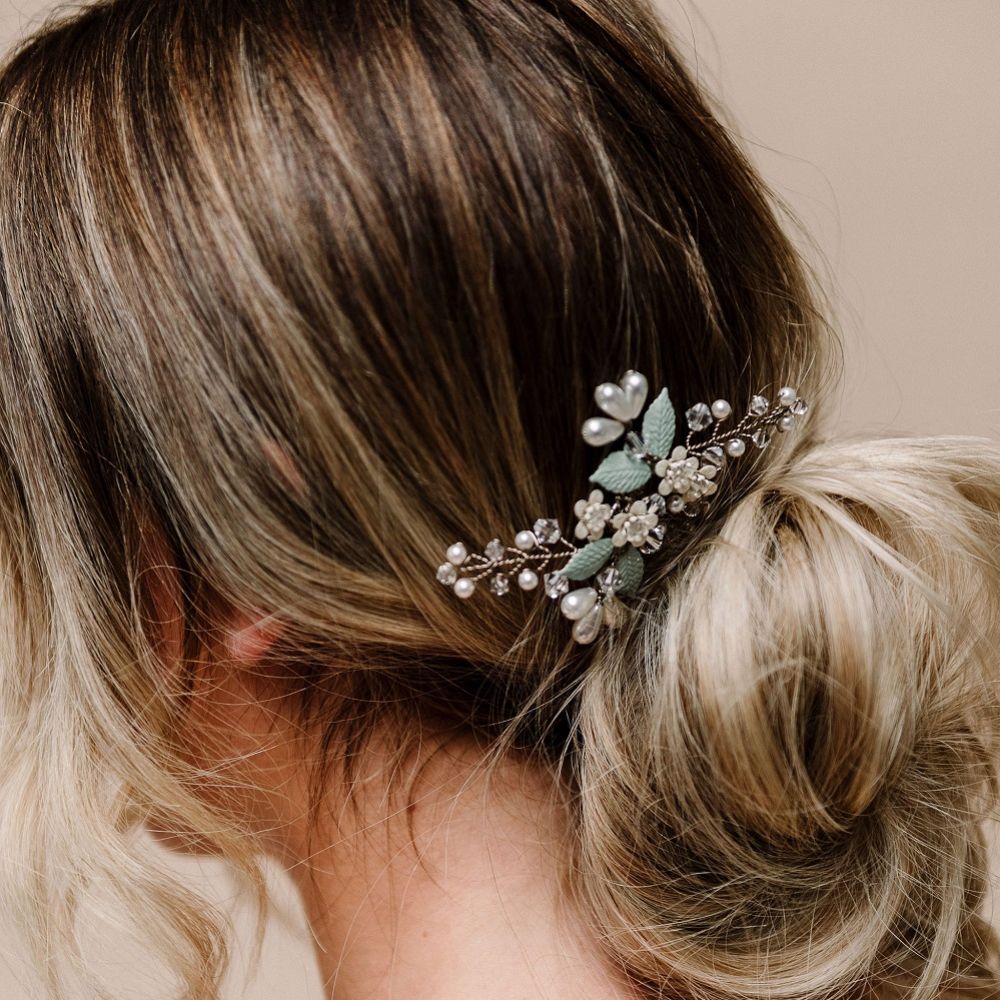 If you are after a more subtle approach to a colour theme then you may be after some smaller pieces which are added extras to your main look. Excellent options for this are quaint necklaces or bracelets. These would match perfectly if you have a set piece of jewellery in mind which you have already incorporated, such as embellished crystals or classy pearls. These are great finishing touches to your look to bring it all together. For this purpose, we love hair accessories and if the vine is not quite what you are after then hair combs may be more up your street. Such as the floral mini combs with pale green leaves, tied together with autumnal brown wire. These combs would be the perfect touch if your wedding flowers are forget me nots! But the beauty of these flowers is that they would not look amiss in any bouquet!
LOFTY HEIGHTS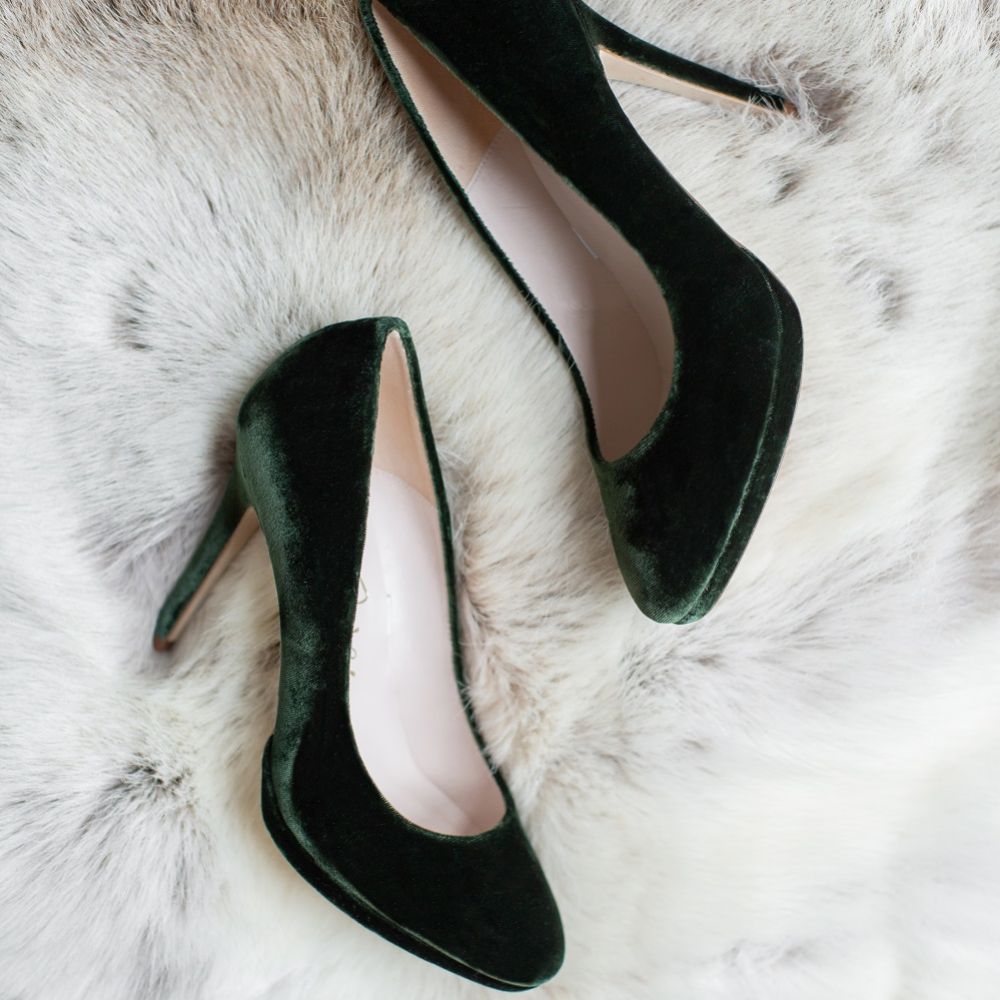 Be up in the trees in a stunning pair of heels that will put you in a league of your own! Heels are a perfect option if you want your shoes to give you confidence. And shoes are the perfect time to add your own spin on traditional bridal fashion, as often your shoes will not even be seen due to your dress. So, this is the perfect opportunity to have some fun with it! If green is your theme then these stunning forest green velvet platform court shoes are an excellent choice! The stunningly feminine almond toe will have you truly looking and feeling the part of the beautiful bride!
FOREST GREEN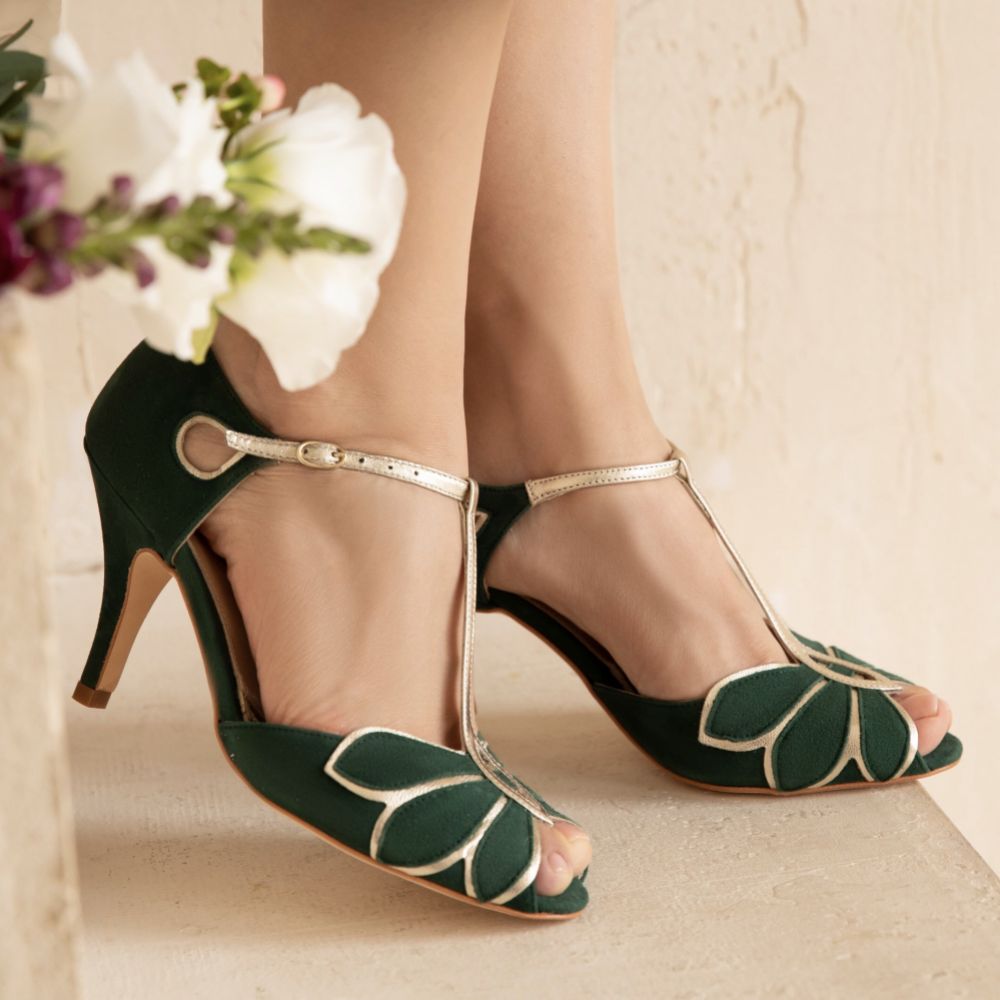 Even if you are not opting for a forest venue to go with your green theme then do not think forest green is out of the question. Forest green is a fantastic way to spruce up your colour palette. The richness of forest green adds an extra element of elegance, and we love adding this extra touch of class in bridal footwear. What better way to style out in your green theme wedding than with a pair of shoes that evoke pure luxury. That is why we adore this pair of forest green suede vintage t-bar heels, which are also a great option if you are a vintage type of girl! And with the gorgeous addition of the oversized petal design, they are in keeping with a floral theme as well!
IN THE BAG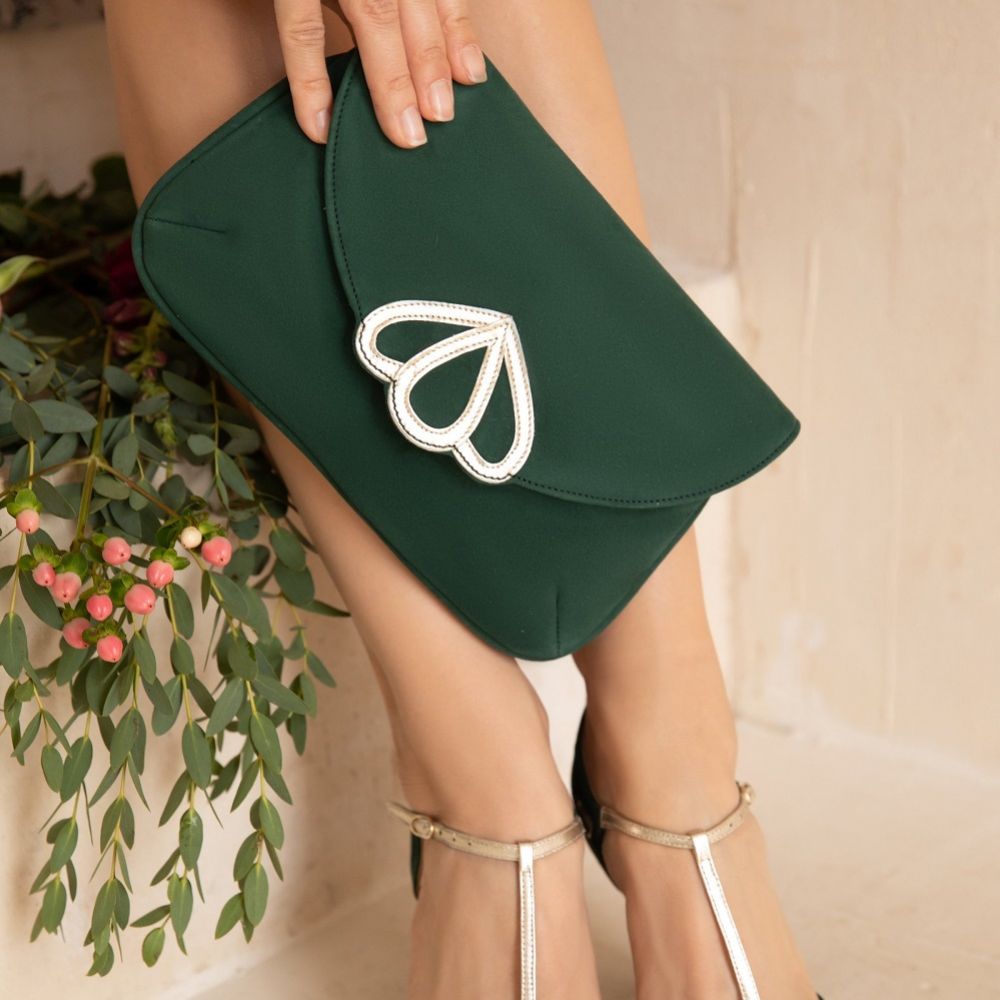 Now you are getting your colour theme down we can move on to the accessories that will make your bridal look pop even more! Choosing complementary accessories and opting for unique additions to your look will make you stand out from the crowd. And it is a great way to make your day your own by stepping outside an all ivory day! And what better way to do it than with the glorious forest green suede clutch bag which is the perfect match to the aforementioned forest green suede vintage t-bar heels. It is a match made in heaven!
CALLING ALL THE GIRLS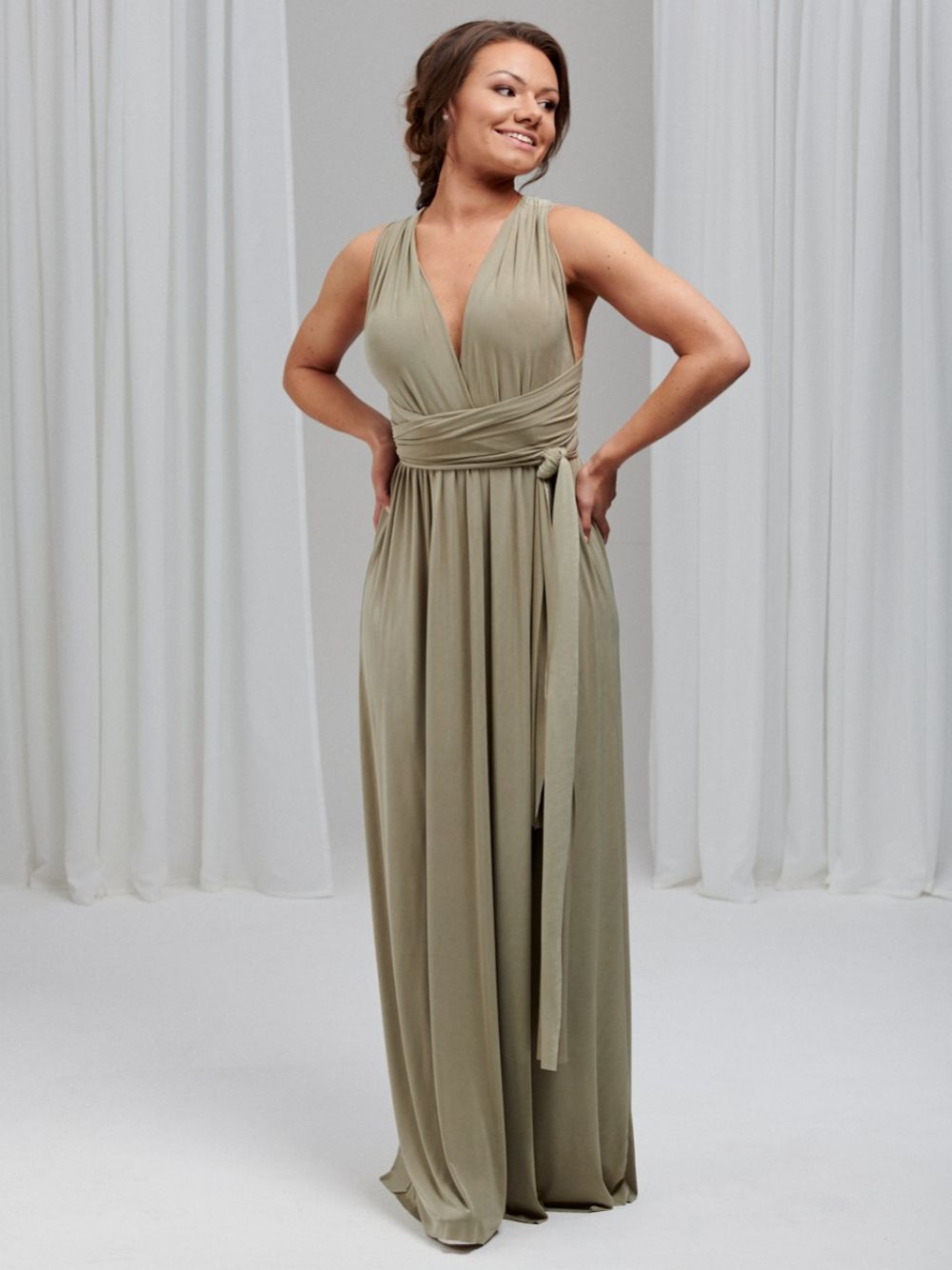 When it comes to choosing bridesmaid dresses it is easy to get overwhelmed by all the options out there. But a nice and easy way to narrow your choices down is by reflecting your colour theme into your bridesmaid's dresses. So, if you have chosen all green flowers, plants and decor, it is a lovely way to complement your bridesmaids. By having green dresses, will tie your colour theme together. And if you are looking for green bridesmaids dresses then we can answer your call! This beautiful sage green multiway bridesmaid dress adds a stunning burst of colour whilst also remaining subtle to make sure your dress is the star of the show! And the best thing about this dress is all your bridesmaids can wear it in their own unique way so they can inject their own character into their style!
GETTING OR-GREEN-ISED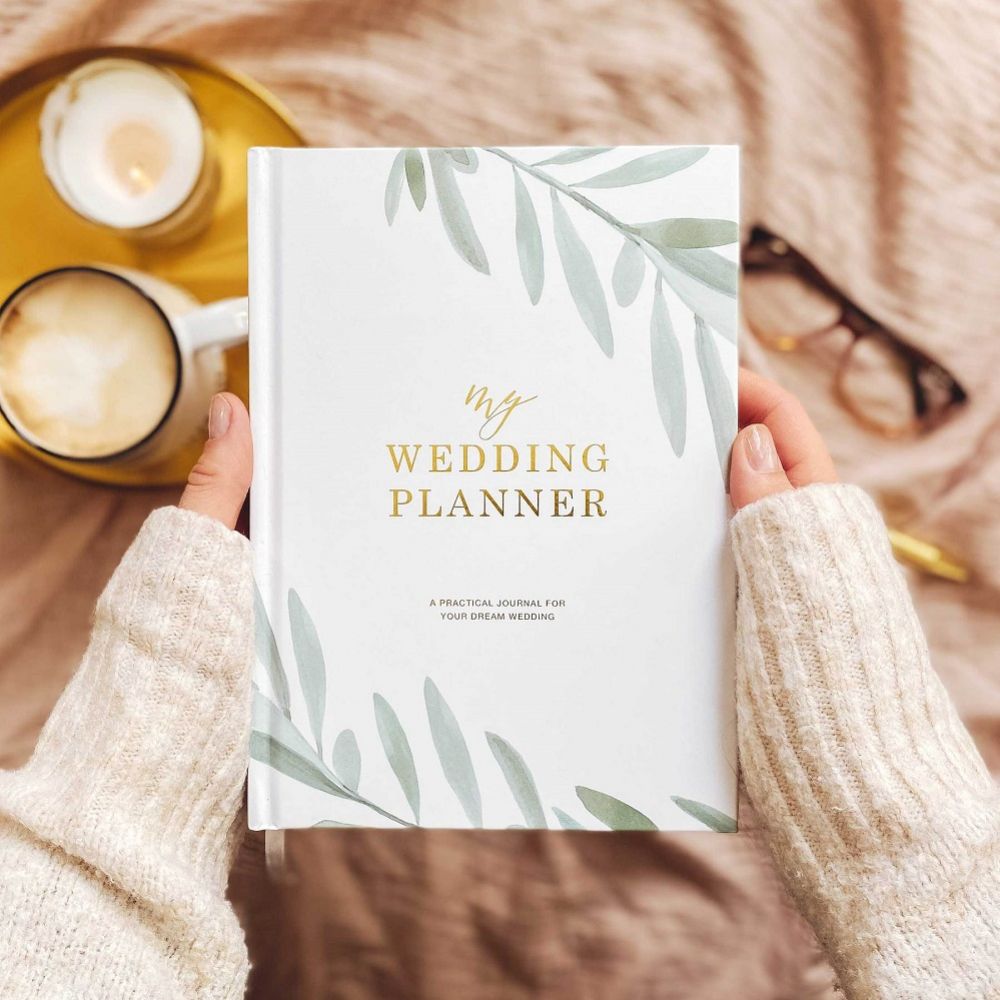 Best get started as you mean to go ahead and dive straight in with your wedding planner matching your chosen theme! And if that theme is indeed green then we have got you covered with this eucalyptus luxury wedding planner which will keep all your planning in order! This will also be a great keepsake for after the big day to look back on and hopefully think it was worth all the stress!
LEANING TO GREEN?
We hope that we have opened your eyes to all the green options out there. If you are thinking of either a green theme wedding or simply want to make your bridal look pop with a bit of colour! Adding some green is also a great idea if you are planning an eco-friendly wedding day or even offering plant or tree seeds as wedding favours. When it comes to colour, your options are endless and the most important thing is that you have fun with it! When it comes to designing your day, one tip to make it the day you have dreamed of is to include everything that will make it distinctively your own. Then you will never fail to make a day you are proud of and can look back on for the years to come!
BROWSE YOUR GREEN THEME WEDDING HERE AT LACE & FAVOUR
So, whether you are looking for a gorgeous green number for your bridesmaids or eyeing up some glorious green jewellery then have a browse at Lace & Favour where we have a glamorous array of all things green! So make all your guests green with envy and get planning your big day!