Love Heels, Love Freya Rose Shoes!
For brides with a passion for fashion, look no further than our exciting range of Freya Rose shoes, a new take on bridal footwear, where vintage meets high end fashion for today's stylish bride. With signature styles featuring opulent Mother-of-Pearl heels and many lace-up designs, Freya's shoes are the choice of celebs here in the UK and worldwide.
Featured below are the exquisite Empire embellished heel courts.
Lace & Favourites!
Calling all high heel lovers! Take a look here at our favourite styles from the fashion-led collection by Freya Rose London. All Freya's shoes are exquisitely handcrafted from the finest materials, and are leather lined with leather soles. A real investment for your feet with memory foam cushioning on the inside for maximum comfort, with outstanding good looks to match.
You can see from the Besina shoes pictured here how cleverly these courts blend from a classic lace wedding shoe, into a sexy stepping out shoe, and that's the beauty of this entire collection!
Leather & Lace
For the ultimate in bridal fashion, we have chosen two open toe summer styles. The Tania sandals are an idealic blend of leather and lace. With those signature leather ties to flatter your feet and ankles, you will be looking super hot whilst your feet are cool for your summer wedding. For beach weddings and soft surfaces, the Felicity wedge sandals are a practical choice! Beautifully handcrafted from French caurdry lace and the softest ivory suede, complete with comfortable ankle ties.
Step Out in Style in Chandelier
Let's look back for a moment at one of Freya's original designs, the Chandelier court shoe, which comes in satin for the classic bride and options in suede and leather for anyone who likes to change or party! This sophisticated court shoe is heavily embellished with Swarvoski crystals across the front, and is the ideal choice for brides searching for a modern day satin shoe with bling. The Chandelier shoes come in ivory satin for the more familiar bridal look, and blue for that 'something blue' tradition. The silver leather Chandelier shoes can be worn for your wedding, or as occasion or evening shoes. We love the black suede version too, definitely a forever shoe – and a great addition to every girls wardrobe!
Tie-Up Sandals
If you're looking for an open toe wedding or occasion shoe with glitz and glamour we think you will love these! The Freya Rose Helena sandals come in two choices – plain or with an embellished front strap. In pearlised silver leather, the beaded version of the shoe is a bridal delight and a must-have. The heavily beaded front strap will frame your foot and the pretty leather ties provide added style and security. The mirrored silver Helena shoes would make an attractive wedding shoe, but these are also anytime shoes, seen here worn as smart casuals with jeans. Great for your honeymoon ladies!
Mother of Pearl
We are totally in love the Micola shoes, and why wouldn't you be? Featuring the Freya Rose signature Mother-of-Pearl block heels, these shoes are guaranteed to get you noticed. In shimmering champagne suede, these shoes make for a more unusual bridal shoe but oh so practical on grass, sand or gravel surfaces. Certainly one to consider because we do need to think about these things don't we?! Also available in black suede, for a going out shoe to die for, plus an open toe version called Marte.
Bootie Beauties!
Stiletto lace booties, vintage-inspired with a high fashion edge. Wedding shoes with attitude I would call them, and a fantastic example of old meets new! Meet the gorgeous Tabitha and Victoria. Each created by Freya Rose for brides who love the vintage look, but have to have their heels! In a mix of ivory lace and leather, these elegant bridal booties will be admired by all your guests. Both designs feature pretty slender leather ties, so practice your bow tying for your special day.
Red Hot Heels
I cannot leave you without a snapshot of these, so be sure to pack a pair of the red suede Michaela shoes for your honeymoon. You don't need anything to match – these shoes stand alone, and will certainly turn heads on your newly wed journey. Have fun!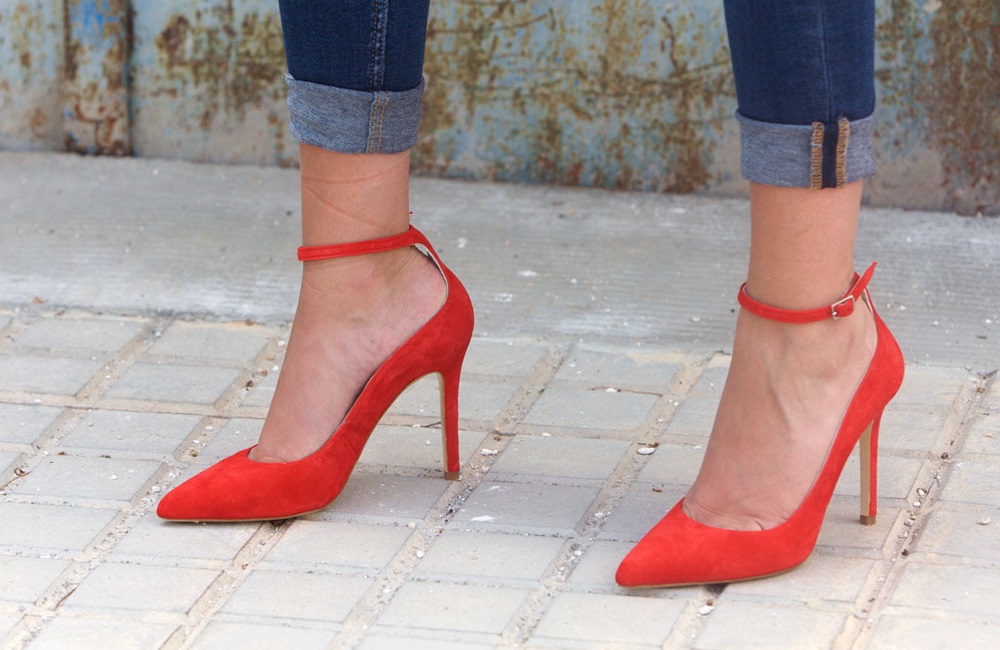 Shop the beautiful Freya Rose shoes online or visit our pretty boutique and try on to your heart's content!
Love Andrea x