Multiway Bridesmaid Dresses - How To Wear
New in at Lace & Favour for 2020, a stunning range of on-trend multiway bridesmaid dresses. In lots of fashionable shades with endless styling possibilities, these versatile maxi dresses are fast becoming the go to choice for today's carefree bride.
How To Wear Multiway Bridesmaid Dresses
We love our brand new collection of multiway bridesmaid dresses and we know you will too. Super comfy and infinitely feminine, you can twist, wrap, and tie to your hearts content, and create a style every bridesmaid will adore. Discover why our divine collection of multiway dresses are stealing the show…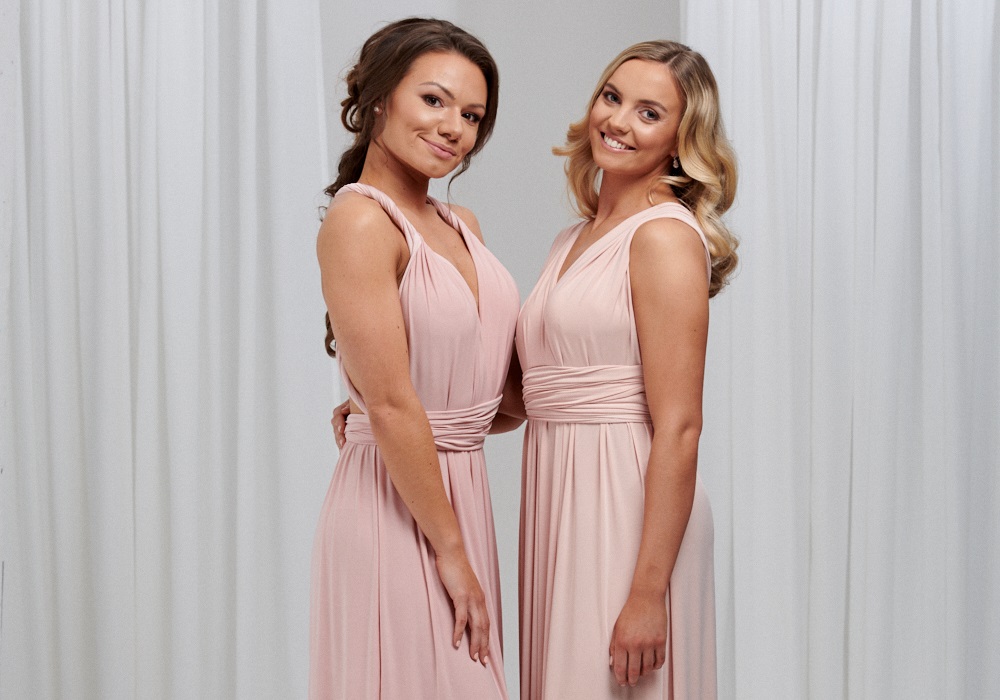 Made in England
You will be pleased to know our multiway bridesmaid dresses are manufactured right here in the UK. This means you can be confident that the quality of our collection is second to none. Made from a unique super soft slinky fabric, you will not find a more comfortable bridesmaids dress anywhere.
Budget Friendly Bridesmaids
These fantastically versatile multiway dresses come in three sizes, and glorious colours too. At just £99 each you can't go wrong, which means you can have all your friends as bridesmaids without blowing the budget! Your options are endless with these easy to wear multi-way dresses, and here's why.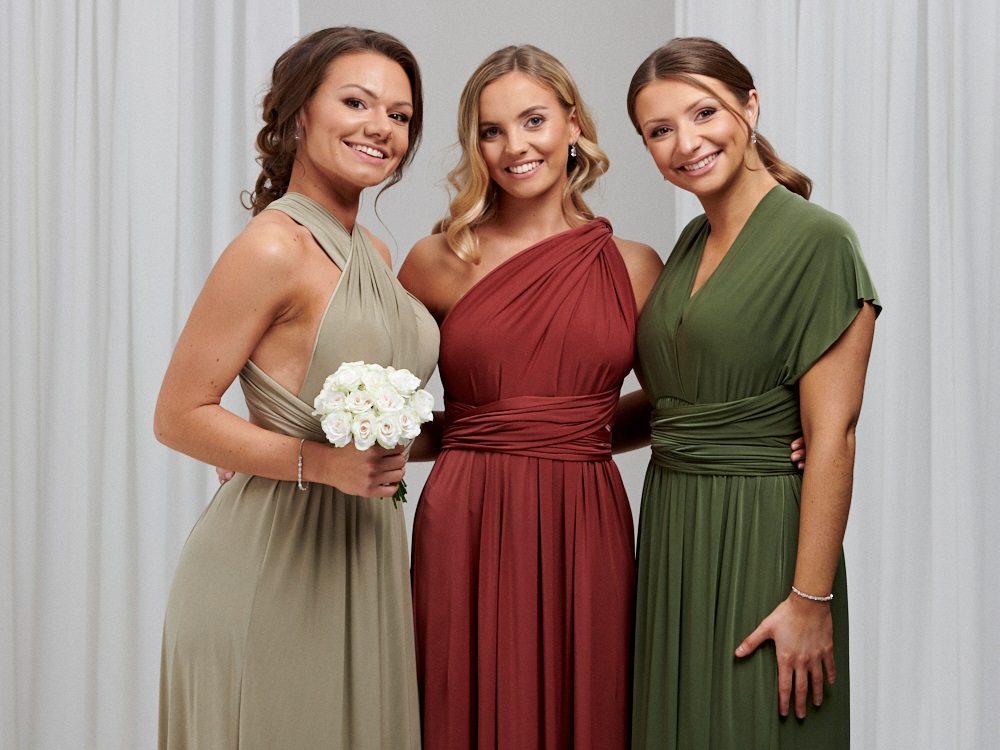 Heavenly Colours
Whatever your colour preference, every one of our multi-way dress colours are absolutely gorgeous and on trend. Whether you choose a single colour or a blend, you are spoilt for choice with our carefully chosen range of this season's most popular shades. Multiway dress colours can be mixed and matched to spectacular effect, resulting in some memorable photos! But just as importantly, you can be sure all your bridesmaids will all feel a million dollars in a colour they love.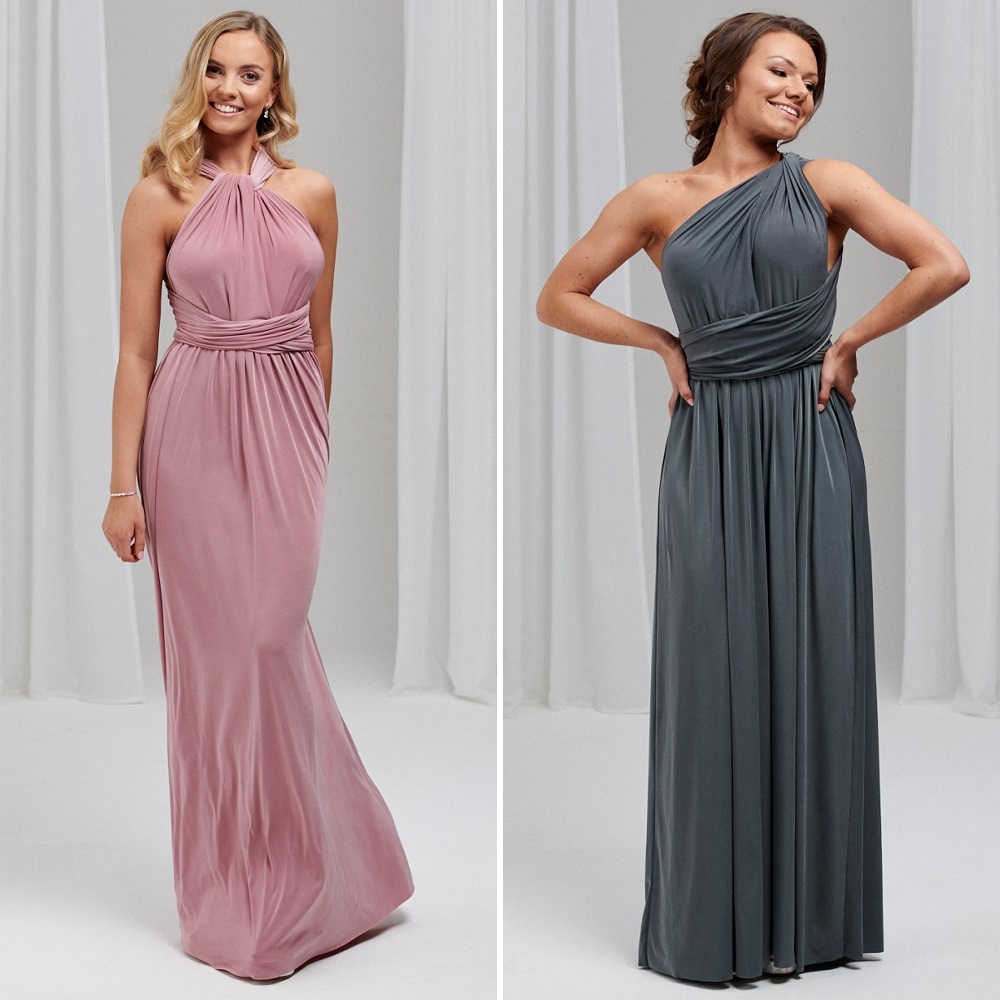 Twist & Wrap
Multiway dresses can be twisted, wrapped and tied to create countless different styles limited only by your imagination. You can wear as a halter neck, sleeveless, strapless, cap sleeve, you name it, these clever dresses have it all going on. Try a multiway dress today and see for yourself how much fun you can have with them. You can style every one in a different way to suit each bridesmaids size and shape.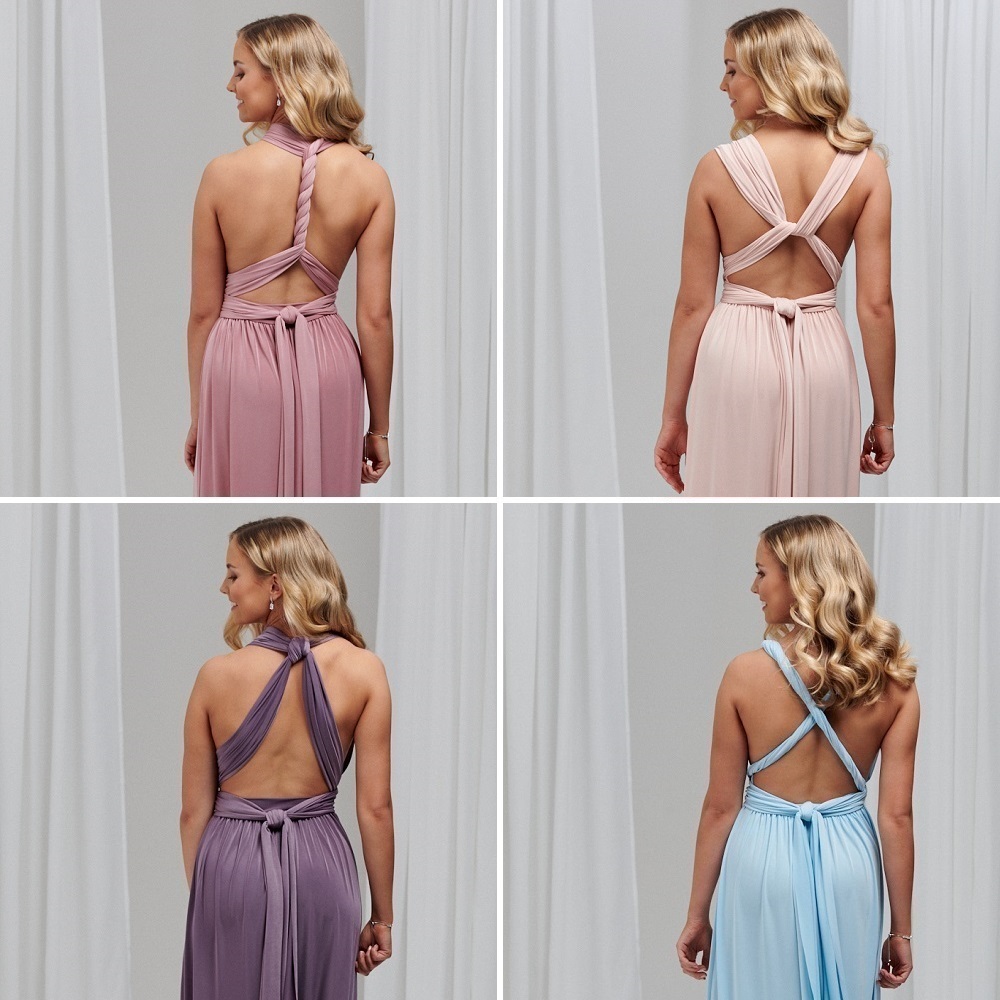 Boobilicious Bandeaus
For bridesmaids with a more ample bosom, you can choose to add a bandeau for added comfort and security. Simply pop on the bandeau on and tie the straps over, ta dah!! If a bridesmaid still wants to wear a bra, there are endless ways to style a multi-way dress so you would never know!
Belts & Bows
The super long straps not only form the top of your dress, but also the belt. You can create a twisted belt, a wrapped belt, or even some more complicated knots! Leave the sash tails to drape, or tie in a bow, at the side or at the back – so many possibilities, so many looks.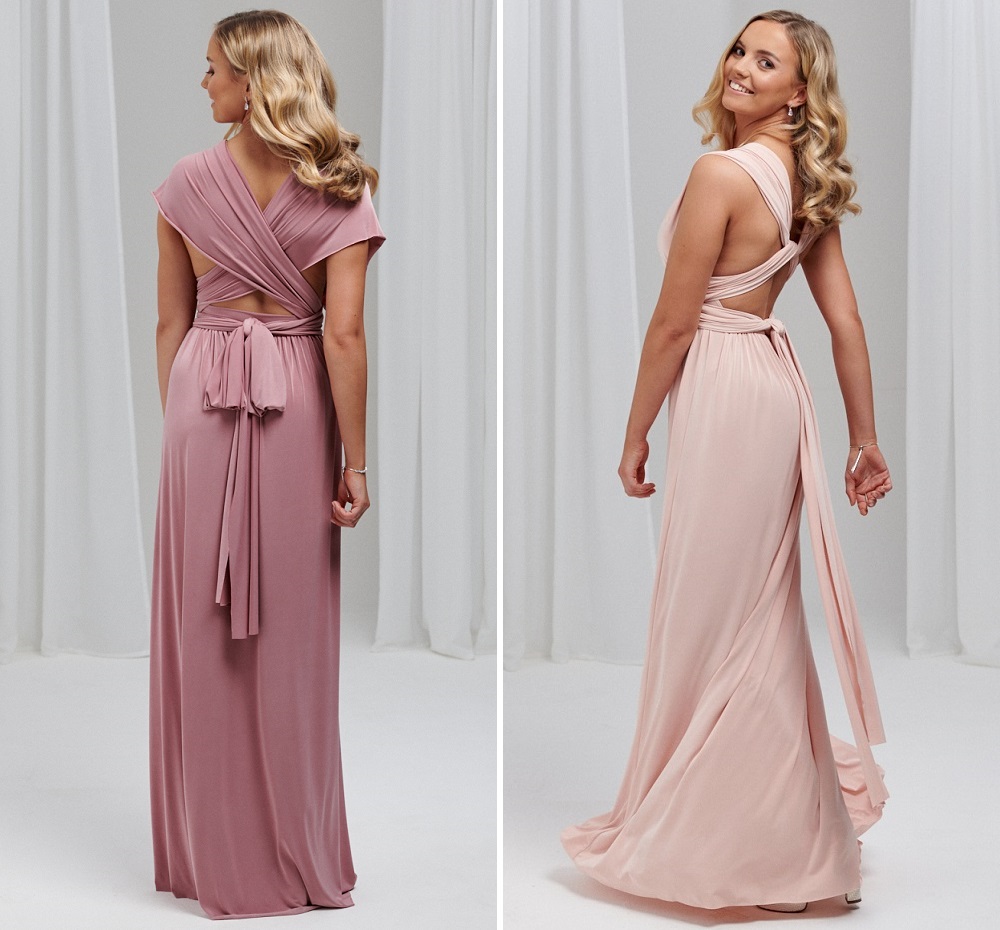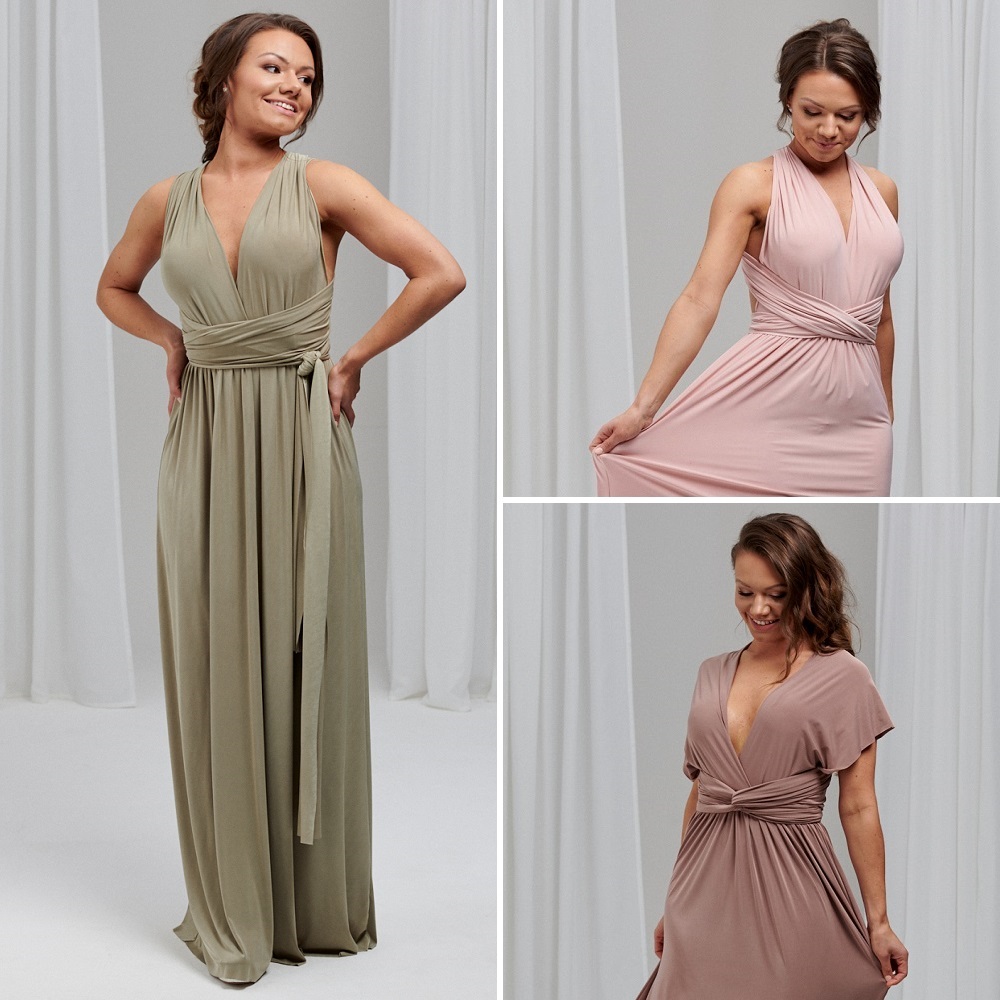 Seasonal Inspiration
Perfect to reflect the mood of the season, our multiway dress colours can be combined and blended to maximum effect. Choose pretty dusky pink and pastel bridesmaid dresses for a spring or summer wedding and deeper shades for autumn and winter. One single colour is more the more traditional choice, or for the modern bride a blend of carefully chosen colours. Our olive green bridesmaid dress is proving to be ever so popular for 2020!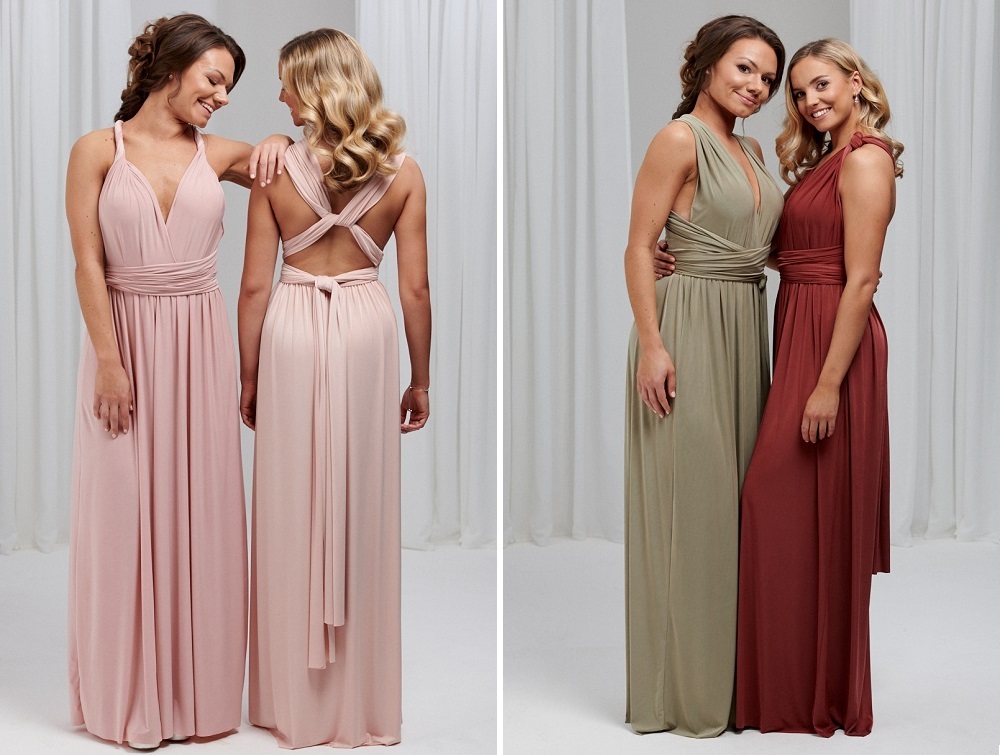 Photo Friendly Dresses
The fabric of the multiway dress has a beautiful draping quality, and will move effortlessly every time. Silky smooth and oh so comfy, your multiway bridesmaids will swish and swing all day long. You can rest assured these dresses are extremely photogenic, and will not disappoint on your big day.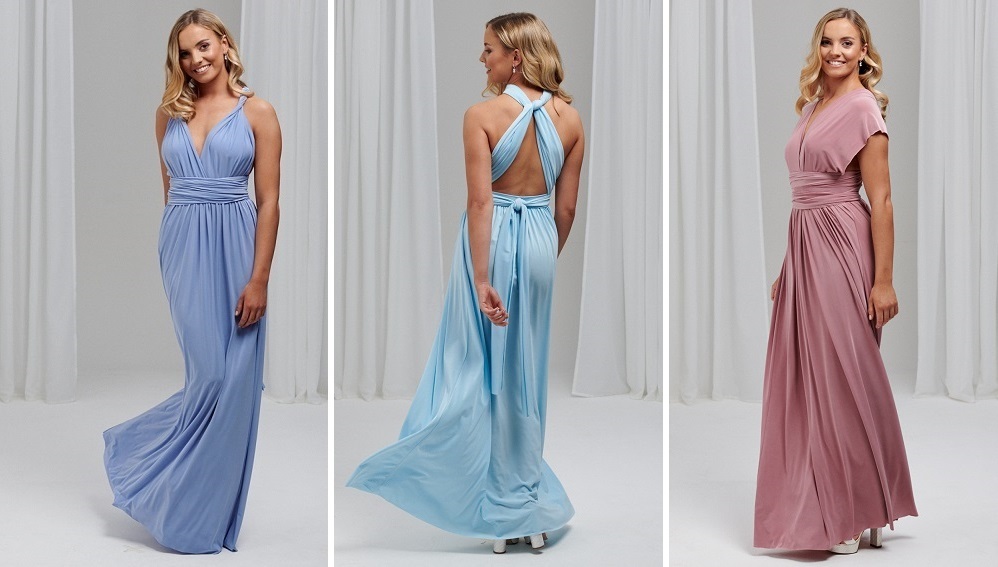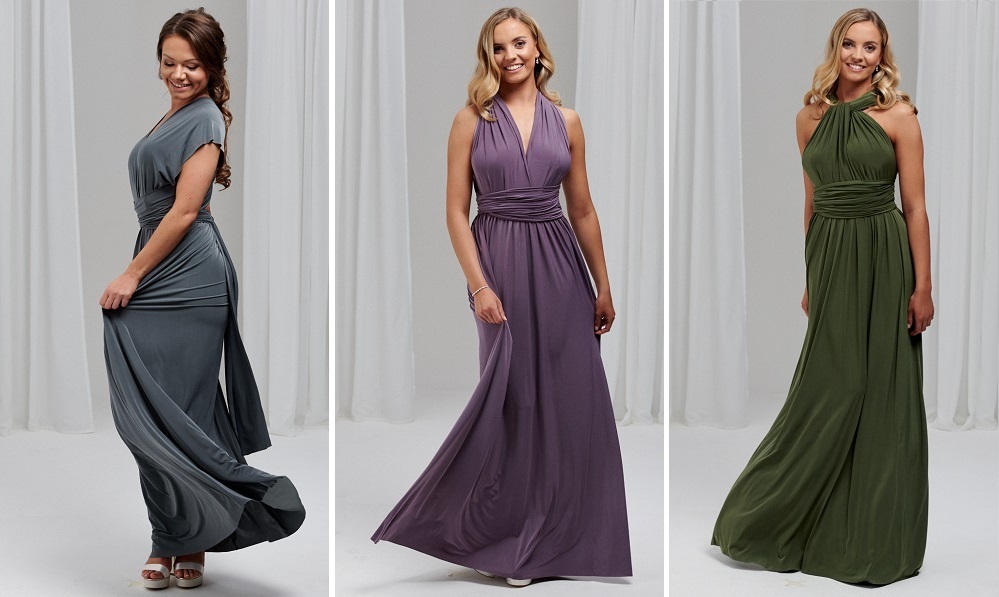 Pack & Go
Crease resistant and easily packed, multiway bridesmaid dresses are the number one solution for destination weddings. Simply pack and go, and hang on arrival. No fuss, no creasing, these are no nonsense dresses. And if anyone adds a few pounds in the sun before the big day – it's still going to fit! Accessorise with our statement wedding earrings and sparkling hair combs to complete your bridesmaid look.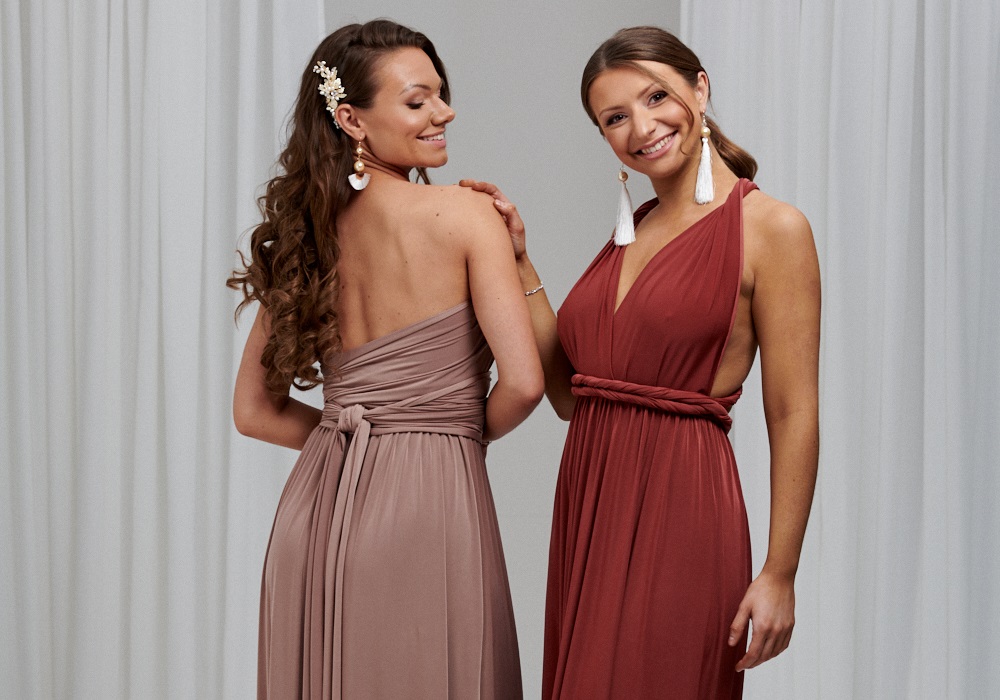 Baby Bumps
Any expecting bridesmaids will be pleased to discover all their worries are over. These make ideal maternity bridesmaid dresses, as the waist can be lifted and worn as an empire line style. Every multiway dress is super soft and very stretchy, and can be ordered in well advance just like any other dress.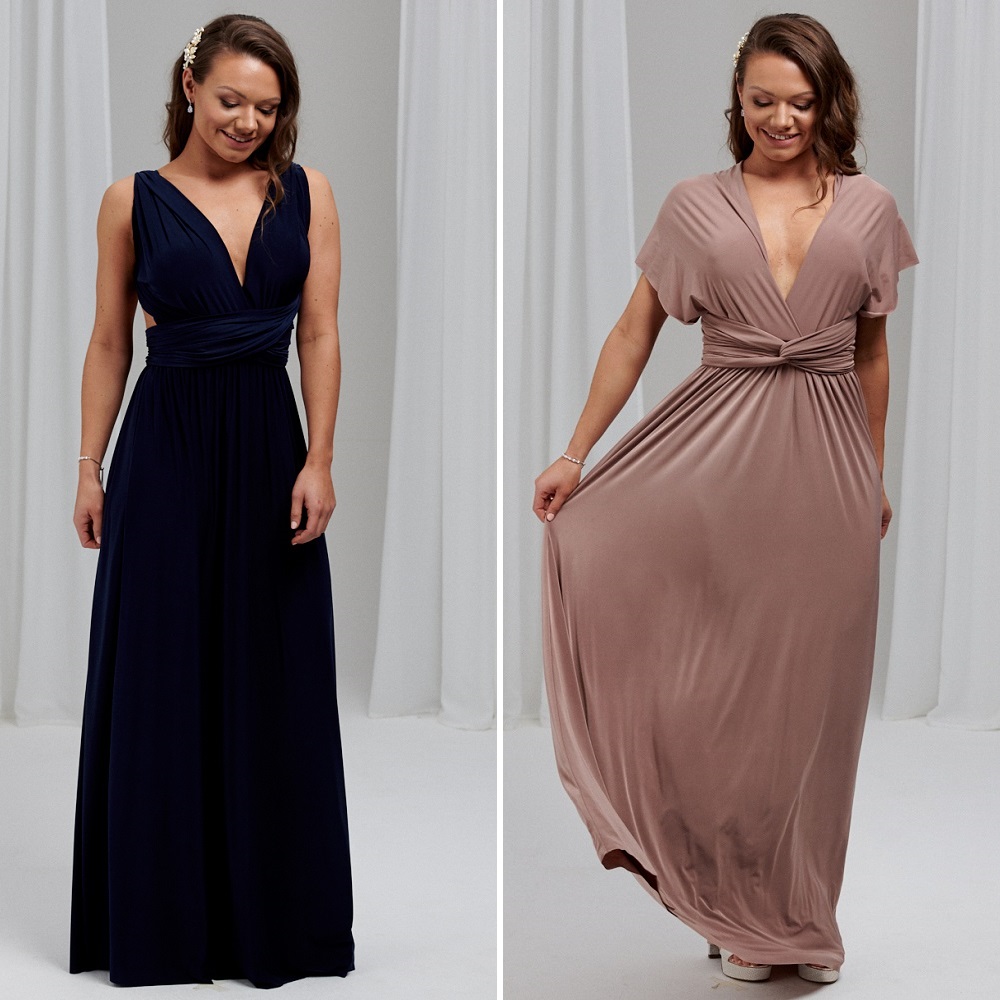 Every girl loves Lace & Favour Multiway…
Guaranteed to suit every possible size and body shape, the Lace & Favour range of multiway, twist and wrap dresses are the answer to every bride's prayers. Shop now for your multiway bridesmaid dresses and complete your perfect day, the only way.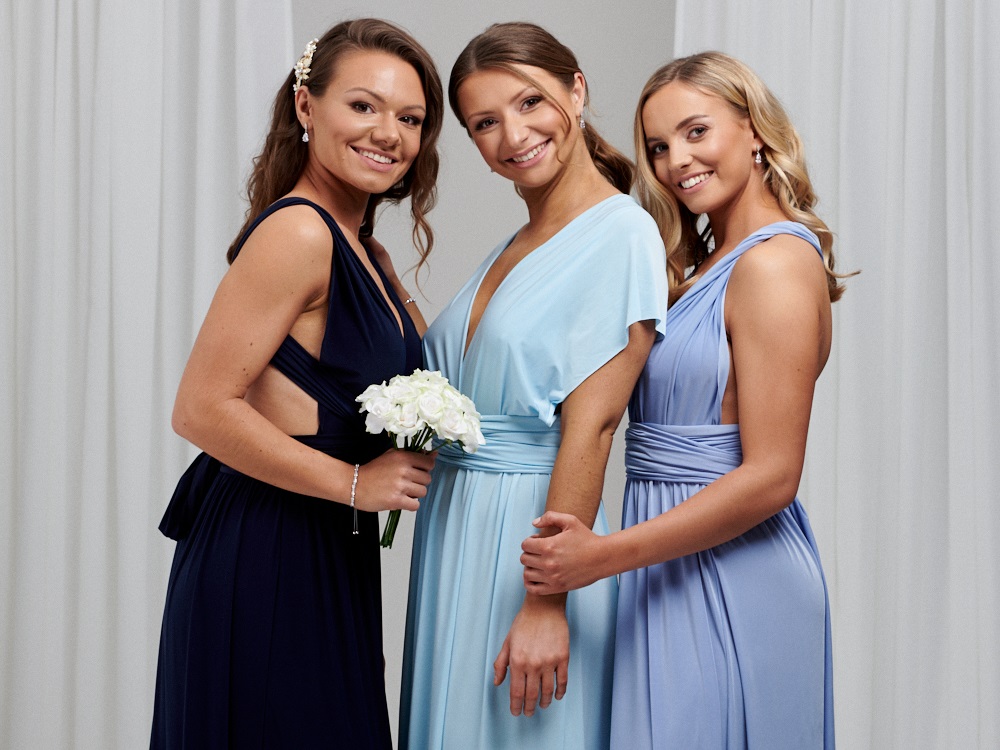 Complete your look with our beautiful range of bridesmaid hair accessories and bridesmaid shoes.
Andrea x