Our Favourite Summer Ready Wedding Sandals
Summer Ready Wedding Sandals
Summer is here and so are the sandals. They're our favourite kind of wedding shoe as they're so versatile and there is plenty of choice for even the pickiest of toes amongst us! Choosing a pair can be tough so here is a round-up of some of our most popular styles so you can see for yourself and find out which pair are most suited to you…
For The Comfort Lover
Nothing quite says comfort like a block heel. You get all the perks of a gorgeous pair of heels, but without having to train your feet for the occasion. A block heel gives you more stability and that almost makes them sound sensible, but these are a far cry from that. Satin and pearl, delicate yet striking, we adore these new Clara sandals from the Rainbow Club SS21 Limited Edition Collection, and with a padded lining too, you will be hitting up that dance floor all night long.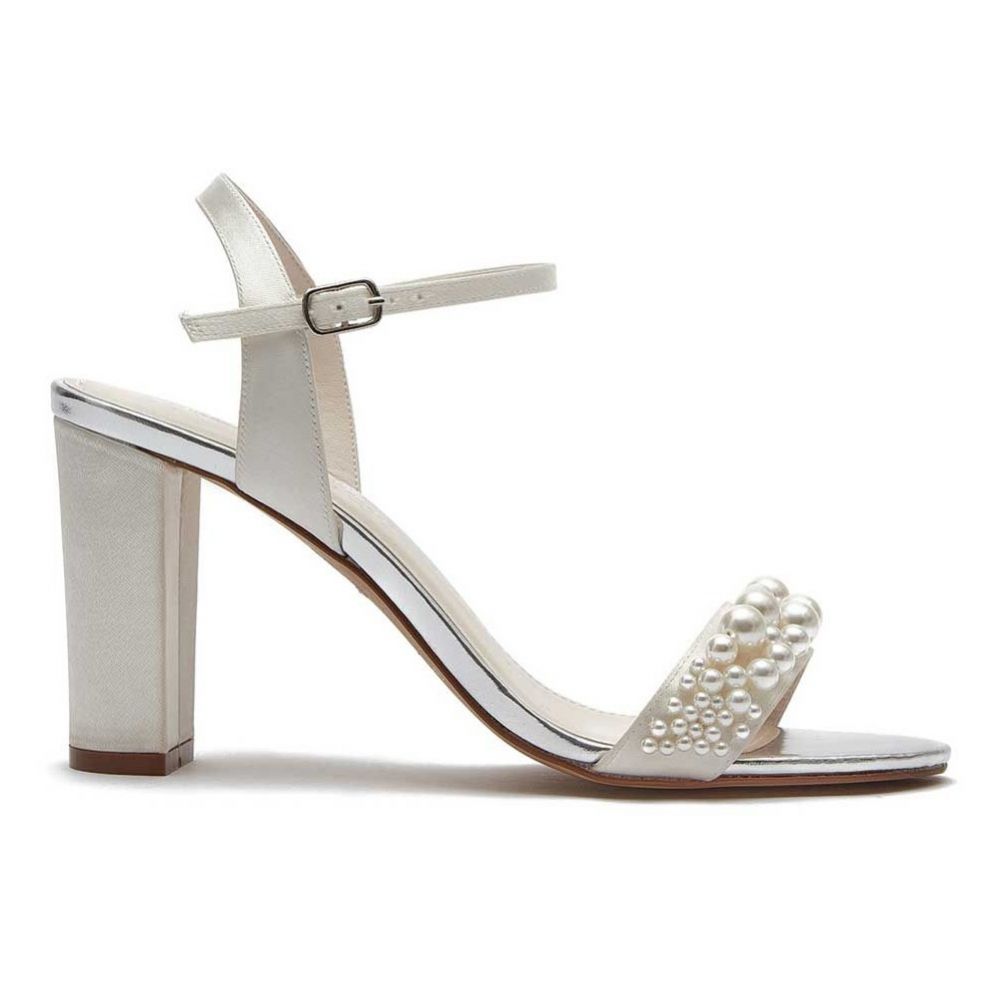 For The Disco Dancer
Platform perfection, these shoes are made for walking, dancing, loving and laughing. If you're looking for a pair of sandals that defy the norm and put a fresh spin on wedding shoes, these ones by Freya Rose are the option for you. Jewelled with a genuine mother of pearl mosaic design on the heel, memory foam built into the soles and a whole lot of character, they're the perfect shoe for those wanting to take a spin on the floor and then some.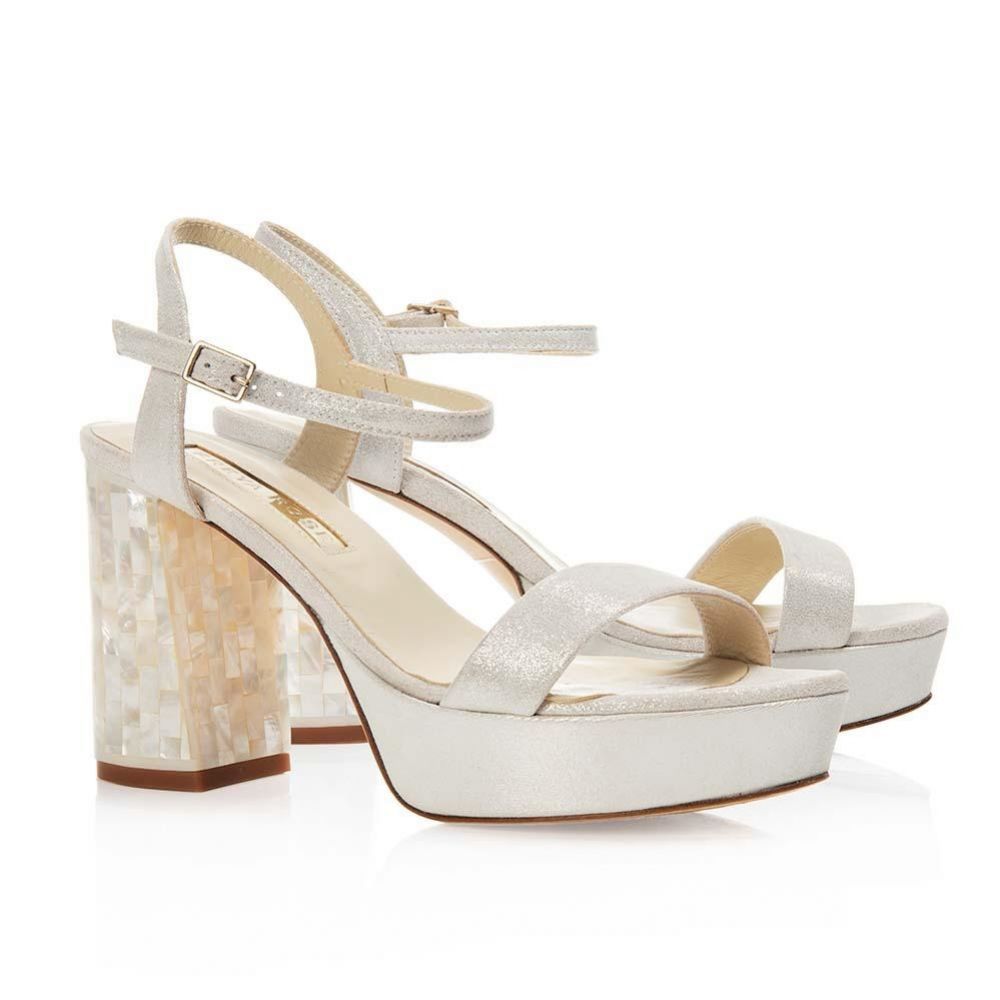 For The Classy Yet Understated Bride
Satin and lace finished off with a delicate tulle bow, we have fallen head over heels for the Kennedy Ivory Satin and Embroidery Lace Sandals by Perfect Bridal. These sandals are what dreams are made of and the statement shoe you need. Featuring a slender heel but with plenty of comfort built into the sole, they are as delicate as they are classy, and will have you on your feet all day long, the perfect pairing to a tulle-skirted dress or even something more understated if you want to let the shoes do the talking.
Available to pre-order now - week commencing delivery 30th August 2021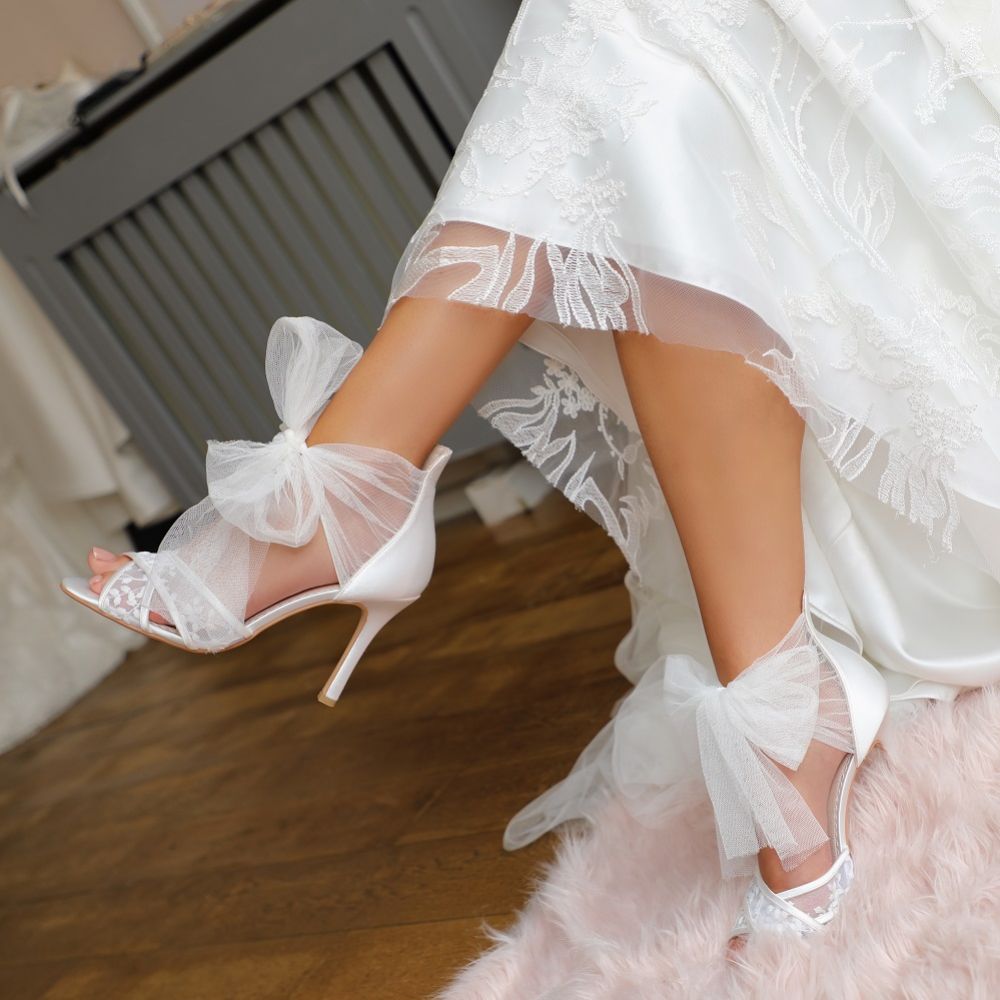 For The Heel Hater
Not everyone is a fan of heels and if you prefer to be lower down to the ground, these delicate Boho inspired sandals are just the answer! Despite being flat by design, there is nothing boring or ordinary about these, with lace detailing and gorgeous straps to keep them secure all day and all night long.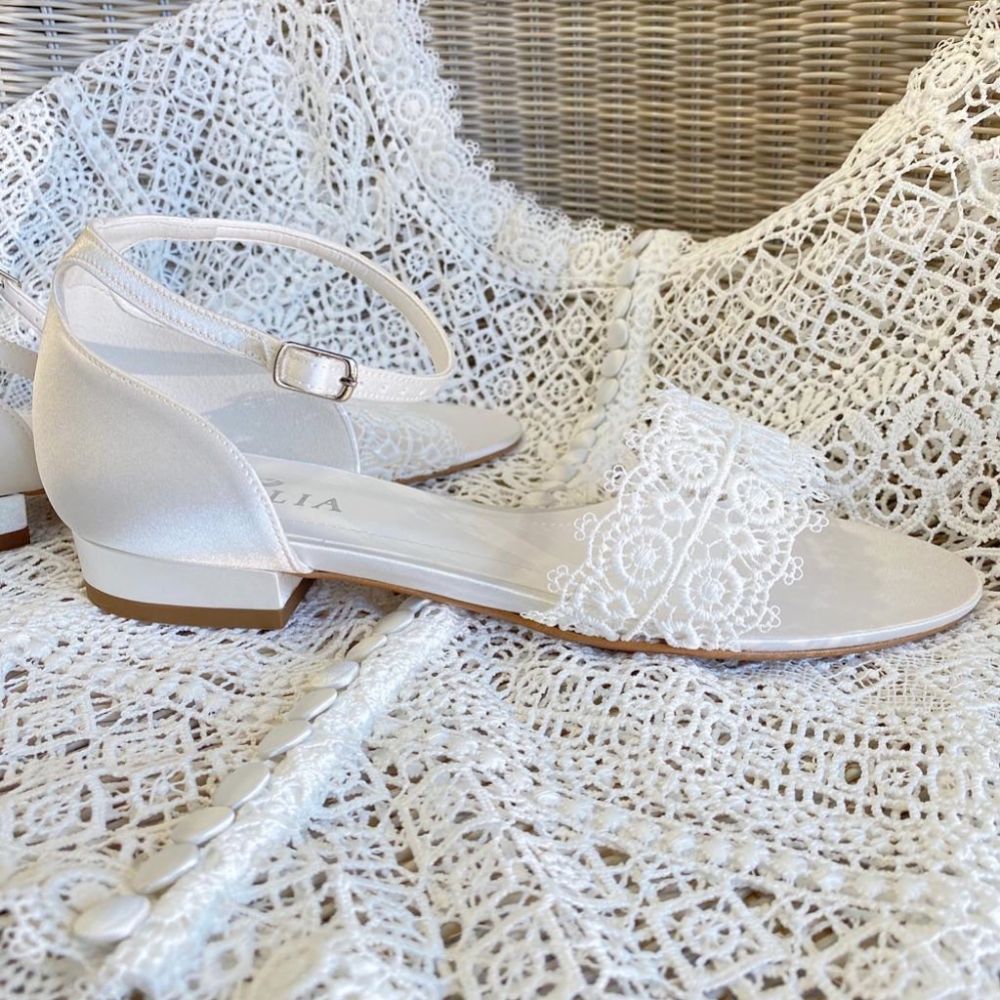 For the Woodland Wanderer
An espadrille perfect for rustic scenes and outside ceremonies, Bahia has been designed to be perfectly comfortable and effortlessly gorgeous at the same time. Made from high-quality satin, boho lace and stylish rope, they are the perfect combination for your boho-themed wedding.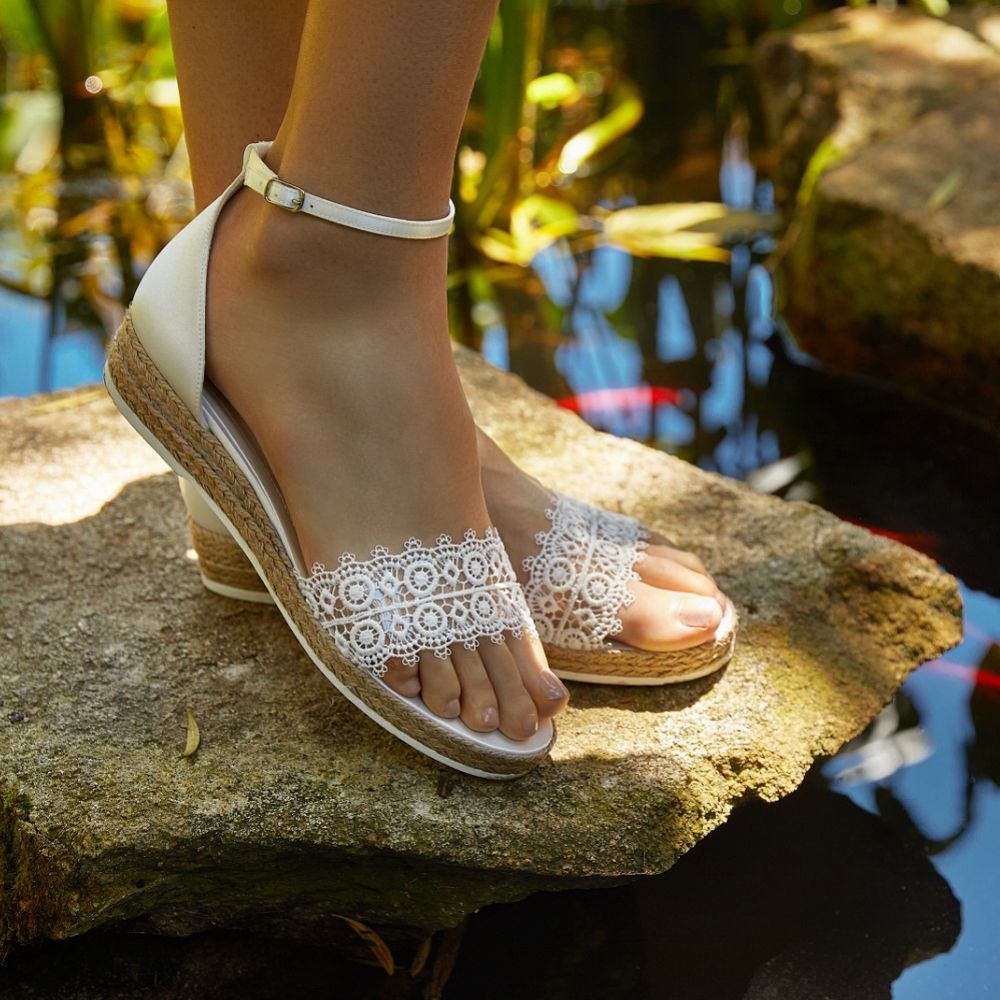 Things To Consider When Shopping For Your Bridal Shoes
If you are still stuck between a few designs, there are some things you might want to consider when shoe shopping for your big day…
What Kind of Shoes Do You Usually Wear?
You need to consider what kind of shoes your feet are most used to. This is because you will be wearing them for a long time and will be on your feet for most of the day. While you have the option of kicking them off in favour of something more comfortable, you want to be able to keep them on and show them off as part of your look. Think about if you're used to wearing heels and whether or not you need to squeeze some practice in beforehand.
How Long Will You Be wearing Them For?
If it is an evening affair then you might be okay wearing something unfamiliar for a short period of time. But if you're arriving at seven in the morning with a view to dancing around the clock, you may want to reconsider your footwear choices!
How Much Would You Like to Spend?
Budget is always a good thing to consider as well, as some pairs of shoes can end up quite pricey. A lot of brides tend to spend a little bit more if they know they are going to keep them as a memento, or maybe get some more wear out of them at a later date. Either way, consider how much you want to spend and this will narrow the search down for you.
Where Are You Getting Married?
Stilettos in a field are a recipe for disaster, but if you are opting for outdoors, a set of heel stoppers may just be your saviour, you can grab some of those here!
Stoppers aside, think about where you are going to get married and whether or not your shoes are going to stand up to the test and the terrain!
Find Your Dream Wedding Shoes with Lace and Favour
At Lace & Favour, we have quite an extensive wedding shoe collection, designed with every bride in mind with plenty of styles to choose from. From stylish sandals to wedges, platform shoes, court shoes and even wedding trainers, you'll find beautiful designer shoes for your big day online. Shop the range now with Lace & Favour.