Pairing The Perfect Colours
When you are organising your wedding, one of the most asked questions is always, "What Is Your Colour Theme?". And while many people will opt for either a seasonal colour theme, such as reds and greens around Christmas, or look towards their favourite colours, some are wondering where to go.
If you're too spoilt for choice, why not consider a classic pure white wedding? Or maybe even keep it simple with a subtle hint of blue or even the finest ivory you can find?
Deciding on your colour scheme is certainly one of the biggest decisions you can make. So take your time, take some inspiration, and make the perfect choice for your big day.
White Wedding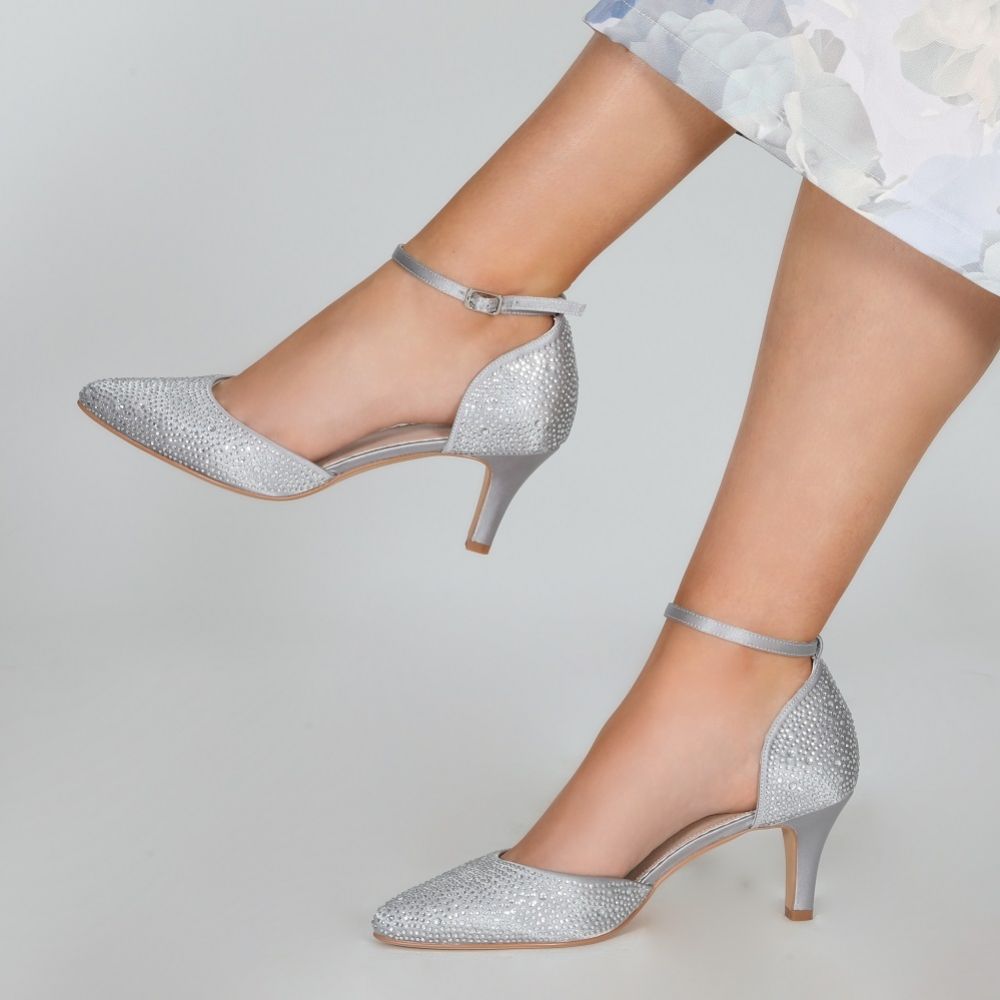 A white wedding is the most classic of all wedding styles. It's simple, it's elegant, and most of all, white goes with anything!
While a white wedding itself isn't that unique, there are so many choices to make, that you will never have two white weddings the same. From your white wedding dress to your veil, your perfect white wedding shoes, and all the accessories in between.
White wedding shoes are certainly the perfect choice for many brides, especially those who want to keep their day as pure white as possible. However, a trend that's caught many white wedding fans is pairing your white dress, with a stunning silver shoe.
Silver shoes finish off the look by adding a touch of shine, or maybe even a spot of sparkle with the right shoe. Our favourite silver is the Perfect Bridal Xena Silver Crystal Embellished Wedding Shoe.
Accessorising With White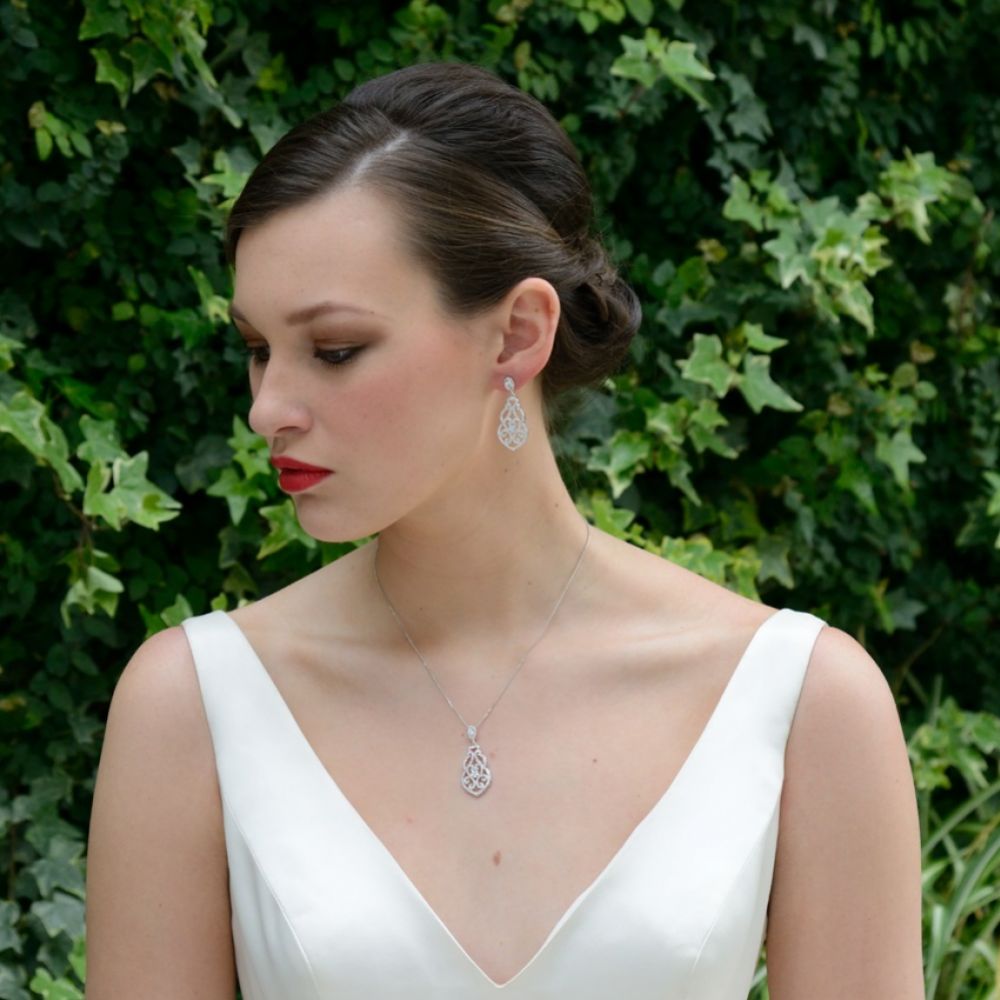 When it comes to wearing your dream white wedding dress, there is nothing more important than finding the perfect accessories that will not overshadow it, but still, add the perfect amount of style. This is why many beautiful brides shy away from pure white accessories and head to silver instead.
Silver wedding jewellery is a great way to add that bit of something your white wedding needs, For the vintage glamour, we adore the Ivory And Co Sorrento Vintage Crystal Drop Earrings. These stunning wedding earrings can be the finishing touch to any style of wedding, not just vintage weddings.
Your Something Blue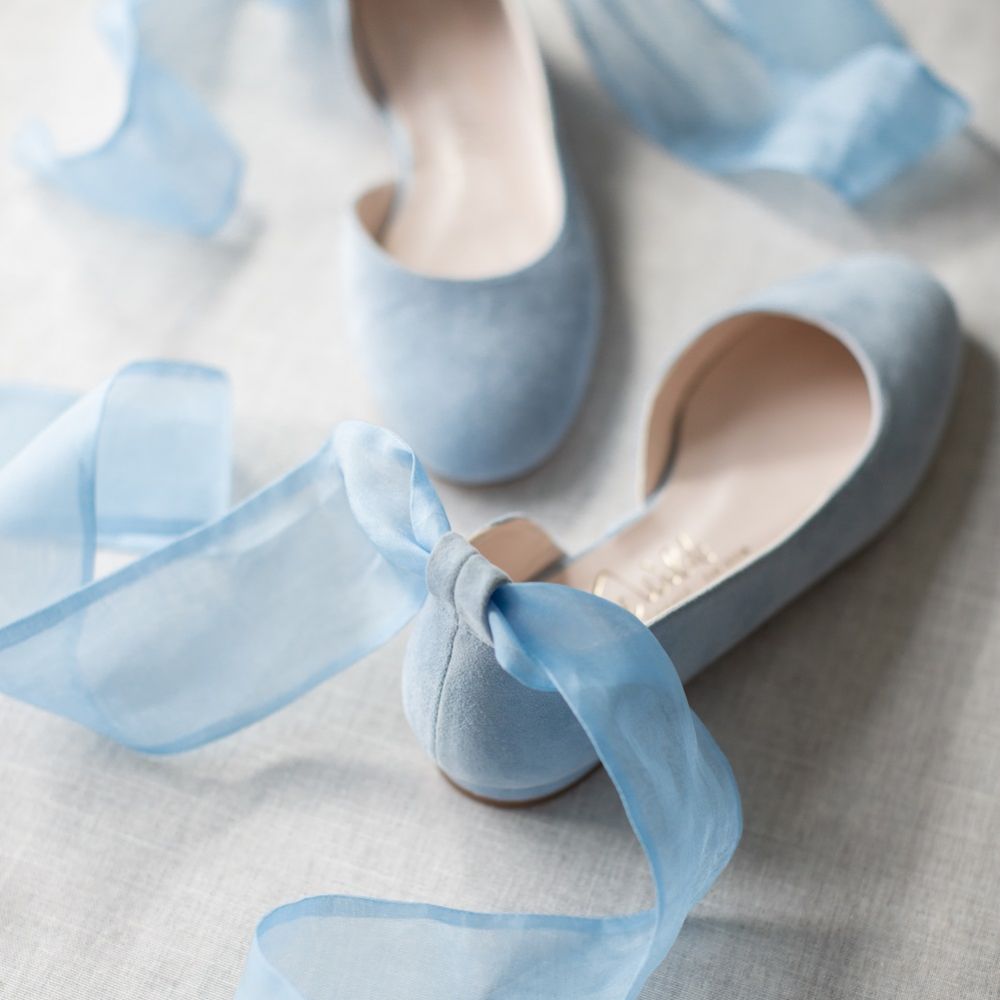 Something old, something new, something borrowed, something blue. A slight twist on the classic white wedding is to add your subtle hints of blue, allowing you to capture both your something new and your something blue.
Blue wedding shoes are a popular choice when adding a touch of colour to your big day. Our favourite flat wedding shoe is actually blue! The Harriet Wilde Hetty Flat Blue Suede Ballet Pumps is the perfect blue, with a stunning feminine bow to complete the look! And if you are looking for a wedding heel, they are even available with a nice block heel!
There's a little something else that many brides have as their something blue, the garter. A traditional blue garter is a nice way of adding that touch of blue, without it being outwardly in your face.
All that needs to know is you and your beloved. Our favourite is the Purity Blue Delicate Lace Wedding Garter, with its simple lace design, and finishing touch with a pearl.
The Finest Ivory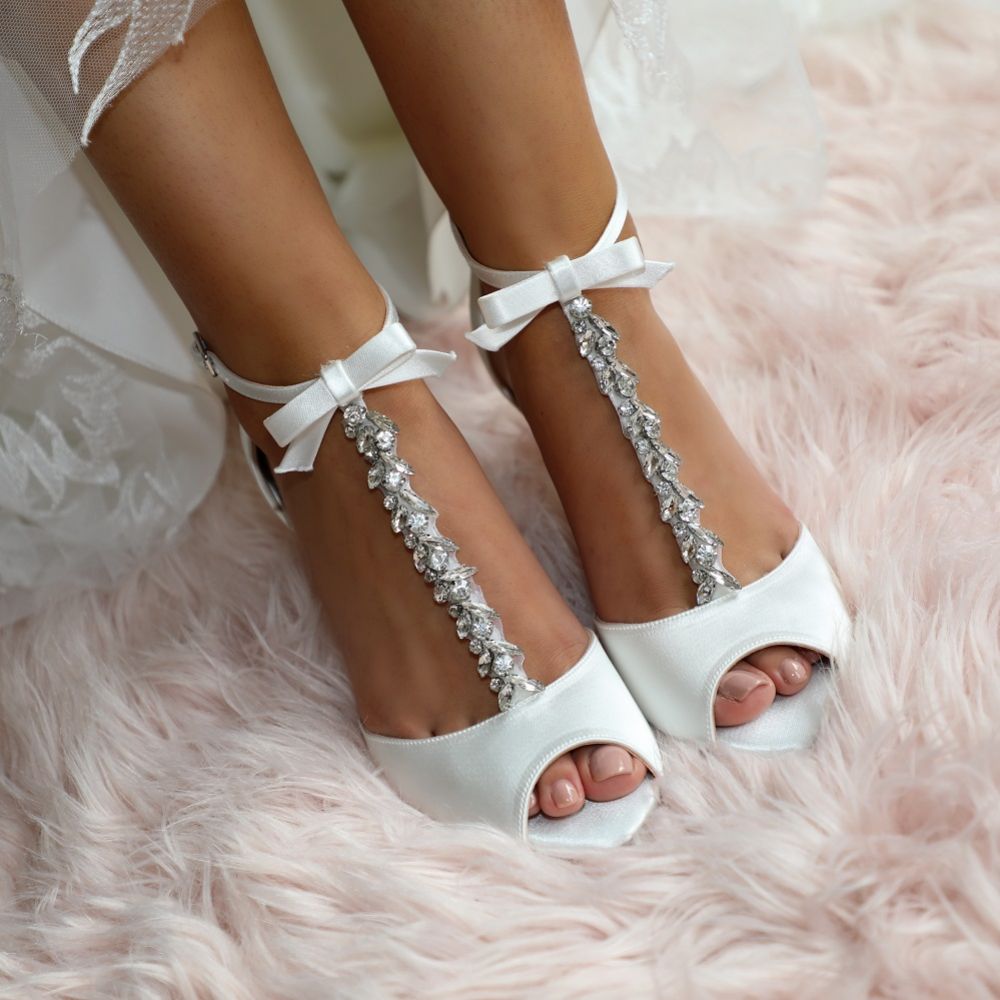 Ivory has remained one of the most loved colour schemes for a wedding for many years. Even our Most Loved section has a wonderful array of ivory wedding shoes, ivory wedding accessories and stunning pearls to match. The fabulous thing about ivory is that it doesn't have that bright glow that white has, allowing it to suit more skin tones perfectly.
So when it comes to adding accessories for your big day, ivory wedding shoes is a beautiful place to start. With wedding heels, dainty flats, the gloriously embellished and even the comfortable pumps, the world is your oyster, speaking of which, pearls look great with ivory!
Our favourite ivory wedding shoes are the Perfect Bridal Phoenix Ivory Satin Crystal T-Bar Sandals. These stunning shoes offer a slight heel, with a touch of glam from the crystals!
Accessorise Your Ivory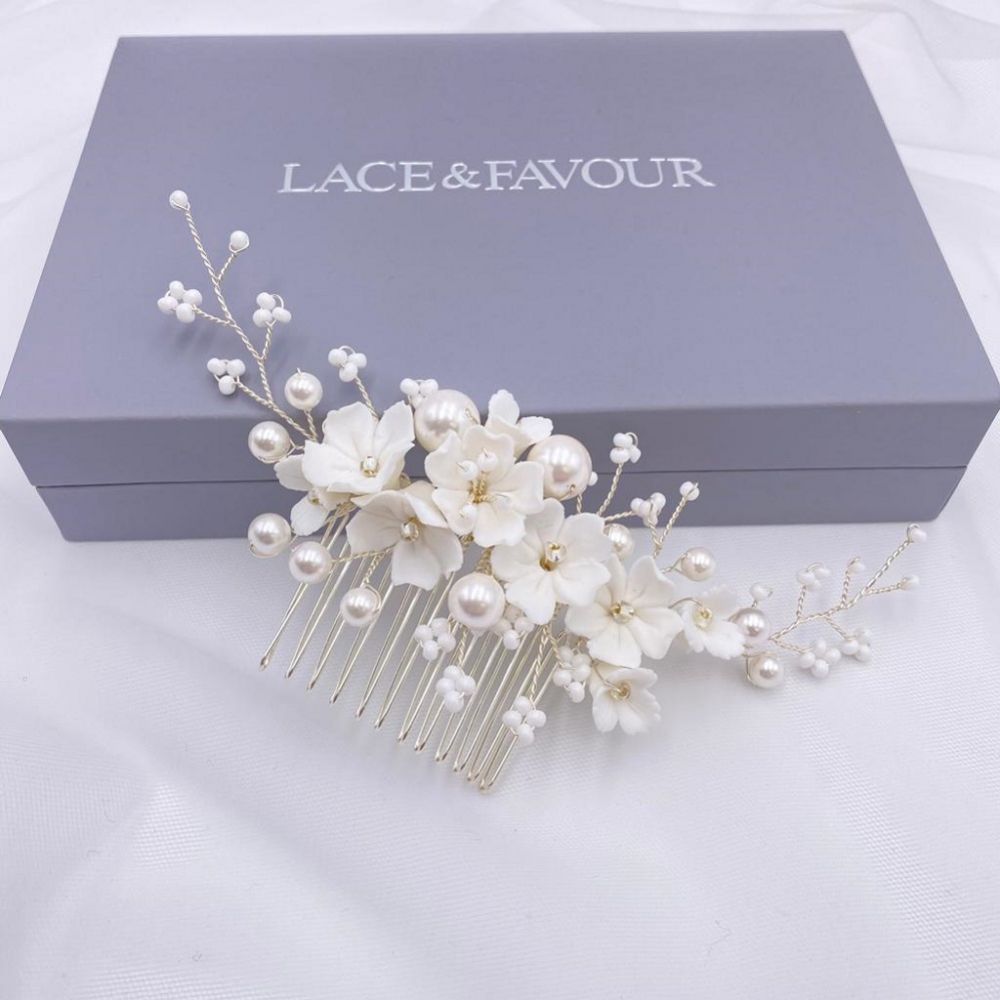 If you've chosen Ivory as your main wedding colour, finding the perfect accessories can sometimes be a bit of a nightmare. With so many choices, will you choose a stunning ivory wedding comb or a glam tiara? Or maybe even the perfect pearl wedding jewellery set?
We love pairing a stunning pearl comb, such as the Anemone Ivory Porcelain Flowers And Pearl Wedding Hair Comb, with a fabulous ivory veil. Our favourite is the Bianco Ivory Waterfall Effect Fingertip Veil. How will you accessorise your ivory?
More Than Just Your Average Colour
Having a colour themed wedding can be a wonderful idea, however, many brides start to struggle when it comes to finding the perfect wedding shoes in their chosen colour. Whether they are looking for bridal heels, court shoes or even bridal flats, finding the perfect pair isn't always that easy.
However, here at Lace and Favour, we can make it just that little bit easier. Many of our wedding shoes are available as dyeable shoes! Meaning that all you have to do is find the right pair and our wonderful team can get them to the perfect colour!
Take a look at our colour charts for the full range of colours that we have to offer, or head over to the Rainbow Club page for matching wedding shoes and bride bag dying!
Forgotten Something?
If you are all ready for your big day, with the perfect bridal shoes, your veil sits as perfect as you could have hoped for, and your accessories look stunning, but what about your matching bride bag?
Sadly the most forgotten accessory is the bride bag. Although you aren't going to be walking down the aisle with it, your bride bag can keep your all-important accessories together for the rest of your day and evening. From the perfect place to hide your lippy, to paracetamol when it all gets a bit much, it sure is a great accessory to remember.
Clutch bags are the perfect accompaniment for any bride, and no matter what your colour theme, there will always be the right one for you! The Perfect Bridal Heather Clutch Bag is the perfect classic accompaniment to any colour scheme as this stunning bag is also dyeable!
Whatever your colour theme may be, your wedding day is all about you, and maybe a bit about your hubs to be! So don't settle for anything less than perfection when it comes to getting the right colours. Whether that's your shoes, your accessories, or even your bridesmaid dresses!