Planning Your Perfect Autumnal Wedding
The weather may be getting cooler but the autumn wedding season is getting hot! This is the perfect time to run away to the woods, surrounded by amber trees and draped in a shawl for the perfect autumn wedding. If this is your favourite season of the year then there is no better time to elope with your partner and make this autumn one to never forget! Let this transitional season with falling leaves and new beginnings represent your love entering the next phase. Whether you are opting for a forest fireside fairytale wedding or embracing fairy lights and lanterns in a rustic wedding barn, it is important to style your outfit for your day. Which we know can be intimidating, that is why we are here to explore lots of different options to choose on your wedding day to make it perfect. So step away from all the wedding planning, sit back and relax with a hot chocolate and feast your eyes on all these wonderful autumnal style pieces.
KEEPING WARM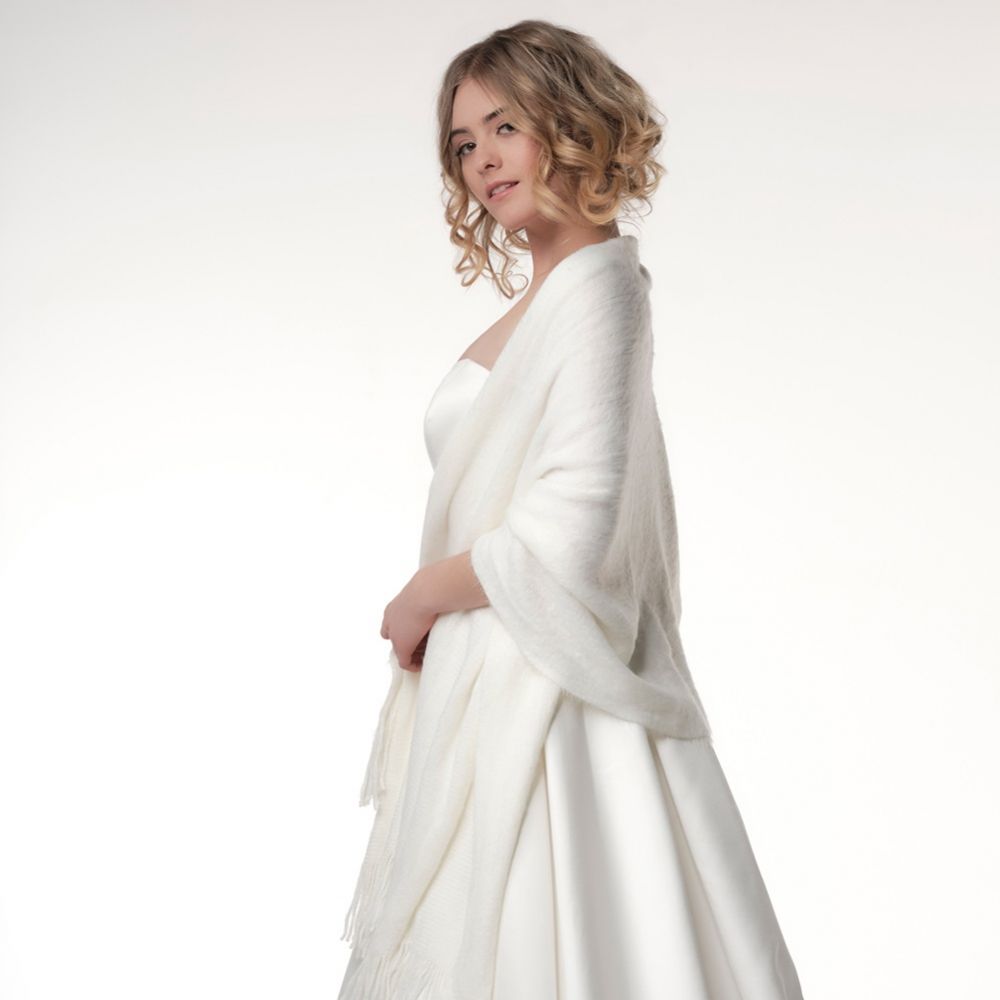 If you are someone who gets cold easily but you cannot help but love the romantic autumn season anyway, then we can help! There are lots of options out there to make wrapping up stylish and fit with your theme. One option is covering your shoulders with a shawl to keep out the crisp chill. While only small pieces, they can complete a look while providing a layer of warmth to keep you comfortable on your special day. A great option is the ivory knitted wedding shawl which is a perfectly simple design to go with almost any dress. With an extra bonus of the fringe detail that drapes down the dress, elevating the look and invoking a distinctive boho style if you are opting for an autumnal forest theme!3
IT IS GETTING HOT IN HERE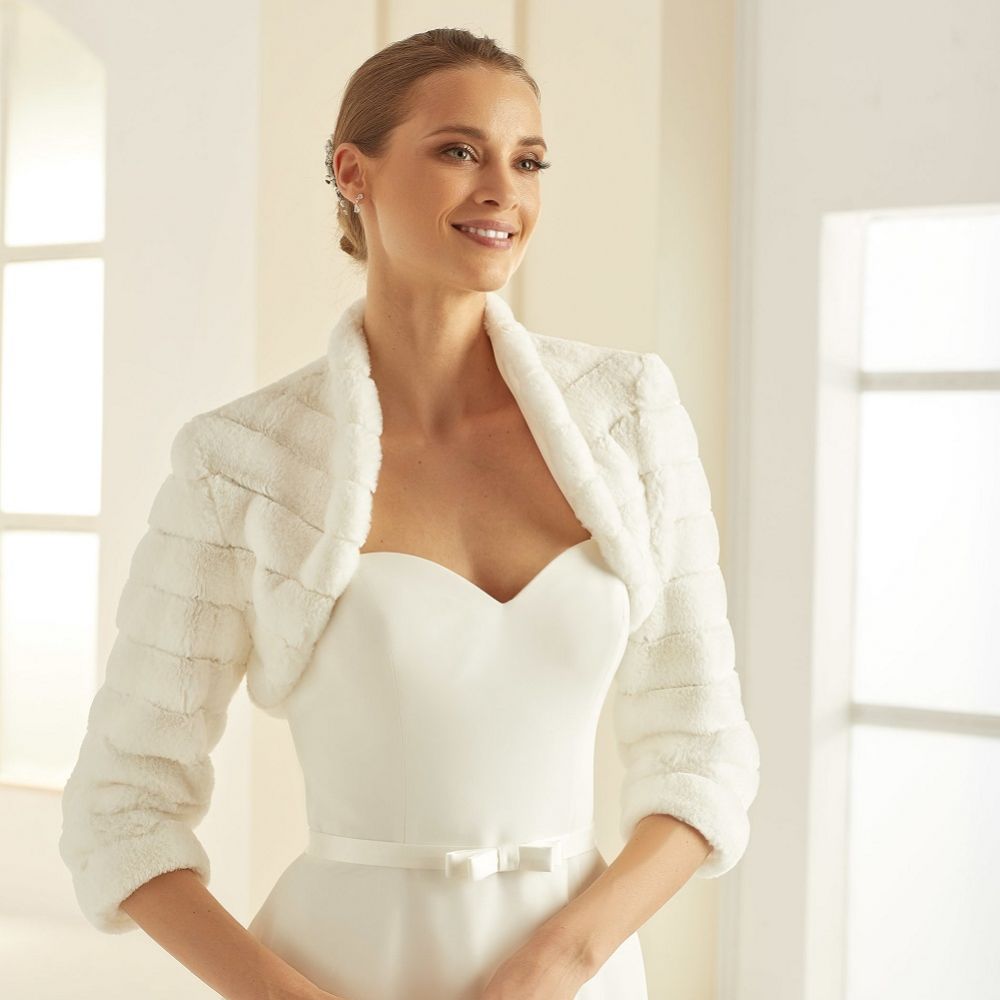 If you are thinking that you would still be freezing in a shawl then do not worry, embrace some winter spirit and cosy up in a fur style bolero. Not only covering up with style but covering up with class! The bolero is a staple piece of luxury bridal attire perfectly suited to the cooler seasons and we love it! One bolero to consider if fur is your style is the ivory faux fur wedding bolero. This elegant cover-up will be the perfect finishing touch to your bridal outfit.

JUMPING FOR JOY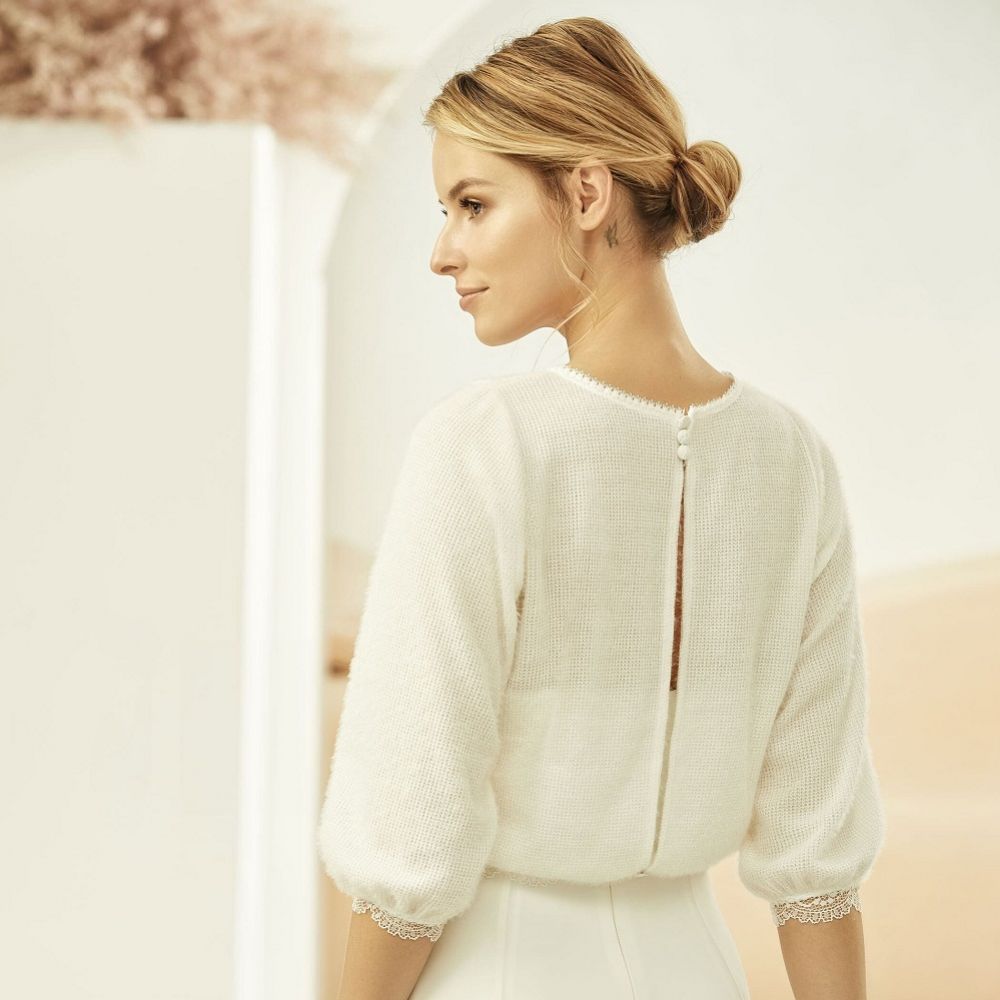 If jackets are not really your thing and you want to go all out on a more unique bridal look. Or just really feel the cold! Then let us introduce you to bridal jumpers, these are revolutionary. All of the warmth while keeping all of the elegance found in traditional bridal attire. If you are worried about keeping with your theme, do not worry. If you have chosen a dress with lace features then you can opt for a bridal jumper with lace elements! Much like our knitted bridal jumper with lace detail which will complete the perfect lace-inspired bridal outfit! The three-quarter sleeve also keeps this jumper beautifully feminine as well as beautifully practical.
FOREST FLOOR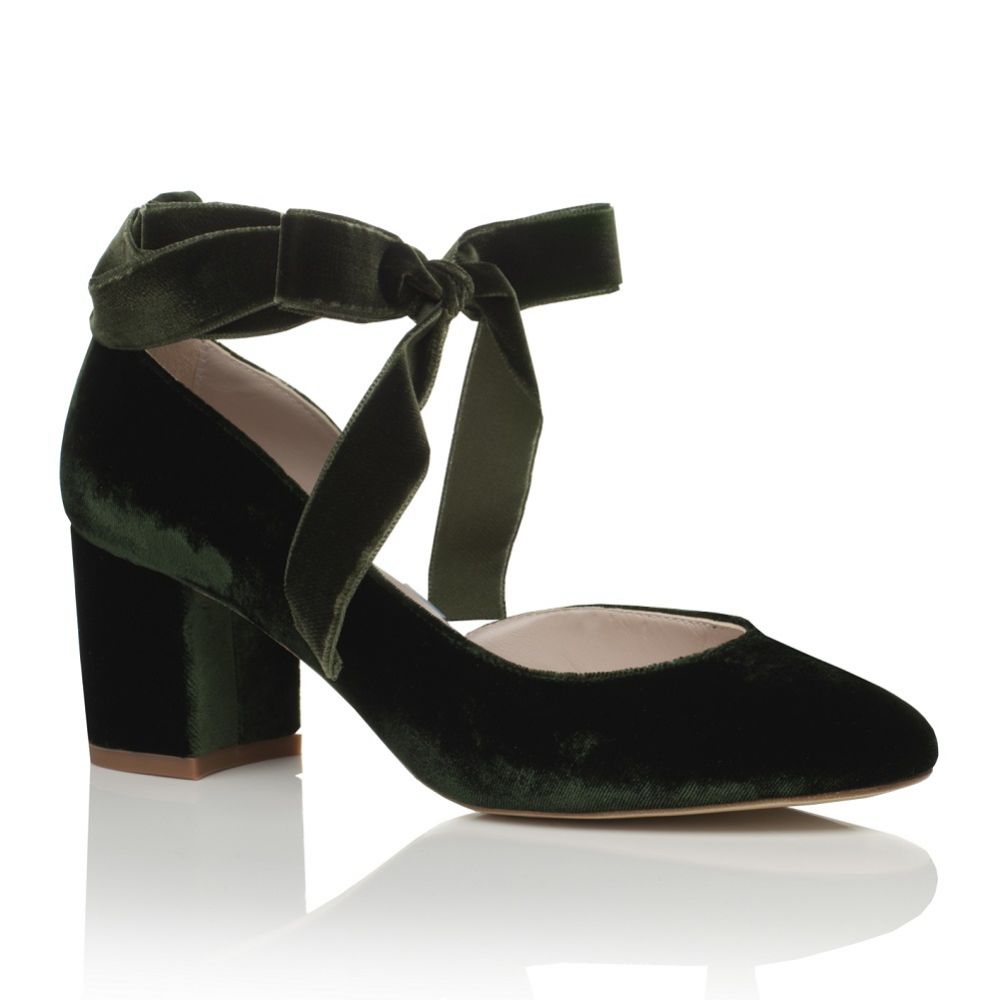 If you have chosen a forest venue then it is best to be prepared for the elements with the shoes that you pick! We recommend not reaching for stilettos and consider either a wedge-style heel or flats. Although if you are a stiletto only kind of girl, then heel stoppers are a great investment to keep you above ground! We love incorporating the colour theme into the shoes as well. A great choice is the forest green velvet block heel which will do a great job at supporting you throughout your day. Also featuring a tie-up design for some extra ankle support, while boasting only a mid-heel to play it safe!

BOOT UP
If you are thinking of ditching heels all together then you have lots to choose from! We love flats and trainers as stylish alternatives to heels on the big day. But for the autumnal theme, our favourite is wedding boots! Boots are often misrepresented as a masculine or a boyfriend style shoe, however, wedding boots are fantastically feminine and will not look out of place as part of your bridal attire. To prove our point here are the ivory leather pointed toe wedding boots with a stunning V-shaped design. You cannot deny the style, class and femininity that these boots invoke, we are in love!

AUTUMN ACCESSORIES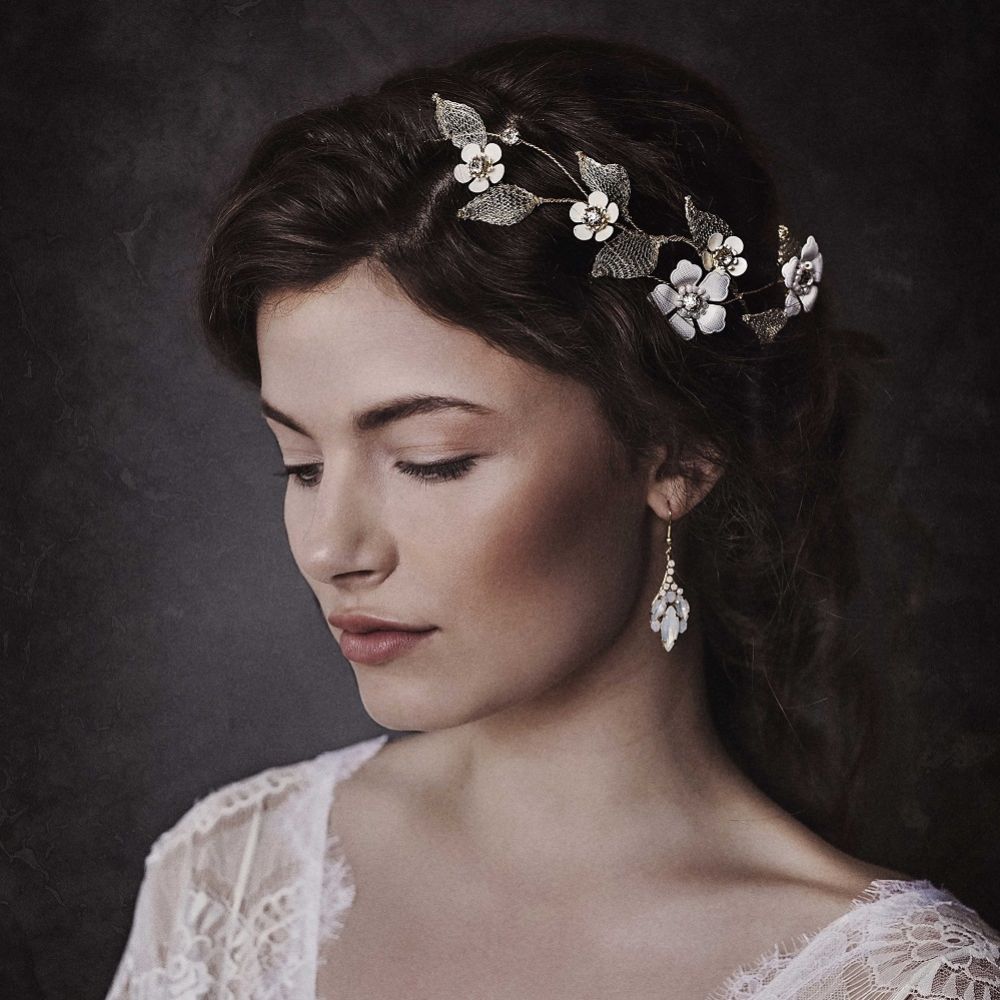 When we think of autumn it inspires imagery of the leaves changing from green to orange to brown, this transitional phase is one of magic and beauty which many have sought to replicate. One key way to replicate this season is through accessories that invoke this traditional imagery. That is why we love incorporating nature into accessory pieces that can be styled with any bridal look. Such as our gold wire lace floral wedding headpiece which inspires that special autumnal feeling. This jaw-dropping golden wire headpiece creates a warm tone while shaping the beautiful ornate leaves. This is an incredibly elegant autumnal look that would elevate any bridal hairstyle.
FLORAL THEME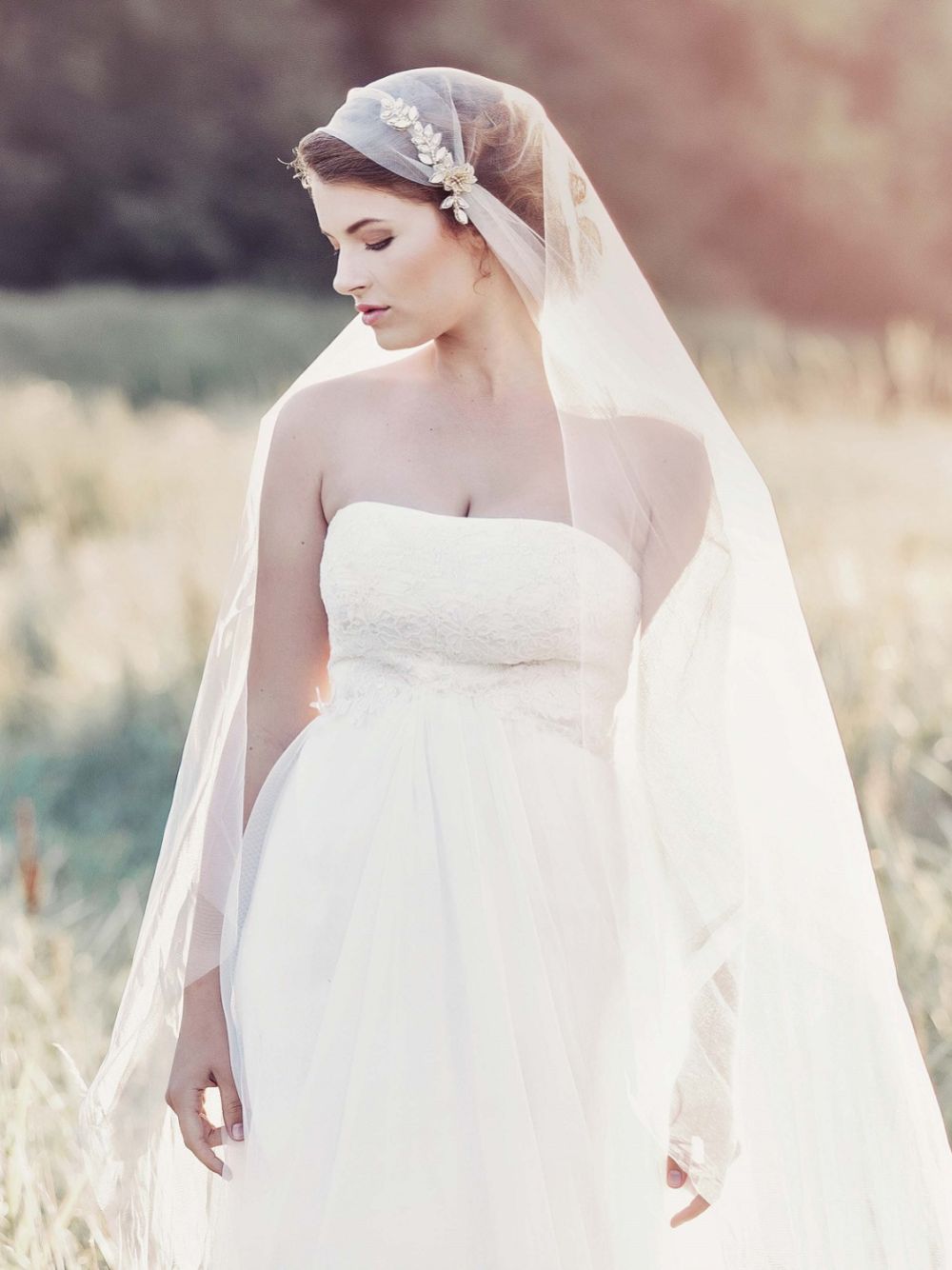 If floral accessories are just what you are after for your autumnal wedding. Then there is an abundance of options available to you. And while flowers can be the perfect subtle decoration, you can be as flamboyant as you wish! You can opt for floral designs highlighted by exquisite crystals which will catch the light wherever you decide to have your special day. If you are looking to dazzle then a great piece to blow your loved ones away is with your veil. Our cap veil which features opalescent crystals, is brought to life by the gold elements bringing the autumnal colour to your look. All topped off with a stunning small gold lace flower to match your floral theme and keep your look distinctly autumnal. This head cap is also a great choice if you prefer a more vintage look!

FLORAL FANTASY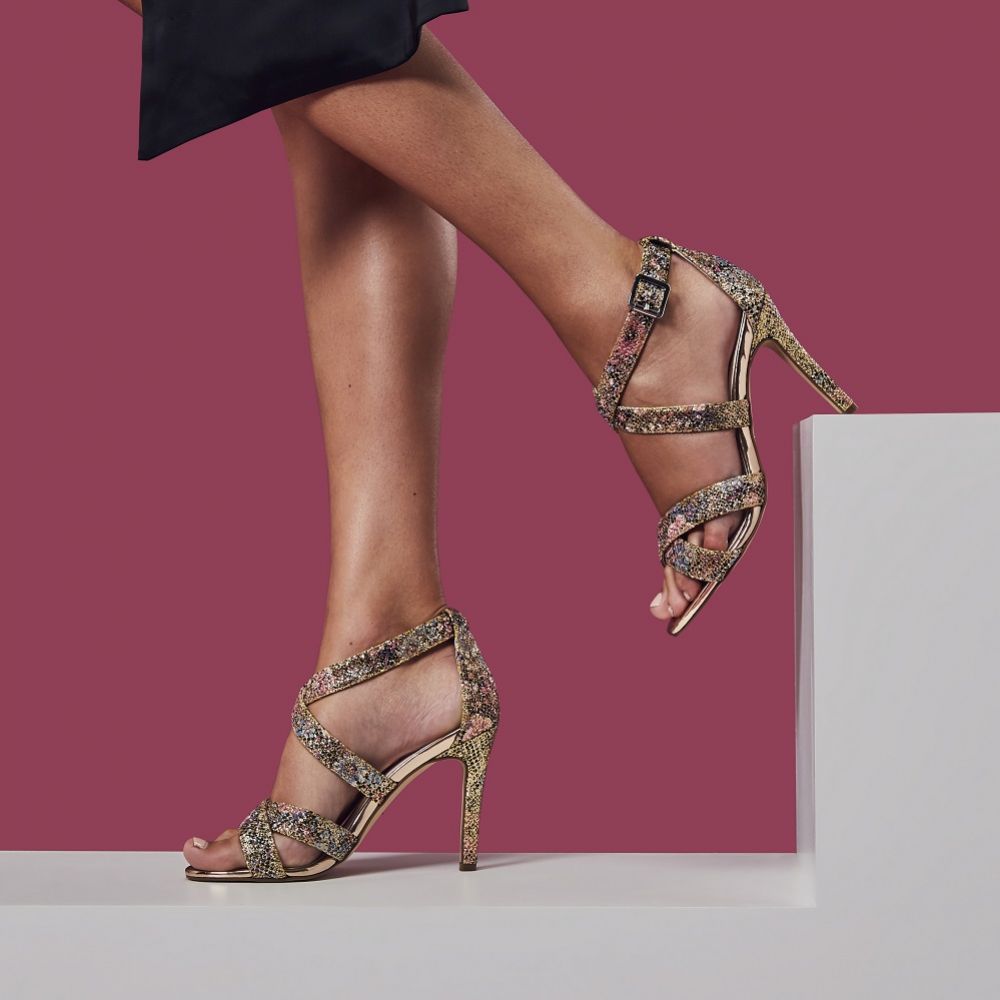 Not incorporating flowers enough? Then let us take it to another level. An autumn-themed wedding is a perfect time to embrace your love of all things floral. You can opt for an entirely floral-themed dress, floral bags, floral headpieces… The list never ends! But let us show you our personal favourite, floral shoes. A great understated element to showcase your love of floral patterns. And what better shoes to show this off in than the glitter bomb floral strappy sandals, these shoes are finished with a glittering gold finish to elevate your look. An added extra if you are worried about practicalities, these heels feature our unique bliss cushion comfort so you can party all night in them! And it gets even better, there is a matching bag!
TEAM GREEN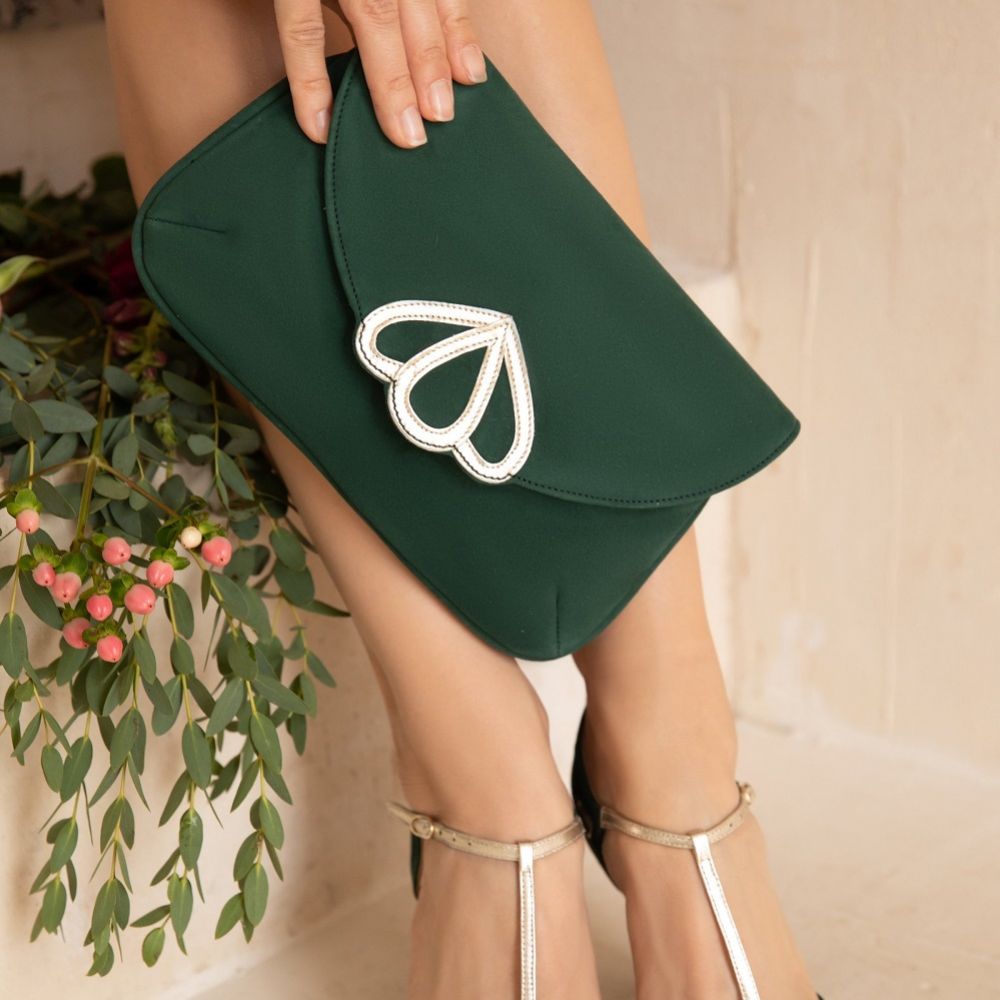 If you are veering towards green as your main colour theme, we can understand why and we love it! Autumn is a great season to get down the roots of nature and embolden your look with inspirations of natural beauty. And what better colour to do it with than a gorgeous forest green which would not look amiss in a woodland themed wedding. Or maybe you love the idea of green but rather as a complementary colour. If so, then accessories are a great way to incorporate a pop of colour to contrast with your main look. We love this forest green suede clutch bag paired with an ivory dress, taking your bridal outfit to the next level! Another great option is gifting your bridesmaids this gorgeous bag to complement your bridal party beautifully and in style!
FOR THE BRIDESMAIDS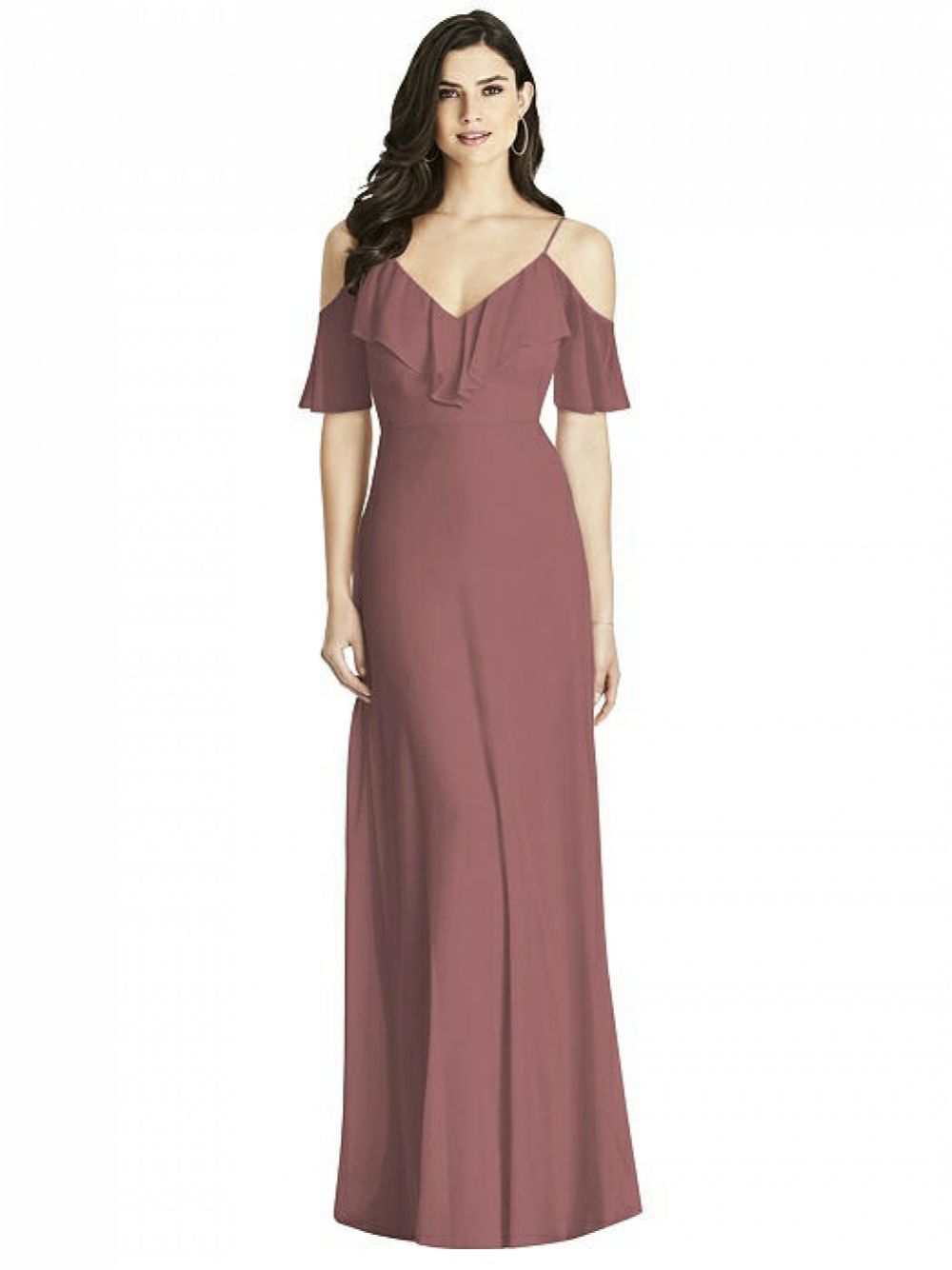 It is important that the bridesmaids fit the autumnal theme as well. You could take this opportunity to inject some autumnal orange into the mix with your bridesmaid's dresses. We love the more unique choice of brown bridesmaids dresses to encompass the autumnal season in all its glory. While this may be a more unusual choice, it will be one to remember! We love this ruffled cold-shoulder maxi bridesmaid dress which comes in a delicate but distinct English rose colour with deep tones of brown. The dress also features a chic deep v-back for a perfectly elegant finish for your bridesmaids!
TIME TO GET WRAPPED UP
We hope this has been an eye opening insight into the world of autumnal weddings and how to really capture the season. Autumn offers the most wonderful and vibrant colours of orange, gold and brown, while also being able to capture the sparkling dewiness of an autumn morning in crystal jewellery. This season offers the perfect inspiration for a divine bridal attire, whether you are going to wear a jumper or a bolero to keep you warm! It is also the perfect opportunity to dive headfirst into a flowers and leaves theme if that is what your heart desires. There is no limit to what the season can offer, so go fall in love again under the autumn leaves!
BROWSE YOUR AUTUMN BRIDAL LOOK HERE AT LACE & FAVOUR
We love Autumn weddings here at Lace & Favour which can be seen in our vast array of autumnal items perfect for any bride. Take a look at some of our bridal cover-ups, accessories and shoes to make your day your own. Whether you are tying the knot deep in nature with a forest venue or creating a quirky atmosphere in a wedding barn surrounded by twinkling lights. Autumn is an utterly romantic season, providing you the most beautiful backdrop to create your dream wedding!