Rachel Simpson - Wedding Shoes, Forever Shoes...
Rachel Simpson 2017 Wedding Shoes
For the ultimate in classic styling, the latest 2017 collection of Rachel Simpson wedding and occasion shoes will leave you spoilt for choice. If we had to choose one word to describe Rachel's gorgeous designs – it would be comfort! Each and every pair of her beautiful wedding shoes are hand-finished and made from the finest materials available, the epitome of luxury at an affordable price. All leather lined, leather soles – a real treat for those bridal feet.
Rarely have we been so enthused about the arrival of a new brand at Lace and Favour, and the positive feedback from our customers has been overwhelming both in our boutique and online. We are all massive fans Rachel, and cannot wait for an occasion to wear your shoes too – so comfy!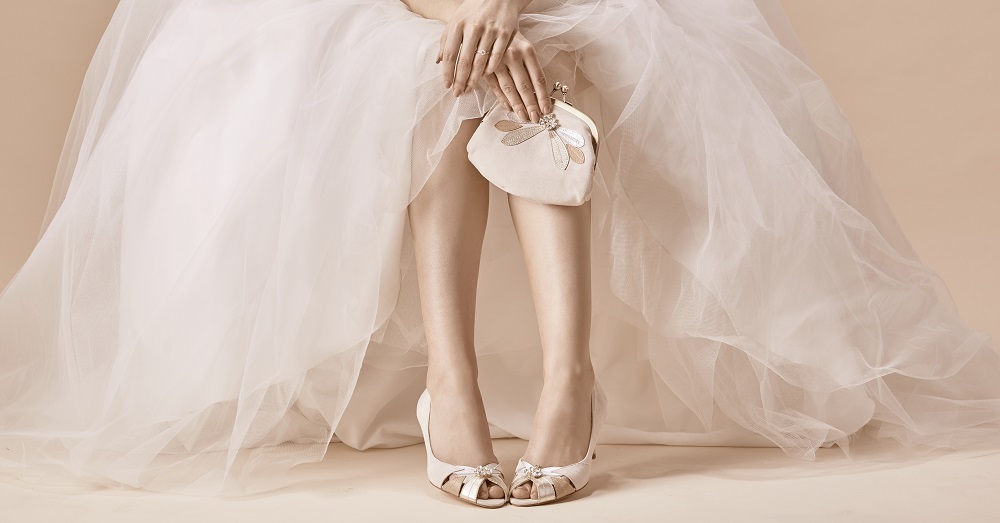 The added beauty of the shoes which are all made from the softest leather and suede, is that you absolutely will wear them again and again, far and beyond your wedding day. Perfect for the today's discerning bride, the 2017 collection has a range of elegant designs to compliment any styling. Let's take a look at some of my personal favourites from this season's stunning Rachel Simpson collection.
Modern Day Vintage
The Hermione peep toe wedding shoe is what I would describe as modern day 'vintage'. The shoes are crafted from the softest ivory suede and feature intricate beaded embellishment on the T bar with delicate metallic leaf detail. A customer purchased a pair of Hermione shoes just yesterday, saying 'I can't dance at all, but in these I will' !! Having travelled some distance, she told us that the Rachel Simpson shoes were the most comfortable she had tried anywhere. She was pleased to discover the shoes came with a matching suede Harriet clutch bag, just right for her lippy and mirror.

Rose Gold and Roses
Many of the shoes contained in this year's Rachel Simpson collection have elements of fashionable rose gold. The 'rosiest' of all are the Monique T-bars, with porcelain lace cut leather over rose gold with a metallic rose gold leather heel, these are real show-stoppers. Shown here worn by one of our own Lace & Favour team, not for a wedding but at Ascot – the Royal enclosure none less! These glorious shoes definitely turned a few heads, and were the envy of the crowd!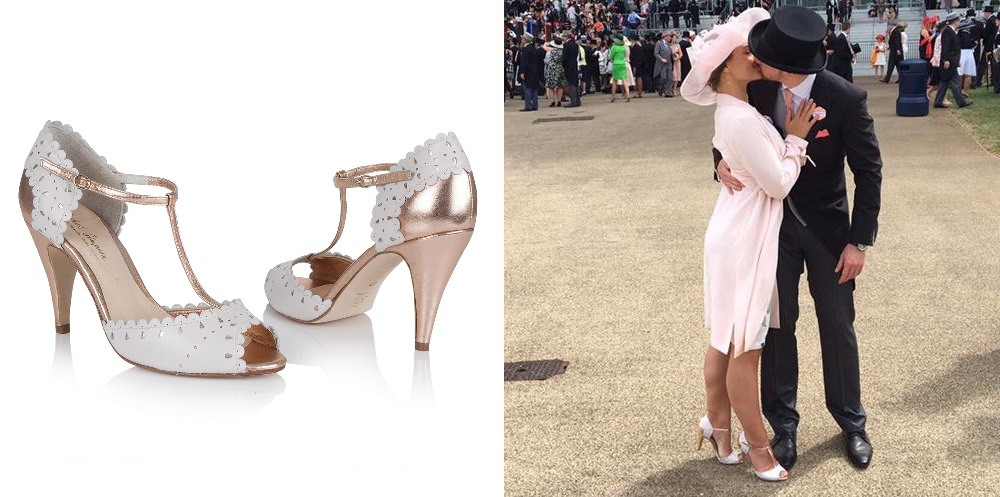 If roses are your thing, you will adore – as we do, the new style Gabriella shoes. Again with rose gold accents, these blush leather T bar shoes are the choice for true romantics. The perfectly formed rose detail which adorn the Gabriella shoe by Rachel Simpson are oh so pretty, and we are sure this style will be a massive hit. Of course there is a divine bag to match, take a look here at the Georgia leather clutch with the same lovely rose detail and scalloped edging. For brides looking for a lower heel, the Gracie peep toe in the softest blush leather has that lovely rose again, and scalloped shaping to match the bag.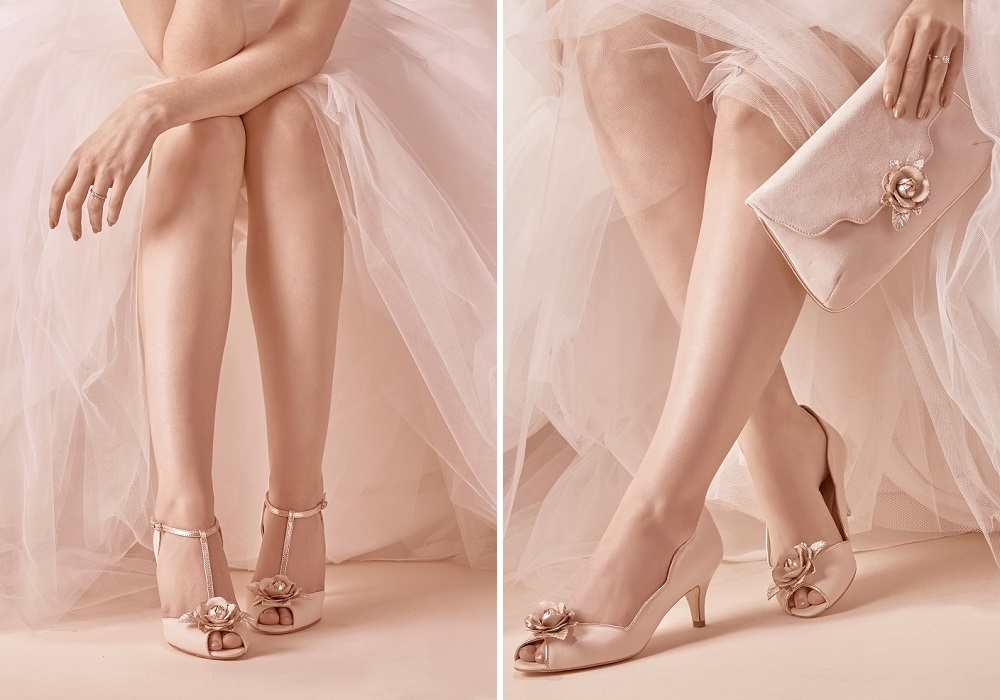 With so many fab styles to choose from, the Rachel Simpson brand is recognised as one of the UK's leading designers when it comes to wedding and occasion shoes. The signature petal shaped styling of the Mimosa T-bars has become synonymous with her most popular styles. The popularity of this particular design sees the Mimosa shoe now in other ready-to-wear colours. Check out the powder blue, rose gold and new pale mint, in addition to classic wedding ivory. A perfect choice too for any mother of the bride, again with bags to match all colours of shoes.

Art Deco Inspired
The best selling Rachel Simpson Isabelle peep toe comes in the palest porcelain leather, which can be worn beautifully with a white or light ivory dress. Not always easy to find a comfy shoe in anything other than ivory! Featuring intricate silver leather detailing in an Art Deco inspired design, these porcelain colour shoes have interest at the back and front. So be sure to show them off! Other colour ways added to this range are ice blue – which could be your 'something blue' , nude and mint. Fabulous shoes for your wedding or any occasion. All additional colours come with champagne trim, and matching envelope style bags have a detachable chain.

Pretty Lace-Up's
Rachel's new Octavia closed toe shoes are a timeless classic, and made from sumptuous blush suede. These delightful shoes will provide you with all day comfort, and are ribbon tied for an air of pure nostalgia. Notice the leather detailing is a combination of pale gold, silver and rose gold making them totally versatile when it comes to colour matching your outfit. Another ribbon tied shoe choice is the open toe version 'Ophelia' , with the Opal bag being the perfect accessory for both of these gorgeous Rachel Simpson shoes.

Strictly Sensational
I'm sure dancing fans will see the connection, Waltz or Jive, these shoes have the vibe! A throw back to the roaring twenties with a modern day twist, these 'Ginger' golden oldie shoes will dazzle on the dance floor. A flattering T bar shoe with cut out detail, the Ginger shoes are made from the softest leather for endless comfort all night long. Featured in the 2016 Anniversary Edition of Vogue magazine and now available in-store and on line at Lace & Favour. In pure gold, and in silver, these shoes are pure class – and a ten from me!
With growing demand for all things gold, and the unrivaled success of the Ginger shoe, meet the new Rachel Simpson Gigi sandals. These sassy wedding or occasion shoes have been created in gold snake leather, and will definitely come out of your wardrobe again. Wear these for your wedding, on your honeymoon, or a night out on the town. For dressing up or dressing down, these glitzy shoes are guaranteed to get you noticed!
Ginger on the left, Gigi on the right.

The Present Meets The Past
One of Rachel Simpson's original designs, the Mimi satin T-bar shoe remains a firm favourite with brides. These ruched peep toe classics are framed with metallic gold leather and a joy to behold for the bride wanting a traditional satin shoe. From the first ever collection these elegant shoes are still as popular today.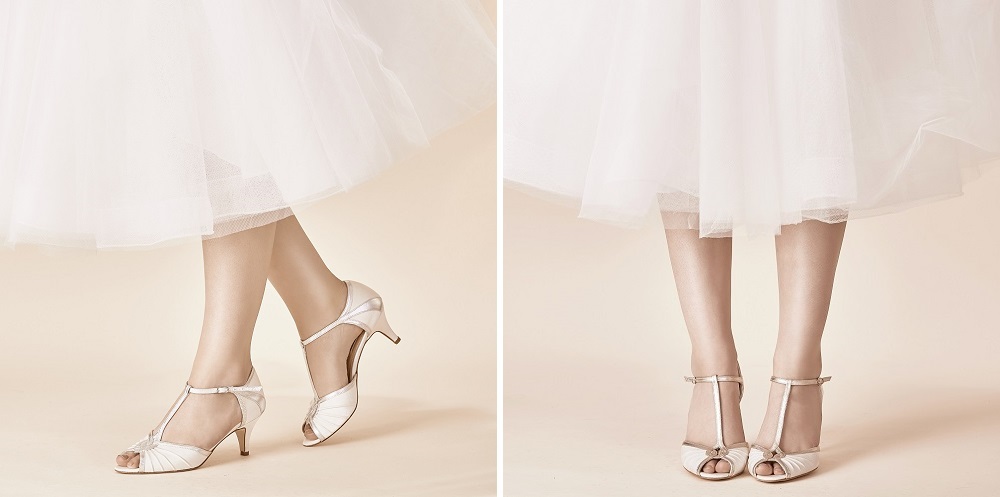 Finally, before I go and try on some more shoes from this heavenly collection, I will leave you with my last stylist pick… meet Charlotte, the wedding shoe of your dreams. Ivory lace over soft silver leather, diamante, beads – and ultimate comfort. What more could a girl want!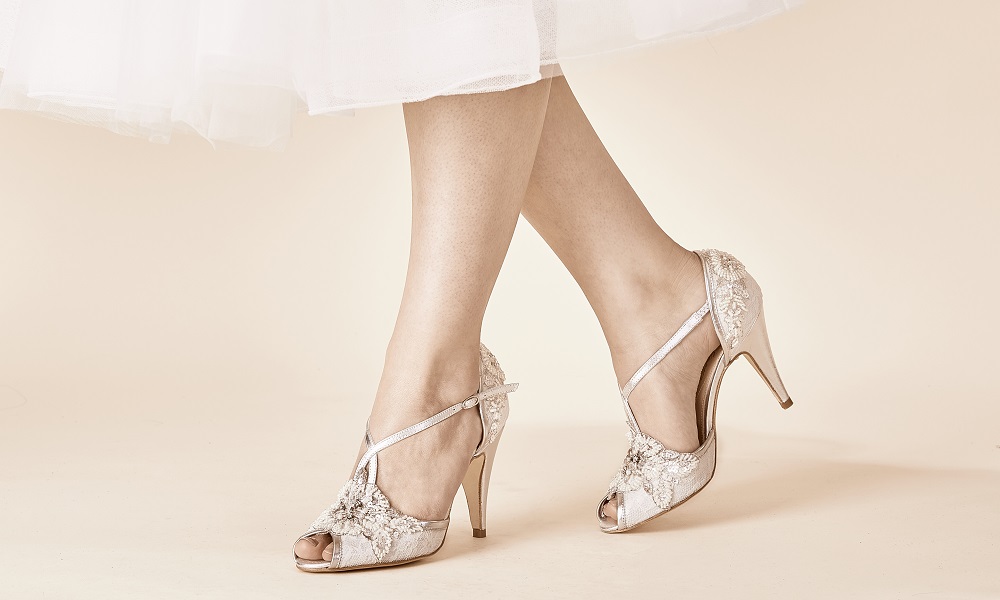 Happy shoe shopping! :)
Love Andrea X