How To Rock A Flat Wedding Shoe
When it comes to your wedding, you want it to be one of the most special days of your life. You want to look fabulous and just as incredible as all the ladies in the glossy magazines that you've definitely picked up for ideas. But that doesn't mean you have to kill yourself in heels that you can't wait to take off! If flat wedding shoes are more your thing, then let's make them work for you!
Simple Yet Elegant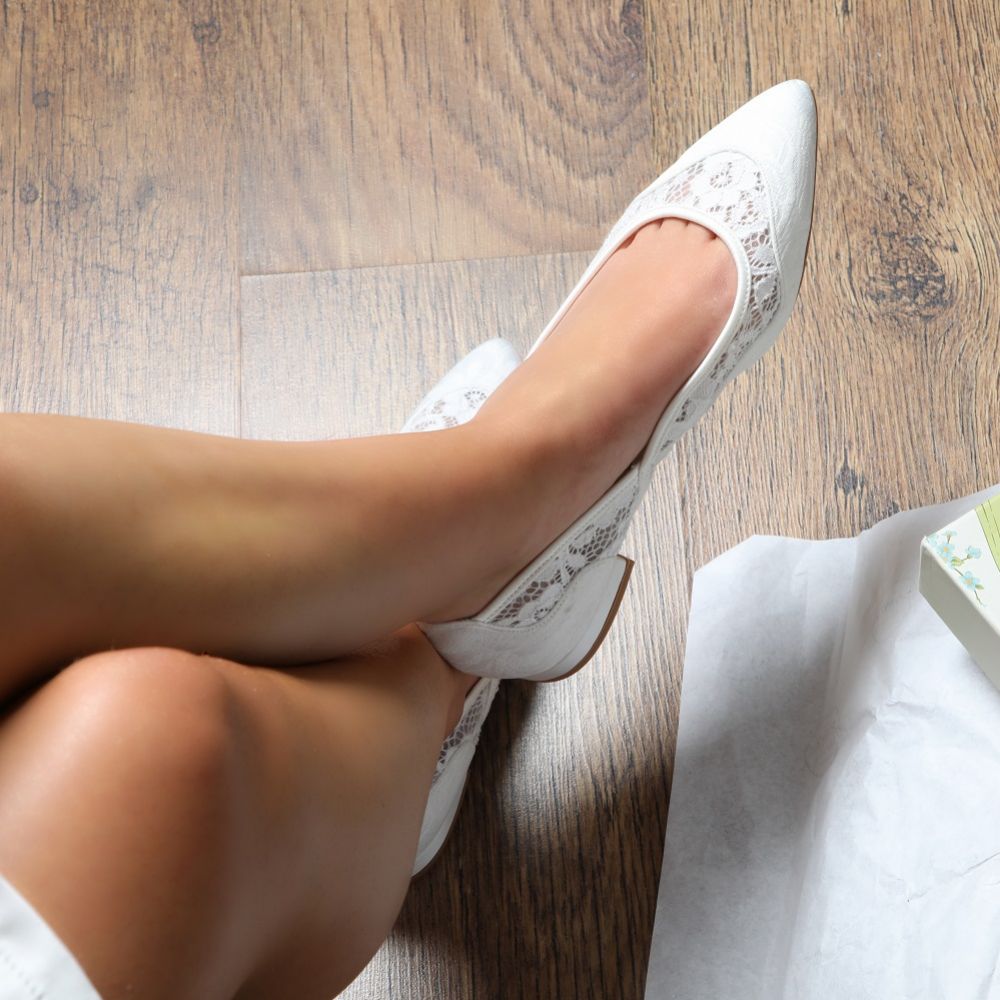 Many people who look for a flat wedding shoe are looking for something elegant yet simple to ensure that it is in keeping with the rest of the wedding. Elegant has a different meaning for many brides, for some, this means lace, while others are looking for more or a satin finish.
For the lace lovers, we adore the Perfect Bridal Primrose Ivory Lace Vintage Inspired Pump. Its beautiful shape offers the perfect finishing touch to your wedding dress. For the satin fans, the Avalia Sissi Ivory Satin Flat Wedding Shoes With Ankle Strap makes for the ideal, subtle yet elegant pair.
Speaking of elegance, no matter if you're a lace lover, or satin fan, our Linzi Jay Plain Single Tier Veil looks elegant with both flat bridal shoes and wedding heels alike.
Art Deco By Design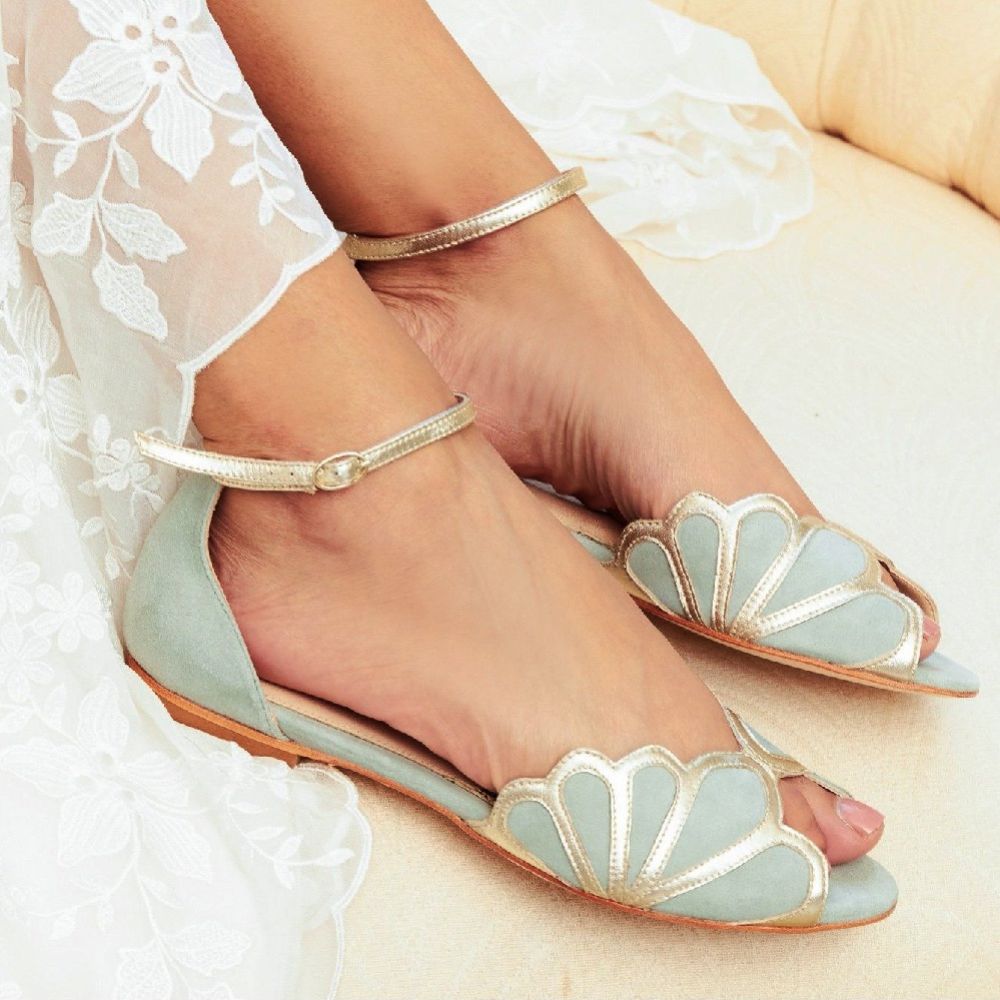 The 1920s were a fantastic time for style. Especially where weddings were concerned. Long lace wedding dresses were all the rage, with elegant statement pieces to set off the look completely. Including some wonderful coloured pieces.
You may love the style, but not want to go all out with a bridal halo and a feather in your hair, but that doesn't mean that you cant add keep the style going with some art deco flat bridal shoes!
Available in a range of colours the Rachel Simpson Art Deco Sandals are the perfect yet subtle nod to the decade.
Of course, the style doesn't have to stop at the shoes. The Rachel Simpson Scalloped Clutch Bags are available in the perfect colours to match the art deco sandals!
Adding A Splash Of Colour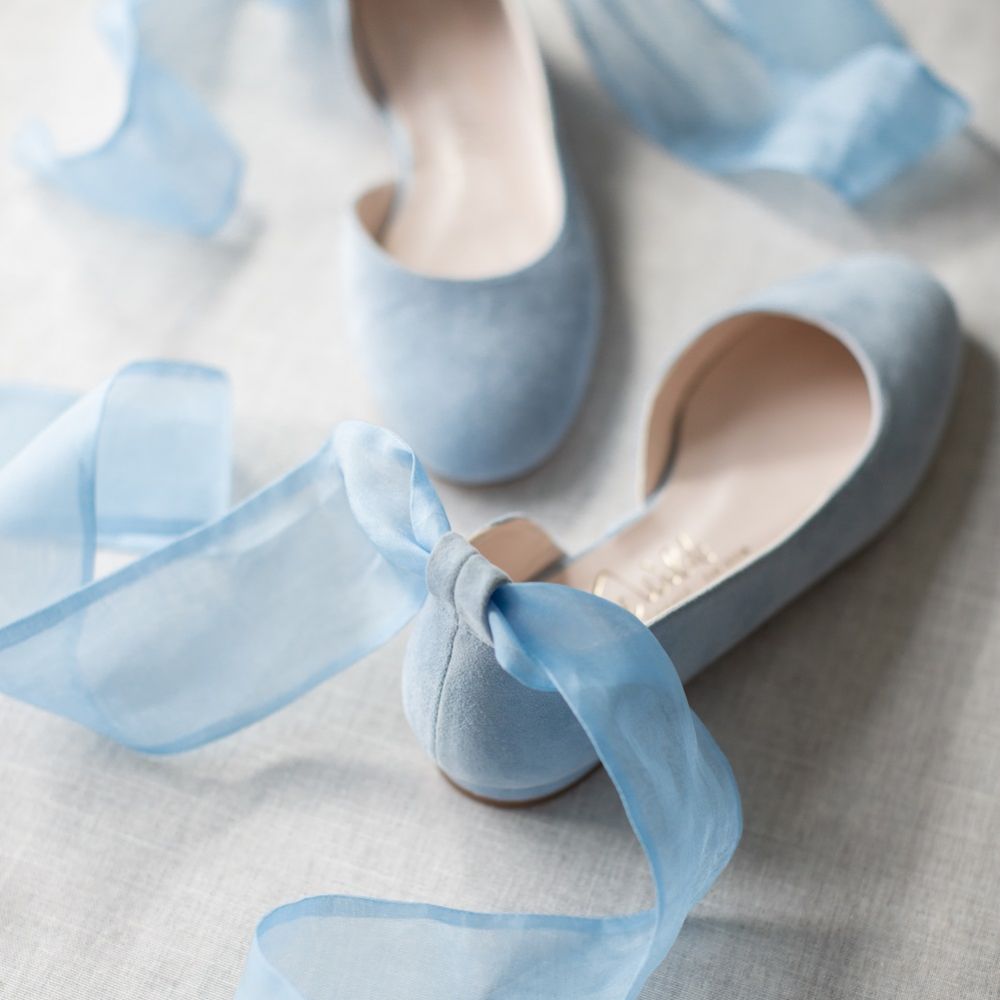 While many of our wedding heels are available in colour, we find that more blushing brides to be are asking us about coloured flat bridal shoes. Whatever the colour theme of your wedding, you can bet that here at Lace & Favour HQ we have the perfect flats for you.
Our best selling coloured flat bridal shoe is the stunning Harriet Wilde Hetty Flat Suede Ballet Pumps With Organza Ankle Tie. This beautiful shoe can be your something blue, or even a deep red of desire to peep out under your floor-length gown.
You might even have a particular colour in mind! And we love a good personalisation! That's why some of our shoes have the ability to be dyed to suit your colour theme! Take a look at our information page for a great selection of the colours we offer!
Trainer Kind Of Gal'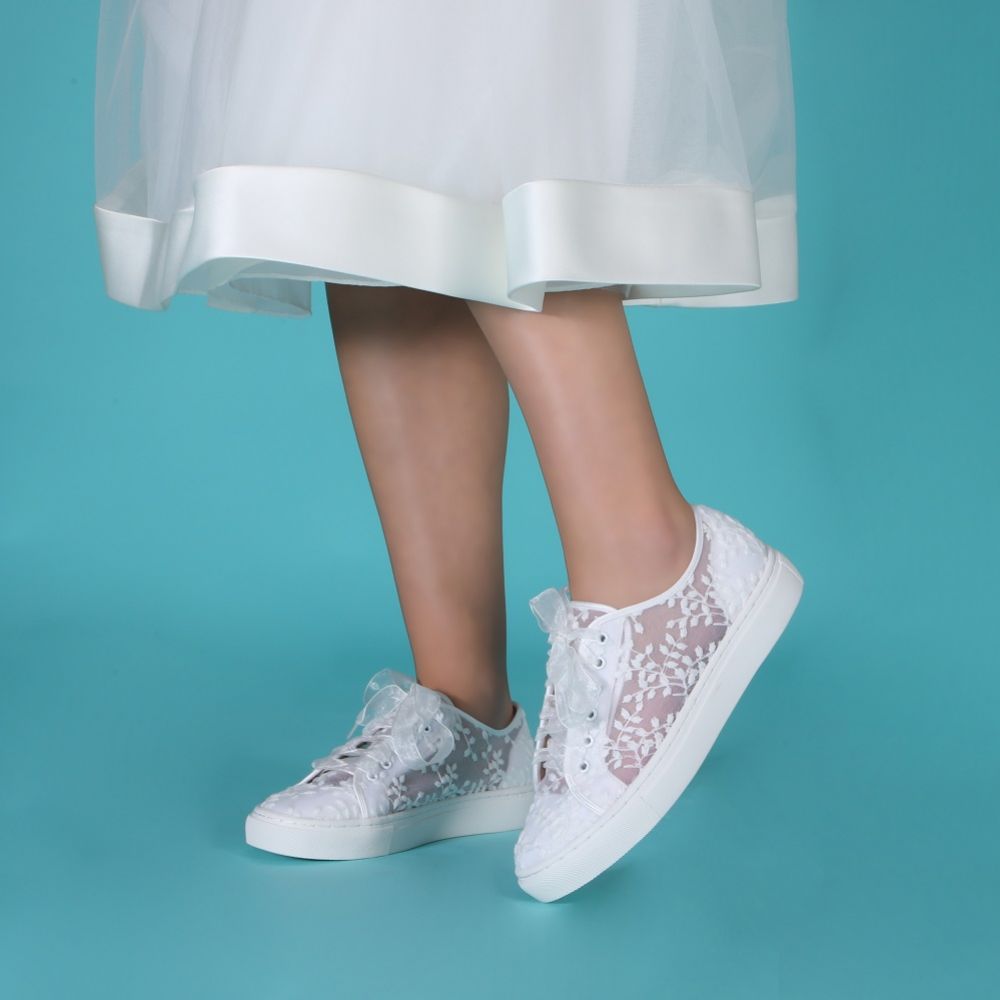 If trainers are your life and soul, why would you want to move away from the comfort of them for the busiest day of your life? Your feet are used to the cushioned soles, the stability, and if nothing else, being flat on the ground. So let's keep it that way with some stunning bridal trainers!
For a spot of lace, we have the Oakley Ivory Embroidered Lace Wedding Trainers. These have been branded the feminine choice where wedding trainers are concerned! And we can see why!
If you love the shape of the embroidery on these trainers, why not continue the shape through your veil? The Camden Veil by Joyce Jackson makes for the perfect partner, and helps you keep your trainers matching your wedding style!
Beach Wedding Sandals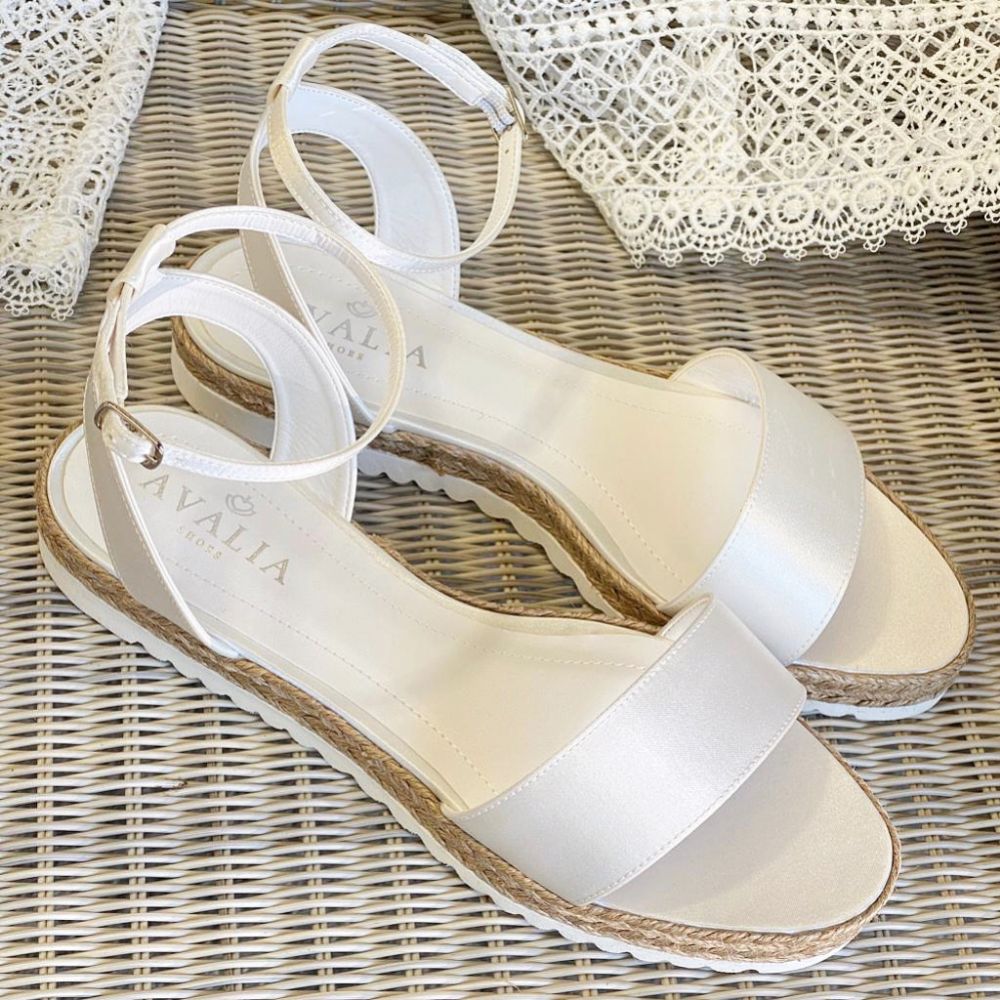 Dreaming of a wonderful beach wedding? Perhaps the sun sets over the ocean as you say your "I Do's". There's one thing that certainly doesn't sit well with sand, and that's wedding heels! That's why we love our collection of beautiful wedding sandals.
Our personal favourites are the Avalia Nadia Boho Bridal Sandals, with a stunning satin strap, paired with a stylish rope platform that adds that little bit of height!
Once the vows are over, why not swap out your veil for a wonderful "Mrs" straw hat that will allow you to enjoy the beach while keeping your face nice and shaded.
Adding Some Bling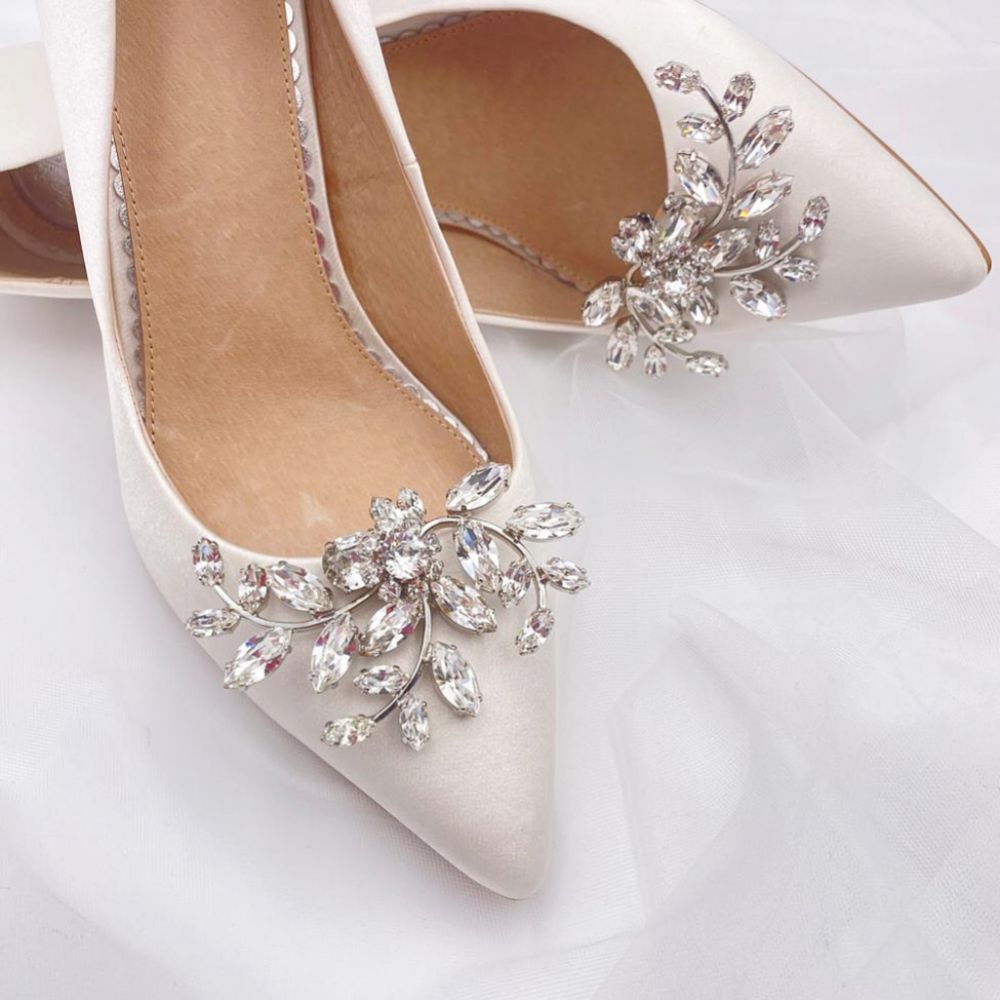 A reason why many ladies move away from the comfort of flat bridal shoes is simply that they don't offer as much bling as some wedding heels do! But of course, that's easily solved with some fabulous shoe clips!
These Freya Rose Haywood Shoe Clips can help you to make even the plain Jane's of the flat wedding shoe world look incredible and dazzling. And if you want to continue the look to your other accessories, we have found that the stunning Linzi Jay Bridal Tiara is the perfect accompanying piece!
When Your Feet Get Tired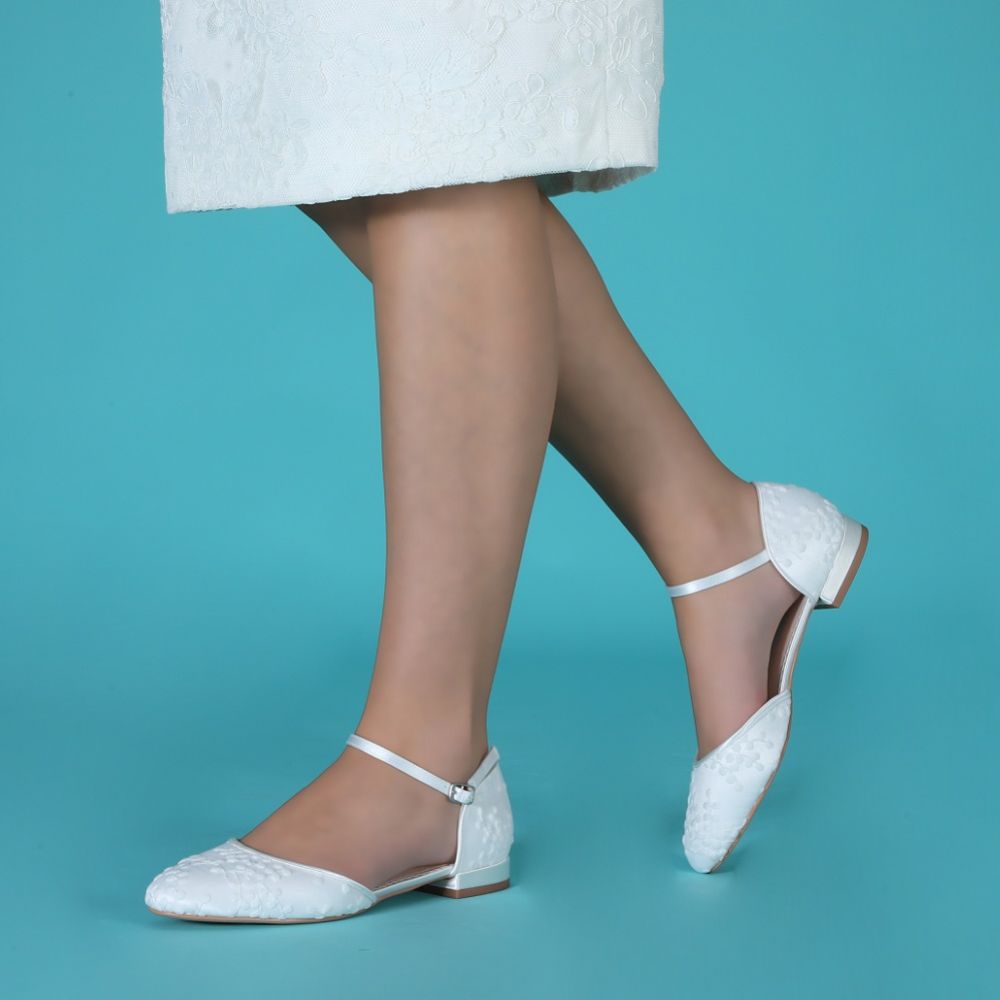 We've all been to a wedding where there's a basket of flip flops or sliders ready for when guests feet get tired, or maybe even a garish pair of sliders with "Bride" across the top of them? Why not make your back backup shoes a stunning pair of flat wedding shoes?
The Verity Lace Flat Wedding Shoes make the perfect accompaniment to any dress. Not to mention they are dyeable, allowing you to make them match the rest of your wedding style as perfectly as any other aspect of your day!
As a bride, it's important to keep a bag with a selection of backup accessories, including your spare shoes, maybe even a little make-up bag too. So why not take a look at the Kensington Duffle Bag to keep all your extras together. You're sure to have somewhere to keep it near you for those little wedding day emergencies!
It's Your Day
When it comes to your wedding day, remember, the choice is yours! So whether you would rather kick back in a pair of lace trainers, or you're looking for wedding heels, with a spare pair of bridal flats for later, or you might even want a pair of stylish sandals, don't let anyone choose your shoes for you!
Don't Forget The Matching Bag
So you've found your perfect pair of wedding shoes, but what about the perfect matching bridal clutch bag? Take a look at our fabulous collection of clutches, including some great designer pieces from Paradox London.