Top Tips For Rose Gold Accessories
Get on trend with all the latest rose gold accessories for your wedding. Here at Lace a & Favour we've got all the very latest accessories for every blushing bride-to-be. Rose gold is well and truly this season's new vibe and we adore it! Today we would like to share with you some ideas and inspiration for your perfect rose day. From head to toe, from rose gold hair accessories to rose gold shoes, you will find everything to fulfil your heart's desire in this super pretty soft pink shade.
Rose Gold All The Way…
If floral accents are your thing, check out some of the prettiest hair adornments which we think are truly charming. Ivory and Co have introduced a beautiful collection of delicate rose gold accessories and here are one or two of our personal favourites. The Cinnamon Rose hair vine shown here can be worn in any number of ways, and is both versatile and ultimately feminine. Entwined in a plait or around an informal chignon style, as a brow band or halo, the possibilities are endless. Featuring rose gold enamelled flowers and tiny rose gold leaves, this headpiece is simply exquisite.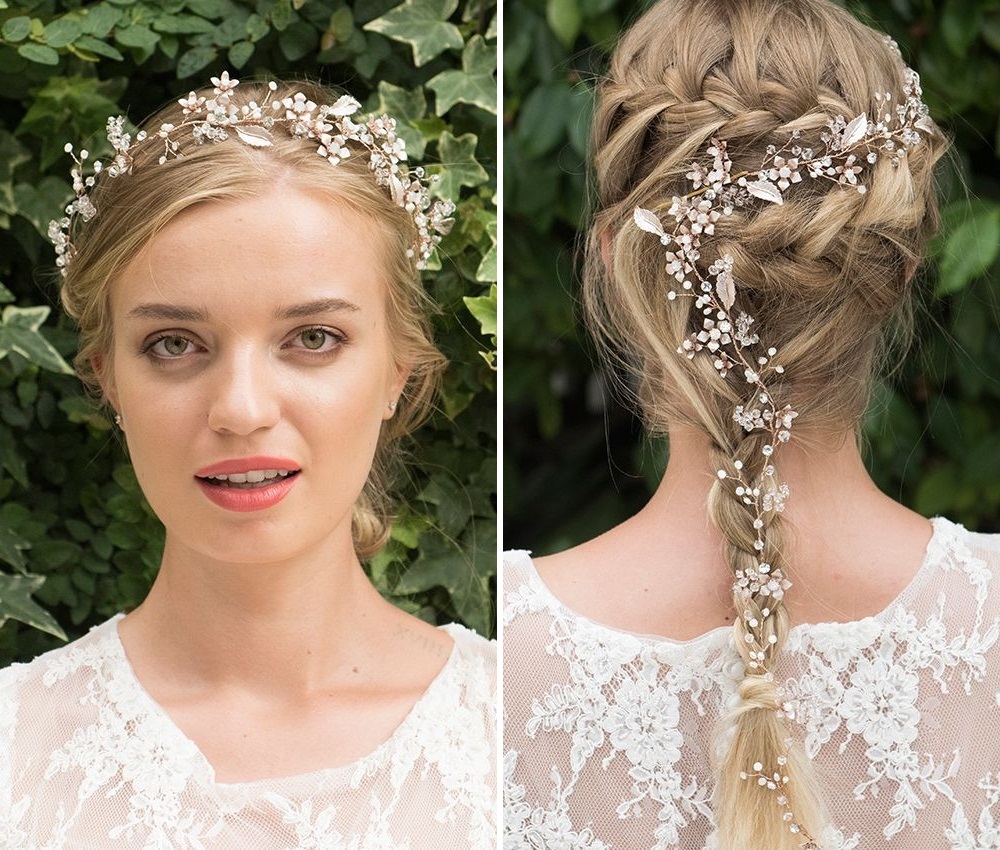 Equally versatile is the new Siren rose gold hair clip, again with a swirling vine of rose gold petals and leaves. This pretty headpiece will ensure you sparkle in the sunlight with it's dainty crystals and can also be worn on the side of the head or nestled at the back as shown here. For a simpler headpiece, and perfect for your bridesmaid's too at just £50, the Ivory and Co Petunia hair comb with rose gold flowers and diamante is a winner.
Bespoke Rose Gold Accessories
As rosy as you like is our favourite 'Love-in-Ideleness' hair drape from the new collection by Arianna. As all the Arianna headpieces are made to order, you can choose rose gold wire, your pearl colours, such as powder rose or cream rose and your crystal colours too. Remember our sales team are here to help you every step of the way to create your own individual rose gold hair piece. See here how this divine headpiece can be worn with or without a veil – either way, simply stunning!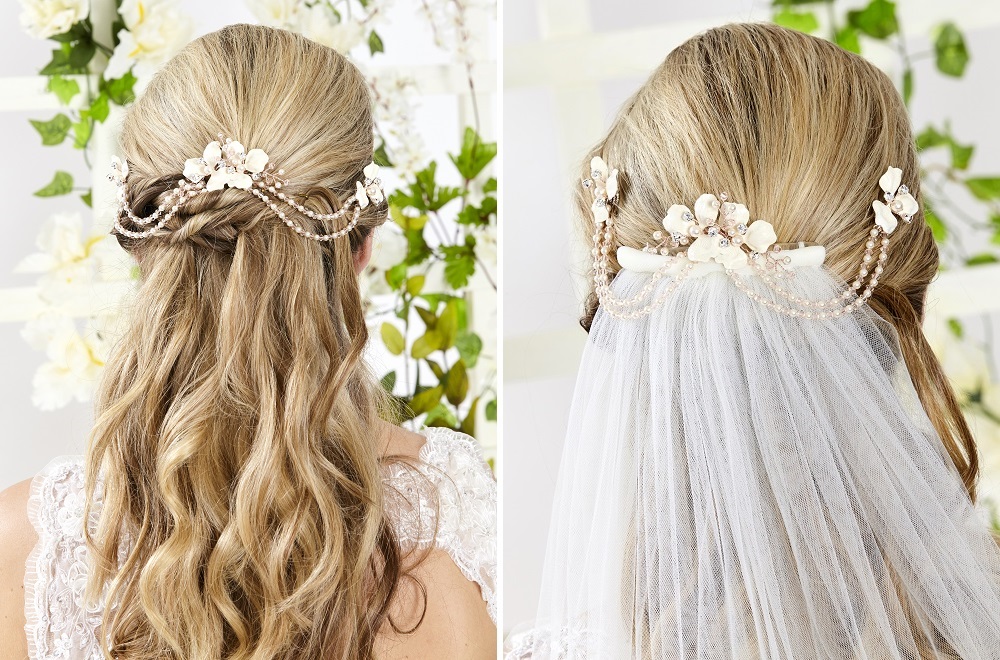 Two more favourites for the hair in rose gold from the Arianna range are the Long Floral Bridal Hair Vine, AR513 at £99.00 and the shorter, simpler Enamel Leaves Hair Vine at just £79.00. Both handmade to order by Arianna for Lace & Favour, and at a price that will suit every brides budget.
Sparkle and Shine
Accentuate your bridal look with our some of our favourite new-in rose gold wedding jewellery by Ivory and Co. The beautiful Montgomery rose gold pendant and earrings will dazzle and delight onlookers, and is perfect for an Art Deco styling. Classically styled we know this rose gold collection is going to fly. Look closely and you will see the faceted teardrop pendant is surrounded by baguette crystals which looks absolutely lovely against the rose gold setting.
Rose Gold From Top To Toe
Check out ultimate rose gold shimmering sensations in footwear, available from Lace & Favour today. The fabulous Freya Rose Pecina shoes shown here are perfect for your wedding or any occasion. Choose as a wedding shoe and wear them again and again, on your honeymoon or lunch with a friend, dress up or dress down with jeans. These wow-factor shoes can be worn any way. The Pecina mirrored rose gold shoes are a girls dream, with stiletto heel and memory foam lining to keep you comfy, and fine leather ties to flatter those lovely legs!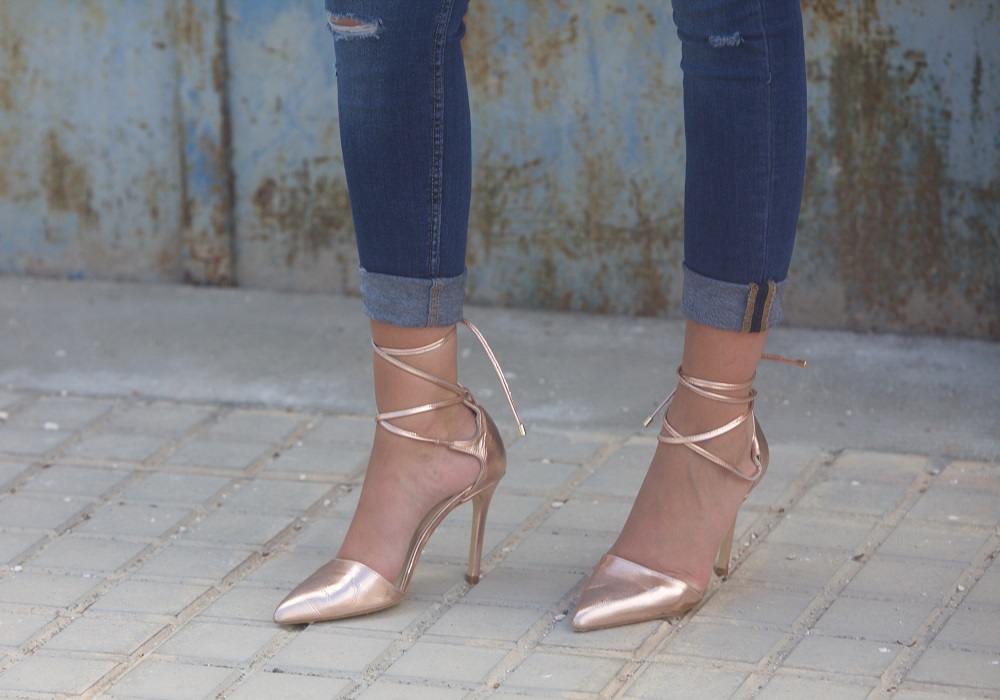 From Rachel Simpson may we introduce two more lovely rose gold leather occasion shoes. The gorgeous Monique metallic rose gold and porcelain T bar shoes are super comfy, but if you feel more secure in a slightly lower heel, the Mimosa leather shoe with rose gold accents will tick the box for you. All these shoes and more, are in stock and available to order from Lace & Favour right now.
Not Forgetting The Bridesmaids!
At an affordable price of £65.00 see here the ultra glam Tamara blush satin sandals by Pink Paradox. Ideally suited to sit with any rose, blush or pink theme, the Tamara shoes can be worn with both long and short dress styles. What's not to like about this flattering shoe with it's embellished ankle strap – the girls will love to wear them on your big day and long after too. Team with rose gold nail varnish the perfect pairing!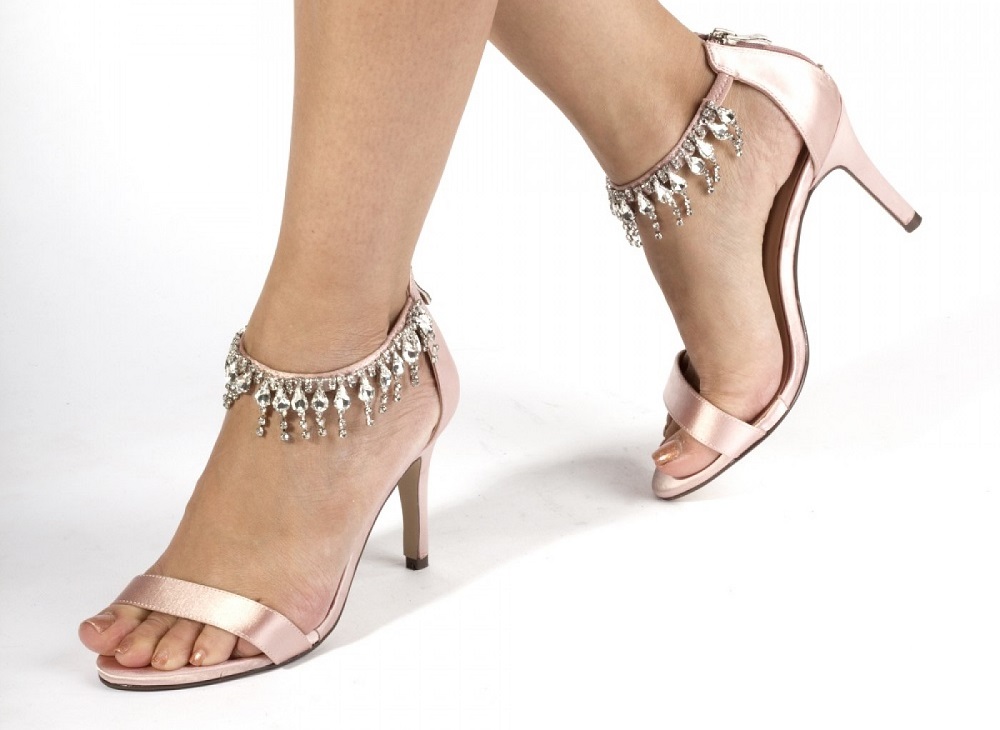 Our best selling bridesmaids' dress colour remains pale rose pink, and there are countless styles to create the perfect wedding ensemble. Our favourite dresses from the Jenny Yoo collection are shown here, two very different looks but both equally vintage-inspired as is the whole rose gold trend of today.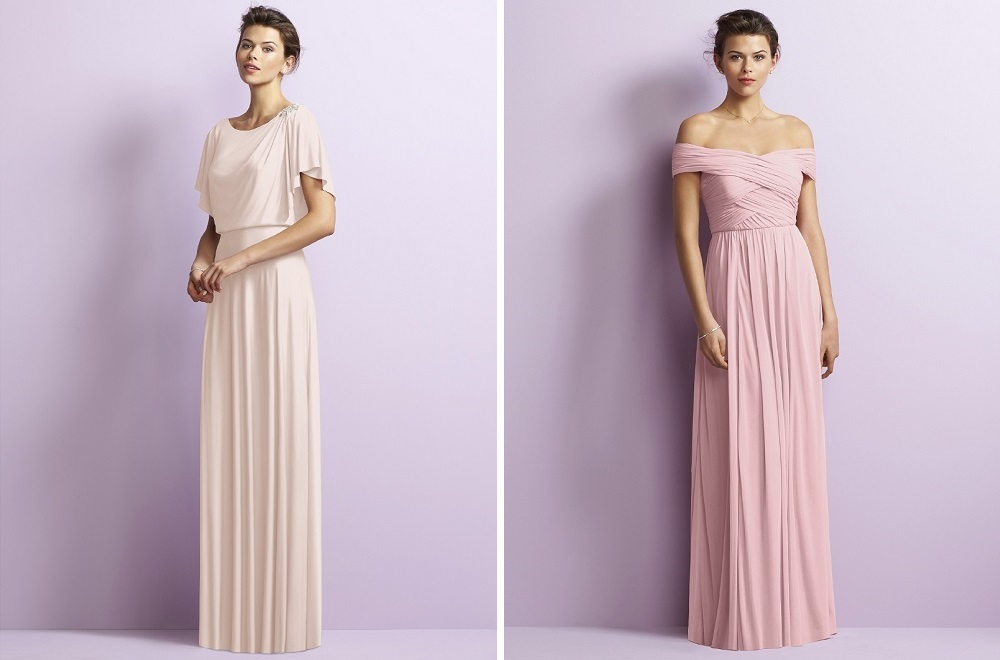 We hope this feature has inspired your search for the perfect rose gold accessories, the only problem is that you are spoilt for choice.
Happy shopping rose gold girls! X