Which Wedding Shoes to Pair With a Tea-Length Dress?
You have the dress and now need the shoes to match. It is a tough choice but one that you will have to make. Luckily for you, here are a few of our favourite pairs of shoes that look fabulous with a tea-length dress!
What Is Tea-Length Dress?
At Lace & Favour we love tea-length wedding dresses! Falling just below the knee and mid-calf, tea-length dresses are perfect for elongating the body and showing a little leg. Elegant, chic a little bit playful, tea-length dresses are perfect for modern brides that want a slightly more casual, yet still classic, wedding day look. In fact, tea-length dresses are a popular choice all year round, no longer reserved for summer sun, a shrug or a stole will keep you warm and cosy.
Nothing Says Vintage Like A Tea-Length Wedding Dress
If you're planning a vintage-inspired wedding, a tea-length dress is a must. When we think about tea-length dresses, the gorgeous Audrey Hepburn instantly comes to mind! The classic short wedding dress silhouette became iconic when she wore Givenchy's bateau-necked tea-length dress in her first musical movie Funny Face, released in 1957. Featuring a full skirt, a dropped waist and a tight bodice, the dress accentuated Hepburn's petite figure beautifully. Layers of delicate tulle under the skirt created a stunning feminine shape that was playful yet refined.
Timeless and a little bit flirty, tea-length dresses are perfect for a range of bridal styles, from relaxed rustic outdoor weddings to more sophisticated classic weddings!
So, What Shoes Pair Well With a Tea-Length Dress?
The honest answer is that any type of wedding shoe works well with a tea-length dress! We see brides wearing a range of different styles with their dresses which is what makes them so great. Whilst traditional dresses with full-length trains tend to hide shoes away, tea-length dresses allow you to show off your dream shoes in all their glory!
In terms of style, we love the look of delicate ankle strap shoes paired with a tulle tea-length dress but it's completely up to you on which style you choose. The key thing to remember is to ensure that you feel comfortable and beautiful on the big day.
Below we've handpicked some of our favourite shoes which match with tea-length dresses perfectly!
A Simple Heel
Keeping it super simple with a delicate heel and minimal additions, it's easy to see why we're full-on heart eyes, droopy face emoji gaga over these gorgeous shoes from Perfect Bridal! Decadent D'orsay heels crafted in ivory satin and adorned with iridescent, light-catching keshi pearls, Ella will effortlessly draw the eye down to the legs when paired with any tea-length number. A luxurious leather lining also offers maximum comfort for a busy day of dancing and more. Oh, and did we mention that they're dyable too? With a range of shades to choose from you can really add your own unique touch to your special day!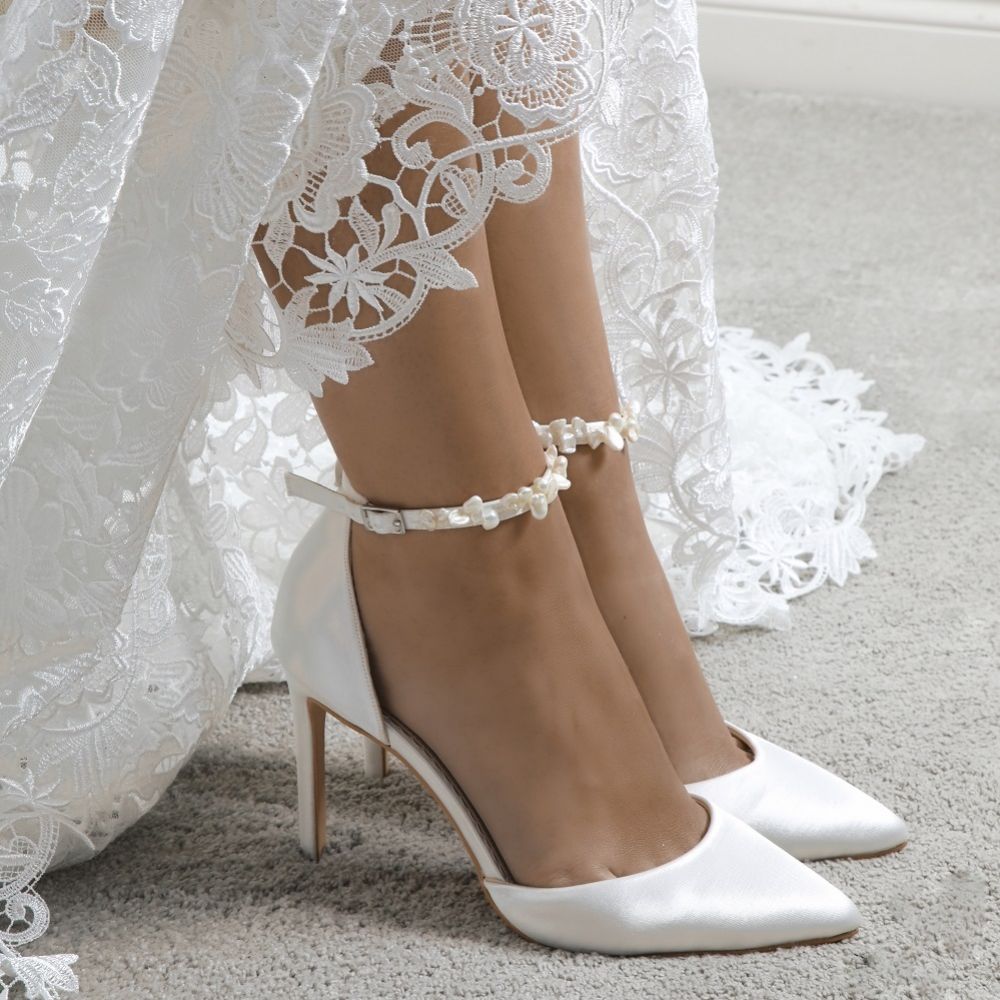 A Modern Wedge
Wedges haven't always been the trendiest option but they're back in fashion and we couldn't be happier. Not only do they offer you more stability and support than a traditional heel, but we love the look of them as well. Perfect Bridal's Floral Peep Toe Wedges are finished in satin and come in over 40 stunning shades, with the opportunity to colour match as well for the ultimate perfect look.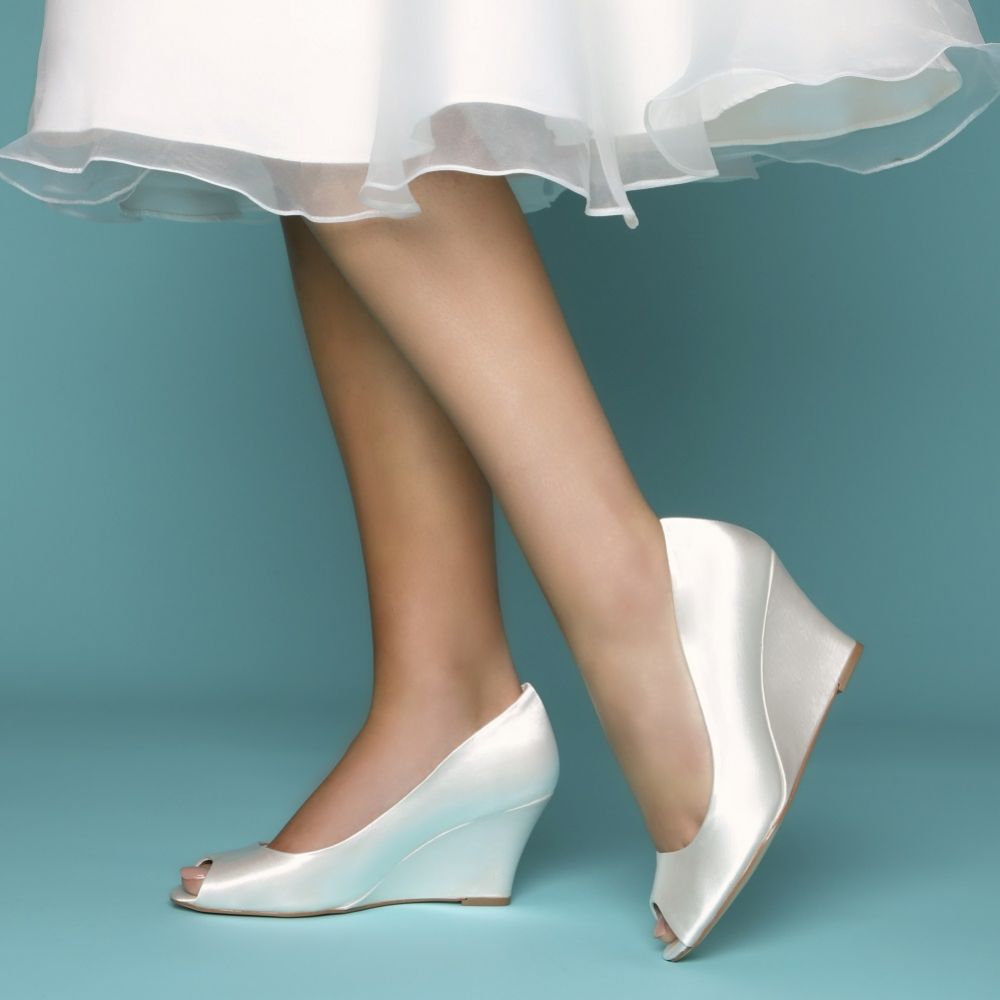 A Showstopping Shoe
If the devil is in the details for you, and you want shoes that will stop your guests in their tracks, these gorgeous slingback heels by Rainbow Club could be the choice for you. A new addition to the Rainbow Club SS21 Limited Edition Collection, Pandora will add a fun yet feminine touch to any bridal look. Crafted from luxurious ivory satin and finished with a romantic chiffon ribbon bow, they make the perfect addition to any outfit, particularly if your dress has a minimal design! With pointed toes and sleek stiletto heels, these shoes are designed to be seen and admired.
As with all Rainbow Club bridal shoes, you'll also find a hidden blue crystal in the soles as your 'something blue'. This thoughtful finishing touch is a tiny token of good luck on your special day and a true mark of Rainbow Club authenticity.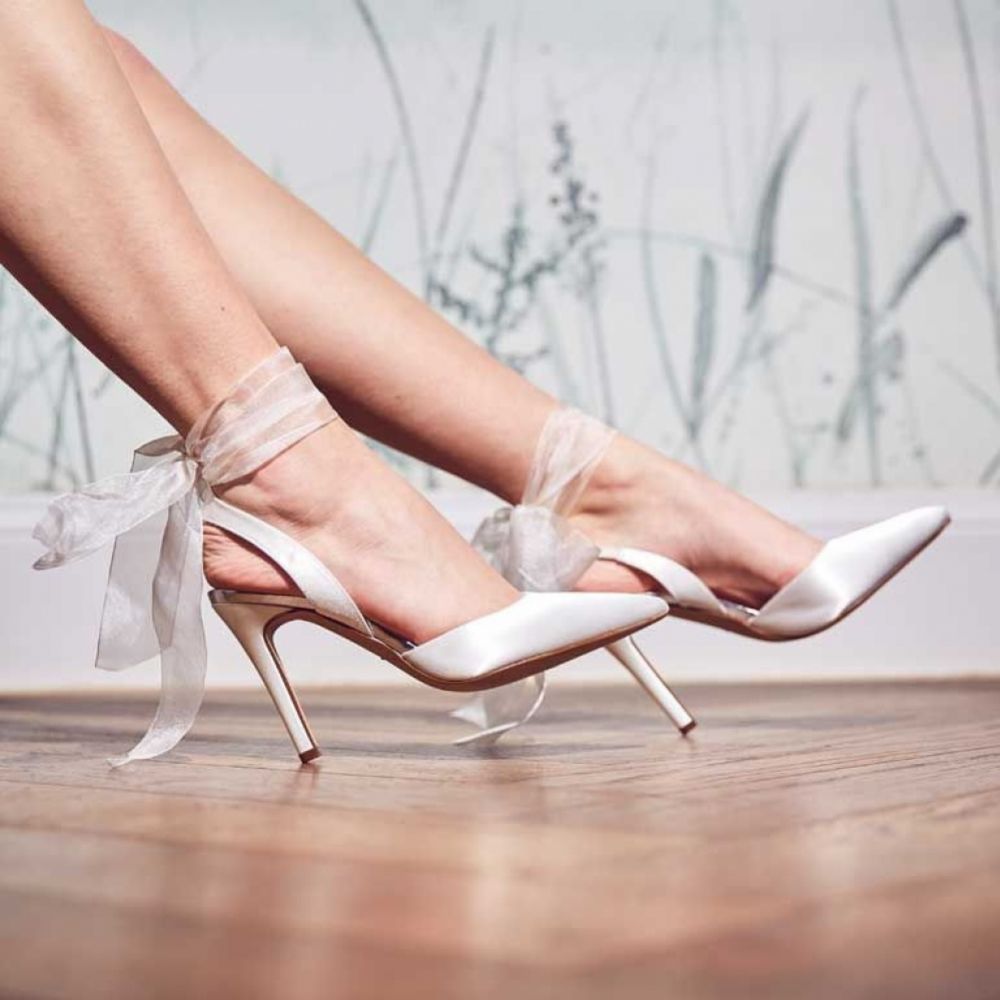 A summer sandal
A platform sandal designed to look good with almost any dress, the ones we have chosen are extremely versatile and comfortable too. The delicate details and dainty ankle strap mean that your dress can take centre stage for the whole day and the evening too. A perfectly plain sandal perfect for any bridal look, Fefe is ideal for a spring or summer wedding.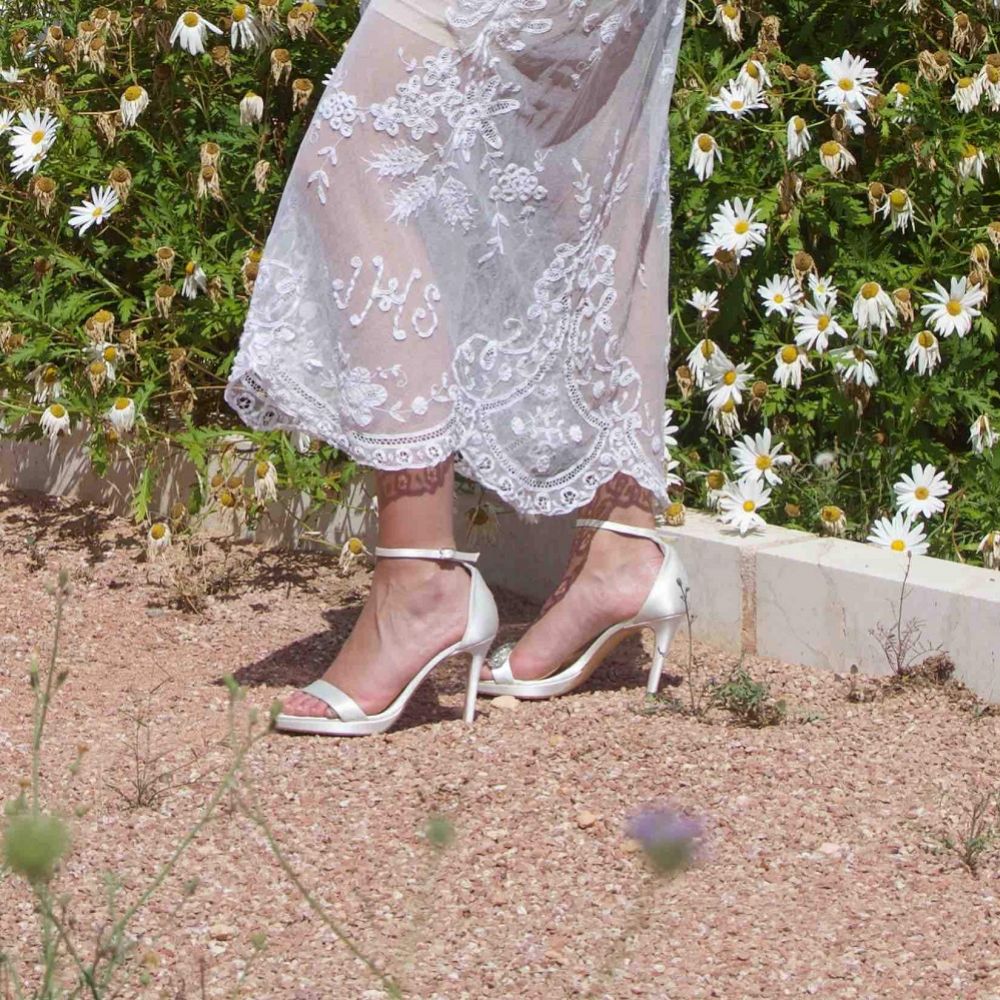 A classic court
If ever a shoe could stand the test of time, it is the court shoe. Classy and refined, court shoes are a match made in heaven for any tea-length dress. Ultra stylish and stable, Havana is a high block heel court featuring an elegant pointed toe and pretty curved detail on the side of the shoe. With a delicate glitter trim, that shimmers in the sunlight, Perfect Bridal's Havana wedding shoes have quickly become a firm favourite of ours!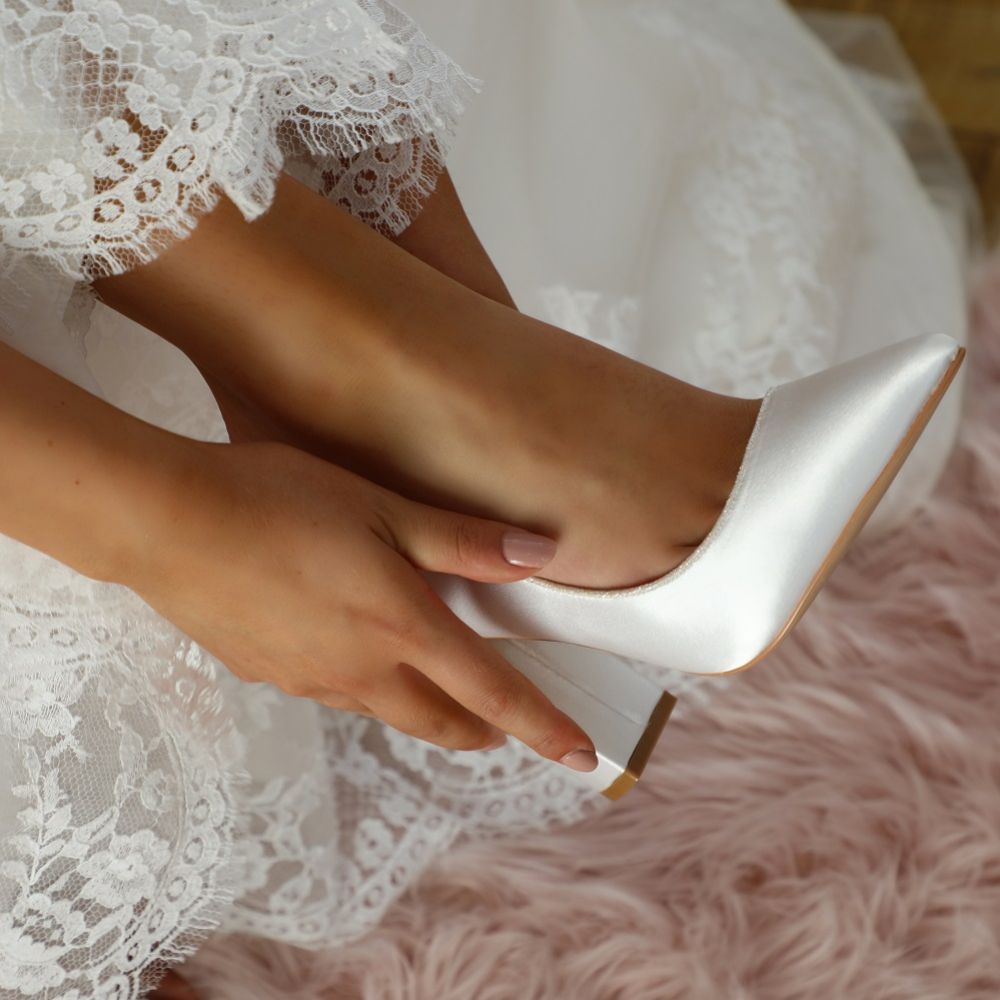 Things to Consider When Shopping for Shoes to Match Your Tea-Length Dress
Choosing a pair of shoes to match a dress is no easy task, and if you have that tea-length dress lined up and ready for action in the aisle, here are some things to consider when choosing the shoes to match.
How busy is the dress?
Have you opted for something plain or something with a little more character? If it is relatively plain, you can let loose with the shoes, but if it is something more intricate, you might want to opt for a shoe that is a little more understated, as not to detract from the dress.
Have you planned any other accessories?
You might have the dress ready to wear, but have you planned any other accessories into the mix? The reason we ask this is that some shoes have matching shrugs and suchlike, or you can start to build a theme of your own within your outfit, opting for consistency throughout and creating a sense of style from head to toe.
If you haven't planned any accessories yet, you can start with the shoes and take it from there, looking at things like jewellery, hair accessories and more to build out your look.
Is there a theme to your wedding?
If you have a theme planned, the shoes can be part and parcel of that. Mainly in the sense that if you're heading outdoors for a woodland celebration, wedges or flats may be more suited to your dress than a pair of stilettos would be!
What time of the year are you getting married?
The time of year may dictate whether you go open-toe or closed-toe. Now, it isn't a deal-breaker, but it is something to consider and keep in mind as you shop for shoes.
That seems like a lot of things to consider, but ultimately, you need to pick a pair that feel like you and try them with your dress. That is the only way you will know if they are the pair for you, but it can be quite a lengthy process of elimination!
Find Your Perfect Wedding Shoes with Lace & Favour
If you are shoe-hunting and would like an expert assistant, get in touch with Lace & Favour, where we will happily advise. We have a huge range of wedding shoes, and you can browse them all here if you so wish.