A Spring Wedding Flower Show
If you are like us and love all things floral then you probably already had your wedding flowers in mind long before you started wedding planning. Each flower represents something a little different and offers a vibrant display of colours. There is no better season than spring to incorporate your love of flowers. Or if choosing your wedding flowers is an overwhelming decision then let us guide you through all the flowers out there to make your day delightful floral. We are going to go through all of our favourite spring flowers which you can include in your big day. Whether you are looking for the perfect flowers to match your colour theme or do not even know where to start. From bouquets to floral-inspired jewellery, you will find the perfect floral finishing touches for your wedding day.
Rosy Red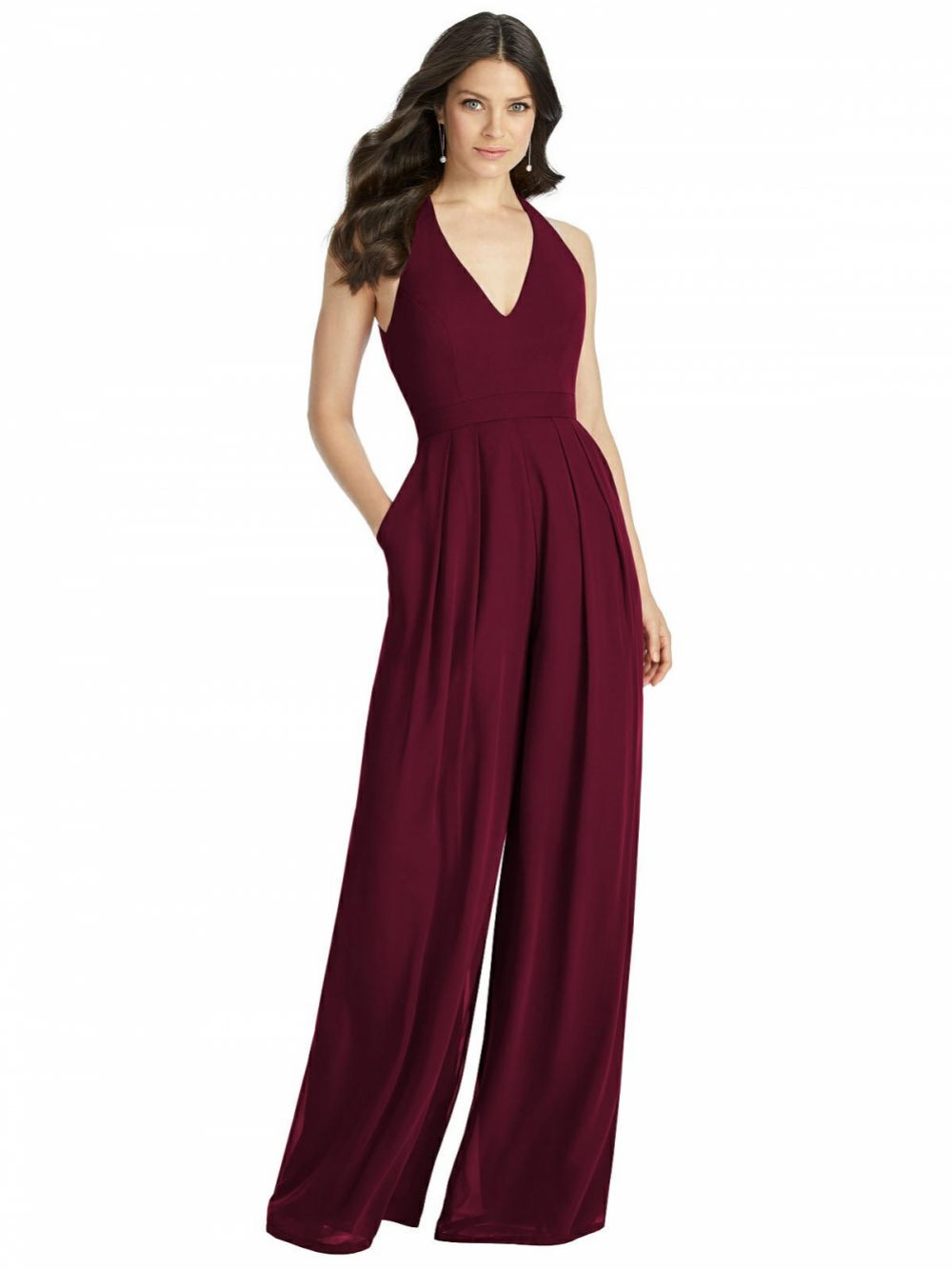 A spring flower that will never fail to disappoint is red spray roses which will inject colourful romance into your wedding day. Roses not only represent romance but they represent a long-lasting love, a fitting floral addition! Perfectly combine your spray roses with some greenery such as green carnations to keep them rooted in nature. Spectacularly complement this rosy display by dressing your bridesmaids in red. Matching your bridesmaids to your wedding flowers is a great way to create a cohesive colour scheme that runs throughout your wedding. We love this stunning V-neck backless jumpsuit which is perfectly practical while making your bridesmaids look and feel beautiful. The flowing trousers of the jumpsuit are styled with pleats for a gorgeous feminine look. Plus the rich tone of cabernet adds a luxurious feel. And if you love the jumpsuit but are considering a different colour theme then do not worry, it is available in an array of colours!
Sensational Silver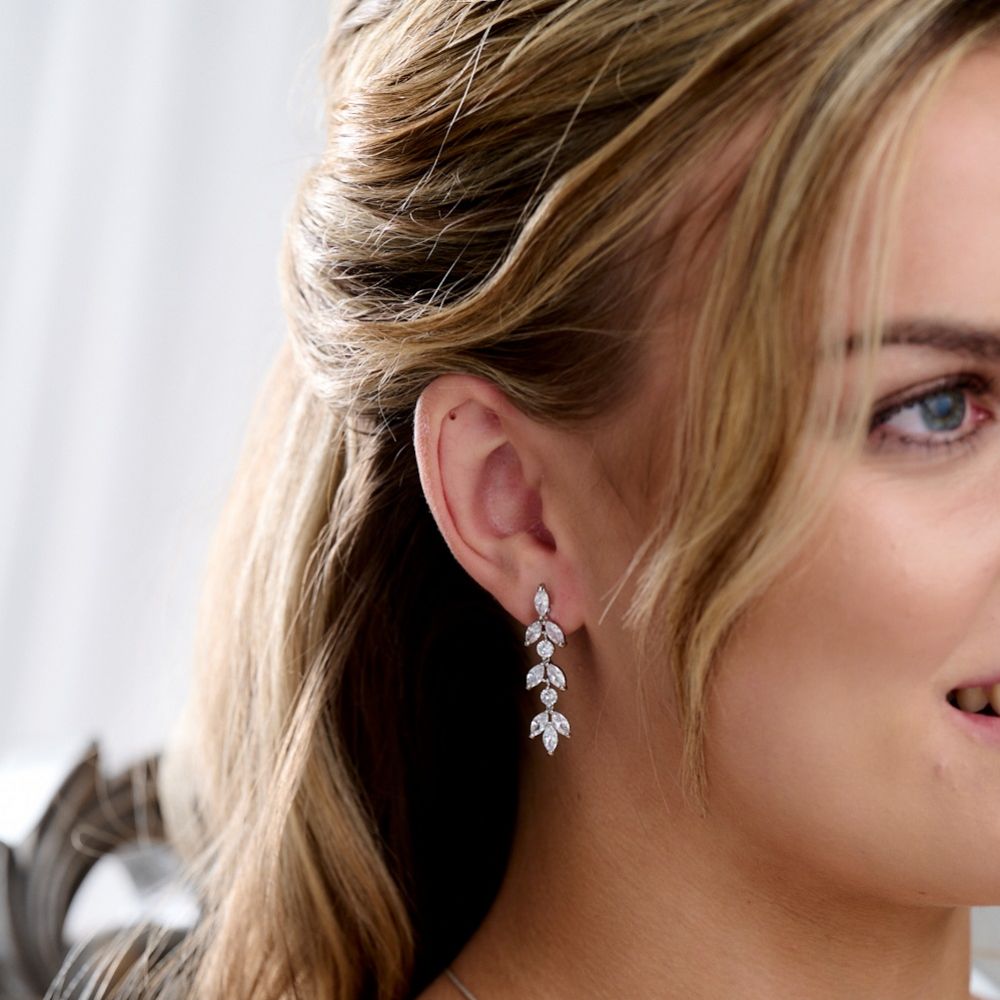 If you are after a more neutral colour to run throughout your day then silver is a great choice. The stunning dusty miller leaves provide stunning silver and white tones. They will compliment almost any colourful flowers or keep it simple with them as your statement piece. Add silver jewellery to create a stylish look, much like these classy silver cubic zirconia drop earrings. The leaf-inspired design makes them the perfect addition to a spring wedding look. These glamorous earrings are interspersed with sparkling solitaires for an elegant design. These versatile earrings would also complement any other silver jewellery you have your eye on!
Iris Inspired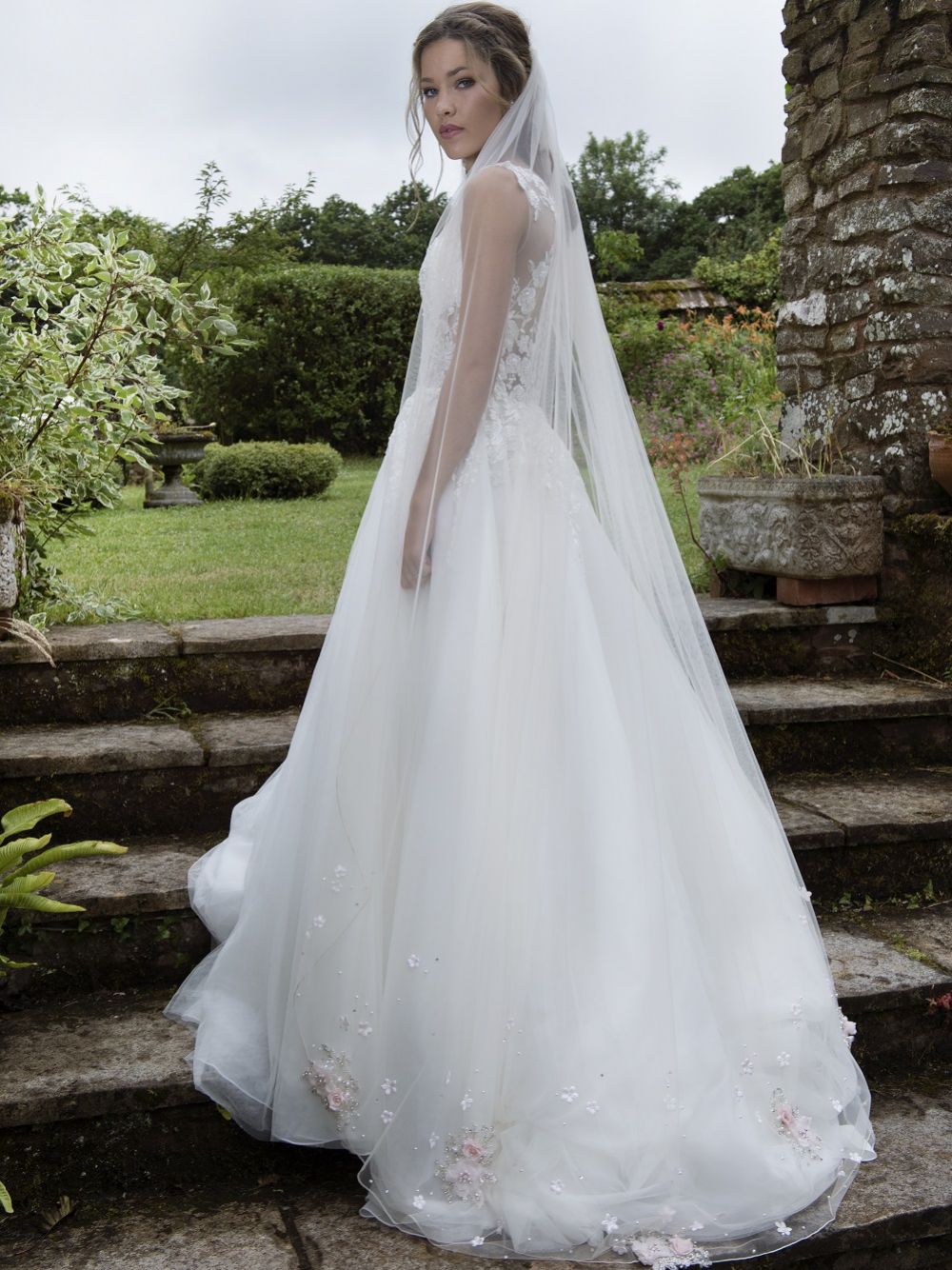 If you are searching for a wedding flower that holds a lot of meaning then the iris may be for you. This iris represents faith and all the good things in life. Further, irises represent hope and optimism. These are perfect symbols to invoke meaning into your wedding flowers. You can then press these flowers so that you can look back on them throughout your marriage as you can place these pressed flowers around your home as a reminder of faith and hope. Irises are also a very versatile flower, they come in a variety of different colours. Leaving you with the option of staying true to one colour or embracing an array of floral colours. We love pink irises as they represent feminine beauty which is the perfect accompaniment to any blushing bride! Further, pink irises represent a deep connection that reflects your relationship with your partner. You can either fully embrace your wedding colour theme or add subtle hints to your bridal look. If you are after an accent of colour then this single-tier veil with blossom motifs might just be your match made in heaven. This boho-chic veil is embellished with blush blossoms to tie into your pink theme. The veil also features delicate crystals to add an element of sparkle, the perfect choice for an understated bride. And it gets better, the perfect spring floral finishing touch is the divine large blossom motif creating a truly beautiful floral-inspired veil!
Amazing Astilbe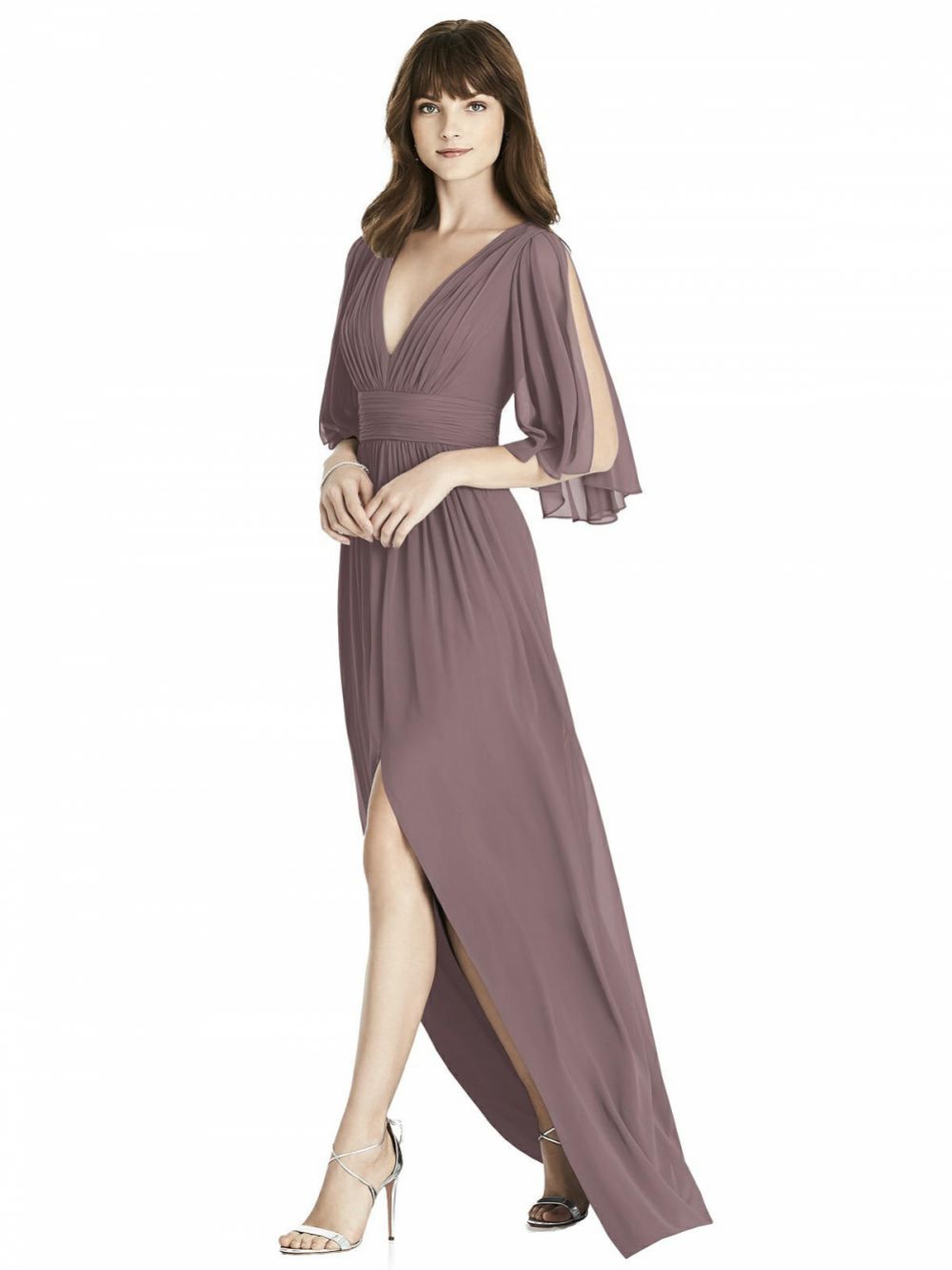 A lesser-known flower that comes to life during the spring blooming season is the astilbe. This gorgeous flower can bloom into a luxurious purple shade, perfect if purple is one of your favourite colours. Purple astilbes would complement many other flowers such as white roses for a beautiful bouquet. Quite significantly astilbe flowers symbolise patience with your loved one, which you may need a lot of over this wedding planning! Further, the flower symbolises dedication to your loved one which will be concurrent with the theme of your wedding. This flower is the perfect addition to any bridal bouquet for your beautiful union. Treat your bridesmaids to a stunning something purple with this gorgeous backless chiffon maxi bridesmaid dress. This dress offers a modern look with unique split bell sleeves, this design is flattered by the centre front slit in the dress. A gorgeously romantic look to have your bridesmaids feeling beautiful!
White Wedding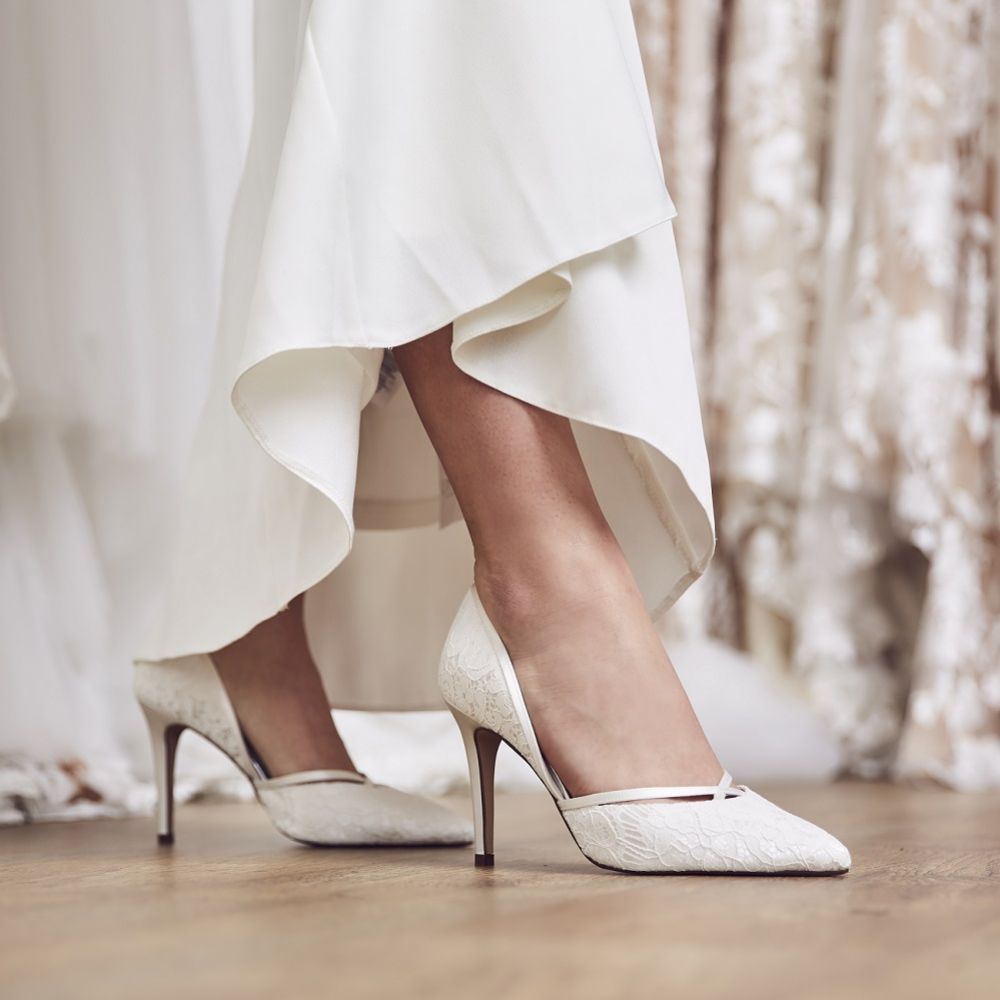 While flowers are the perfect injection of colour into your wedding day, we cannot deny the stunning impact a white flower can make. We love the white wax flower as part of a bridal bouquet as it is fantastically classic and elegant. Going for a white flower as the centrepiece of your wedding flowers is a great choice if you are planning a traditional wedding. So you may not be after pops of colour but rather looking for timeless elegance. These classy ivory satin and lace court shoes will never go out of style. The wedding shoes offer a modern take on traditional style. With satin piping, a gorgeous cut-out silhouette and an elegant pointed toe. These shoes are oozing with class and style for your modern take on traditional wedding style!
Going Green
If you want to step outside the norm then consider replacing traditional wedding flowers with bouquets of greenery. Then take a leaf out of the indigenous Maori people of New Zealand's book and incorporate the fern. The fern is said to represent new life and new beginnings in traditional Maori folklore which is a lovely idea to bring to your bouquet arrangements. Then perfectly layer this green theme with these gorgeously green velvet court shoes. The delicate ankle strap, as well as the mid-heel, will keep you secure all day and night. Plus, green is the perfect colour theme to honour the spring wedding season!
Flower Shower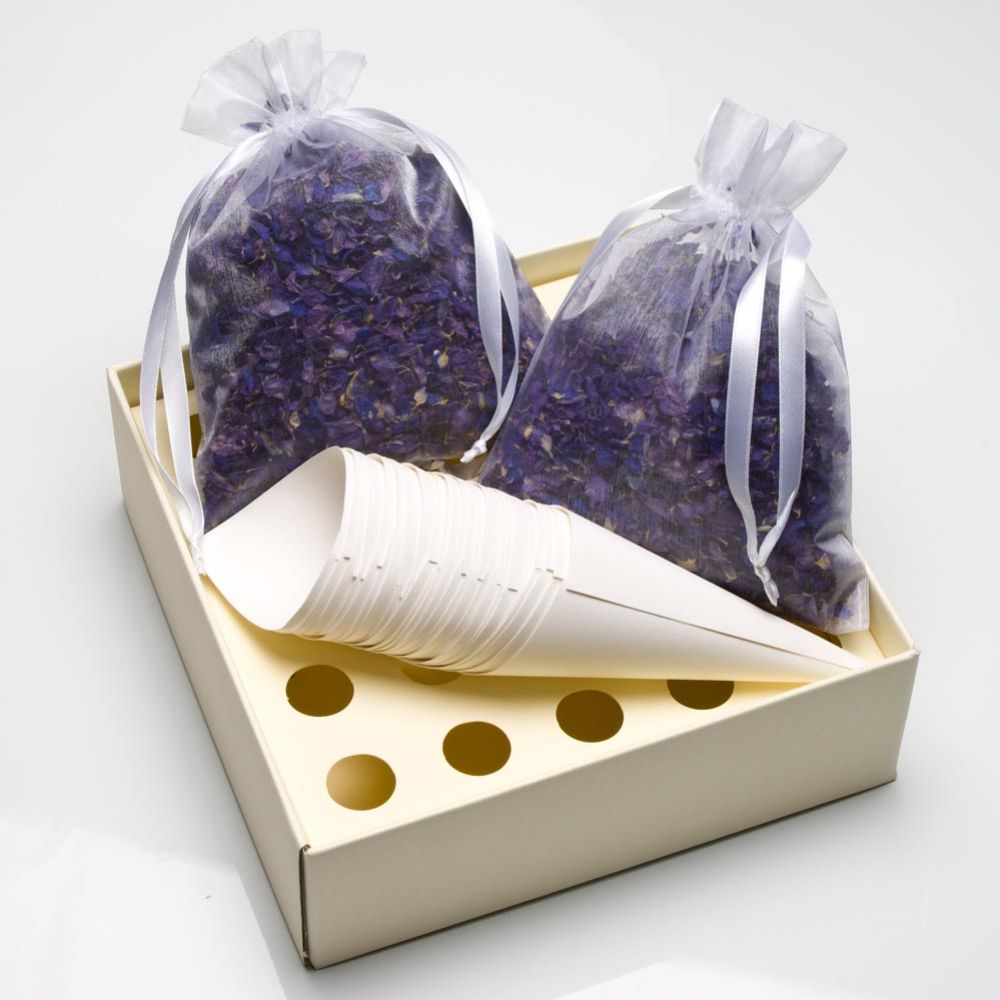 A wonderful wedding tradition that will be perfect for a spring wedding is throwing petals over the newly married couple. While the act was traditionally meant to bring fertility to the couple, it is now more about creating lifelong memories of all your loved ones throwing petals at you and gorgeous photographs. And if you are after stunning pictures then these purple delphinium petals will not let you down! This set comes with cones to hand out to your loved ones for the confetti throwing. You could also use these petals as a table decoration! And if you are worried about leaving a mess then do not worry, these petals are dried and biodegradable!
A Floral Finale
So embrace the spring season and have fun incorporating all things floral and green into your wedding day. Whether you want to stay traditional with delicate white flowers or dive into an abundance of colour with irises and roses! Whatever your style, spring is the perfect opportunity to create a fresh and fun feel for your wedding. Whether you are just thinking of a bridal bouquet or decking your venue with flowers, choose flowers with a meaning which is extra special to you. Then you can press these flowers for the most beautiful keepsake. And do not forget that you can use flowers for decor, such as sprinkling petals over the tables or including some pretty petals in favour boxes. Flowers are versatile so do it your way!
Whether you are after some wedding shoes to give you a spring-inspired pop of colour or looking for floral-inspired jewellery. You can shop your spring-inspired look here at Lace & Favour.