The 50 most iconic celebrity weddings of the last decade
From £20,000 cakes and private island parties to not one, not two, but three wedding gowns, we reveal the celebrities that spared no expense to make their big day one to remember.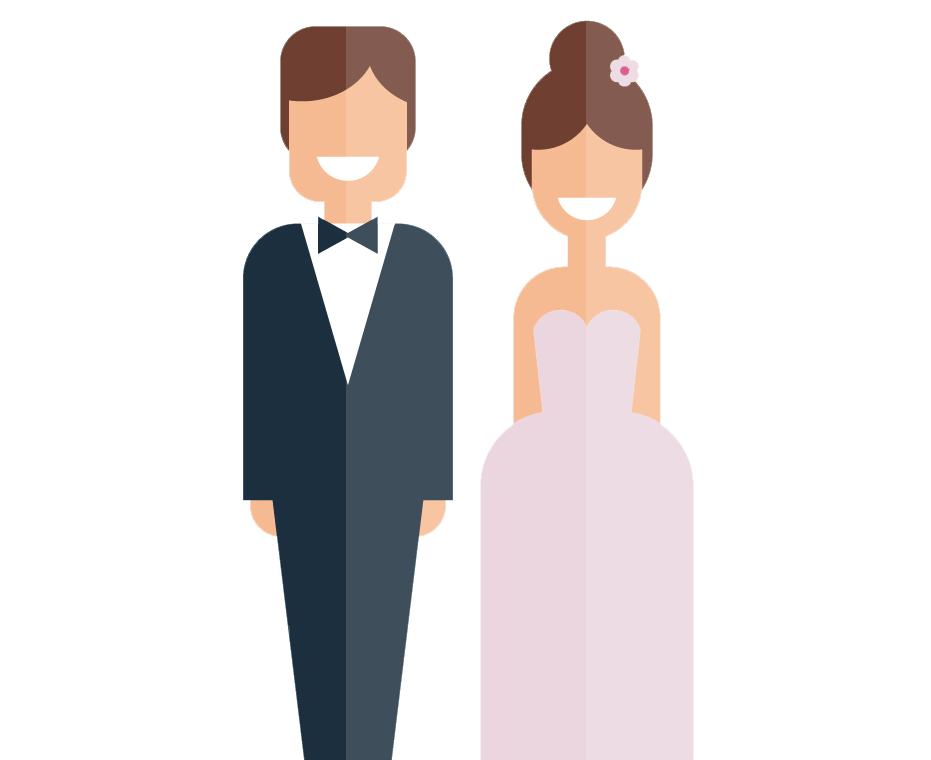 50. Isla Fisher and Sacha Baron Cohen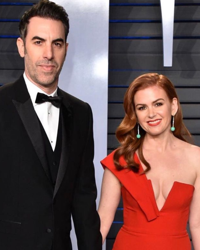 photo source: @islafisher
As romantic as a low-key secret ceremony in the city of love can be, when it's so secret even your family are unaware it's happening, could it be classed as boring?
With few details of this dynamic duo's big day and not even hint of how Miss Fisher wore her signature auburn locks, we're going to have to award these nuptials with last place.
The venue: Isla Fisher and Sacha Baron Cohen's 2010 wedding was held in secret in a traditional Jewish ceremony which took place in Paris. It took six years from when Cohen proposed to his wife for the ceremony to actually take place, during which time Fisher converted to Judaism, a tradition that Cohen didn't want to break. Very little is known about the couple's big day (friends and family were only informed of the details via email) and it is perhaps this secretive element that makes the wedding and the couple's relationship so intriguing.
49. Emily Ratajkowski and Sebastian Bear-McClard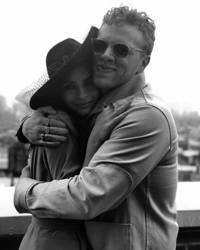 photo source: @emrata
The venue: Top secret weddings are always the most exciting and this one in February 2018 was no exception. Emily only split from long-term boyfriend Jeff Majid just weeks before these surprise nuptials took place and, to put it bluntly, everyone was SHOOK. The wedding was officiated in City Hall Manhattan.
The dress: Emily wore a fitted mustard yellow Zara suit, costing just $200.
The cake: Anyone's guess but probably definitely not a traditional white frosting fruit cake number.
48. Miranda Kerr and Orlando Bloom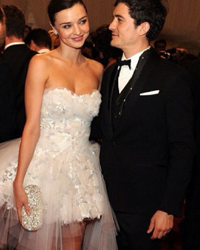 photo source: @mirandakerrorlandobloom
The venue: This Pirates of the Caribbean heart throb and Australian supermodel wed in July 2010 in an intimate ceremony, described as 'low-key', which took place in Los Angeles. As much as we would have LOVED to see what the VS model wore, details to what happened on the day of the event are extremely thin.
Will his next wedding to fiancé Katy Perry give a bit more away?!
47. Justin Bieber and Hailey Baldwin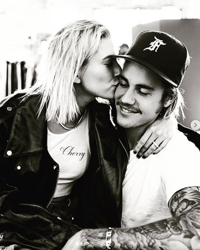 photo source: @justinbieber0913
The venue: Perhaps one of the most surprising weddings of the past 10 years, Justin and Hailey acquired a marriage license at a New York courthouse on September 13th, 2018 and didn't announce their nuptials until November that year. Whilst a date for a huge party is yet to be announced, rumours surrounding Mr and Mrs Bieber's wedding venue has taken a turn from all-out LA celebration to a destination wedding with an intimate guest list.
We don't know what to beliebe.
46. Calista Flockhart and Harrison Ford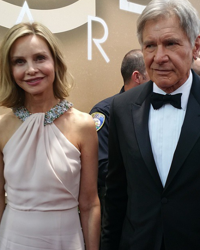 photo source: @goldenglobes
The venue: This happy couple wed on the 15th June 2010. The nuptials took place at the Governor's Mansion in Santa Fe, where Harrison was filming Cowboys and Aliens at the time. How… romantic? Few details have actually been shared about the ceremony itself other than for it to be described as 'modest'.
The dress: Calista was casual for the event in an elegant white sun dress and Ford rocked up in a fresh pair of Wrangler jeans… what else?!
The cake: Perhaps a casually modest sponge cake with strawberry jam? Your guess is as good as ours.
45. Miley Cyrus and Liam Hemsworth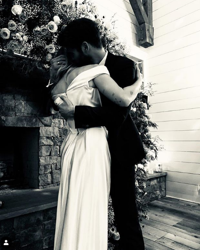 photo source: @mileycyrus
The venue: The 2018 Christmas wedding of Miley Cyrus and Liam Hemsworth took place in the Cyrus family's Tennessee home, just as her parents did 25 years previously. Featuring traditional décor, wedding flowers and an impressive balloon arch, it was the perfect low-key affair.
The dress: Miley's ivory satin bridal gown was a bespoke Vivienne Westwood design, which featured a drapey, off-the-shoulder design and a straight, clean cut fit. The gown cost a (fairly) modest $8,600.
The cake: A small (but delicious looking) two tier sponge covered in white buttercream frosting.
44. Karlie Kloss and Joshua Kushner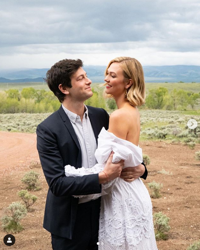 photo source: @karliekloss
The venue: VS model Karlie Kloss married hubby Joshua Kushner in an intimate New York officiation in January 2019 but in June had the party everyone had been waiting for in the form of a countryside style celebration in Wyoming, with a star-studded guest list including Katy Perry and Orlando Bloom.
The dress: For her first ceremony, Karlie wore a custom Dior gown by Maria Grazia Chiuri. Her reception outfit (eight months later) was a prairie-style, off-the-shoulder white dress in keeping with the country theme of the party.
The cake: The couple's wedding cake was from Momofuku Milk Bar and was a Funfetti birthday cake style creation.
43. Kelly Clarkson and Brandon Blackstock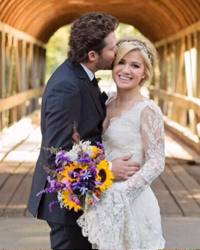 photo source: @kellyclarkson
The venue: The bride and groom chose the perfect countryside setting for an October wedding when they tied the knot on Blackberry Farm in Walland, Tennessee in 2013. The beautiful venue is nestled amongst the smoky mountains and boasts 4,200 acres of greenery. The wedding was extremely intimate, with only the couple and Brandon's two children involved in the celebrations.
The dress: Kelly wore a Temperley bridal gown in a boho style, complete with a Maria Elena headpiece and a bouquet of vibrant sunflowers.
The cake: With the couple eloping in private, details like this are thin on the ground.
42. Declan Donnelly and Ali Astall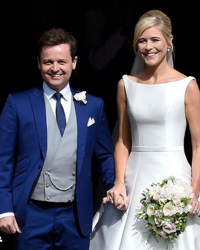 photo source: @ant_dec_
The venue: Forget Ant and Dec; 1st August 2015 was all about Ali and Dec as they wed in Newcastle at St Michael's Church, Elswick. Guests were then taken to a luxurious marquee where they enjoyed Marvin Humes on the decs – geddit?
The dress: We think you'd struggle to get more classic than Ali's beautiful ivory satin gown, complete with boat neckline and pleated skirt. Ali's dress was designed by Philippa Lepley and she accessorised simply with a pair of pearl drop earrings.
The cake: Details of the celebrity-studded reception are few and far between but judging by the bride's traditional attire, white and perhaps a little fruity comes to mind.
41. Johnny Depp and Amber Heard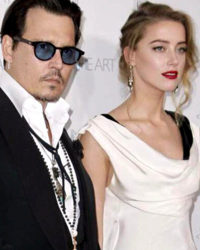 photo source: @johnny_depp_brazil
The venue: February 2015 saw the short matrimony of Johnny Depp and Amber Heard be made official at their LA home. A few days later, the couple had a second ceremony on Depp's private island in The Bahamas, surrounded by sun, sea, sand, flower arches and couple's nearest and dearest.
The dress: Amber wore a simple white gown with long sleeves and a veil which blew in the sea air.
The cake: With Amber reportedly doing her own hair and make-up, who knows if there even was a cake for this rock n roll couple?
40. Lily Allen and Sam Cooper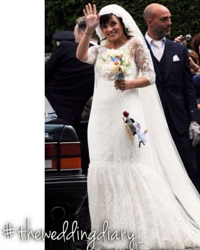 photo source: @theweddingdiary_
The venue: This couple's wedding was of a traditional country style and took place at the church of St. James in Gloucestershire in June 2011. After the church wedding, guests relocated to Lily and Sam's house for a relaxed reception of cricket tea.
The dress: Lily wore a French lace gown, by designer Delphine Manivet, which hung elegantly over her baby bump and had beautiful lace sleeves. She finished the look with a 1920's-inspired lace veil – vintage bride style done right.
The cake: The reception was a private affair at the couple's home, so details about this remain under wraps!
39. Brad Pitt and Angelina Jolie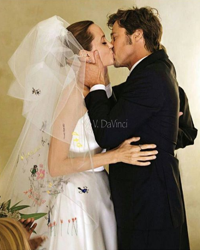 photo source: @violeta.davinci
The venue: This perfectly matched (or so we thought) couple wed on 23rd August 2014 at their French home, Chateau Miraval – a 1,000-acre vineyard estate.
The dress: Angelina wore a colourful Versace gown embroidered with dozens of her children's drawings. The white satin dress was a floor length number with a corseted waist and full skirt. She covered her tied up hair with a cathedral length veil.
The cake: The couple spared a lot of expense on the cake by swapping a show stopping professionally made cake for one their kids made instead. Rustic chic?
38. Tom Daley and Dustin Lance-Black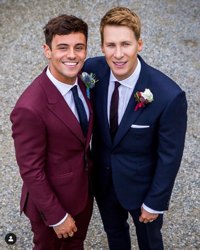 photo source: @tomdaley
The venue: Professional diver Tom Daley wed his screenwriter husband on 6th May 2017 at Bovey Castle in a luxury five-star golf resort. Tom reportedly re-enacted the Romeo and Juliet balcony scene, reciting the famous words to his husband down below. Extra.
The dress: Tom wore a maroon suit whilst Dustin was dapper in navy blue.
The cake: The multi-tier red, white and blue creation was a super fun design covered in stars, stripes and sprinkles.
37. Geri Halliwell and Christian Horner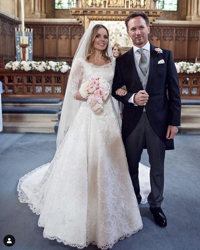 photo source: @therealgerihalliwell
The venue: This couple said 'I do' in a charming 19th century church in Woburn in May 2015. The wedding was every inch the fairy tale country setting, with a reception held in a marquee in Woburn Abbey. The marquee was SPICED up with batches of flowers in pink white and cream.
The dress: A popular choice amongst brides, Geri wore a floor length ivory lace Philippa Lepley gown with a V back and cathedral veil.
The cake: Whilst the cake on the actual day was kept under wraps, a few days before the nuptials, Geri celebrated her impending wedding with a cake baked by her sister and decorated with her favourite chocolates – Kit Kats and M&M's.
36. Christine Bleakley and Frank Lampard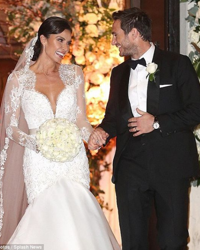 photo source: @franklampard
The venue: This couple opted for a Christmas wedding on 20th December 2015 at St. Paul's church in Knightsbridge. The ceremony was followed by a reception at The Arts Club. The big day featured a performance by none other than Ed Sheeran.
The dress: Dressed perfectly for a winter wedding, Christine wore a long-sleeved white lace gown by Suzanne Neville. The dress featured a cinched waist, a fishtail skirt as well as a plunging neckline. She completed the beautiful look with a tulle veil and silver Mary-Janes.
The cake: This bit was kept totally under wraps!
35. Frankie Sandford and Wayne Bridge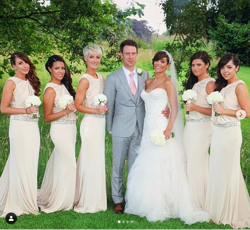 photo source: @frankiebridge
The venue: Frankie Sandford wed Wayne Bridge in a star-studded ceremony in Woburn Abbey in Bedfordshire and in true country wedding style the reception was held in a beautiful marquee in the grounds. The event was held on 19th July 2014.
The dress: The bride stunned in classic all over lace and a sweetheart neckline. Her signature pixie crop was swept over to one side and decorated with a pearl headband and long veil.
The cake: The bride has famously kept schtum about her big day, sharing a select few Instagram pictures without a cake in sight.
34. Peter Andre and Emily MacDonagh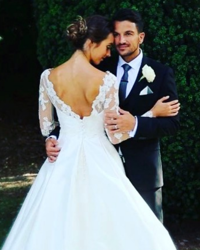 photo source: @peterandre
The venue: Emily and Peter wed in July 2015 at the beautiful Mahmead House in Exeter. The intimate ceremony was quintessentially British, with the reception held in the dining room of the Grade I listed Georgian mansion.
The dress: Emily wore a beautiful Sassi Holford gown with delicate laced sleeves and a box pleat skirt. It was made from the finest Italian silk Mikado. Her cathedral veil was embroidered with the same French lace that was featured on the dress.
The cake: The cake was a satin-look multi-tiered ivory wedding cake, complete with white frosting roses that spiralled all the way around the outside.
33. Sir Elton John and David Furnish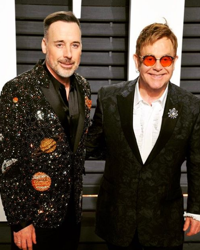 photo source: @davidfurnish
The venue: In December 2014, Elton John and David Furnish turned their civil partnership into a marriage. The pair held a celebration at home on their Berkshire estate with a star-studded guestlist. Guests were served Laurent-Perrier champagne and a delicious menu of mushroom soup with truffle cream, beef short rib and warm chocolate pudding. The tables were covered in red roses.
The dress: Both Elton and David dressed in black tie with a red rose buttonhole.
The cake: The pair cut a monogrammed cake, decorated with red rose petals and the grooms' initials.
32. Jennifer Anniston and Justin Theroux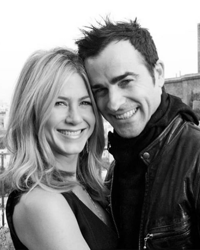 photo source: @jen_aniston3
The venue: Jen and Justin's wedding day took place on August 5th 2015. It's reported that details about the big day were kept so secret that even guests just thought they were attending a birthday party for Justin. The wedding was hosted at Justin and Jen's home, with stone round seating and an abundance of candles decorating the grounds. Sia sang at the couple's reception.
The dress: Despite knowing every detail of her glass-beaded Lawrence Steele creation that she graced the aisle in when marrying Brad, Jen hasn't ever revealed ANY details about her wedding dress when marrying Justin.
The cake: A muppet-esque wedding cake, made by Duff Goldman of Charm City Cakes, showed Jen and Justin as bride and groom in cake-muppet form and was a deliciously classic combination and vanilla and strawberry.
31. Millie Mackintosh and Professor Green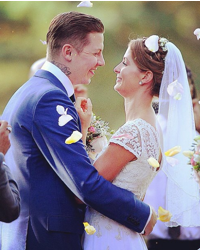 photo source: @mightypanther17
The venue: This unlikely pair tied the knot on 10th September 2013 in a countryside wedding at Babington House in the Cotswolds. The venue was full of fresh flowers, including a floral arch at the door to the chapel.
The dress: Millie wore a vintage style lace Alice Temperley wedding dress, paired with a beautiful pair of white, peep-toe Louboutins. Her brown hair was pulled into a braid on top of her head and adorned elegantly with miniature white flowers. A true country garden bridal look.
The cake: There are few details of what happened inside the actual reception venue and not an iconic 'couples cut the cake' photo in sight…
30. Chris Pratt and Katherine Schwarzenegger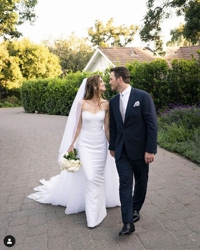 photo source: @katherineschwarzenegger
The venue: 8th June 2019 saw the wedding of Chris Pratt and Katherine Schwarzenegger, which took place in a luxury resort named San Ysidro Ranch, packed full of florals and greenery – the perfect vibe for a summertime wedding.
The dress: Ever the casual celebrity wedding, both bride and groom wore custom Armani, with Katherine having not one, but two, dresses for the event. Her wedding gown for the ceremony was a strapless, figure-hugging white silk number, accompanied by a classic mid-length veil.
The cake: There are no details as to what type of cake was at the wedding, but it was reported that Chris had just a small twelve pound serving. As you do.
29. Amy Schumer and Chris Fischer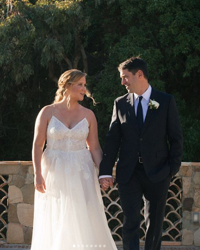 photo source: @amyschumer
The venue: The couple opted for an outdoor, ocean-front ceremony on the terrace of a private Malibu home in February 2018. The ceremony was a theme of blush and neutral colours, making way for Amy's ethereal style gown and boho hairstyle.
The dress: According to reports, Amy bought the first gown she tried on, which was a $5,500 Monique Lhuillier Severine Chantilly Lace and Tulle Gown.
The cake: It's anyone's guess, but reports note that guests dined on oysters, so make of that what you will!
28. Fearne Cotton and Jesse Wood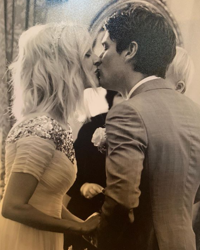 photo source: @fearnecotton
The venue: The official ceremony for these love birds kicked off in a London registry office on 4th July 2014, before a vintage car drove them both to the reception. The rock n roll couple chose an English garden reception at the Orangery in Kew Gardens – an eighteenth-century glass house. Mr and Mrs Wood danced their first dance to Tom Odell playing the piano. Friends in high places eh?
The dress: Fearne wore a custom-made white tulle gown with silver embellished neckline by Emilio Pucci. She finished the look in true boho style, with loose hair and minimal make up.
The cake: With Fearne's love of baking no secret, the cake was nothing short of spectacular as the giant sponge creation covered in multicoloured frosting flowers sat proudly at the reception for guests to admire. In an Instagram post, Fearne revealed the cake was made by 'cake angel' Juliet Sear.
27. Andy Murray and Kim Sears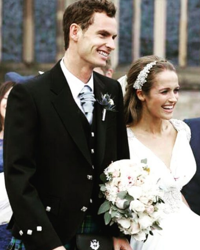 photo source: @kimsearsmurray
The venue: Wimbledon champ Andy Murray wed his beau Kim on 11th April 2015 at Dunblane cathedral. Kim arrived in style in a white wedding car. The reception took place in Murray's own luxury hotel, Cromlix House. In true luxury style, French chef Albert Roux cooked up a storm for the wedding breakfast which was eaten in a marquee overlooking the lake.
The dress: bride Kim wore a custom-made Jenny Packham silk chiffon gown adorned with Swarovski crystals. She accessorised the classic gown with a cathedral length veil, a crystal head piece and an elegant pair of Jimmy Choo heels.
The cake: Passionate about food, Andy attended a cake tasting session before the big day to ensure the sweet treat was just perfect. No details emerged about the final result though…
26. Vogue Williams and Spencer Matthews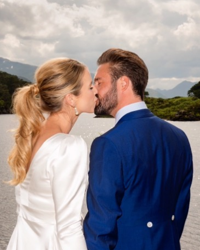 photo source: @voguewilliams
The venue: This glamourous couple tied the knot in June 2018 in an intimate ceremony in front of a handful of friends and family. The exchanging of vows took place on a picturesque loch on the secluded 30,000-acre estate owned by Spencer's family.
The dress: Expecting her first child at the time, Mrs Matthews looked radiant in a bespoke Paul Costello wedding gown which draped elegantly off her bump and displayed a sophisticated V-neck, long-sleeved design.
The cake: Dusty pink in colour and three-tier in size, this was a delicate sponge that was decorated with fresh raspberries – simple, effective and, quintessentially British.
25. Alan Carr and Paul Drayton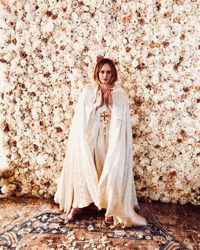 photo source: @weddingbellsmag
The venue: Alan Carr and Paul Drayton tied the knot in January 2018, with the big day officiated by none other than singer/song-writer sensation Adele. The wedding took place inside Adele's home so there are little details about the interior itself, but we know, after a snap shared on Instagram, that there was a beautiful flower wall and a marquee style dance floor.
The dress: Whilst the grooms didn't opt for matching suits, they stuck to a brown and beige colour scheme with white rose buttonholes.
The cake: Plastic figures of the newlyweds and their beloved Irish-setter dogs sat on top of a delicious looking chocolate sponge cake complete with chocolate frosting.
24. Rochelle Wiseman and Marvin Humes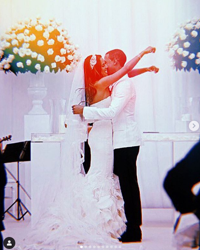 photo source: @rochellehumes
The venue: Everyone's favourite couple Rochelle and Marvin Humes wed on 27th July 2012 in the orangery of Oxfordshire's Blenheim palace. The reception was held in a marquee come glittering nightclub with a classy black and white dress code.
The dress: Rochelle wore a fitted Vera Wang gown complete with fishtail skirt. Her hair was styled in loose curls and accessorised with a crystalised hair piece.
The cake: In keeping with the black and white theme, Rochelle and Marvin's wedding cake was a seven-tier beauty, decorated with white frosting and a white rose sash. Classy and elegant.
23. Kate Moss and Jamie Hince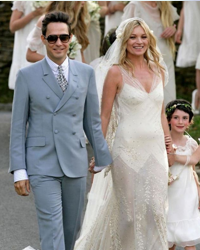 photo source: @debrettsweddings
The venue: The rock n roll wedding took place on 1st July 2011 in a small Cotswold parish. The 3-day weekend wedding was nicknamed 'Moss-stock' for its laid-back festival vibes and boho theme. A custom-built city of tents housed the reception and details included a crystal champagne fountain and performances from Shirley Bassey, Snoop Dogg and Beth Ditto to name but a few.
The dress: Kate married in a lacey Galliano dress and a lace-edged boho-style veil.
The cake: Kate and Jamie chose London baker Peggy Porschen to bake their wedding cake and requested a six-tier creation with each cake being a different flavour. The white cake was intricately decorated with roses making for a beautiful centrepiece and delicious sweet treat all in one.
22. Anne Hathaway and Adam Shulman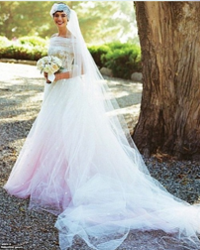 photo source: @themontrealpixie
The venue: Actress Anne Hathaway wed Adam Shulman on 29th September 2012 at a private home in Big Sur. Anne's wedding reception was full of personal touches such as a menu of local and sustainable food and tunes from jazz band Americano Social Club. The nature inspired wedding was thought to feature £62,000 worth of flowers.
The dress: Still rocking that Les Miserables pixie cut, Anne's wedding style was elegant and graceful as she wowed in a custom-made Valentino gown with head-to-toe intricate lace and embroidery and an off-the-shoulder shape. To finish the look, she wore a vintage inspired headpiece with a beautiful veil attached.
The cake: Little details emerged about the actual cake, but it's thought that all cuisine was vegan, so, make of that what you will!
21. Ashton Kutcher and Mila Kunis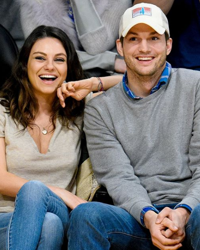 photo source: @mybabushona
The venue: Ashton and Mila tied the knot on Independence Day in 2015 in a ceremony in The Secret Garden at Parrish Ranch in oak Glen California – a secluded spot just outside of Los Angeles. Dubbed camp 'kuku', the grounds were decorated festival style in a luxe glamping playground for adults.
The dress: Mila wed in a strapless tulle gown, keeping it minimal with her hair pulled back.
The cake: The couple are famously press shy so no further details about the ceremony have been revealed.
20. Blake Lively and Ryan Reynolds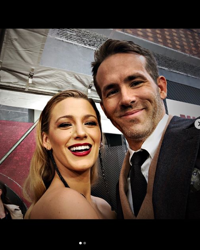 photo source: @blakelively
The venue: The notoriously private couple wed in September 2012 at the beautiful Boone Hall Plantation & Gardens (famously the home of Ali in the notebook) in Mount Pleasant, South Carolina. Just 60 guests attended. An avid baker, Blake made sure every guest's sweet tooth was catered for with an overflowing dessert table. The colour scheme featured natural wood, white satin and pink flowers. The party was complete with a performance by Florence Welch.
The dress: Blake wore a cloudlike silk tulle gown with illusion crystal beading on the shoulders and beautiful rose-gold embroidery. The bridal gown was designed by Marchesa.
The cake: Blake and Ryan's cake was an eclectic mix of vanilla and sour cream with a peach and apricot preserve and an earl-grey infused chocolate buttercream. Beautifully intricate frosting flowers covered the base tier.
19. Millie Mackintosh and Hugo Taylor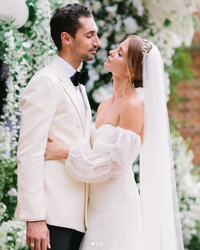 photo source: @milliemackintosh
The venue: The Made in Chelsea star's big day took place at Whithurst Park in West Sussex in July 2018. The sit-down wedding breakfast took place inside a stunningly decorated Joseph Benjamin marquee complete with long tables and woodland flowers. Before being seated, guests enjoyed canapes by Rose Lloyd Owen from Pear Drop London and received a miniature Black Cow Vodka as a wedding favour.
The Dress: The bride wowed in a beautiful Halfpenny London white bridal gown, strapless in design with unique, detachable 'bubble sleeves' which were light puffs of silk organza with delicate, polka-dot tulle over the top. To finish, lace flowers were appliqued on. Mille's dress was completely bespoke… that doesn't stop us copying it though!
The Cake: In true Chelsea style, the bride and groom opted for a Macaroon tower as their wedding cake of choice. Oo la la.
18. Solange Knowles and Alan Ferguson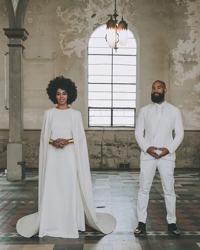 photo source: @stephanie_onedaybridal
The venue: Songwriter Solange and video director Alan Ferguson wed in November 2014 in an all-white New Orleans ceremony at the Marigny Opera House, with Solange and Alan arriving on two white bicycles. After the ceremony, the whole wedding party celebrated outside in New Orleans in an epic street party.
The dress: Solange arrived to her wedding in an off-white all in one trouser suit designed by Stephanie Rolland. Of course, Solange had an outfit change and it wasn't long before she was wowing in a white column silk Kenzo dress with an in-built floor-length cape.
The cake: No pictures of the cake have ever emerged but with an all-white theme (even the guests were dressed in the bridal colour) it's not hard to guess what colour it was…
17. Justin Timberlake and Jessica Biel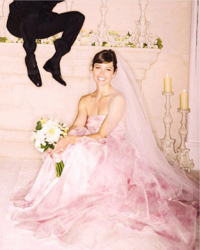 photo source: @weddinginspirationblogger
The venue: This couple said 'I do' in the idyllic Italian countryside of Puglia in October 2012. The private ceremony was held in Borgo Egnazia resort – a grand, white fairytale-like castle.
The dress: Jessica opted for light pink to wed husband Justin in a truly beautiful haute couture Giambattista Valli strapless dress. The gown was enhanced with delicate layers of tulle and finished with a floor-length veil embellished with her grandma's pearls.
The cake: In keeping with the countryside theme, the cake was a rustic creation which featured three white-frosted tiers with purple woodland flowers at the base.
16. Brody Jenner and Kaitlynn Carter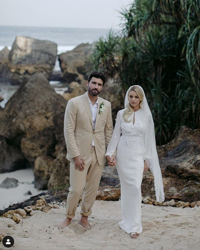 photo source: @kaitlynn
The venue: Reality royalty Brody Jenner and Kaitlynn Carter got married on June 2018 in an exotic wedding at the Nihi Sumba Resort on the island of Sumba, off the coast of Indonesia. The ceremony took place against a dramatic backdrop of the ocean and surrounding rice fields. This was followed by a jungle themed reception which saw candlelit tables decorated with coconuts and abalone shells.
The dress: Kaitlynn's dress was a bespoke Bo and Luca gown with a high neckline and long bishop sleeves. The gown hung elegantly off Kaitlynn's small frame and she finished the look with a beaded, finger-tip length veil and Gucci shoes.
The cake: In keeping with the jungle theme, the wedding cake was a spectacular pineapple upside down cake.
15. Katy Perry and Russel Brand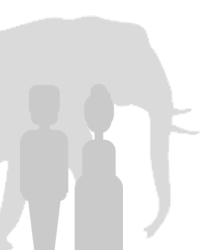 The venue: This rock n roll couple returned to India (where Russel proposed) to affirm their marriage. The unique ceremony took place near the Ranthambore Tiger Sanctuary in the countryside of Northern India. There were also two elephants on hand for the big day, with the ceremony itself being described as 'very intimate and spiritual'.
The dress: It is believed that Katy wore an Ellie Saab dress with dramatic shoulders and a billowing veil for her wedding day as well as gracing a red sari for traditional night before the wedding celebrations.
The cake: There are no details on cake specifics as such, but with it being an Asian wedding we're presuming there was lots of it.
14. Khloe Kardashian and Lamar Odom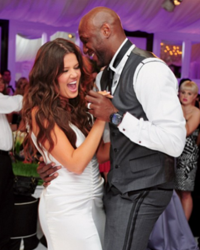 photo source: @khloekardashbiggestfan
The venue: On September 27th, 2009, the nation celebrated the nuptials of Khloe Kardashian and Lamar Odom after just one month of dating. The shock wedding took place at the LA estate of Kardashian family friend, Irving Azoff. Decorated like an LA style nightclub, the venue was complete with white carpets, mirrors and chandeliers to match a star-studded guestlist. Flowers included triple arches of white roses created by Mark's garden.
The dress: Khloe wore popular bridal designer Vera Wang in the form of a figure-hugging bridal gown complete with lavender sash.
The cake: In true Kardashian style, the cake was far from subtle. Made by Hansen's cakes in Los Angeles, the sweet treat was a five tired black and white creation packed full of chocolate buttercream and white chocolate chips. It was decorated with an array of colourful roses and was thought to be taller than Lamar. Which is, yeah, tall.
13. Mark Wright and Michelle Keegan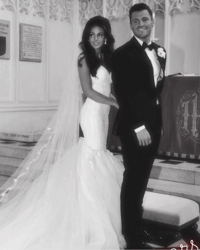 photo source: @michkeegan
The venue:On 24th May 2015 reality star Mark Wright married actress Michelle Keegan in the Tudor mansion, Hengrave Hall in the beautiful Bury St Edmunds countryside. The interior was lavish with bouquets of roses on every table, white tablecloths and gold furniture. Dubbed the 'club marquee' the wedding partying carried on into the night with Michelle and Mark performing that dirty dancing lift for their first dance.
The Dress: Michelle wore a bespoke ivory, fishnet style gown by Galia Lahav and a long Italian lace veil by Peter Langner, her hair falling in loose curls. The dress featured both French lace and Swarovski crystals and plunging deep V back. On her feet she wore a pair of Terry de Havilland silver python platform heels.
The cake: The cake was a grand spectacle, with five tall tiers of sponge covered in bright white frosting and adorned with white flowers. Cupcakes of the same design surrounded the base.
12. Idris Elba and Sabrina Dhowre
photo source: @sabrinadhowre
The venue: Idris Elba wed wife Sabrina in balmy, exotic Marrackech as the Ksar Char Bagh hotel in April 2019. Their big day has been described as a 'high-fashion' fairy tale and we'd expect nothing less from Mr cool and his beauty pageant bride. Following the ceremony, partying was taken to the Mandarin Oriental where Davido was flown in by private jet to perform and Christian Louboutin himself could be seen twerking. Extra.
The dress: Sabrina glowed in an ivory Vera Wang off-the-shoulder number, crafted elegantly from French tulle. The dress cost £3,312 and was put together after Sabrina explained exactly what she wanted to Vera herself. As a tribute to her new husband, Sabrina had Idris' arm tattoo embroidered onto the bottom of her traditional-style veil which read; 'this train carries no wrong-doers'.
The cake: Whilst there are no pictures or details of the cake on the big day, the bride's bachelorette party was renowned for their 'future Mrs Elba' cupcakes. We'll take three please.
11. Pippa Middleton and James Matthews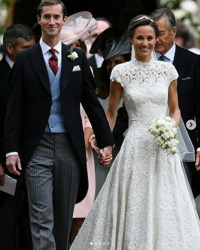 photo source: @cambridge_royals_
The venue: Pippa and James wed on May 20th 2017 at St Mark's church in Englefield. After a traditional ceremony, guests headed to a svelte and glamourous reception in a 140 ft glass marquee. The marquee had an enchanted forest feel with real trees adorned with fibre optics, flowers and delicately scented candles – a fairy tale wedding at its best. A single malt whisky bar, a light show and photo booths followed the wedding lunch.
The dress: The blushing bride wore a white lacey Giles Deacon gown with capped sleeves and a high neckline. The dress cut a princess silhouette and was finished with a delicate tiara by Robinson Pelham.
The cake: Pippa went traditional with a multi-tiered fruit cake.
10. George Clooney and Amal Alamuddin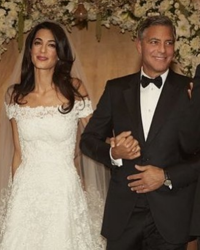 photo source: @bhivedesign_weddings
The venue: On 27th September 2014 barrister Amal Alamuddin stole everyone's dream guy in the romantic city of Venice. The nuptials were hosted in the seven-star Aman Canal Grande Hotel with bride, groom and guests making their way in boats to the venue. Traditional gold and marble graced the interior with elegant floral arches and an abundance of white roses making for a truly luxurious setting.
The dress: Amal wowed in Oscar de la Renta. The off-the shoulder French lace design was handcrafted with pearls and dusted with crystal in true, elegant de la Renta style. George also matched his wife's stylish look with an Armani Tux and white-gold Omega watch.
The cake: A jaw-droppingly magnificent art-deco creation. The Clooney cake had three tiers, was square in shape and dazzled in a beautiful gold colour to match the hotel's interior.
9. Nicky Hilton and James Rothschild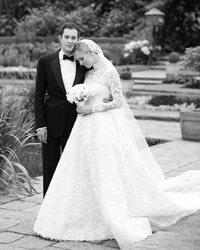 photo source: @nickyhilton
The venue: July 10th, 2015 saw the wedding of Hilton heiress Nicky Hilton and British banking heir James Rothschild in a truly regal ceremony in Kensington Palace Orangery. The reception (in a luxury white tent in the palace's gardens) was a hub of cocktails, rustic flowers (made by Cathy Hilton herself) and tealights.
The dress: Nicky graced the aisle in a lacey, long-sleeved, high-necked Valentino couture gown, embellished with crystals and completed with a casual 3-metre train worth £50,000. The look was accompanied by an elegant up-do and a small bouquet of florals. On her feet she wore white Louboutins customised with 'Mrs Rothschild.'
The cake: Nicky and James had a white, square shaped wedding cake topped with personalised hearts.
8. Joe Jonas and Sophie Turner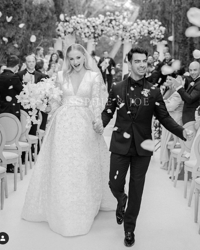 photo source: @sophiet
The venue: Being a private ceremony, little is known about the French wedding's venue other than it took place in Château du Martinet in Carpentras with a reception in Le Château de Tourreau. The intimate ceremony saw flowers and candles lining the aisles of the enchanting chateau.
The dress: Sophie wore a stunning Nicholas Ghesquière for Louis Vuitton gown featuring a stunning mixture of silk and lace, a full skirt, long-sleeves and a plunging neckline. The gown's formal aesthetic was offset with an open back and the whole look was finished off with a traditional style veil.
The cake: There has been little to no reports on the cake at the event other than to say it was 'really wild', so, make of that what you will.
7. Kim Kardashian and Kris Humphries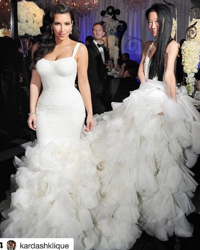 photo source: @elll.jay
The venue: Probably one of the shortest-lived celebrity marriages of the last decade, the pair celebrated their disastrous romance with a Hollywood wedding, nonetheless. Taking place in August 2011, the entire wedding had a black and white theme and took place on a private estate in Montecito, California, with a star-studded guest list of over 400 lucky attendees.
The dress: As usual, Kim wowed in not one but three custom Vera Wang gowns, wearing an ivory ball-gown style strapless number for the ceremony. A beaded hairband brought a little boho chic to the overall look. The couple danced their first dance serenaded by singer Robin Thicke.
The cake: After a third outfit change, Kim and Kris sliced their 6-foot tall black and white, choc-chip marble wedding cake, which set them back $20,000. Bets on as to whether the leftovers lasted longer than the 72-day marriage…
6. Chrissy Teigen and John Legend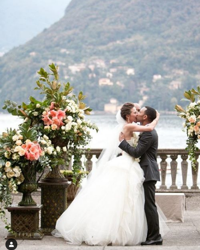 photo source: @thewedlist
The venue: The 14th September 2013 saw the wedding of probably the most perfectly matched couple of this decade – Chrissy and John. The Italian wedding of dreams took place in Lake Como at Villa Pizzo – absolute wedding destination goals.
The dress: Refusing to do anything by halves, Chrissy had three Vera Wang wedding gowns for her big day, each as beautiful as the next. For the actual ceremony, she wore a breath-taking ivory strapless, V-neck ball gown complete with tulle skirt. The picture-perfect princess bride.
The cake: The couple served a four-tier carrot cake completed with cream cheese frosting in the middle, on the big day. The naked cake was adorned with eucalyptus leaves and fresh flowers – simple but effective.
5. Nick Jonas and Priyanka Chopra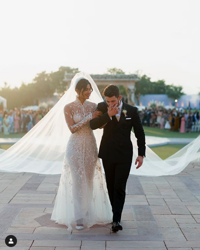 photo source: @nickjonas
The venue: This lavish but exclusive wedding ceremony took place on 1st December 2018. The couple had a fairytale-like wedding at Umaid Bhawan Palace in Jodhpur, getting married as per both Christian and Hindu traditions. The Indian wedding ceremony saw Nick's groomsmen bring in a tray of diamond rings for each bridesmaid as the entire palace was lit up with celebrations.
The dress: As with most lavish celebrity weddings, the celebrations consisted of multiple outfit changes. The bride channelled an eclectic mixture of Indian and Western designers. For her Western ceremony she wore a to-die-for custom Ralph Lauren gown. The dress was fitted, semi-sheer and long sleeves with beading all over it. Her tulle net veil was a casual 75 feet.
The cake: It was hardly going to be a single tier chocolate sponge but the Jonas' wedding cake really was something to behold. The six-tier desert was 18 foot tall in the design of an extravagant house complete with columns and windows. The cake was white and gold in colour with multi-coloured florals around the base.
4. Prince Harry and Meghan Markle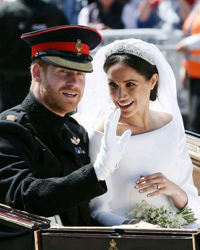 photo source: @cassi143
The venue: This long-awaited royal wedding was held on 19th May 2018 in St. George's Chapel at Windsor Castle. Prince Harry walked with brother William up to the church whilst the Duchess arrived in a Rolls Royce, walking elegantly up the steps to the chapel as she revealed her dress to the world. The ceremony (during which Meghan was given away by Prince Charles) was followed by a horse and carriage ride through Windsor. The evening reception took place in Frogmore House in Home Park and was a more intimate affair, with just 200 guests, but with guests having to hand over their phones before entering the party, there are no photos of the night.
The dress: Meghan's stunning dress was designed by British fashion designer Clare Waight Keller who is the artistic director of the fashion house Givenchy. The silk gown was timeless, clean cut and minimalist, with a boat neckline skimming the bride's shoulders into a fitted bodice and finishing off with an A-line skirt. Meghan's beautiful, 16-foot veil featured the national flowers of the 53 commonwealth nations and her stunning tiara once belonged to Queen Mary.
The cake: Designed by London-based baker Clare Ptak, this lemon elderflower sponge was covered with buttercream and decorated with fresh flowers.
3. Prince William and Kate Middleton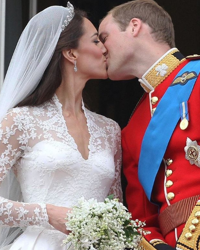 photo source: @life.of.a.duchess
The venue: Sticking to the royal wedding tradition, Kate and Will's wedding took place in Westminster Abbey on April 29th 2011, with the traditional carriage ride happening straight afterwards. After the formalities, the pair chose their own getaway car and drove away in a vintage car with the number plate: 'JU5T WED', with heart shaped balloons trailing from the back.
The dress: The duchess of Cambridge wore a delicate, lacey Alexander McQueen creation, made in collaboration with designer Sarah Burton. A lace bodice and long sleeves of embroidered flowers lent itself to a full skirt with a delicate veil held in place by that Cartier tiara. Gorgeous.
The cake: 220 pound in weight and three foot in height, Kate and Wills' wedding cake was quite the spectacle. Eight tiers of traditional fruit cake were covered in frosting and hand decorated with delicate white flowers and hues of gold.
2. Billie Faiers and Greg Shepherd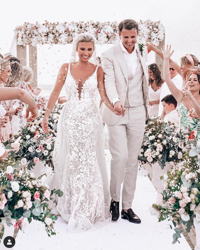 photo source: @billiefaiersofficial
The Venue: Possibly the most idyllic wedding location, Billie and Greg tied the knot on the island of Kuramathi in the Maldives on 5th March 2019. The affair was a lavish one, with the actual ceremony taking place on the white sands of the island and groom Greg arriving via speedboat. After the ceremony, guests partied on the beach surrounded by a tropically themed décor with plenty of brightly coloured orchids, palm leaves and fairy lights. Guests showered the newly-weds with pink lemonade confetti in monogrammed confetti pillows. To pay for all 95 guests and themselves to stay on the luxury island would have set them back £229,000, taking the wedding total to a grand £270,000.
The Dress: Billie looked radiant in a tight-fitted mesh panel, fish-tail wedding dress designed by Berta, which combined the illusion of a plunging neckline with spaghetti straps and was covered from head to toe in beautiful floral embroidery. The dress was accompanied by an elegant, effortless up-do and a matching veil totalling to £7,000. The perfect beachside bride.
The Cake: Keeping with the exotic theme of the big day, the four-tiered wedding cake was covered lightly in white frosting and graced with beautiful, exotic flowers in pinks, yellows and whites.
1. Kim Kardashian and Kanye West
As we waited with bated breath to see even a small glimpse of the wedding of the world's most famous couple, we were pleased to say that this Italian getaway did not disappoint. From that surprise proposal to an aisle serenading by Andrea Borcelli and breath-taking custom Givenchy, we're pleased to award Kimye with yet another crown. Our favourite wedding of the last decade…
The venue: Guests were flown by private jet to a 16th-century-era fortress in Florence on 24th May 2014, where Kim walked down the aisle, serenaded perfectly by Andrea Borcelli. If the grand interiors of the historic building weren't enough, Kim had a dreamy flower wall installed, under which they intimately exchanged their vows.
The dress: Kim wore custom Givenchy haute couture designed by Riccardo Tisci. The dress was floor length with a high neckline and long sleeves, fitted in traditional white lace with an open back and sheer panels at the waist. The beautiful gown was accompanied by an intricate, cathedral-length veil and was thought, in total, to cost around half a million dollars.
The cake: The bride and groom paid no less than $6,000 for an embellished, multi-tiered cake which was seven foot in height. Sticking with tradition, the cake was all white frosting with fruit layers and could have probably fed the whole of Tuscany.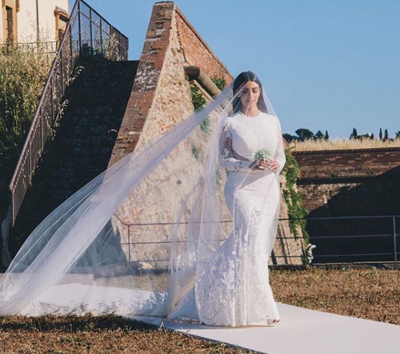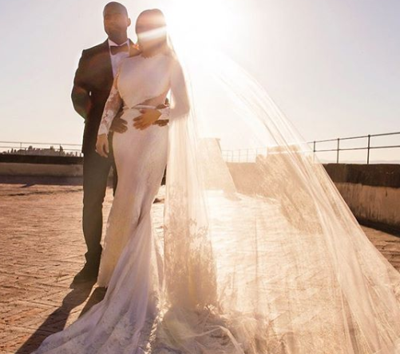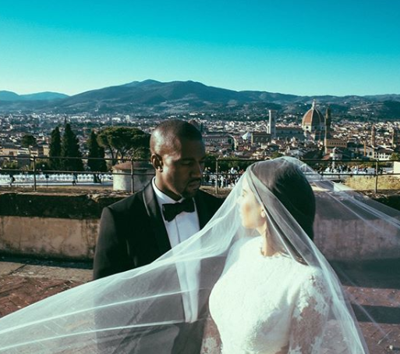 photo source: @kimkardashian