The Brides Guide to Winter Wedding Cover Ups
Whatever your bridal style, we have the perfect cover up or you. Here you will find the cosiest bridal jackets, snuggly shawls, and soft warm wraps to keep the cold out for this season's autumn and winter weddings. Here we present our stylist picks for the ultimate choice in bridal cover ups for 2024.
Brides love our collection faux fur jackets, boleros and capes by Bianco Evento. These gorgeous cover ups come in the softest faux fur and are guaranteed to keep you cosy and warm whilst looking incredibly stylish too. In a variety of lengths to suit any wedding gown, brides adore this collection for their sumptuously soft feel. Shop our recommended Bianco favs, the E304 cropped bolero, the E305 with long sleeves, and the E306, a gorgeous fitted bridal cape if you prefer no sleeves.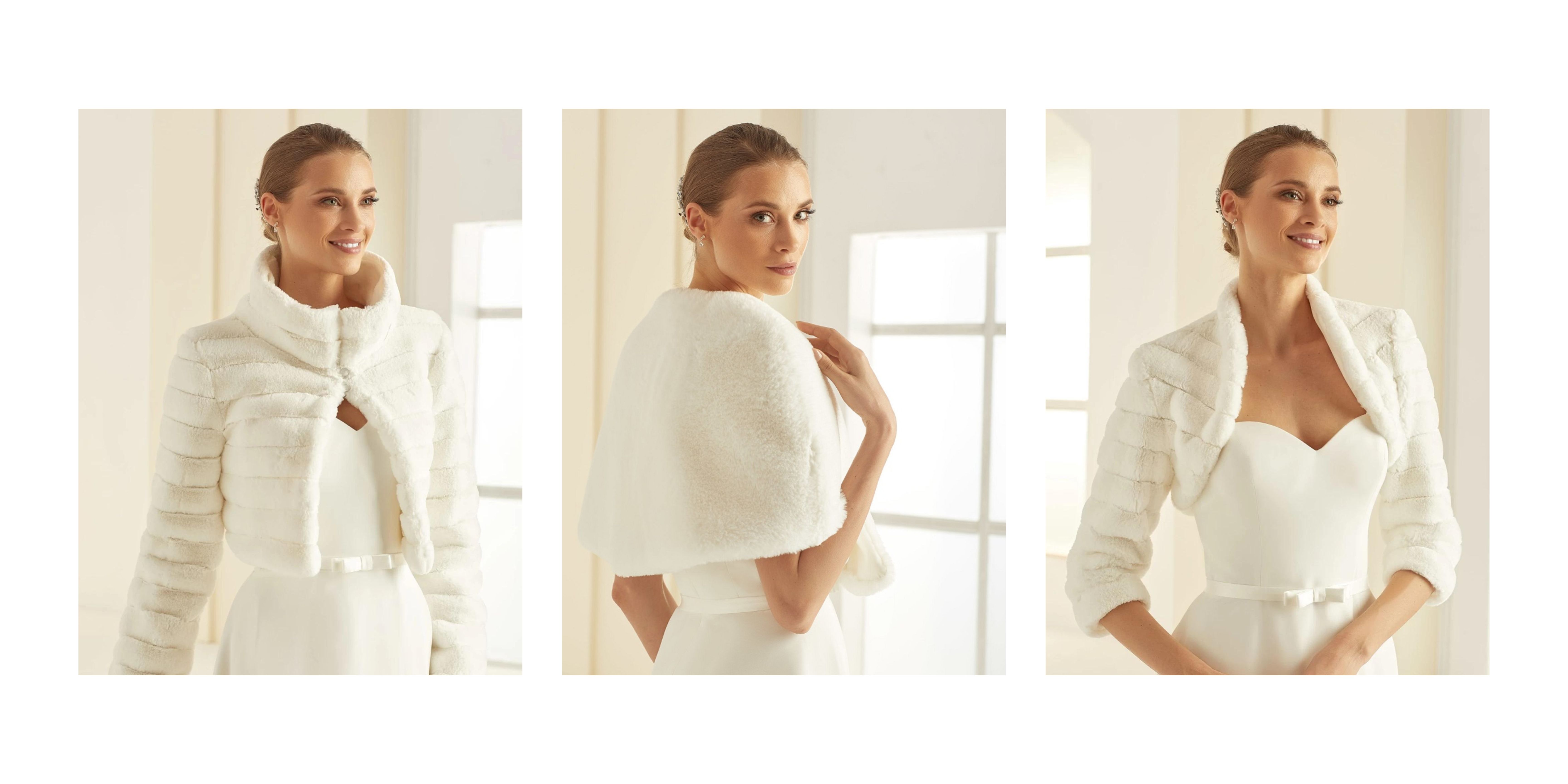 The number one choice for brides and bridesmaids alike are the Bianco Evento shawls. A budget friendly, but no less stylish option from just £49.00, these ever-popular shawls will keep the chill off for weddings at any time of the year. Shown here the Bianco E339 wedding shawl, the E318 Cashmere effect shawl, along with our two new additions with tassels. Perfect for every rustic wedding, the E382 is a boucle knitted weave, and a mix of cream and ivory, whilst the E383 is an ivory textured knit.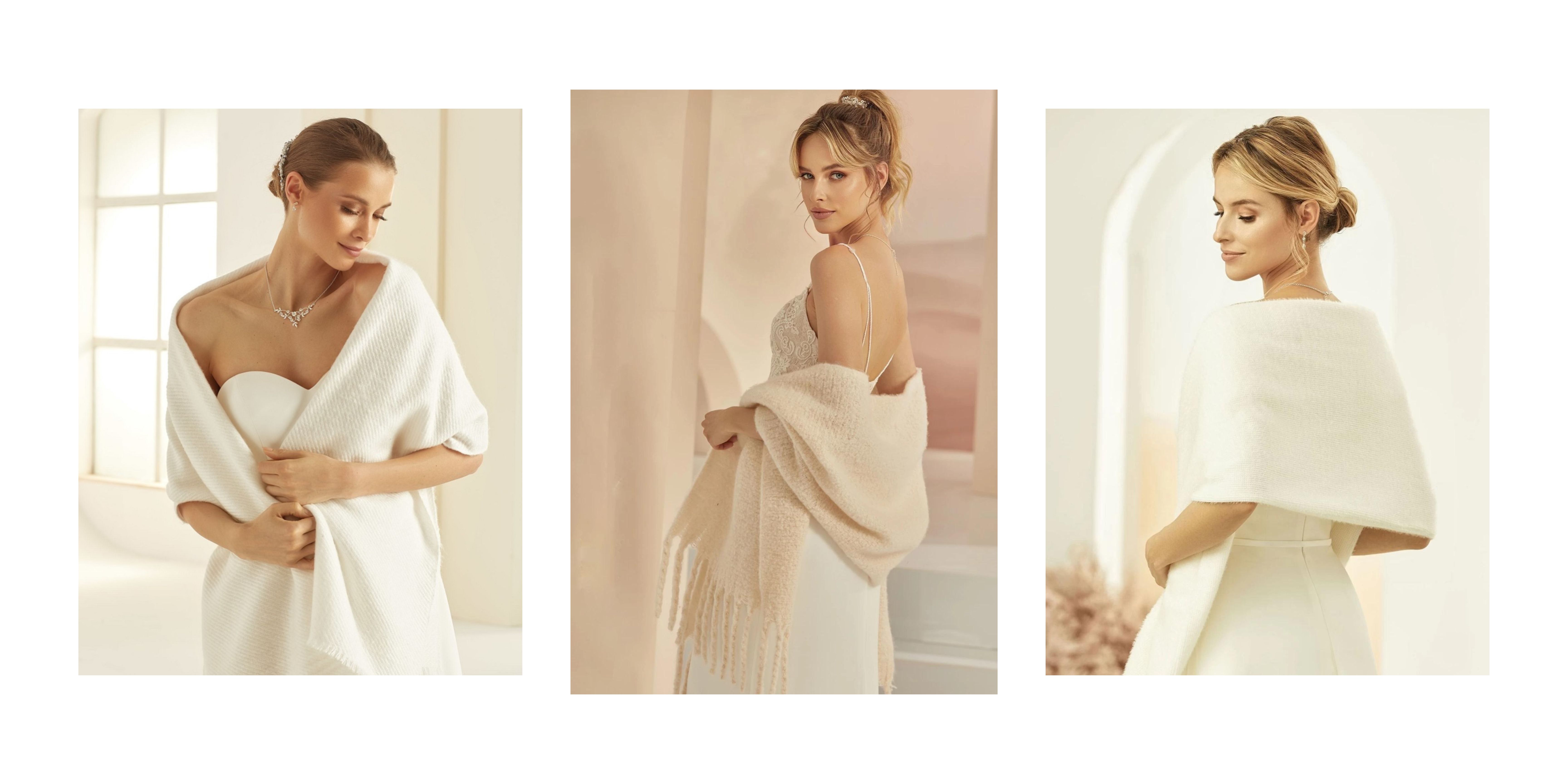 For super warm luxury, take a look at our range of stoles and capes from Helen Moore. These designs all come in vegan friendly faux fur, and are probably the warmest of all our wedding cover ups. Brides with a rustic autumn wedding are crazy for the truffle colour furs which is exclusive to Helen Moore. This truffle collection compliments all the fashionable earthy colours for bridesmaids dresses and will look equally as amazing over an ivory wedding dress too.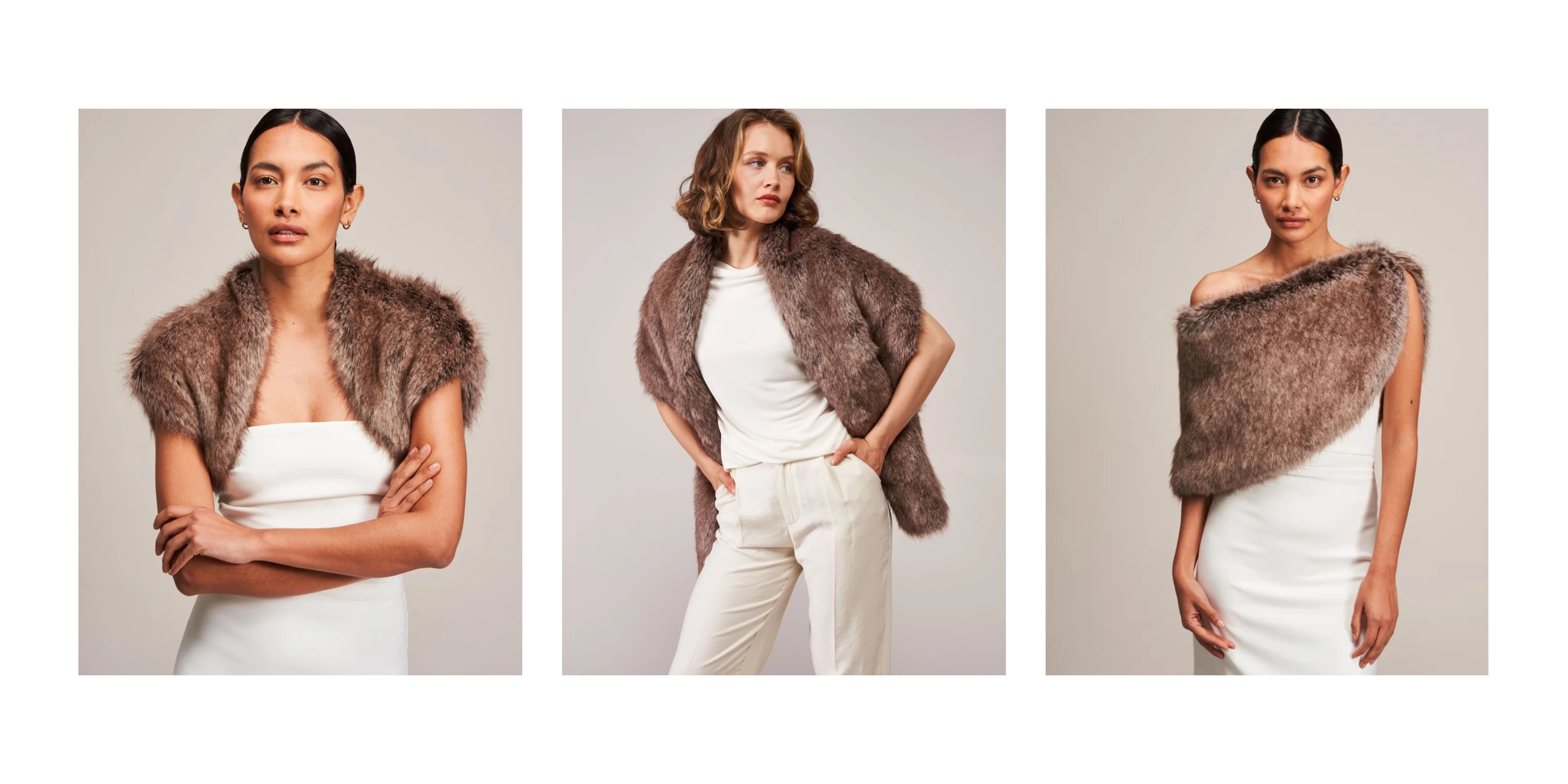 Our customer's favourite cover up by Helen Moore is the ultra warm faux fur stole, which is available in five great shades. Equally as adorable in all colour ways, this lovely long stole comes in blush, cappuccino, mist grey, all perfect for any Mother of the Bride outfit, as well as the truffle and ivory for every autumn and winter wedding bride. Rated by our stylist for their amazing quality, at just £139, this is undoubtedly a wardrobe investment which you will wear again and again.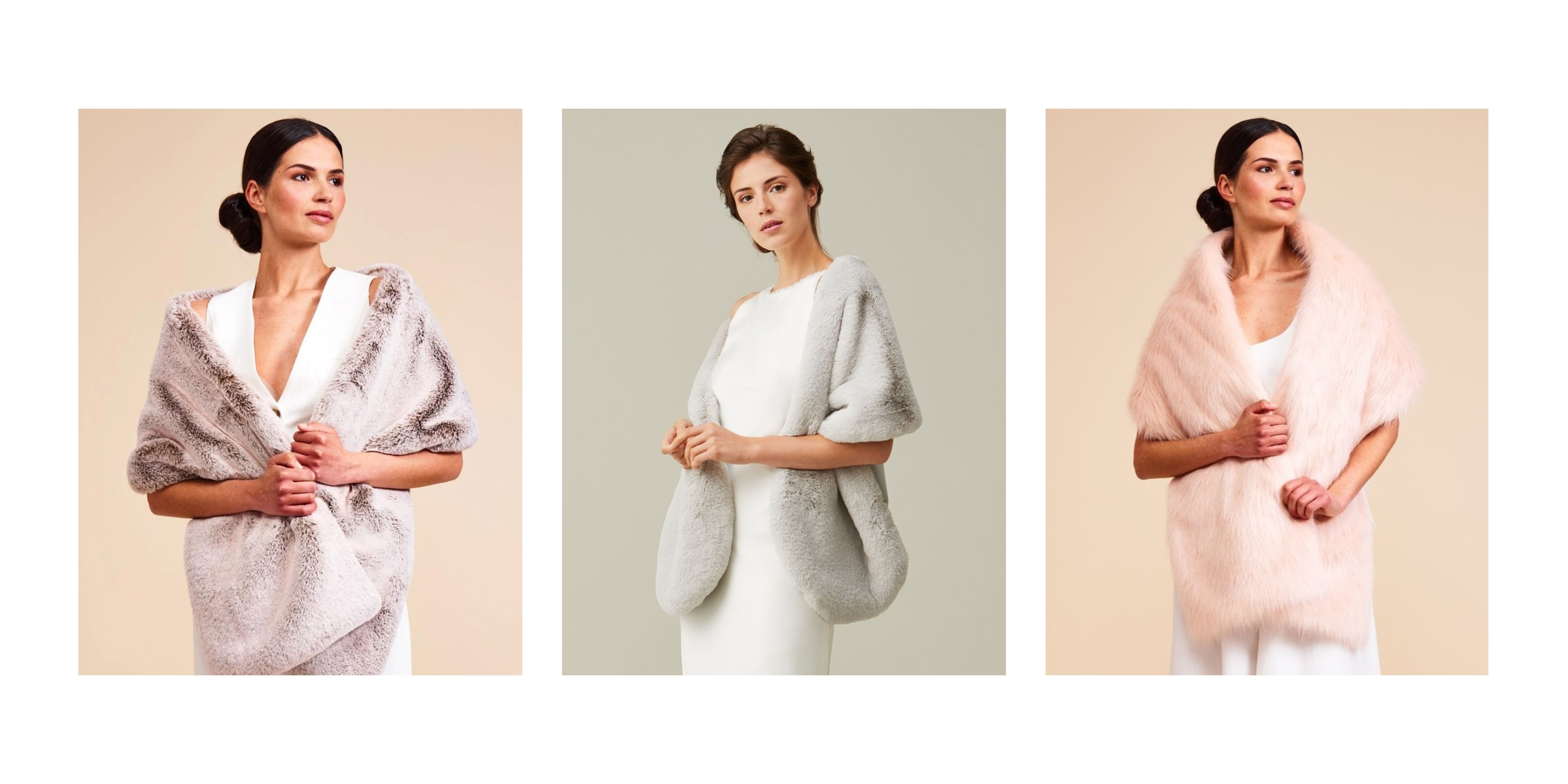 Why not have fun with feathers and add a touch of glamour to the occasion. Aptly named after stars of the silver screen, our Beverley Hills Collection of jackets, boleros, wraps and shawls will add a touch of hollywood to your wedding or party outfit. For the most flamboyant feather cover ups, go for the fab and floaty ostrich feathers of the Hayworth bolero in blush, silver and ivory. For the ultimate in bridal extravagance, the Audrey long ostrich feather bridal stole is sure to be the envy of all.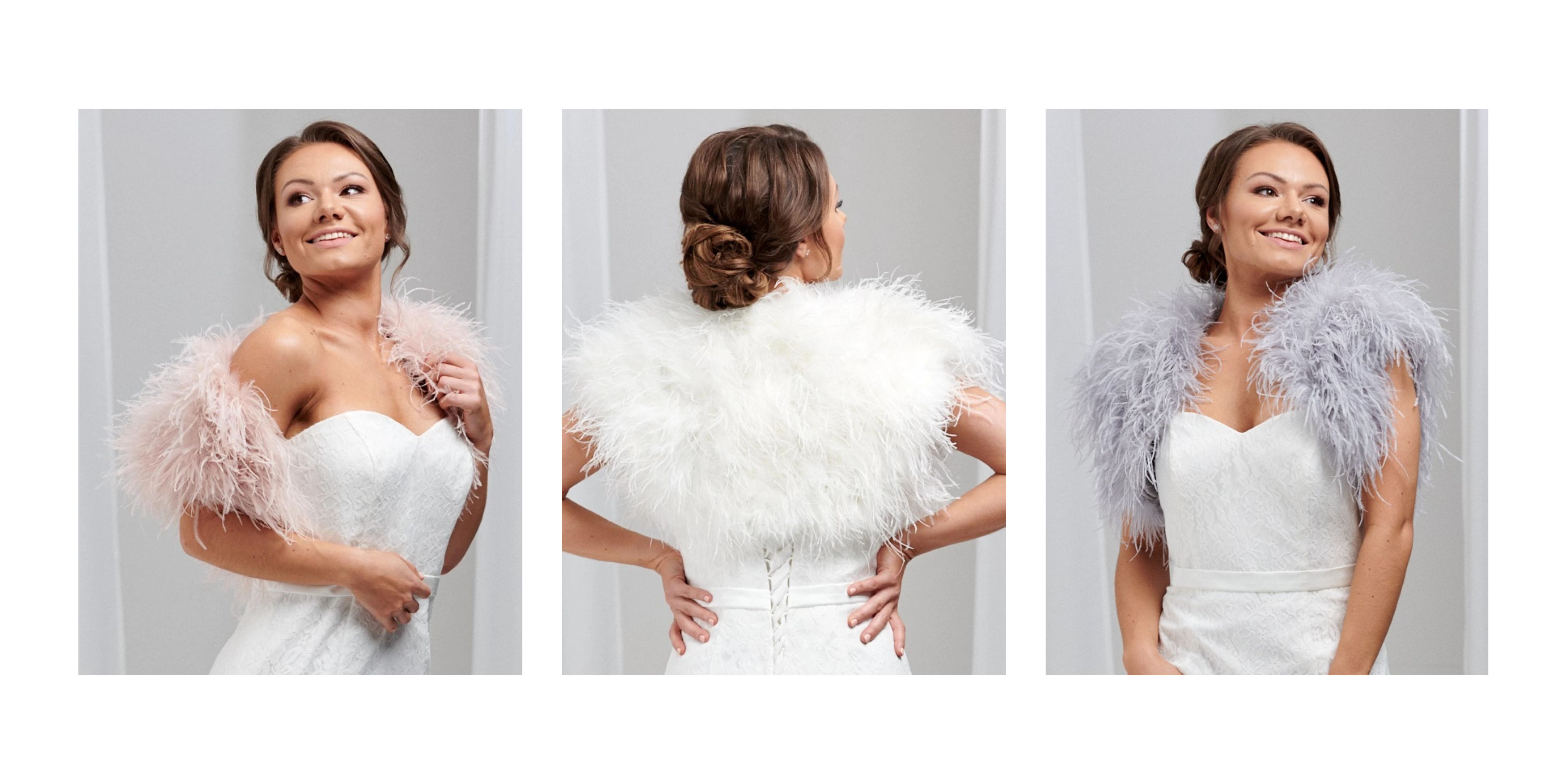 Loved by brides, maids and Mums, the Scarlet marabou feather stole comes in popular pastels, with brand new colours – powder blue, teal, burgundy, and navy which match the Lace & Favour multiway dresses perfectly. Look out for new dark green, made to match our best selling bridesmaid dress colour Olive which will also be available soon. For more in marabou, check out the Monroe bridal jacket and Marlena cape which has shoulders for an effortless fit.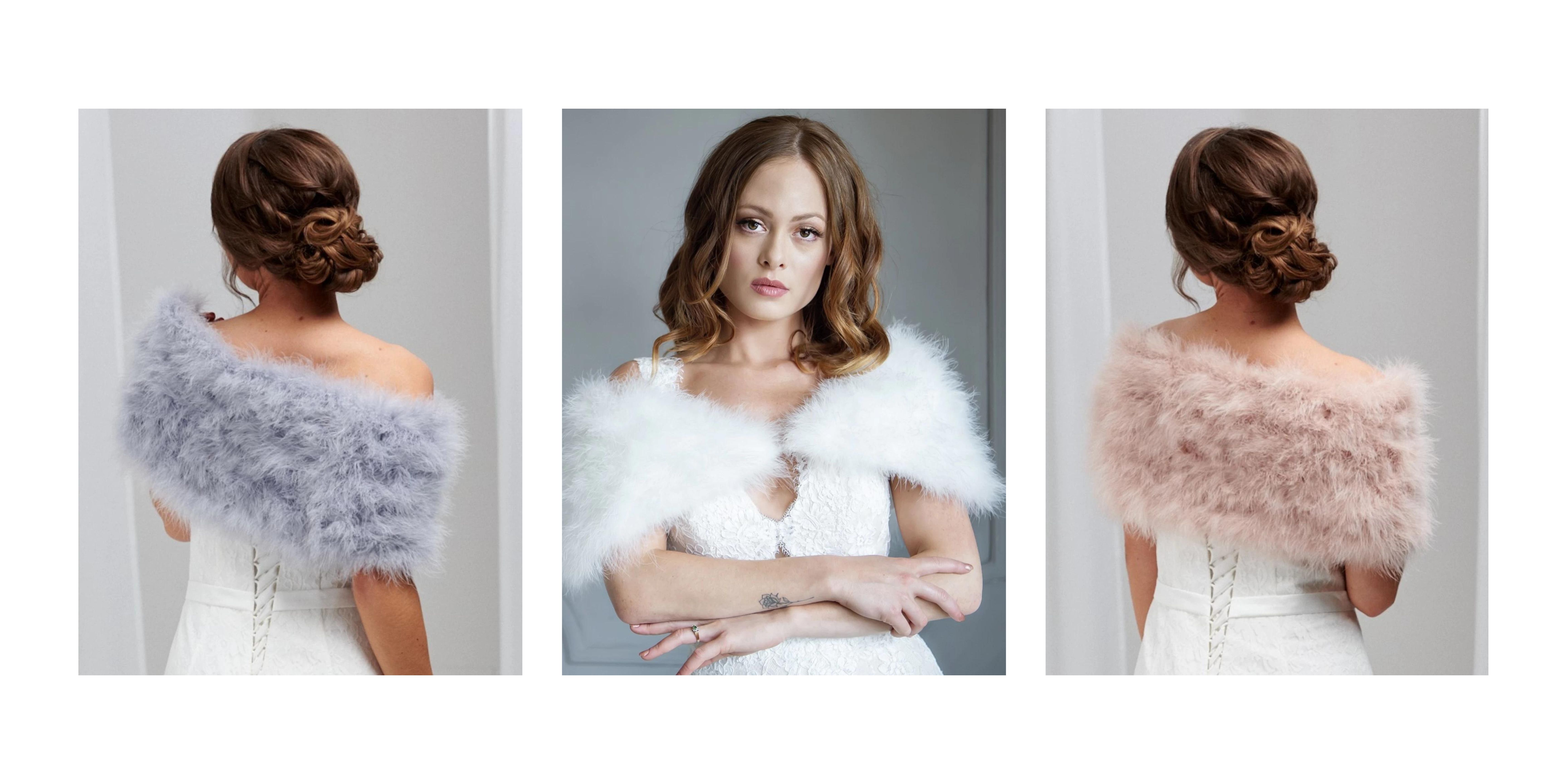 Last but not least of our stylist picks is the versatile ruffle feather wrap 'Bardot' which is an outstanding choice for winter wedding cover ups. Mothers of the bride and groom love the navy and blush versions of this pretty cover up, which coordinates with so many of today's occasion outfits.
Don't forget all the feathery cover ups come in plus size too, which are just a little longer for a comfortable fit. Secured with a hook fastening, or why not add a brooch for a touch of sparkle.
Whatever the occasion, we've got you covered. So browse our collection of super snuggly winter cover ups today and keep out the cold this wedding season, Lace & Favour style.