The Very Best Vintage Wedding Headpieces
The term 'Vintage' is widely used in today's wedding market, so let us share with you our recommendations on all the best in vintage wedding headpieces which are most typical of that romantic era. Here we are showcasing our very own designs from all your favourite brands to inspire and delight, and ensure your look is truly authentic. Enjoy our picks and be inspired by the very best in vintage style wedding headpieces.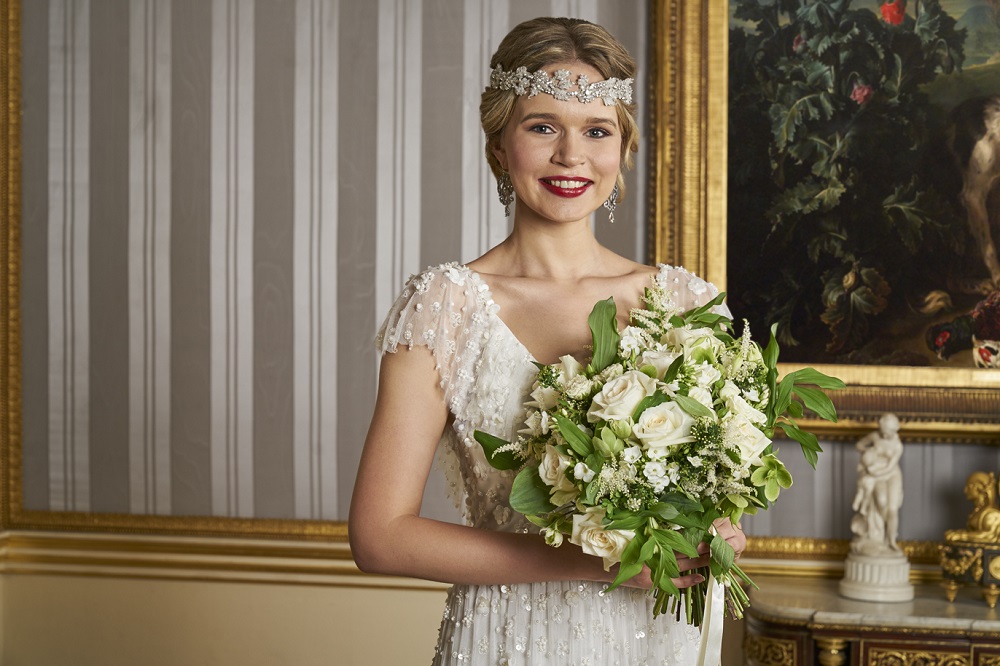 Eliza Jane Howell Accessories
Queen of vintage wedding headpieces is of course the designer Eliza Jane Howell, famed for her exquisite beaded bridal gowns, jackets and coordinating wedding headpieces. With bracelets and cuffs to match the brow bands, you can accessorise in true vintage style.
Achieve Old Hollywood glamour with one of these exquisite statement headpieces by Eliza Jane Howell. Team with a slick up-do, red lips and dramatic chandelier earrings to complete your look. Accessorise further with elbow length satin gloves and a feather stole for real vintage appeal.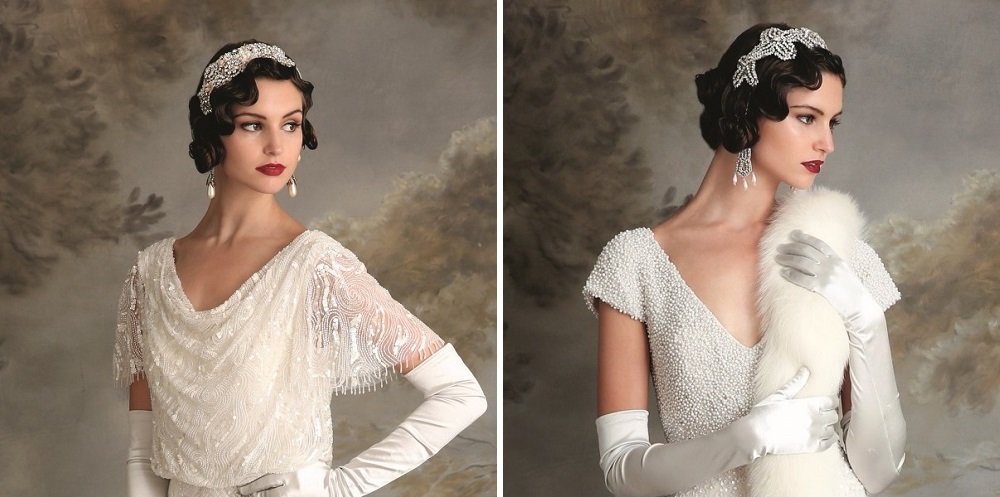 Brow Band Beauty
A vintage-inspired brow band will create a totally different look to a side headpiece or vintage style hair comb. Each beautiful Eliza Jane Howell design is handcrafted in London and made onto soft suede headbands, finished with an elasticated strap to ensure wear-all-day comfort. Choose from the dainty Almeida crystal brow band, or unique Sol swirling stars headpiece to the statement Teresa beaded brow band. Another favourite from this bespoke collection is the Blanche headpiece, featuring large navette crystals with rhodium chain links. Choose this design with opalecent crystals or antique silver crystals to enhance and complement your individual vintage bridal look.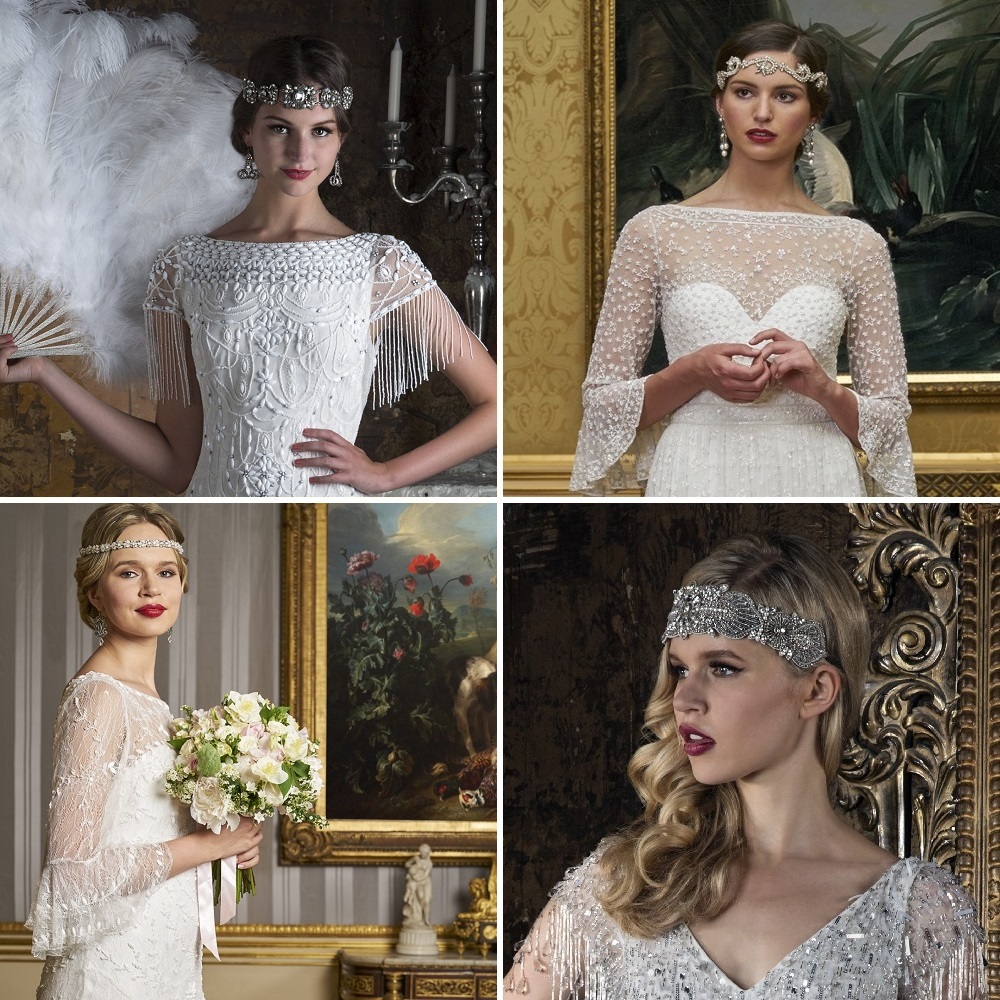 Sparkling Statement
From Ivory and Co, we adore these headpieces all with styling inspired by the 1920's era. Here we have the Lottie headpiece – with it's strands of draping beads and crystals you can razzle and dazzle from dawn til dusk. Another favourite from the vintage collection by Ivory and Co, is the Pearl Crescent hair comb which remains ever popular with our brides. This attractive comb can be worn at the back of the head with a chignon style hairdo or loose bun, and equally with a veil.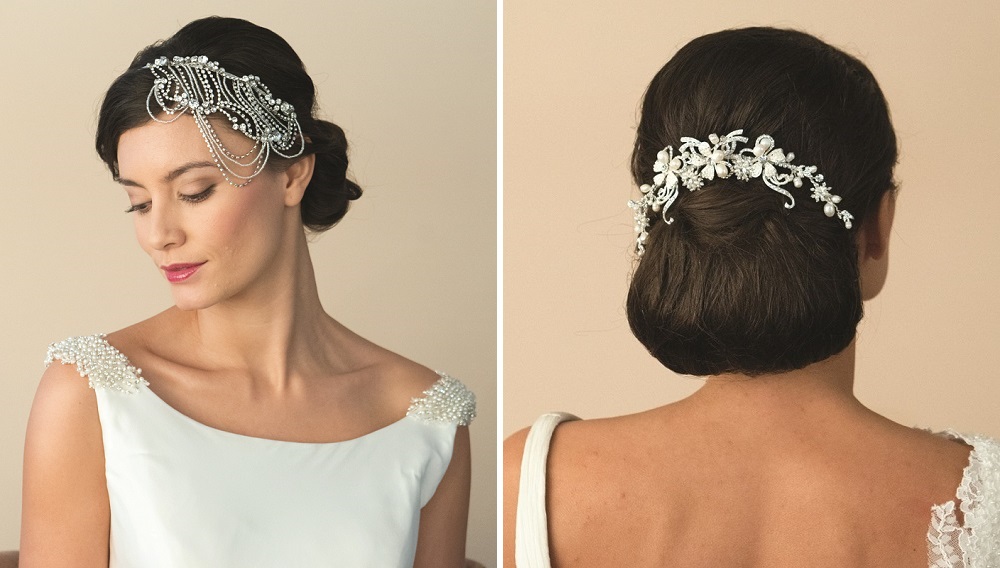 A versatile vintage headpiece is Morgan, also by Ivory and Co. Here you can see the same hairpiece, but worn in alternative ways giving two very different looks. Morgan is delicate design, but nonetheless vintage, and can be worn in many other ways to suit your chosen hairstyle perfectly. Understated luxury at an affordable price, and rhodium plated in true vintage style.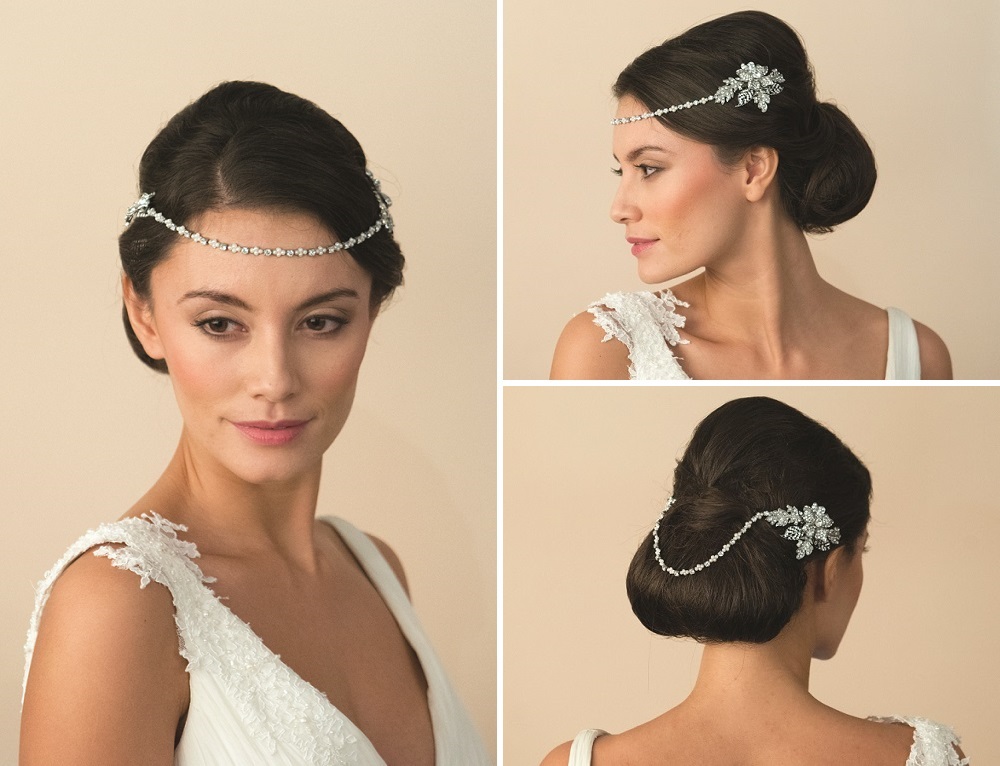 Great Gatsby
Designed by the talented Susanne Gadegaard, these opulent vintage wedding headpieces are totally bespoke, and true style statements. These are undoubtedly vintage through and through. Look how these breathtakingly beautiful pieces frame the face, Norma, Audrey, Daisy and Elsie – all 'Gatsby' inspired and oozing vintage charm. All styles featured here come in a choice of gold or silver and are lovingly created just for you. Only from Lace & Favour in the UK. No more words are needed, these are all statement vintage headpieces and simply glorious designs.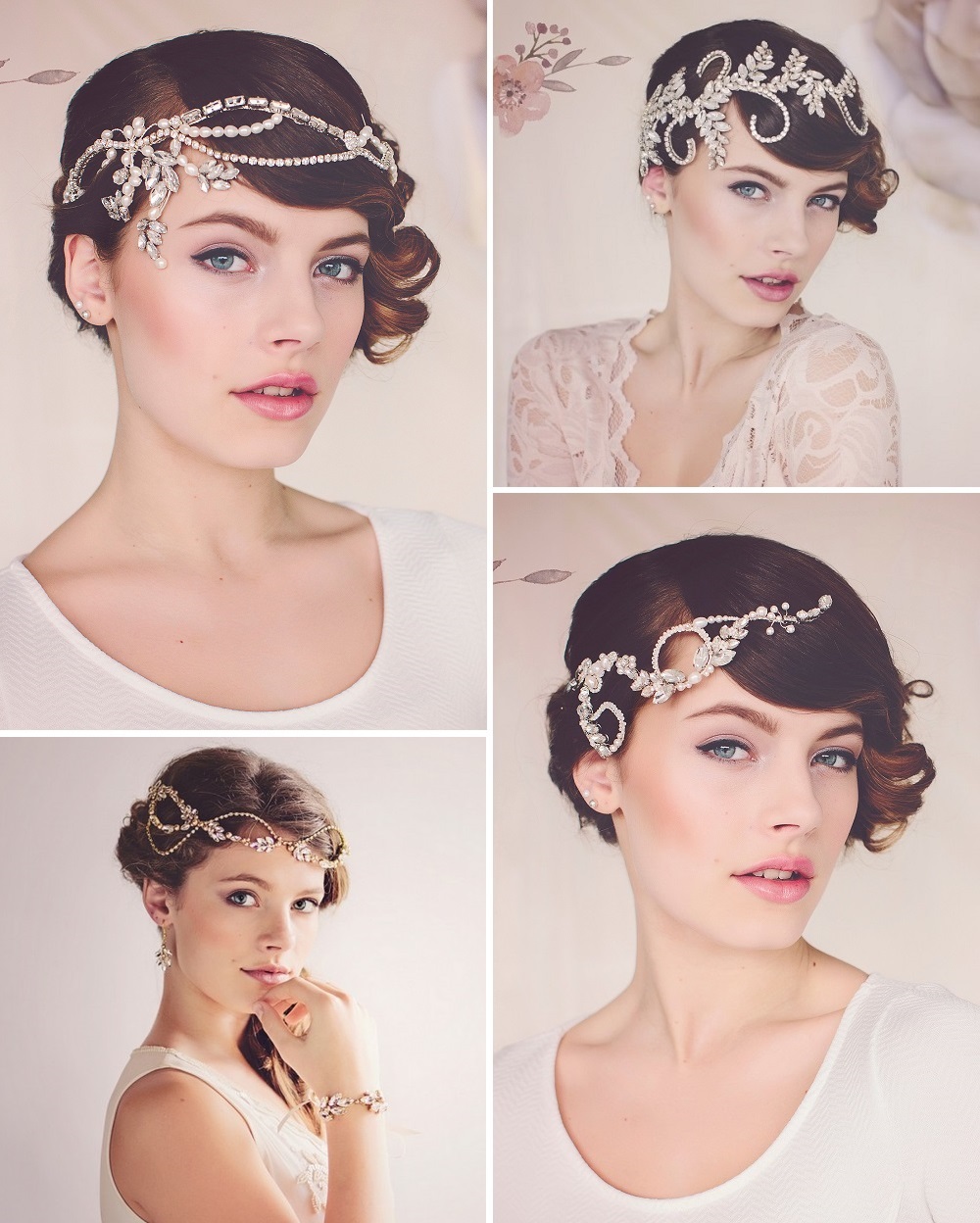 Romantic Charm
Turn those heads as you enter the venue wearing any of these divine vintage headbands by Arianna. Each and every one of Arianna's vintage wedding hair pieces are hand-created right here in the UK, and can be as individual as you are. Typical of that bygone era, the Arianna statement headpiece, AR478 will get you noticed. A combination of feathers and crystals, this is a dreamy and romantic adornment for any vintage bride.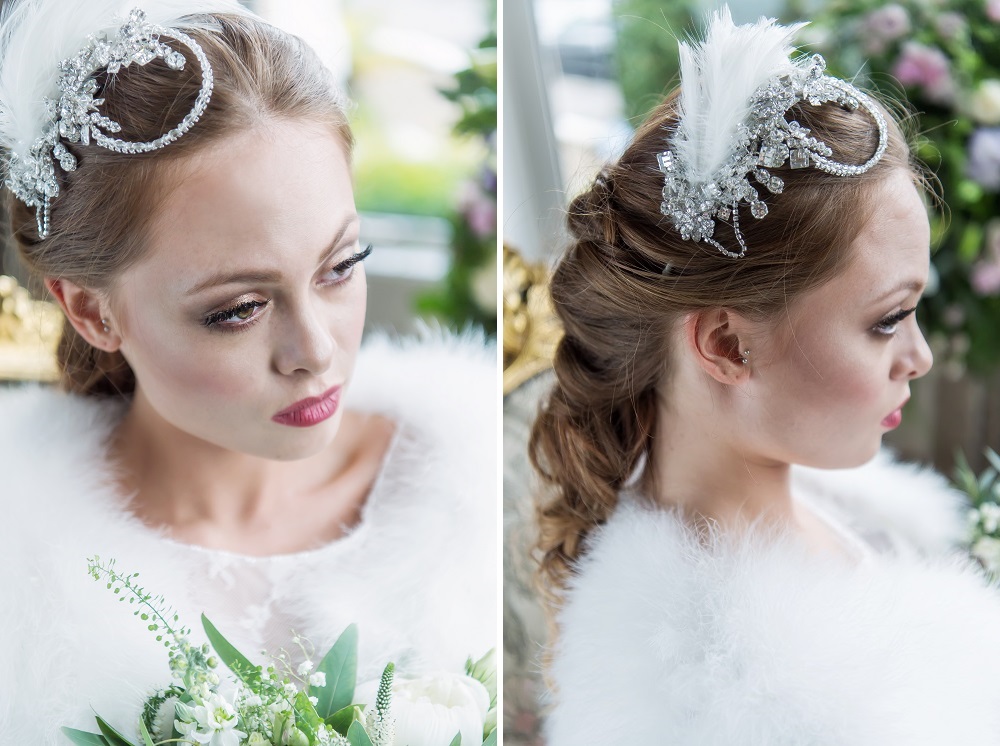 If hairbands are your thing, you will be hard pressed to beat these examples, which are perfect to dress up a plainer vintage gown. For sparkle, choose the Arianna Deco Inspired Diamante Headband, style AR460. Laden with Swarvorski crystals, and featuring dainty strands of diamante, this piece has movement and interest. For a more romantic look, the Luxe Statement Headpiece, style AR470 is another fine example of vintage charm. Densely beaded, the intricate detail will add an air of grandeur to your outfit. Two very different asymmetric designs, but both so typical of that vintage era you want to re-create.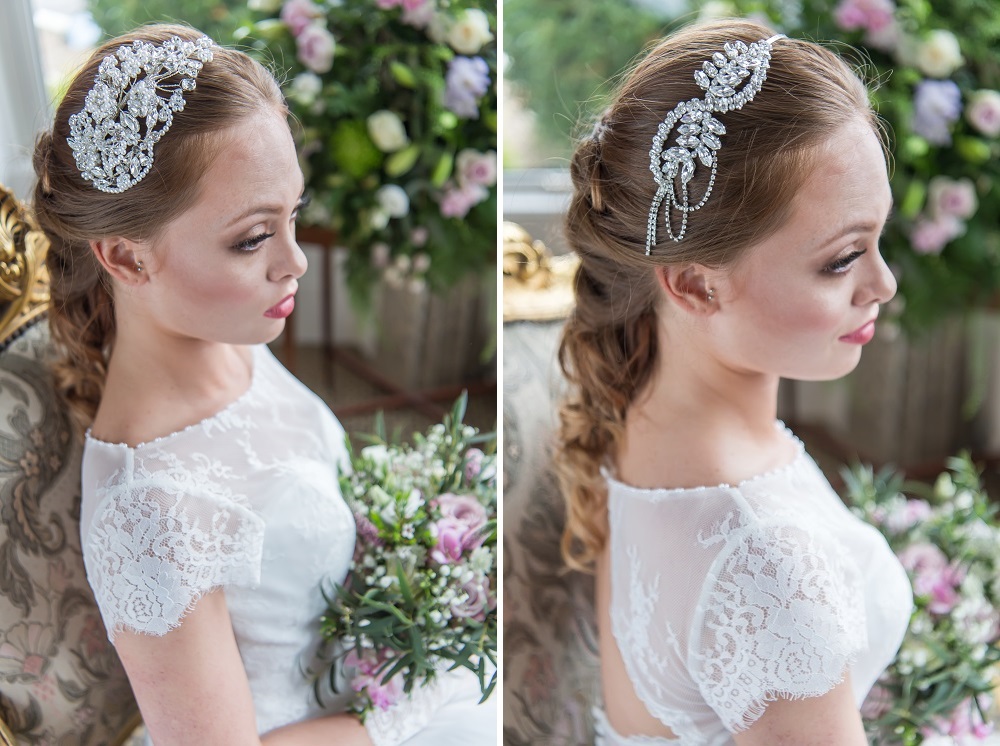 Hopefully this has given you brides-to-be some inspiration and style tips for your vintage wedding look. Enjoy shopping all things vintage with our shop by style page where you can find everything from, vintage jewellery, bridal shoes, veils and of course, beautiful vintage headpieces!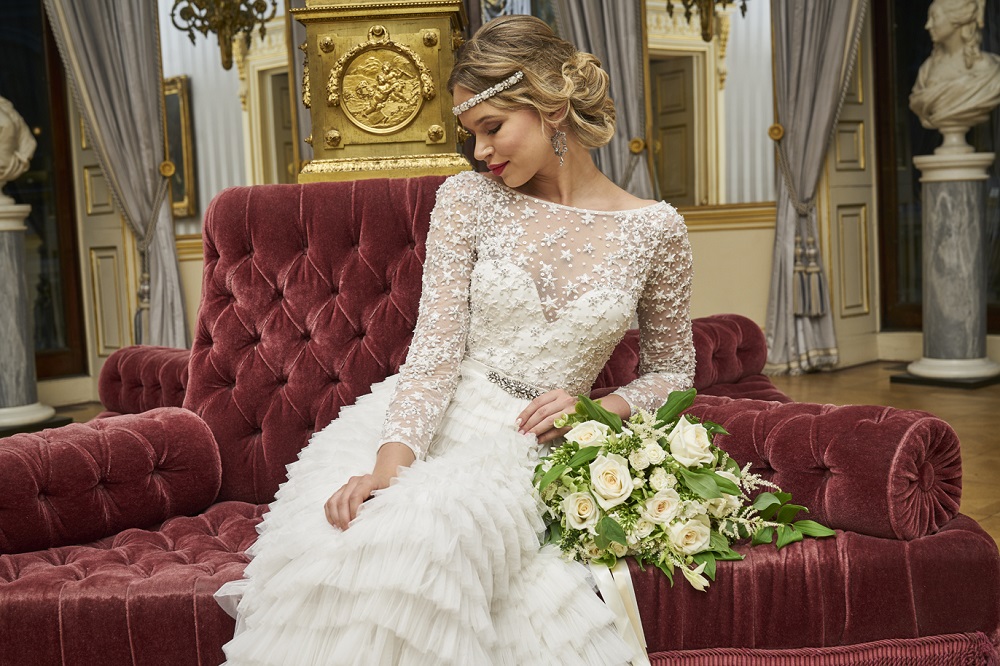 Shop our stunning collection of vintage headpieces and complete your look today.
Love Andrea xxx