This Season's Most Loved Wedding Jewellery
You've got your dress, now it's time for you to accessorise. Here we are showcasing this season's most loved wedding jewellery to inspire any bride to be. Most importantly, you want to make the right choice, so here's what trending now.
THE BEAUTY OF BELMONT
With it's delicate styling, the pretty Belmont collection is our most loved wedding jewellery design. The Belmont features a shimmering teardrop surrounded by an array of tiny glistening crystals. The beauty of Belmont is the classic styling, which means you will want to wear it again and again. This timeless bridal jewellery set will be an everlasting reminder of your happiest day.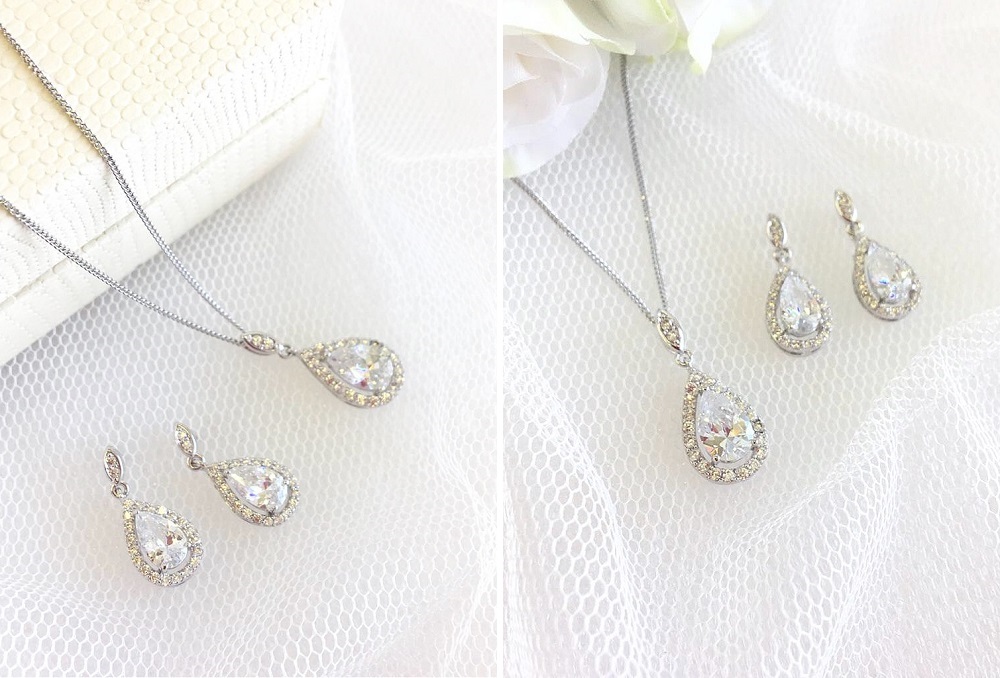 This beautiful wedding jewellery is a joy to behold, and will complement most bridal gowns. The collection consists of the Belmont earrings, and Belmont pendant necklace. Available in sparkling silver, gold or fashionable rose gold. Belmont earrings are sold separately or with the pendant as a jewellery set. Belmont jewellery is small and dainty which makes it a favourite with Lace & Favour brides and bridesmaids too!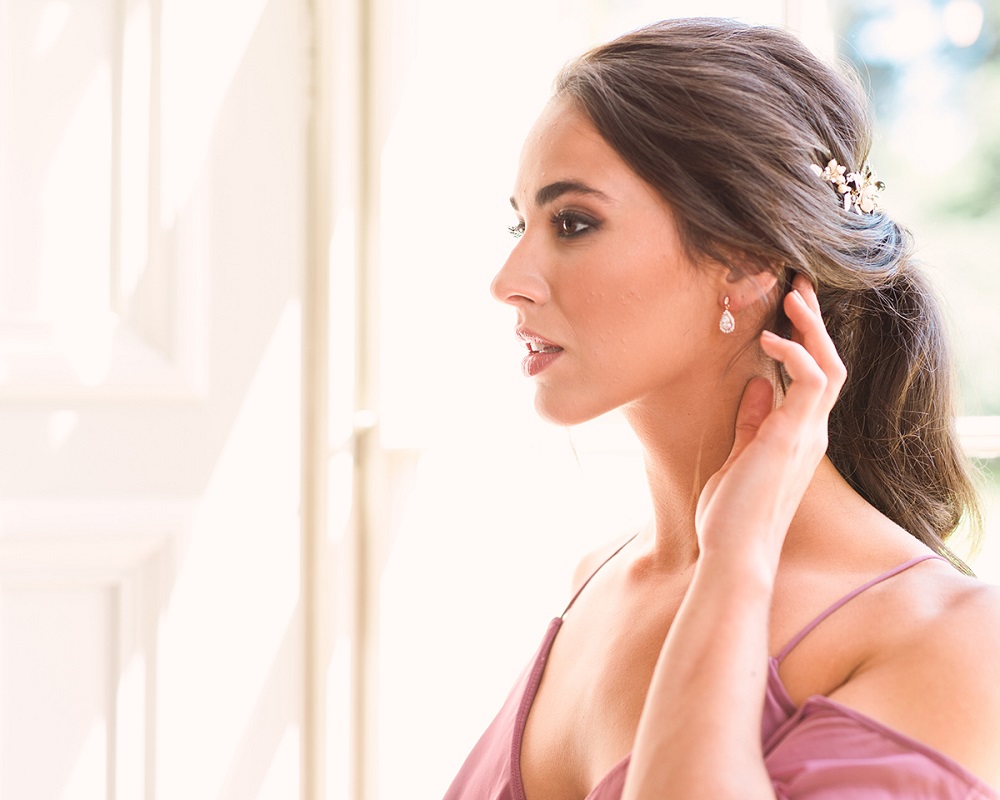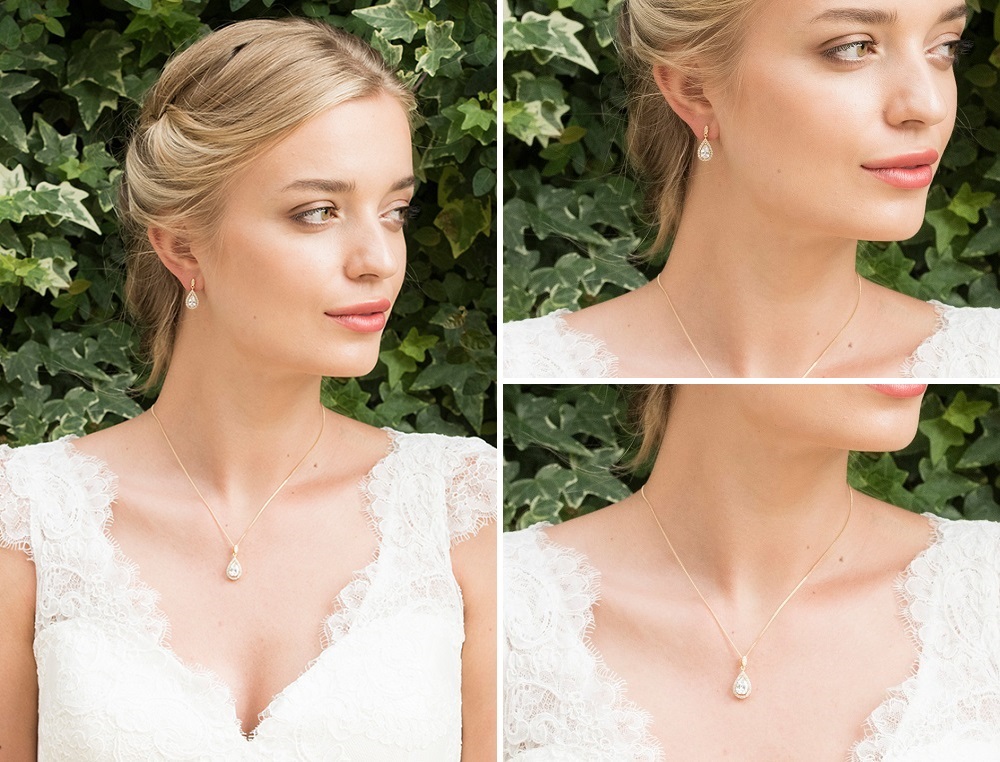 OVER THE MOON
Another firm favourite is the heavenly Moonstruck vintage-inspired jewellery. Simple and sophisticated and also in three colours, our brides love this design too. The Moonstruck collection is ideal for the vintage bride, and those in search of elegant wedding jewellery without too much bling. Wear the Moonstruck earrings on their own, or with the matching necklace. Why not team up with the Modena crystal embellished bracelet for a really winning trio. Which colour would you choose; silver, gold or rose gold?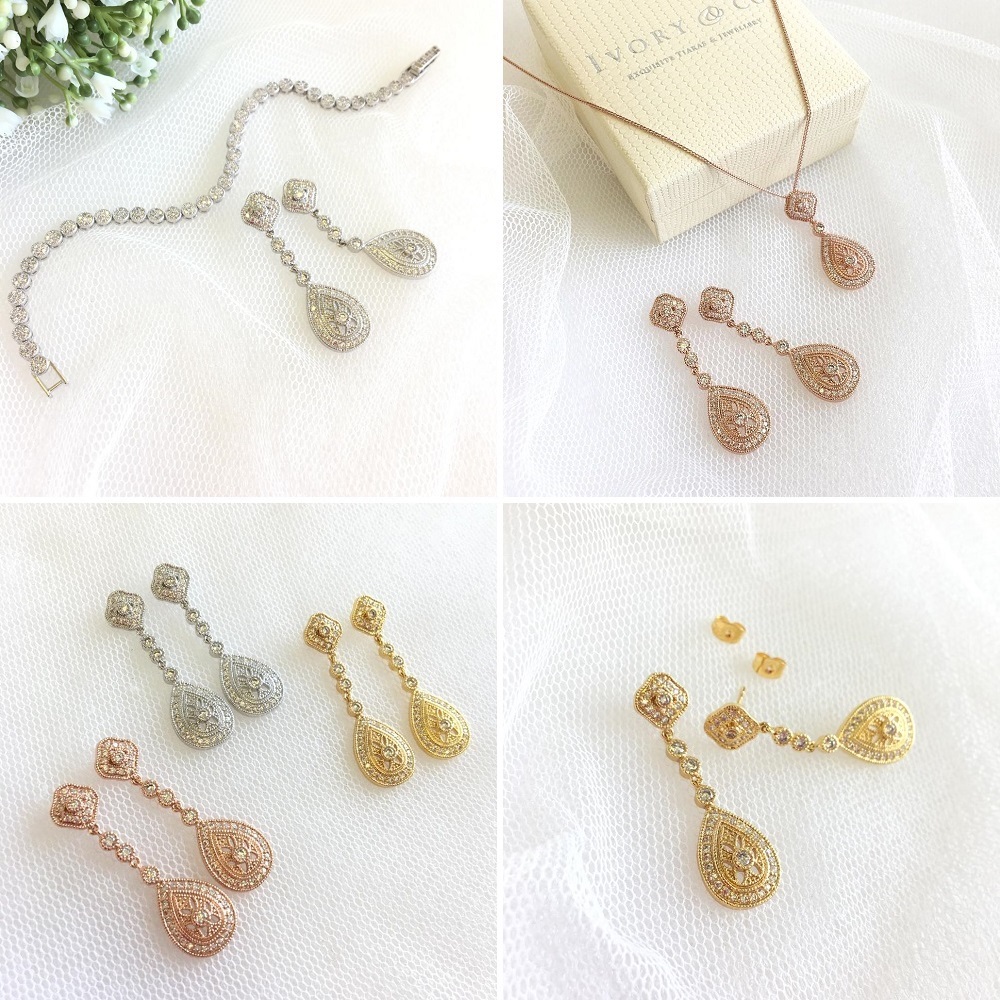 CRYSTAL CHIC CELESTE
You can be sure to sparkle and shine on your wedding day when you wear these. With shining cubic zirconia crystals these drop earrings and matching pendant necklace look fabulous both day and night. Enjoy on your wedding day and ever more, as this jewellery is timeless. In three colours, these crystal embellished Celeste earrings come separately or with the necklace as a gorgeous jewellery set.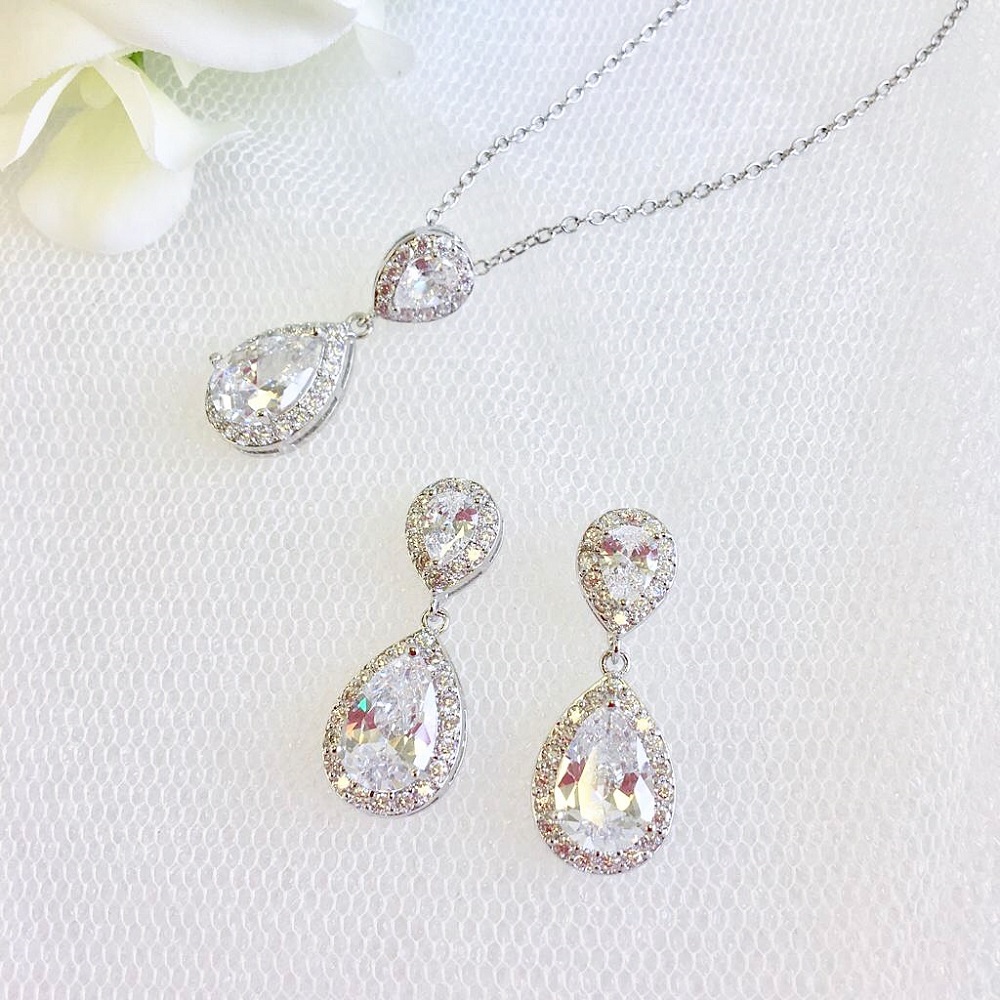 PERFECT PARTNERS
Here you can see how the new Hampton teardrop cubic zirconia bracelet is a perfect match for Celeste! Your wrist will appear in many wedding photographs, from signing the register to cutting the cake. This season's fastest selling wedding bracelet, so why not wear the Hampton bracelet to add some sparkle to your photos.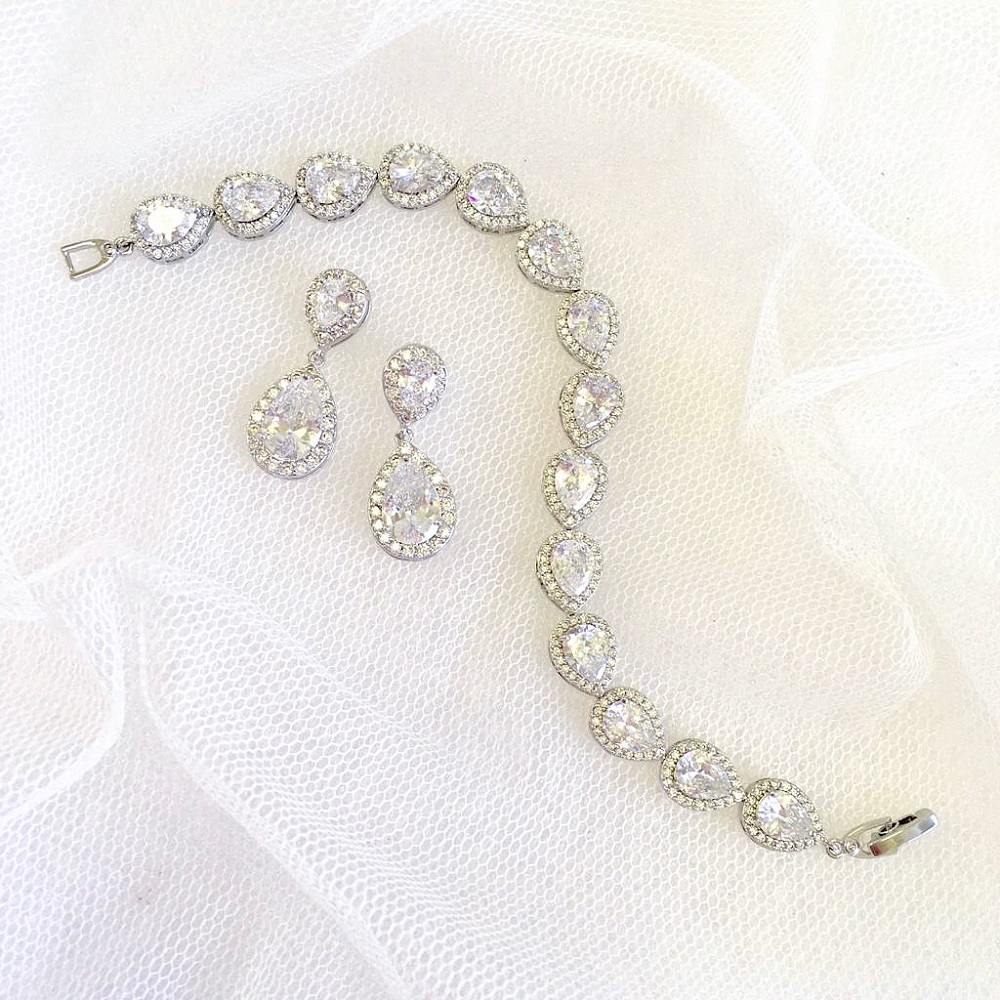 STYLE & ELEGANCE
Among our winning jewellery designs are Graceful and the even daintier version, Elegance. A perfect combination of ivory pearls and shimmering crystals, these bridal earrings now come with a new matching pendant necklace too. These classic designs will grace and enhance any wedding dress, and are just so perfectly 'bridal'. Both the Graceful and Elegance wedding jewellery comes in a choice of silver or gold, a highly recommended stylists pick!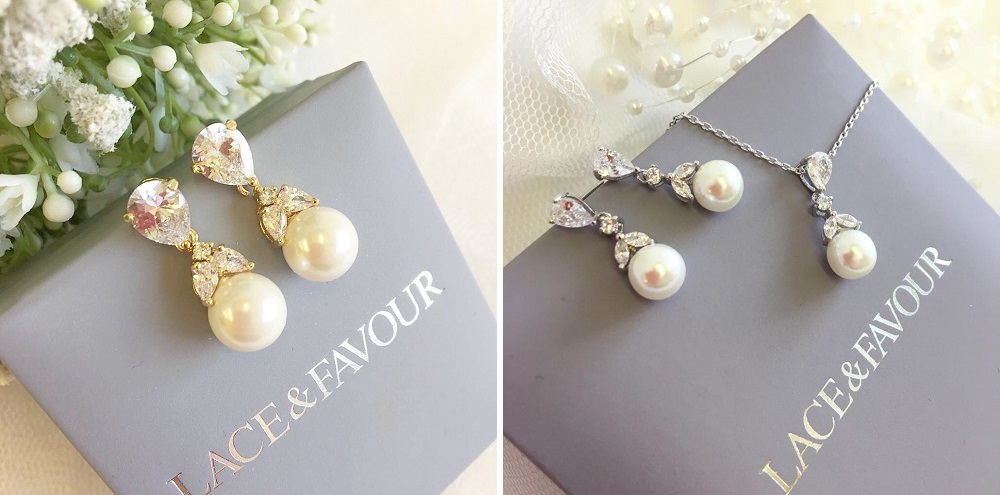 IN LOVE WITH APHRODITE
Named after the Greek Goddess of love, brides fall in love with this wedding jewellery instantly. A romantic design featuring tiny pearls and delicate crystal embellished leaves, Aphrodite is as pretty as can be. Guaranteed to be loved by you and admired by many, Aphrodite comes in silver, gold and rose gold. Most importantly this design can easily be worn again, on your honeymoon and long after.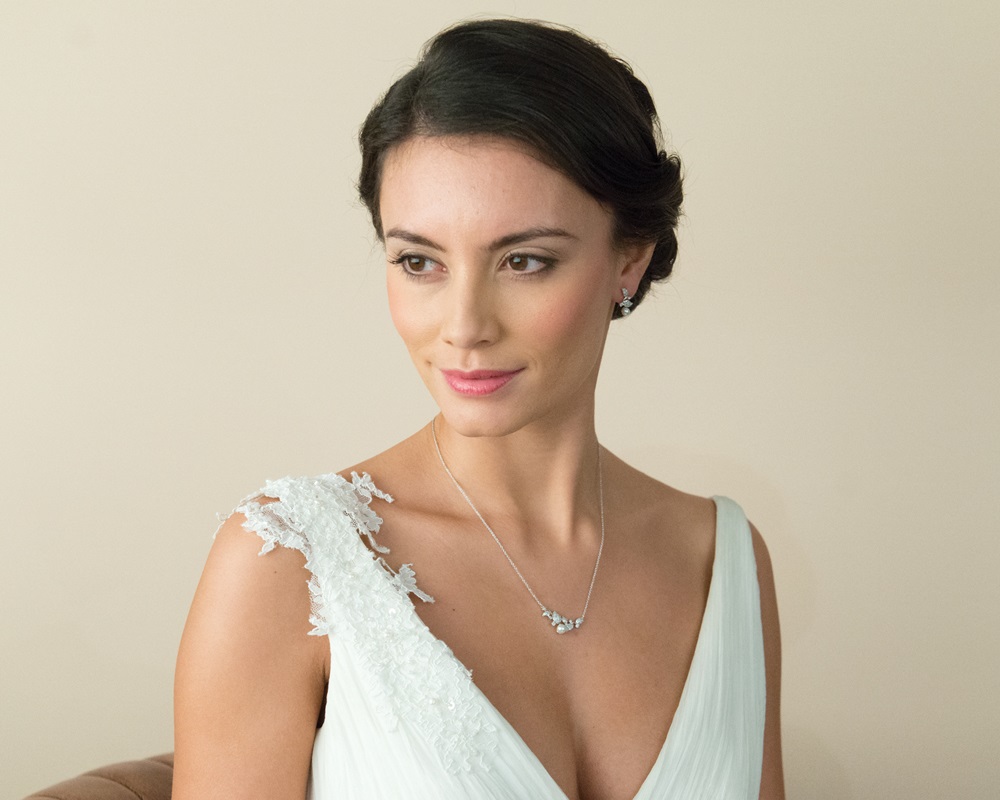 GIRLS LOVE PEARLS
Ideal for the bride, and popular for bridesmaids too, our Paloma shimmering pearl earrings provide both sparkle and movement. These teardrop pearly earrings come in all colours, sophisticated silver, glorious gold, and the bridesmaids' favourite for 2019 – rose gold. We think they look equally fab in all colours, don't you?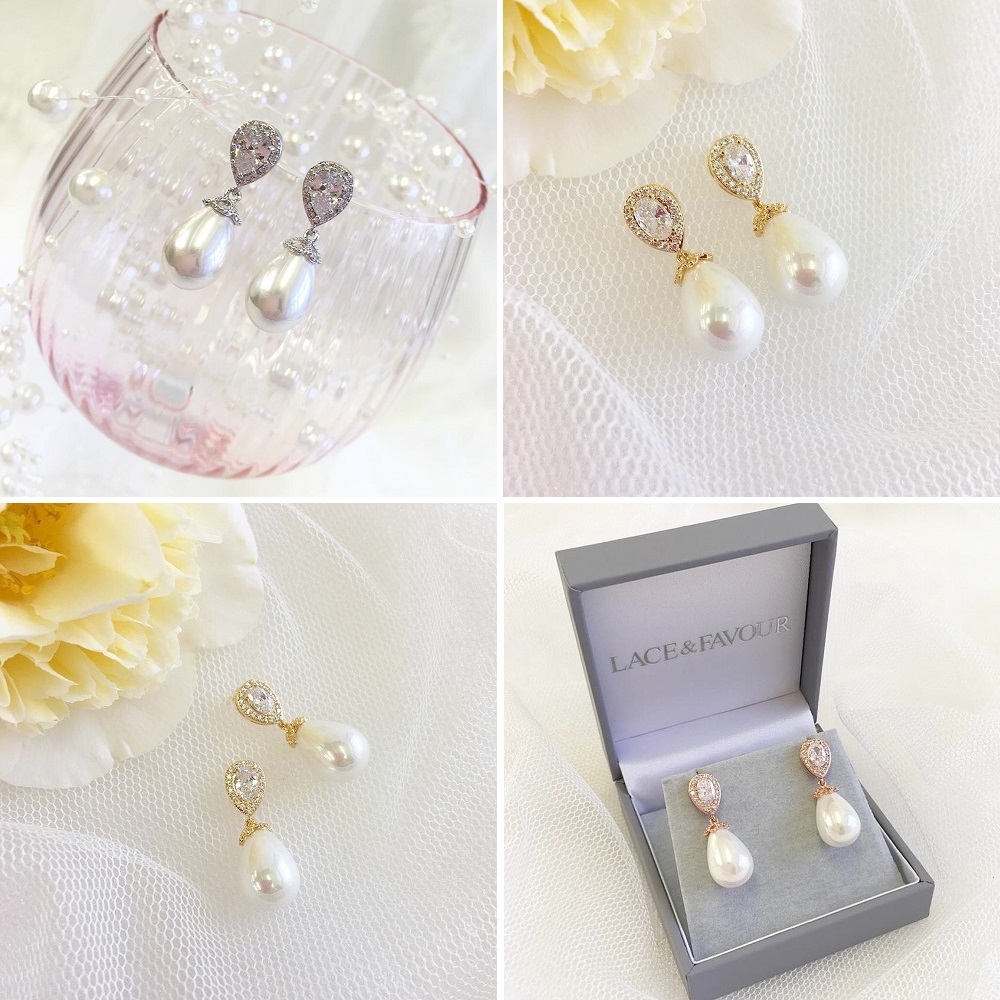 SPARKLING PEARL STUDS
If stud earrings are your preference, these pretty pearl earrings named 'Ava' and 'Mila' are both winners. Choose either to understated glamour to your bridal look. These earring designs each have an ivory pearl coupled with a cluster of marquise crystals. A winning combination in wedding earrings, therefore both firm favourites with our brides.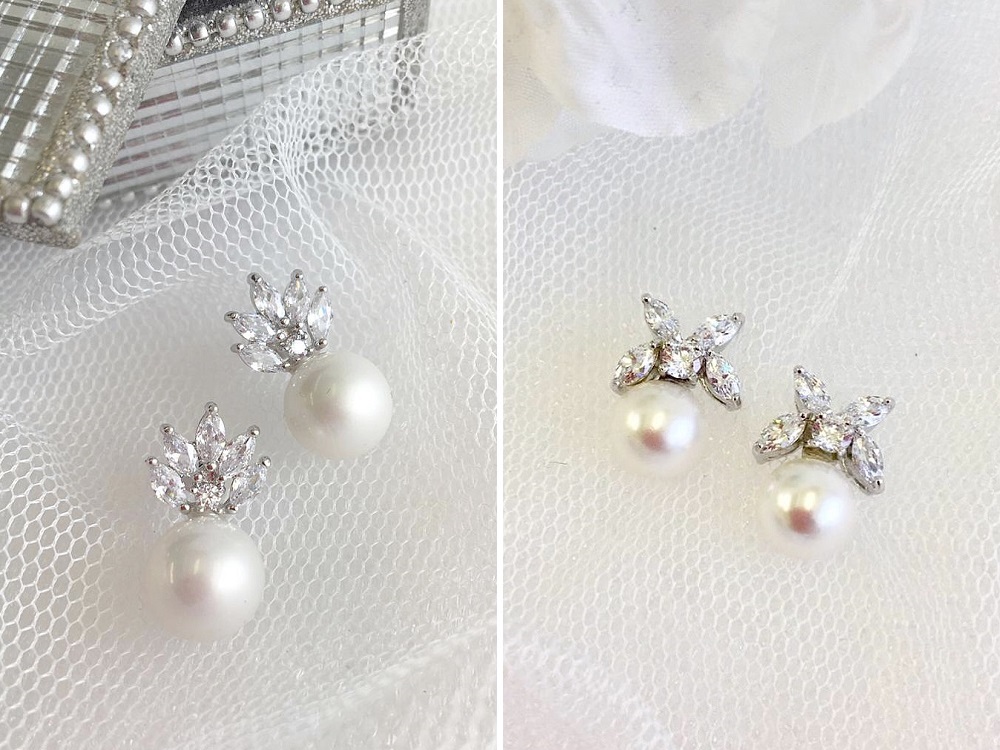 PERFECTLY PETITE
If you want petite earrings with traditional style, then look no further. The Sorbonne crystal teardrop earrings will get heads turning and ensure you sparkle all day long. With graduating shimmering teardrop crystals, our Sorbonne wedding earrings also have a matching pendant necklace and come in silver, gold and rose gold. A very delicate and beautiful wedding jewellery choice. Choose the Sorbonne jewellery as the perfect choice for a perfect day, Lace & Favour style.