Top Styling Tips for Bridal Shoe Clips
How to get two pairs of shoes for the price of one, with a stunning range of shoe clips at Lace & Favour.
Shoe clips are an easy way for you to enhance your chosen wedding or occasion shoes. Choose from glittering crystal designs or pretty florals and bows to transform your shoes instantly.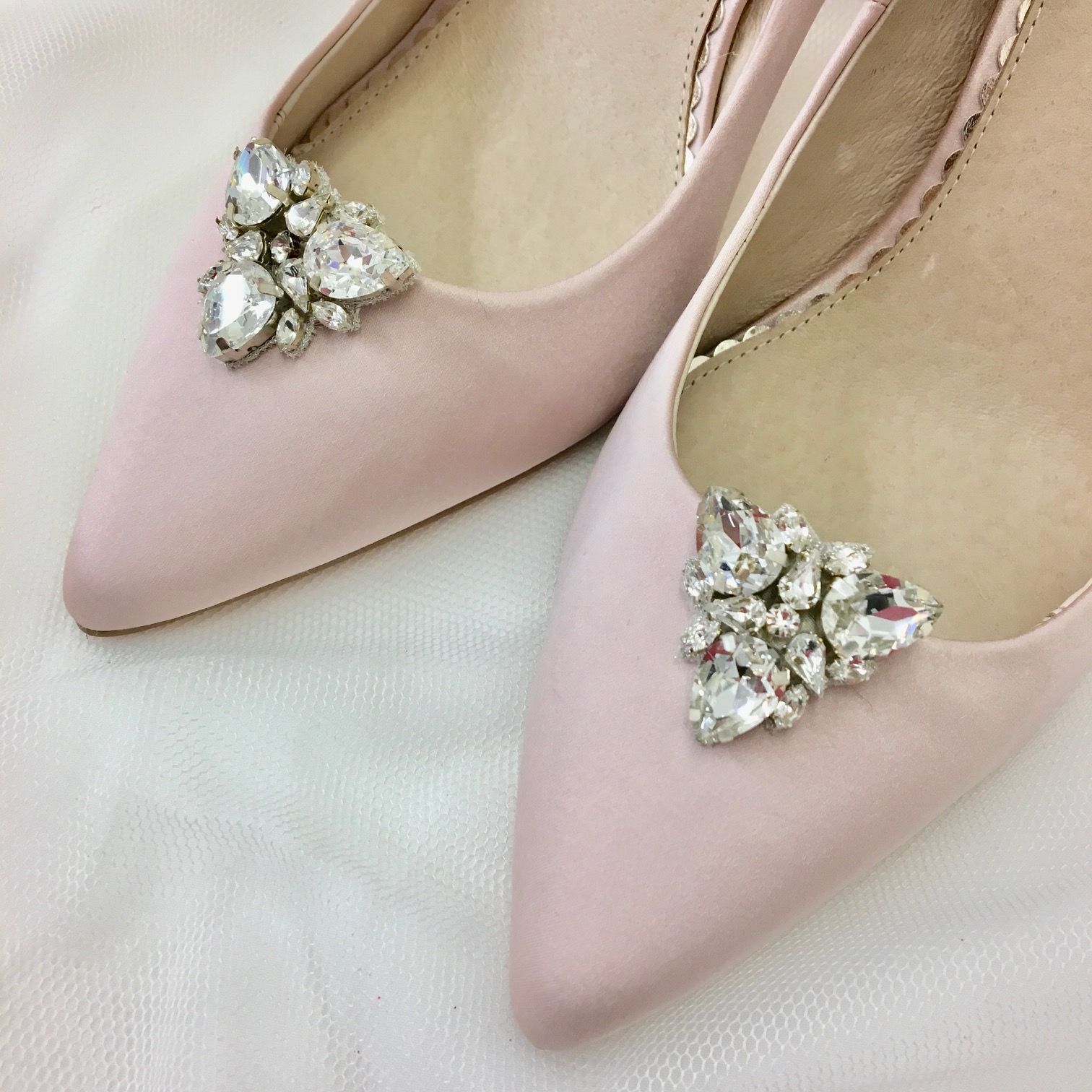 For brides, bridesmaids, mother of the bride or any special occasion, find out how to sparkle right down to your toes! As shoe clips are so versatile they can be worn on any number of shoes. You can wear them again and again, and long after your big day. Here are our stylists picks for the best in shoe clips, and how to have fun with them.
NEW IN DESIGNS
Our brides are loving the latest shoe clip designs from Rainbow Club, which look equally as gorgeous on many shoe styles. Take a look at these fabulous new designs. All are now in stock and ready to order. Featuring designs in both silver and fashionable rose gold, we know you will adore them as much as we do.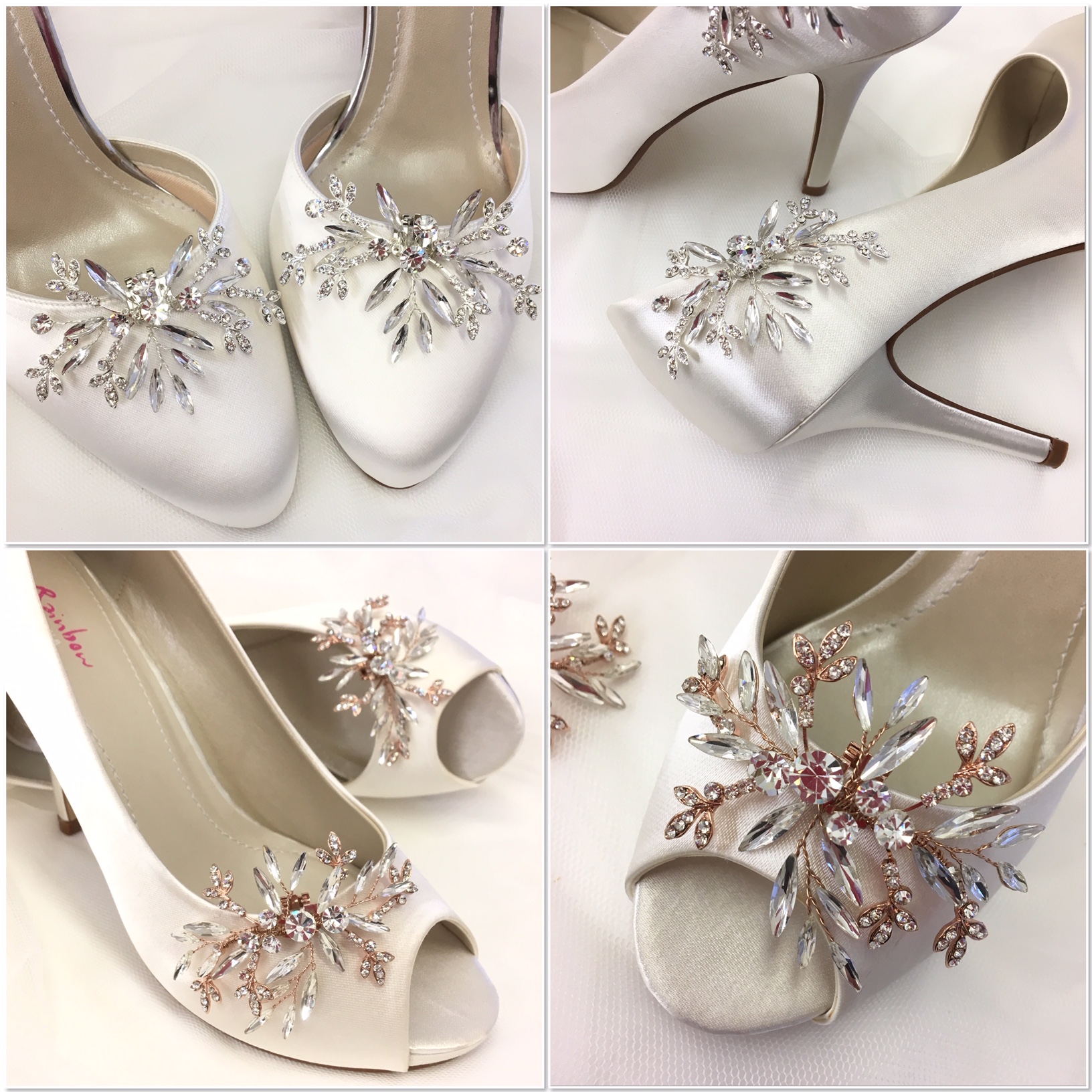 Here you can see the Luna silver shoe clips and the Phoenix version in rose gold. Add them to any plain shoe, and the result is instant glamour and wow factor. This design is lightweight and flexible and looks equally fab on open or closed toe shoes. Clip them on, and away you go. Added sparkle to your wedding shoes all day long, and so easy!
MIX & MATCH
Other new shoe clip designs at Lace & Favour are the Elara clips which are a mix of crystals, flowers and pearls. Shown here on one of our best selling Carly ankle strap court shoes, you can see how easily you can create two pairs of shoes for the price of one! This timeless design works well on our classic peep toe shoes too.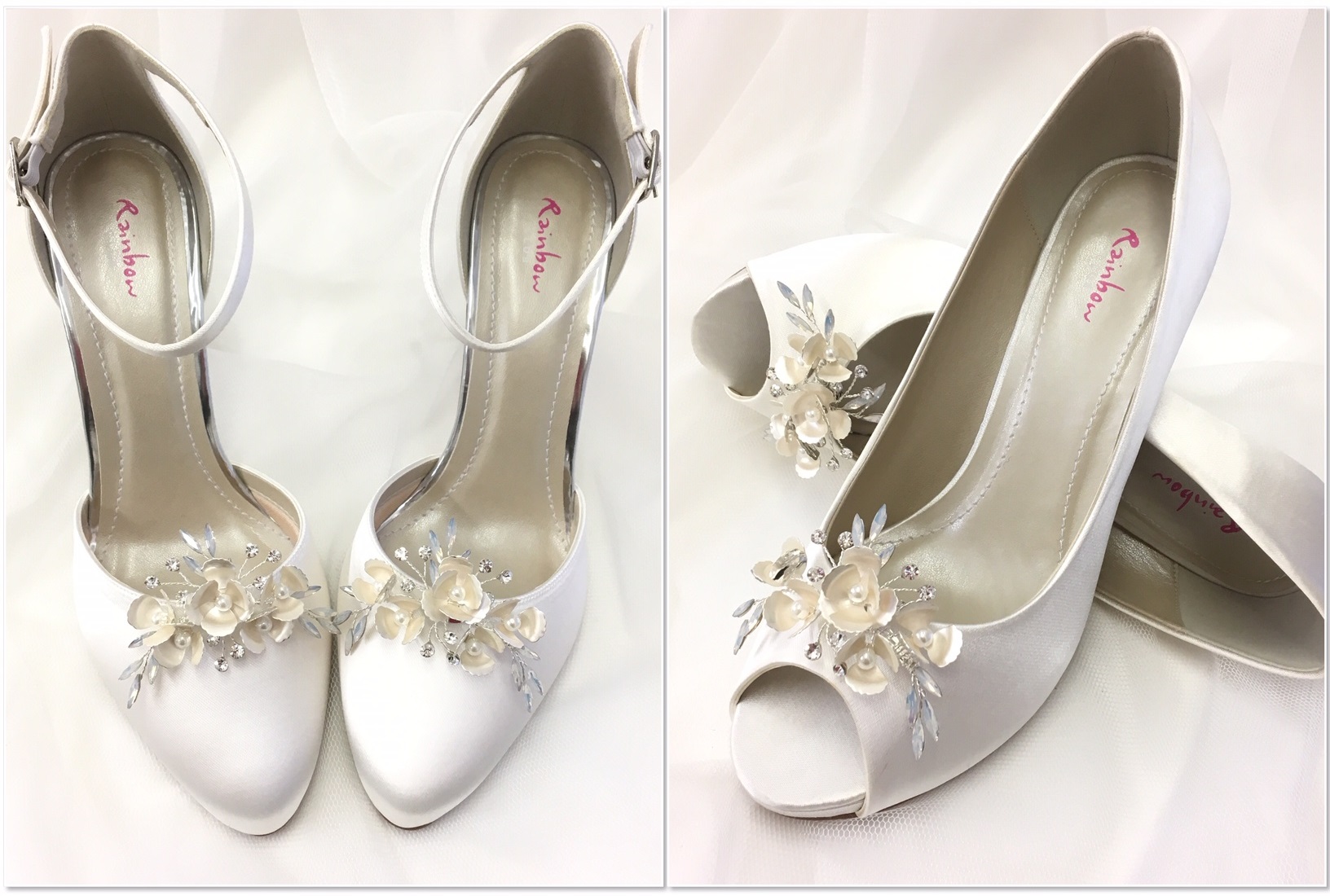 If rose gold is your thing, the lovely Aurora shoe clips sit perfectly on ivory or blush coloured bridal shoes. Designed in collaboration with Ivory & Co, all the latest shoe clip designs featured here come with hair accessories to mix and match perfectly.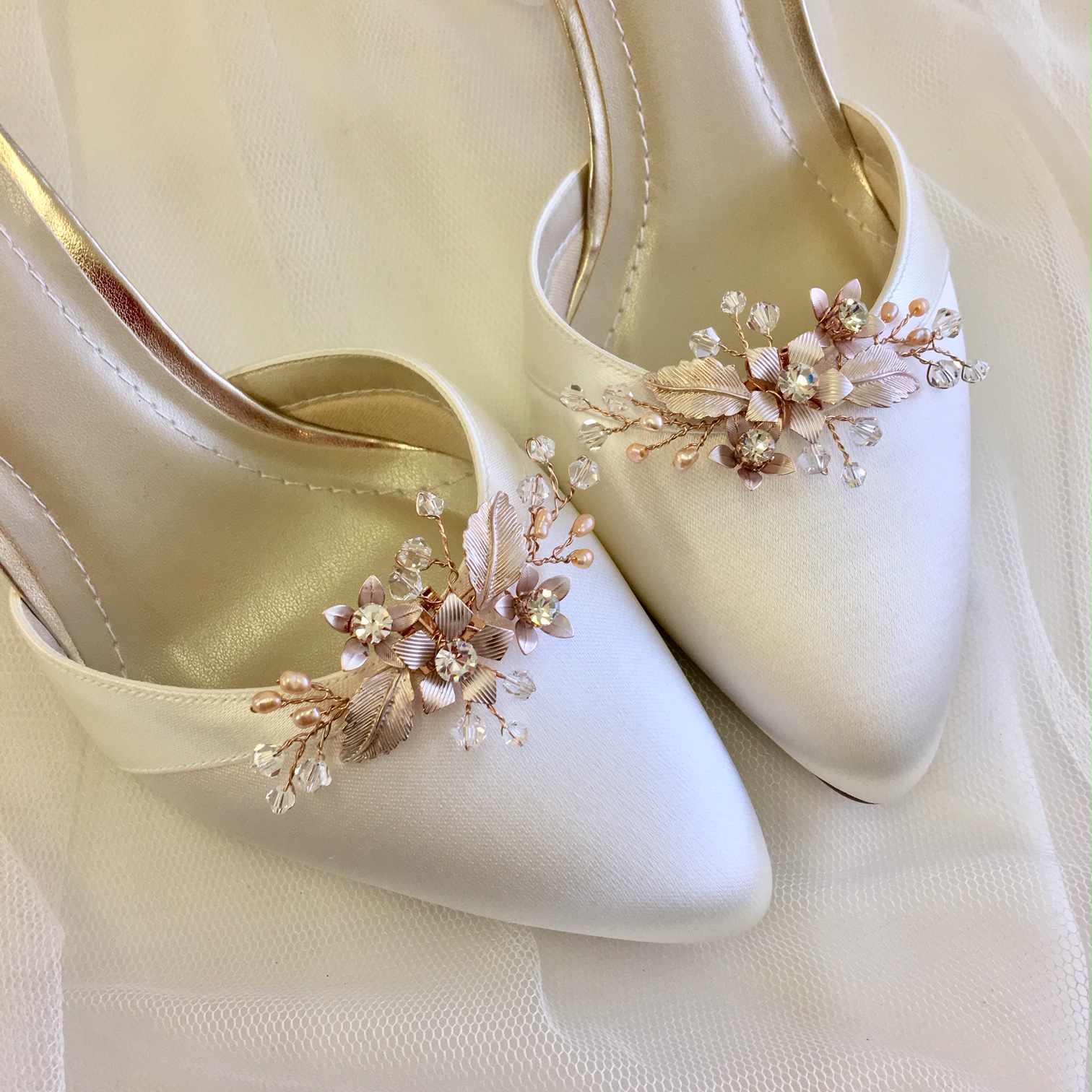 STYLE STATEMENT
For the ultimate bling, take a look at the impressive Haywood shoe clips. In a choice of shimmering silver or opulent gold you can add Hollywood glamour to your wedding shoes in an instant. Why not suggest the statement brooch Xenia shoe clips to shoes for your bridesmaids or mother of the bride, as these look just as fab on coloured shoes!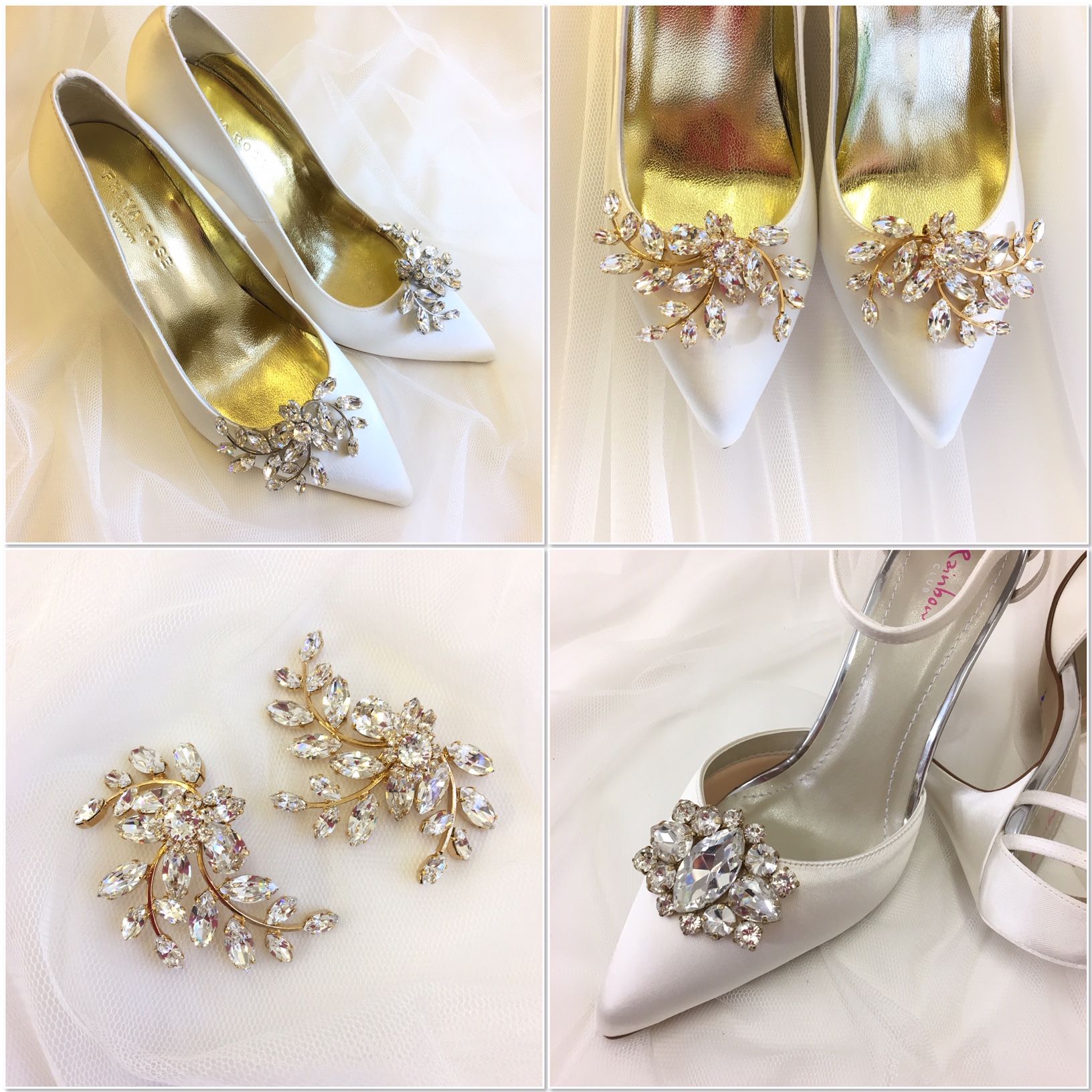 SPARKLE & SHINE
For brides looking for a more understated touch of sparkle, you will find these hard to beat. You can add any shoe clip designs to your shoes and even your bag. In a range of pretty shapes, you will discover some of our most popular shoe clips here. Below you can see the versatile 'Petal' shoe clips on our lovely nude leather Isabelle shoes.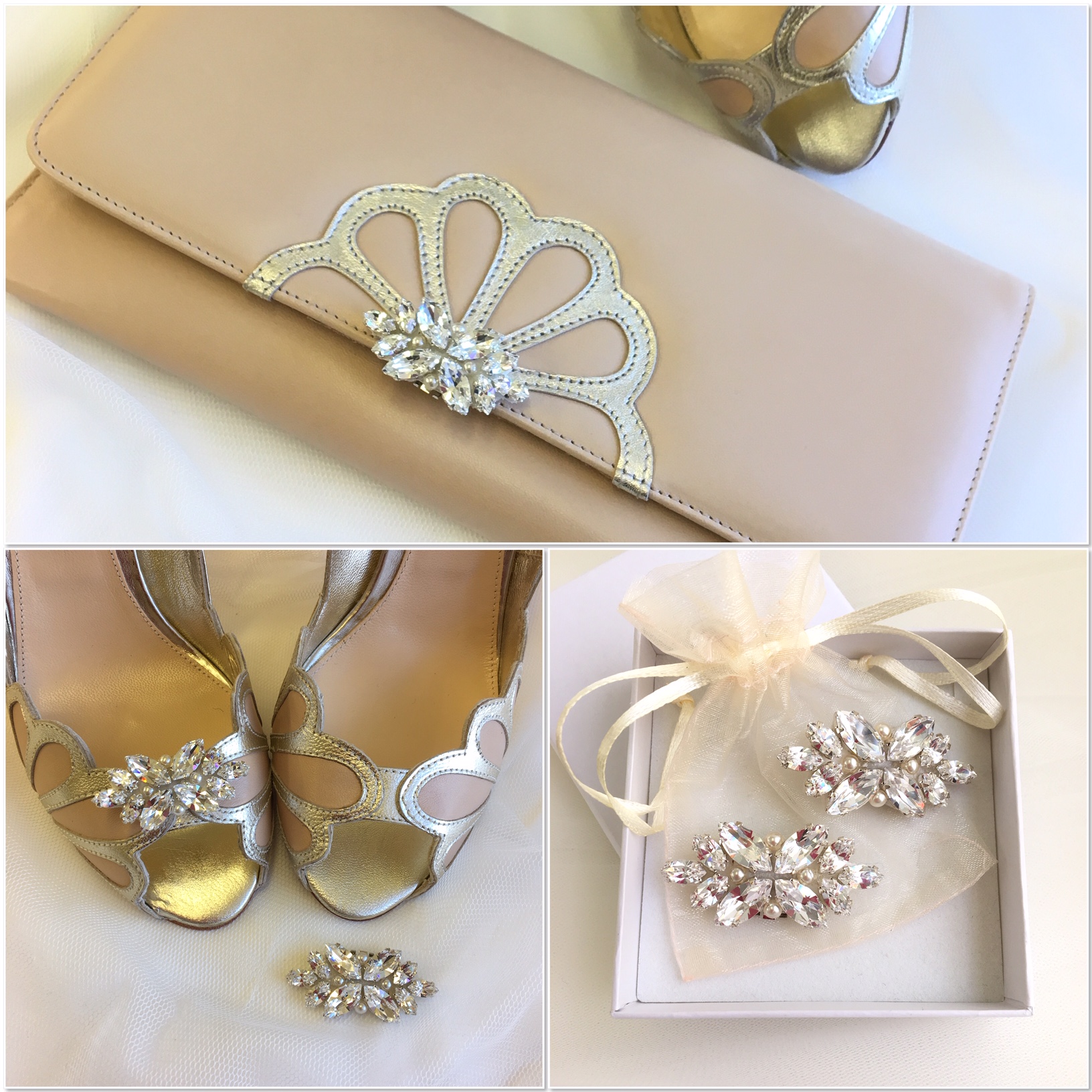 Brides and wedding guests love these beautiful 'Sparkle' diamante and pearl shoe clips, shown here on the Gigi silver snake print sandals. Other favourites in our boutique by Laurel Lime are the Crystal Star shoe clips, which come in silver and glorious gold.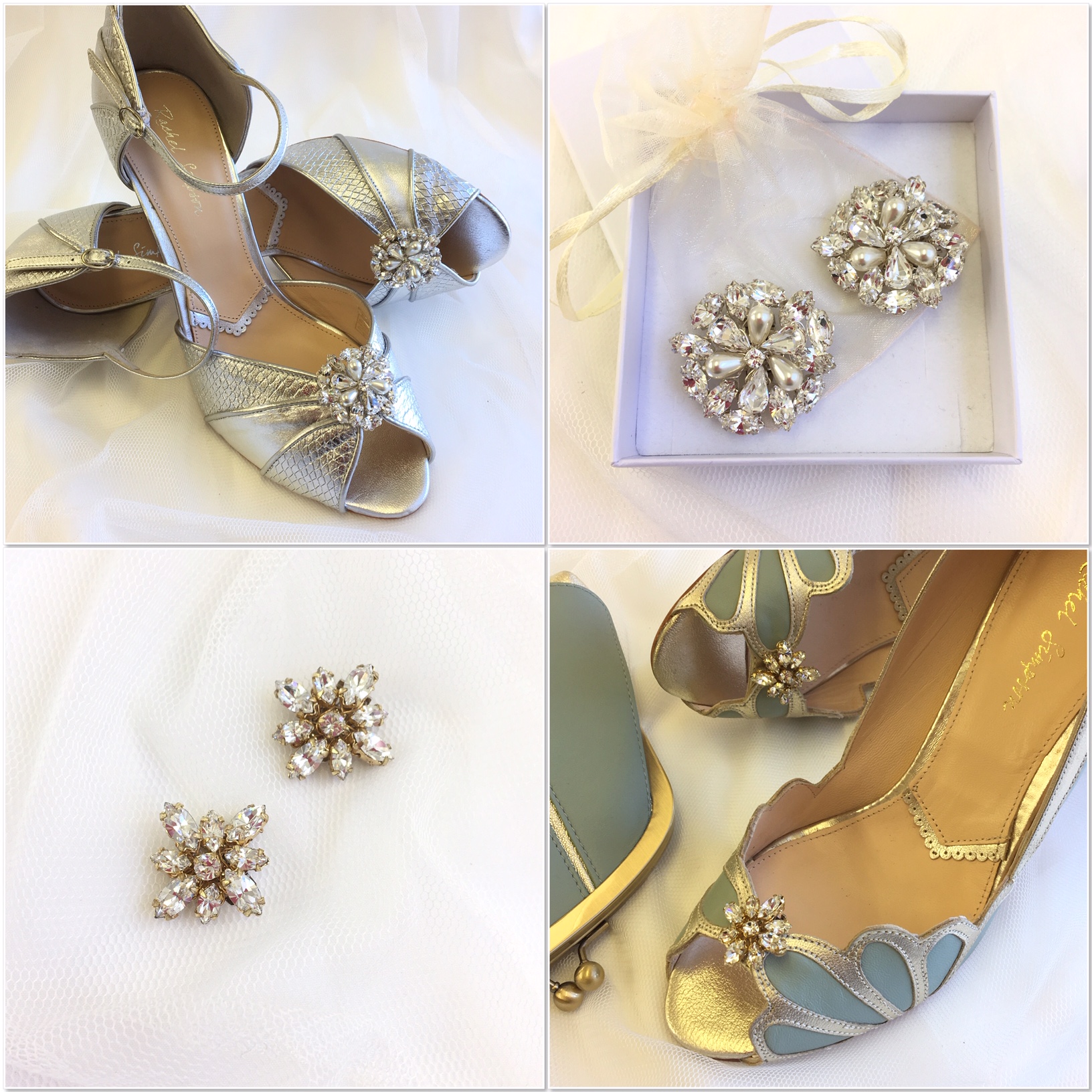 DECO DECADENCE
For an air of nostalgia, take a look at this collection. The Electra Art Deco style shoe clip is designed to give the illusion of embellished heels. Simply clip securely onto the back of your shoe.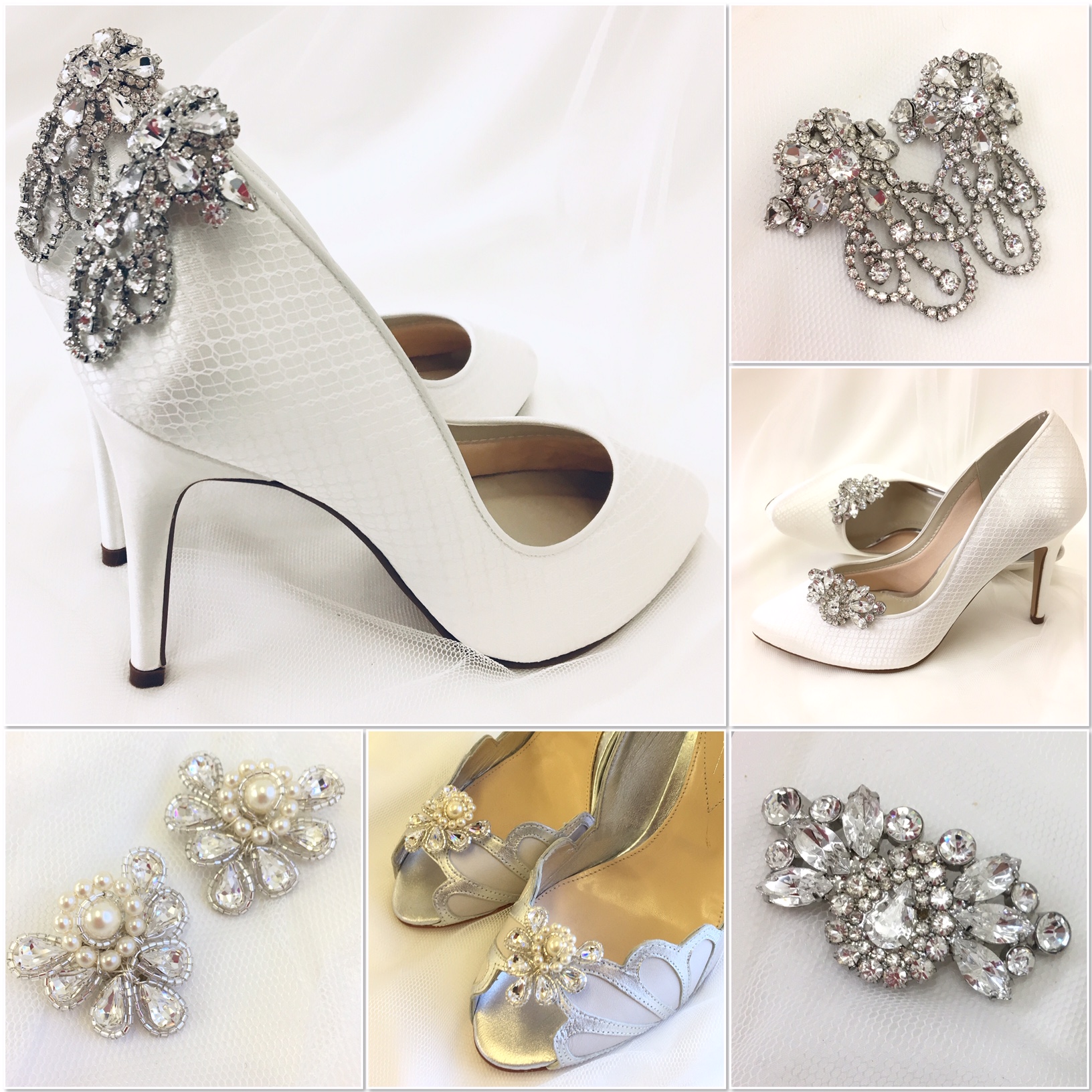 The Myra diamanté brooch are a classic all crystal shoe clip, whilst Deco Fan shoe clips are a classy mix of beads, crystals and teardrop pearls.
SHOES ON POINTE
We think the glistening Manhattan Swarovski shoe clips are a fantastic way to any enhance pointed court shoe. These work well on satin and shimmering shoes alike, and also look great on a bag, even on a dress!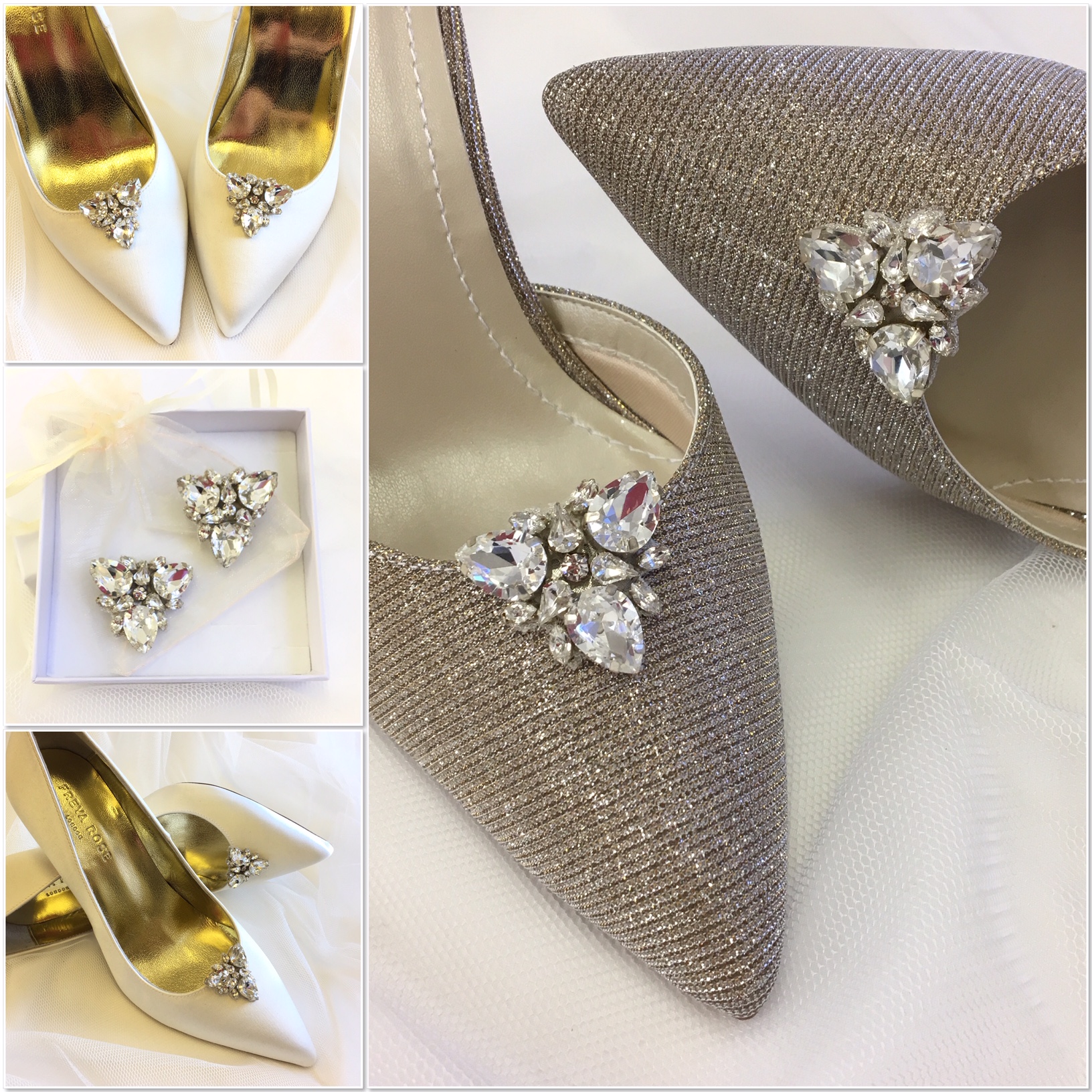 For a truly exquisite bridal look we recommend the Gardenia Floral embellished shoe clips. Resin flowers, beads, pearls and tiny diamante, these will embellish any ivory bridal shoes perfectly.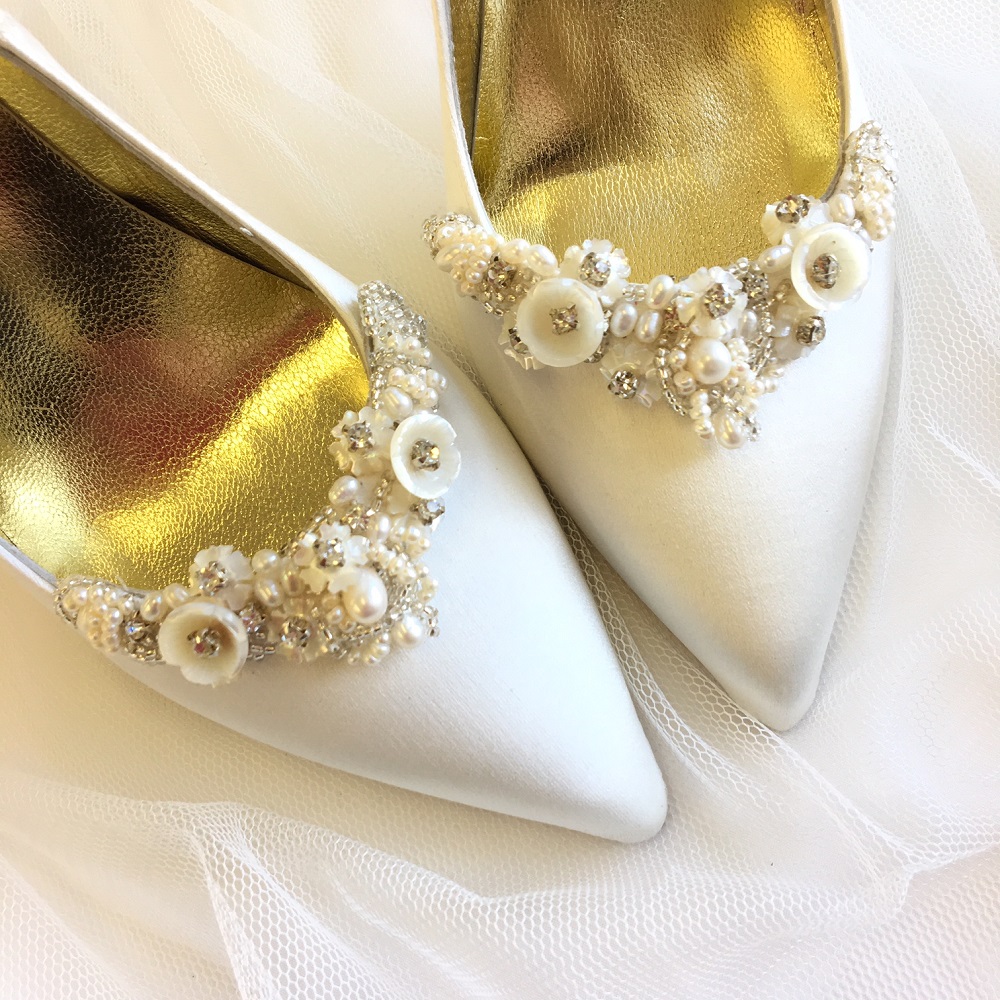 THE BEST IN BOWS
Large or small, in luxury organza, satin or sparkly, we have bows galore to adorn your shoes and here are the ways you can wear them.
Bow shoe clip designs in Satin are ideal for the classic bride. For simple understated elegance, we recommend these. Either the Rowan bow in satin or the Zavior shoe clips can enhance a plain shoe and give you a sophisticated bridal look. Wear them any way you like, on the front, side or straps, they look great any way you choose.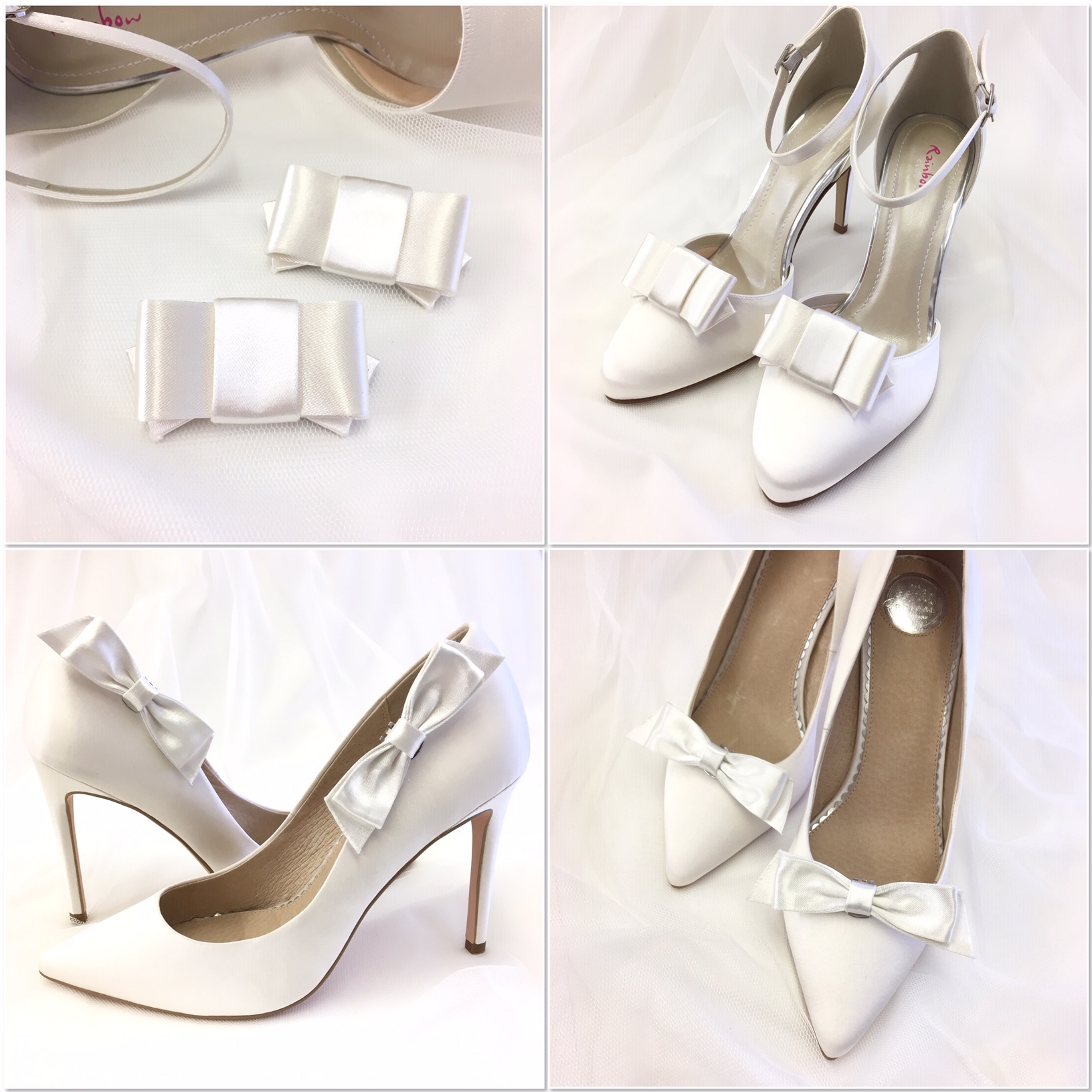 DRESS TO IMPRESS
The oversized Zinnia shoe clips are fit for any princess bride. Perfect to decorate any plain court shoe. Again these can simply clip on the front or the side – the choice is yours. If you are a bride that wants to be noticed, these are definitely for you! The dreamy Daphne bow shoe clips in shimmering organza come in ivory for the bride and navy too.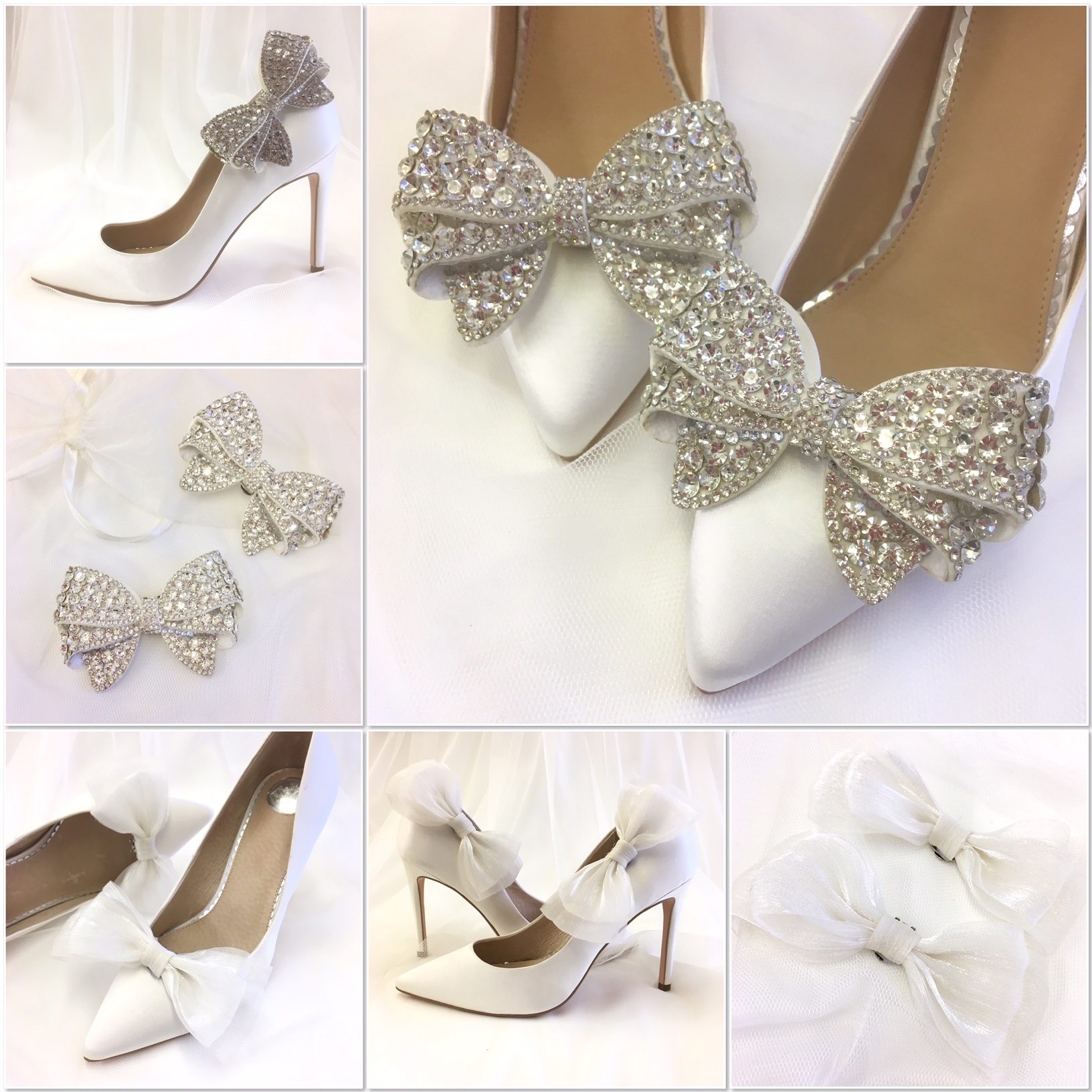 FAB FLORALS
In shimmering satin, the Titania Flower shoe clips make a fantastic addition to any ivory shoe. Clipped on any open or closed toe wedding shoe, what's not to love with these gorgeous shoe clips? For a romantic floral shoe clip, the ivory version of the 'Apple Blossom' design is hard to beat. Worn on the side or front, transform your ivory shoes in style.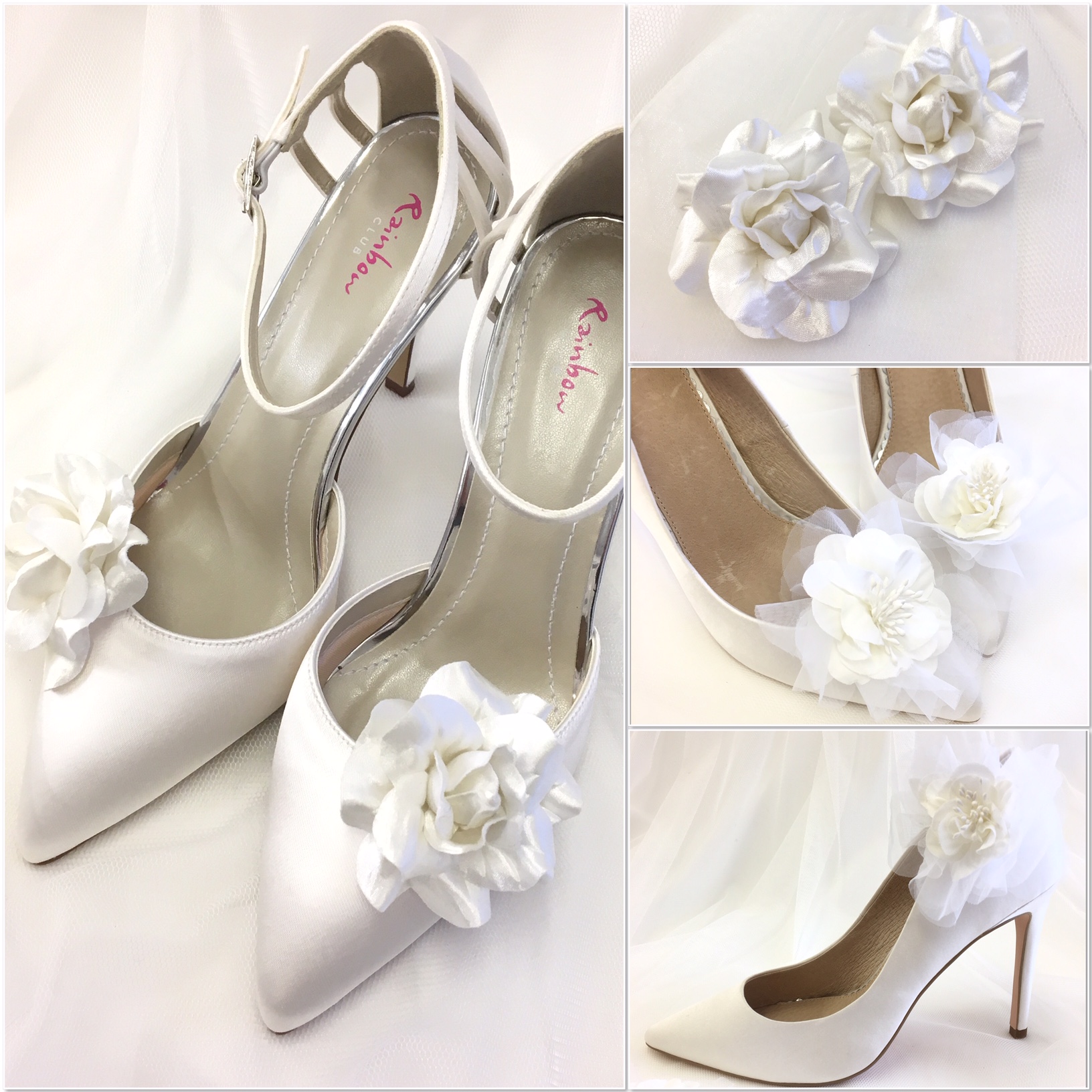 TOUCH OF COLOUR
If you are thinking pink, as many brides and guests do, the pink Apple Blossom trims will delight. Shown here on the Meghan Blush silk court shoe, these delicate organza floral clips compliment stiletto shoes perfectly. Also available in blue too, so this could be your 'something blue' sorted!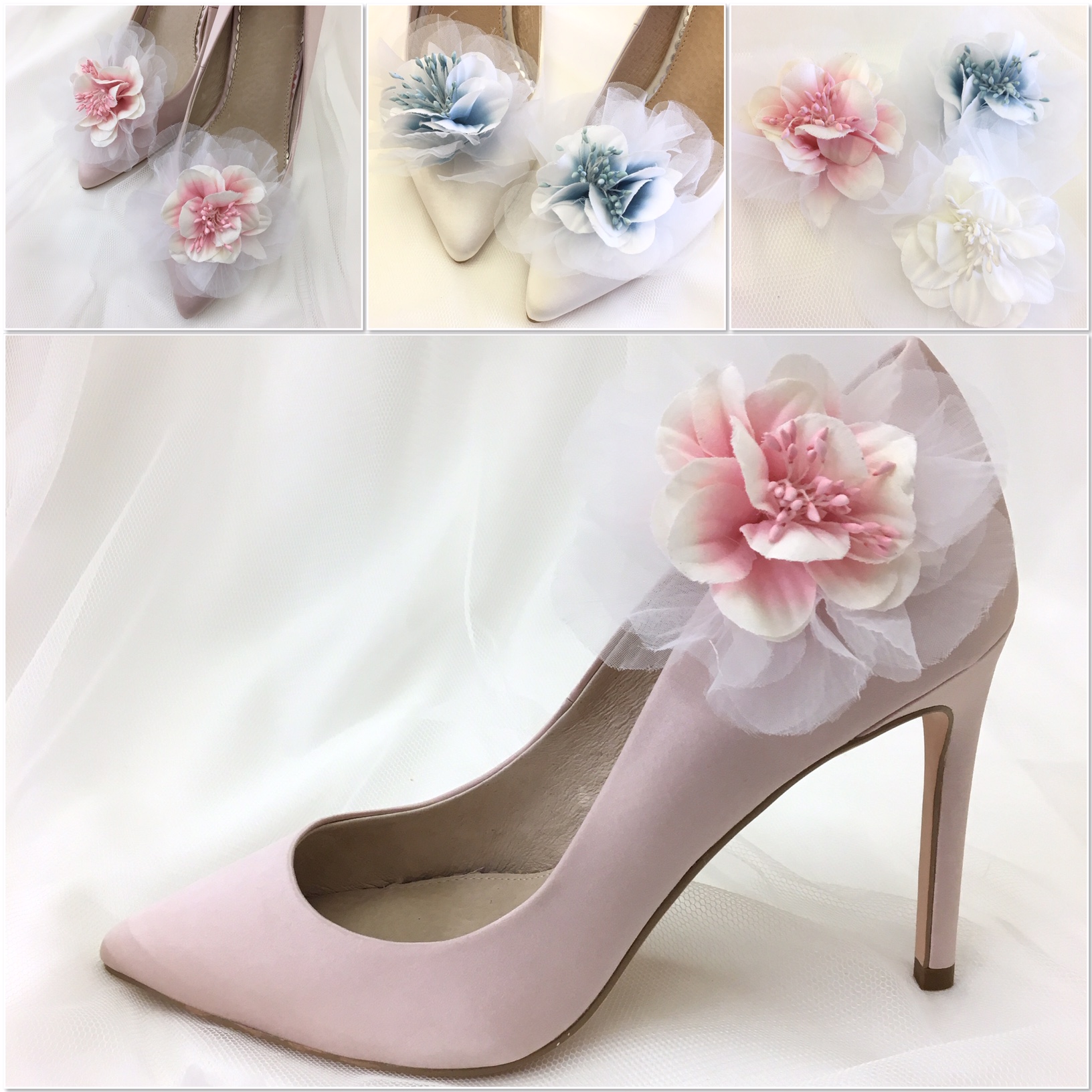 Last but not least, we adore the Damson crystal flower shoe clips by The Perfect Bridal Company. A row of three flowers in opaque white and pink, with diamante crystals for a touch of sparkle And we all love a little sparkle don't we?