Do's And Don'ts For Choosing The Perfect Wedding Shoes
Wedding shoes are a big deal. Along with your veil, hair accessories and jewellery, they are one of those all-important finishing touches that work to enhance your bridal style. While it's easy to get carried away by how a shoe looks, there's one aspect of your wedding footwear that you mustn't overlook when it comes to buying bridal shoes, and that's the fit!
We've all been there. Fallen head over heels for a glorious pair of shoes only to wear them for half an hour and discover that they're not actually shoes. Instead, they're torture devices hellbent on destroying your feet. Trust us when we say: the feeling of distraction that comes from painful shoes is not something you want for your wedding day. No matter how pretty they look.
Wedding Shoe Do's & Don'ts
That's not to say you should sacrifice style in the name of comfort. Oh, no! That's not what we're about here at Lace & Favour. We love pretty wedding shoes as much as the next bride to be. Which is why we've put together a list of Do's and Don'ts for finding the right bridal shoes that suit your style without leaving you limping off into the sunset!
DON'T Bow to Expectations
While all the models might be wearing sky high shoes in the glossy bridals magazines, remember they're probably only wearing them for the photoshoot!
If you find yourself reaching for your trusty flats ahead of a night out because you know that your heels will be off before you've finished your second drink, then why would your wedding day be any different?
The best advice we can give is to not bow to the expectation that a bride must wear heels on her big day. It's just not true! There are plenty of beautiful shoe styles that look just as effective as stilettos which will provide long lasting comfort, especially if you're not used to wearing heels. From wedding trainers to Mary Janes and low-heeled slingbacks, when you get past the notion that you have to wear high high heels for your wedding day, you'll discover a whole world of beautiful shoes that look fantastic and work with you, rather than against you!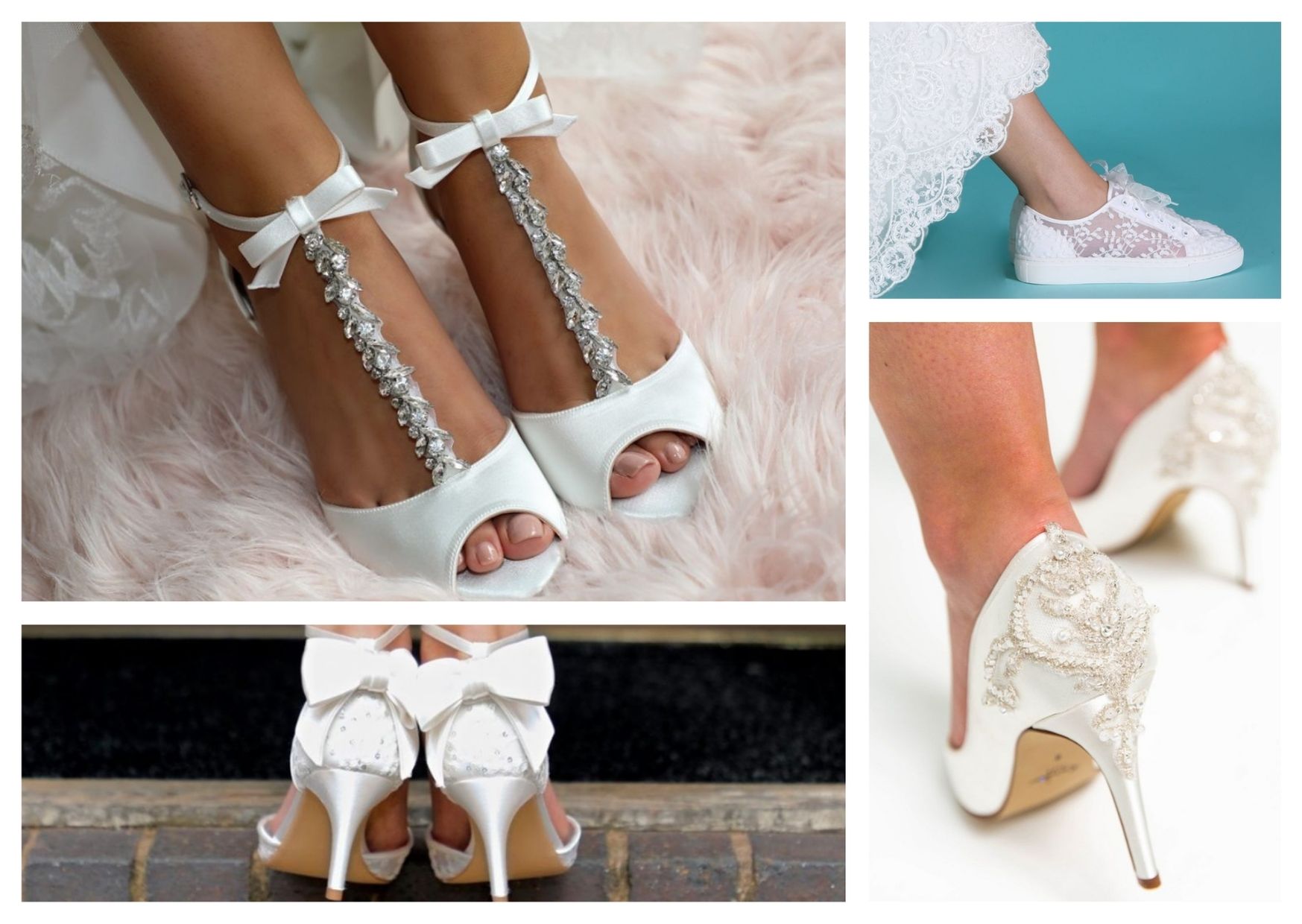 DO Be True To Yourself
Your bridal style is all about you! Your comfort, your style, your personality...all the things that make you...well, you! So, when you're choosing your wedding shoes and accessories, remember to be true to yourself. If something doesn't spark joy inside you, if you're not chomping at the bit to slip it on for your upcoming nuptials, is it really something you want immortalised in your wedding pictures?
Honey, you do you and own it with the style only you can. If that means wearing a pair of trainers or boots on your wedding day - do it! At the end of the day, it's all about you and if that's what feels comfortable and right then you'll pull it off with effortless ease!
DON'T Put Up With Pain
To those who say beauty is pain, we say no more! To us, beauty is feeling comfortable, being able to move around easily and NOT feeling like you want to chop your feet off by the first dance.
When you're shopping around, be brutally honest with yourself. If they hurt even a little bit, think how that pain will amplify after a few minutes and hours of wear. Consider how that feeling might affect you as your walk down the aisle, pose for pictures or stand and speak to your guests.
It's easy to shrug those first niggles off with the shoes being new and needing 'breaking in'. But we can guarantee if a pair of shoes don't feel comfortable that first moment you slip them on, it's only going to get worse, no matter how long you spend walking around your house in the run up to the big day!
DO Bring Your Own Shoes To Try On With Your Dress
You've probably got an idea about the kind of shoes you'd like to wear on your big day. But it's hard to know what will work with your gown if you haven't found it yet! To help with this, we recommend taking a few pairs of your own shoes along when you try on wedding dresses. That way, if you fall in love with a gown, you can try a few styles on for size to act as a guide.
Of course, it goes without saying that you should take your wedding shoes along with you to dress fittings, too. This is especially true if you're planning on wearing shoes with a heel. This will help with alterations and ensure the perfect finished look on your wedding day.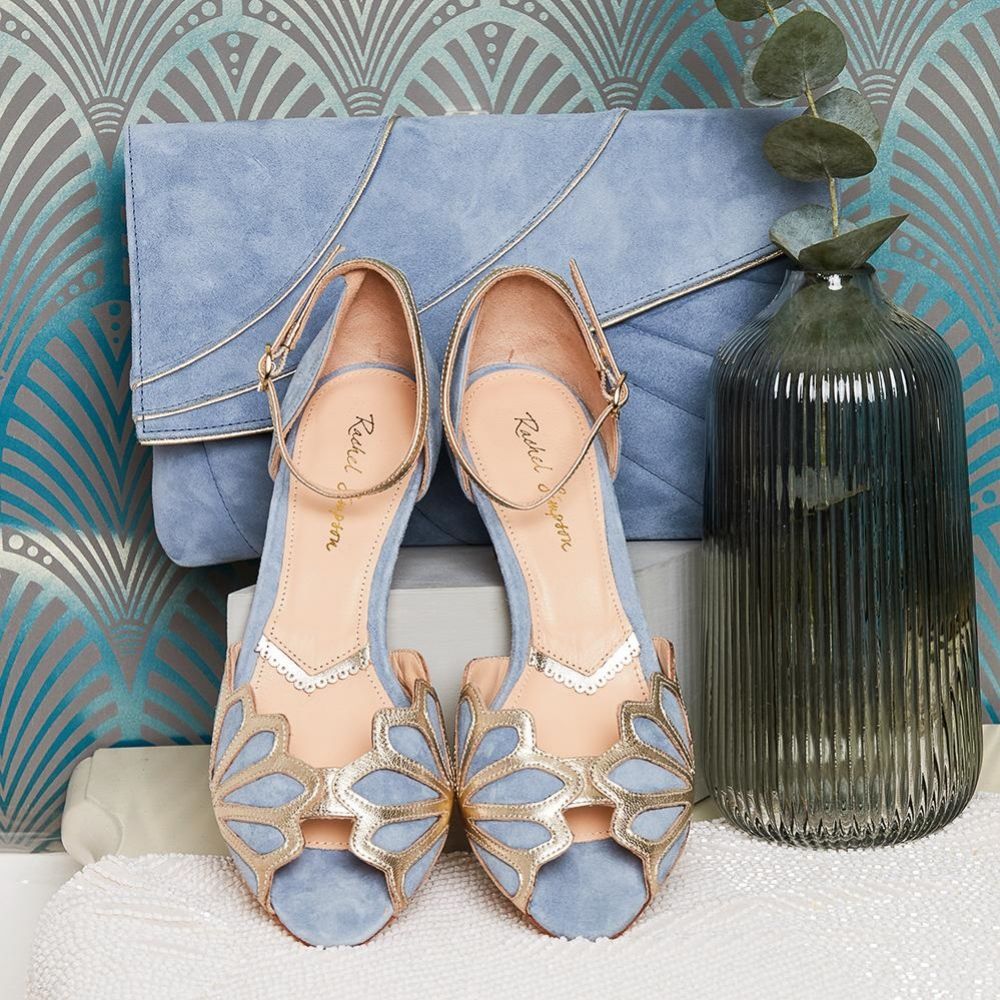 DON'T Forget About Shoe Embellishments
A lot of bride's tend to overlook plain shoes because they're looking for wedding shoes with sparkle or embellishments. But what they don't consider is that plain shoes can be jazzed up with the help of shoe clips and embellishments, or even dyed to match their gown.
The beauty of choosing a pair of plain shoes and adding embellishments to them is that the resulting pair of shoes are totally unique to you! All sorts of beautiful decorations can be added to the toes and heels including crystals, beads, sequins and lace motifs, leaving you with a beautiful pair of wedding shoes that are entirely yours to be treasured for many years to come.
DO Consider Buying Two Pairs Of Shoes
Why have just one pair of wedding shoes when you can have two? If you fall in love with a pair of high heels you've always imagined yourself walking down the aisle in but feel they might not be suitable for wear throughout the day, then treat yourself to a second pair!
There are no hard and fast rules when it comes to your big day, costume changes included. If you want to buy a pair of shoes for walking down the aisle and another pair for your first dance, then go for it. If it's good enough for Beyonce, it's good enough for you!
DON'T Leave It Til The Last Minute
We're sure we don't need to say this, but we will anyway. Don't let finding the right pair of shoes for your big day fall down on your list of priorities!
As we've already mentioned, knowing what shoes you're going to wear for the big day is important for wedding dress fittings. But you also don't need the stress of rushing the decision and being forced to buy a pair of wedding shoes you're not happy with.
Give yourself the time to find the perfect pair. Try on a hundred different styles and designs if you have to before buying a pair (or two) for the big day!
DO Explore Our Collection Of Stunning Wedding Shoes
Here at Lace & Favour, we stock a wide range of beautiful wedding shoes from world renowned wedding brands including Harriet Wilde, Freya Rose, Rainbow Club and more! From high heels to flats, sandals and everything in between, no matter your style or preference we can help you find the perfect pair of wedding shoes to flaunt on your big day!