Your Wedding Shoe Shopping Survival Guide
The dress is sorted but now you have your next statement piece to choose, the perfect shoes. With so many different wedding shoes to choose from, it can be overwhelming to sift through every pair of heels, flats, and sandals! To help you, we've put together a handy wedding shoe shopping survival guide to save you the stress of narrowing your search. We'll also help you to weigh up all the pros and cons so you can choose a style and shoe which makes you feel comfortable whilst fitting your individual style! So sit back, relax and take this guide in your stride!
An Inch Above The Rest
What better way to style out your bridal outfit than by topping it off with a pair of killer heels. However, we do recommend that you think of comfort, as well as style, when contemplating which heels to pick for your big day. That is why we love block heels, they provide the style of a heeled shoe but without sacrificing comfort. The last thing you want to take away from your big day is foot pain! The added glory of a block heel shoe is that they come in many different shapes and sizes to suit your individual style too! If you're after a bit of extra height but with all the stability then platform block heels are a great choice. We love these satin block heel platforms by Avalia Shoes, which have the added feature of a soft foam inner lining, so comfort will not be a problem!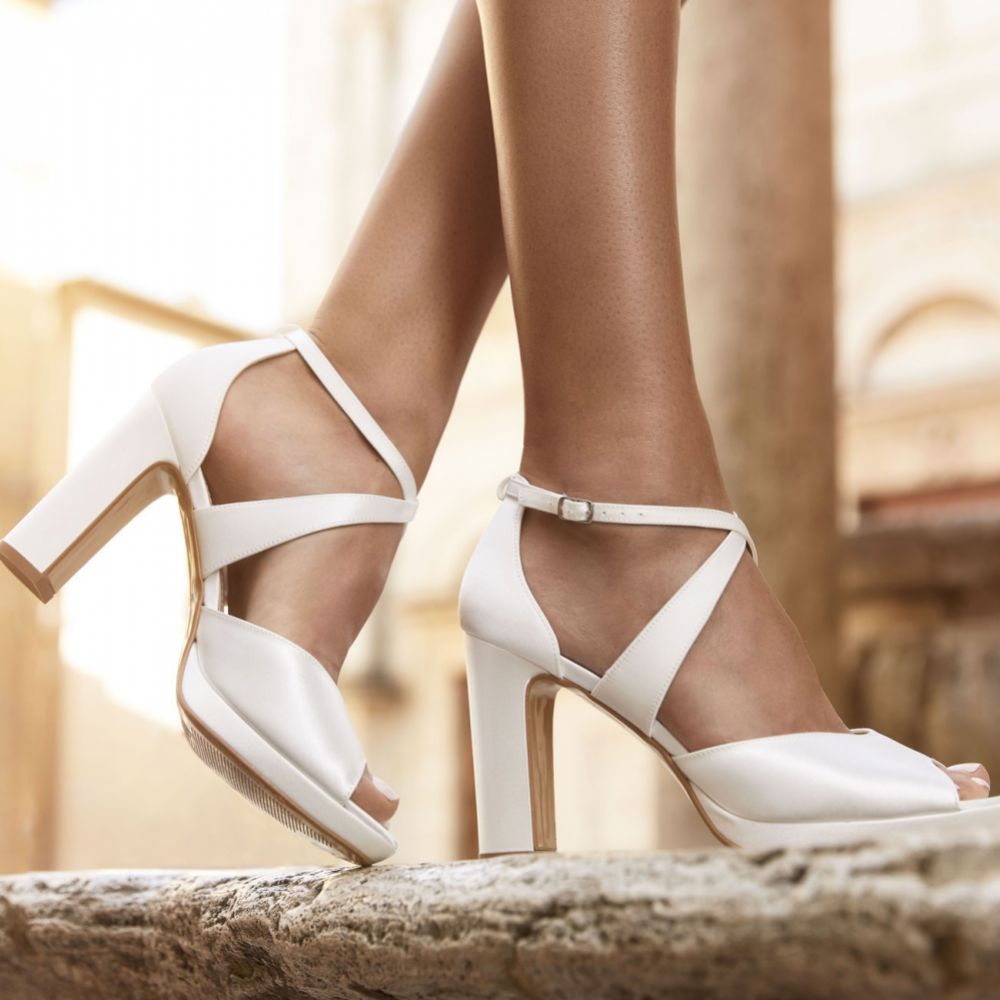 Fun Flats
If you are thinking bridal flats may be more your style, do not think you have to sacrifice any of the glitz and glamour! Picking your shoes is a great chance to think about what you would like a theme in your outfit to be. If you have opted for a dress that has crystal embellishments then it would be a wonderful idea to tie that into your shoes. And if it is crystals you're after, we love these satin pumps from Rainbow Club which are highlighted by their crystal brooches! These beautiful satin shoes also include a hidden blue crystal in the sole which ticks off your 'something blue', and if it could not get any better, they are dyeable! The perfect shoes for any colour theme!
Rainbow Club Colour Customisation
If you'd like to stay traditional for the big day but want to rock your flats after, as a gift to you, when you purchase a pair of Rainbow Club shoes from us, you can return them after your wedding and have them dyed for free in a choice of 5 colours too. Current colour choices include black, navy, silver, champagne and fuchsia pink. These shoes were definitely made for walking and we'll help you to do just that even after your special day!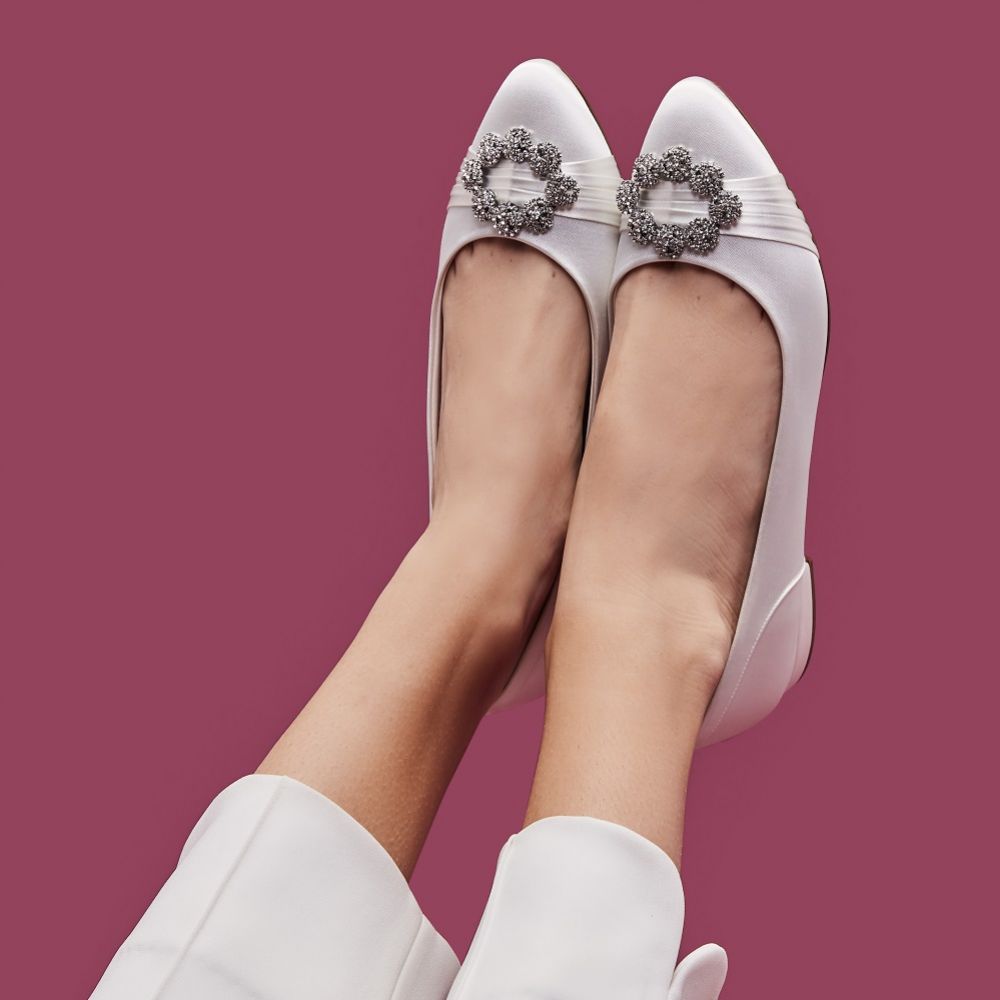 Strapping Sandals
Sandals are the perfect choice for a simple, stylish shoe that offers lots of comfort. Low sandals are also great for elongating the leg for a super sleek minimalist look. A great option for a summer themed wedding, whether you are romping about in a forest or celebrating by the sea. Sandals are a great versatile shoe that you can depend on! That is why we love these square toe strappy sandals, these sandals inspire a goddess style look making you feel like a goddess as well!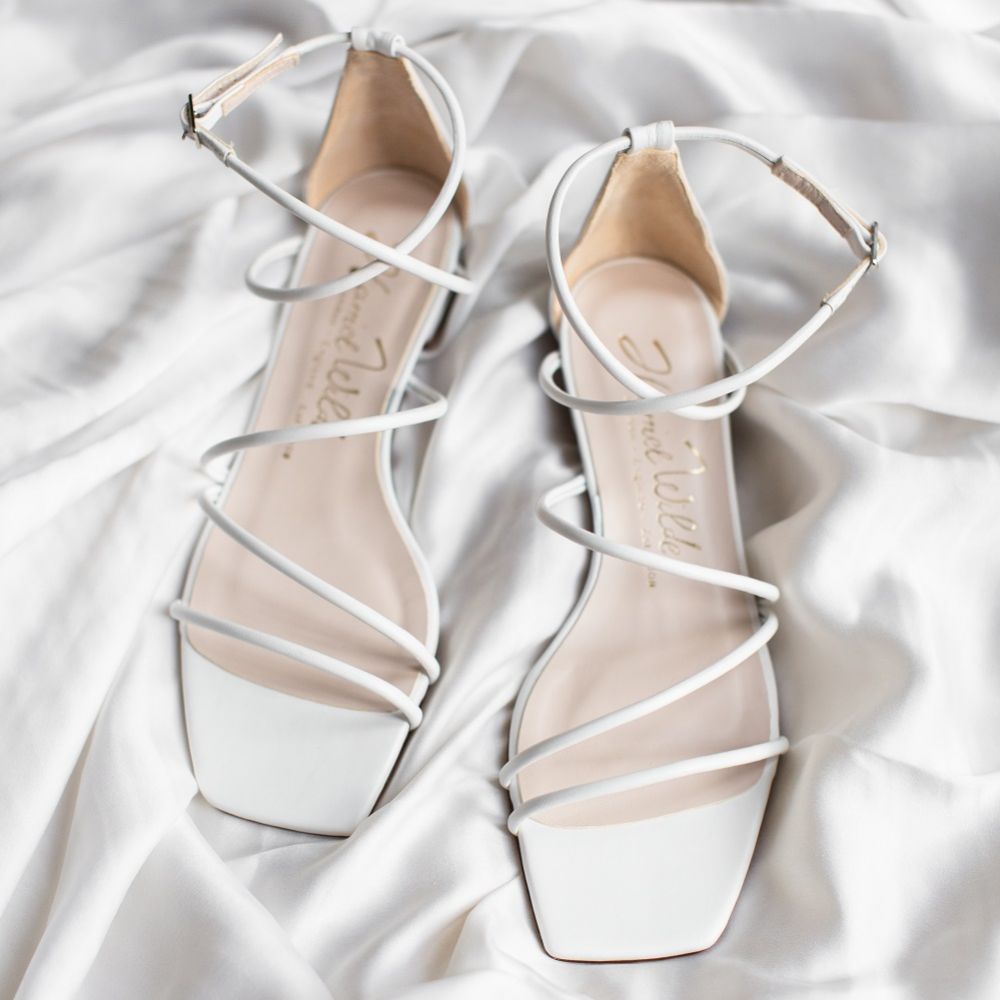 Barefoot Beach Vibes
If you are planning a beach wedding and want the sand between your toes or just do not fancy wearing shoes then maybe barefoot is your style. However, the barefoot option can be just as classy as shoes by equipping some divine foot jewellery! This simple touch adds an exquisite twist to traditional bridal footwear. Such as this beautiful draped pearl and diamante foot jewellery which will transform your wedding look, whether you are opting for the beach boho look or just looking for traditional shoe replacements!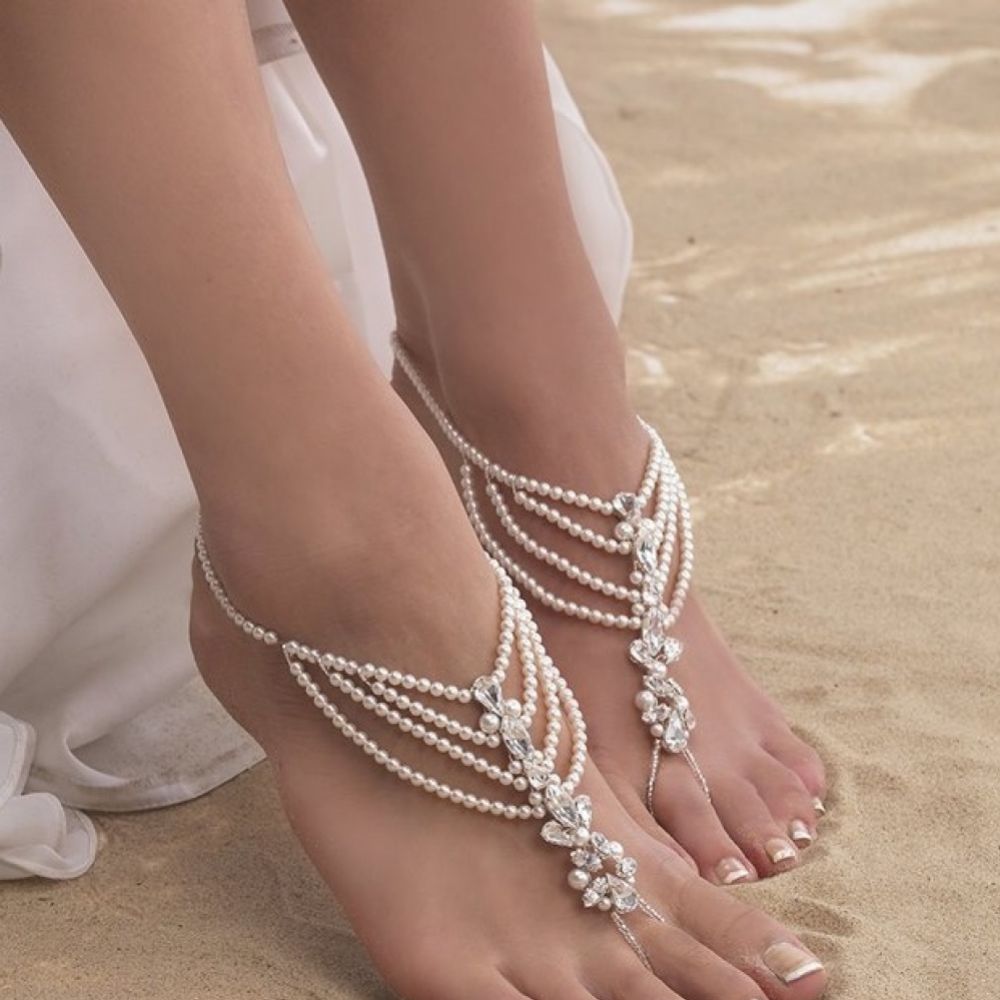 May Jane Keeping You Sane
However, if the traditional is more your scene, let's tackle a more vintage option and the Mary Jane seems like the obvious choice. Timeless fashion alongside dreamy comfort, we cannot complain! And do not immediately discount Mary Jane's if you feel they are a dated shoe, you will be amazed by the revamped styles of Mary Janes on the market and the wow factor they possess! Such as incorporating a bit of shine like in the ivory glitter Mary Jane shoes, perfect for the aisle and the dancefloor! These shoes would be perfect if you are planning a vintage or 50's themed wedding!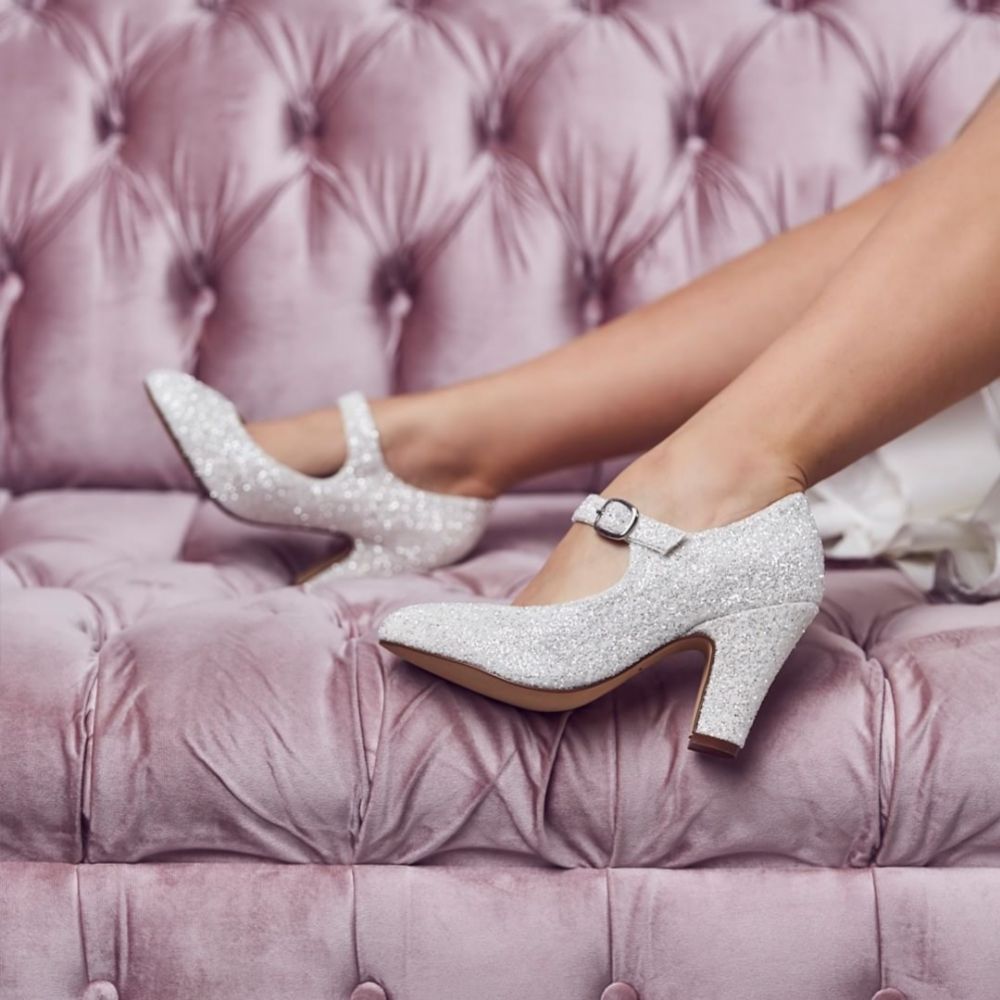 Bridal Boots
After a more unique shoe as an alternative option to a traditional wedding shoe, then wedding boots may be an option for you. Wedding boots pack all the magic and elegance of a wedding shoe but with great wearability! That is why we love these ivory leather V front wedding boots, not only will these boots be the star of the show on your wedding day but would look just as stunning paired with some jeans! Therefore, these shoes are a win for brides looking for a shoe that will serve them for their wedding day and beyond!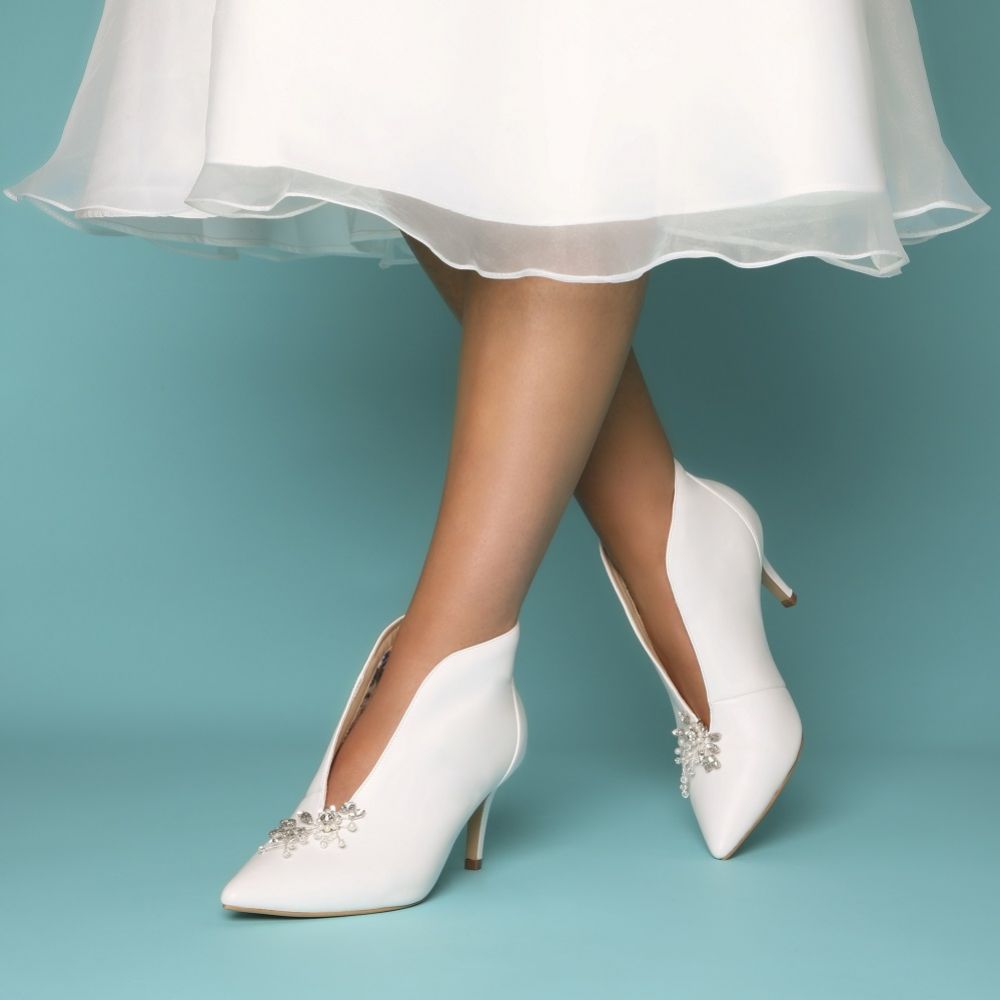 Loving Lace
If you are loving lace then you're onto a winner. Lace is a classic piece that never fails to wow. Especially when teaming up a lace embellished dress with lace shoes, this makes for a masterclass in elegance and style! That said you don't have to pair lace shoes with a lace dress every time. Romantic, feminine and utterly timeless, lace shoes can add a gorgeous finishing touch to any bridal look. We're currently loving lace court shoes which provide the perfect combination of style and elegance, like in the satin and lace court shoes! We love the pointed toe and the elements of satin, the perfect styling for a modern bride! Plus, if you are after some extra height, these gorgeous shoes host a 9cm heel which will take you a league above the rest!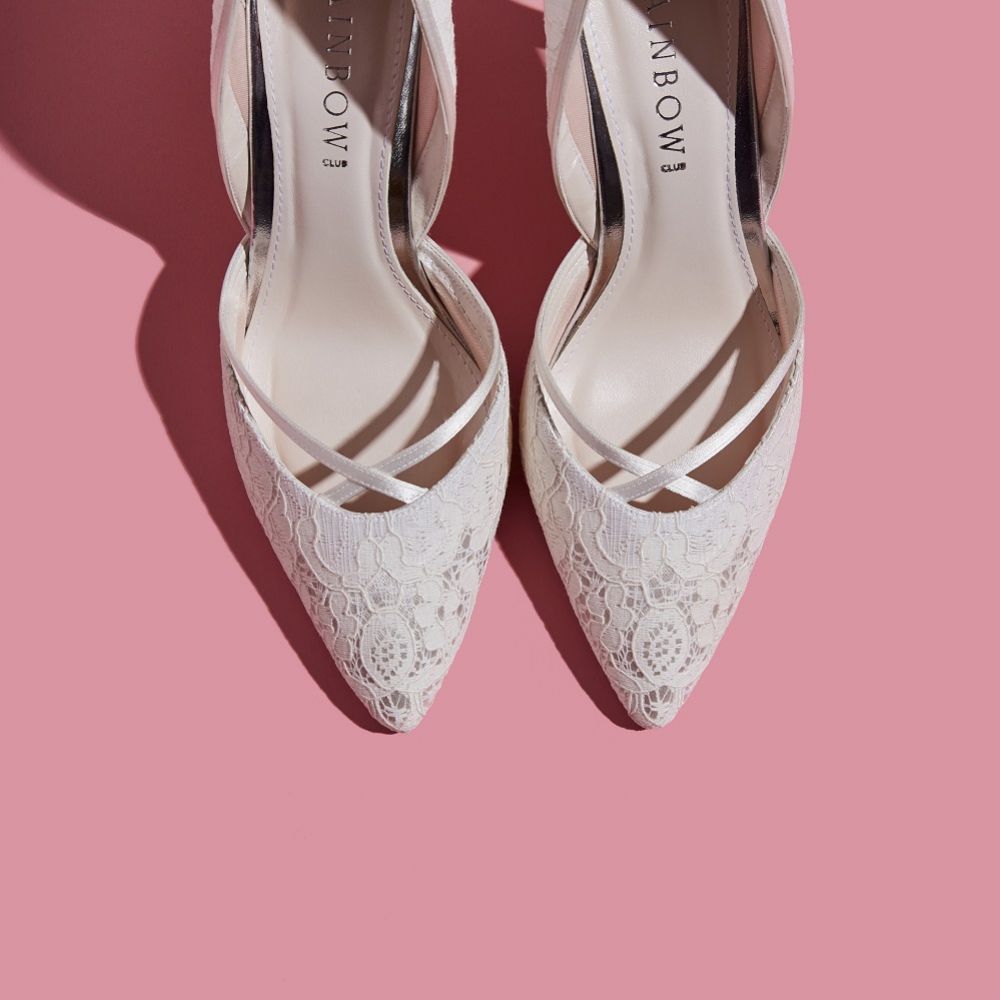 Terrific T-Bar
What we love about T-bar style shoes is that they are perfect for any occasion, whether going from the wedding aisle to the reception or from the office to a fancy dinner. These shoes will never fail you, always offering you a classy chic look which is why they are always one of our number one picks for wedding shoes. We also love adding a pop of colour to our T-bar shoes! And what better way to tick off your 'something blue' with some blue shoes! Such as the pearl grey suede and gold shimmer T-bar shoes, while the shoes may technically be grey, pearl grey is primarily from the blue colour family with distinct but subtle hues within the material. So, if you are struggling to find your 'something blue' this may be the option for you!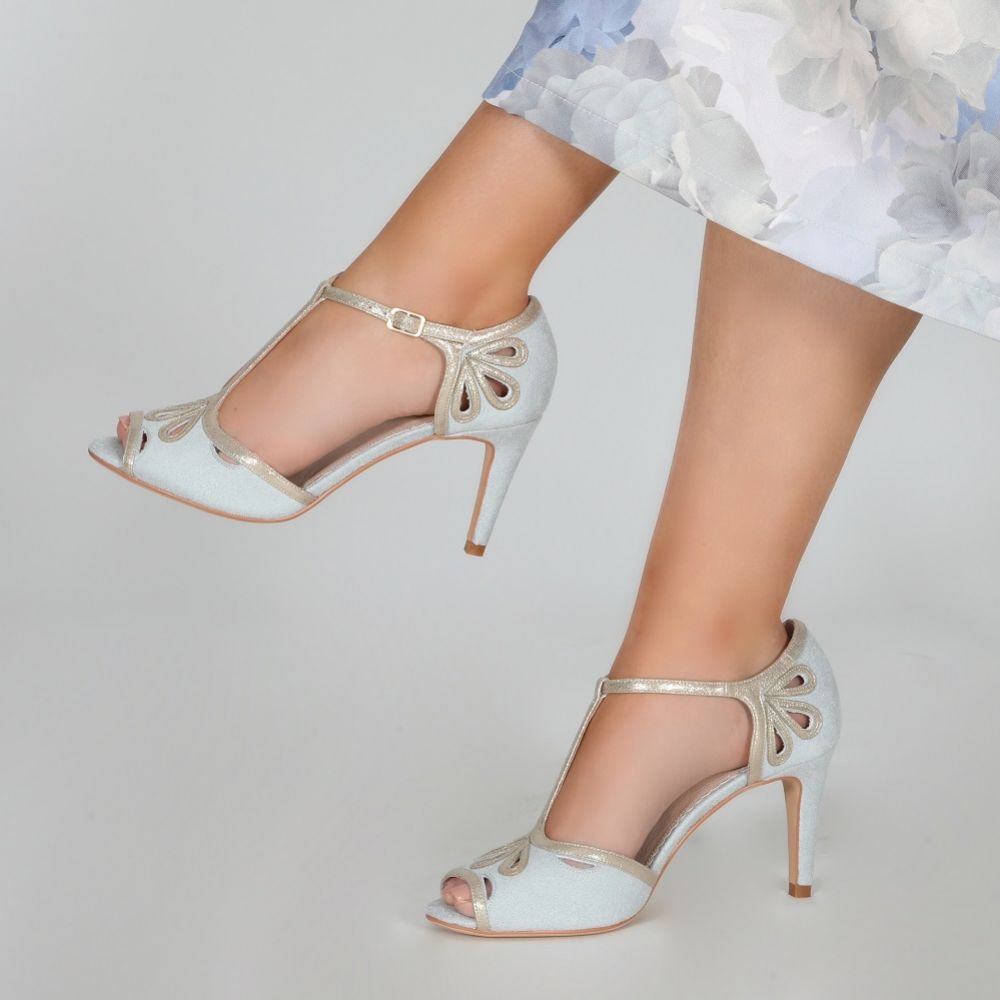 To Toe
Done up your toenails in a fantastic fashion? With all the wedding planning you deserve the pedicure! So, there is no point hiding that polish away, opting for a peep toe shoe is a great way to show off your great nail design! It would also be a great idea to go for a shoe that shares elements with your toes, we love glittery polish with glittery shoes. Or go even more out there and opt for some matching crystal embellishments. Just imagine these peep toe high heel crystal sandals paired with crystal details on the toe nails, heaven!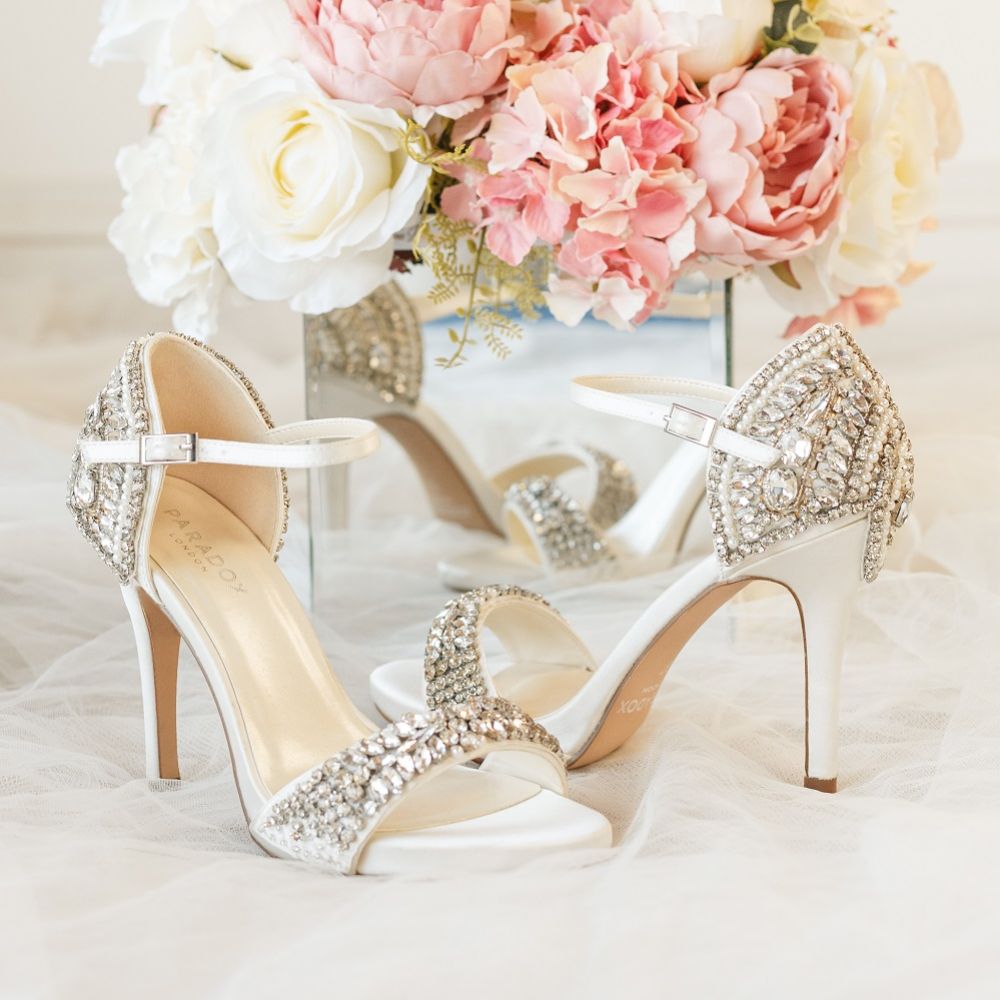 Or Not To Toe
Or if you are after a more closed looking shoe then why not keep it super simple and opt for a pair of stunning wedding trainers. Simple and classic, white trainers never let you down any other time so why would they now! Just add a bit of shine like in the shimmer sparkly wedding trainers to the classic white trainer and you are ready to go! They would be the perfect comfortable shoe under a long dress or showing them off with a short 50's style dress for a retro look. Or, if you are looking for the perfect dancefloor shoes, then look no further! If you're undecided between heels or trainers, check out our recent blog, "Stilettos or Sneakers? Are Wedding Trainers the New Wedding Shoe" for some extra handy insights!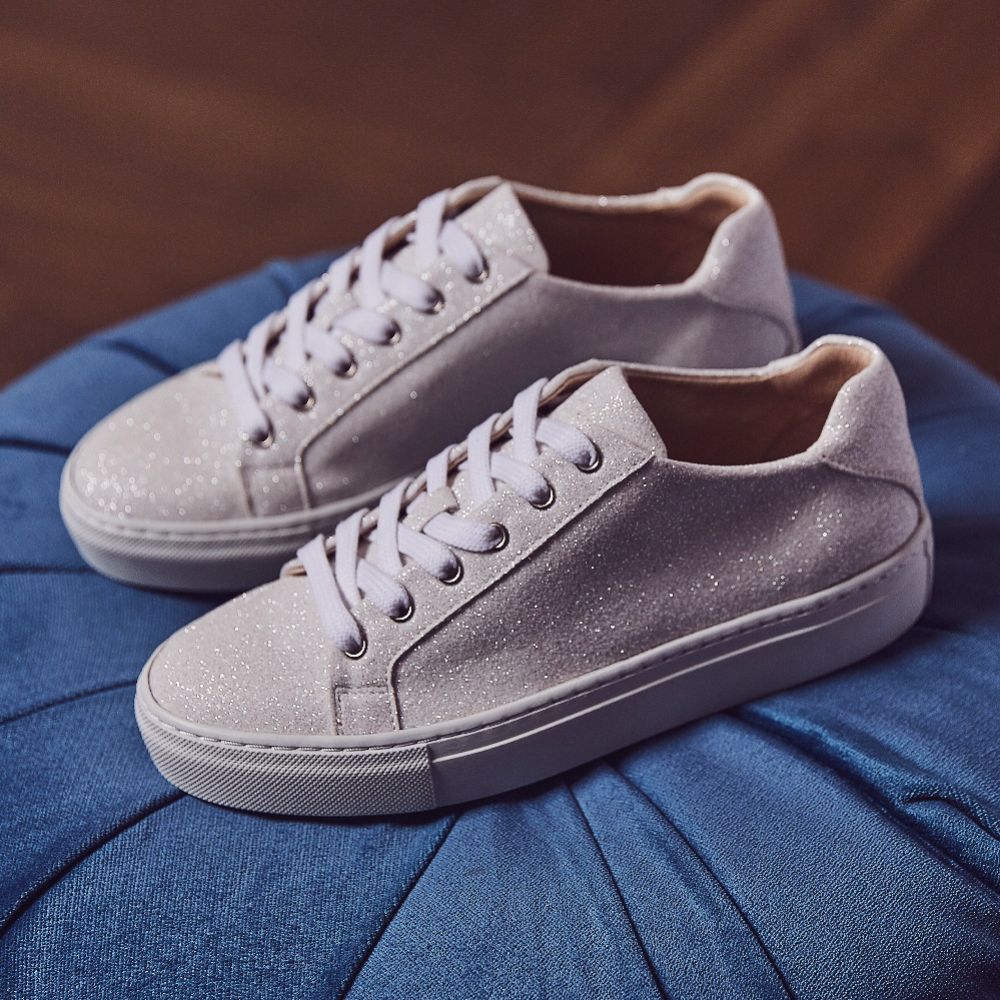 Sling Back and Relax
The timeless sling back shoe is one you can always rely on to never let you down. It comes in countless different styles to suit any bride. Whether you are opting for a vintage look or planning a summer wedding, these shoes will always be a great fit! And if the simple slingback shoe is not for you, there are plenty of adventurous options like these beautiful mother of pearl block heel sling back shoes by Freya Rose! The stunning 10.5cm mother of pearl heel will wow your loved ones, and do not worry about comfort as the shoe boasts a memory foam lining along with the ankle strap to make you feel secure no matter what you are up to!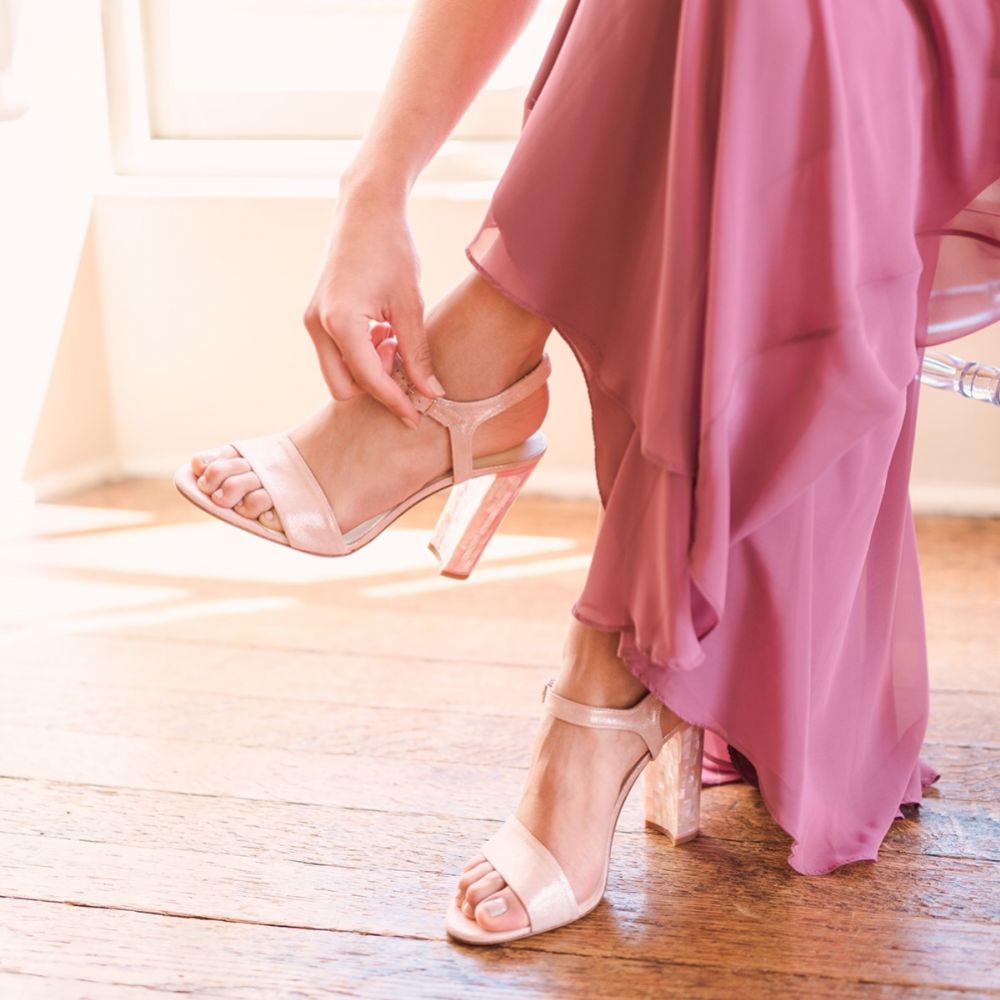 Kitten Heel Feel
The kitten heel offers the sophisticated understated look, with a low heel for comfort and practicality for the long day ahead. The ideal shoe if you do not want to change your footwear between your wedding and reception. This is a shoe which can carry you through the dancefloor and beyond! And just because they are subtle does not mean they are any less stylish, as the embellished ankle strap kitten heels demonstrate! The embellished ankle strap adds a beautiful shine and the pointed toe keeps all the class. And if you are planning on wearing these shoes to many more special occasions, these shoes are completely dyeable so you can dye them your favourite colour with our dyeing service! The perfect shoe for so many occasions, we love them!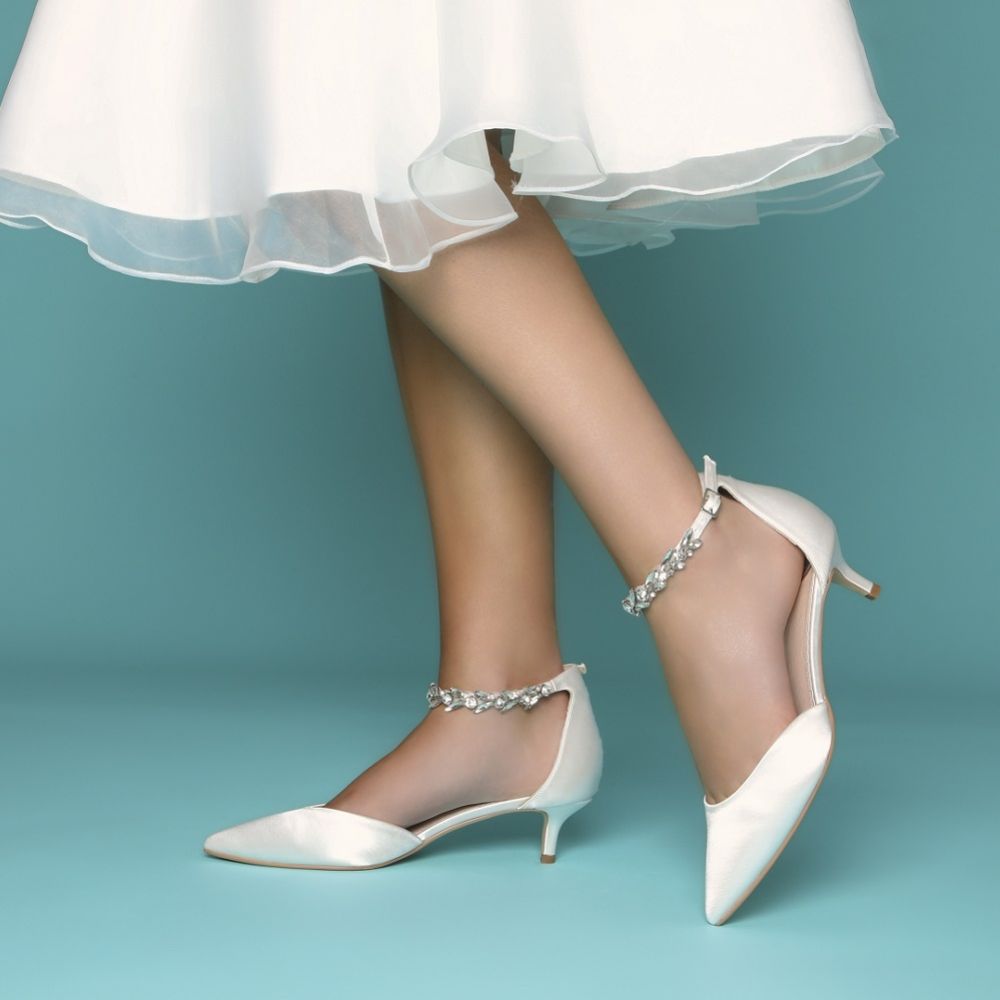 It's a Wedge Wedding
The perfect alternative choice to the traditional wedding shoe, wedges are the ideal shoe for a summer wedding. Even better if you are planning a beach wedding! We are totally not jealous! What we love about wedge shoes is that they are the perfect shoe for both your wedding, the dance floor and your honeymoon, talk about versatility! That is why we love these lace and satin espadrille sandal style wedges! These shoes would not look amiss at a garden wedding, beach wedding or just jetting off somewhere fancy on your honeymoon and are great for many occasions after your wedding!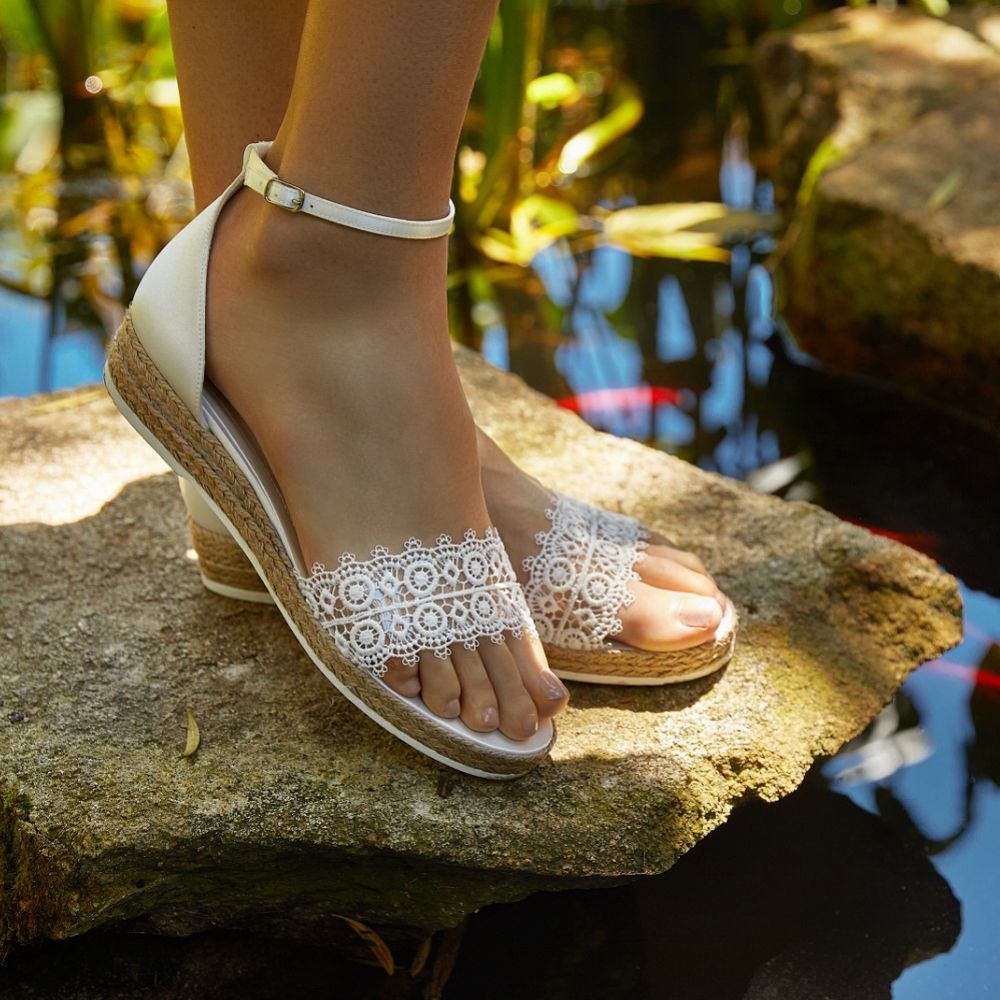 Throwing It Back
The modern look is not for everyone and if you love throwing it back to the good old days of fashion with your style. Then why stop at your bridal look? The vintage look is timeless and opting for the classics will never go out of style. And what better way to do it than with a pair of ivory leather and lace wedding ankle boots which are a great modern take on the vintage style. Or you could keep the more traditional vintage look and opt for some Mary Jane's - you cannot go wrong!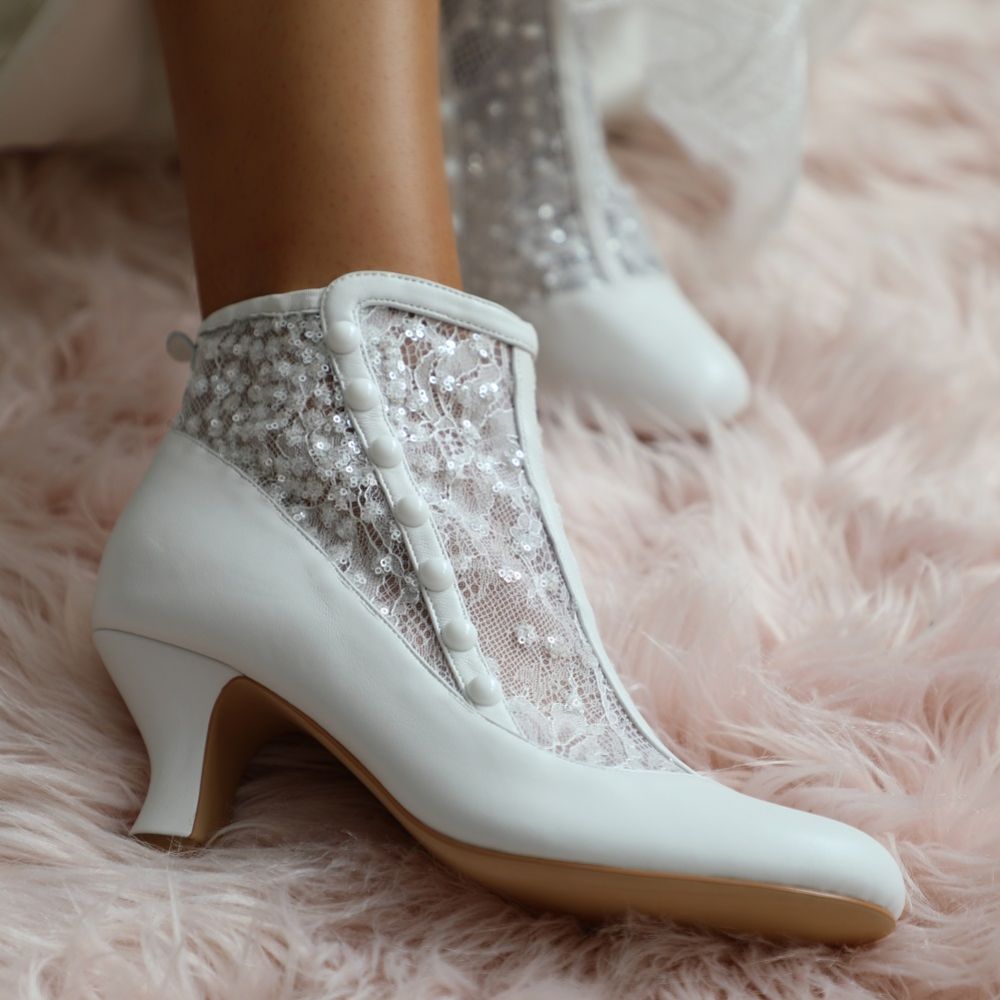 You Have Tried Them All On For Size
We hope you haven't gotten lost in all these styles and we have offered some clarity for you to go and search for your favourite style and hunt down your dream shoe! If you have already chosen your dress then that can be a great way to choose by establishing a common theme, such as crystals which will tie your look together. However, if you are looking to contrast, this can also create a stunning look. All that is important is that you find your dream shoes, whatever they may be. We are big believers in when you look good, you feel good and we can certainly help with that!
Shop Your Perfect Shoes Here at Lace & Favour
So shop your dream wedding shoe look here on Lace & Favour whether you are opting for the sandals, sling backs or Mary Jane's, you cannot go wrong! We are fully stocked with lots of different varieties, colours and embellishments. And remember to look out for if the shoes are dyeable so you can get many more wears out of them in the colour of your choice!