Wedding Veil Alternatives For The Creative Bride
Wedding Veil Alternatives
In the same way that a traditional church wedding isn't the right fit for every couple getting married, a classic lace veil isn't for every bride. So, if you're not a veil kind of girl, don't worry! From beautifully delicate hair vines to vintage-inspired hair pins and headpieces, there is a gorgeous bridal veil alternative that will fit your style perfectly.
Wedding Headpieces
Wedding headpieces provide a whole range of different options that will top off your look to ultimate perfection. A crystal embellished bridal headpiece can make a real statement, whilst a dainty, draped headpiece is a great alternative to the traditional tulle veil, and lends a subtle accent to your wedding attire.
Wedding Hair Vines & Flower Crowns
If you're planning a festival-style or shabby chic wedding, bridal flower crowns or hair vines are a gorgeous yet subtle choice that can be worn in countless different ways. These whimsical bohemian designs add an element of naturalistic beauty to your bridal outfit, whether entwined in an elegant up do, or draped across the forehead.
Wedding Tiaras
Wedding tiaras are an eternally elegant addition to any bridal outfit. Taking inspiration from vintage Hollywood glamour, our collection of beautifully ornate bridal tiaras offers a classic choice for any bride to be who wants a traditional accessory without going down the wedding veil route. For understated beauty, choose a delicate tiara adorned with shimmering pearls, or if you're looking for more wow factor, choose a design brimming with Swarovski crystals.
Wedding Hair Pins & Clips
Bridal hair pins can prettily decorate any hairstyle, and are an excellent choice if you're looking to nail the understated, yet beautiful look for your wedding. Diamante hairpins can add a touch of sparkle to any bridal up-do, whilst larger wedding hair clips encrusted in radiant crystals make a striking statement and can be placed anywhere in the hair, making them perfect for both brides and bridesmaids.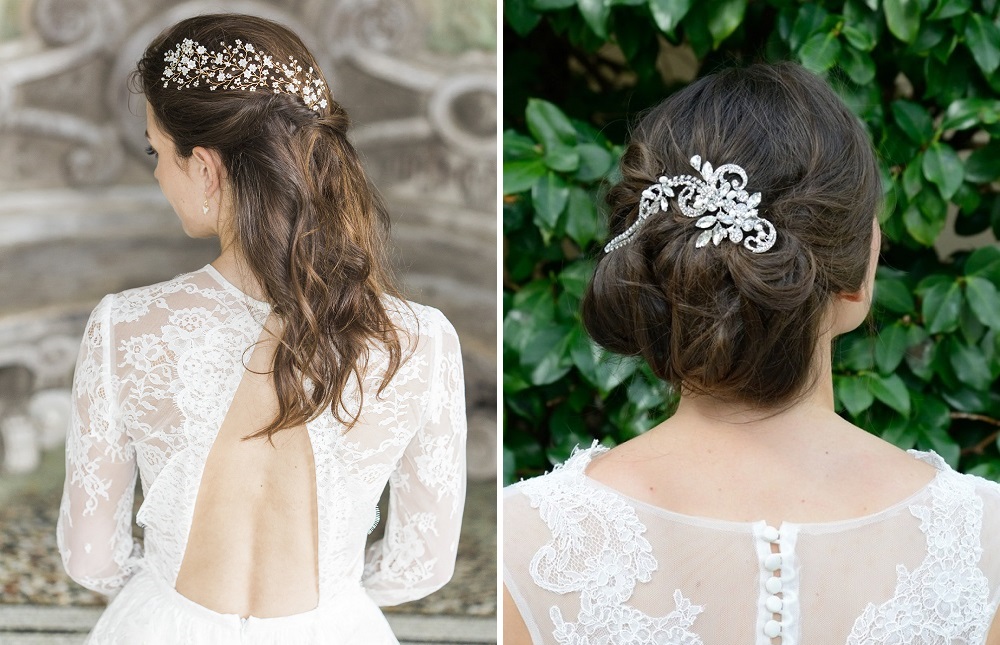 We have a gorgeous collection of classic veils and wedding veil alternatives. For more information or advice, get in touch on 0844 381 4481 and let us guide you through the endless possibilities that make Lace & Favour wedding hair accessories so special.