What Shoes To Wear with a Mermaid Wedding Dress?
Mermaid wedding dresses are fabulous for all kinds of brides. This style of gown works effortlessly to accentuate your natural curves, creating a dramatic and feminine hourglass silhouette that's bound to turn heads.
If you're considering wearing a mermaid wedding dress for your wedding day, you might be wondering what type of shoes will work best with this style. To help you, we've put together a list of the best shoes to wear with a mermaid wedding dress, along with some examples to help you choose the perfect pair for your wedding day!
What Shoes Work Best With A Mermaid Wedding Dress?
The short answer to this question is that any shoe works well with a mermaid wedding dress. This is especially true if the dress features a long train. In these cases, your shoes may only be visible if you need to lift the hem off the floor for any reason.
In some cases, the style of the dress might mean your shoes are visible as you walk. This is especially true if your dress features a drop hem (meaning the front of the skirt is shorter than the back). The best way to figure out which category your chosen gown falls into is to walk in your dress and see if your feet are visible. Do this both barefoot and with shoes of differing heights to cover all of your bases!
In terms of style, we love the look of strappy shoes such as wedding sandals and ankle strap wedding shoes with mermaid dresses. These types of shoes work effortlessly with the seductive style of mermaid style gowns. What's more, designs can be chosen in a wide range of heel heights and styles like platform heels, stiletto heels and block heels to help you pick a pair that delivers your expected comfort level without compromising on style.
Things To Consider
Comfort
We can't say this enough: your wedding shoes should be super comfortable. Our best advice when it comes to choosing wedding shoes? Do not sacrifice comfort for style! While a designer wedding shoe might look fabulous, if they cripple you after ten minutes of wear, is it really worth it?
The great thing about mermaid wedding dresses is, if your feet aren't visible under your skirt, you really have the freedom to maximise comfort without compromising on the overall look. If you really want to be comfortable, consider flats, or even wedding trainers. These styles have become increasingly popular in recent years as brides prioritise their comfort, which means there is a wide range of embellished, stylish designs available to help finish your big day look.
For a sweet and simple look, our lovely Jodie flats from Perfect Bridal are must have. Handcrafted in dyeable ivory satin and featuring a sparkly glitter trim, these shoes are perfect for those looking to add a subtle shimmer to their look. With a cushioned insole and memory foam padding, these wedding shoes are perfect for brides who don't do heels too!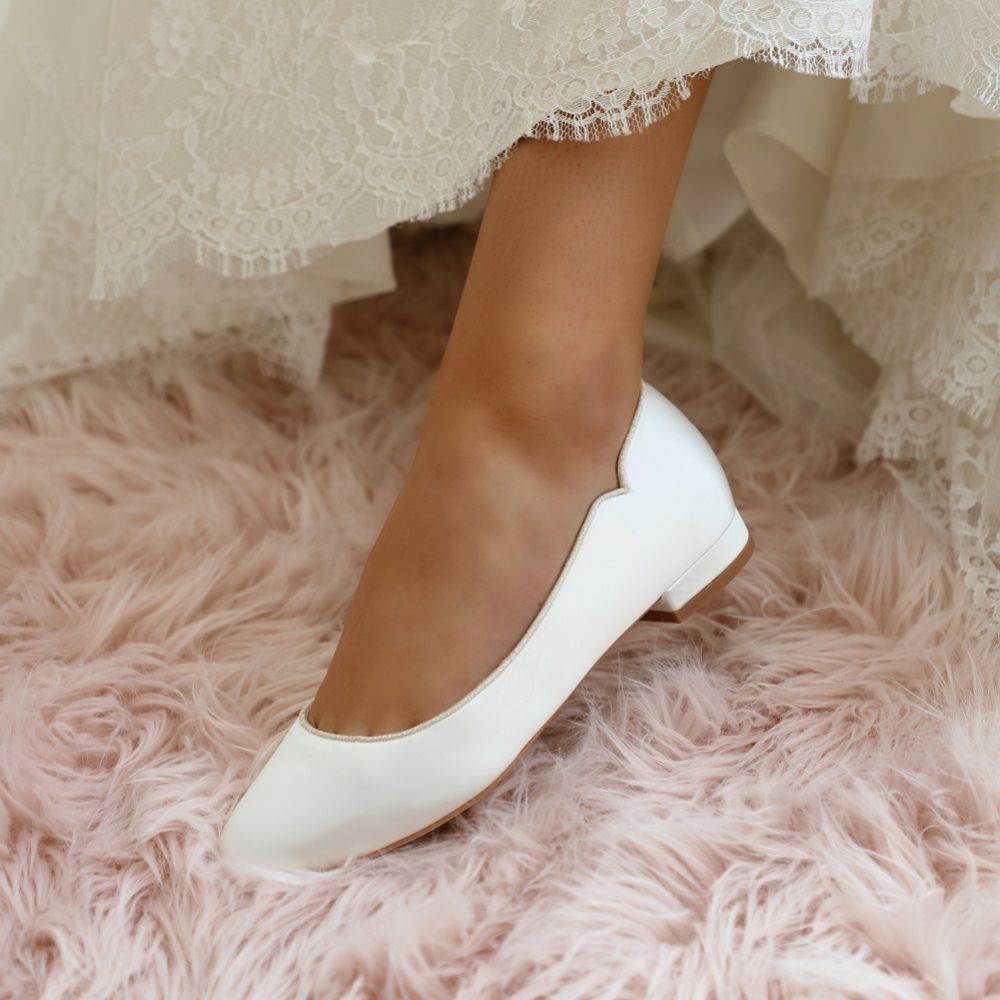 Toe Styles
Often with mermaid dresses, just the toe of your shoe will be visible. So, be sure to keep this in mind when choosing wedding shoes for your dress. Personally, we love the look of both pointed toes and peep toes with mermaid dresses.
Pointed toe slingbacks and strappy heels help to elongate your leg and really enhance the feminine aesthetics of a mermaid dress. On the other hand, peep-toe shoes work effortlessly for vintage-inspired bridal looks. Peep toe wedding shoes are also favoured by brides who have wide feet, as the open toe creates more room to provide enhanced comfort. We've fallen head over heels for Elin, a beautiful vintage-inspired T-Bar sandal crafted in ivory satin and embellisehed with exquisie crystals, pearls and beads. New from Paradox London, these peep toe wedding sandals combine support, comfort and show stopping glamour!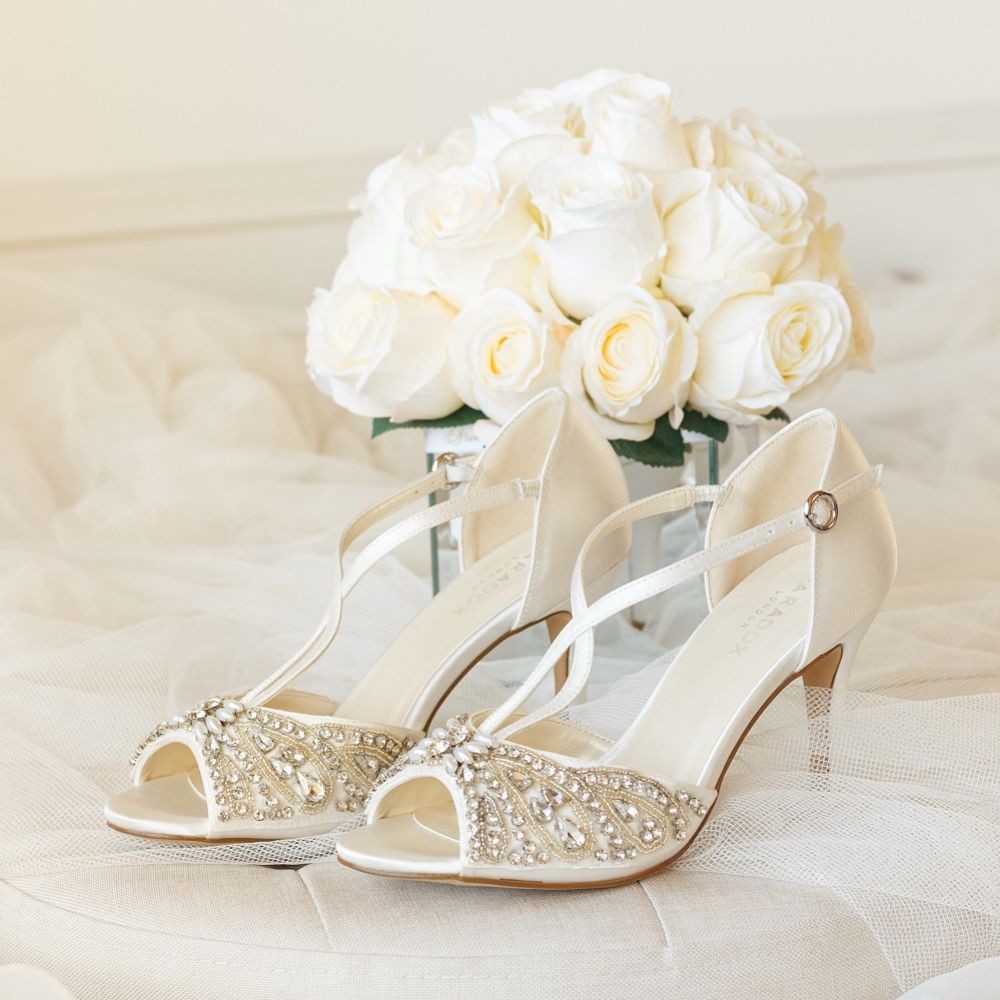 Heel Styles
Both the height and width of your heel is something to take into consideration when choosing wedding shoes for your mermaid gown. That's not to say that one type is better than the other, but it's worth giving it some thought as your choice could affect the finished look.
It goes without saying that you should take your chosen heels along with you to your dress fitting. This will help you to see if any alterations will need to be made to the hem. The skirts of mermaid wedding dresses can vary. While some are long and flowing, others are shorter at the front. Naturally, a higher heel in this instance will shorten the length of the dress and affect the overall look.
Here at Lace & Favour, we love the look of both block heel and platform heels with mermaid style dresses. While stilettos add a classic finishing touch, block heels serve up modern vibes and provide a sturdy platform for gliding down the aisle and hitting the floor for your first dance. Arabella by Harriet Wilde is a comfortable mid-heel sandal with a stylish block heel. Crafted in luxury Italian ivory silk satin and featuring delicate crossed-straps, Arabella will add a perfect finishing touch to any mermaid dress! If you'd like to add a pop of colour to your look, the shoes can also be dyed in any shade.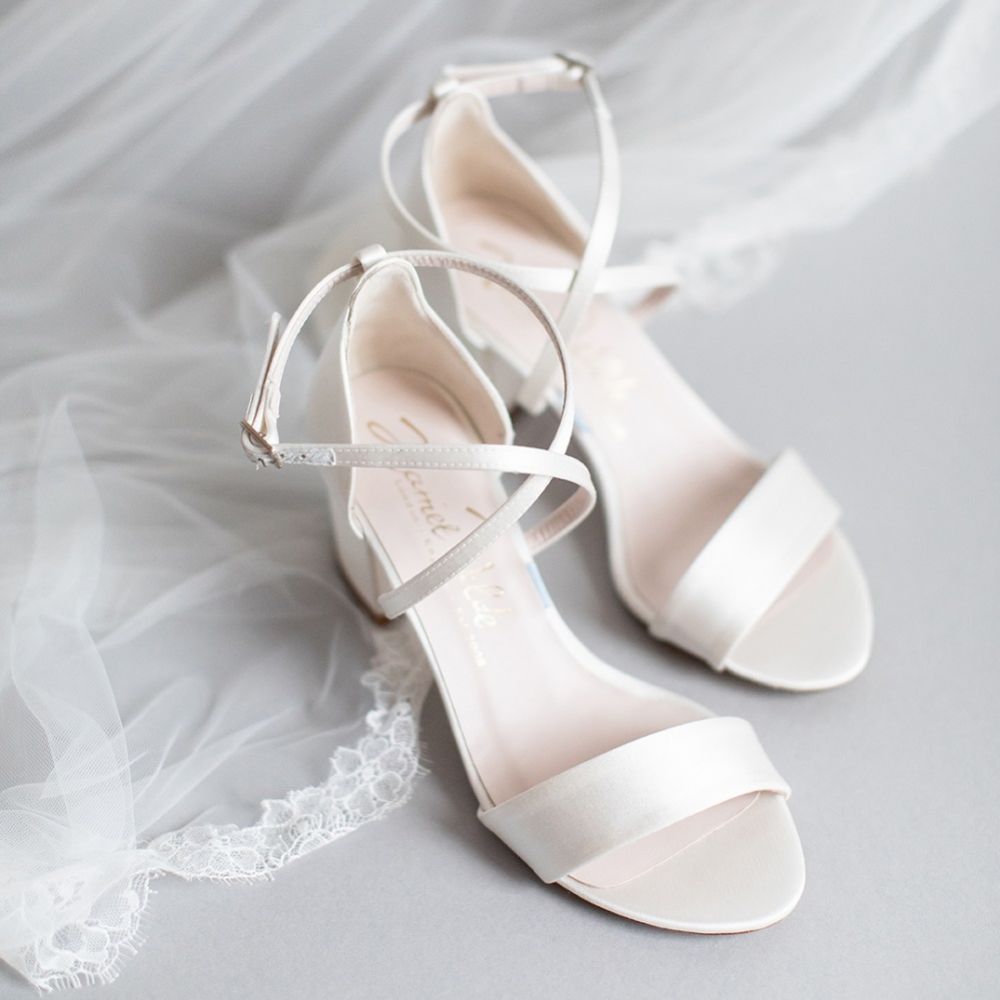 Find Your Wedding Shoe Style With Lace & Favour
If you're looking for the perfect wedding shoes to compliment your mermaid style dress, take a look at our wide range of styles and designs available from Lace & Favour. From wedding flats and trainers to block heels, platforms and beyond, we've got shoes for every type of bride, bridesmaid and guest, no matter their style or fashion preferences!