Wide fit wedding shoes you'll love
If you ever thought wide fit wedding shoes were less than stylish, think again. With an increasing number of brides searching for a comfortable solution for their wedding day shoes, look no further.
We've put together our stylist's picks, some old friends, plus all the latest wide fit wedding shoes to inspire and delight any bride to be. To help you complete your bridal look, we have recommended our matching wedding handbags too.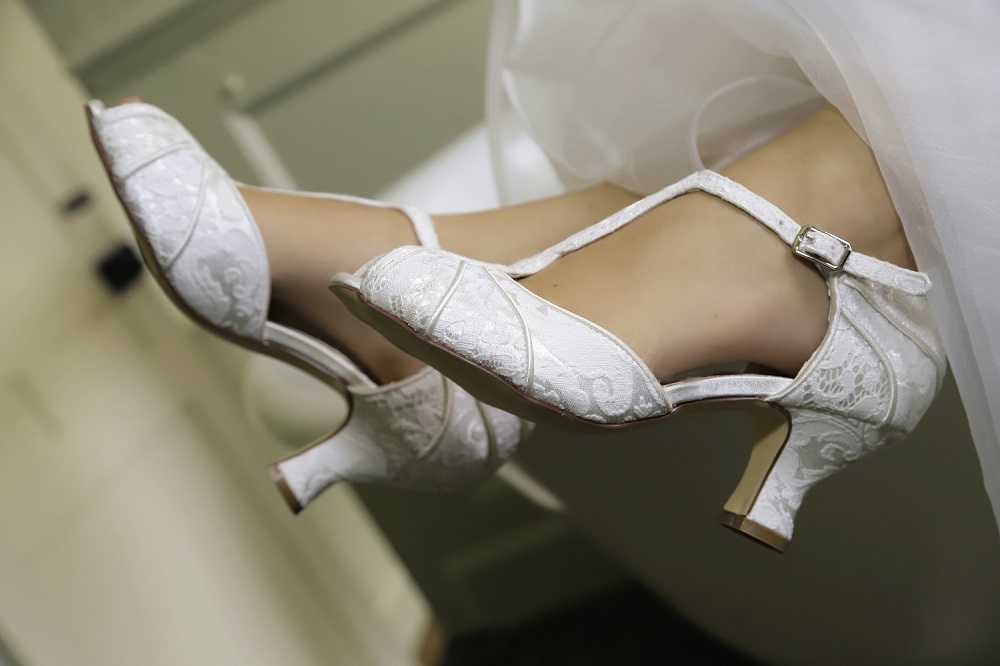 NEW IN!
Take a look at Beccy, one of our latest additions to the wide fit range. With a pretty T-bar and diamante detail, these EEE fitting shoes will ensure you step out in style on your big day. Couple with our simple satin Shadow clutch bag and you're good to go. Both styles dyeable after your wedding day, so you can wear them again and again.
Another new in style for 2019 is Bonnie, which wide fit shoe shoppers are loving! Featuring an attractive brooch, secure T-bar and not so high heel, these shoes are perfect for your spring or summer wedding. Another great new EEE fitting wedding shoe for comfort all day long.
Also NEW IN and flying is Alina by Pink Paradox. Elegant and sophisticated, Alina has a low yet attractive heel, ankle strap and rounded toe. With satin pleating, what's not to love about these latest wide fitting shoes. Alina matches perfectly with our Posie pleated satin clutch bag, so go for it with this winning shoe and bag duo.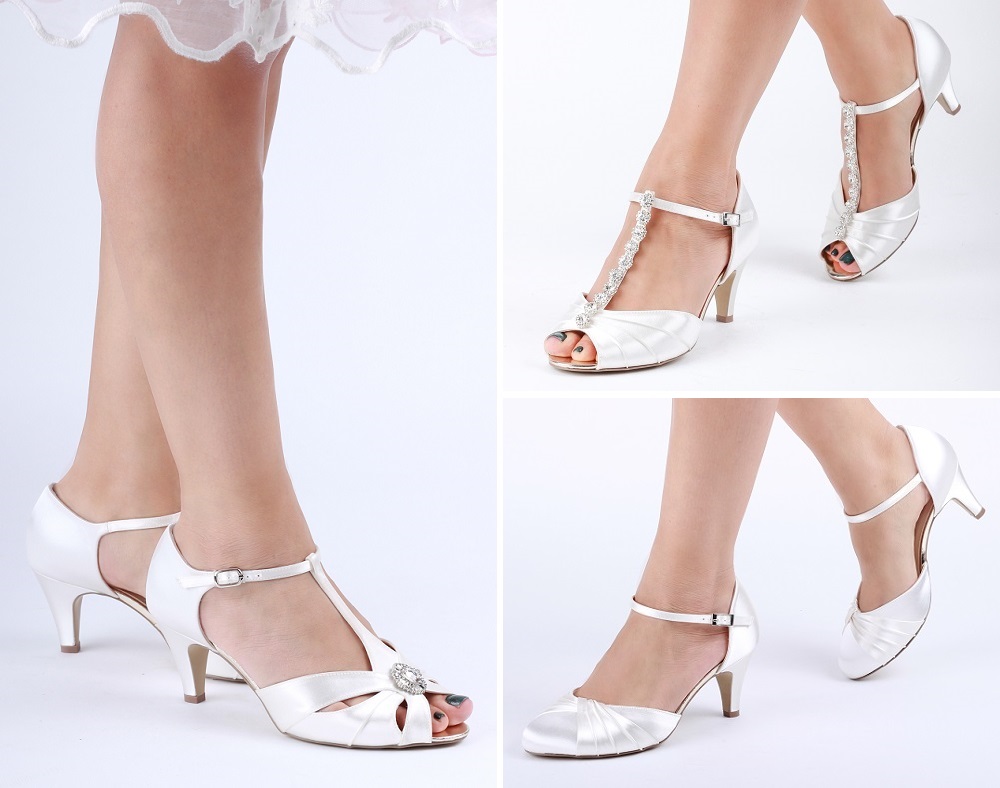 FLAT MATES
Meet Cleo and Alice, our brides favourite flat wedding shoes. Cleo comes in satin with lace detailing on the heel, and Alice is a vintage inspired lace design. Brides wanting the ultimate security of an ankle strap love the Cleo style, or if you want a simpler pump Alice is your BFF! In comfort fit as standard, you won't know these are on your feet!
For wedding handbags of style, we recommend these coordinating clutches. The lovely Laurel is a match for Cleo and Minna in gorgeous ivory lace works well with Alice. Top teaming for your lippy and other bride's essentials.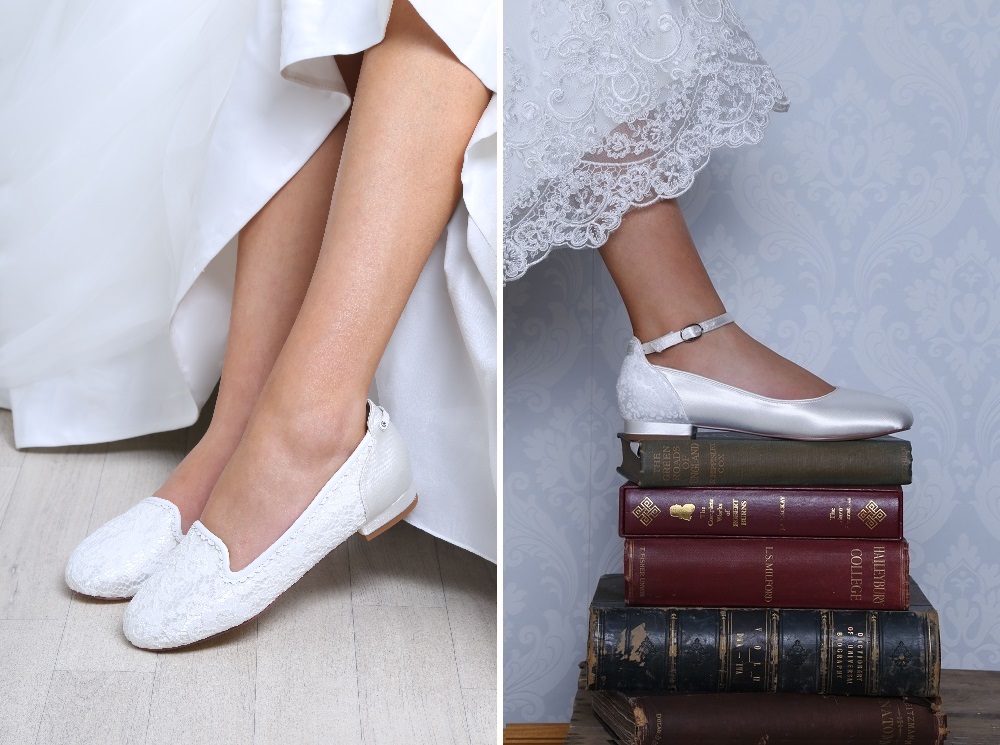 THE SO GOOD SISTERS
With vintage styling, our brides love Esta and Elsa wide fit Mary Jane shoes by the Perfect Bridal Company. These timeless shoes both have a slender ankle strap to stay put, and like all Perfect Bridal shoes, the cushioned inner soles will ensure your feet are pampered all day long.
The Esta wide fit shoe comes in a choice of shimmering dyeable satin or lace, and both will provide you with supreme comfort. With a mid height heel, this style is a firm favourite with our brides, both online and in-store.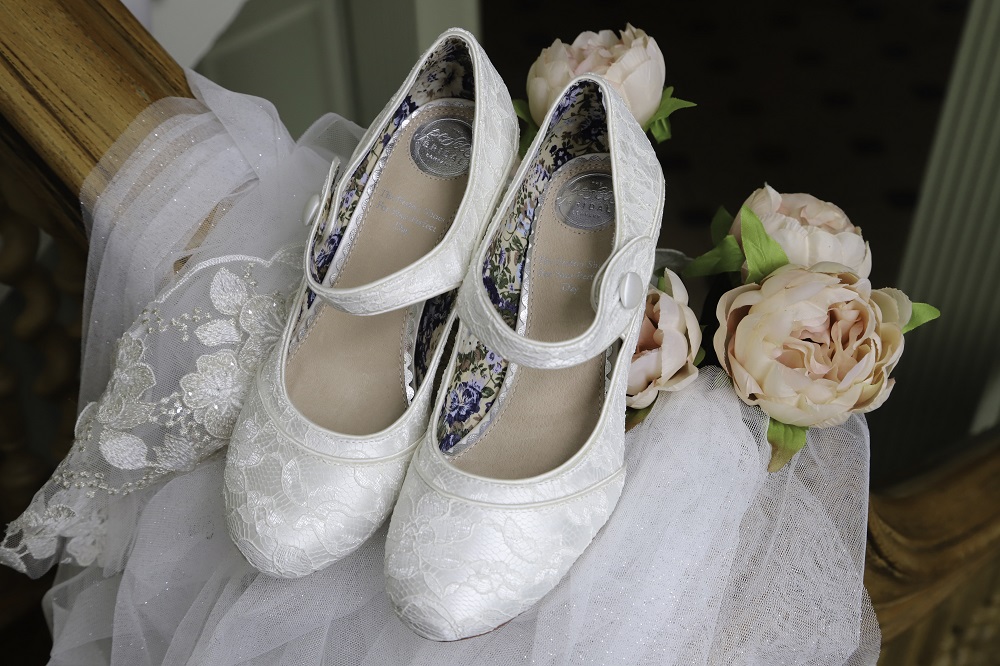 One of our all time best selling wide fit EEE wedding shoes is Elsa. Sister to Esta, this Mary Jane style is a winner. With a substantial ankle strap, you will discover a blissful wedding shoe which will give you nothing but comfort all day long. In a choice of dyeable ivory satin or romantic lace, both versions of Elsa coordinate with the Minna bag for that finishing touch.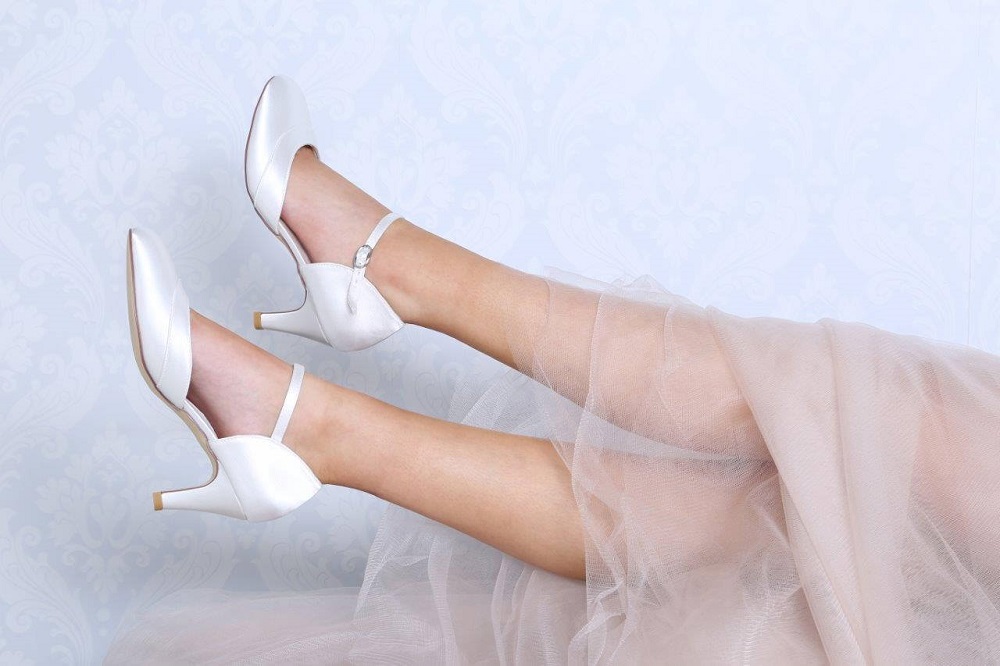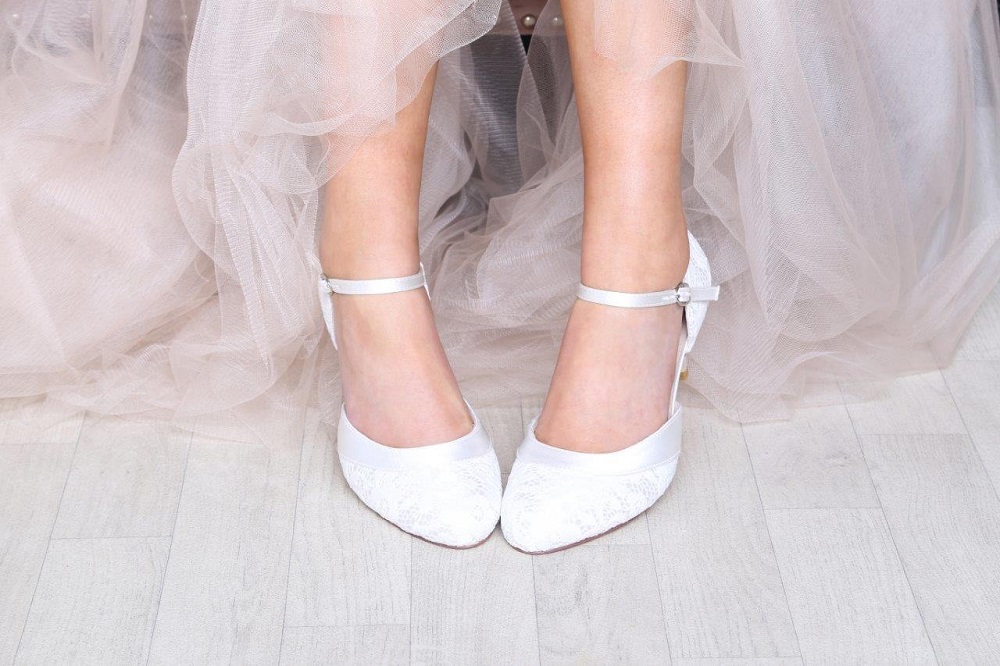 MADE UP WITH MABLE
Get wedding day ready with two classic courts, each available in an EEE option. The forever loved Mable is a classic wide fit court shoe, which comes in a choice of dyeable ivory satin and a new dyeable lace version. Brides like the stability of the Mable spool heel styling. The closed toe gives the wide fitting bride an all year round option which is big on comfort and won't bust the budget. Complete your look with the matching Ash satin clutch bag or if you opt for Mable in lace, then Laurel lace is your go to style!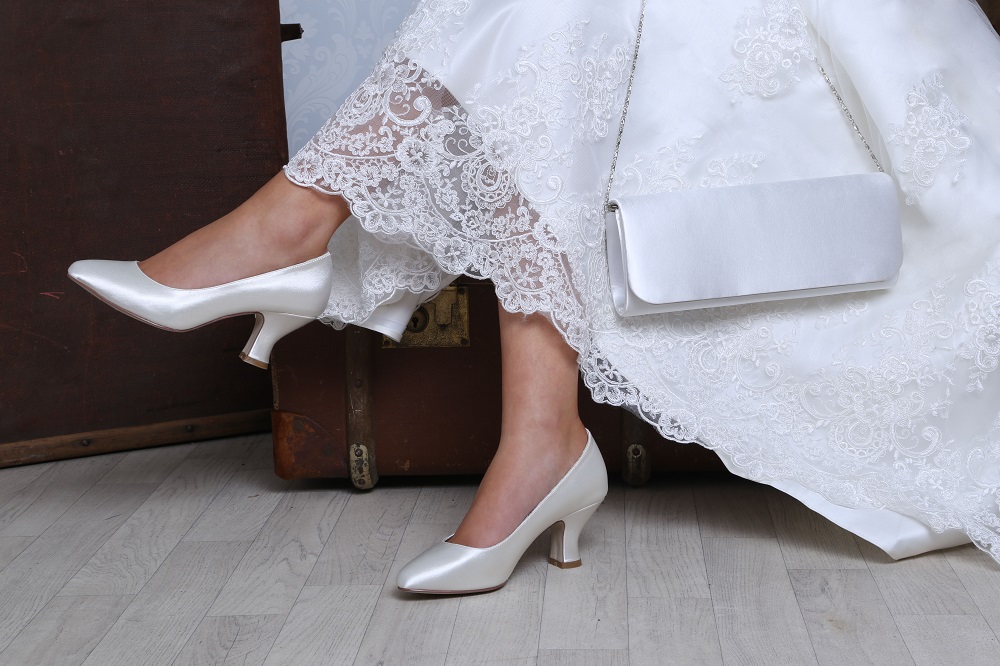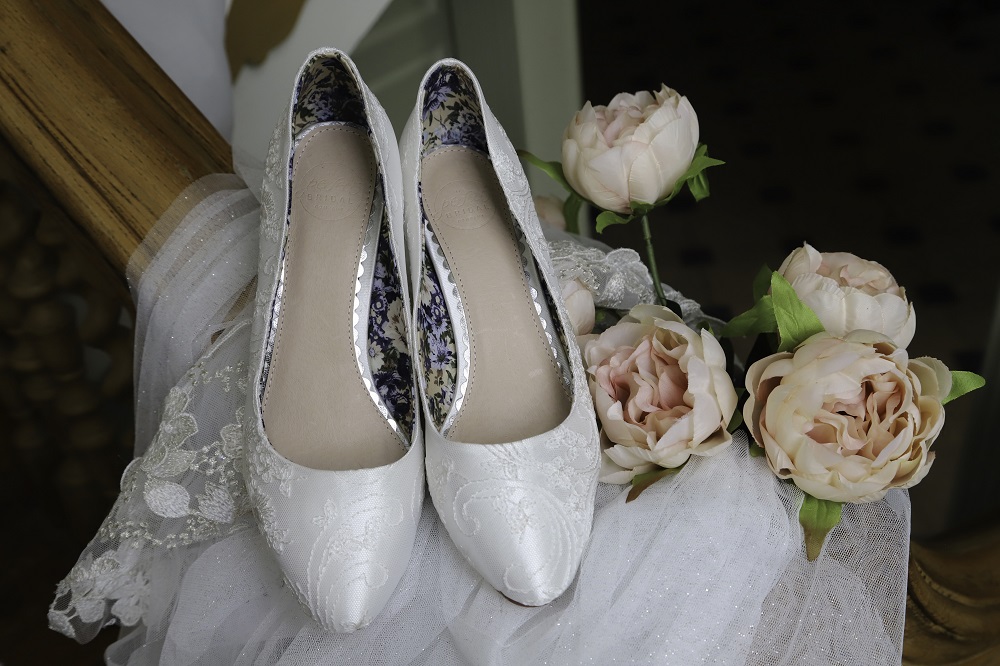 SHOUT OUT FOR SHIRLEY!
One of the most popular wide fit wedding styles from the Rainbow Club collection is Shirley. For girls wanting a lower style, but still with an attractive heel, Shirley ticks all the boxes. A combination of pretty satin and lace, Shirley and her chum Tilly the matching lace clutch bag, will have you wedding day ready in an instant! Perfect for guests too, the Shirley lace wide fit shoes and Tilly bag are completely dyeable.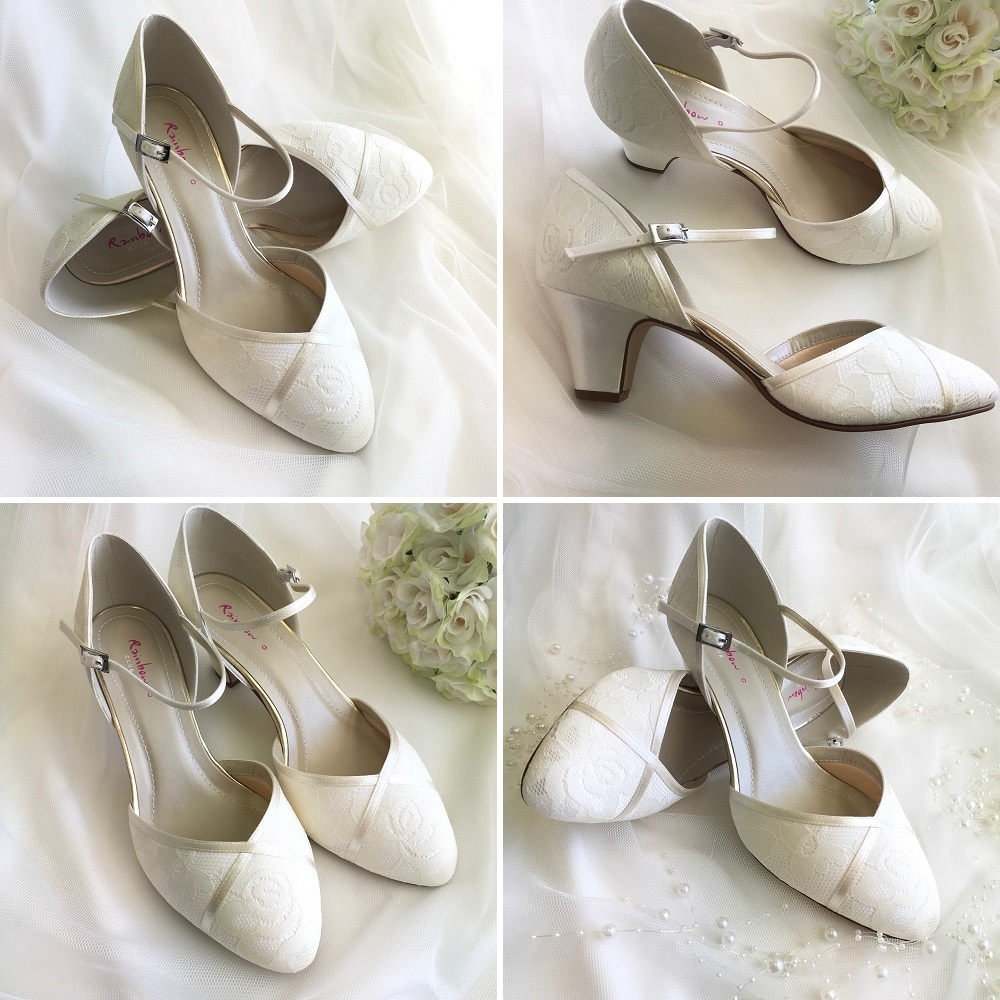 OLD FRIENDS
Two other popular wide fit shoe styles are Gisele and Nicole. If you want a comfortable satin court shoe with a choice of heel heights, one of these attractive shoe styles could be the wedding shoe choice for you. Giselle has a low block heel, and Nicole has a 9cm heel, so not too high either! For all day happy feet, these both have roomy shaping at the toe. For Giselle and Nicole we recommend the Celina classic ivory satin clutch bag – but no mobile phone today, it's your wedding!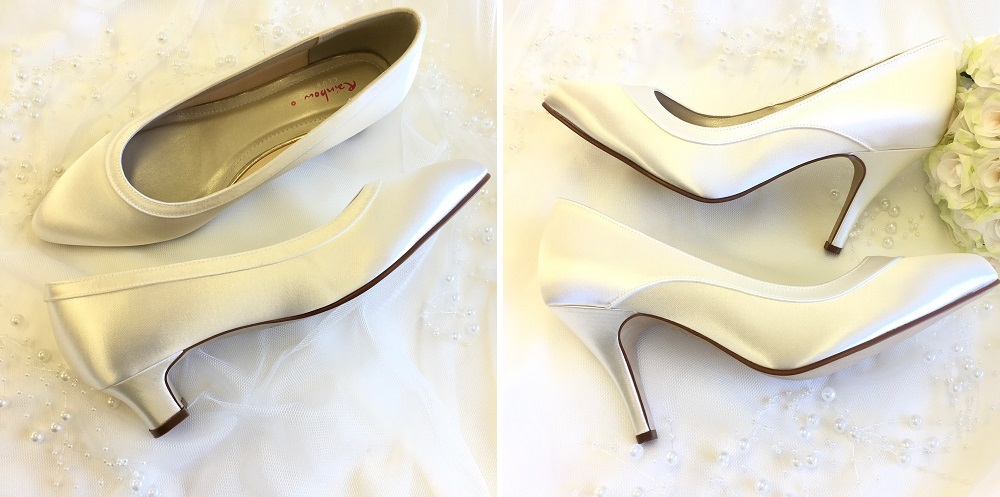 Brides are always pleased to discover any of these wide fit Rainbow Club shoes can be returned and dyed for FREE after the wedding, so they will live on happily ever after your big day. For more information on our shoe dyeing service, click here.