Our Top Tips For Making Your Wedding Shoes Comfortable
Imagine the scene. You've spent months planning your perfect wedding, from your dress to the venue and beyond. Everything has been meticulously considered, down to the very last detail and the day is finally here. On the morning of your wedding, you get up early and spend hours putting your bridal look together before slipping your feet into your wedding shoes. They feel a little snug, but you figure you will get used to them after an hour or so.
As the day goes on, what started as minor discomfort escalates. As you stand and pose for wedding photos, all you can think about is how much your feet hurt. When you take to the dancefloor with your new spouse, instead of enjoying the moment you are fixated on the moment you finally get to slip your shoes off.
Is that really how you would like to spend your big day? In pain and desperate to get back to your honeymoon suite and put your slippers on? Of course not! While we love bridal fashion, we also think that brides shouldn't sacrifice comfort, especially when it comes to their shoes. Yes, looking good when you tie the knot is a big deal for many brides. But what's most important is that you and your other-half will promise to spend the rest of your lives together in front of your nearest and dearest!
If you're concerned about making sure your wedding shoes are comfortable for your wedding day, we've put together our top tips for doing so. Having worked with brides for a number of years to help them curate their dream big day look, we've seen all sorts of hacks, tips and tricks in action. So, read on for the best of the best with Lace & Favour.
Lace & Favour Tips for Making Your Wedding Shoes Comfortable
1. Choose Comfort
Our first tip is our best one: choose comfort. Too often brides opt for shoes that are too high or too small, or not the right shape for their feet, which ends with pain and discomfort. Instead, we suggest you prioritise comfort over all else. Of course, choose a pair of shoes that complements your gown and wedding accessories. But make comfort a key consideration when you're trying on shoes.
Comfort looks different for everyone, depending on the size and shape of your feet. For example, if you have wide feet we would definitely recommend opting for wide fit wedding shoes to maximise comfort. Additionally, if you don't tend to opt for high heels or stilettos normally, do the same with your wedding shoes! As a rule of thumb, if a pair of shoes hurt when you try them on, they're probably not a good fit for you.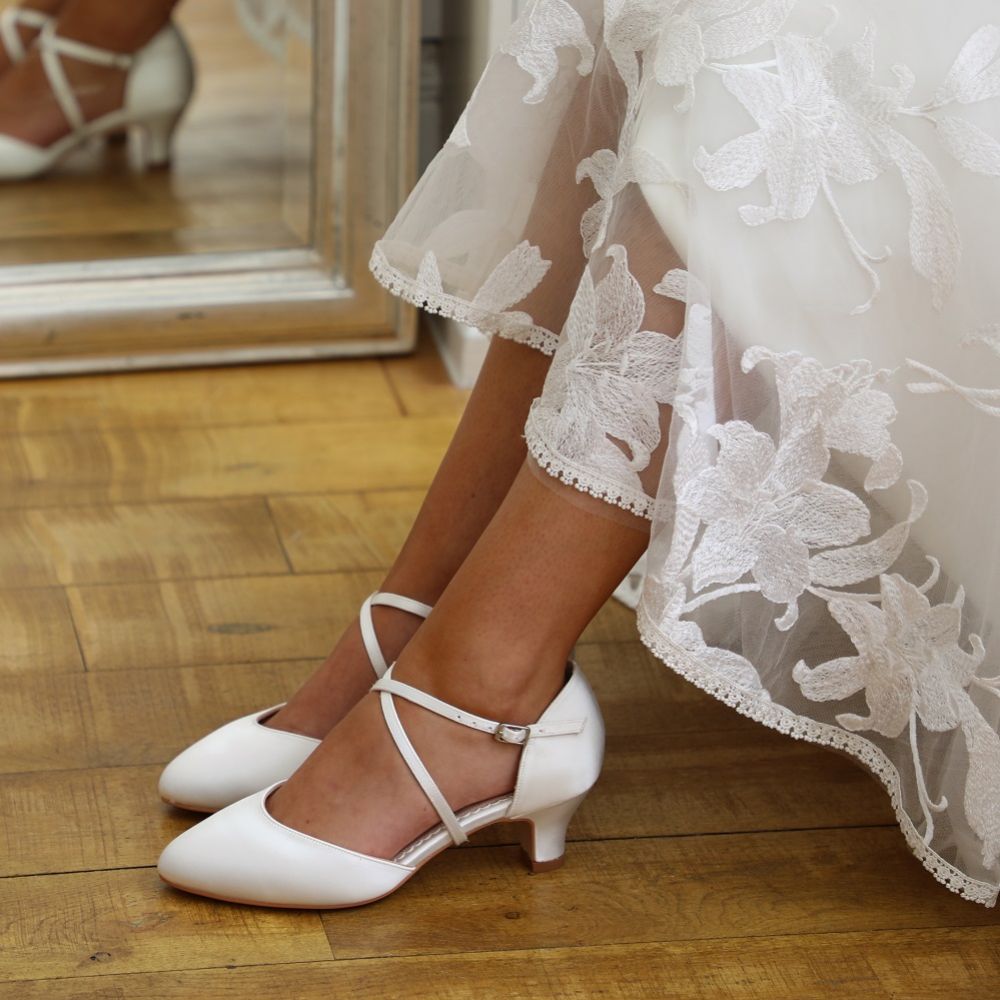 2. Break Them In
In the run up to your wedding day, set aside some time to wear your shoes around the house. Materials like leather will stretch out and become more supple the more you wear them. Putting shoes on fresh from the box can be a one way ticket to blister-ville, and you don't want this for your wedding day.
We recommend putting aside 30 minutes a week to wear your shoes around the house. This will help you break them in and get used to wearing them.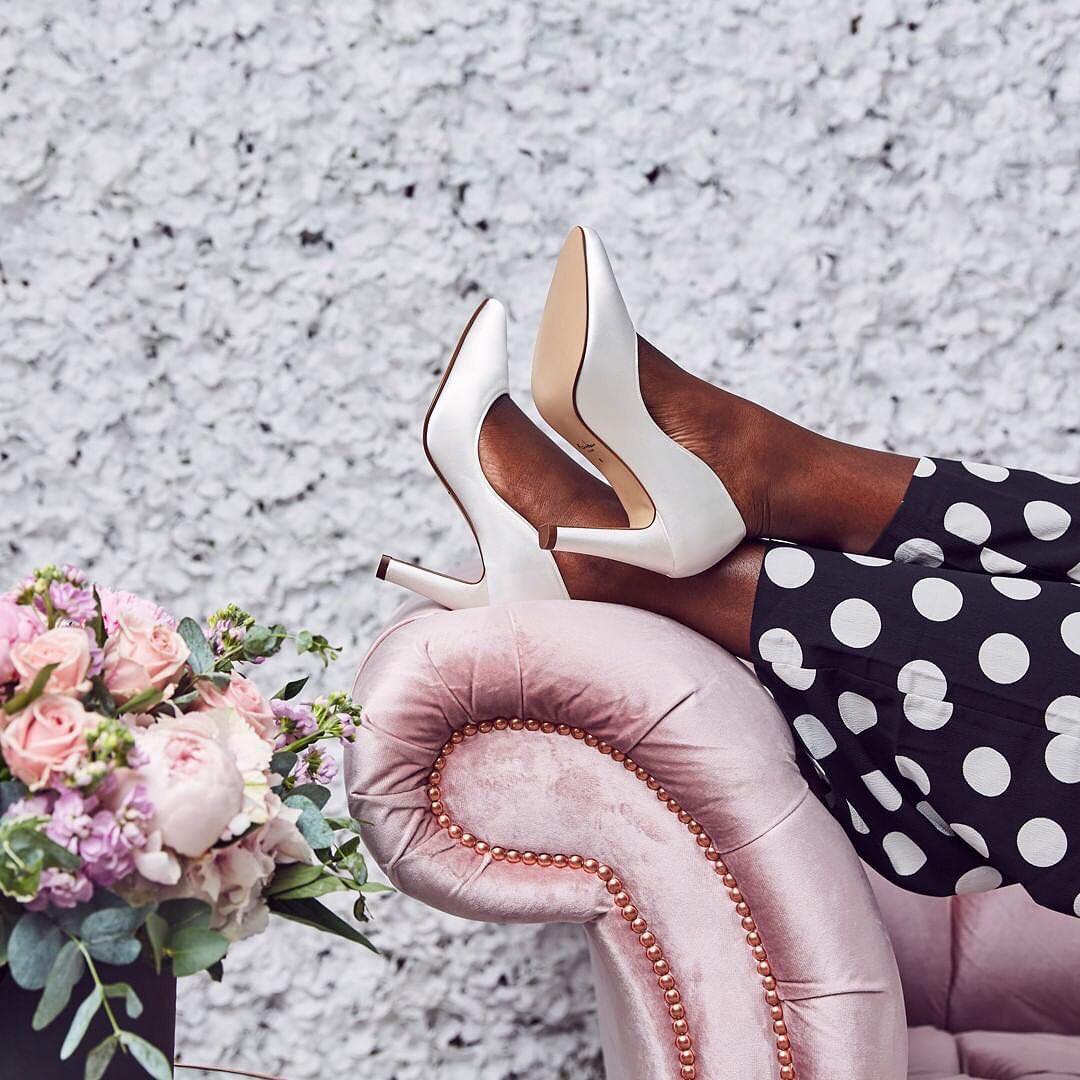 3. Consider Your Venue
Planning ahead is so important when choosing your bridal attire. When it comes to shoes, your venue and what you will be doing on the day will have a big impact on your choice. For example, if you're getting married on the beach, stilettos might not be the bed choice for walking on sand. Similarly, thinner heels aren't always the best for walking across grass or on softer surfaces.
In these situations, you have a couple of options. Solutions like Clean Heels are a fantastic way to protect your heels and provide stability on grass and uneven surfaces. Alternatively, opt for flat shoes, wedge heels or even block heels. With block heels, you're less likely to sink down into soft surfaces as your weight is more evenly distributed. It goes without saying that flat shoes can provide confidence when walking, especially if you don't often wear heels.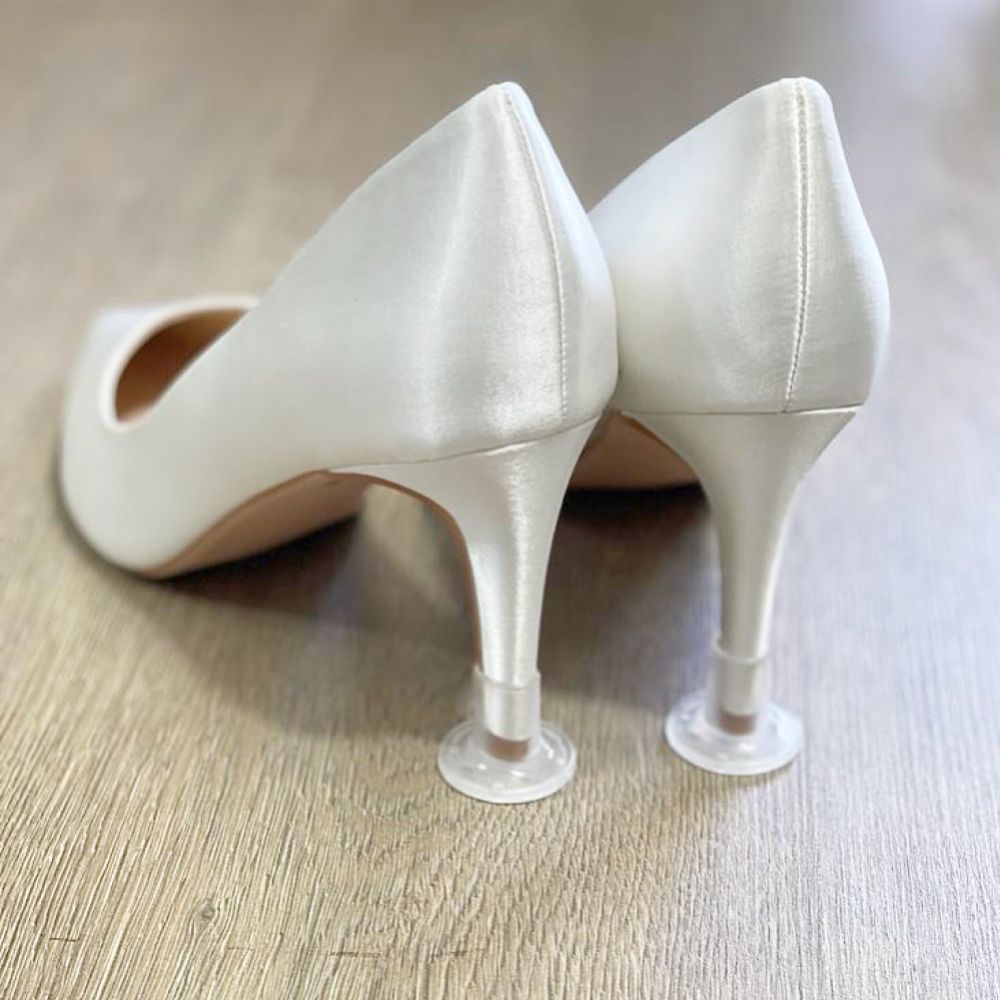 4. Prep & Pamper Your Feet
If you're wearing strappy shoes, sandals or an open toe design on your big day, then you'll probably be planning on showing your feet some TLC beforehand. But we recommend you do this no matter what to make sure your feet are prepped for a full day of wear. Be sure to give your feet a rest from wearing high heels in the run up to your wedding day and moisturise them every night to banish any dry skin.


Shop Your Perfect Wedding Shoes Today
Here at Lace & Favour, we stock a wide range of comfortable wedding shoes to suit your style. From wedding trainers and wedges to platform shoes and court shoes, you'll find beautiful designer shoes for your big day from iconic names including Rainbow Club, Harriet Wilde, Freya Rose and Avalia. Shop the range now with Lace & Favour.