Keeping Warm This Winter Wedding Season
Tis' the season for a picturesque winter wedding, however tis' also the season for brisk cold. So, while you are planning for your dream fairytale winter wedding, do not forget that you need to stay warm; especially if you are opting for an outdoor venue! While you may not be able to pass off woolly socks as bridal attire, there are a vast array of cover-ups. These pieces do the perfect job of keeping you warm whilst keeping you stylish. And you can stay in touch with your theme! So, kick back and relax by the fire while we introduce you to the winter wonderland of cosy cover-ups and shrugs!
Snow Queen
Keeping warm and keeping it classy may seem like a challenge, but faux fur is a way to achieve this look effortlessly. If you have chosen a forest venue for your winter wedding then you will need something snug while maintaining your theme. For a forest venue we love this glorious bridal jacket, we especially love the refined collar for that extra warmth! And if you are not a fan of long sleeves and up to braving the cold, there is a three quarter sleeve option available!
Jump at the chance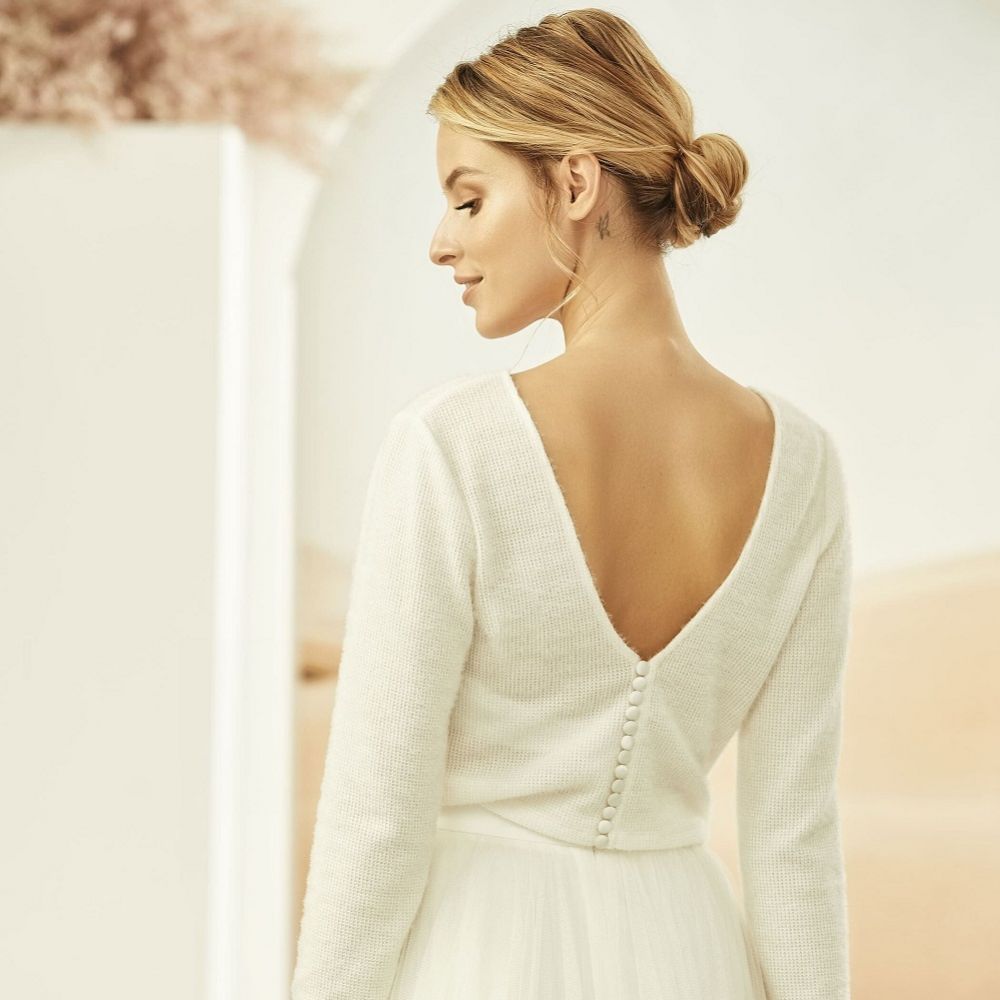 A wedding jumper could be a quick way for you to throw on something warm and cosy on those colder winter nights whilst still looking as elegant as ever. This gorgeous knitted bridal jumper with a V-shaped back would pair great with a low back wedding dress. While fitting the shape of the dress, the V shape and delicate satin cover buttons are gorgeously feminine. Who would have expected that from a jumper!
Fairytale fantasy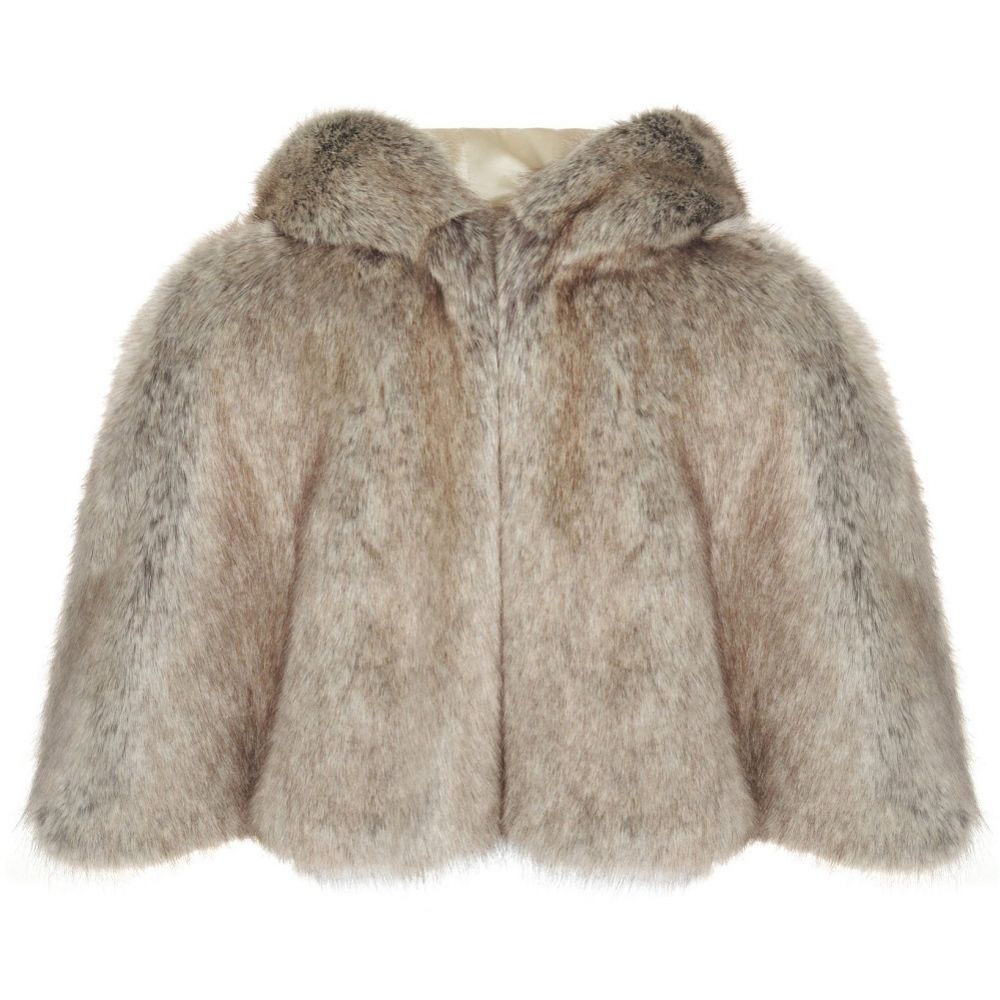 A cape is a perfect way to live out your fairytale wedding dream whilst still keeping you warm. Another great option if you have opted for a forest wedding venue. However, this cape would certainly not look amiss in a cosy barn venue decked with fairy lights. And we adore this cape, not only because it looks like the warmest cover-up in the world! But because this cape comes equipped with a divine soft hood, we love it! However, the cape is also available without your hood if that is not your style. This cape is ideal for walking down the winter aisle, and would be a glamorous addition to your evening look.
Fireside Season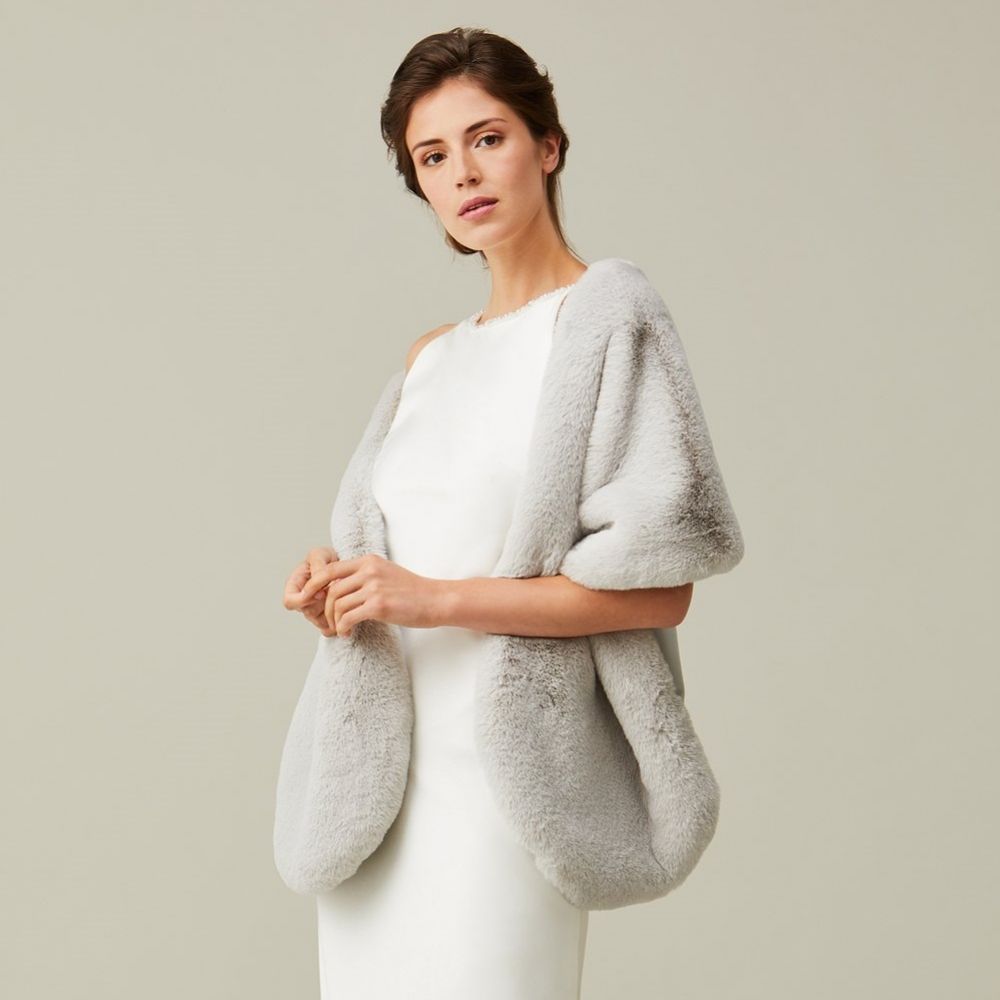 There is no better winter feeling than being all wrapped up but still feeling effortlessly feminine and a stole can do just that. A stole will do a great job of ensuring that you will not get the chills on your wedding day; so you can focus on having fun and creating lifelong memories. The stunning misty grey colour is a twist on the traditional white wedding, however, it will complement white stunningly by adding some cover-up contrast! And it gets better, this gorgeous long faux fur stole can also double up as a blanket to keep you cosy all night long!

Dreaming of Snow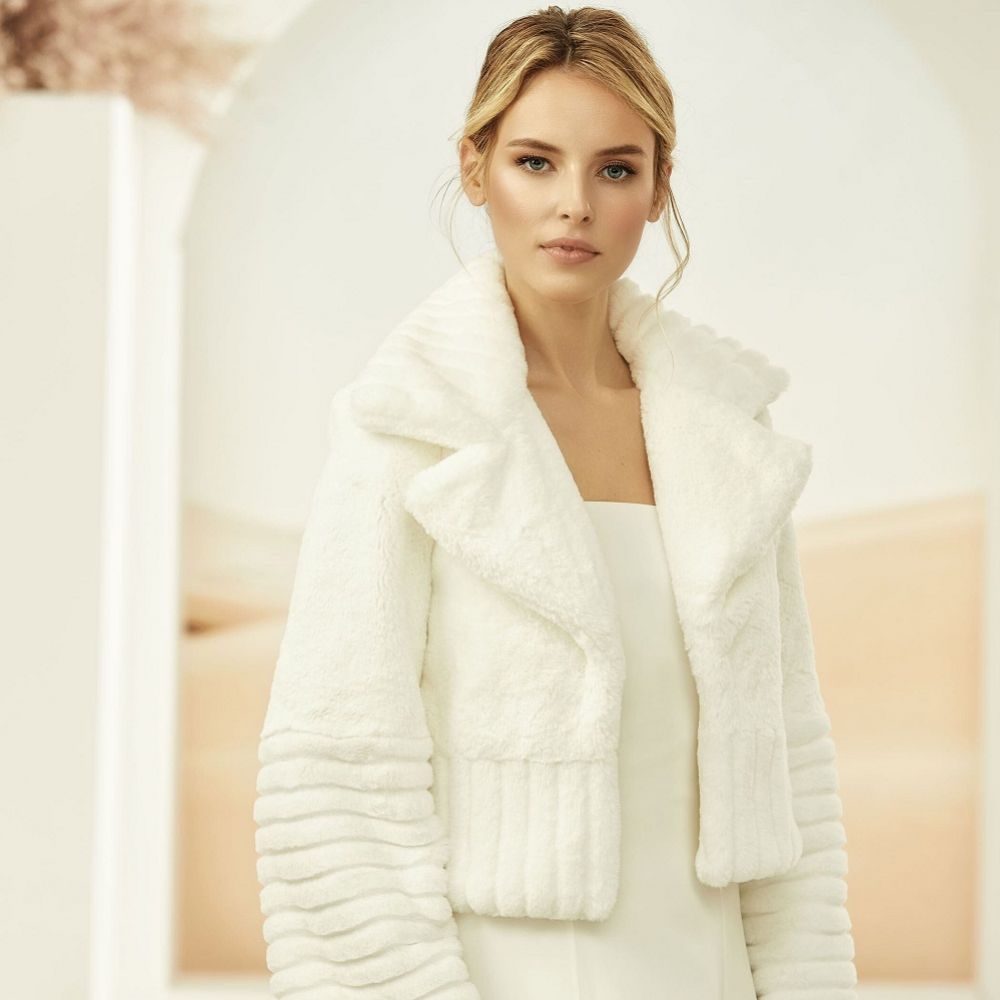 If you are opting for a modern and chic approach to your bridal look. Then you may be searching for a more alternative cover up style. For this purpose, we are in love with this collared bridal jacket. It gives us aviator jacket style vibes but made for wonderful warmth. The jacket features a high collar and ribbed panels for an effortlessly cool look. And do not limit this jacket to only stealing the show on your wedding day, this is a great jacket to continue wearing after the big day!
Showstopping Shawls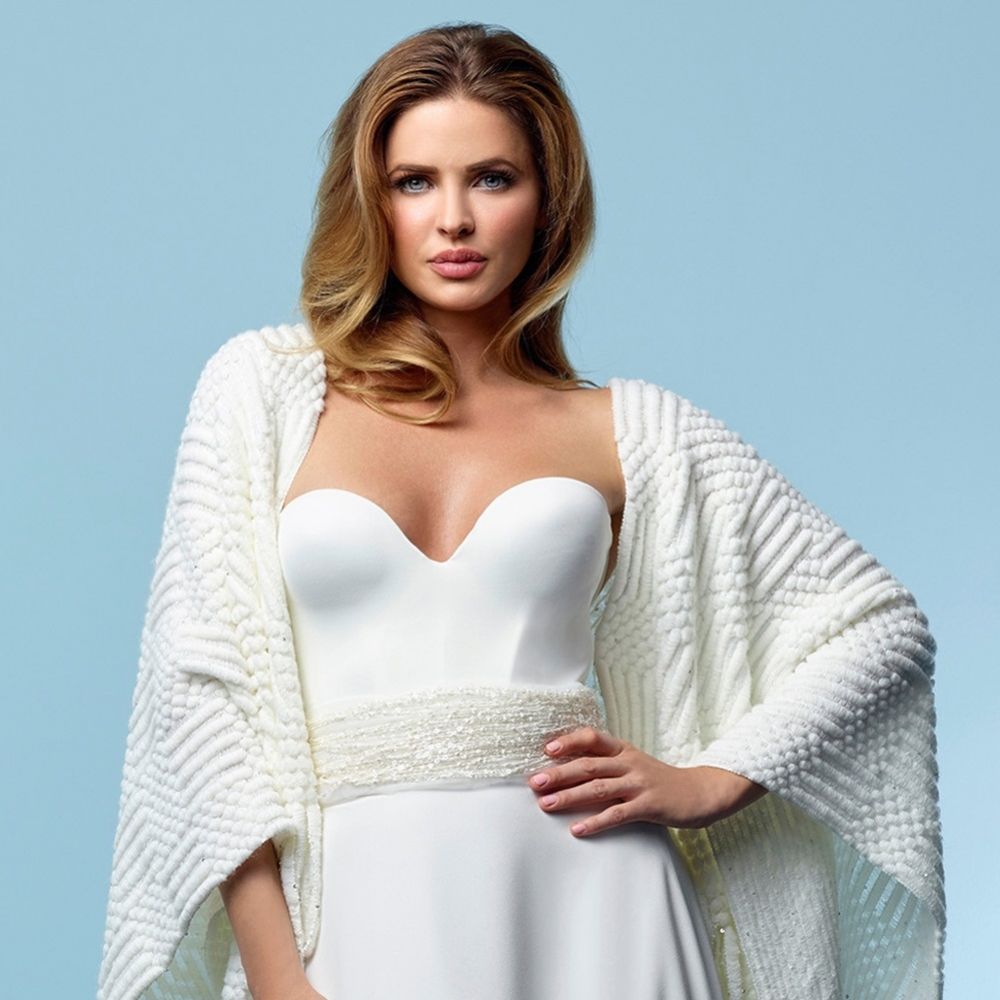 Shawls are an elegant addition to any bridal look, while also providing some extra warmth. Shawls are also perfect for the entire bridal party, you could be all matching with your bridesmaids, or go for a bit of contrast! We love this knitted wedding ivory shawl which boasts sparkly sequins, so you and your bridal party will not be getting lost on the dancefloor! This stylish chunky knitting pattern would also be a great choice if you are going down a boho bride route!
Keeping It Cosy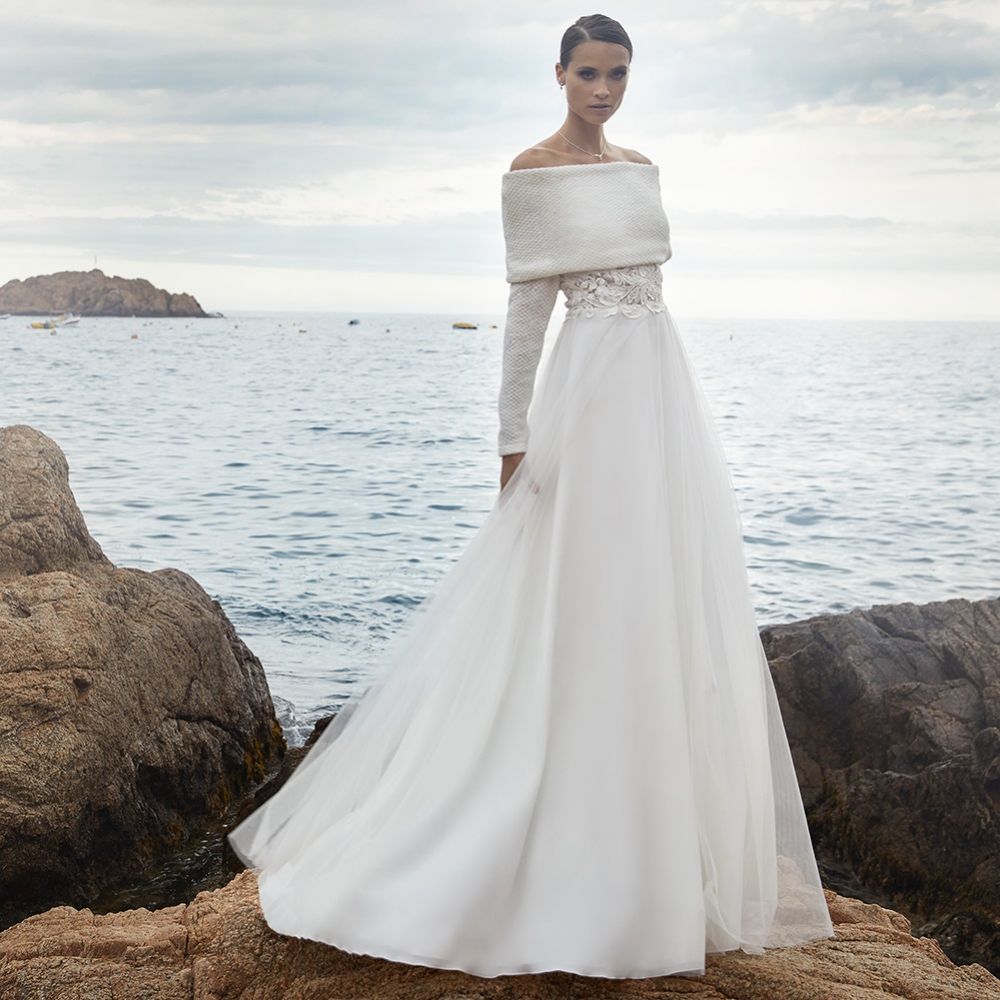 If you are looking for a cover-up that integrates more into your bridal look rather than being a piece in itself. Then a shrug may be the cover-up for you. We love this chic and modern off the shoulder wedding shrug. The off the shoulder design is beautifully elegant, and do not worry the real ivory wool will keep you warm! This would be a perfect choice if you are staying inside for your winter wedding and a great choice for the evening dance-off!
Fabulous Feathers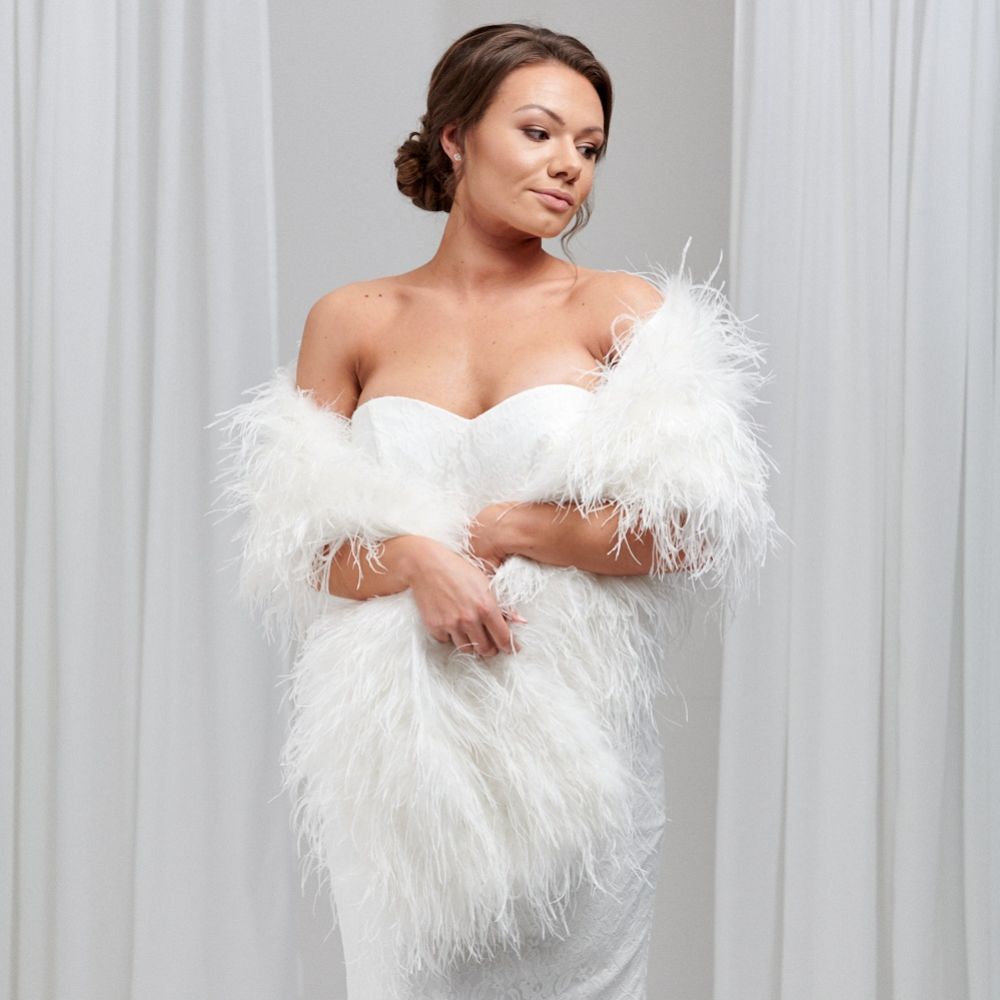 Add some timeless elegance to your bridal look to create a vintage effect. If vintage is your style then a great addition is feathers. We love feather stoles, a classy complement to any bridal look. That is why we love this ostrich feather bridal stole, made of the fluffiest feathers to keep you warm! The stole also features a luxurious satin lining for designer comfort. It does not get much more dreamy winter wedding than this stunning feather stole!
Bigger and Better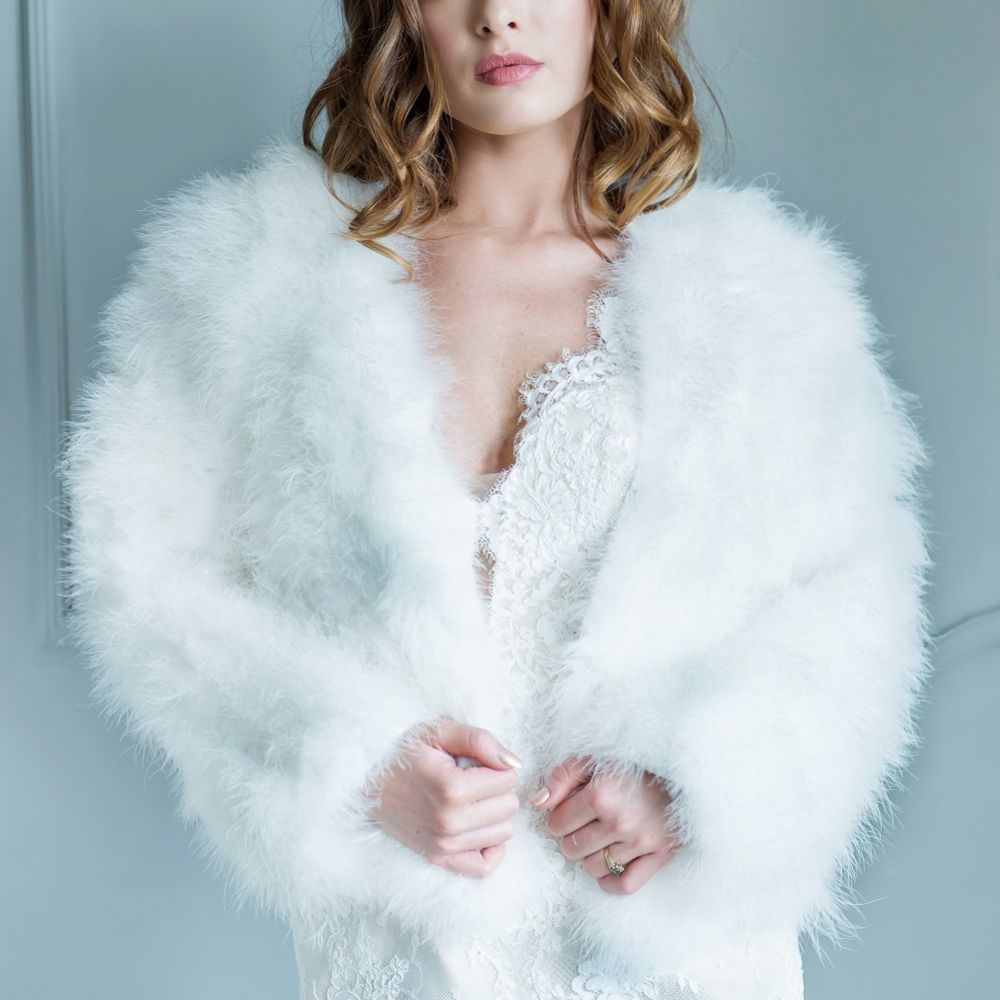 In love with the feather stole but not quite glamorous enough? Let's take this to another level with the Monroe ivory feather bridal jacket. This showstopper will be the star of the show and the cold will not be able to touch you! This luxurious bridal jacket is made from the softest marabou feathers with a shiny satin lining. No matter what the weather throws at you on the day, you will be prepared for rain or shine and look the epitome of class while doing so!
High Society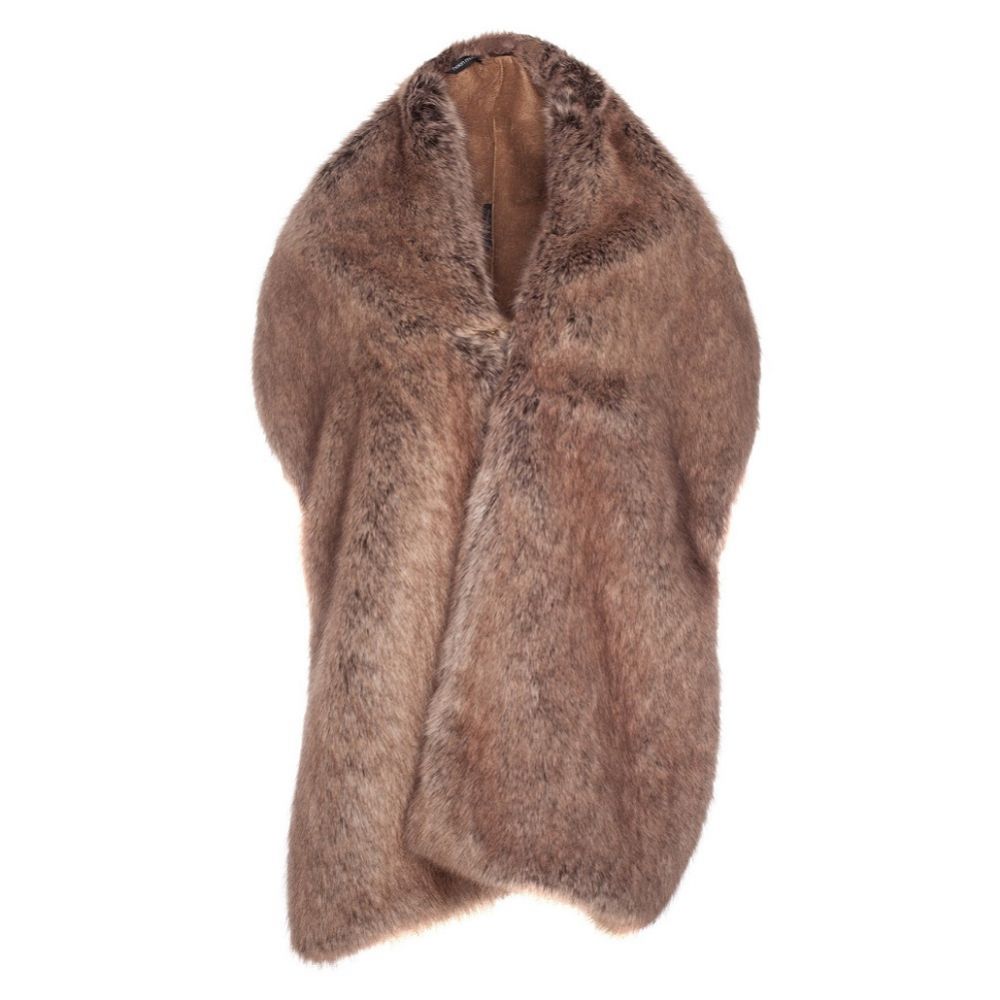 Cover-ups give you the opportunity to completely flip or level up your look. We love cover-ups that bring class and elegance to any bridal look. And what better way to do it than with the Helen Moore stole in an indulgent truffle shade. This luxurious stole is handcrafted from vegan faux fur, creating a gorgeously soft stole that will keep you warm in the coldest season! And you can wear this stunning stole in a variety of ways, such as over your shoulders which allows for only a small portion of your dress to be covered, as not to take away from the main event. Or, incorporate a beautiful broach to keep you fully covered while remaining gorgeously glamorous!
A Lighter Look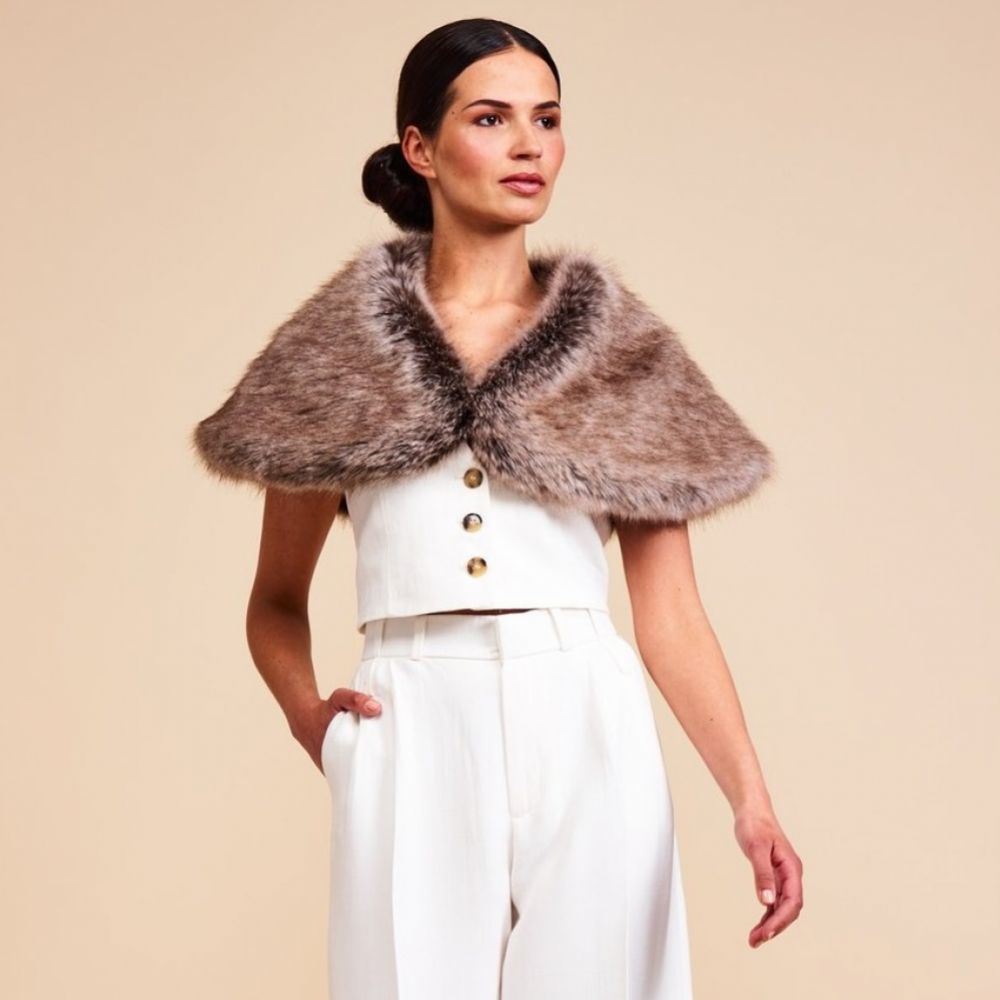 If you have selected an indoor venue for your winter wedding, then we cannot say we blame you! So, you may be looking for a smaller cover up item to complete your winter wedding bridal look. We love just a little something on the shoulders, this allows you to get some extra warmth while not taking away from your spectacular dress. And one of our favourites is the Helen Moore wedding wrap which adds some designer class to your look. Fitted with a hook and eye clasp so you do not have to worry about your cover-up slipping off you. The wonderful wrap is also available in an array of gorgeous colours to complement any colour theme!
Wrapping It Up
We hope these cover-ups have got you feeling all warm and fuzzy inside. And hopefully, you have found one to keep you warm on the outside as well! Cover-ups are a great way to keep yourself comfortable and warm while maintaining your individual style. Cover-ups can be perfectly incorporated into your bridal look or stunning pieces in themselves. Cover-ups can add a whole new level of class and elegance to any bridal style and we love them for it! So make your winter wedding as dreamy and magical as you have always imagined, without getting frostbite in the process!
Browse Your Winter Wedding Cover Ups Here At Lace & Favour
Seen something you like? Browse your favourites and our wide selection of cover-ups here at Lace & Favour. From boleros to shawls, there is a cover-up to match any bridal style. So, keep warm in style and grab a winter wedding essential!