Styling Your Bridal Hair This Winter
You are going to look amazing whether you adorn your hair with all the sparkles of fairy dust on earth or not! But, we know how important it is to most brides to have the PERFECT bridal hair accessories on their big day. That's why we have your back with our incredible selection of gorgeous wedding accessories for the winter bride!
Whether you are having your hair in a fancy updo, or leaving your long locks flowing down your back, adding that touch of sparkle can truly complete the look. So choose from magnificent tiaras to subtly sweet hairpins, practical and perfect hair clips to just about every hair accessory a bride could want for her winter wedding!
Vintage This Winter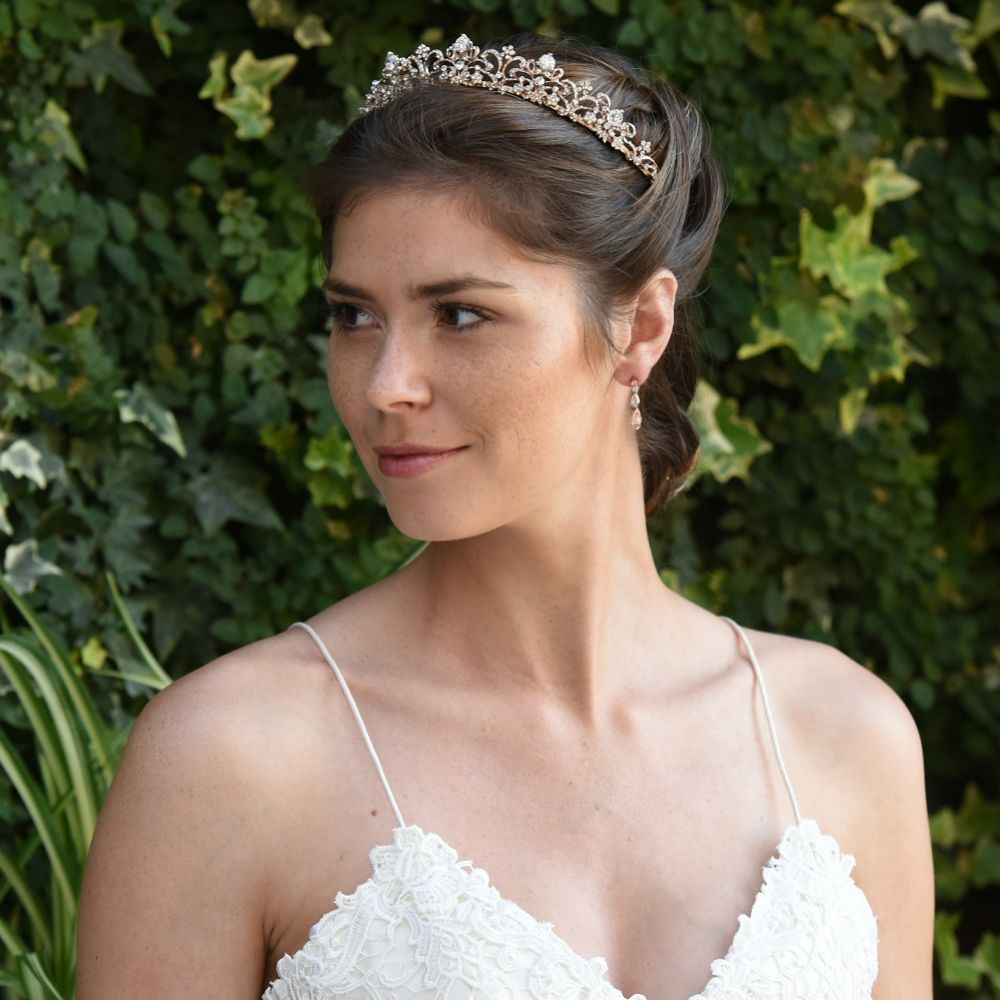 This winter, vintage is back in style, not that it ever went far! But, whether it's thanks to the Bridgerton effect that is still taking the UK by storm, or because the classical shape of some vintage pieces just complements the snow perfectly it's back. Here at Lace & Favour, vintage is one of our favourite styles, and with the ability to make it suit any bride, it's a great style for any wedding.
Whenever we see vintage brides, there is one particular wedding accessory that stands out. A beautifully ornate tiara. Not only does a tiara make you feel like a princess, but it can also give you the ultimate vintage finishing touch!
The Ivory And Co Beatrix Rose Gold Vintage Inspired Crystal Tiara offers all the features of a classic princess tiara. Suiting any colour scheme, this stunning bridal hair accessory is available in gold, silver and rose gold.
Complete the look with a stunning vintage-inspired necklace such as Bejewelled Crystal Vintage Pendant Necklace.
Baby, It's Cold Outside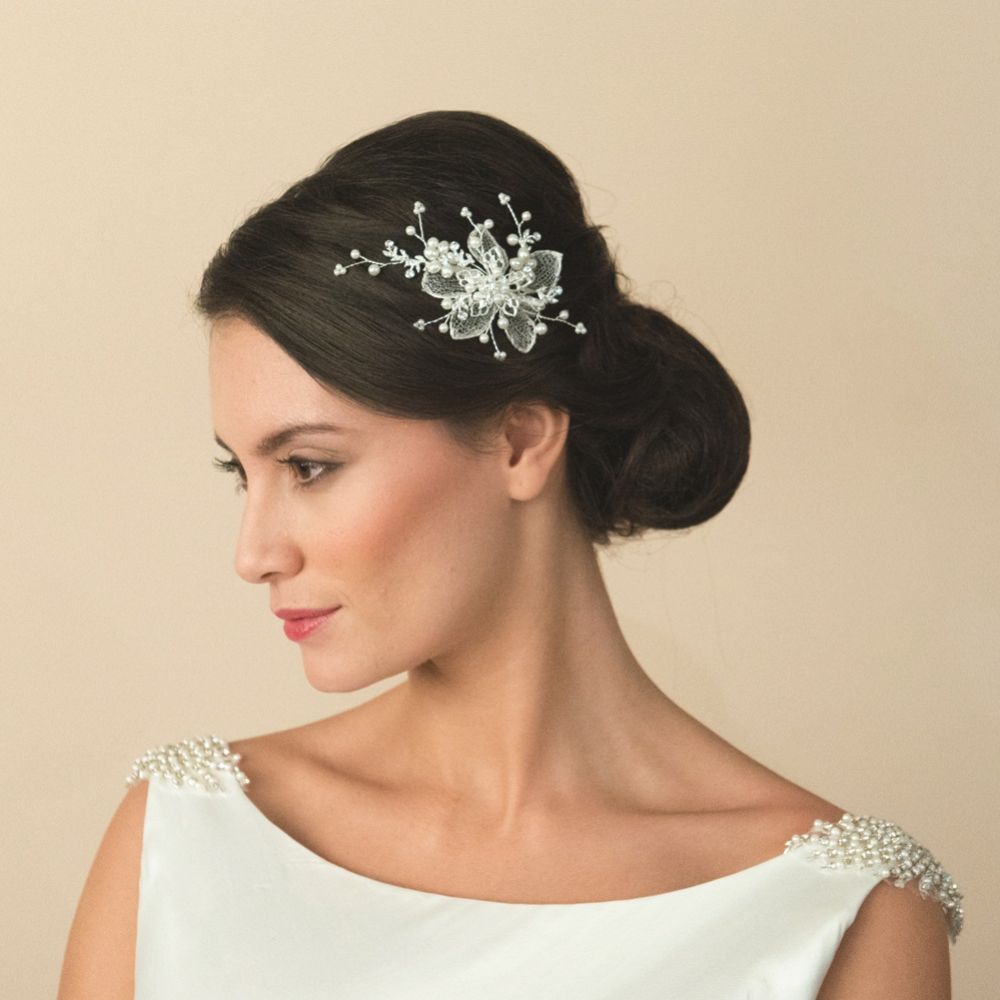 With chilly winters being the norm here in the UK, winter brides may want that little extra shoulder protection. So why not add an additional bridal accessory, such as our wonderfully warm faux fur stoles. Just like the Helen Moore Orchid White Long Faux Fur Stole.
However, we know that most brides tend to shy away from adding too many accessories with a stole. After all, a necklace may get covered, long line earrings may rest on the shoulder of your faux fur, and your bracelet can easily catch. We hear you, brides!
That's why we think pairing your stole with a simple hair clip makes for not only a super stunning combination but also a practical one too! You can go all out with an ornate headpiece, or, our personal favourite, the simply beautiful Ivory And Co Magnolia Floral Wedding Hair Clip.
This simple clip will add a touch of style should you wish to take your stole off, but not be too overpowering with your stole on. A subtle elegance.
Cool As Ice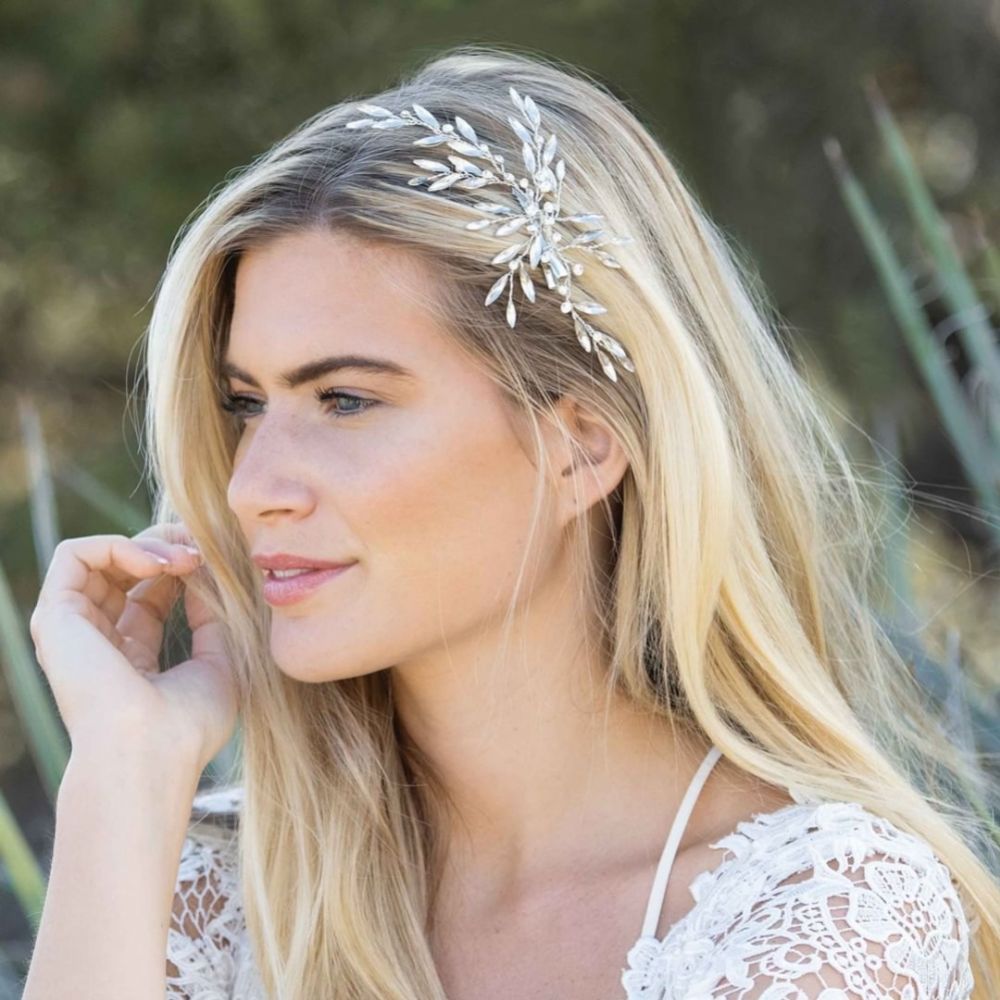 Nothing is more perfectly unique than the pattern ice creates across a surface. You'll have seen it on the windows in your home, frosted onto your car windscreen, or even as a snowflake hits a surface. Beautiful right? Well, why not incorporate that same stunning style with your hair accessories!
The Ivory And Co Wintersweet Crystal Spray Wedding Hair Clip allows you to give the appearance of ice crystals spreading across your hair. You'll be the ultimate ice queen as you make your way down the aisle.
Continue the ice crystals down into your earrings with the equally stunning Lila Dainty Cubic Zirconia Drop Earrings, completing this stunning look.
Classical Lace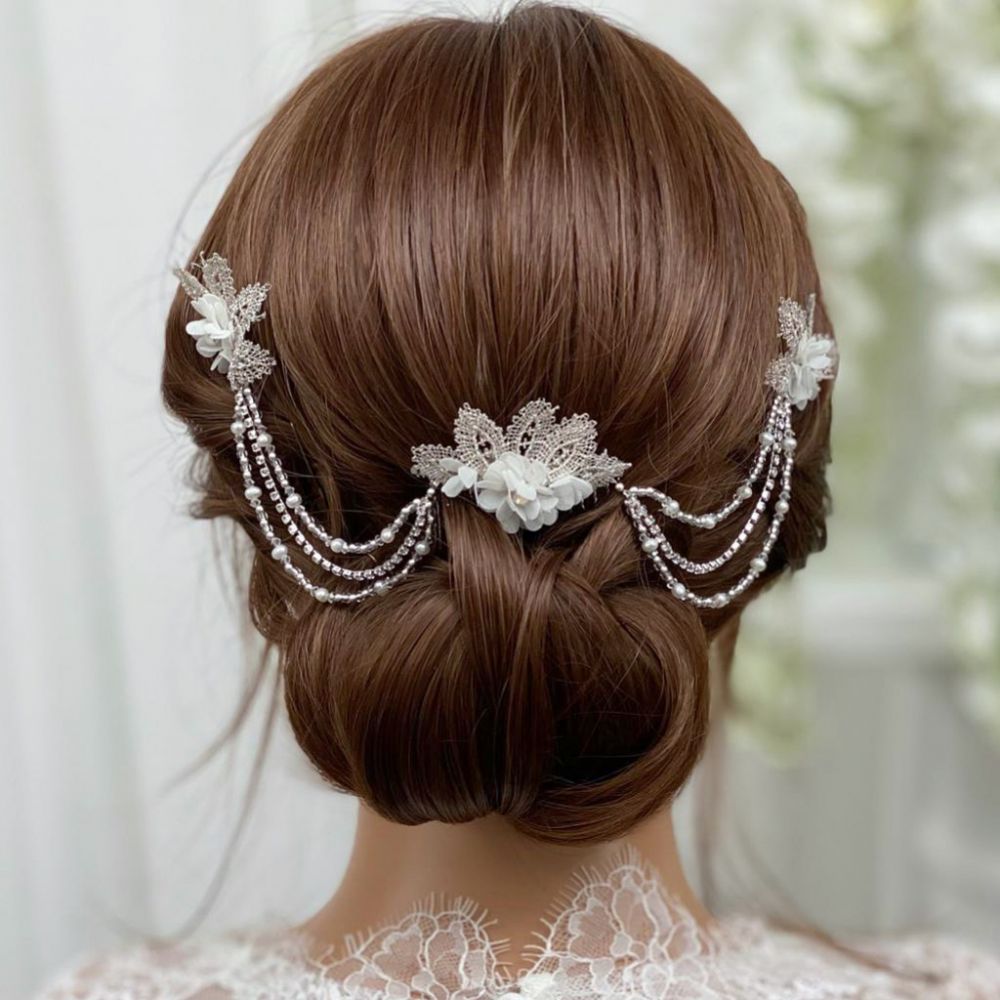 With lace, you either love it or you hate it! Here and Lace and Favour, we love lace, so much so, that we used it in our name.
So when we saw this trend coming back around this winter, we just had to incorporate it into our hair accessories style guide!
With lace hair accessories, you can't go too big, or too bold, the key here is in keeping it subtle and sweet. Just like the Amelia Silver Lace Leaves And Opal Crystal Floral Hair Drape. This stunning hair piece adds just enough lace, without being going that touch too far!
Are you looking to increase the lace for your big day? Why not pair your style up with a nice lace clutch bag? While we have some stunning clutches in our collection, we feel like the Rainbow Club Tilly Dyeable Ivory Lace Wedding Clutch Bag is the perfect match to the Amelia Hair Drape.
The Christmas Bride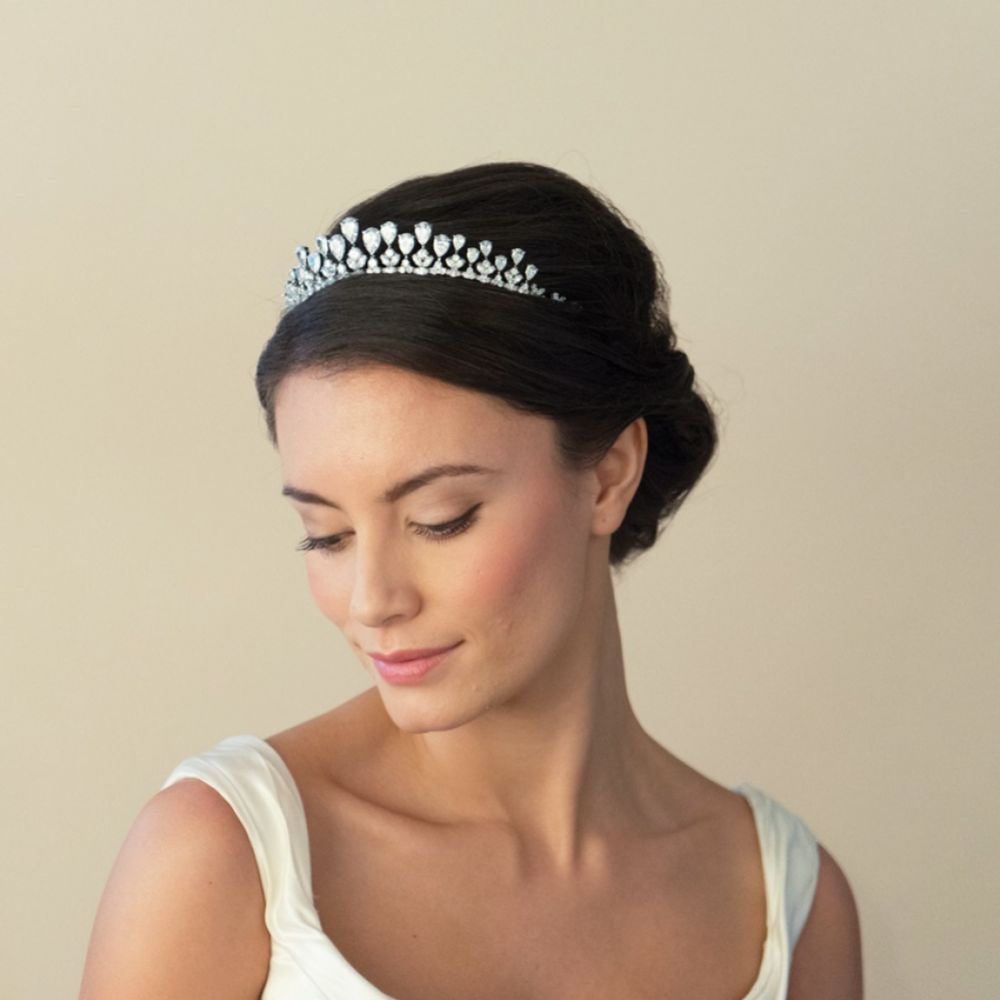 It's certainly a dream come true for many brides to have a Christmas wedding! And we have nothing but hope and prayers for the perfect gentle winter snow that will make your pictures the ultimate perfect winter wonderland wedding!
So, how are you going to bring Christmas to your hair accessories?
Keeping with the snowy theme, we adore the Ivory And Co Teardrop Vintage Inspired Crystal Bridal Tiara, we don't see teardrops, we see snowdrops!
Blushing Bride...'smaid!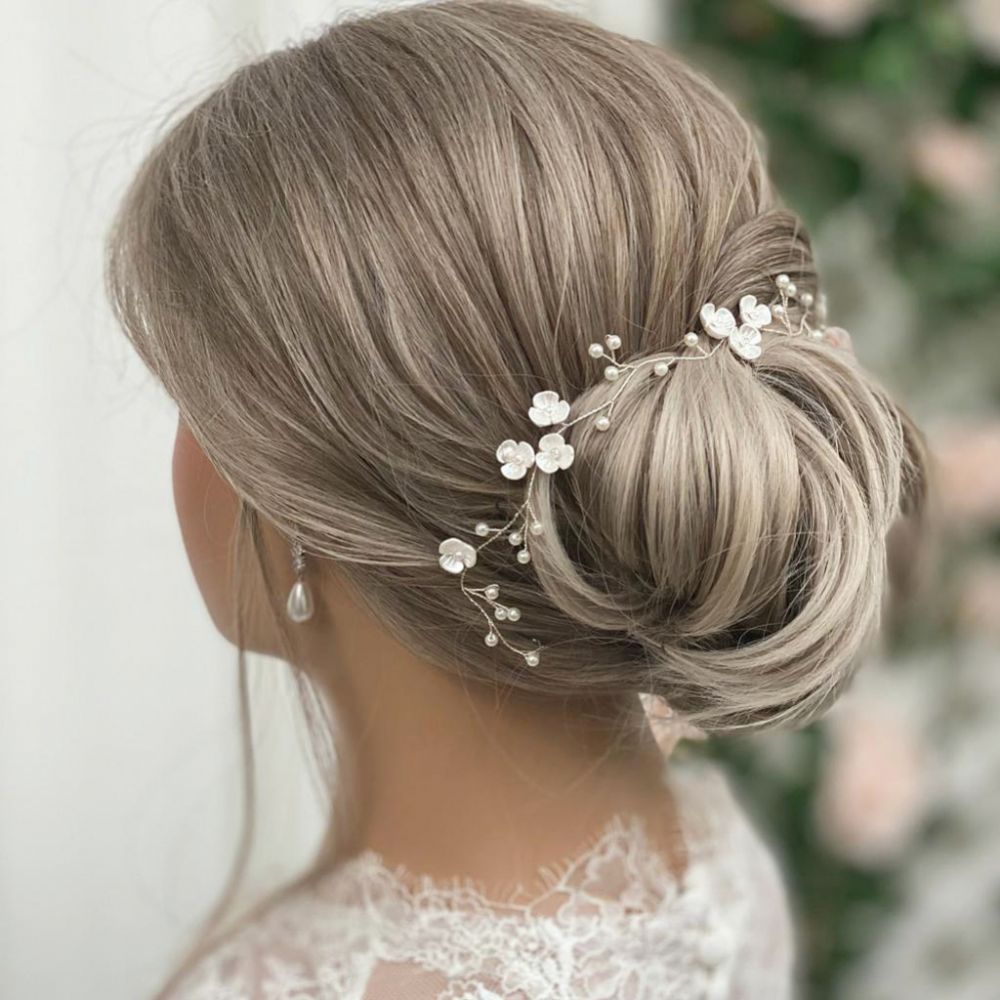 So you've found your perfect wedding hair accessories, and you'll look incredible walking down the aisle. But what about your bridesmaids!
While we never want to take away from you being the star of this show, we want to make sure that your backing singers look just as stunning as you do. And what better way than to take a dive into the world of bridesmaid hair accessories!
For the young bridesmaids or even your flower girls, all it can take is a simple headband to give them a completely glowing look. Our personal favourite is the Ivory And Co Eden Narrow Silver Crystal Wedding Headband, this simple design look fabulous on any bridesmaid!
Are your besties your bridesmaids? When you have your besties as your bridesmaids, you get to choose between having them all matching, or following a style, but allowing them all to have a unique look. One of our favourite styles is to find a collection of matching bridesmaids accessories, and mix and match to suit each individual bridesmaid!
Our Bridesmaid Hair Accessories has some super choices you can put together, with our top combo being the Letisha Ivory Flowers And Pearl Sprigs Wedding Hair Vine and the Snowdrop Porcelain Flowers And Freshwater Pearl Hair Pin both available in silver or gold!
As a bride, we know there are many things that you have to think about ahead of your big day, so hopefully, our handy style guide has given you some great inspiration!
We have included some of our favourite wintery wedding hair pieces, so there's surely something that's perfect for your big day!
But if you're still on the hunt for that perfect hair accessory, head over to our Wedding Hair Accessories for the full collection!
Still short of the perfect pair of winter wedding shoes! We have you covered for that too! Check out our article Our Top Tips When Choosing Your Winter Wedding Shoes for some great inspiration!