Bridesmaid Dress Shopping Tips
So you've formed your bridal party from your friends and family. What next? You've now got to pick your bridesmaids dresses! This can be an exciting time for everyone involved but it can also bring up a whole host of challenges and questions... Bridesmaid dress shopping is certainly no easy task as you're likely to be working with different budgets, body types and consequently, different style preferences too. This doesn't mean that it has to be a stressful activity though!
Traditionally, matching bridesmaid dresses were the go to. In recent years however it's become more common for brides to opt for mismatched styles as they allow your girls to feel comfortable from start to finish. In fact, mismatched dresses allow your bridal party to look truly unique thanks to the different styles, hemlines and varying shades available.
If you're finding the process a little daunting, we've put together some top tips for shopping for bridesmaid dresses to help you along with way...
Bridesmaid Dress Shopping Tips
Choose Your Wedding Dress First
Your choice of bridesmaid dresses will depend heavily on the style of your wedding dress so it's important to choose this first. After all, you want to make sure that your bridesmaid dresses complement and flatter your bridal look.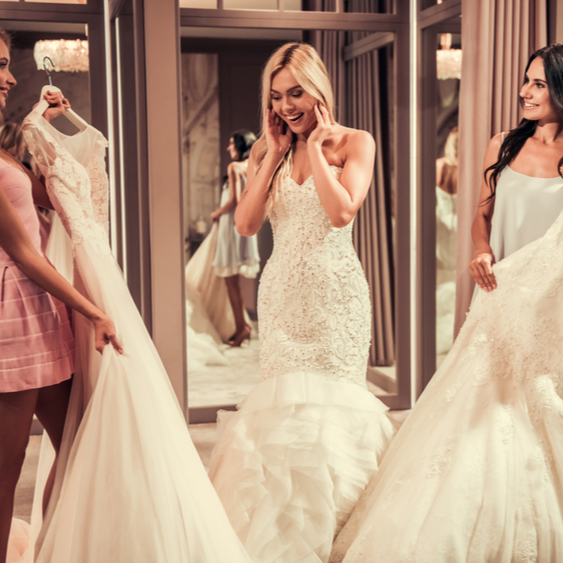 Be Clear About the Budget
One of the worst things that you can do when planning your wedding is to be vague with the budget. To keep things nice and simple, it's important to determine who will be paying for the dresses very early on. Will you be covering the costs or will your bridesmaid be buying their own dresses? Most commonly, bridesmaids are expected to pay for their own dresses, with any contribution from the bride and groom being seen as a very kind gesture. If you plan on buying the dresses however, giving yourself a cut-off price will help to rule out dresses easily and will help you to stick to a budget.
If your bridesmaids are buying their own dresses, it's also importnat to take varying budgets into consideration. It would be unfair to ask your bridesmaid on a budget to spend the same on a dress as those willing to spend much more. Having individual discussions to understand this before landing on a certain dress can avoid any awkwardness and upset.
Consider The Season
It's really important to make sure that your bridesmaid dresses match the season you're getting married in, especially if you're getting married in the UK! If you're planning a Summer wedding, your girls probably don't want to be spending the entire day wearing long, thick, heavy dresses! Alternatively, if you're planning an Autumn / Winter wedding it's important to ensure that everyone is warm enough and comfortable.
Seasons can also be used to decide on the colour palette of your bridesmaids dresses. As discussed in our guide to mismatched dresses, these don't have to be the exact same as long as they blend together well. A great rule to help with this is to assign them equally so that they look symmetrical and aesthetically pleasing. For Winter, frosted pastels, navy and silver or even reds and golds can work well together. Alternatively, for Summer, you may opt for a more vibrant citrus colours such as orange, yellow or white.
Think About Your Wedding Theme
In addition to considering the season, you may also want to consider the theme of your wedding. Wedding themes come in all shapes and sizes, from traditional, romantic themes through to more modern and alternative themes. Perhaps you've always dreamed of a Great Gatsby inspired wedding, or perhaps you've always wanted a rustic wedding with a warm and homely vibe. Chic and intimate barns have surged in popularity in recent years with more brides also opting to DIY their décor.
Whatever your preference, it's important to make sure that your bridal party complement the style effortlessly.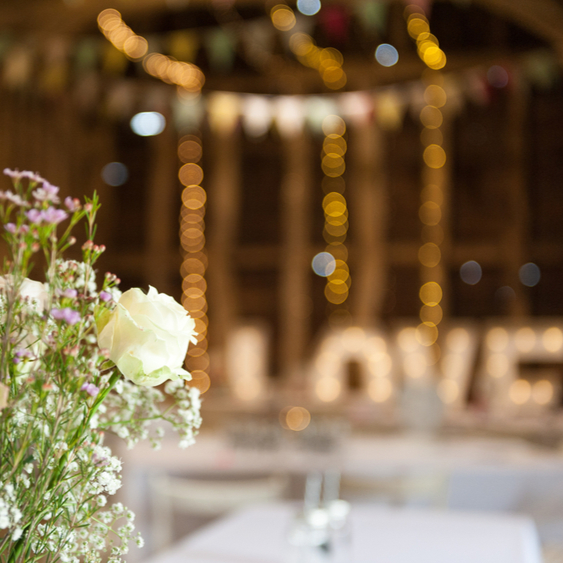 Include Your Bridesmaids
Just as you may not like every wedding dress, your bridesmaids may not like every bridesmaid dress. As your closest friends and family, we're sure that you want them to feel as comfortable and gorgeous as you do. Therefore, why not bring them in on the decision? Each bridesmaid will be different and so a dress that compliments one, could make another feel uncomfortable. By bringing them into the decision, you can remove any concerns and get the best out of your bridesmaids on the big day.
When it comes to different styles, your bridesmaids may have a good idea of the types of dress that they prefer. However, one thing that you may be forced to consider is if one of your bridesmaids becomes pregnant. If this is the case, you may be more inclined to opt for mismatched dresses, with something like an empire line dress factored in the future Mummy in your bridal party.
Give Yourself Plenty of Time
Searching for those dream dresses can take time, after all, it's a big decision and one which you'll only make once we hope! If your wedding isn't too far away, it's important to give yourselve plenty of time for delivery and alterations too. Giving yourself a few months breathing space is definitely a good move!
Finally, Does It All Match Up?
Towards the end of your planning, you'll have the opportunity to come together as a full bridal party. Not only will this be an incredibly emotional moment that should be cherished, but it will also be your opportunity to see how good you all look as a group. Pop out the prosecco and toast to the big day as you're now one step closer to the best day of your life so far.
This is also a great time to look into whether you need any wedding hair accessories, jewellery or cover ups to tie the whole look together. Once you and the rest of the girls are happy, you may wish to turn your attention to the men. It's always nice for photos to match the bridesmaids dresses to the suits of your groomsmen. Whether this is a small touch like matching flowers, or even matching the suit colours to the dresses, there's plenty that you can do.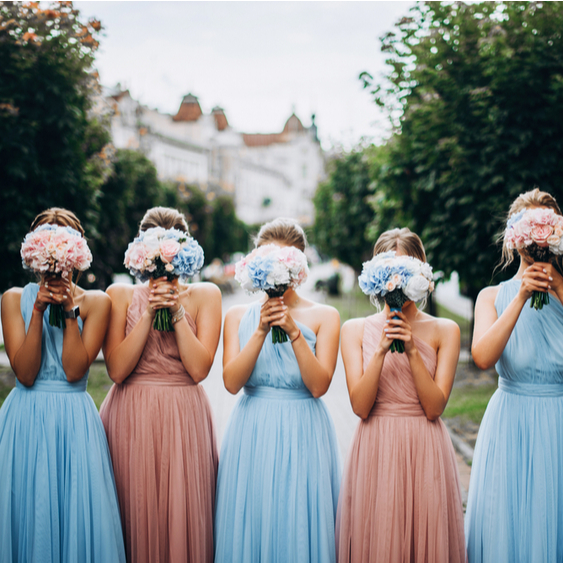 Bridesmaid Wedding Dresses From Lace & Favour
Now that you know what you're looking for, it's time to start the search. Put together a mood board on Pinterest, decide on a theme and gather the girlies for some dress shopping. Here at Lace & Favour, we have plenty to choose from in all of your favourite styles and colours from your favourite designers. Co-ordinate your bridesmaids with the flower girls courtesy of our Linzi Jay bridesmaids dresses or explore our range of dusky pinks, lavender and silver in our Dessy dress collections.