Planning A Woodland Themed Wedding
Woodland weddings are a firm favourite here at Lace & Favour HQ and it's no surprise as to why. With gorgeous natural lighting and beautiful earthy tones in every direction, woodland weddings create an enchanting romantic vibe that will captivate your guests.
Sometimes referred to as boho weddings, woodland weddings have shot up in popularity over recent years, with celebrities and influencers taking to the forest to tie the knot. Whether you choose to tie the knot outdoors with Mother Nature as your witness or you're planning on dressing your dream venue with rustic-inspired décor, we've put together a handy little guide to make planning your special day that little bit easier.
The Venue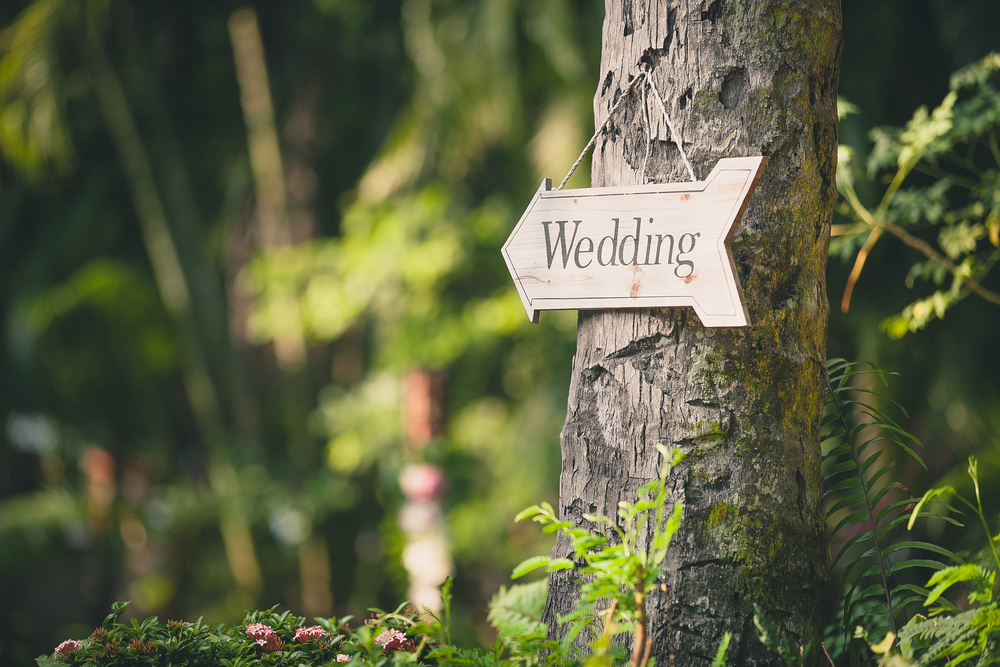 Just because the wedding is set outside this doesn't mean that you have to miss out on choosing a venue. You might be going totally woodland and opting for the shelter of trees, but you will still need to consider things like chairs and tables at the very least. Another option is a marquee or even a tipi, to add some undercover protection just in case the weather turns against you. There are plenty of outdoor wedding venue companies, or events companies, in general, that will cater for weddings in the woods, and using a business like this will alleviate a lot of the stress and planning from your mind, so you can shift your focus to other elements of the wedding.
Fairy lights, floral arrangements and bunting can add that perfect finishing touch to create a natural, romantic look fit for any bride and groom.
The Dress Code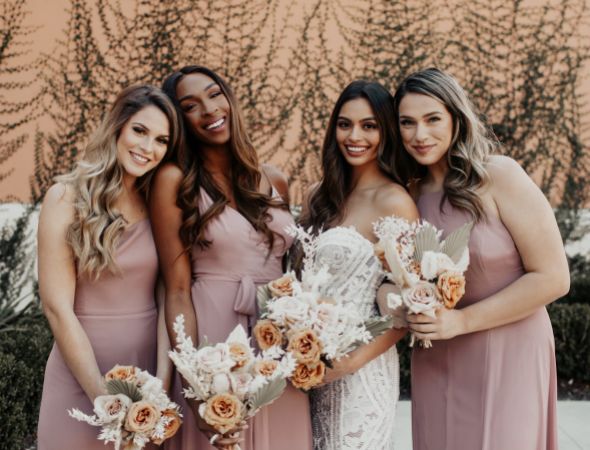 An outdoor or woodland wedding comes with a different set of parameters than a church or an indoor venue. The shoes will differ for a start, particularly if the ground underfoot is slightly wet or uneven. Consider the dress code for the wedding and be prepared for a more smart/casual feel than you would usually get. If you're relaxed about this side of it, give guests free rein and tell them to wear whatever makes them comfortable and happy, and ready to celebrate your big day.
If you're set on wearing the heels of your dreams, we'd definitely recommend purchasing some handy little heel stoppers to keep your heels clean as you strut your stuff. With new, elegant designs available, these tiny little lifesavers can help you to avoid that sinking feeling and protect your carefully chosen heels from wear or damage.
The Catering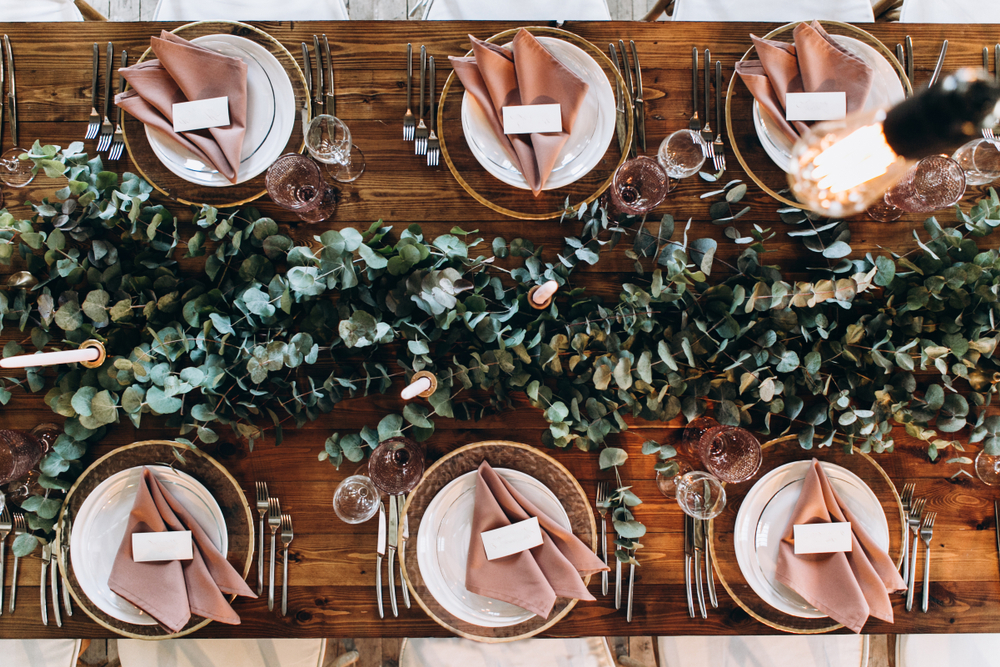 The food will play a large part in the day, from canapes to the wedding breakfast and the evening feast. A woodland wedding changes the scope for food, but not always for the worse. You can bring seasonal produce into the mix for a really fresh and tasty meal that everyone will remember. There are caterers and chefs who thrive outside, so use this to your strengths and find food that complements the theme, and hey, maybe you can even have a s'mores station in the evening.
If you're looking to make your wedding eco-friendly, you could even look to avoid using disposable dinnerware, such as plastic cutlery and cups. For more eco-friendly ideas check out our recent blog which lists Top Tips for Planning an Eco-Friendly Wedding.
The Entertainment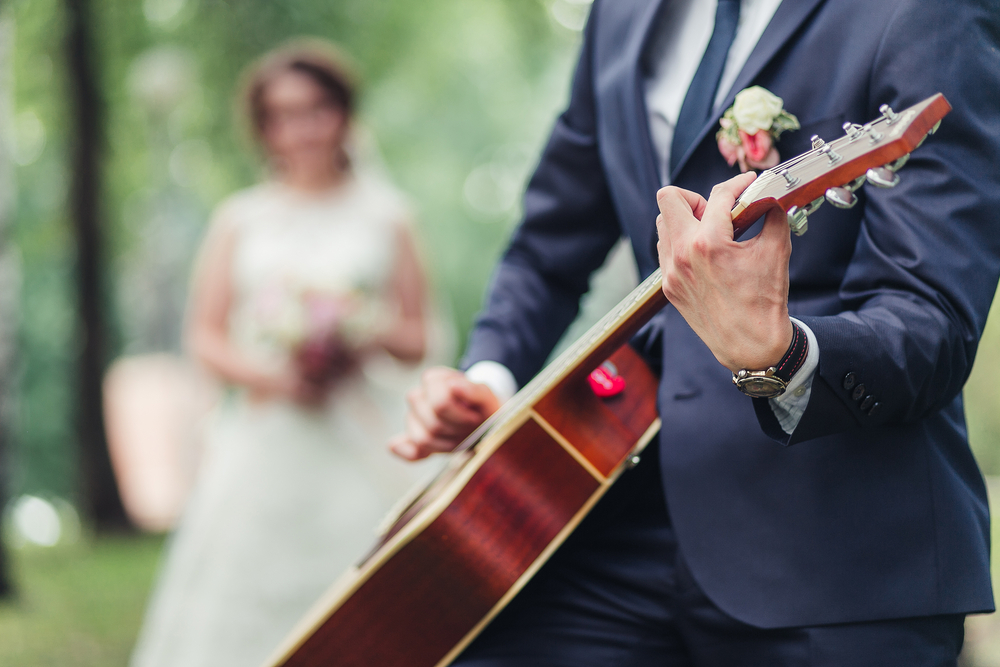 If you're opting for an outdoor setting, the possibilities are pretty much endless when it comes to entertainment for your guests. If a traditional DJ set isn't quite to your taste, an outdoor setting allows you to be more creative. For more mature guests, hiring a rustic outdoor bar is a big win. Combine this with a live band or an acoustic artist and you've got the perfect recipe for a relaxed, casual vibe.
If you've got young children attending, garden games can prove to be a huge success with many brides and grooms choosing to includes games such as giant Jenga, garden chess, and garden crochet into the afternoon to help to keep children entertained. The grown-ups will definitely want to get involved too!
The Décor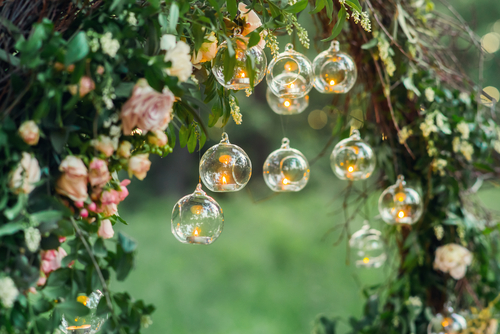 Choosing your venue decor can be one of the most exciting parts of wedding planning. From the chair covers and table linen to centerpieces, floral arrangements, and even card boxes, this is your opportunity to really add a personal touch to your wedding. The great thing about an outdoor wedding is that you can take inspiration from the natural world for your colour palette. Earthy tones, classic creams, and gorgeous greens create a beautiful canvas for your special day, especially when combined with rustic wooden furniture too. To complete the look, why not consider some bark tea lights and cream lanterns? Or dainty fairy lights entwined within flower garlands? Dried flowers such as lavender can also really bring a table setting to live, adding that little hint of colour to brighten the space.
The possibilities are endless when it comes to a woodland wedding. Planning is definitely key and Pinterest is 100% your friend, so make sure you nail down the theme and have a strong plan of where you are heading, so you can see it all coming together!
Woodland Inspired Dresses and Accessories
Your wedding dress and accessories are some of the most important aspects of your big day. If you're opting for a woodland wedding, there are plenty of options for channeling this theme into your bridal look. From rustic wedding shoes and whimsical hair accessories to nature-inspired bridal jewellery, you can celebrate natural beauty and complete your woodland look with gorgeous bridal accessories and finishing touches from Lace & Favour. Here's a selection of our favourite woodland pieces.
A Dress for The Nature Lover
A wedding dress perfect for the woods and the great outdoors, this maxi dress by Dessy is elegant and soft, with details in all the right places. With dreamy flowing sleeves, a shirred skirt, and a ruffled bodice, this dress creates a beautifully compelling silhouette for your special day.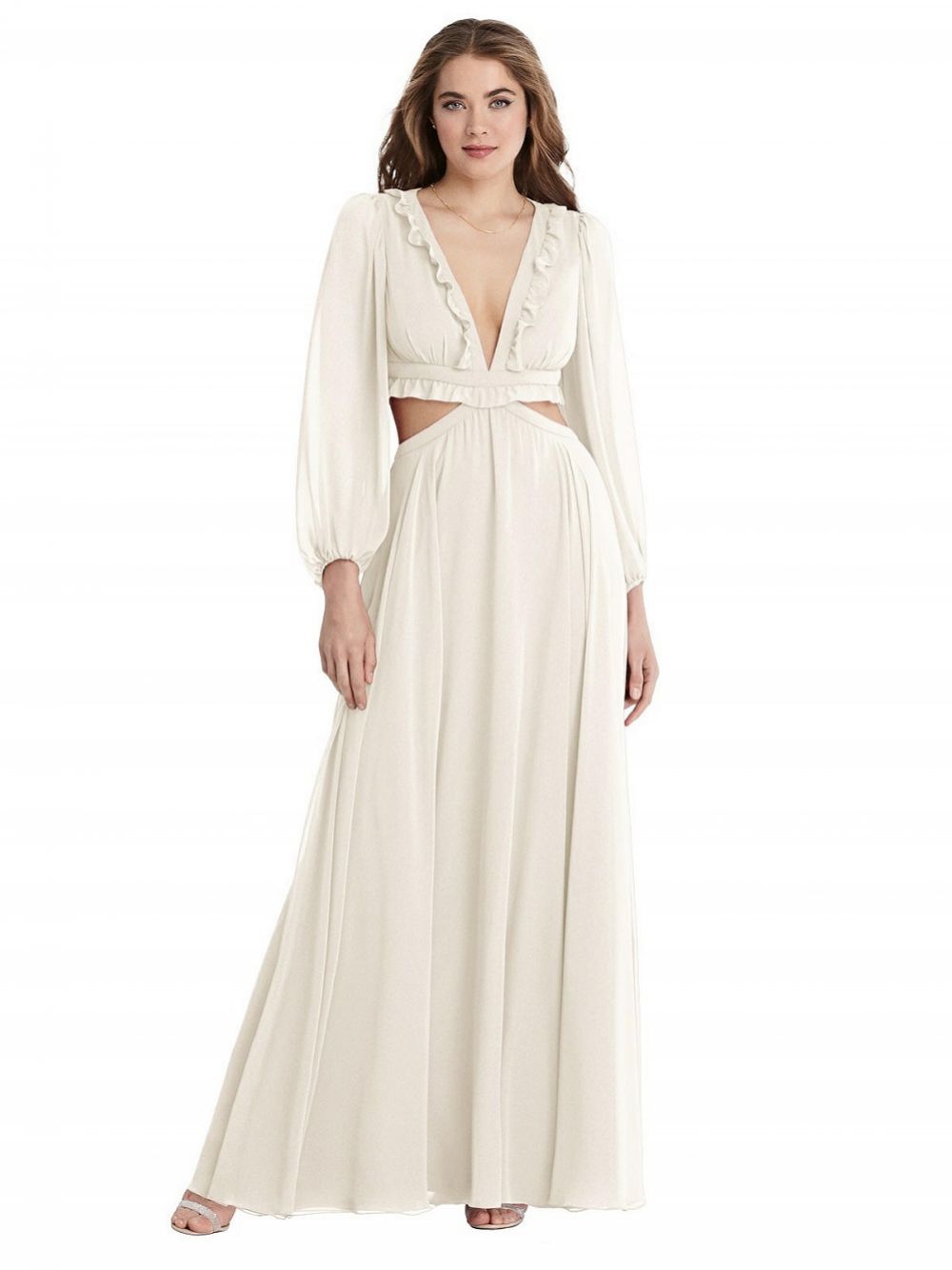 Add a Touch of Ethereal Beauty To Your Bridal Look
Ethereal and elegant, wedding hair vines are a hugely popular choice for outdoor, woodland-themed ceremonies. Hair vines can be styled in numerous different ways to create different bridal styling. For the ultimate in bohemian beauty, wear a crown of floral blossoms with flowing tresses, or for a more subtle look, entwine a simple piece in an up-do for a delicate accent.
A delicate vine to entwine through the hair if you are choosing an updo, we adore the intricacies of this piece. Handwired with dainty ivory pearls and clusters of pretty flowers this lightweight piece can be worn in countless different ways.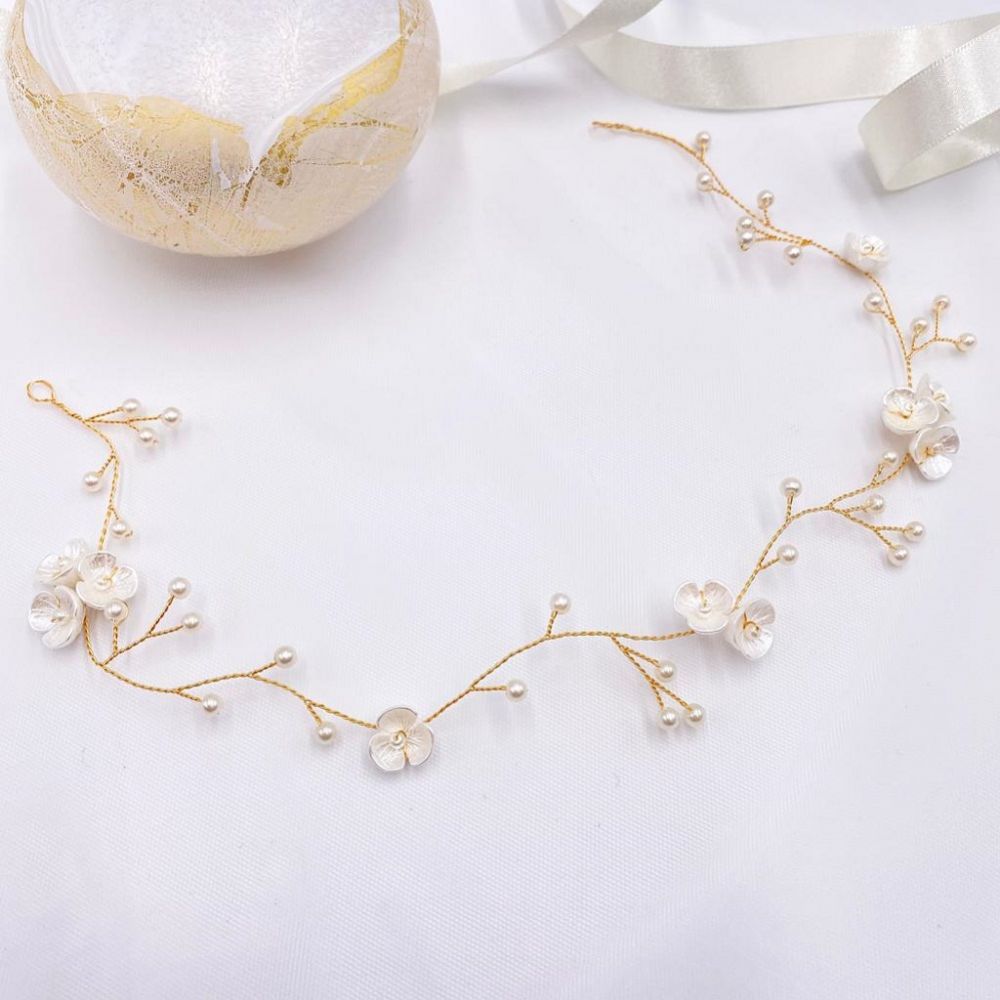 Available from Summer 2021 onwards, we are swooning over the newest addition to our hair accessories collection - Rosewood! Showcasing an abundance of beautiful porcelain flowers nestled amongst sprays of shimmering crystals this floral hair comb makes the most stunning addition to bridal tresses and is perfectly suited for rustic, nature inspired weddings.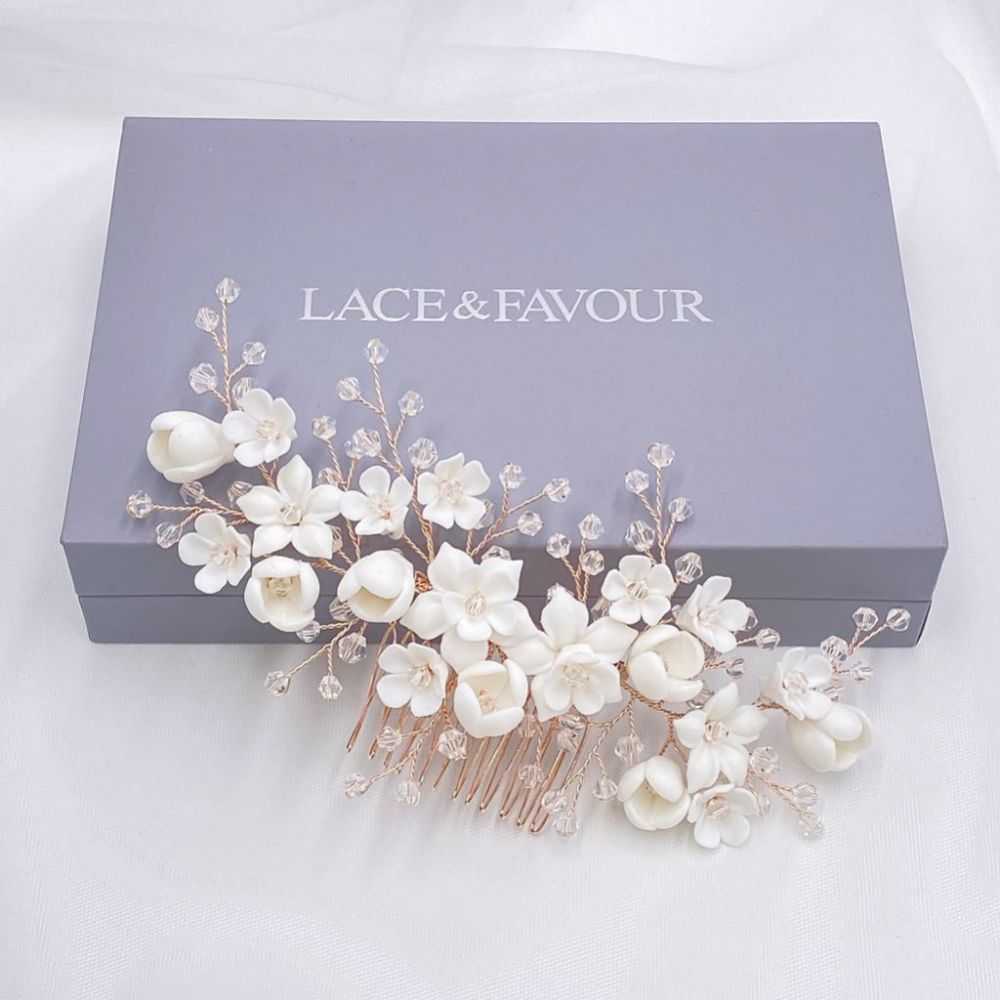 Step Into Nature in Style
Shoes that will carry you through the woods and beyond, these espadrilles are the perfect blend of classic and practical for the rocky terrains on your big day.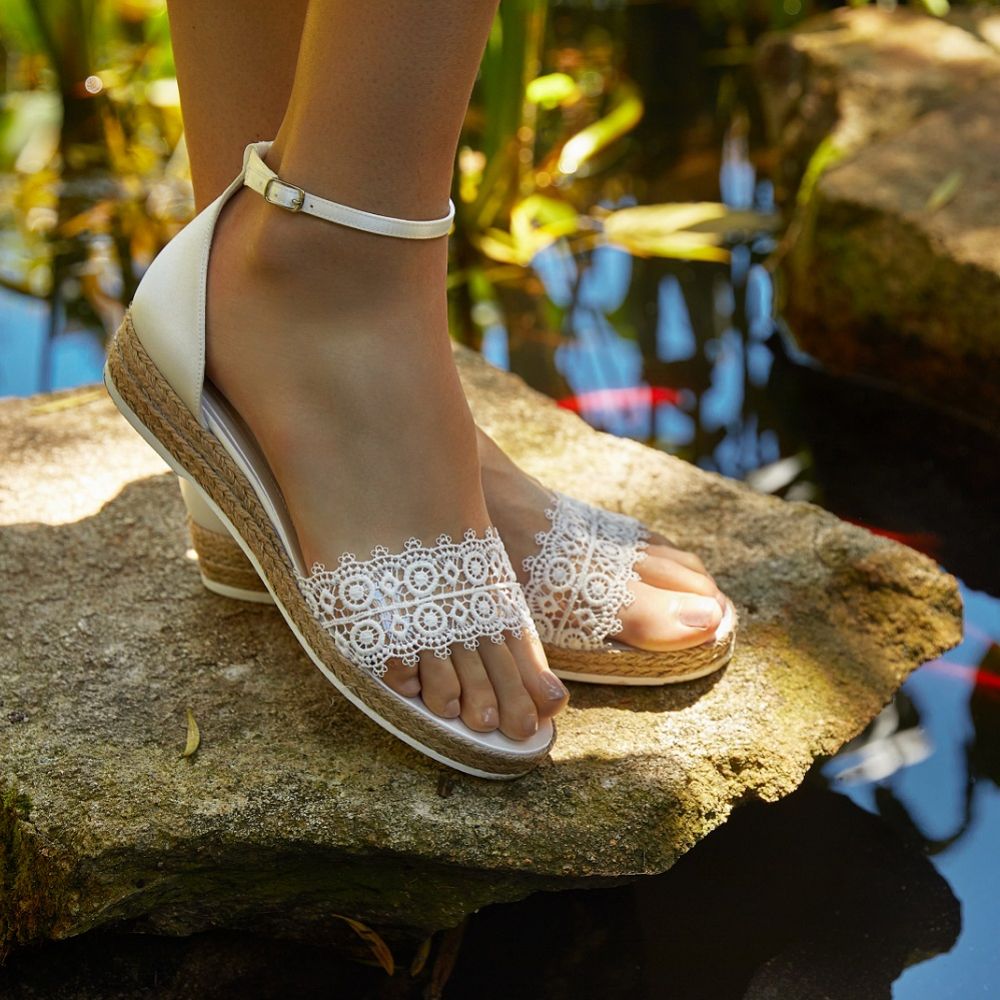 Turns Heads for All The Right Reasons
Looking for a little bit of sparkle on your wedding day too? We've fallen head over heels for this stunning ethereal draped headpiece by Arianna. Featuring hand-strung Swarovski crystals and pearls with a glistening central diamante centerpiece, this wedding headpiece is perfect for a relaxed woodland bridal style.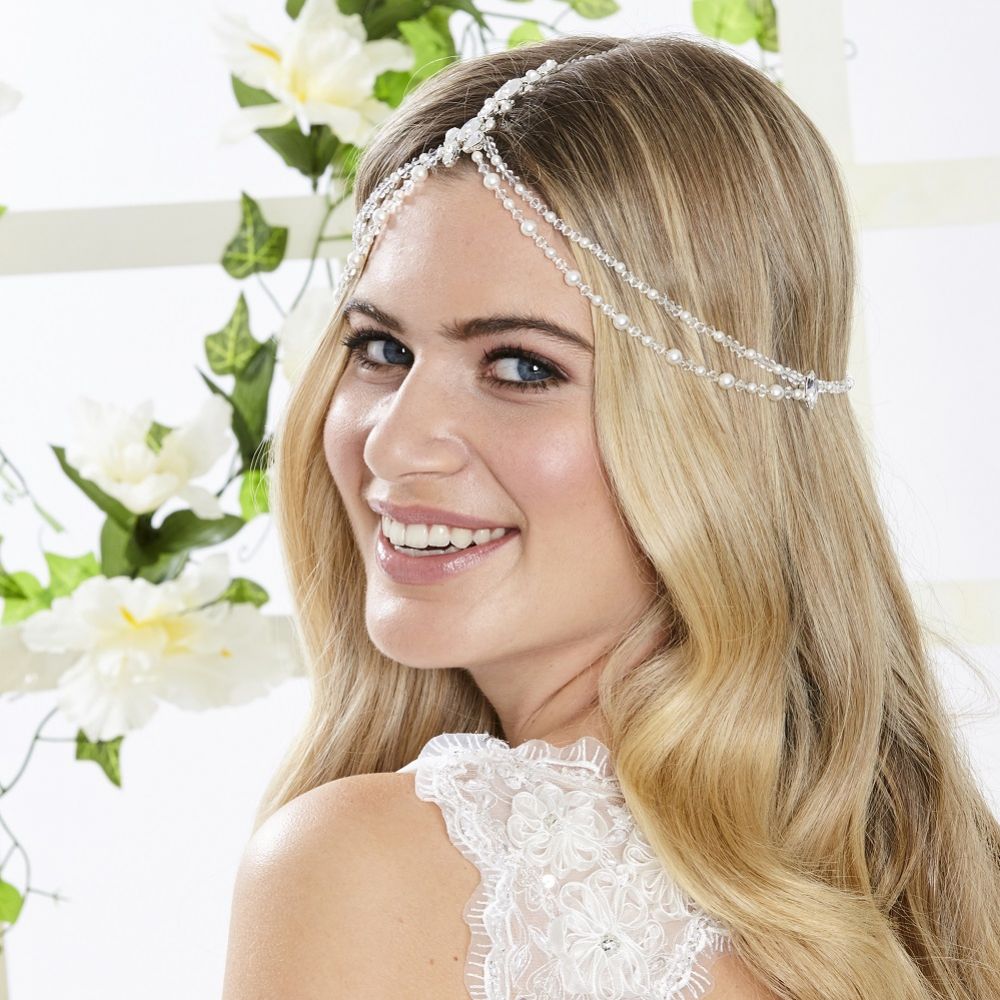 Other Things to Consider
The weather is going to be a big factor if you choose to get married outside in this country at least. You might want to consider hiring some umbrellas for guests and having some undercover spaces, just in case the rain decides to fall. If you are in the woods, the trees will offer a certain amount of protection, but we all know how unpredictable British weather can be! You can find more helpful tips on how to keep your party warm at an outdoor wedding in our recent blog.
Another consideration would be accessibility. Is your location easy to access for everyone you have invited along? If the path is bumpy, you can get paving stones or bamboo sheets to place down to create a more even terrain, making access on foot or in a wheelchair easier for everyone involved.
Lastly, remember that it is your day, so if you decide you want a mismatch of entertainment, food, and venue, go for it! There are no rules where wedding decor is concerned, so if you have your own vision, we would implore you to run with it and make it your own. It is a day you will never forget, but if we could make one suggestion, get some disposable cameras for your guests to have fun in the woods with, and watch the magic afterwards when they are developed.
Whatever you decide to go for and whenever you decide to do it, we hope you have the most magical day, and a huge congratulations in advance.
Looking for more wedding tips and inspiration? Check out the Lace & Favour blog - you'll find new ideas and tips from the team every week!