Spring Wedding? Let's Talk Wedding Shoes
Spring! What a beautiful season to have a wedding! The birds are chirping away in the trees, the sun is shining and we're all getting over the post-Christmas blues.
Spring 2022 is expected to be a truly magical season where bridal shoes are concerned! With so many trends hoping to hold the runway, you get all the joys of choosing the right style for you! With spring only a matter of months away, the anticipation of your big day is building! Lets make sure to take all the last minute stresses away and get looking at those all-important pieces to finish your look!
Here at Lace and Favour, there are a few styles that have got us really excited!
So whether you're looking for the colour of the season, the style of the year or adding your own touch of pazazz, we've got you covered! So let's talk wedding shoes!
Colours Of The Season
Many brides-to-be still love to wear the traditional white dress. So when it comes to including a spot of seasonal colour, where better than to add it than your bridal shoes!
Whether your beautiful dress is floor-length, or you'll be sporting a shorter T-dress, your shoes can be that little snippet of the season's favourite colours! So what does Spring 2022 bring us?
Buttery Delights
The fabulous spring colour is that buttery yellow is as prominent as ever as we look ahead to 2022. Pale and subtle yellows make a discrete statement for any bridal outfit. Finding that perfect buttery shoe just got easier with the help of our wonderful Lace & Favour team! Our selection of dyable shoes is available in just the perfect buttery colour! It's as simple as finding the right shoe for you, and let us do the rest! Personally, our favourite spring shoe to turn yellow is the understated Bridal Clara Dyeable Ivory Satin And Sequin Lace Ankle Strap Court Shoes.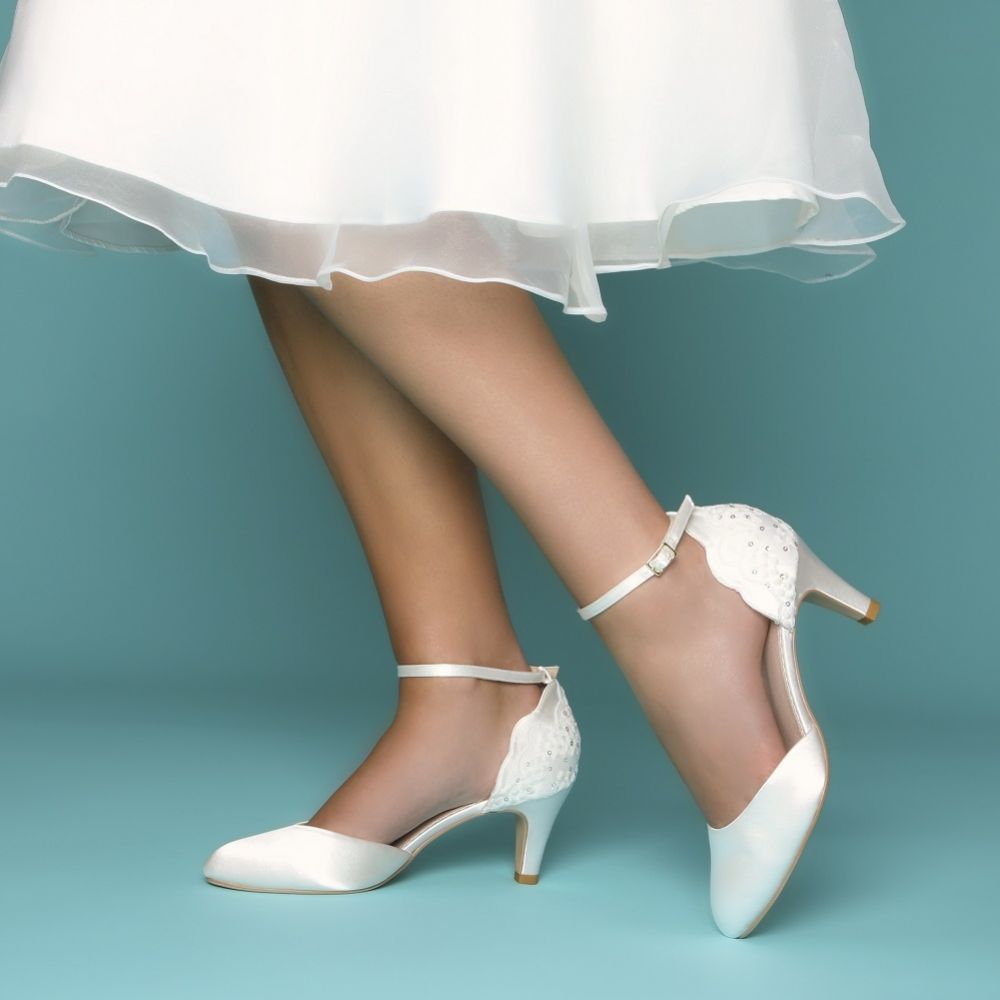 The cute delicate colour that is buttery yellow lends itself well to delicate floral accessories. The Hermione Harbutt Violette Silver Mother Of Pearl Flower Earrings are just as spring-inspired as you would hope. They look great with a feminine buttery shoe.
Deeply Delicious Greens
While deep greens are typically seen as being a winter colour, the fashion gods are telling us that they are in season in spring 2022! Our opinion? We LOVE it! It means that we see more stunning brides showing off our selection of deep forest green velvet shoes. We don't see how this colour can ever go out of season! Show off in style as you walk down the aisle in the eye-catching Harriet Wilde Amy Forest Green Velvet Platform Court Shoes.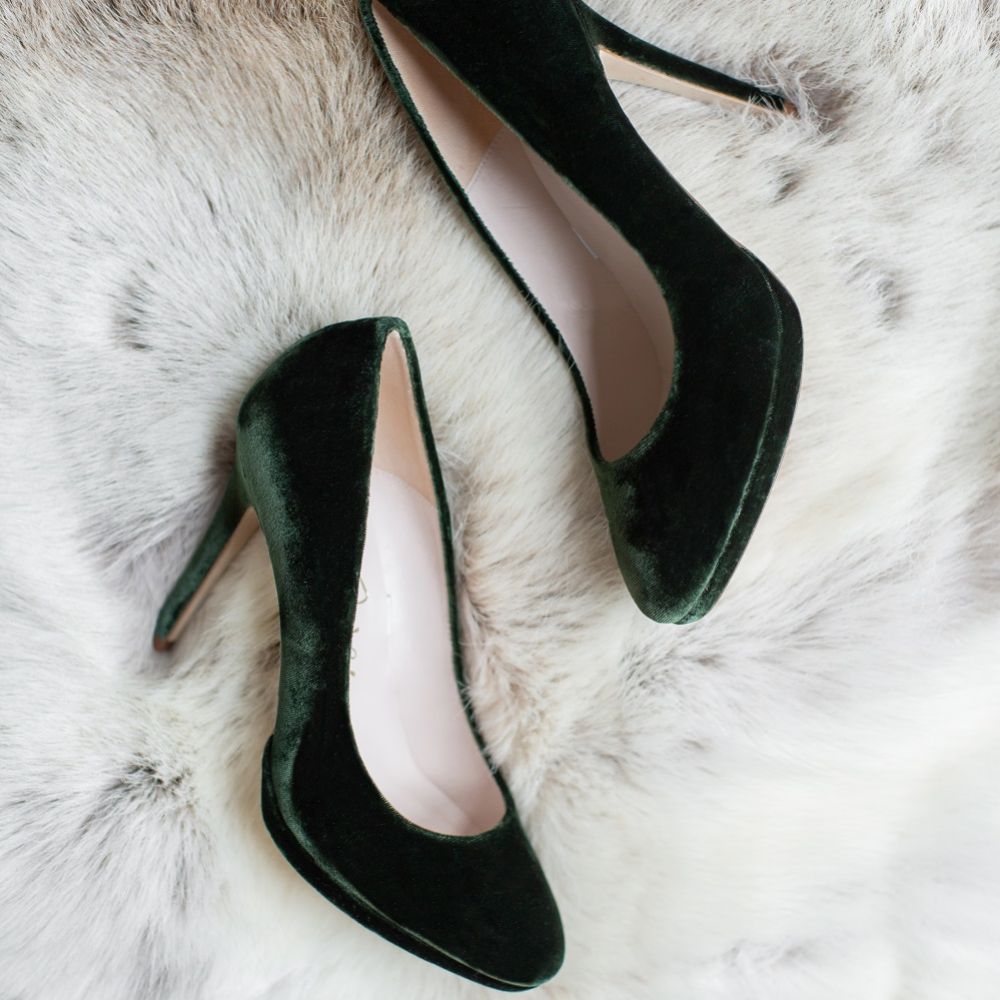 If you are going for the deliciously deep green colour scheme, you might also be interested in the stunning boho themed headdress. While there are many different styles on the market, personally we LOVE the Appolonia Romantic Bohemian Bridal Flower Crown. A true boho statement piece that pairs perfectly with the Harriet Wilde shoes!
Atlantic Blue
An increasing number of grooms have been joining the trend of blue wedding suits. So us ladies are starting to feel a little left out of the blue trend. But not in Spring 2022! Throw out the idea of your ivory bridal shoes, and grab yourself a pair of perfect blues! You might match hubby, but if you can't on your wedding day, when can you! Our favourites are courtesy of the designers at Pink Paradox with their understated Romantic Navy Satin Low Heel Classic Peep Toes. Don't forget to grab yourself the matching Pink Paradox Shadow Navy Satin Clutch Bag!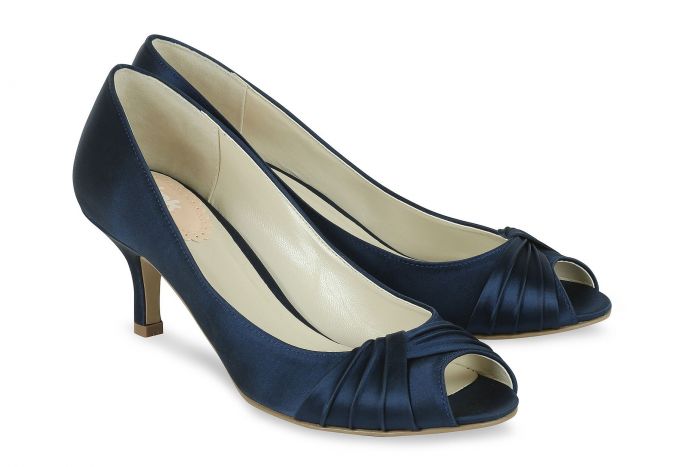 The Bridgerton Effect
2021 will forever be known as the year that Bridgerton took control of many lives up and down the UK with its Netflix takeover. Showing no signs of slowing down, the most talked-about show on TV will continue to influence the nations bridal shoes!
Bridgerton Influenced
Bridgerton has inspired many weddings to take on the colour scheme of pastel blue. With bridesmaids looking elegant and groomsmen looking regal with their matching ascots, why not have your something blue, as your shoe!
Of course, as the bride, we want your blue wedding shoes to look a touch more special than everyone else. That's why we adore the Harriet Wilde Amy Blue Blossom Embellished Heel Platform Courts!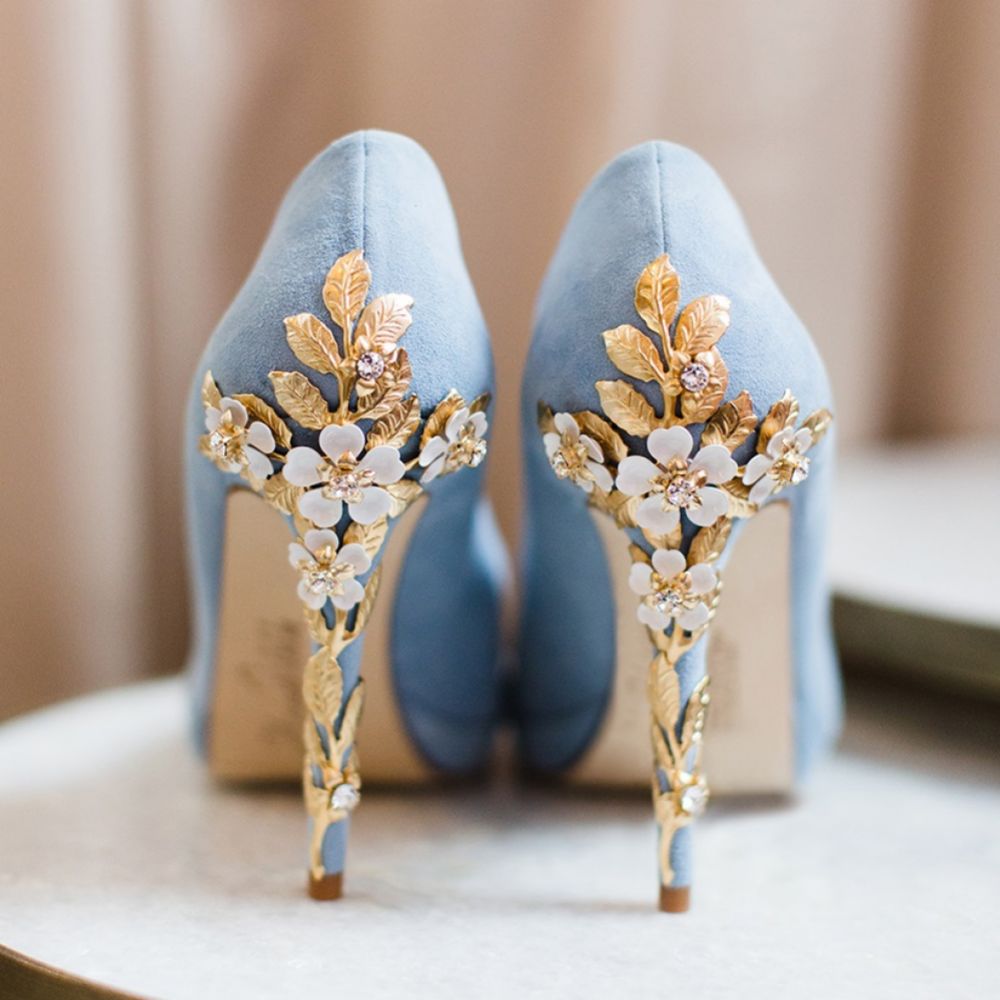 Add a little bit of cheeky to your Bridgerton inspired look with a complimenting lace garter! The Purity Blue Delicate Lace Wedding Garter With Pearl Detail is the hidden touch of naughtiness that you know is hiding under Daphne's conservative dress. We won't tell if you don't.
Daphne Inspired
The wedding of the year, or should we say scandal, featured the beautiful Daphne in a floor-length, regency era dress. But what shoes do we see peeking from underneath? Honestly, we can't say we saw them a great deal, but what we did see, combined with what we know from the era, our choices are the stunning Perfect Bridal Halle Ivory Leather And Lace Wedding Ankle Boots for a conservative look, or the classic Bianca Ivory Lace And Leather Vintage Mary Jane Shoes. We love both!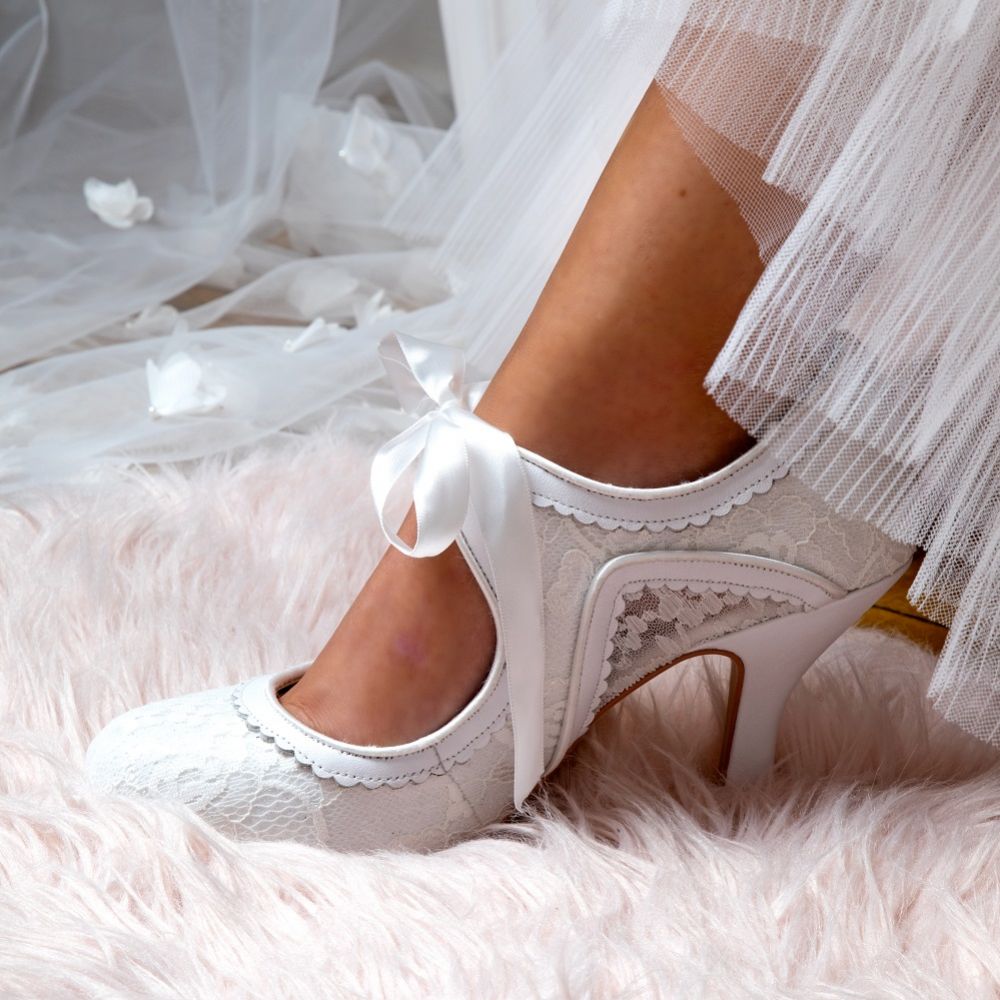 Bold And Bright
Think big, think bright, think stand out from the crowd! 2022 is the year we will see brighter and bolder colours walking down the aisle. Especially for those brides who like to make an entrance! Will you be opting for a bright wedding dress paired with a subtle bridal shoe? Or will you flip the style and go for the classic white wedding dress, with a burst of colour by way of your wedding shoes and a matching clutch?
No matter the style of your wedding dress, your shoes complete the look. So make sure that they show your true colours! Whether that's hot bink, royal blue or striking purple. You do you girl!
The great thing about the Perfect Bridal collection is that they can be dyed to suit your own personal style! It's as simple as finding your perfect piece, trying them on, and we'll do the rest!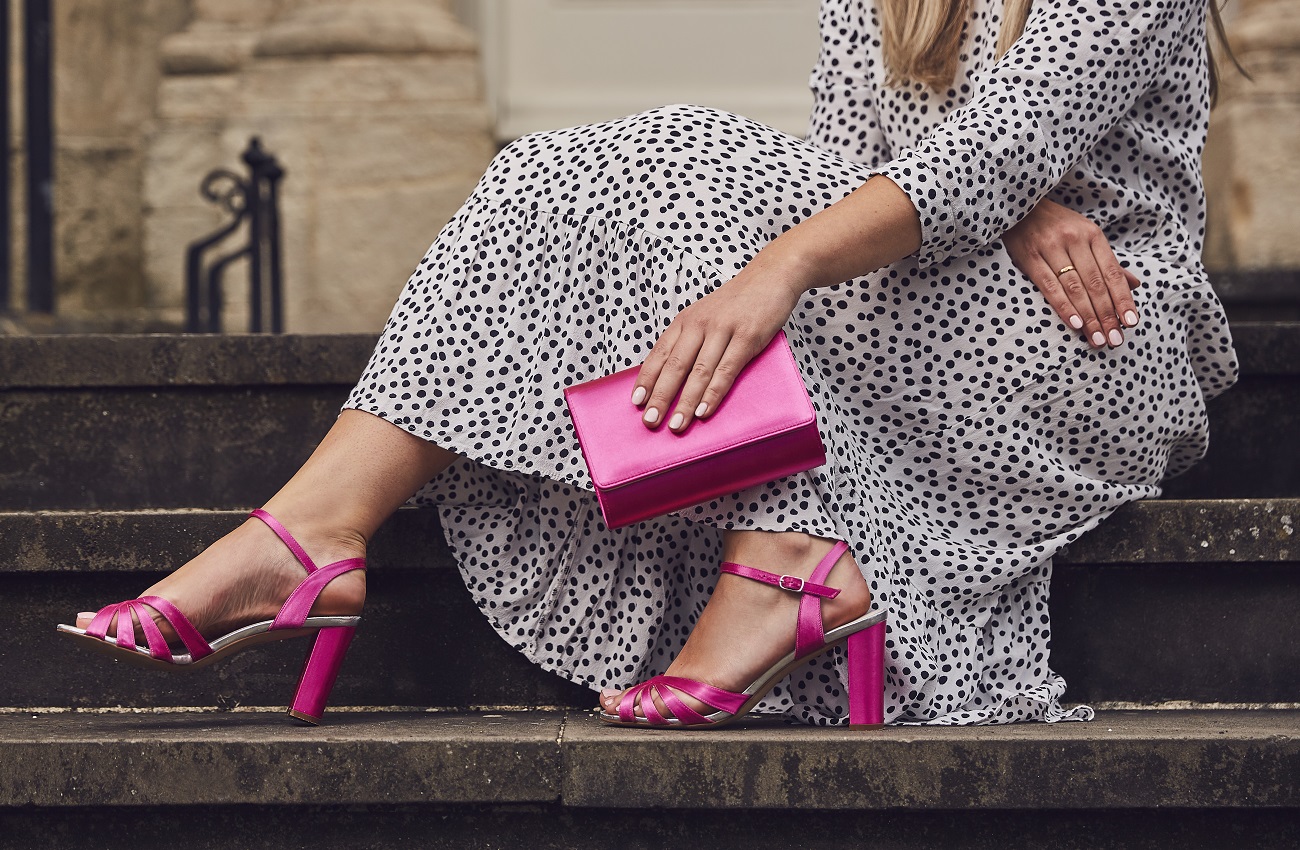 Your big day is ALL about you. Never let anyone tell you what you want. (Not even hubby!). So if you've come here looking for inspiration, we're pretty confident you found some! Even if it's just a nod in the right direction.
Remember, there are so many different wedding shoes that can be altered to perfectly suit your style, whether that's adding a splash of colour or a dash of sparkle, we have your back, or should we say your feet!
Finding The Perfect Shoes
Here at Lace & Favour has a vast selection of Bridal Shoes that will suit any type of bride. So if we haven't included anything here that catches your attention, head over to our complete collection of Wedding Shoes. From classic Marys Janes to wedges, vintage to designer, and everything in between. Your shoes are the finishing touch to compliment your wedding dress, so let's get you the perfect shoes!